My ultimate grilled cheese is a Grilled Cheese with Tomato and Bacon on brioche bread, using a blend of two cheeses. Easy and delicious comfort food!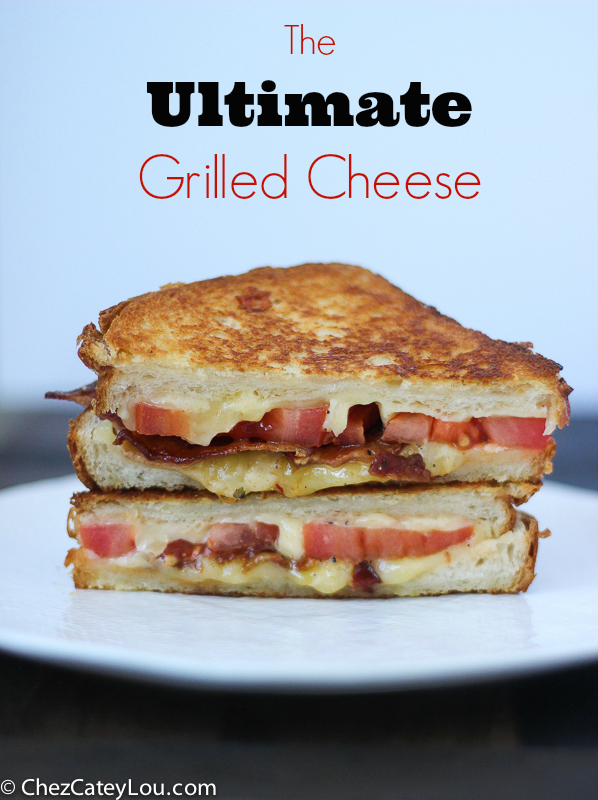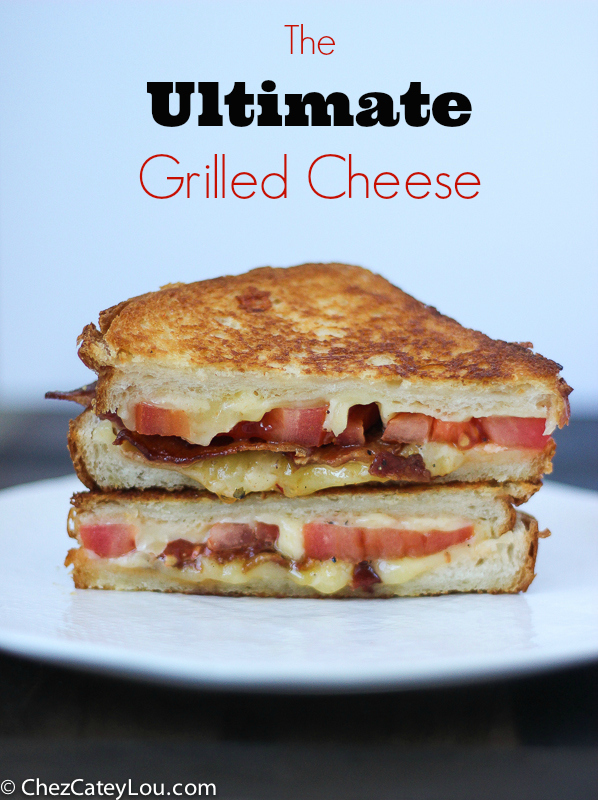 Today is National Grilled Cheese Day! This is a holiday I did not know existed until I started food blogging. How did I live my life before without celebrating these food holidays? I'm not sure, but I'm making up for lost time now by bringing you my version of the Ultimate Grilled Cheese….with tomato and bacon on brioche bread, made with two different types of Kerrygold cheeses!
My favorite type of grilled cheese has always been with tomato and bacon. There is something about that combo that is just so amazing. And the best bread for this sandwich is a nice buttery brioche. It really takes it to the next level!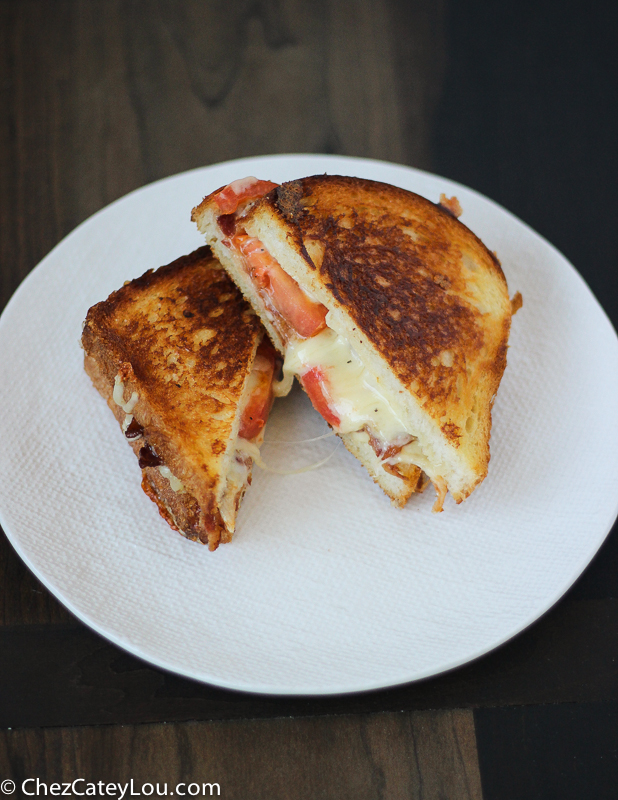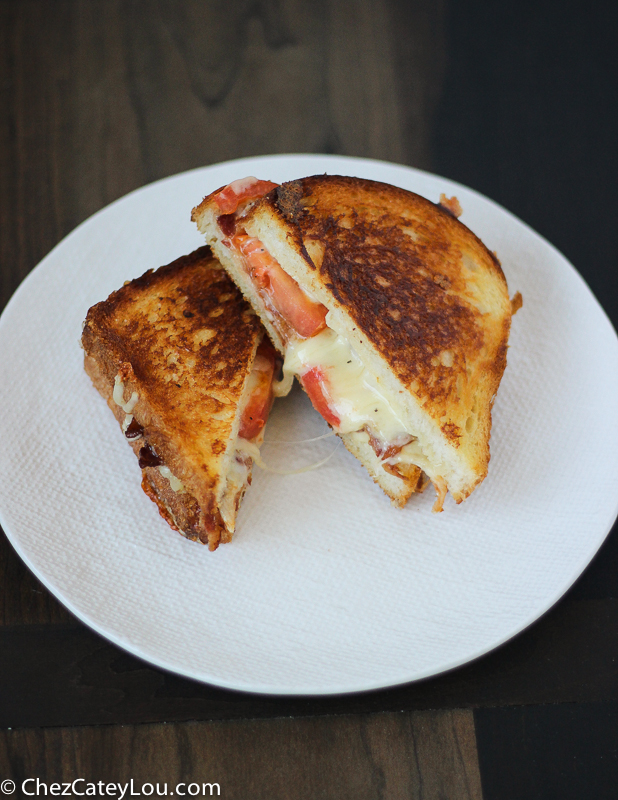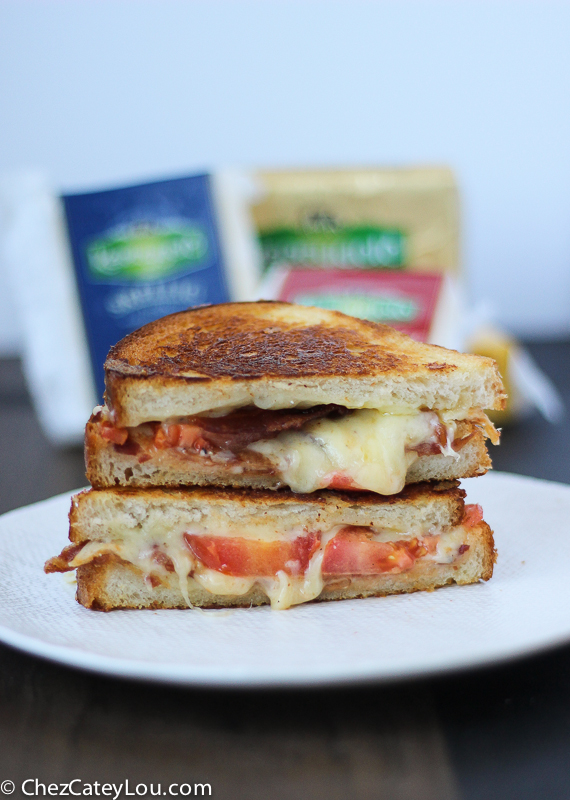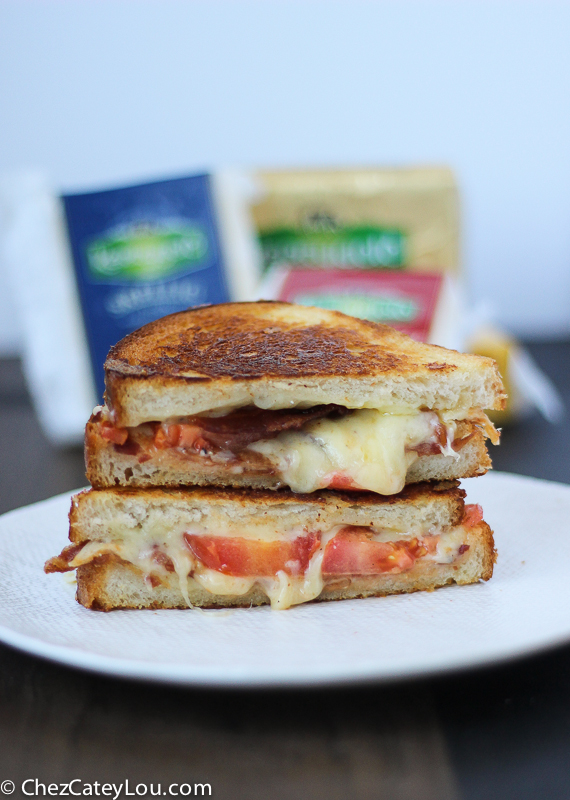 Kerrygold was kind enough to send me a variety of their cheeses and butter to try. I used Skellig cheese, a sweet cheddar, and Blarney Stone, similar to a gouda, to make my ultimate grilled cheese. I love the combo of these cheeses, and they both melt very nicely.
My tip for adding tomatoes to a grilled cheese is to warm them before adding them to the sandwich. This helps the cheese melt faster! I just throw the tomatoes on the griddle for a few seconds before putting them on sandwich!
Also, I can't have a grilled cheese without cutting it in half diagonally. My family has always cut their sandwiches that way. To me, it just doesn't taste as good if the sandwich is in rectangles rather than triangles! I realize I sound like 5 year old right now 🙂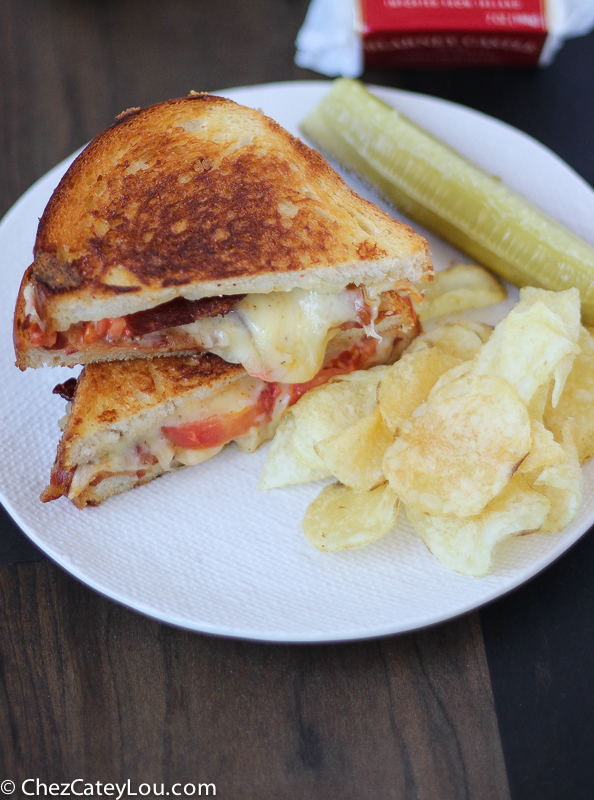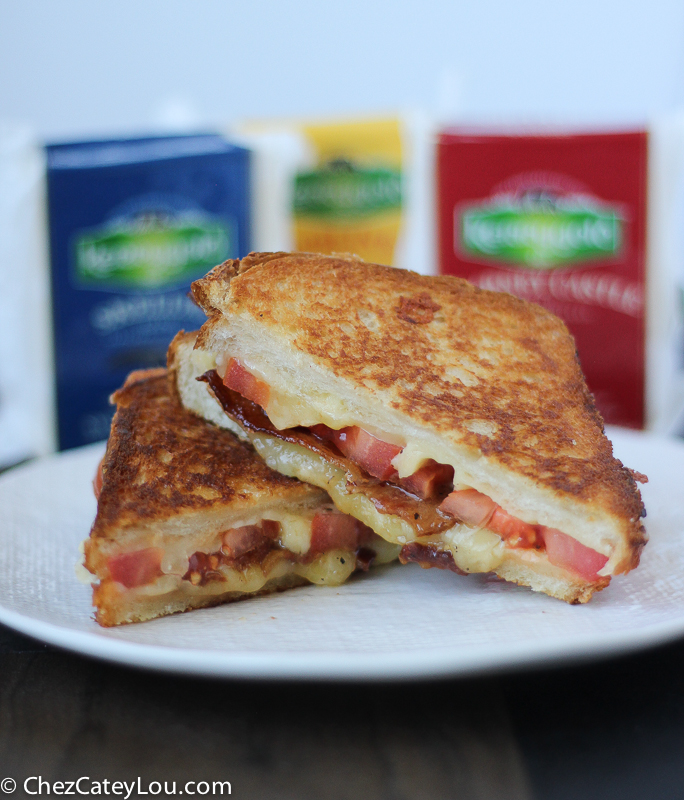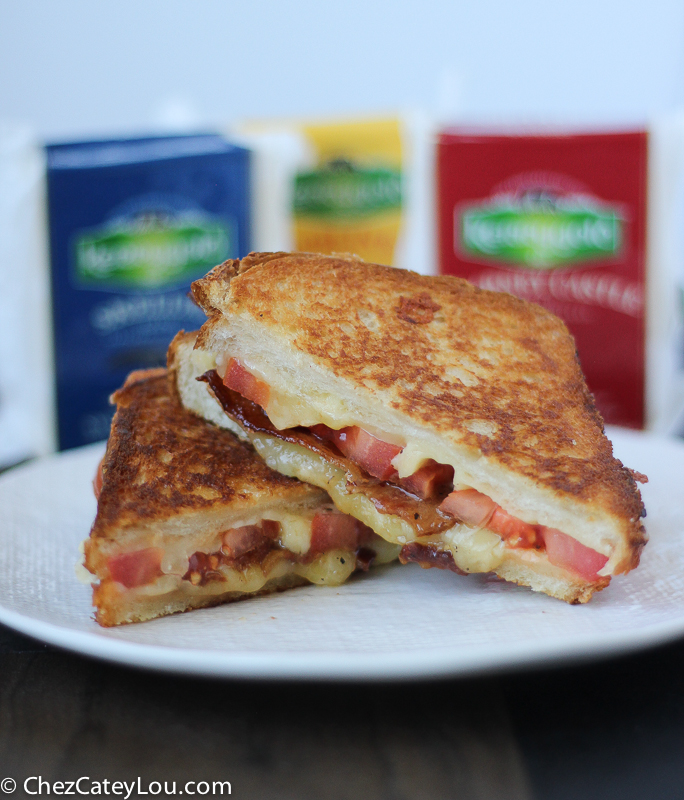 What is your Ultimate Grilled Cheese?
Grilled Cheese with Tomato and Bacon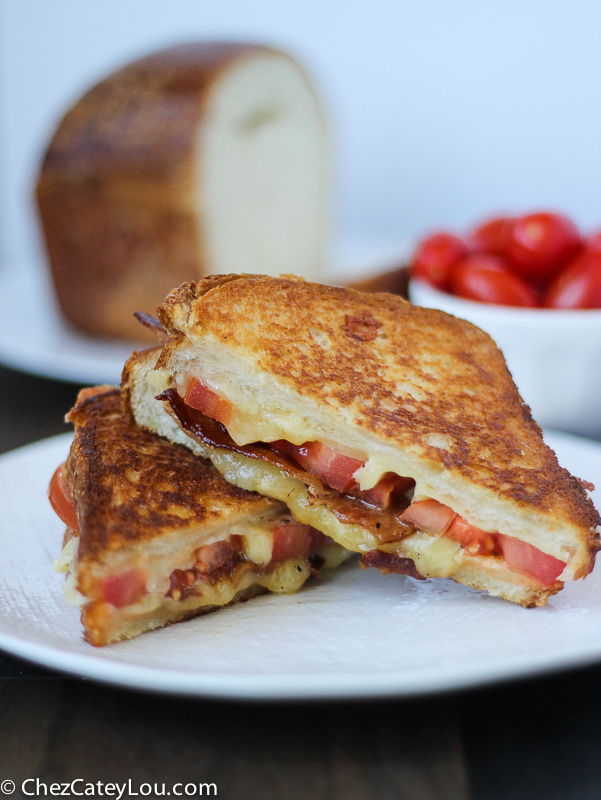 My ultimate grilled cheese is a Grilled Cheese with Tomato and Bacon on brioche bread, using a blend of two cheeses. Easy and delicious comfort food!
Ingredients
4 slices bread (I used brioche)
2 tablespoons Kerrygold butter
2/3 cup shredded Kerrygold cheese (I used Skellig sweet cheddar and Blarney Castle gouda)
2 large slices tomato
Pinch of salt
4 slices cooked bacon
Instructions
Preheat a griddle pan or large skillet over medium heat.
Butter each slice of bread with about 1/2 tablespoon of butter.
Pile some cheese on the non-buttered side of a slice of bread. Place the tomato slices on the hot griddle for a few seconds, then flip - just to warm the tomato. Place the hot tomato on the cheese. Sprinkle with a pinch of salt. Add the bacon on top of the tomato, then add a bit more cheese. Top with a second piece of bread, butter side out.
Place the sandwich on the warm griddle. Cook until golden brown, about a minute. Flip the sandwich, and cook until the other side is golden brown and the cheese is melted. Repeat the process for the second sandwich. Cut grilled cheese in half and enjoy!
https://chezcateylou.com/grilled-cheese-tomato-bacon/
© Chez CateyLou. All images & content are copyright protected. Please do not use my images without prior permission. If you want to republish this recipe, please re-write the recipe in your own words, or link back to this post for the recipe.
More delicious sandwiches!
Philly Cheesesteaks, made by TheBetterHalf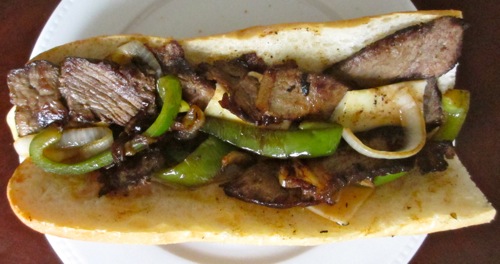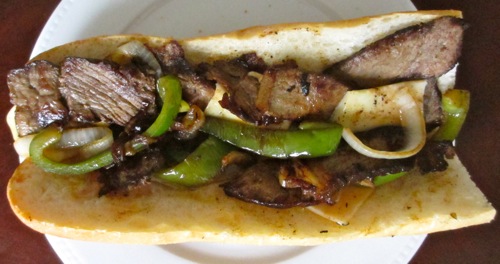 Pretzel Sandwich Bun – the perfect vehicle for a burger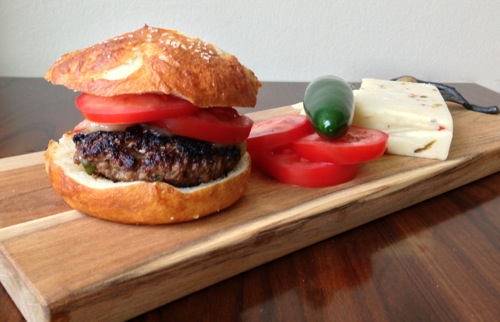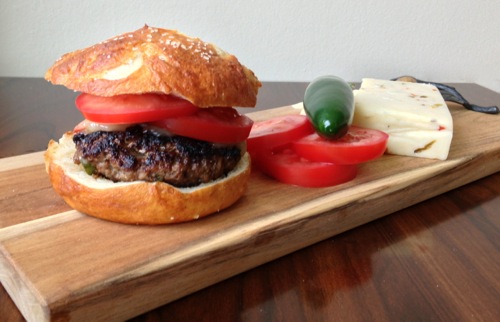 Grilled Cheese with Jalepenos made on Pumpkin Yeast Bread – so good!