These bars are called Lemon Brownies because they have the thick and fudgy texture of a brownie! They are made with white chocolate and are full of citrus flavor!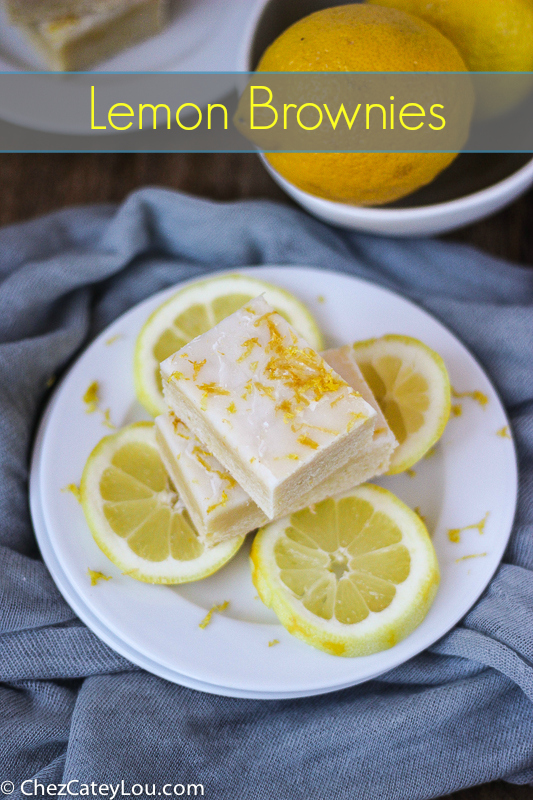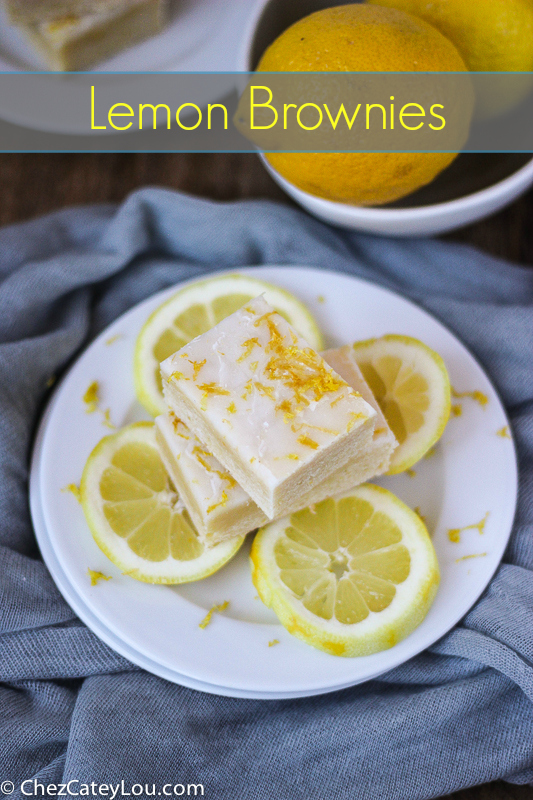 I love baked goods (no surprise there). Every recipe I post, I truly love – otherwise, I wouldn't share them with you. But I definitely play favorites. And these Lemon Brownies are one of the best things I have ever made. I can't believe I am saying that about a recipe that does not include chocolate or peanut butter, but it is true. I love, love LOVE these lemon brownies. I literally could not stop eating them. I never considered myself a lemon dessert person, but I guess I am!! TheBetterHalf's love for lemon must be rubbing off on me.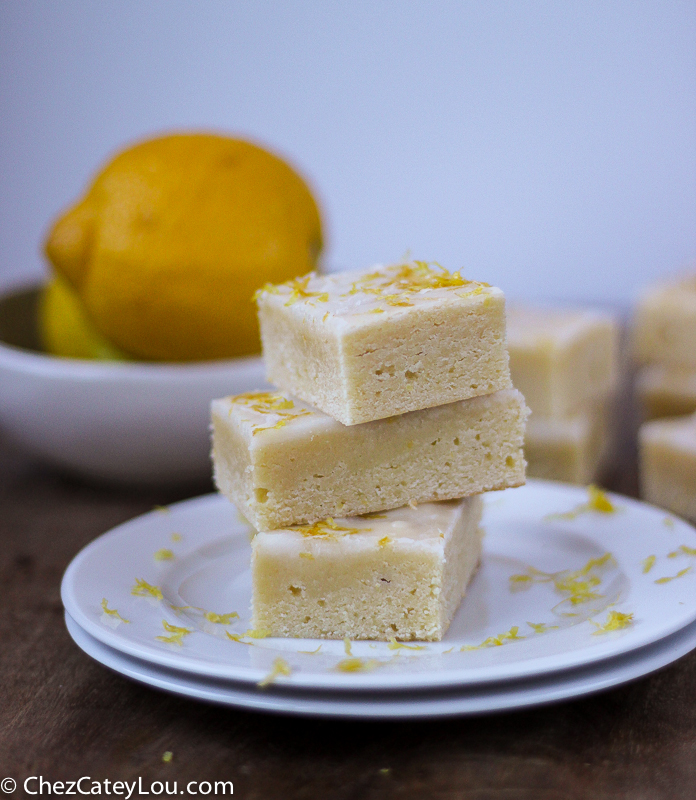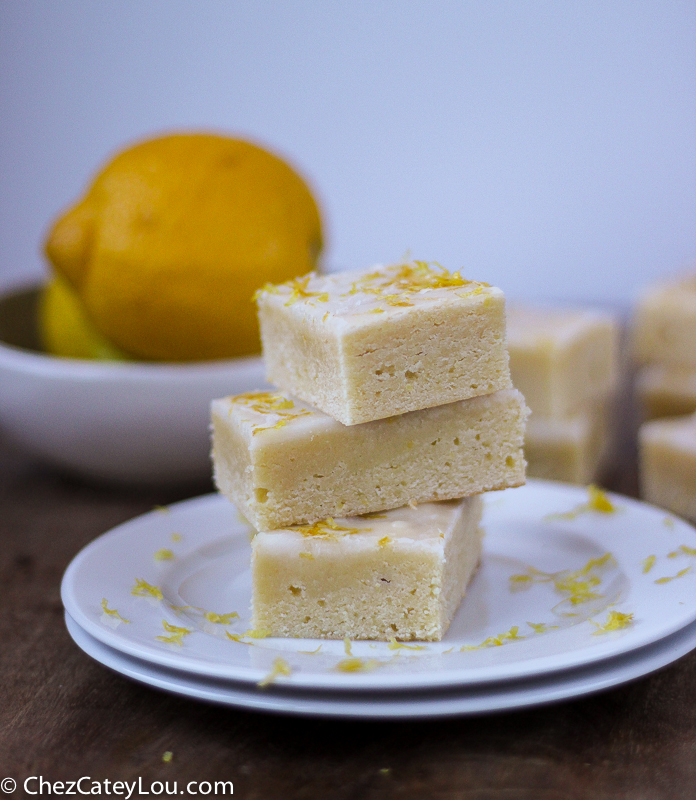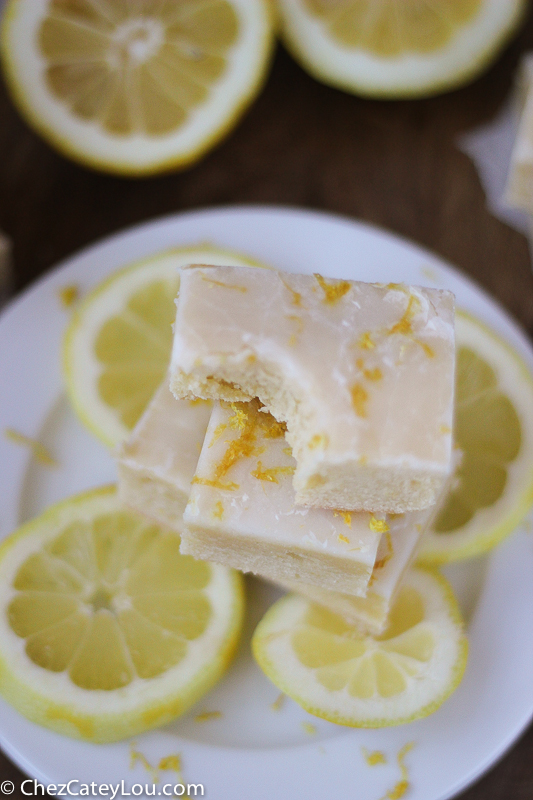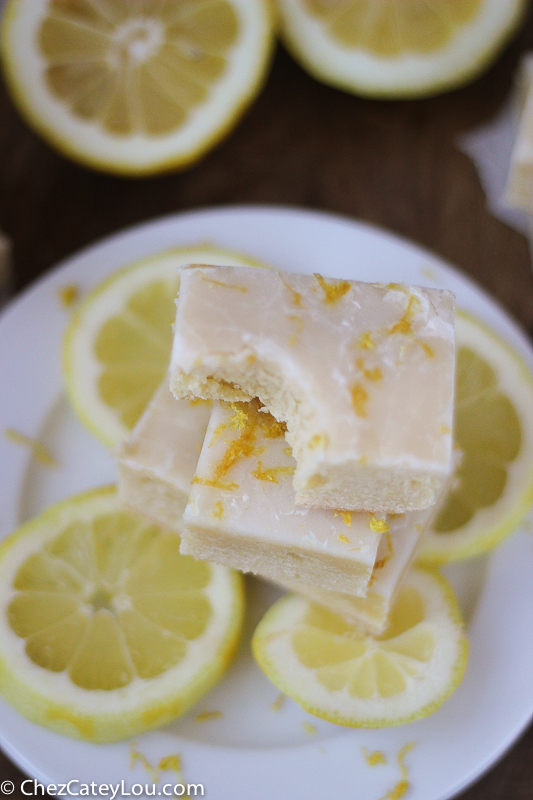 I struggled with what to call these bars. Lemon Brownies sounds kind of odd, because to me a brownie is chocolate! But they aren't lemon bars, they certainly aren't lemon cake (not cakey at all!), they aren't really blondies either (no brown sugar). The texture is so similar to a dense and fudgy brownie, so…I guess Lemon Brownie is the perfect name.
I came across the recipe on Averie Cooks and was really intrigued so decided to try them. Best decision ever!!  They are thick and fudgy and lemony with the perfect amount of sweetness, and a nice richness from the white chocolate – so good!!!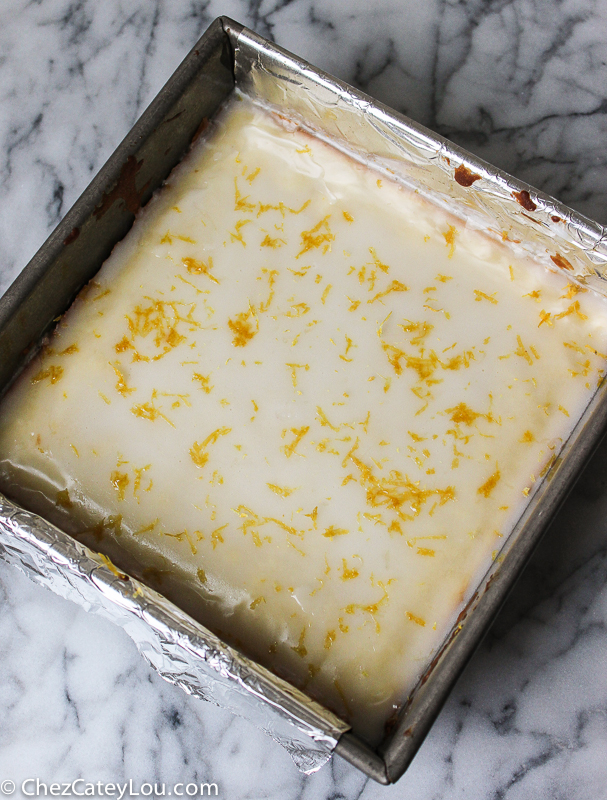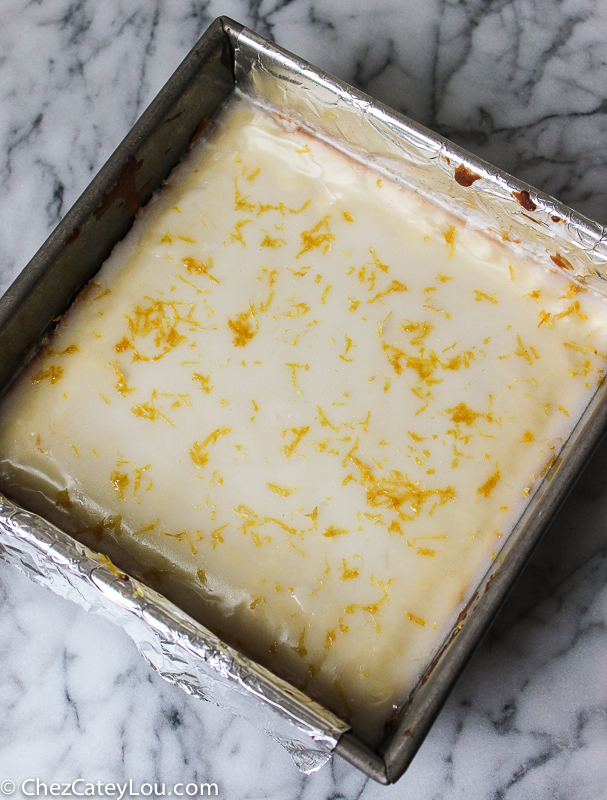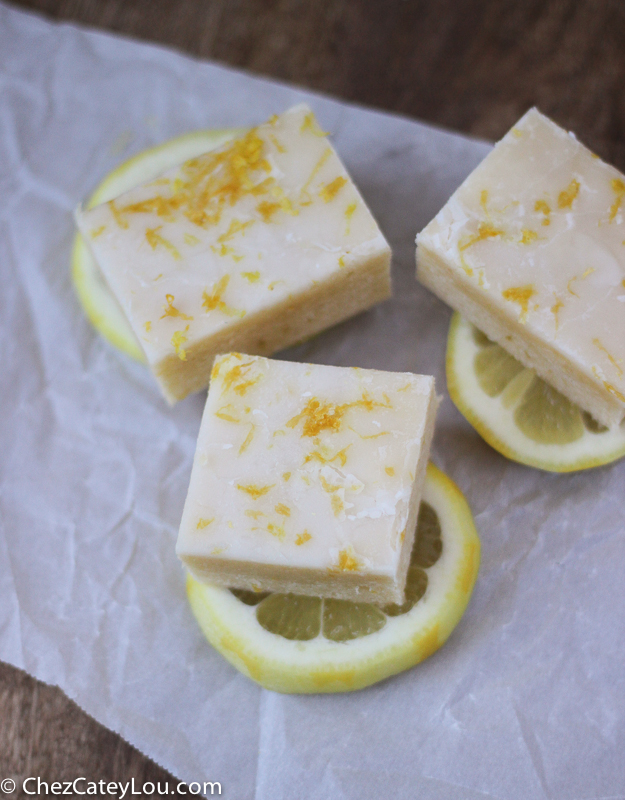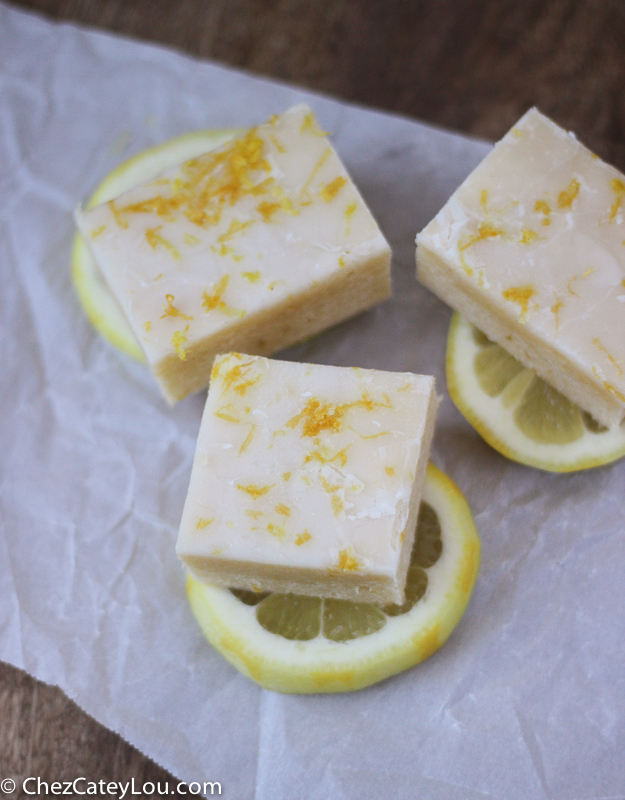 My biggest tip for making these bars is…be careful when melting your white chocolate! White chocolate can be kind of finicky. I tried melting my first batch of butter/white chocolate on a double boiler, and it scorched! I think using a microwave is the easiest and most foolproof way to melt the white chocolate. After an initial 30 to 45 seconds in the microwave, I take the mixture out and stir it every 15 seconds, which might seem excessive, but that ensures that it doesn't get ruined!  Nothing makes me sadder than ruining things when I'm baking. I hated throwing out that  first white chocolate / butter mixture!  Oh well, live and learn!
But other than the white chocolate melting, these bars are super simple to make! They taste best once they have been sitting for a few hours (or overnight) so that the glaze can set. If you are a lemon lover, you are going to go crazy for these lemon brownies!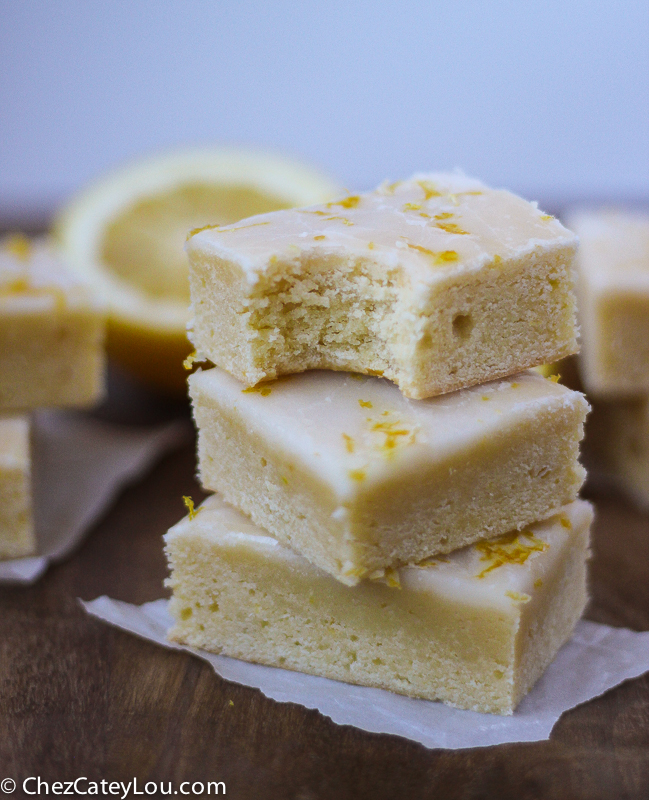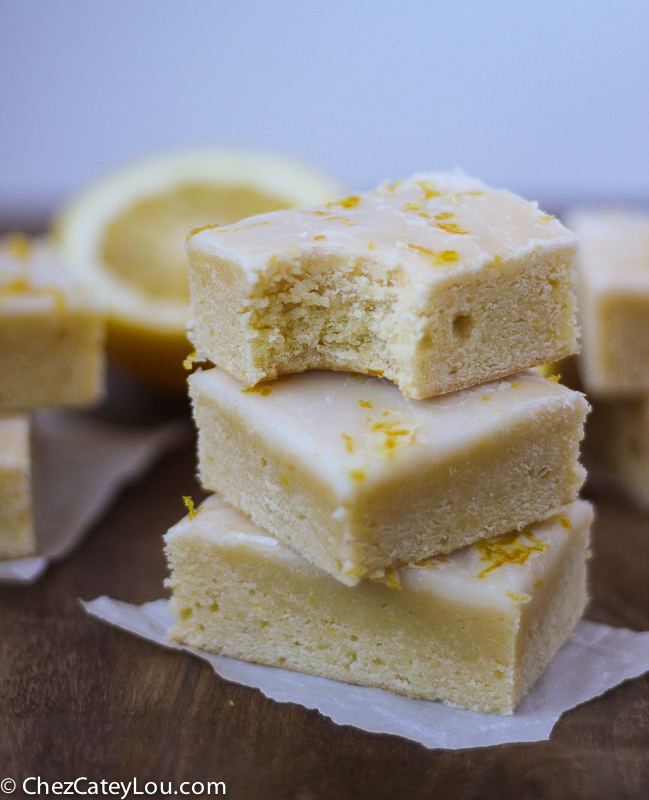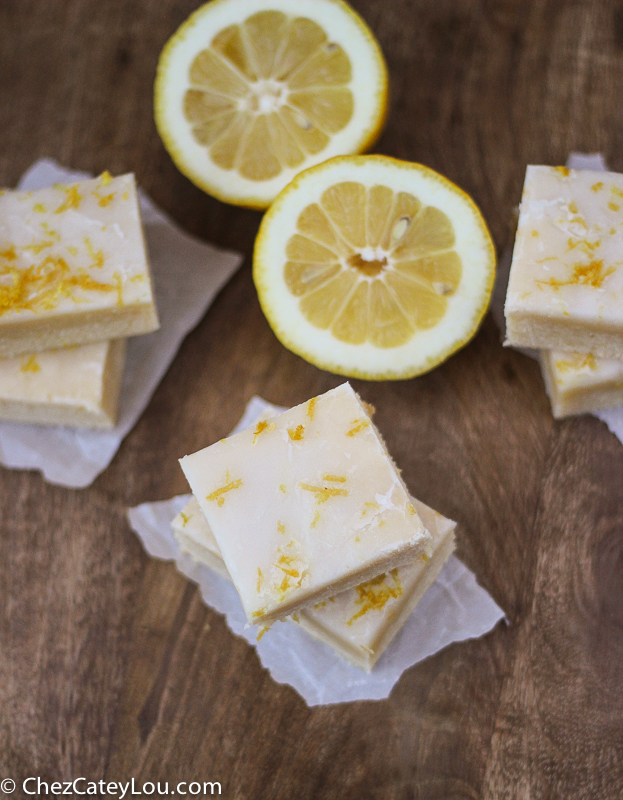 These bars are called Lemon Brownies because they have the thick and fudgy texture of a brownie! They are made with white chocolate and are full of citrus flavor!
Ingredients
For the Bars

3/4 cup white chocolate chips
1/2 cup unsalted butter, cut into pieces (1 stick)
2 large eggs
3/4 cup granulated sugar
1/4 cup lemon juice
2 tsp lemon zest
1 3/4 cups all-purpose flour
1/4 teaspoon salt

For the Glaze

1 cup confectioners' sugar
about 2 Tablespoons lemon juice (might need a bit more or less)
1 tablespoon lemon zest
Instructions
For the Bars

Preheat oven to 350F. Line an 8-by-8-inch baking pan with aluminum foil and spray with cooking spray.
Add the white chocolate and butter to a large microwave-safe bowl. Heat for 30 seconds on high power then stir. Continue heating in 15 second increments, stirring after each increment, until mixture is just melted and smooth.
Let the mixture cool for about 10 minutes, then add the eggs, sugar, and lemon juice. Whisk until smooth and combined. Stir in the lemon zest.
Stir in the flour and salt and mix until just combined - do not overmix.
Using a rubber spatula, transfer the batter to the greased pan, and smooth it evenly.
Bake for about 25 to 27 minutes, until slightly golden brown on the edges and a a toothpick inserted in the center comes out mostly with a few moist crumbs.

For the Glaze

Add confectioners' sugar and lemon juice to a medium bowl and whisk until no lumps remain and mixture is smooth. Add more juice or sugar until desired consistency is reached. Pour the glaze on the bars, smoothing it evenly. Sprinkle the lemon zest on top of the bars. Allow the bars to cool for at least 2 hours, or overnight, before cutting.
Notes
https://chezcateylou.com/lemon-brownies/
© Chez CateyLou. All images & content are copyright protected. Please do not use my images without prior permission. If you want to republish this recipe, please re-write the recipe in your own words, or link back to this post for the recipe.
If you are a lemon lover, here are some great recipes for you!
Baked Lemon Greek Yogurt Donuts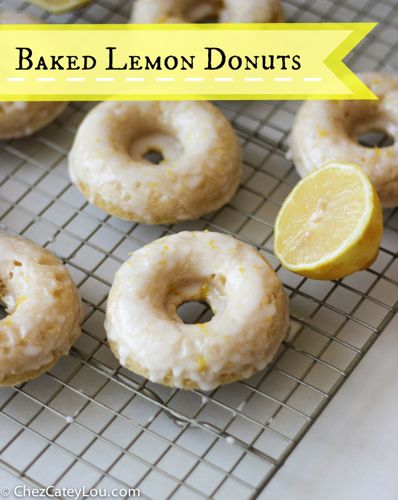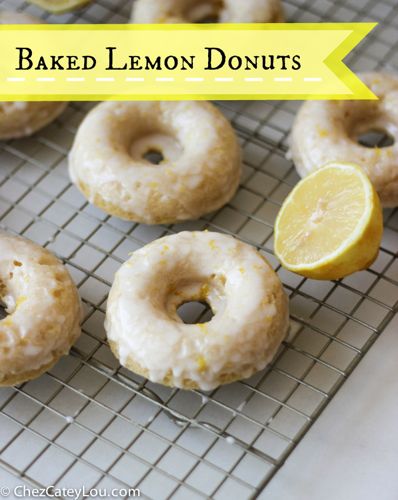 Follow Chez CateyLou around the internet!