Sweet candied brown sugar bacon tops a savory and salty broiled parmesan cheese toast – these are good enough to be called the Best Appetizer Ever!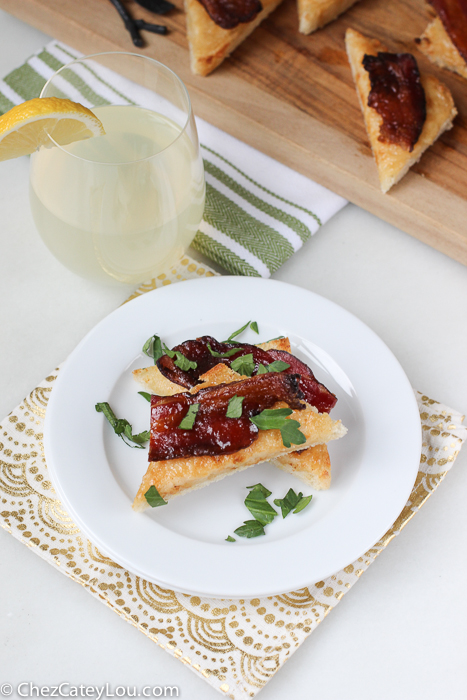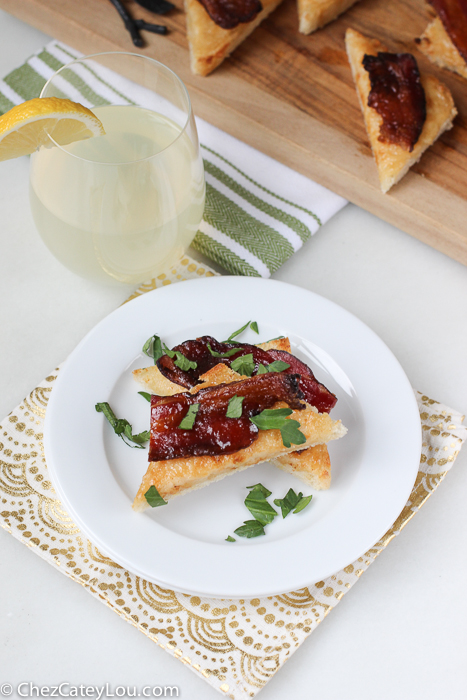 Parmesan Cheese Toast with Brown Sugar Bacon is quite a long name for a recipe…I should have just called it The Best Appetizer Ever. Because honestly – this really is the BEST appetizer ever. I mean first of all – brown sugar bacon, aka candied bacon, aka sugared bacon – that alone could be considered one of the best appetizers ever. Sweet and salty and crispy – I could eat an entire plate full of just that! But what makes this THE best is the parmesan cheese toast points. The combo of the nutty salty parmesan broiled on the toast and then topped with the bacon is nothing short of life-changing. Seriously.
Growing up, this appetizer was always served at family parties at our country club. Any get together HAD to include this hors d'oeuvres. And they were always the first to go. In fact at our wedding, we ordered double the amount of these because we knew that everyone would go crazy for them. And yet even after having these for years, I had never actually tried to make them myself. Well…now I know how to make them, and, I know how easy it is to make them – this is going to be dangerous. My brother has already requested that I make a giant platter for Christmas Eve!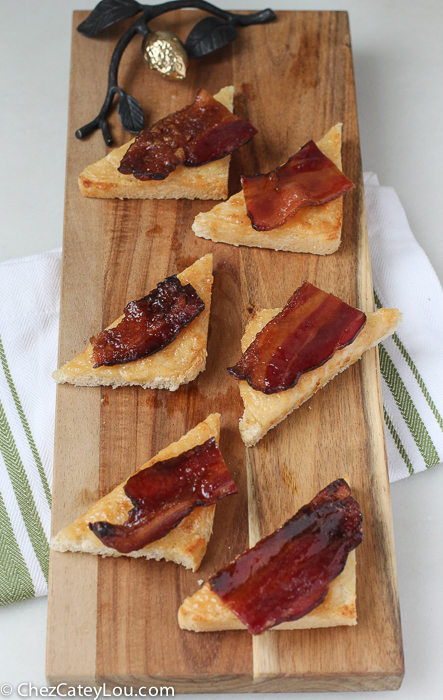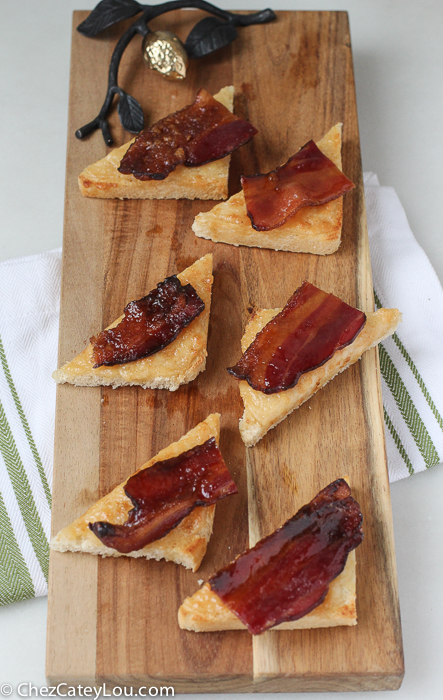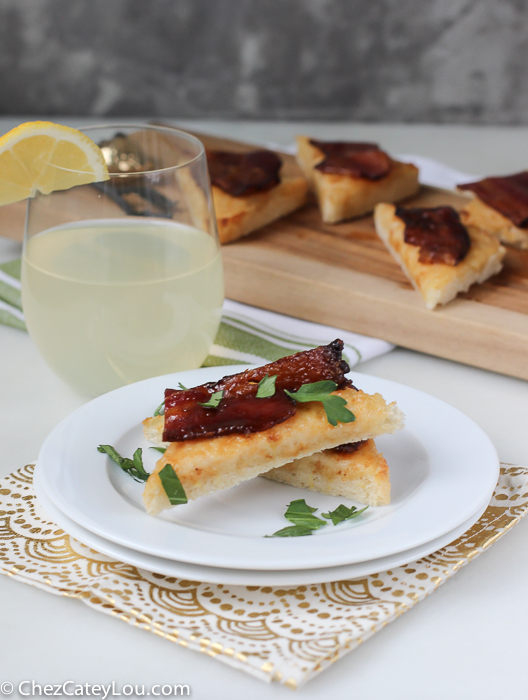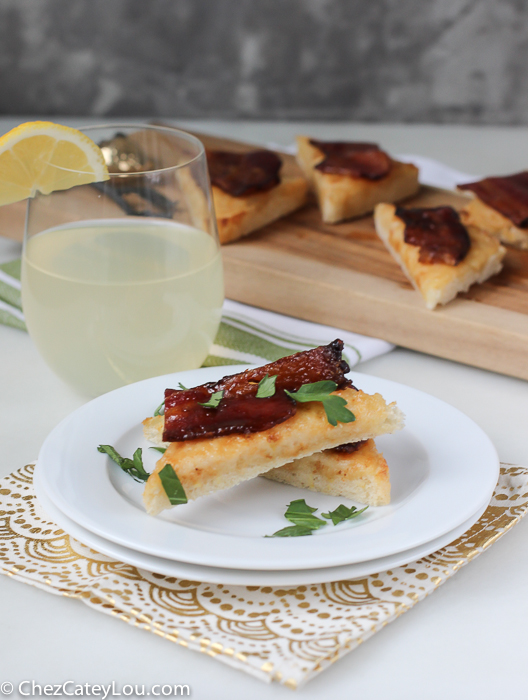 I'm so excited to be hosting a virtual holiday party today with some of my good blogging buddies. 'Tis the season for get togethers and parties and we have you covered with an amazing menu from start to finish:
Cocktail: Jolly Holly Cocktail – Leah from Grain Changer
Appetizer: Parmesan Cheese Toast with Brown Sugar Bacon – Cate, that's me!
Main Course: Baked Ziti – Lynn from Fresh April Flours
Side Dish: Kale, Apple and Wild Rice Salad – Amy from Thoroughly Nourished Life
Dessert: Peppermint Bark Chocolate Cupcakes – Jessica from Sweetest Menu
Make sure to check out everyone's delicious recipes, and their lovely blogs!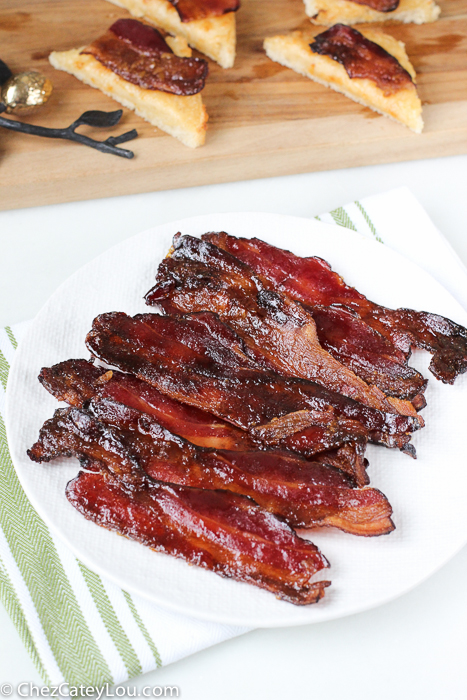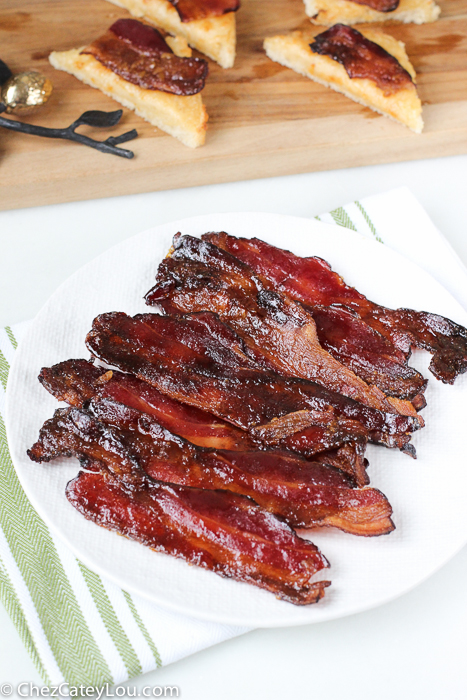 I can't lie to you – these little cheese toasts are not light. At all. And neither is the brown sugar bacon. And, you will eat at least 5 pieces, and probably more. But the holiday season is all about splurges, right? So I say bring it on! This appetizer will be the hit of your holiday party!
Parmesan Cheese Toast with Brown Sugar Bacon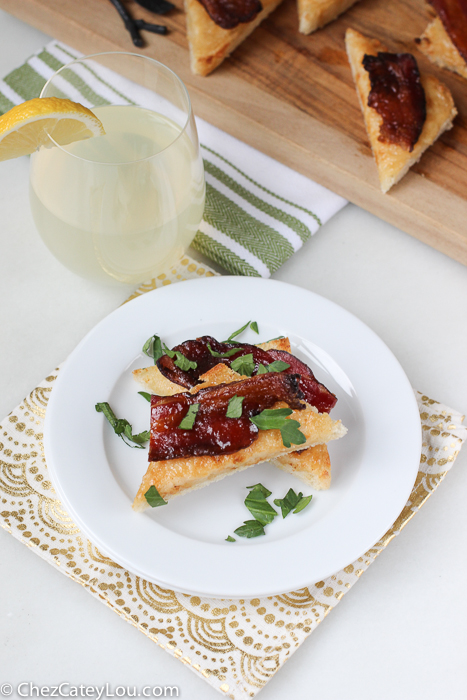 Sweet candied brown sugar bacon tops a savory and salty broiled parmesan cheese toast - these are good enough to be called the Best Appetizer Ever!
Ingredients
For the Brown Sugar Bacon

8 slices bacon
1/4 cup brown sugar

For the Parmesan Cheese Toast

1 cup freshly grated parmesan cheese
1/3 cup mayo
dash cayenne
dash garlic powder
3 slices good quality sandwich bread
Instructions
For the Bacon

Preheat oven to 400 degrees F. Place a cooling rack on a rimmed baking sheet, and lay bacon evenly on the rack. Cook the bacon for 5 minutes - this will help it get extra crispy. Take the bacon out of the oven, and sprinkle evenly with brown sugar. Cook the bacon another 10-15 minutes, until the bacon is dark colored and crispy. Remove from the oven and allow bacon to cool for a few minutes - it will crisp more as it cools.

For the Parmesan Cheese Toast

Keep the oven at 400 degrees F.
Mix together parmesan, mayo, cayenne, and garlic powder. Spread a thin layer of the mixture on each piece of bread, and place bread on a cookie sheet. Bake for about 3 minutes, until cheese is starting to melt, then remove from oven and turn on the broiler. Return the toast to the oven and broil until the cheese starts to turn golden brown, about a minute. Watch them closely so they do not burn. Cut the toasts into 4 triangles, and top each with 1/2 piece of brown sugar bacon.
https://chezcateylou.com/parmesan-cheese-toast-with-brown-sugar-bacon/
© Chez CateyLou. All images & content are copyright protected. Please do not use my images without prior permission. If you want to republish this recipe, please re-write the recipe in your own words, or link back to this post for the recipe.
Follow Chez CateyLou around the internet!
Pinterest | Instagram | Stumble Upon
More appetizers that are perfect for any holiday party spread!
Butternut Squash Potstickers with Sriracha Ginger Dipping Sauce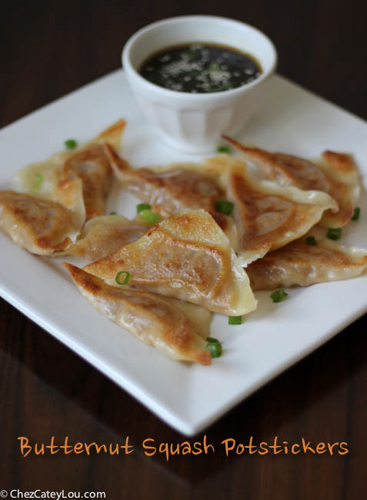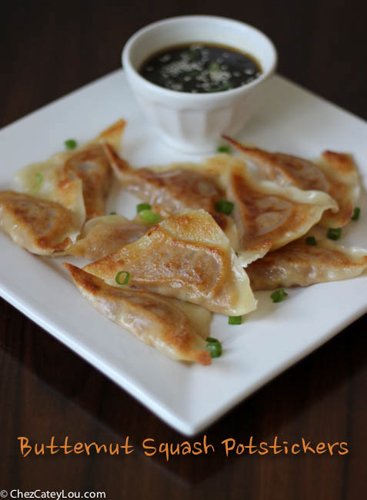 Butternut Squash Crostini with Ricotta, Caramelized Onions, and Fried Sage