This Pull-Apart Pepperoni Pizza Bread is a delicious twist on pizza. The cast-iron skillet gives it a crusty edge and doubles as a beautiful serving dish!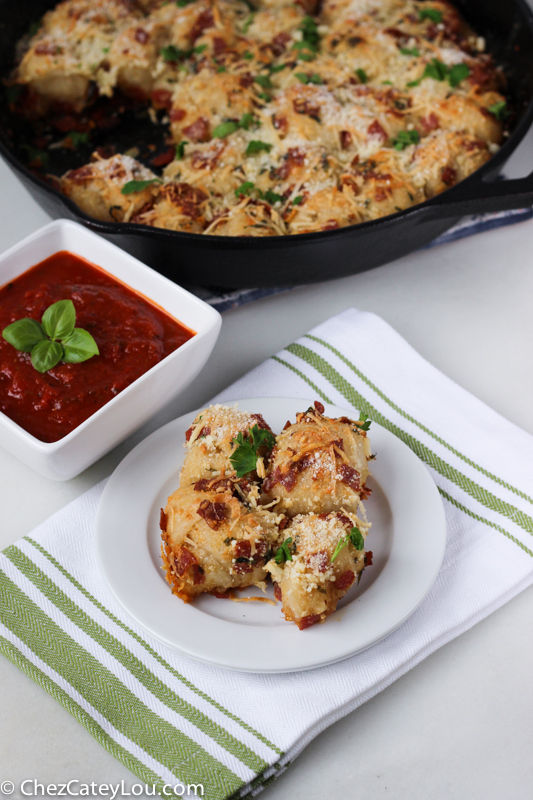 It is almost Oscar time! Have you caught up on your movies? And more importantly, do you know what you are making? I know I will be making this Pull Apart Pepperoni Pizza Bread!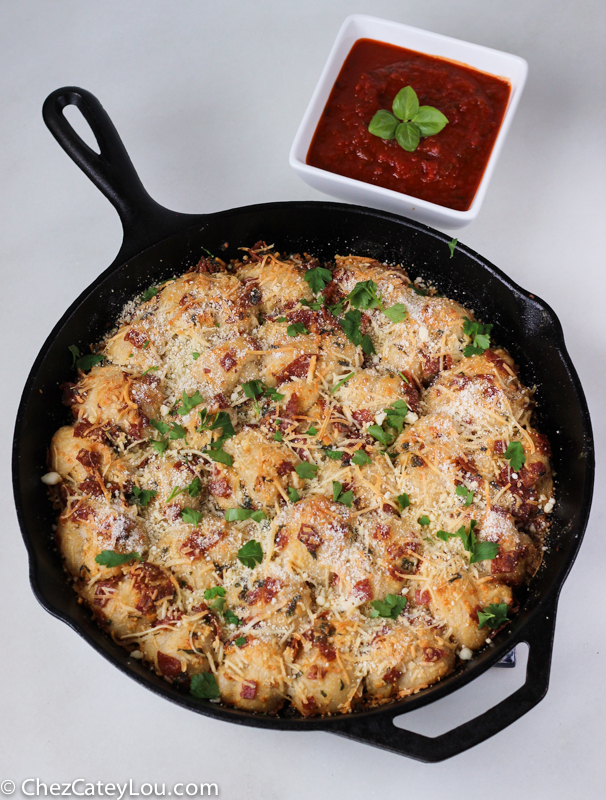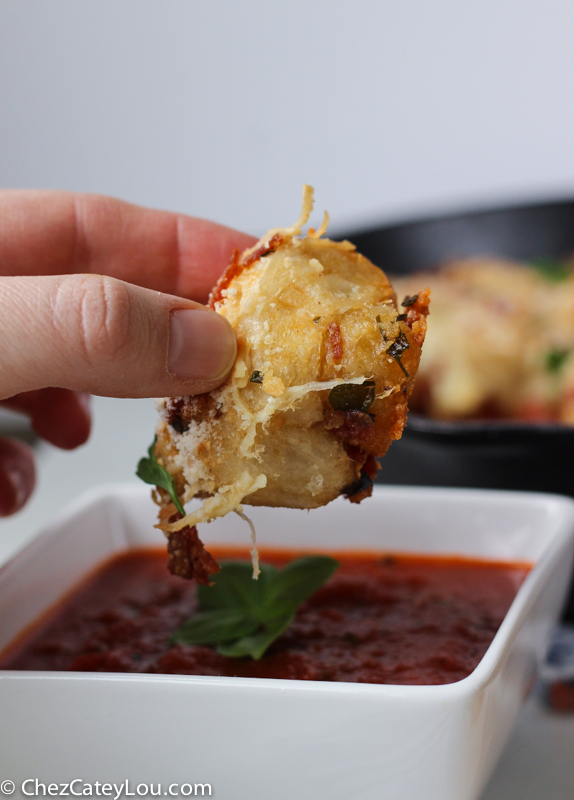 Ok confession time…I haven't seen any of the nominated movies! We never go to the movies anymore. Most of the theaters in NYC (at least near me) are kind of gross, and they are always packed! It is such an unenjoyable experience, so we just stopped going. But I still wanted to join in the Oscar fun! Even though I haven't seen any of the movies, I still like watching the Oscars – everyone knows the best part is seeing what everyone is wearing!
My pizza bread was inspired by the movie Whiplash. I had to turn to my movie expert friend Julia (no really, her job is to be an expert on all things tv and movie.  pretty amazing) to figure out what to make. She said that in Whiplash, he eats a lot of pizza so I just ran with that! But I thought that instead of normal pizza, I would make something that would be so much fun to serve at an Oscar Party – Pull Apart Pepperoni Pizza Bread! These are basically garlic bread knots mixed with tons of pepperoni and topped with cheese! They are cooked in a cast iron skillet which gives them a great crusty exterior, and also doubles as a beautiful and rustic serving dish!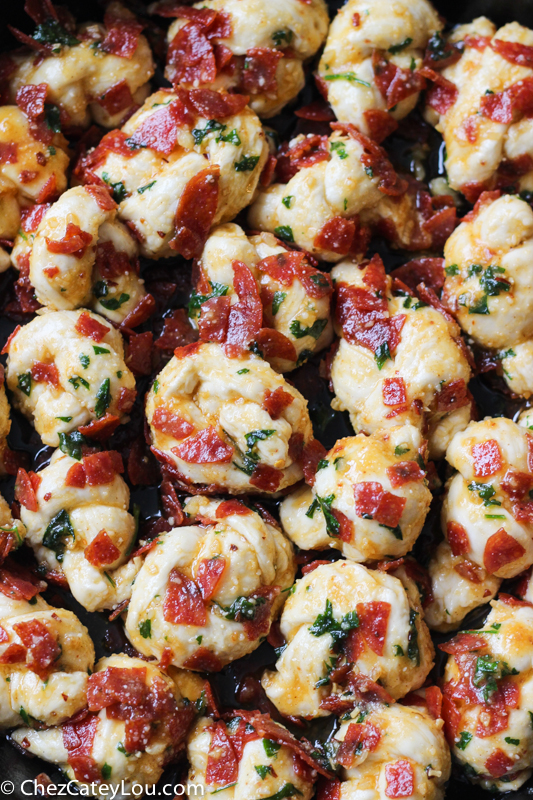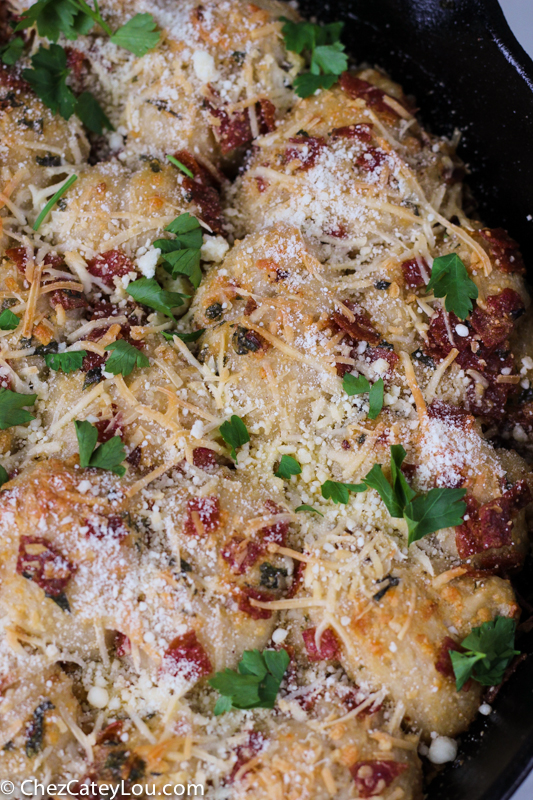 You can use storebought pizza dough in this recipe or make whatever dough you like. I used a no-knead pizza dough from this post – it is so easy to make!
The pizza bread starts with chopped pepperoni and garlic sautéed in some oil and butter…this is not a light recipe, but it tastes amazing!! Then you cut the pizza dough into strips and tie the dough into knots, then toss all the knots in the pepperoni garlic mixture and add a good helping of parmesan cheese!! The dough knots are then spread into the cast iron pan that you used to cook up the pepperoni – talk about flavor! The dough needs to rise for a few hours, then top with more cheese and into the oven it goes! The final touch is a big bowl of marinara sauce for dipping.
You can also make the pizza bread the day before you want to serve and just let it rise in the fridge overnight.  Then when you are ready to eat,  let the dough sit at room temperature for and hour and then pop it into the oven.  So easy!
These will be the hit of any party. It is such a fun twist on regular pizza!
Pull-Apart Pepperoni Pizza Bread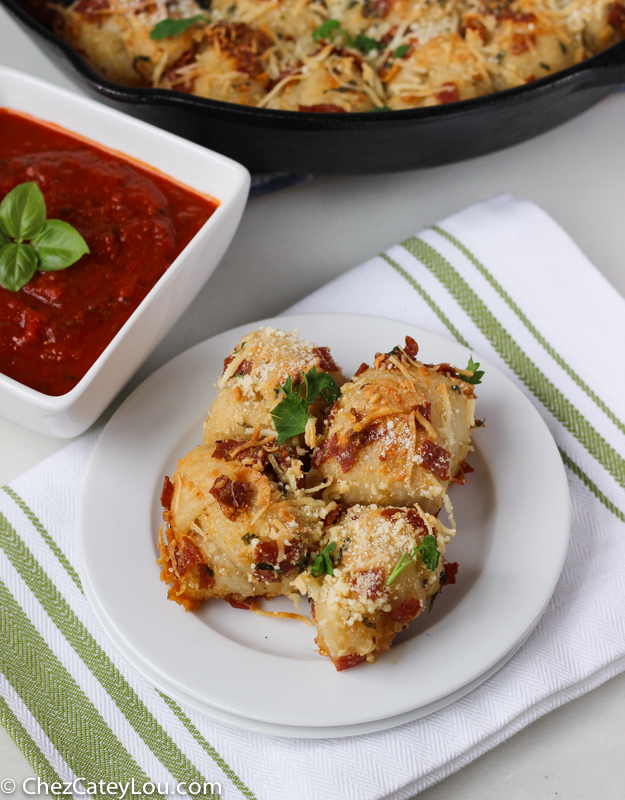 This Pull-Apart Pepperoni Pizza Bread is a delicious twist on pizza. The cast-iron skillet gives it a crusty edge and doubles as a beautiful serving dish!
Ingredients
2 tablespoons unsalted butter
2 tablespoons extra-virgin olive oil, plus more for drizzling
4 ounces pepperoni, cut into 1/4-inch squares
Pinch red pepper flakes
6 medium cloves garlic, minced (about 2 tablespoons)
1/4 cup chopped fresh parsley leaves
1/2 cup grated Parmesan cheese, plus more for sprinkling
Flour for dusting
1 pound pizza dough (such as this one)
1/4 cup grated Pecorino Romano cheese
Pizza sauce for serving
Instructions
Add butter and oil to a 10-inch cast iron skillet over medium heat and cook until butter melts and foaming stops. Add pepperoni and cook, stirring, until pepperoni begins to crisp, about 3 minutes. Add pepper flakes and garlic and cook, stirring constantly, until fragrant, about 1 minute. Remove pan from heat and transfer mixture to a large bowl. Stir in parsley and Parmesan cheese. Do not wipe out skillet.
On a lightly floured surface, divide pizza dough into two even pieces. Roll or stretch the first piece of dough into an oblong shape about 8 inches long and 4 inches wide. With a bench scraper or knife, cut crosswise into 12 strips. Do the same with other half of dough.
Tie each strip of dough into a knot and transfer to bowl with pepperoni/garlic mixture. Gently toss the knots with your hands until every piece of dough is coated in mixture. Place the knots into the skillet in a single layer. Drizzle with more olive oil, cover the pan tightly with plastic, and set aside until doubled in size, about 3-4 hours. Alternatively, refrigerate until doubled in size, 12 to 16 hours. If you use the overnight method, just let the dough sit at room temperature for about an hour before you bake it.
When ready to bake, preheat oven to 425°F and adjust oven rack to center position. Unwrap pizza bread knots and sprinkle with Romano cheese. Place skillet in oven and bake until golden brown and crisp, 25 to 30 minutes.
Remove from oven and sprinkle lightly with more Parmesan. Serve right away with warmed pizza sauce on the side.
Notes
https://chezcateylou.com/pull-apart-pepperoni-pizza-bread/
© Chez CateyLou. All images & content are copyright protected. Please do not use my images without prior permission. If you want to republish this recipe, please re-write the recipe in your own words, or link back to this post for the recipe.
And now for the GIVEAWAY! One lucky reader will win a streaming media player — your choice of an Amazon Fire TV, an Apple TV or a Roku 3, so that you can catch up on all of the winning movies!
Each of the participating bloggers has prepared an Oscar-themed recipe, and they're up for best recipe! When you participate in the giveaway, be sure to vote for your favorite recipe (mine, obviously ☺). The winning blogger will get $50 in cash!  Good luck, and thank you for entering!
Meet the amazing bloggers bringing you this giveaway!
Anne from Wit Wisdom and Food // Beth from bethcakes // Cat from The Rustic Willow // Cate from Chez Catey Lou // Erin from The Speckled Palate // Ginnie from Hello Little Home // Grace from Think Fruitful // Jenna from A Savory Feast // Katie from Twin Stripe // LeAndra from Love & Flour // Leia from Eat It & Say Yum // Linda from Brunch with Joy // Madison from The Wetherills Say I Do // Meghan from Cake 'n' Knife // Molly from Hey There Sunshine // Susannah from Feast + West
The Oscar Noms Party
Menu & Movies
Appetizers
Pork Tenderloin Sliders – The Judge
Aged Cheddar & Apple Grilled Cheese – Boyhood
Pull-Apart Pepperoni Pizza Bread – Whiplash
Asparagus Rolls – Into the Woods
Texas Guacamole Quesadilla – The American Sniper
Magic Garbanzo Beans – Into the Woods
Desserts
Nutella Mochi – Big Hero 6
Rocket Raccoon Cake – Guardians of the Galaxy
Texas Peach Crisp Skillet – American Sniper
Camouflage Mini Cheesecakes – American Sniper
Courtesan au Chocolat – Grand Budapest Hotel
Butterscotch Pudding – Gone Girl
Chocolate-Covered Cherry Granola – Wild
Cocktails
Pink Lady Cocktail – Grand Budapest Hotel
Black(berry) Hole – The Theory of Everything
Oscar Chambord Royale – The Theory of Everything
The Blueberry Wish – Into the Woods
Connect with Chez CateyLou!