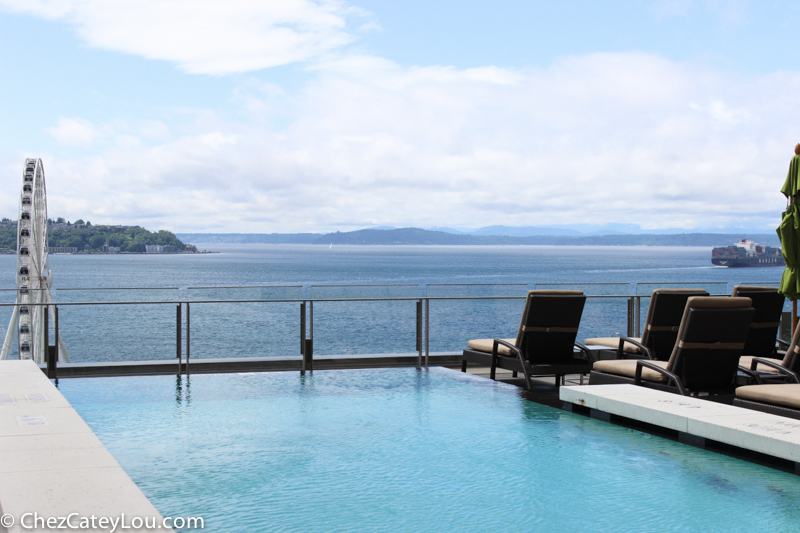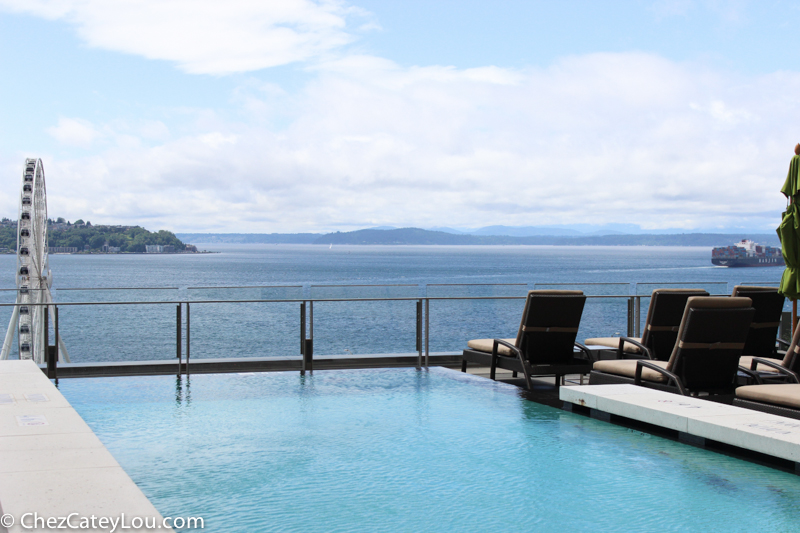 Hope everyone enjoyed Part 1 of our Seattle recap.  Today, we'll take a look at my last ten thoughts about Seattle.  Before we begin, a quick reminder that not all my thoughts are positive.  Most are (we really had a great time in Seattle), but I try to remain objective and include things that I think other travelers would find helpful.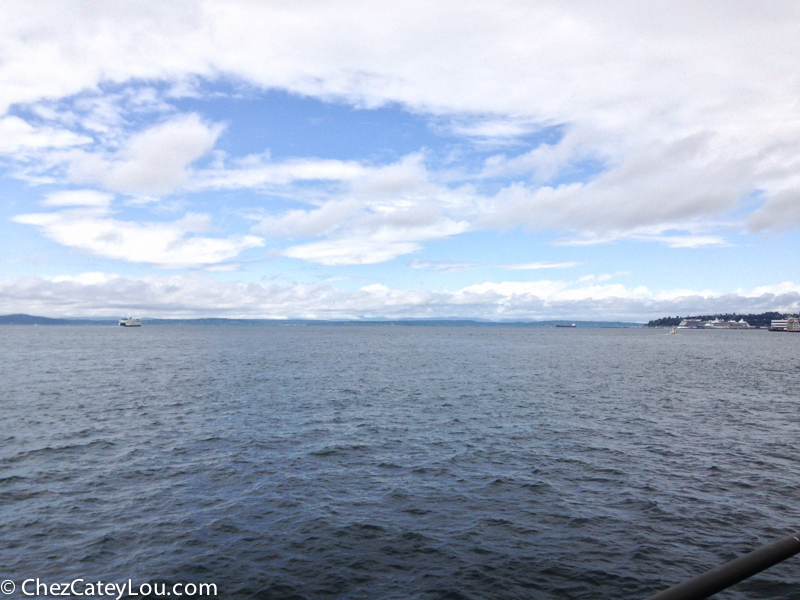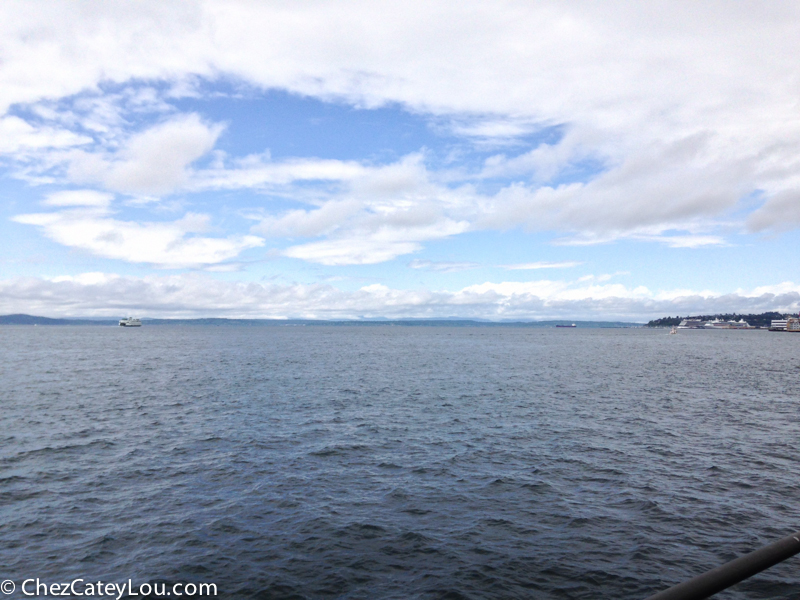 11. I didn't realize Happy Hour existed outside of Chili's and TGI Friday, but holy hell does Seattle enjoy itself some discounted beverages. Not only do many of the best restaurants in town participate in happy hour – even our hotel minibar had a happy hour!  And these weren't chintzy happy hour specials like $1 off that house wine that no one likes either – prices were reduced across the board, great deals on craft beers, and even specials on oysters. The next $9 beer I order in New York at 5:15pm is really going to hurt. (Addendum: Since writing this, I've realized that there are actually some good happy hour specials in New York too. In fact just the other Friday I met a buddy for dollar oysters at The Wayland in the Lower East Side.  But still…)
12. If you're looking to get around in Seattle and do not want to rent a car, Uber is definitely the way to go (disclosure: Uber is not a sponsor of the blog, unless they want to be…. Although if you sign up through the link, you get your first ride free and I get a credit too!  Win-win). If you use UberX, it is actually cheaper than a yellow cab. Uber will pick you up anywhere in the city, and nothing is better than arriving at your destination and not having to fiddle with a credit card machine and explain to the driver why you can't pay with cash. (For those unfamiliar with Uber, it's a mobile app that connects you with a network of livery drivers. Uber is linked to a credit card – all fares and tips are deducted from your card once the ride concludes). However, I don't know how much Uber has caught on with the locals, as we ended up with the same driver on more than one occasion. Just think of it as your own personal chauffeur…one who drives a Prius.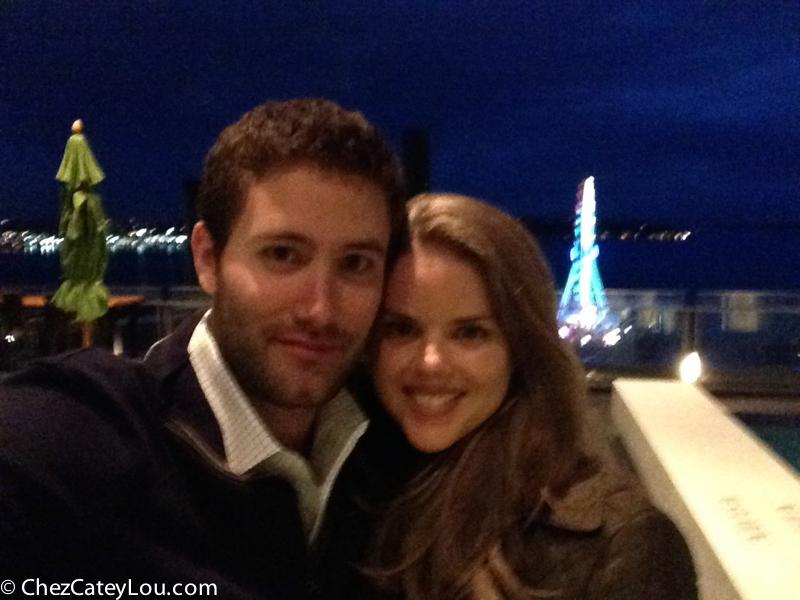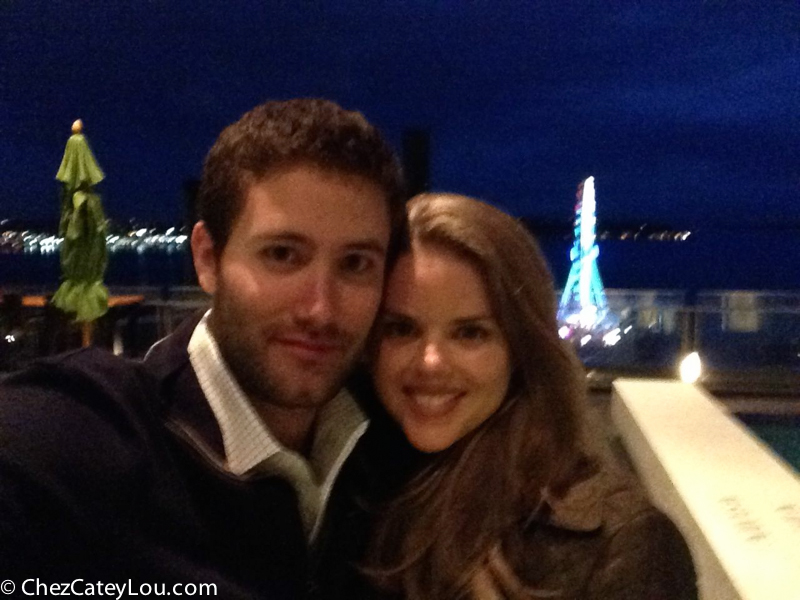 13. We lucked out on the weather on our trip, but when it did inevitably rain (it wouldn't have been Seattle without some wet weather), the locals did not bat an eyelash or, more startlingly, open an umbrella. The fine people of Seattle are troopers. Cate and I must have looked so unhip with our umbrellas.  Dry, but unhip.
14. One negative about Seattle, sadly, is there were a noticeable amount of homeless and/or tweakers wandering the streets – particularly in the downtown area not far our hotel. I understand that this is unavoidable in big cities to some extent, but it's still off-putting and caused an uneasy feeling at times (especially due to the obvious drug use). New York City seemingly has a bad rap from a safety standpoint, but I've never felt unsafe anywhere in Manhattan. If anything, there's some benefit from safety in numbers (New York City is so jam packed with people you never feel alone). Again, the problem was more pervasive in the downtown area than it was in any of the surrounding neighborhoods. It is what it is – and it had no real impact on the overall enjoyment of our trip – but it worth mentioning.
15. On to happier subjects, we need to talk a bit about some of the excellent meals we had in Seattle.  I had the best oysters I've ever eaten at The Walrus and the Carpenter in Ballard. This seminal Renee Erickson restaurant is Beard Award nominated and for good reason. It's a really cool (if small) space that is perfect for enjoying the freshest seafood in Seattle. The oysters are shucked right at the bar and served with fresh horseradish and a great mignonette. I'm a bit of a late arrival to the oyster scene (Cate still isn't there yet…and might never be) but now I really like them and this place does it the best.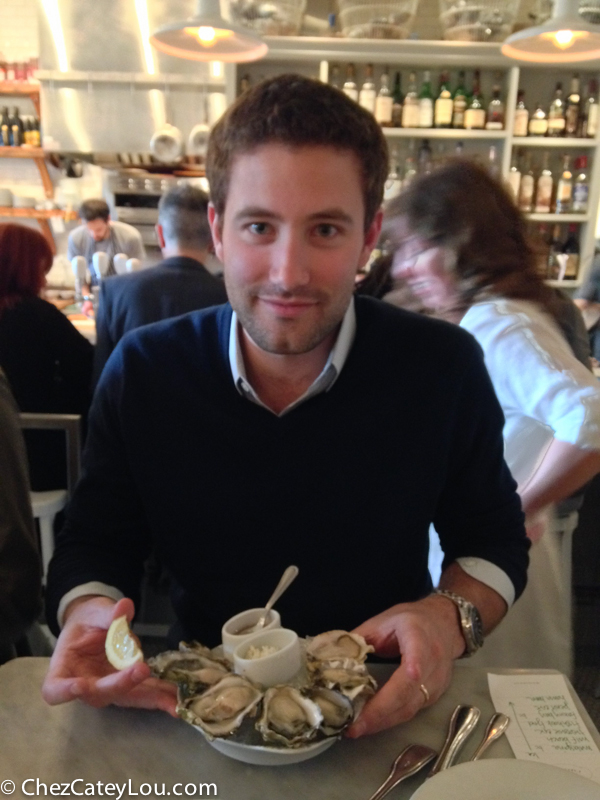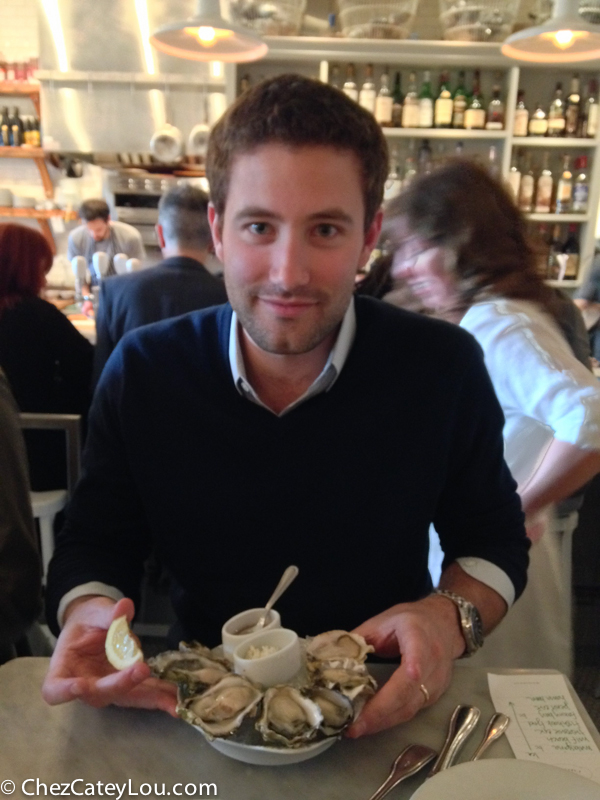 16. Our best dining experience in Seattle came at Bar Sajor, part of the Matt Dillion (no, not that Matt Dillion) group of restaurants. The décor is really inviting (I swear, I thought Cate was going to move in) and I love how they had an open charcoal grill and coal oven. The food was great too. We started with a great house-made yogurt plate with a variety of accouterments (there's a lot of super fresh dairy products in Seattle – in addition to cheese, the butter was outstanding.  Really – Seattle's dairy game is on point). For dinner we split a brick chicken and local shrimp. We loved this restaurant and it is definitely a must-visit.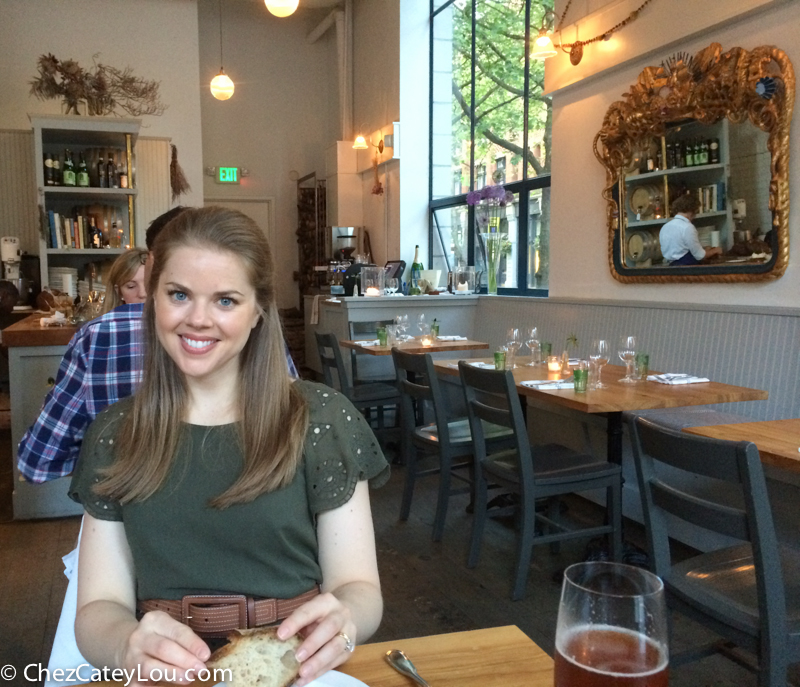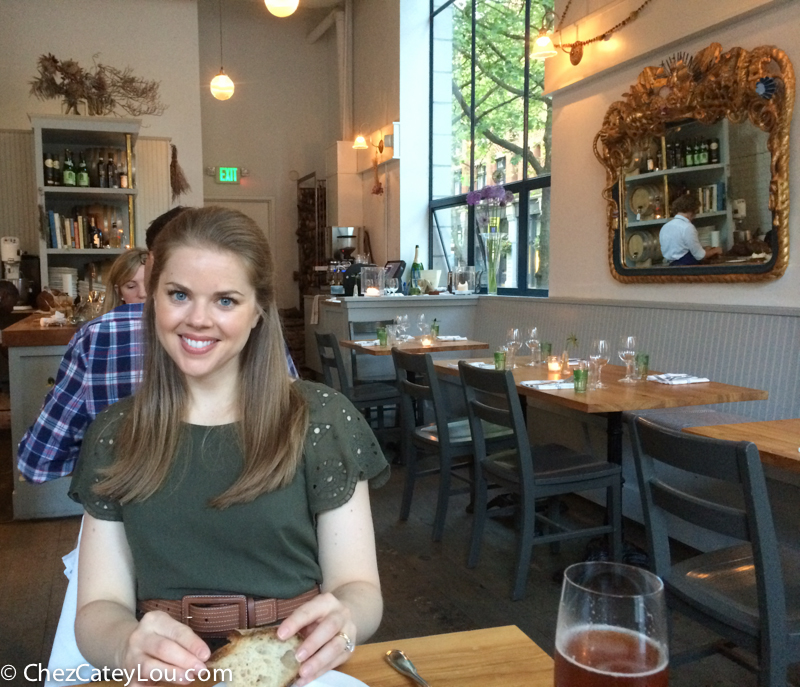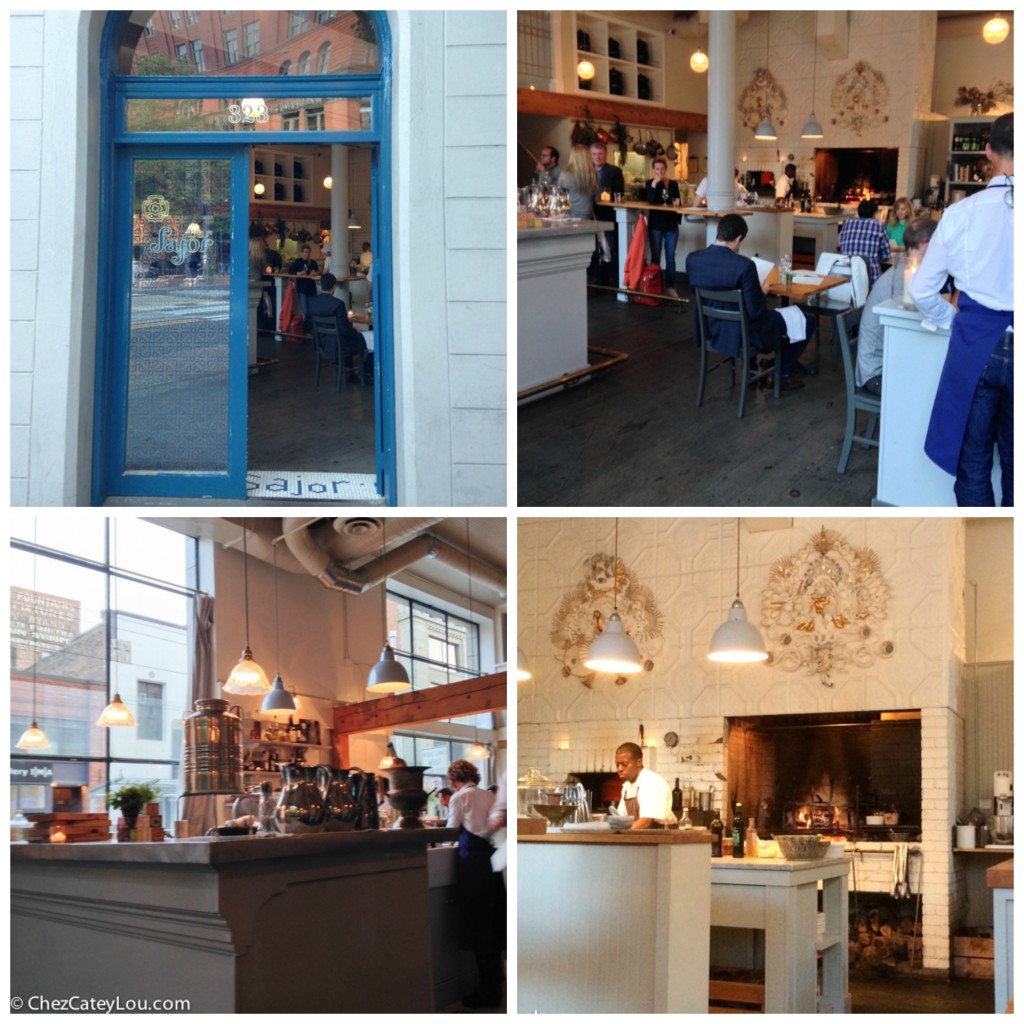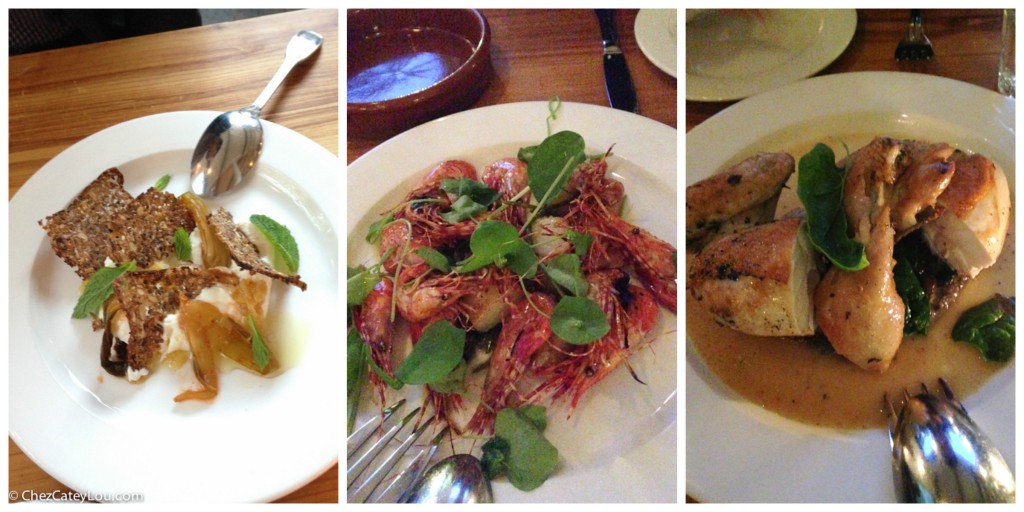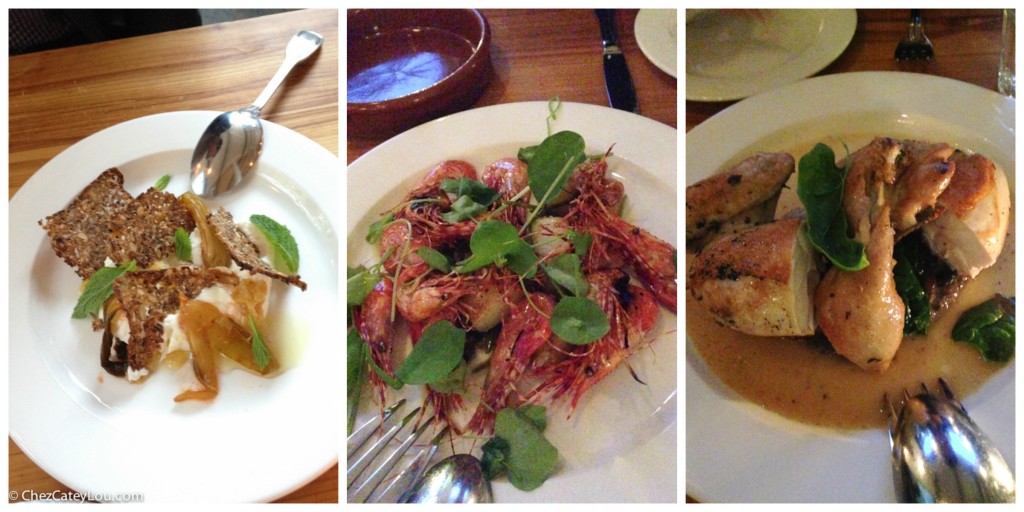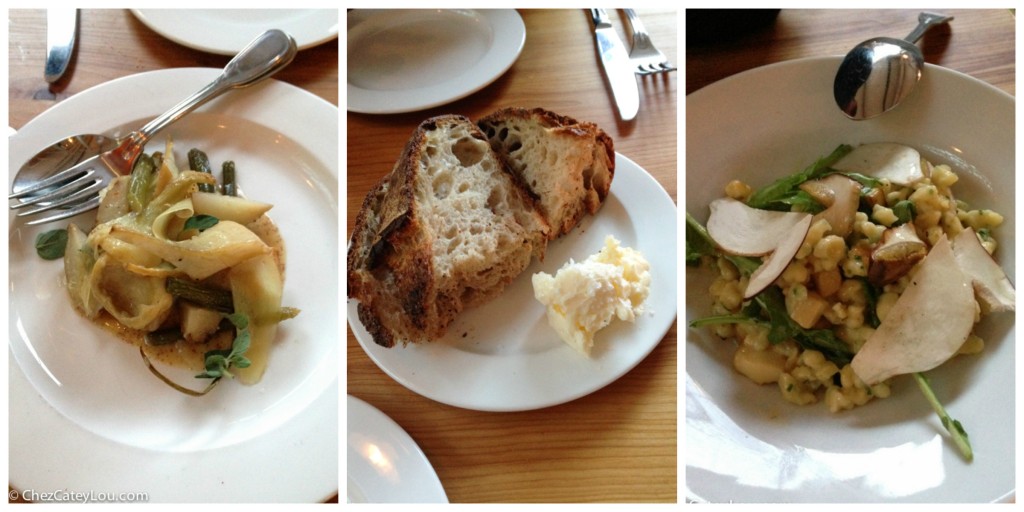 17. While we did eat some amazing food in Seattle, we were disappointed with the city's Italian scene. As East Coasters (home of the best Italian food in the country, particularly Philly and New York, and no this is not up for debate), I don't know what we were expecting. Seattle is an awfully far way from Italy. But we had heard excellent things about Il Corvo, a cool spot that is only open weekdays for lunch and that prepares three fresh pastas daily. We tried one of each (of course…) – a lasagna, a Bolognese, and a primavera. While the Bolognese was the best – I loved the way the restaurant used a variety of different noodles in the dish – the lasagna was merely good (we grade on a tough scale) and the primavera with peppers was downright bland. A cool restaurant and a fun format, but not a must visit by any means.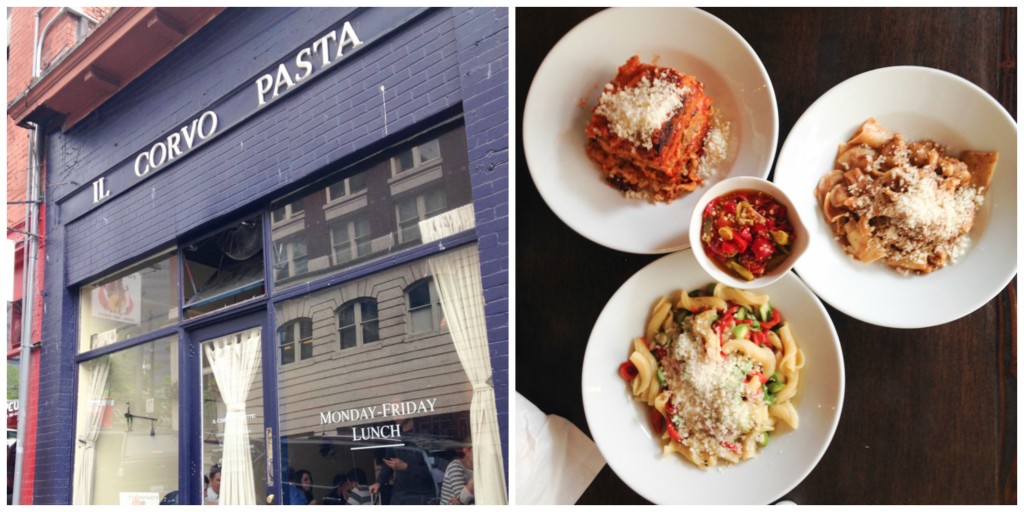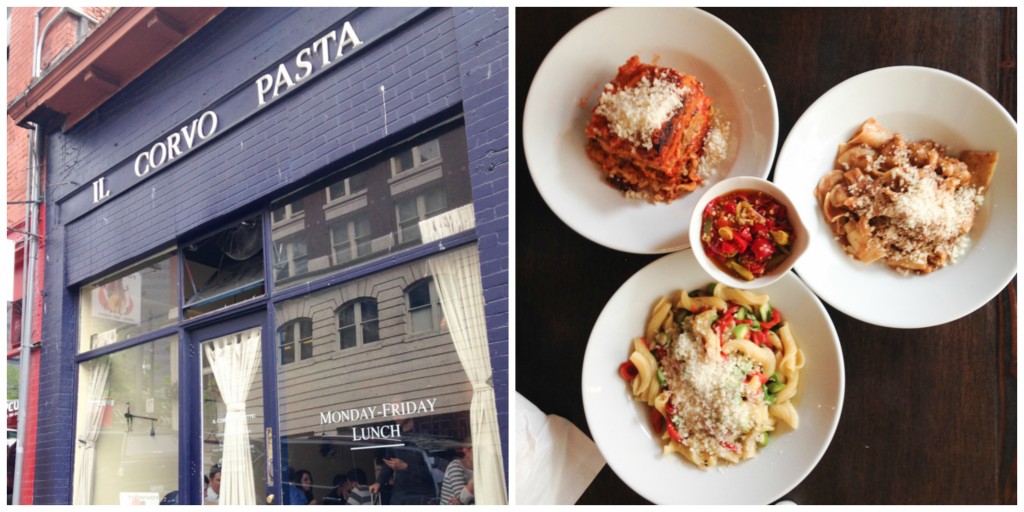 18. We also went to Staple & Fancy, an Italian restaurant in Ballard for dinner, and again had so-so results. We each got a pasta to start and both were just fine. Nothing compared to the Italian you'd get at Sfoglia, Babbo, Perla, Dell'Anima, Charlie Bird and a handful of other places in Manhattan. We did split a whole chargrilled bronzino for dinner that was really tremendous (nice and crispy on the outside, still moist on the inside). The lesson here is seafood is really the way to go in this town.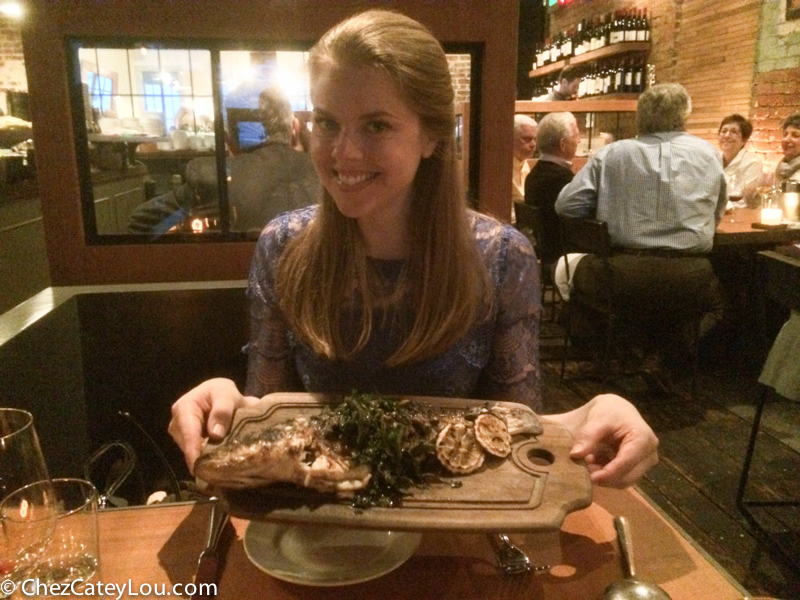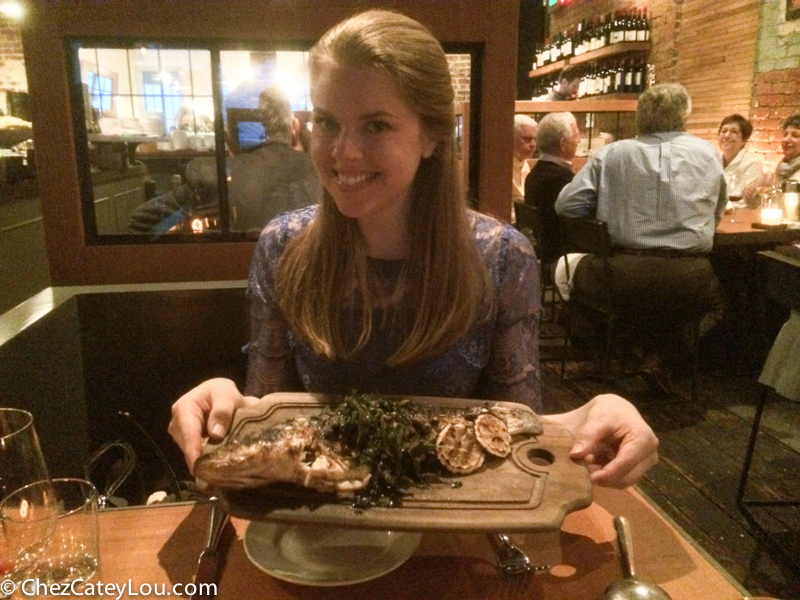 19. Our home base for the trip was the Four Seasons in downtown Seattle. The hotel has excellent proximity to the Pike Place Market, and is a short drive to the Fremont, Ballard, and Capitol Hill neighborhoods. We loved the view from the pool and patio area on the 4th floor that overlooked the Sound and the iconic Great Seattle Ferris Wheel. The rooms are spacious, although only a limited number of units have a Sound view (not ours).
20. Lastly, my favorite part about our trip was this picture…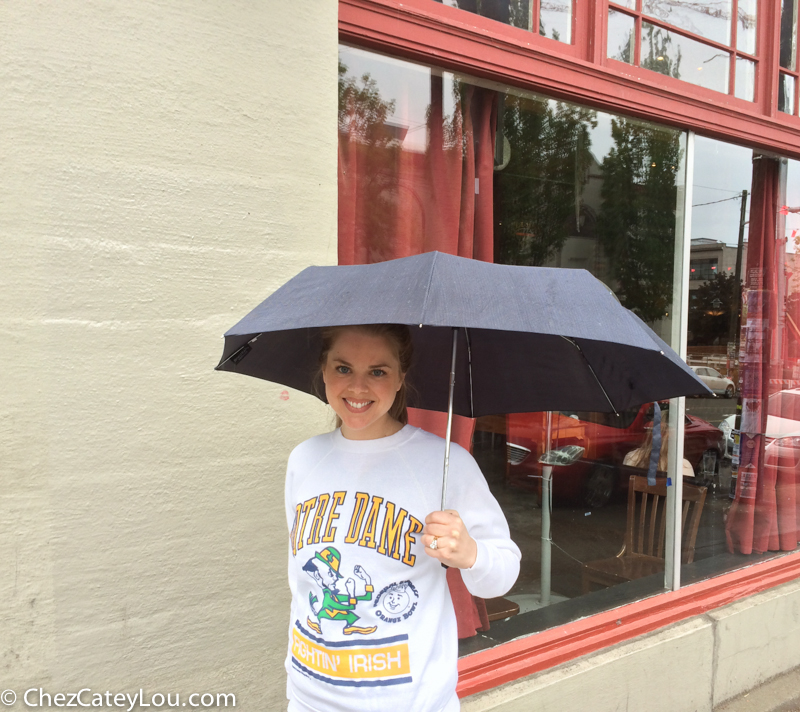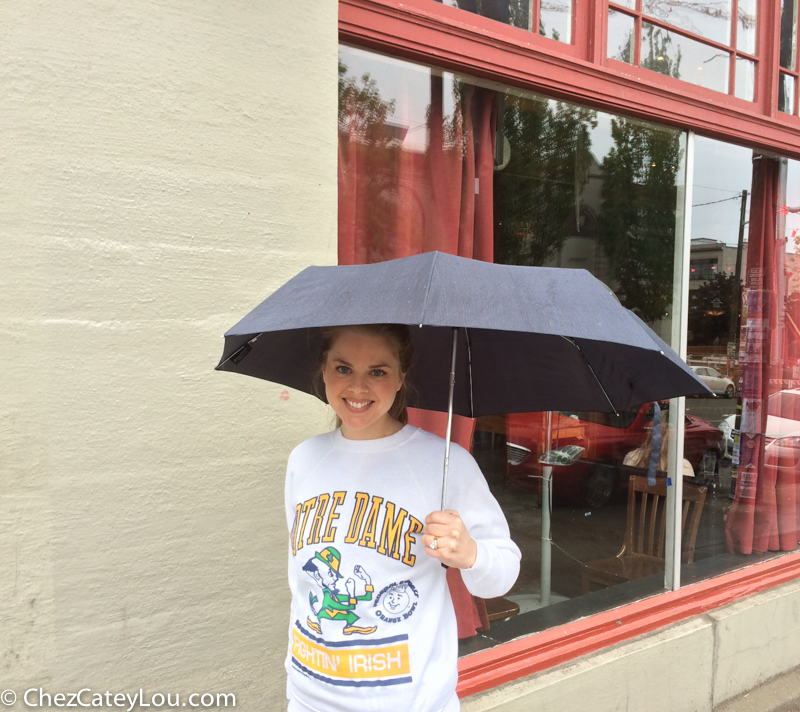 Some background: on our way to the Elysian Brewery in Capitol Hill, we stopped by Throwbacks Northwest, a retro sports apparel shop. While I have a soft spot for all old-school sports gear (I still own an embarrassing amount of Starter NBA jerseys from the mid-90s), I was able to talk Cate into buying this terrific Notre Dame hoodless sweatshirt from the 1993 Orange Bowl. I would bet heavily on this bad boy making a few appearances this fall at Notre Dame game watches.
Because I can't stop at just 20, here are a few places that didn't make the list but are still merit mentioning:
Poppy: A "Thali" style restaurant in Capitol Hill.  This was our first experience with Thali – basically it means each entree is comprised of a bunch of smaller plates.  Cate is the most indecisive person ever when it comes to ordering, so she loved the concept.  The food was very good but the service was horrible and the atmosphere wasn't great either – it just felt like a generic suburban restaurant.
The London Plane: We didn't eat here, but it is the cutest looking spot.  Cate was obsessed.  It is in the same square as Bar Sajor and would be a great option for coffee or a light lunch.
Sitka and Spruce: Also by the Bar Sajor people, we stopped by Sitka and Spruce for an afternoon snack. The food was good and it's definitely a cool spot.  It is in the Melrose Market – basically a much smaller version of Chelsea Market in NYC – so it is particularly fun to check out during the day if you have some time to shop around.