Homemade vanilla frozen yogurt is a perfect summer treat. It is lighter than ice cream but still has all the creamy goodness and delicious vanilla bean flavor!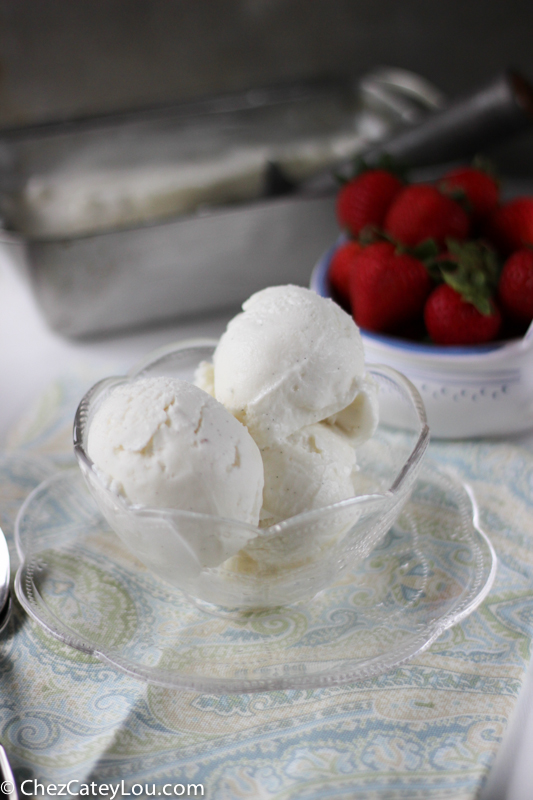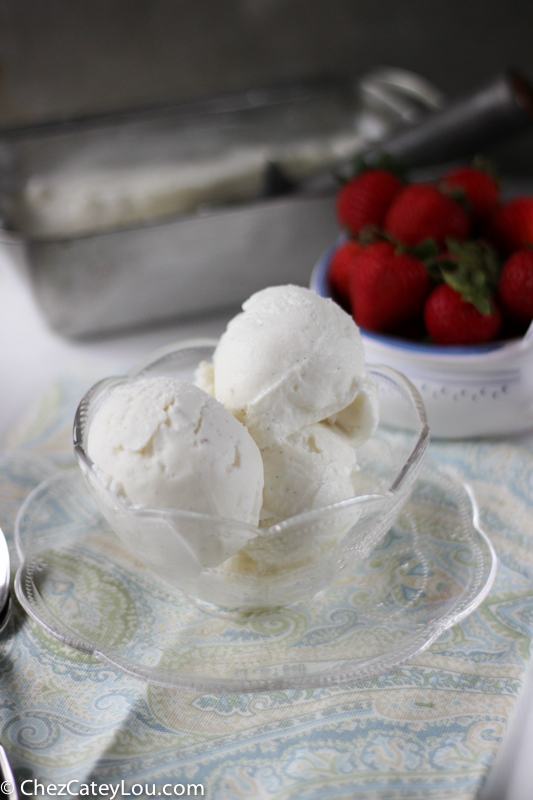 Whoa, how is the summer almost over?  Some of my blogging friends have already started posting pumpkin recipes!  I'm not complaining – pumpkin is my second love (after peanut butter) and I bake with it year round.  But I have so many summer recipes I still want to make before the summer ends.   Things with corn and tomatoes and berries and peaches and zucchini… I have a lot of baking to do between now and Sept 1 🙂
So since I'm not quite ready to embrace the pumpkin, today I have a perfect summer recipe for you – Vanilla Frozen Yogurt!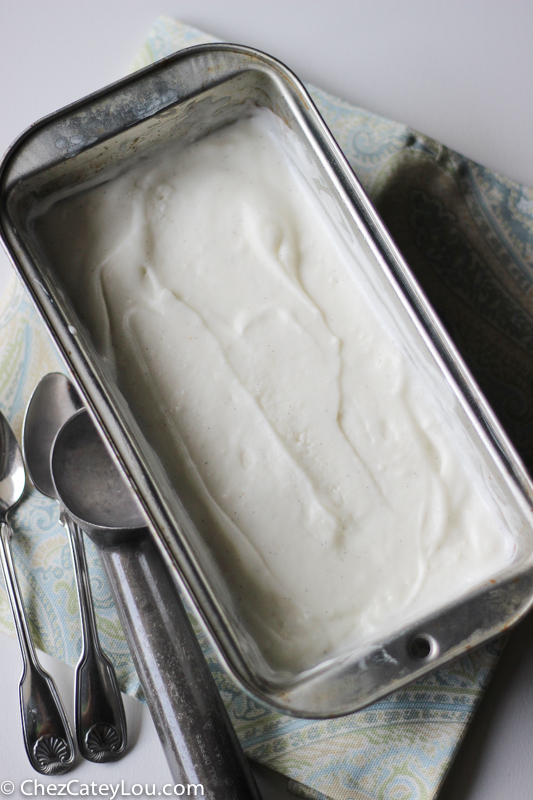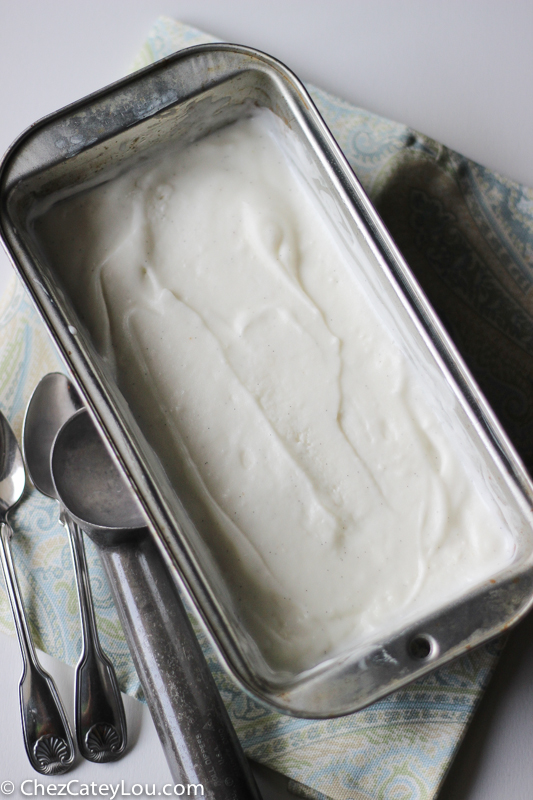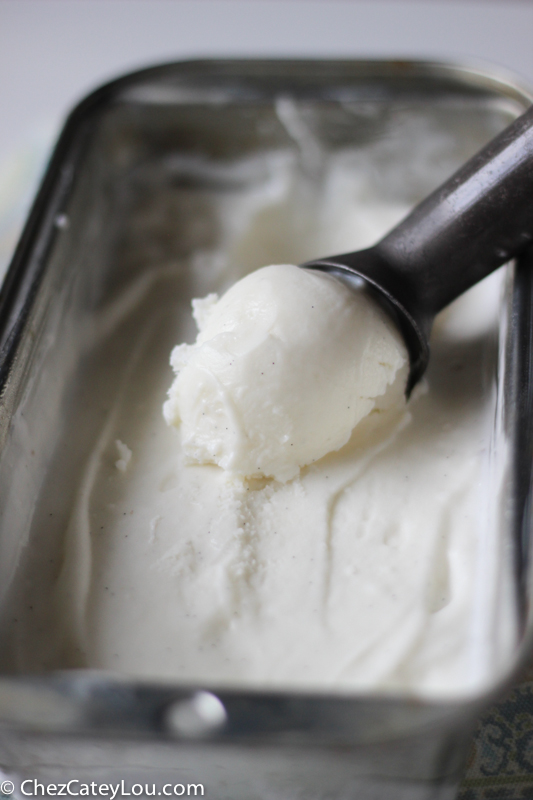 As I mentioned in this post, I don't have an ice cream maker. I live in a one-bedroom apartment in NYC so we have very limited storage space. I made room for a Kitchen-Aid Mixer (necessity!) but there is just no room for an ice cream maker (or a blender, or a food processor, or a salad spinner, or a stock pot…the list could keep going forever). So when I visit my parents in St. Louis, I love to make things that I can't make chez moi – like ice cream! Or in this case, frozen yogurt.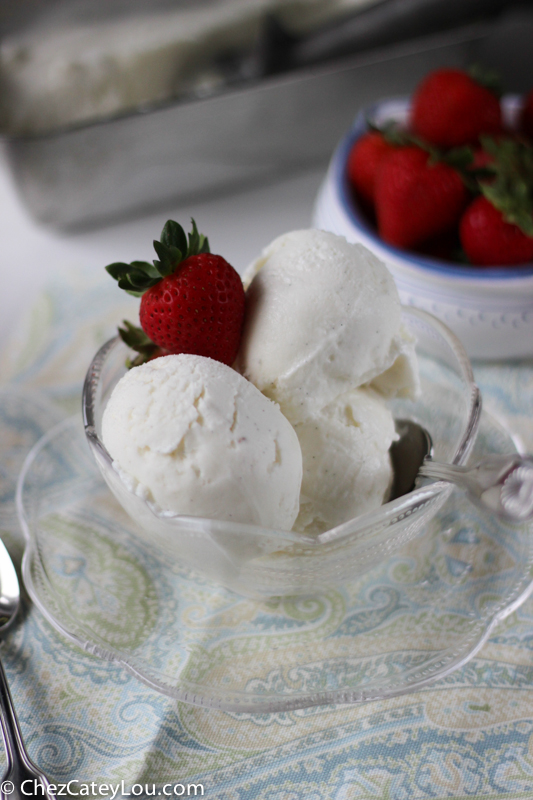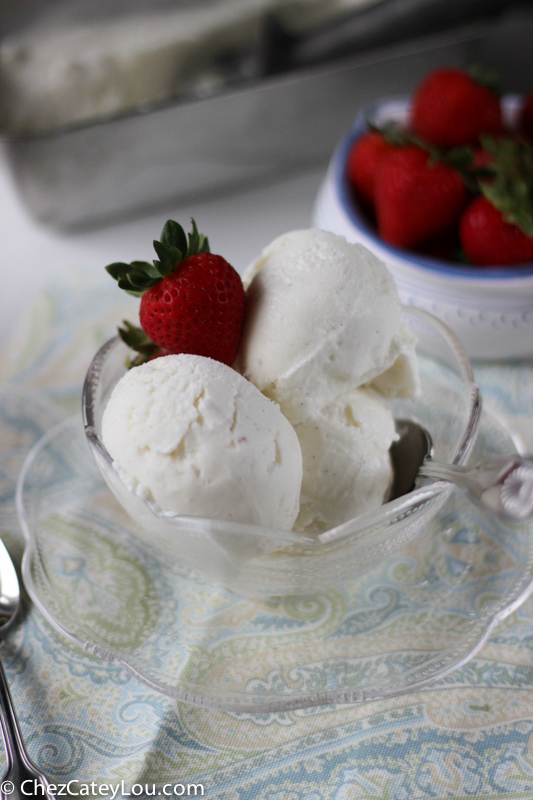 My sister and I attempted frozen yogurt without a recipe last summer, and it failed miserably.  Ok it wasn't the worst flop – it still tasted like delicious sweet raspberry yogurt, but it didn't freeze at all! So this time around, I followed a recipe from the geniuses at Cook's Illustrated – and of course it worked perfectly! Their secret is to use gelatin – it helps everything set up very nicely. This froze to the absolute perfect consistency. It was so thick and creamy!
I ate some of the yogurt when it was freshly churned – the texture was exactly like soft serve frozen yogurt!  But unfortunately that consistency doesn't photograph well .  It just looked like a giant soft blob in a bowl, definitely not Pinterest-worthy!  So I froze the yogurt, that way I was able to get nice pretty scoops!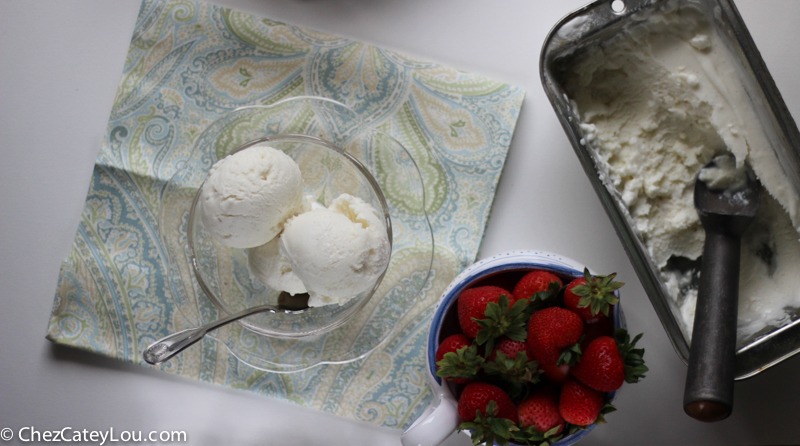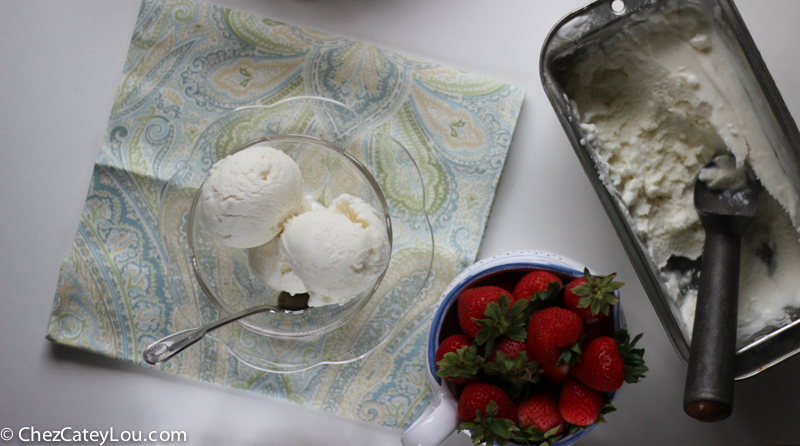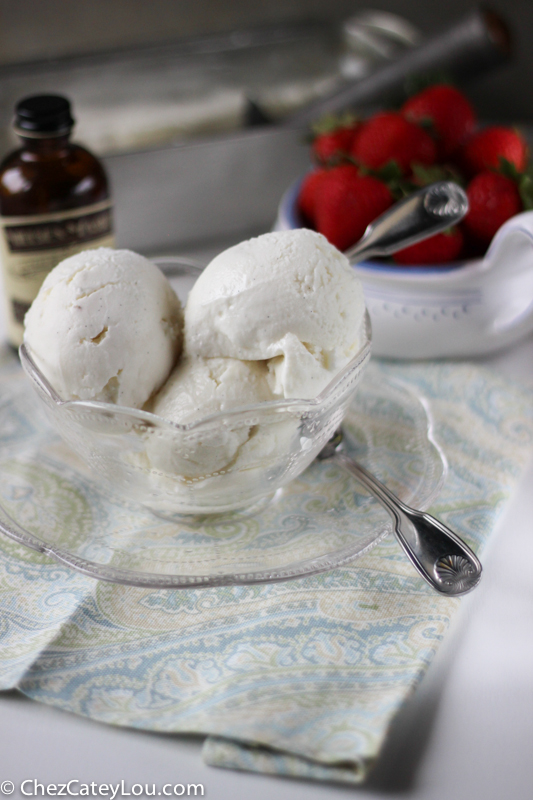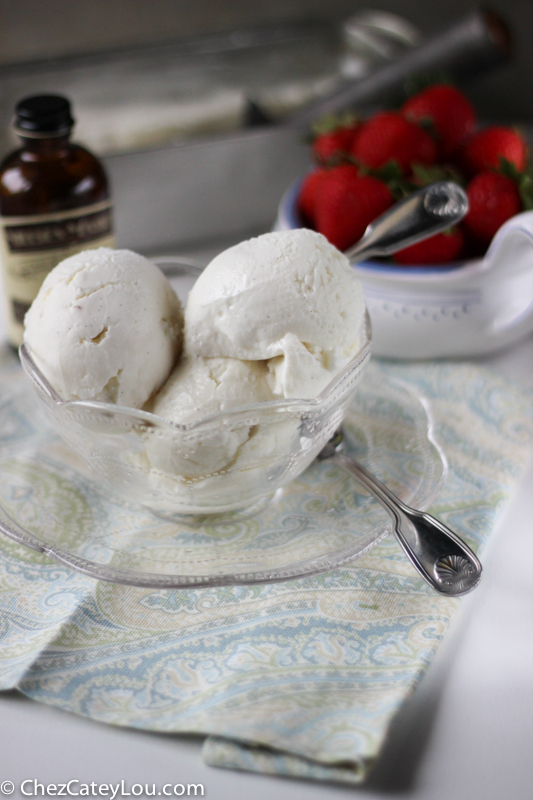 The flavor of this vanilla frozen yogurt is excellent. You get a hint of yogurt tang and the perfect amount of sweetness. And then there is the vanilla! I am a vanilla lover. Some people think vanilla is boring but not me – I can't get enough vanilla flavor. I added some vanilla extract in addition to the bean to add even more vanilla goodness to my frozen yogurt.
Vanilla frozen yogurt is the perfect summer treat. It is much lighter than ice cream, but is still super creamy and tastes decadent. It is delicious topped with berries, on a slice of cake, on top of a warm brownie…the options are endless for this delicious summer treat!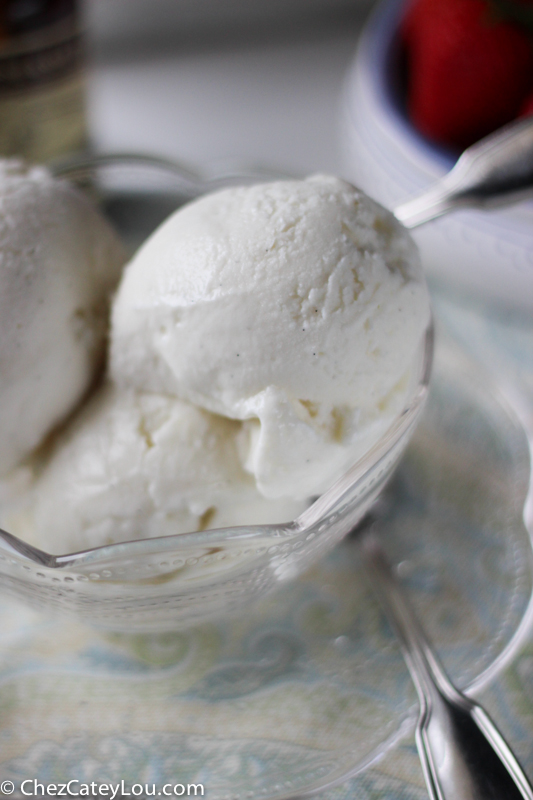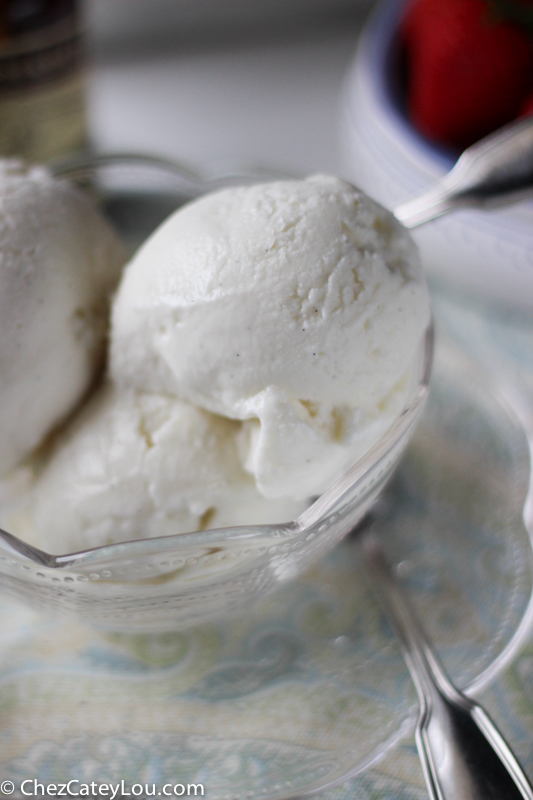 Connect with Chez CateyLou!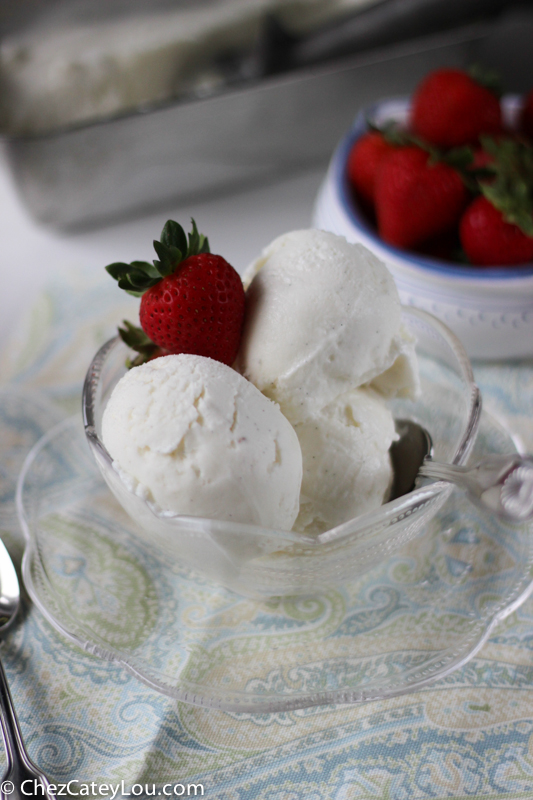 Homemade vanilla frozen yogurt is a perfect summer treat. It is lighter than ice cream but still has all the creamy goodness and delicious vanilla bean flavor!
Ingredients
2 cups plain low-fat yogurt
2 teaspoons gelatin (unflavored)
1 3/4 cups whole milk
1 cup granulated sugar, minus 3 tablespoons
1 vanilla bean
1 teaspoon vanilla extract (optional)
Instructions
Set a fine-mesh strainer over a glass measuring cup. Place yogurt in in strainer, and place everything in the refrigerator. Let the yogurt drain 1 - 2 hours, until it releases 1/2 cup liquid.
Sprinkle gelatin over 1/4 cup of the milk in a small bowl. Stir frequently until gelatin swells, about 10 minutes.
While the gelatin is thickening, heat remaining 1 1/2 cups milk, sugar, and vanilla bean in small saucepan, stirring occasionally to dissolve sugar. Remove pan from heat and remove vanilla bean.
Add gelatin to milk mixture, stirring until completely dissolved. Scrape seeds from vanilla bean and whisk into milk mixture. Discard vanilla bean. Whisk in vanilla extract (if using). Cool the mixture to room temperature, then mix with drained yogurt.
Refrigerate mixture until it cools to at least 40 degrees. Pour into canister of an ice cream machine, and churn until frozen. Eat as soft frozen yogurt, or let it harden in the freezer in a sealed container.
Notes
https://chezcateylou.com/vanilla-frozen-yogurt/
© Chez CateyLou. All images & content are copyright protected. Please do not use my images without prior permission. If you want to republish this recipe, please re-write the recipe in your own words, or link back to this post for the recipe.
If you're looking for ice cream, here are some great ones.
No-Churn Chocolate Peanut Butter Ice Cream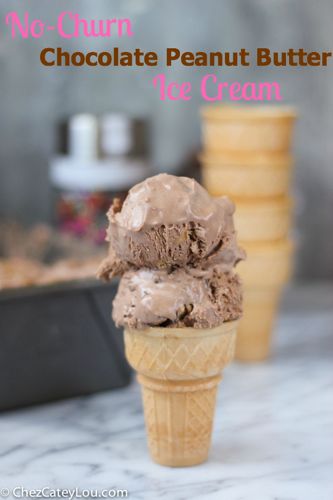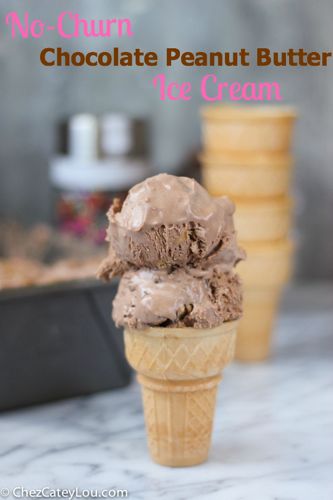 If you have a craving for vanilla beans now, try this Vanilla Bean Ricotta Cheesecake Cake