Yellow cupcakes with chocolate icing are decorated with a hot dog on top! These mini hot dog cupcakes will be perfect for your Memorial Day BBQ!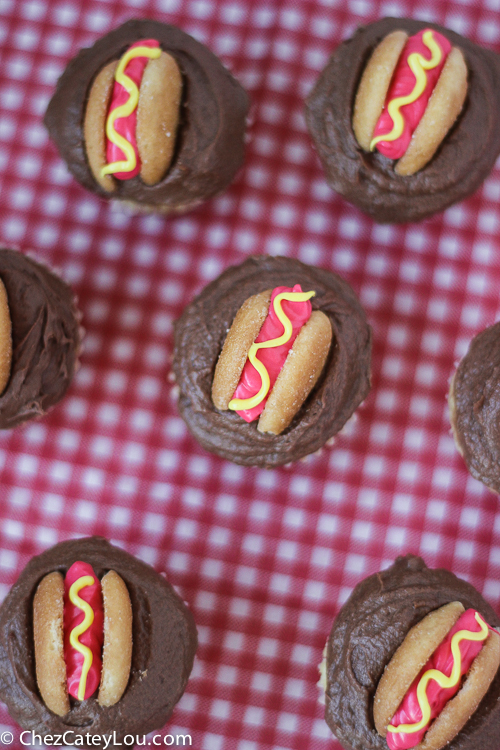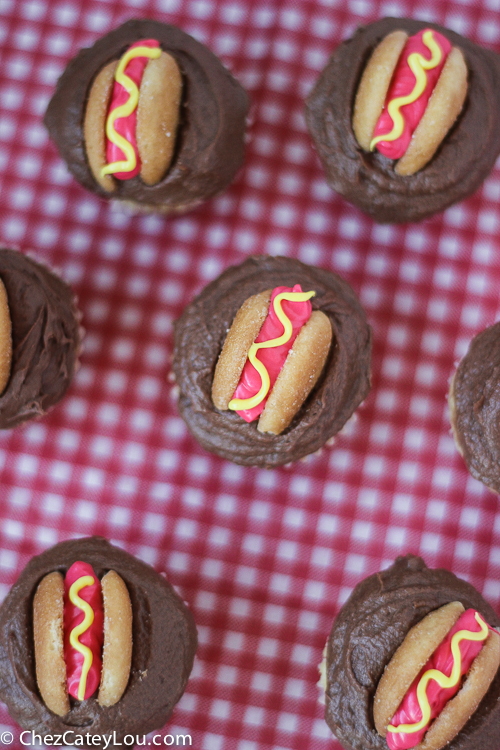 I am SO excited to post these Mini Hot Dog Cupcakes today. I have had these in the queue for almost a month but wanted to wait until close to Memorial Day to share them with you. How perfect would these be for a Memorial Day BBQ?
I made these for a friend's birthday celebration. One of her favorite foods is hot dogs! And rather than have hot dogs, which don't quite scream HAPPY BIRTHDAY, I decided to make her hot dog cupcakes! Now let me be clear…these are NOT hot dog flavored. That would just be strange and gross, right?   Instead, they are delicious yellow cake cupcakes with chocolate icing, and the hot dog decoration is made from icing and Nilla wafers!  No meat flavor at all.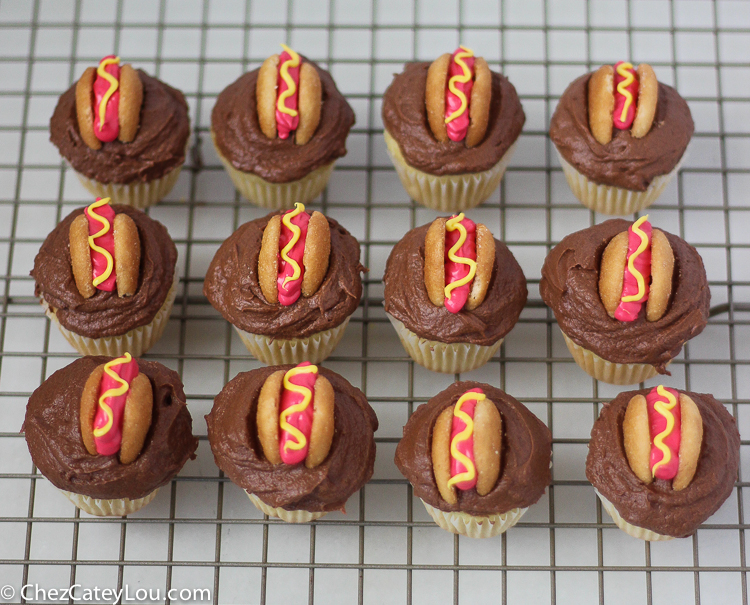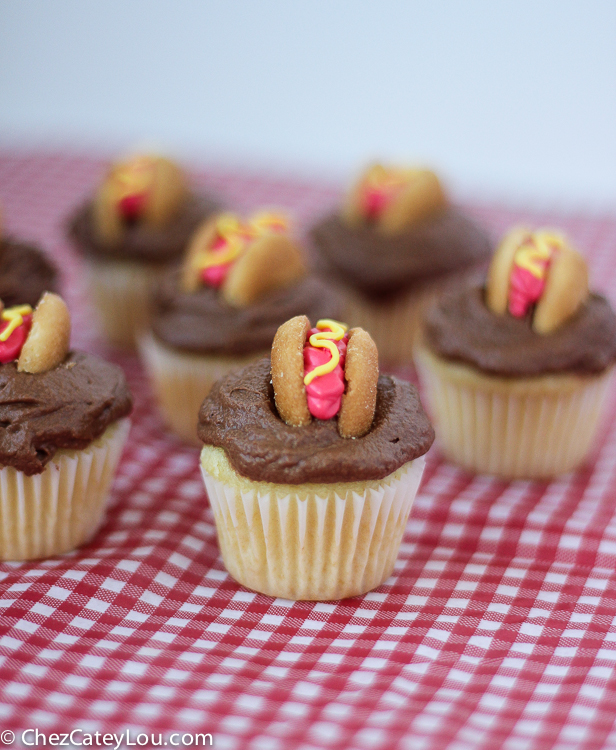 I love getting creative in the kitchen! It was so much fun to make these cute lil hot dog cupcakes, and everyone at the birthday party went crazy for them! It isn't everyday that you see a cupcake with a hot dog on it! So let's talk about how to make the decoration.
The progression of a hot dog: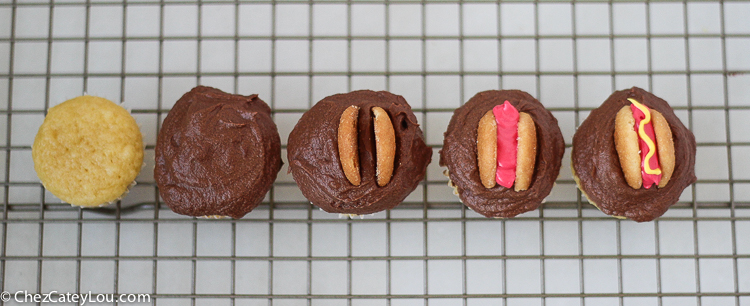 First, bake up a batch of mini yellow cupcakes. This recipe is super easy. It uses melted butter, so it comes together in a flash. Then, ice them with chocolate frosting…or really with any flavor you want! Now for the fun part, the hot dog. The "bun" is a mini nilla wafer cut in half. Use a sharp serrated knife to cut the nilla wafer in half, and place each half on the frosting to form the bun. Then mix some red food coloring into vanilla icing (I used a jar of icing to save time…don't judge) and place it into a ziplock bag. While you are at it, do the same with yellow food coloring (in a seperate bag of course!). Snip off a tiny edge on the plastic bag, and pipe a line of red in the middle of the bun to make the hot dog. Then zigzag some yellow icing on top to make mustard on the hot dog. E voila! Hot Dog Cupcakes!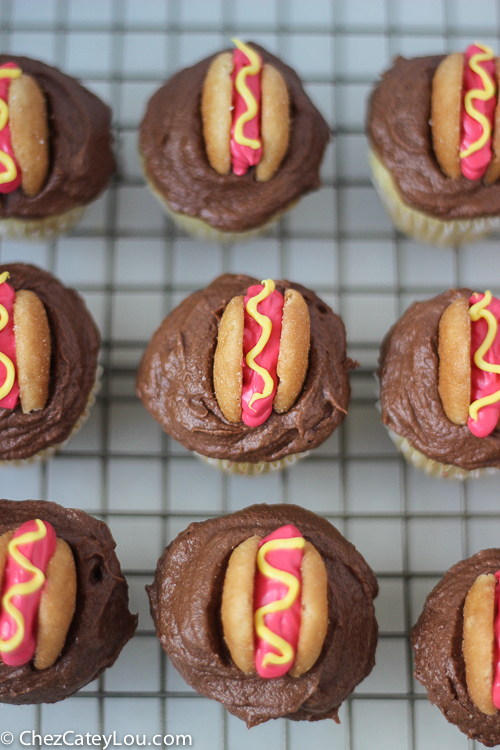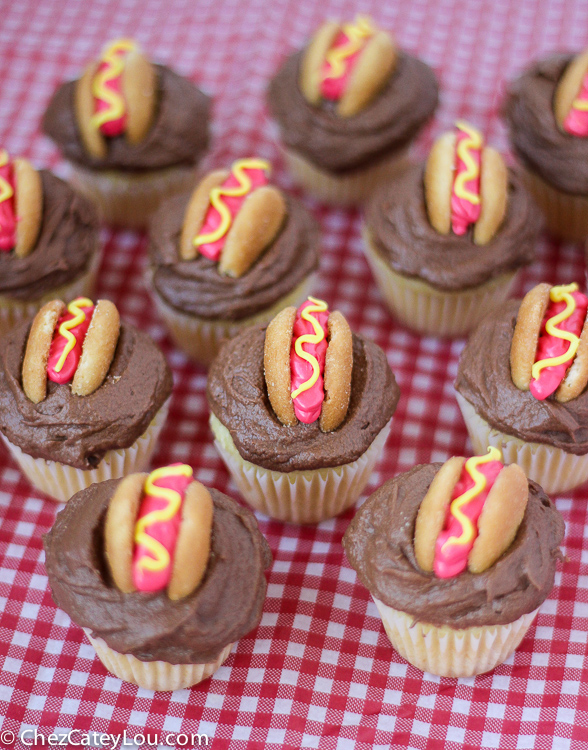 Imagine how cute the dessert spread would be at your memorial day barbeque with these mini cupcakes on the table. They will absolutely be the hit of the party!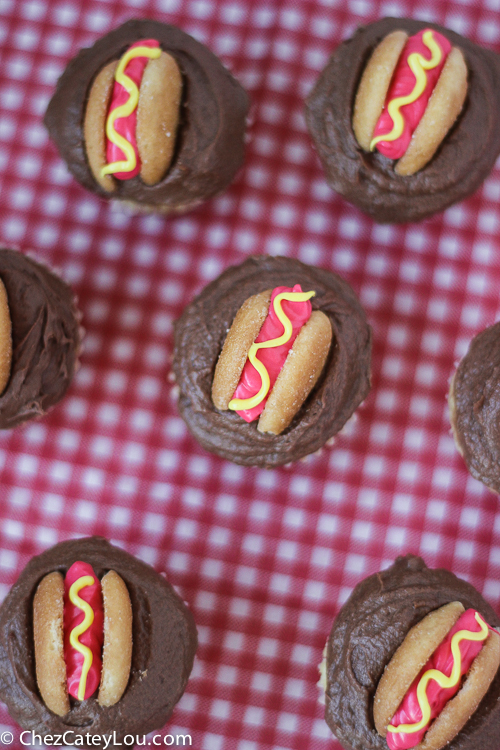 Yellow cupcakes with chocolate icing are decorated with a hot dog on top! These mini hot dog cupcakes will be perfect for your Memorial Day BBQ!
Ingredients
For the Cupcake

1 1/2 cups flour
1/2 teaspoon baking powder
1/4 teaspoon baking soda
1/2 teaspoon salt
1 egg
1 egg yolk
3/4 cup sugar
1 teaspoon vanilla
6 tablespoons butter, melted
1/4 cup buttermilk
1/4 cup Greek yogurt

For the Chocolate Frosting

1/2 cup unsalted butter, softened to room temperature
1 1/2 cups confectioners' sugar
1/4 cup unsweetened cocoa powder
1/4 teaspoon salt
1 teaspoon vanilla extract
1 Tablespoons heavy cream or milk

For the Decoration

32 Mini Nilla Wafers
White frosting (homemade or a jar)
red food coloring
yellow food coloring
Instructions
Preheat oven to 325 degrees F. Line a mini muffin tin with cupcakes liners.
In a medium bowl, sift together flour, baking powder, baking soda, and salt.
In a large bowl, whisk together egg, egg yolk and sugar until well combined and light in color. Whisk in the vanilla. Add the butter and whisk until well combined. Whisk in the buttermilk and yogurt.
Add the dry ingredients to the wet and mix until combined.
Spoon the batter into the pan, filling each muffin cavity half full.
Bake for 10-12 mins. Remove from oven and cool in the pan for a few minutes, then turn cupcakes out on a wire rack to cool completely before frosting.

For the Chocolate Frosting

Beat the butter until light and fluffy. Add the confectioners sugar, cocoa powder, and salt and beat until well combined. Add the vanilla and the milk/cream and beat until combined and icing reaches desired consistency. Taste, and add more sugar if desired.

For the Decoration

Using an offset spatula or butter knife, ice each mini cupcake with chocolate frosting, leaving a flat surface. Cut mini Nilla Wafers in half, using a sharp serrated knife. Mix some red food coloring into 1/4 cup of white frosting, and mix yellow food coloring into 1/4 cup of white frosting. Place the red frosting into a ziplock bag and place the yellow frosting into another ziplock bag. Cut a tiny corner off each bag - these will be your piping bags.
Place 2 Nilla Wafer halves on each cupcake, round side up, to make the sides of the bun. Pipe a thick line of red icing in between the bun halves to make your hot dog. Then pipe a zigzag of yellow icing to make mustard on top of the hot dog.
Notes
https://chezcateylou.com/mini-hot-dog-cupcakes/
© Chez CateyLou. All images & content are copyright protected. Please do not use my images without prior permission. If you want to republish this recipe, please re-write the recipe in your own words, or link back to this post for the recipe.
More festive treats for Memorial Day parties!
Mini Funfetti Cupcakes…make them with Red White and Blue sprinkles!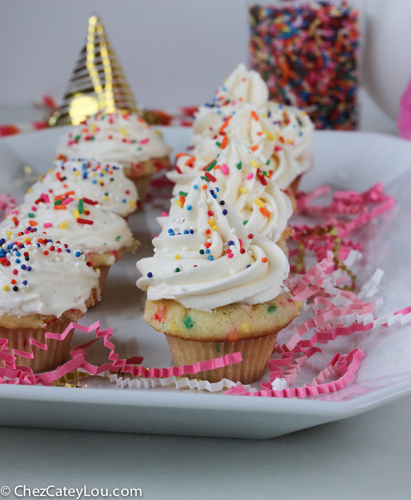 Follow Chez CateyLou around the internet!