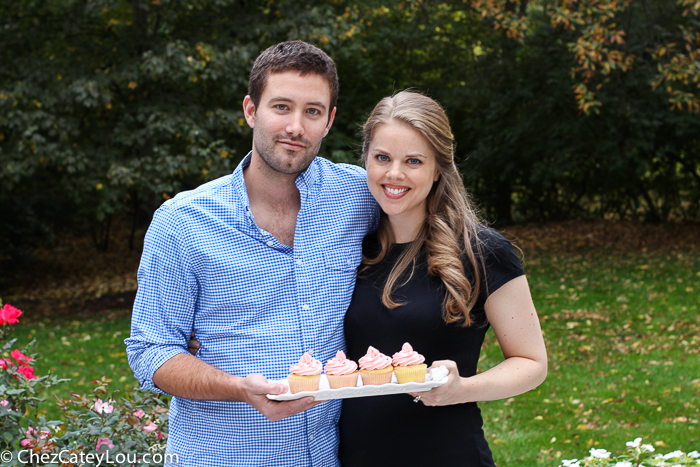 Welcome to Chez CateyLou! I'm Cate – aka CateyLou. I am a dessert-loving, baking-obsessed, travel-hungry blogger living in NYC and am so excited to share my little corner of the world with you.
So what does "Chez CateyLou" mean anyway? Well Chez (pronounced "shay") is a French word meaning "at the home of". And CateyLou is a nickname that my dad gave me. I started my blog to share my home and my life with you – hence Chez CateyLou! So welcome to my home, and thank you so much for visiting!
I was born and raised in St. Louis, MO and attended the University of Notre Dame where I met my amazing husband, aka TheBetterHalf. You will see him make some cameos on the blog, specifically when it comes to writing about travel. And cocktails! We live in New York City on the Upper East Side and both work in finance. I love my city and love sharing some of my favorite places with you.  We are expecting a sweet baby girl, due March 28!
When I have free time, you will find me creating in the kitchen, usually something involving butter, flour and sugar.  My favorite things to bake are donuts and cookies.
I have a passion for traveling and I love to share my adventures with all of you. I find the best recommendations for what to do (and more importantly, where to eat!) come from friends and other bloggers, so I like to give back and share my favorites with all of you.
I am also obsessed with eating. I am constantly thinking about food and new places to eat and what I should bake next. That's why my tagline is "Always hungry"!
Oh and the kitchen in my profile picture is sadly not mine.  That photo was taken at the cutest B&B in Modena, Italy.  The kitchen is to die for!
It makes my day when I hear from readers, so please feel free to drop me a line or say hi on social media!
Contact Email: chezcateylou@gmail.com