Classic Puppy Chow gets an upgrade with the flavor of cake batter and tons of sprinkles! This Cake Batter Puppy Chow is sweet, crunchy and totally addicting!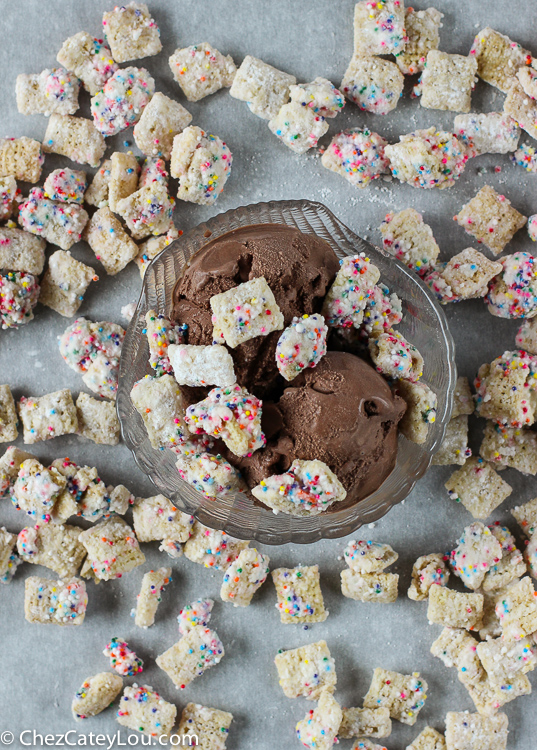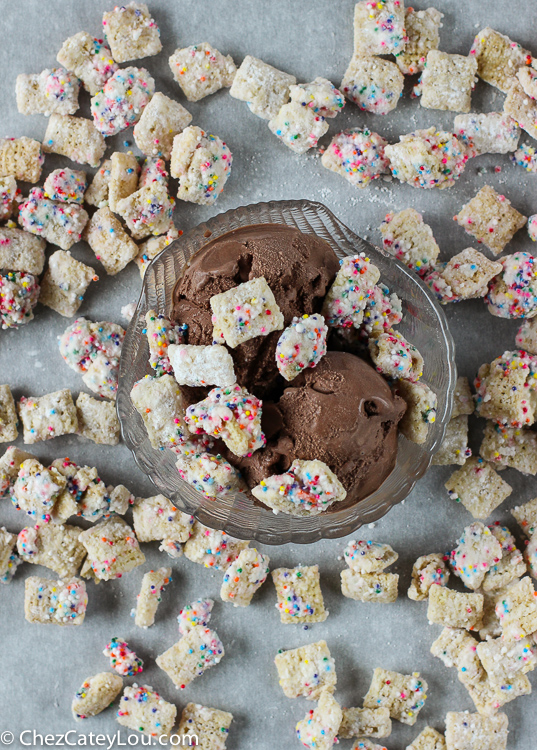 Puppy Chow, aka Muddy Buddies…have you heard of it? I remember the first time I tried it, back in high school. I thought the name was SO weird – but the taste was far from weird! The classic version is made with peanut butter and chocolate mixed into chex cereal and topped with powdered sugar, and everyone in my school was obsessed with it. Little bags of puppy chow were the first thing to disappear from the bake sale tables! We had a lot of bake sales in high school. I can only imagine how excited everyone would have been if someone brought in this Cake Batter Puppy Chow!
The recipe comes from my friend Lynn at Fresh April Flours! Today I am helping her celebrate the release of her cookbook! She wrote a cookbook of over 20 puppy chow recipes, and this is one of the featured recipes.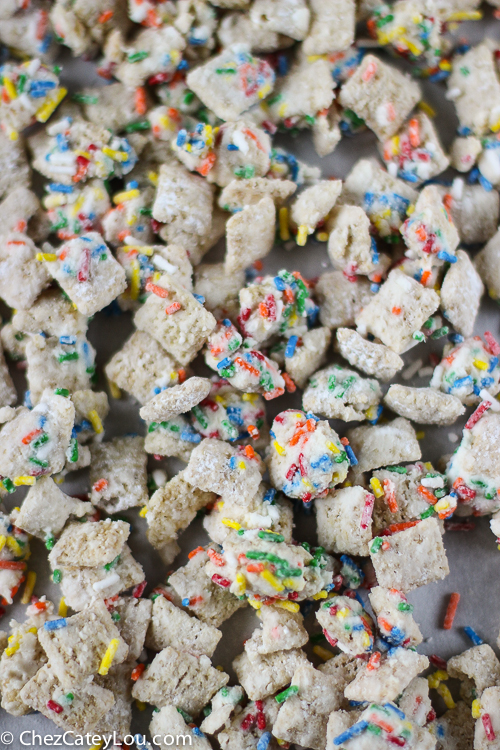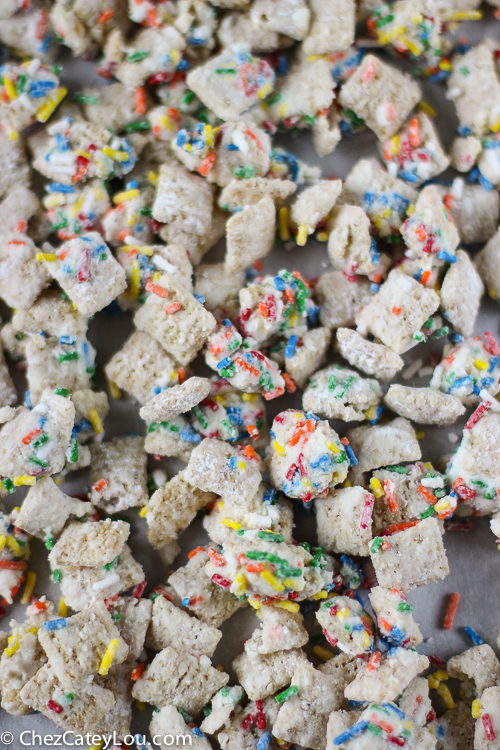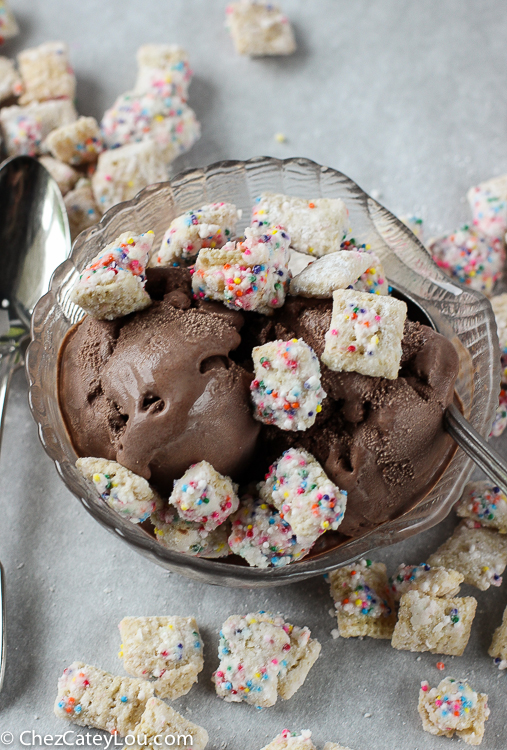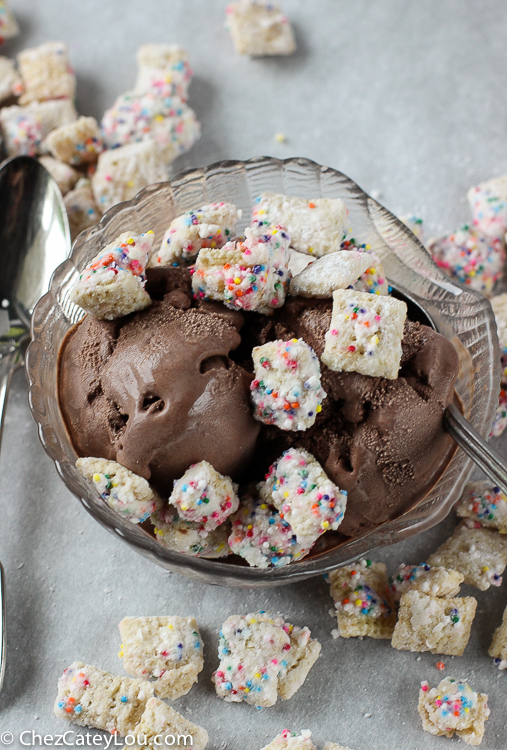 This delicious treat should come with a warning…you WILL overeat it. Seriously. It is addicting. Sweet and crunchy and sprinkley…ok that's not really a word, but you know what I mean… The flavor is JUST like cake batter, it is amazing! It is so addicting that I made two batches…I mean I just HAD to test it out with different types of sprinkles. Which one do you think looks better?
As awesome as this is to eat alone, I really love it on top of ice cream. It adds such a delicious flavor and crunch, and I really love the cake batter taste with chocolate ice cream!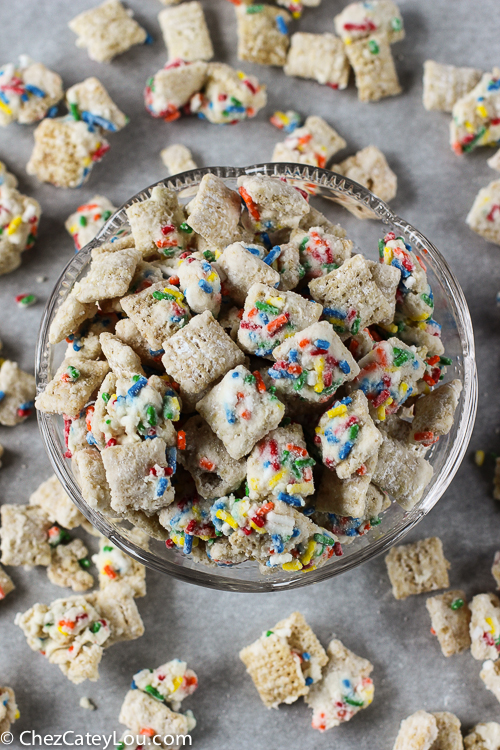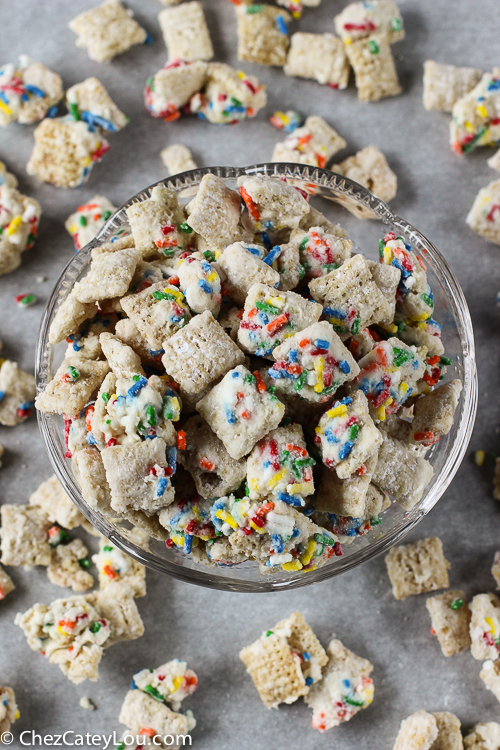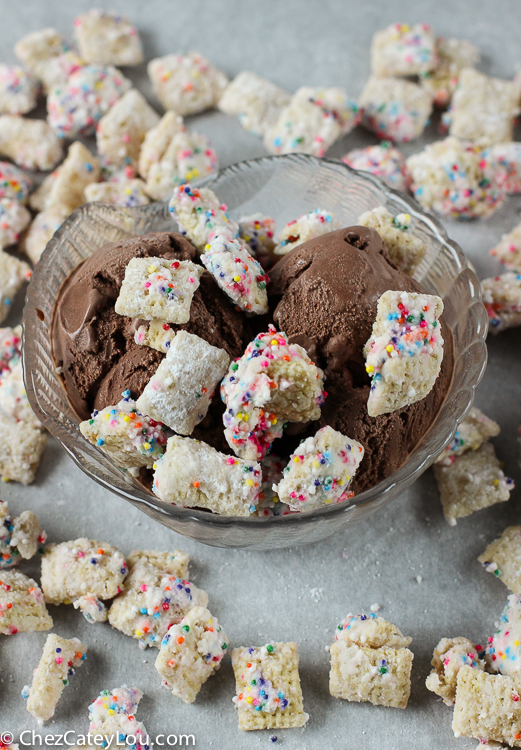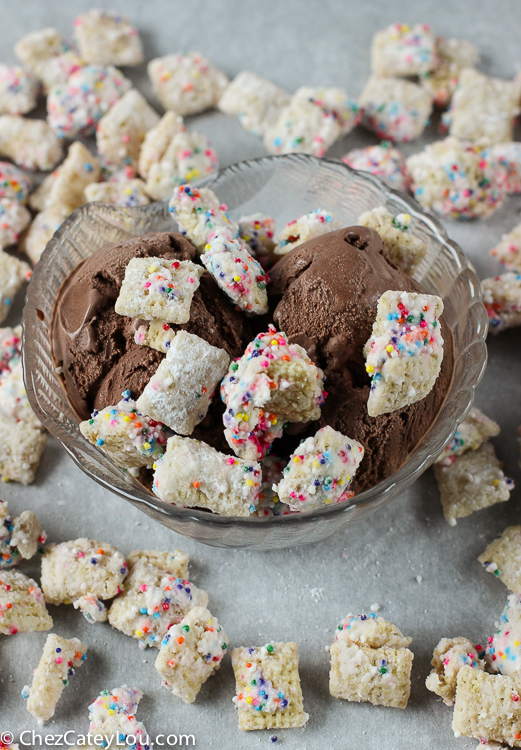 I made this recipe when I was in St. Louis the other weekend visiting my mom for mother's day. I had to include a picture of our puppy in the puppy chow photoshoot! She watched me the whole time, but was so good – she didn't even steal a bite! I'm sure she was wondering why I was taking pictures on the floor in the front hall…oh the life of a food blogger.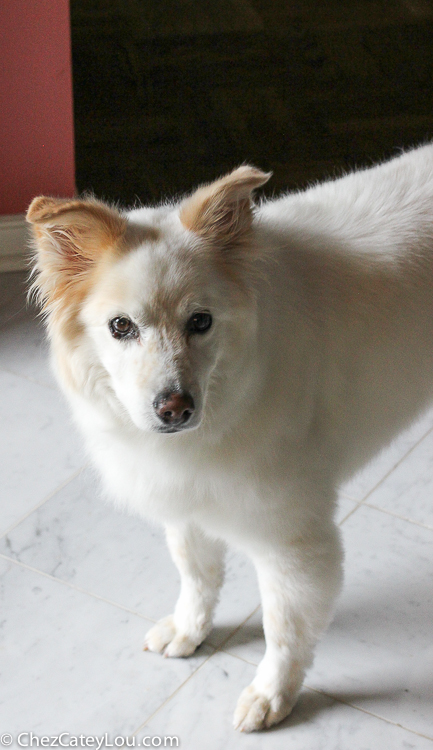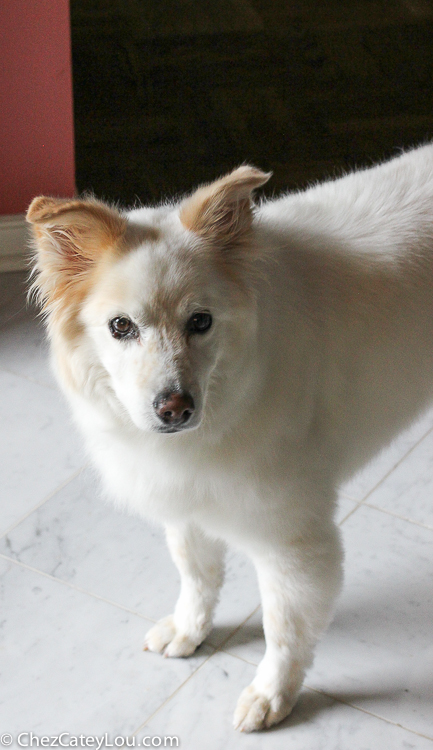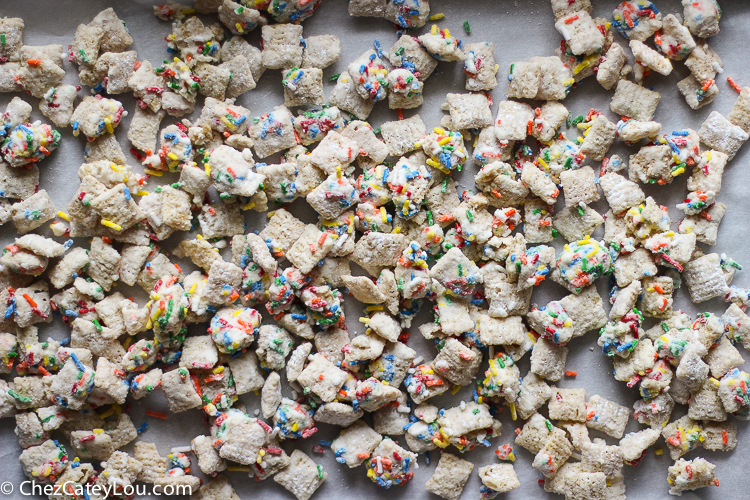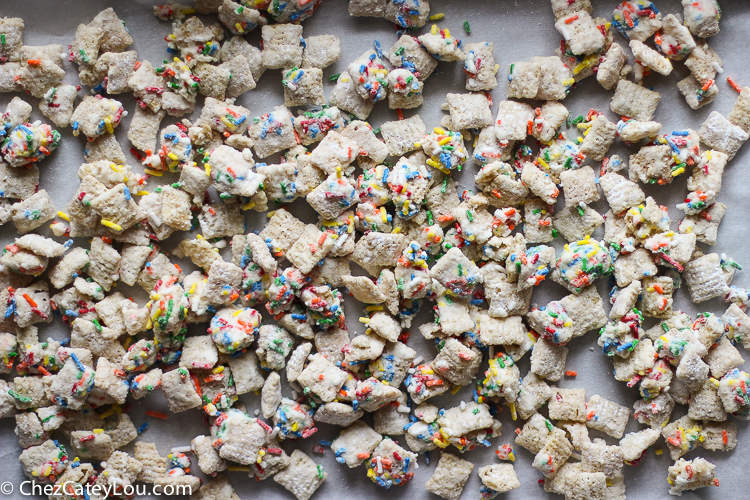 If you are curious about the other puppy chow recipes in Lynn's awesome book, there is a chance to win a copy of the book on her blog!  She sent me a sample of some of her flavors and let me tell you…they are incredible!  I have to admit that I was skeptical at first, because I am a chocolate peanut butter fan and didn't think you could improve upon the original – but I am a convert!  Bring on the Puppy Chow varieties!
Her book is currently available for pre-sale, and the release date is June 1.  Just in time for summer!
Check out some fun variations on this cake batter puppy chow, and a how-to video from the creator herself!
Lynn: Fresh April Flours
Amy: Thoroughly Nourished Life
Leah: Grain Changer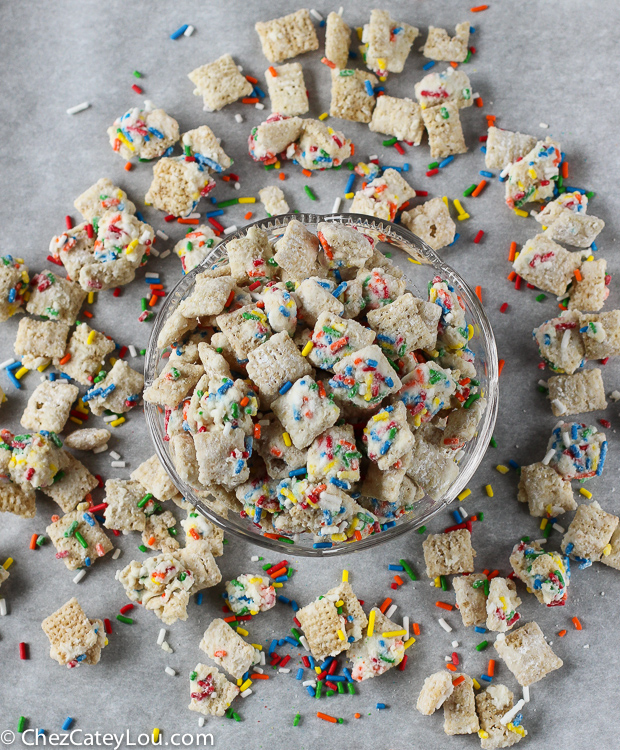 Classic Puppy Chow gets an upgrade with the flavor of cake batter and tons of sprinkles! This Cake Batter Puppy Chow is sweet, crunchy and totally addicting!
Ingredients
4 and ½ cups Rice Chex® cereal
4 Tablespoons unsalted butter, cut into 8 slices
8 ounces white chocolate (NOT white chocolate chips) or almond bark
1 teaspoon almond extract
1 teaspoon vanilla extract
2/3 cup sprinkles of your choice
1 cup powdered sugar
Instructions
Pour the cereal into a large bowl and set aside.
In a medium saucepan over low heat, melt the butter, white chocolate, almond extract and vanilla extract, stirring constantly until completely melted. (NOTE: It is important to add extract at the beginning of the melting process. Adding it later will cause the mixture to seize up, and you will be unable to use it. If you forget to add the extract at the beginning then just don't add it!) Remove from heat.
Immediately pour melted mixture over cereal and stir gently to coat. I like to use a rubber spatula.
Pour cereal mixture into a large zip-top bag or large container with a tight-fitting lid and add the sprinkles. Shake until all of the sprinkles are dispersed evenly.
Add the powdered sugar and shake again until everything is coated. Spread onto baking sheet lined with foil or parchment and allow to cool. Discard excess powder. Store in an airtight container at room temperature up to one week.
Notes
https://chezcateylou.com/cake-batter-puppy-chow/
© Chez CateyLou. All images & content are copyright protected. Please do not use my images without prior permission. If you want to republish this recipe, please re-write the recipe in your own words, or link back to this post for the recipe.
Follow Chez CateyLou around the internet!