A classic mojito is updated with the addition of muddled kumquats, which add a bright citrus flavor. This kumquat mojito is such a fun and delicious cocktail!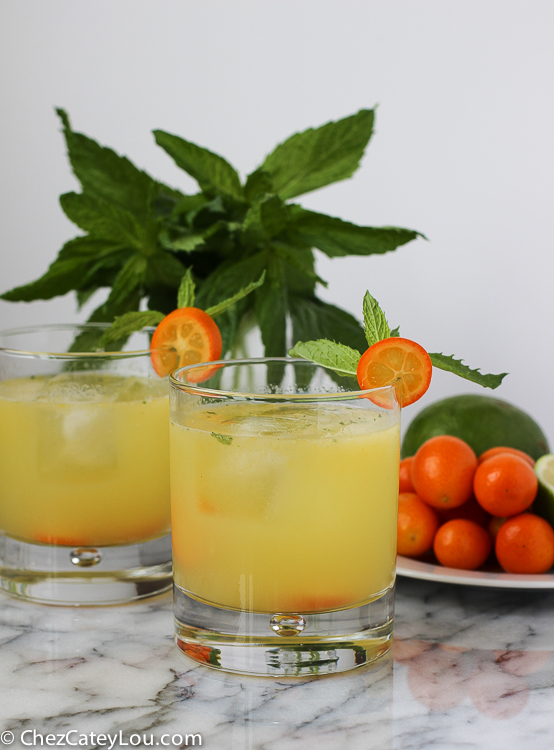 Memorial Day weekend has to be one of the best weekends of the year….it signifies that summer is here! 3 months of lazier days and vacations and just a more relaxed feeling overall. I am a fall / winter girl, but even I can't resist the allure of summer.
And what better way to toast the season than with a refreshing and beautiful cocktail – a Kumquat Mojito! Mojtos are a perfect summertime cocktail – so refreshing and tropical, and adding some muddled Kumquat to the mix gives these cocktails a great color and such a bright, citrus flavor!
I am currently in LA for a girl's trip! TheBetterHalf is stuck at home studying for the CFA. It has been a rough few months full of work and studying for him….June 6 can't come soon enough! But since I don't have to study, I figured I should go have some fun for the both of us.  Bring on the cocktails!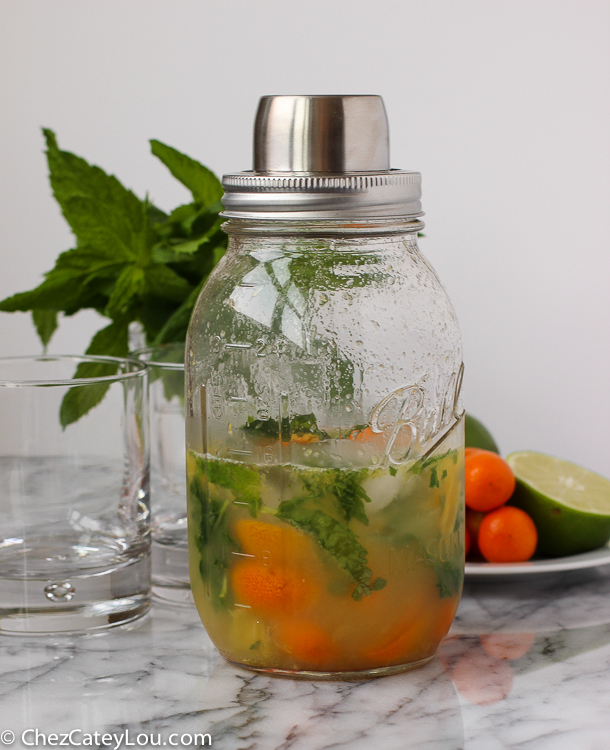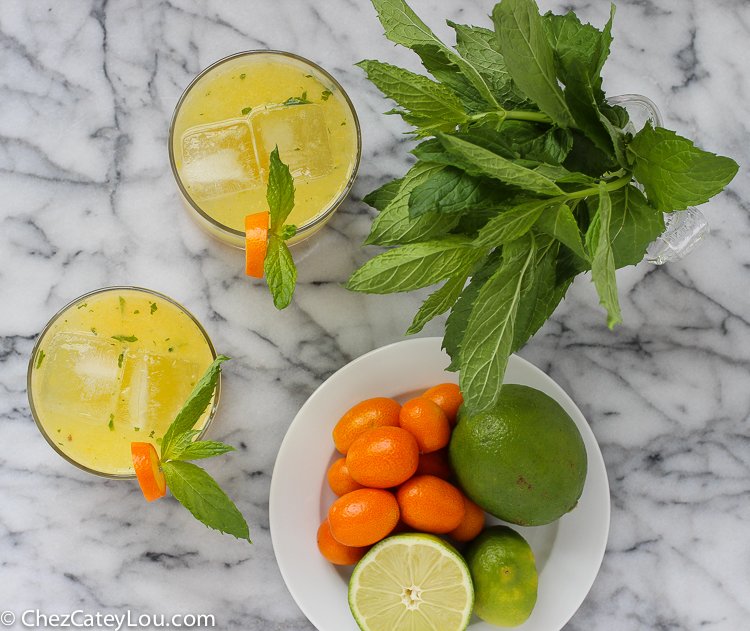 Those gorgeous Kumquats were sent to me by Melissa's Produce, along with some Kale Sprouts! The awesome people at OXO facilitated this relationship, and also sent me two of their GreenSaver produce storing containers.
I HATE wasting food, but I tend to get a little over eager when I grocery shop, and I sadly end up throwing away a lot of my produce because it rots before we can eat it! I'm not alone in this…
more than 25% of the fresh fruits and vegetables purchased by U.S. consumers are wasted annually before being consumed. That equates to more than 226 pounds per the average U.S. family! That's because most of us just store produce in the plastic bags or containers that it comes in, and that can actually cause it to go bad faster.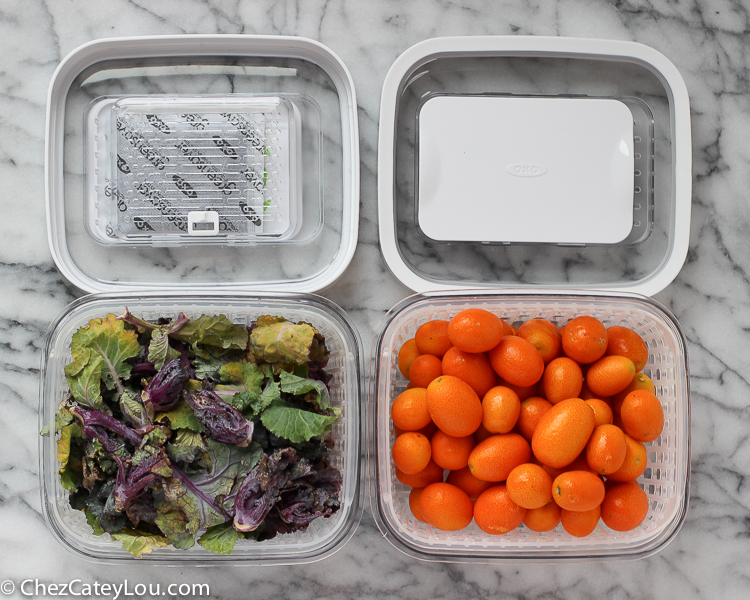 OXO has figured out a way to combat these issues with their GreenSaver product.  It uses carbon filters to absorb ethylene gas, has an elevated basket to promote airflow, and has a vent to control humidity.
These GreenSavers kept my kumquats and kale sprouts fresh for days. I love that the basket can double as a colander to use to wash your produce! I  have a bunch of kumquats leftover after making these kumquat mojitos and they are still going strong a week later!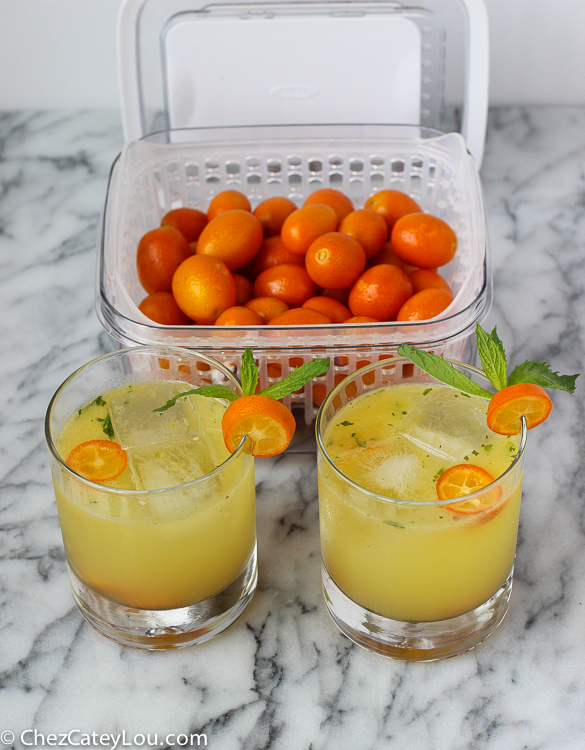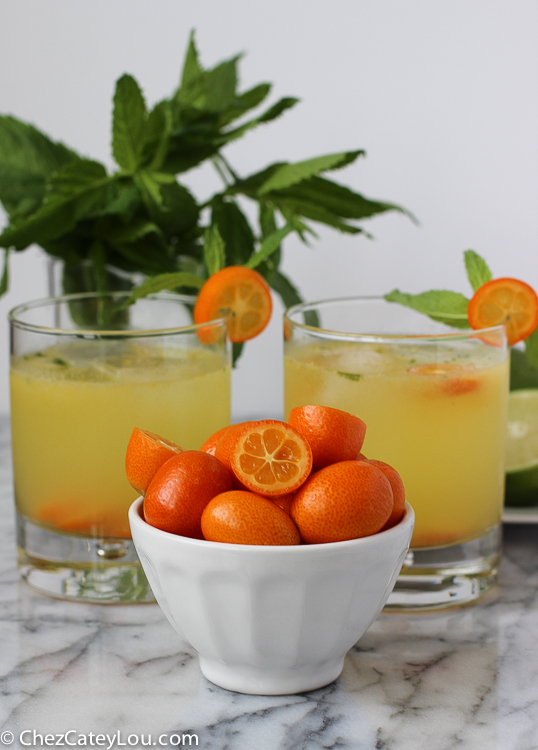 This is such a light and refreshing cocktail. Kumquats on their own are a little bitter for me, but muddled with mint and mixed into a cocktail the flavor is awesome! It is citrusy and tangy and adds a great color. Plus, how cute are these little fruits?! I love cutting little slices to float in the drink and to garnish the cocktail.
Hope you are all having a great long weekend!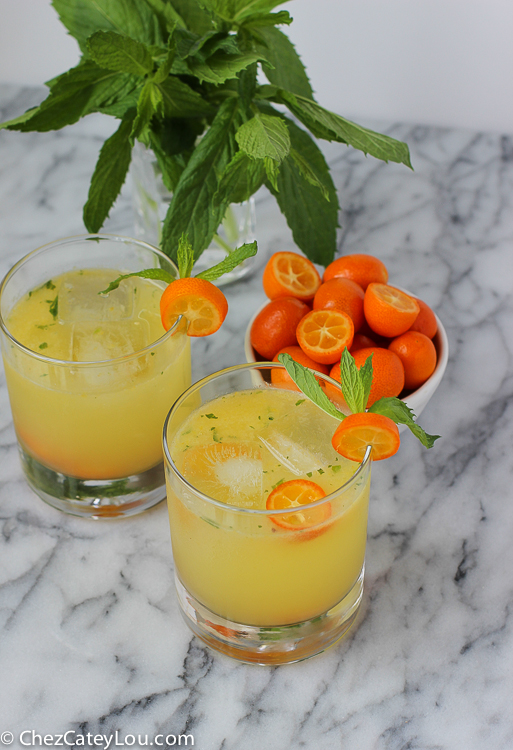 A classic mojito is updated with the addition of muddled kumquats, which add a bright citrus flavor. This kumquat mojito is such a fun and delicious cocktail!
Ingredients
20 mint leaves
10 kumquats, halved and seeded
2oz fresh lime juice
1 1/2 oz simple syrup
4oz white rum
2-4 oz club soda
Ice
Instructions
In a cocktail shaker, muddle the mint and kumquats until the kumquats have released their juice and the mint is broken up. Add the lime juice, simple syrup, rum, and some ice. Shake mixture until well chilled. Taste and adjust ingredients as desired. Fill two glasses with ice. Strain and pour cocktail evenly between two glasses. Add 1-2oz club soda to each glass. If desired, garnish with a slice of kumquat and a sprig of mint. Cheers!
https://chezcateylou.com/kumquat-mojitos/
© Chez CateyLou. All images & content are copyright protected. Please do not use my images without prior permission. If you want to republish this recipe, please re-write the recipe in your own words, or link back to this post for the recipe.
Follow Chez CateyLou around the internet!
Pinterest | Instagram | Stumble Upon
I was not compensated for this post, but OXO and Melissa's Produce kindly provided me with products. All opinions are my own.