These Mini Pumpkin Muffins are full of pumpkin flavor and are bursting with delicious cinnamon chips. They are the perfect poppable fall breakfast!
In case anyone is keeping track, this is my third pumpkin recipe in a row. I might need to change the name of this blog to Cate's Pumpkin Obsession.  It is really becoming an issue. I can't stay away from pumpkin recipes! Luckily, TheBetterHalf is a big fan of pumpkin too. This is a new development in our life. Pumpkin (like peaches ) is one of those foods that he thought he didn't like. I successfully convinced him otherwise (I mean if you like cinnamon, how can you not like pumpkin baked goods?!), and now he can't get enough either.  These Mini Pumpkin Muffins disappeared quickly in our house – with tons of cinnamon chips in each little pumpkin muffin, how could they not?!
The real reason I keep making pumpkin recipes (in addition to them being delicious) is that I keep having leftover canned pumpkin! These pumpkin doughnuts only called for 1 ½ cups of pumpkin, so I made this smoothie with the leftovers. Then these pumpkin pecan doughnuts only used 1 cup of pumpkin, so I had leftovers again! So what better way to use up that extra pumpkin than with mini pumpkin muffins!
Mini muffins are so darn cute. I mean look at them! How can you not love them! The only issue is that I feel like I can just keep eating them. I mean they are so small…
But! I can feel less guilty about popping these lil pumpkin muffins because there is yogurt in the batter! Ok maybe this blog should be called Cate's Yogurt Obsession. I just love baking with yogurt, I can't be stopped. The yogurt and the pumpkin in these muffins give them a super moist and light texture. They are amazing! I added mini cinnamon chips  to the batter, and that was a GREAT idea. These are like little flavor nuggets.
If you don't have cinnamon chips, you could use mini chocolate chips, or leave them out entirely. But I really recommend the cinnamon chips! Each bite of mini muffin has a little pumpkin flavor, and a burst of sweet cinnamon. These are perfect for a quick fall breakfast or snack.
Mini Pumpkin Cinnamon Chip Muffins
These Mini Pumpkin Muffins are full of pumpkin flavor and are bursting with delicious cinnamon chips. They are the perfect poppable fall breakfast!
Ingredients
1 cup canned pumpkin
6 oz plain Greek yogurt (I used Chobani 0%)
1/3 cup milk
1/4 cup canola oil
1 teaspoon vanilla extract
1 large egg
2 3/4 cup all-purpose flour
1 cup granulated sugar
1 tablespoon baking powder
1 teaspoon baking soda
1 teaspoon ground cinnamon
1/2 teaspoon pumpkin pie spice (optional)
1/2 teaspoon salt
1 cup mini cinnamon chips
Instructions
Preheat oven to 350 degrees F. Spray 2 mini muffin tins with nonstick cooking spray. (I used paper liners, and the muffin slightly stuck to the paper, so I recommend the spray)
In a large bowl, whisk together the pumpkin, yogurt, milk, canola oil, vanilla, and egg.
In a medium bowl, whisk together the flour, sugar, baking powder, baking soda, cinnamon, pumpkin pie spice, and salt. Add the dry ingredients to the wet ingredients, and mix until just combined. Fold in the cinnamon chips.
Fill the muffin tins about ¾ of the way full. Bake for 10 minutes, or until a toothpick inserted in the center comes out clean. Cool for a few minutes in the pan, then turn out onto a rack to cool completely.
Notes
https://chezcateylou.com/mini-pumpkin-cinnamon-chip-muffins/
© Chez CateyLou. All images & content are copyright protected. Please do not use my images without prior permission. If you want to republish this recipe, please re-write the recipe in your own words, or link back to this post for the recipe.
Connect with Chez CateyLou!
Looking for more pumpkin recipes? You're in luck, I have tons!!
Pumpkin Cinnamon Rolls with Cream Cheese Icing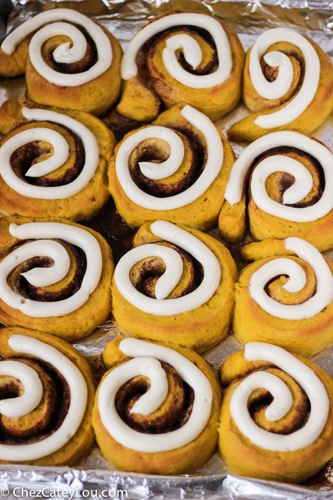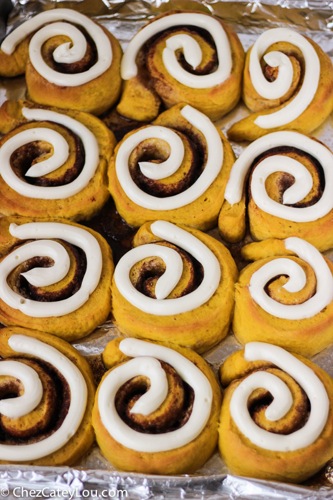 Pumpkin Donuts with Chocolate Icing