A delicious and classic recipe for Pineapple Upside-Down Cake, made with fresh pineapple. This caramelized fruit is a perfect complement to moist yellow cake.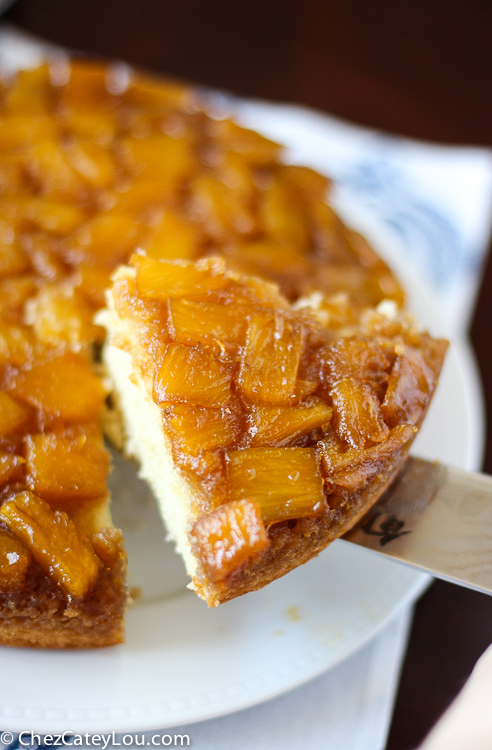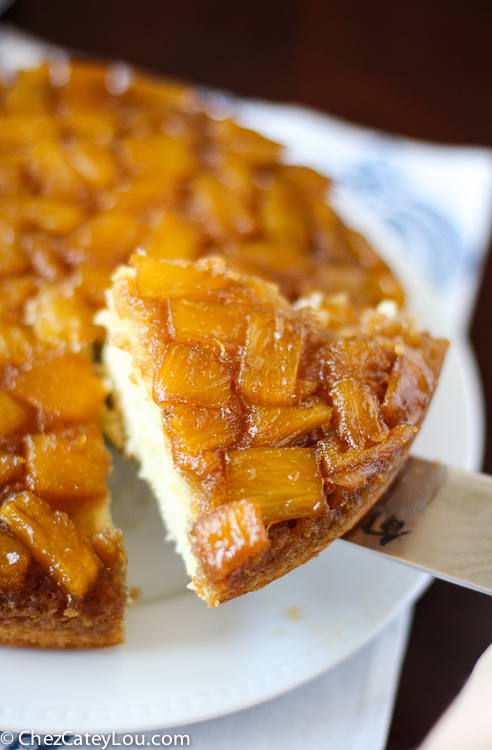 With all the baking that I do, you would think that I have tried every classic recipe at least one time. Nope. Not even close. There are just SO many amazing recipes out there. My to-bake list is never-ending. However I am trying to knock out some of the most classic recipes, and Pineapple Upside-Down Cake is on that list! I know it isn't that popular anymore, but it is such a well-known old fashioned recipe that I just had to try my hand at making one. Plus, I'm not sure how this happened, but I had never actually eaten a piece of pineapple upside-down cake until I made this one! Verdict: I am a fan!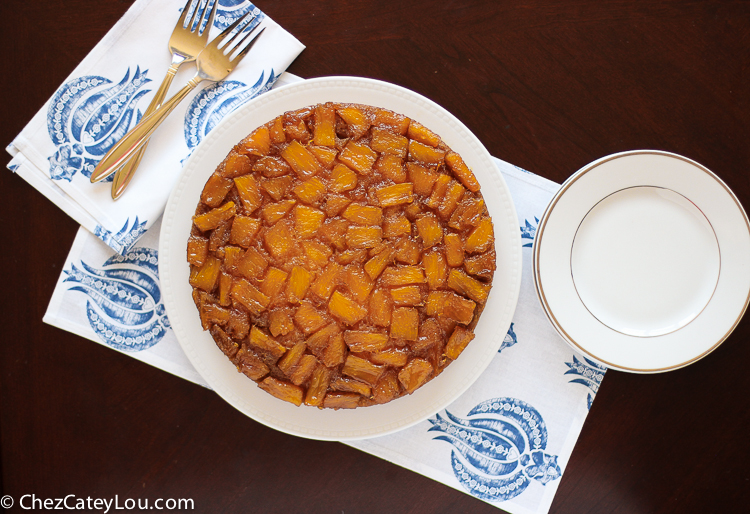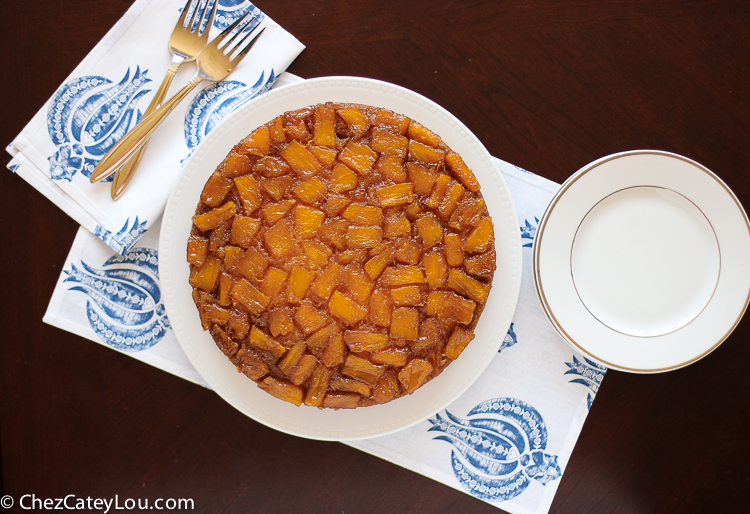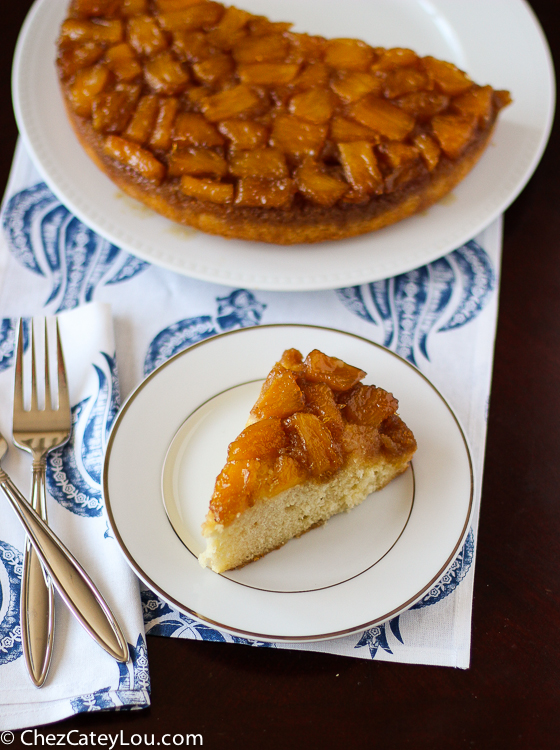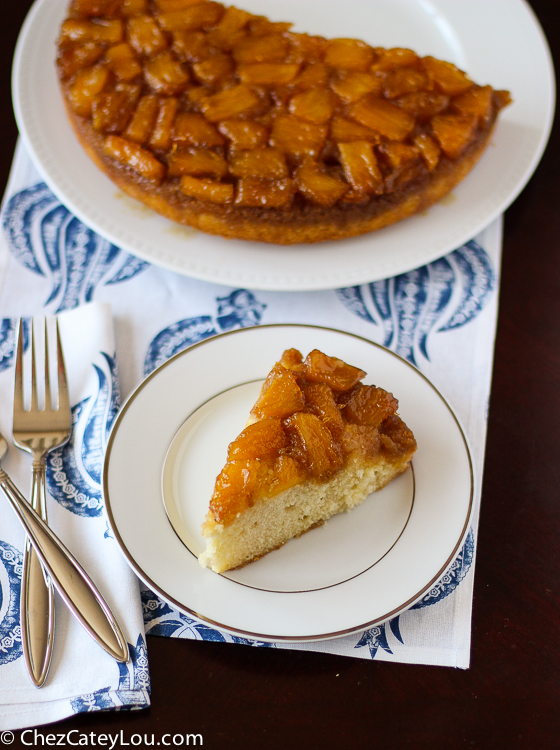 A lot of Pineapple Upside-Down Cake recipes out there use canned pineapple and maraschino cherries, and while it makes a very visually appealing cake, I am not a canned fruit fan. I just don't really like the taste of it. I wanted only the real deal in my cake, so I used fresh pineapple! It might not be as pretty, but I think the flavor is great.
The first step in making this pineapple upside-down cake is to caramelize the fresh pineapple, and then use the juice to make a caramel sauce. This is the key to the delicious flavor in this cake! The pineapple and the caramel sauce go into the bottom of the pan, which later becomes the top of the cake. Hence the name! Here is the pineapple before being covered by cake batter, and then after it is cooked and flipped over: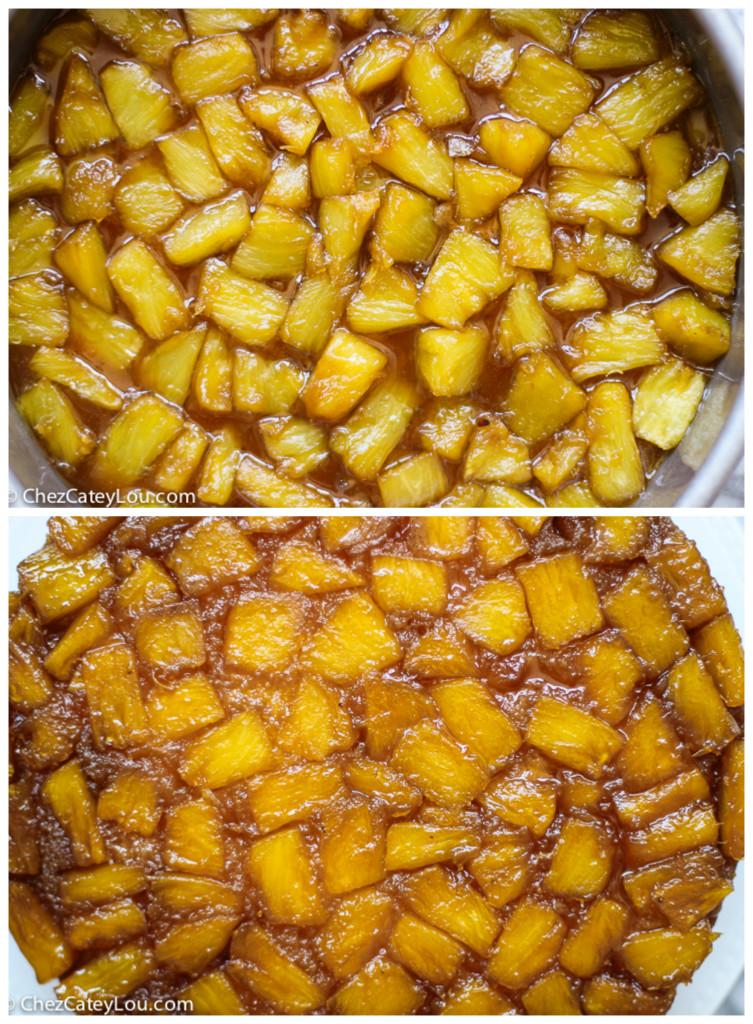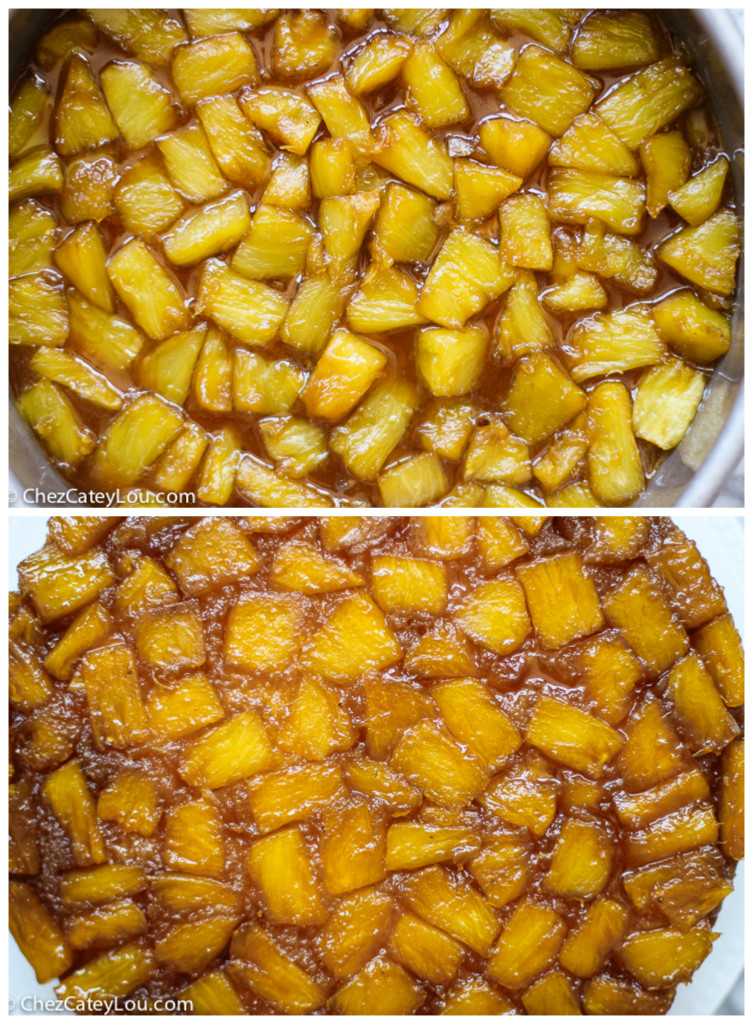 The cake itself is a fairly traditional yellow cake. It is buttery and delicious, and it has the perfect texture – nice and moist, but still substantial enough to hold the pineapple. So good! Since there is fruit in this cake, I decided that this would be a perfect thing to eat for breakfast! I will take any excuse I can to eat dessert for breakfast. What a fun weekend breakfast treat!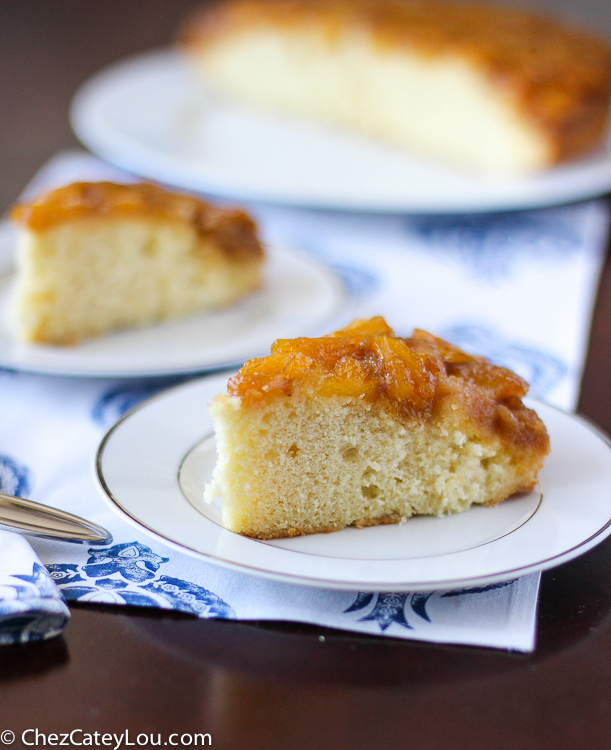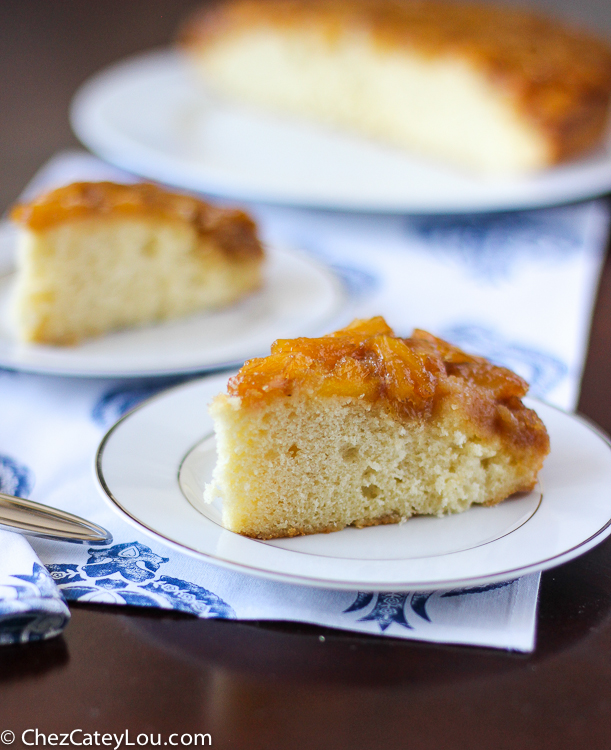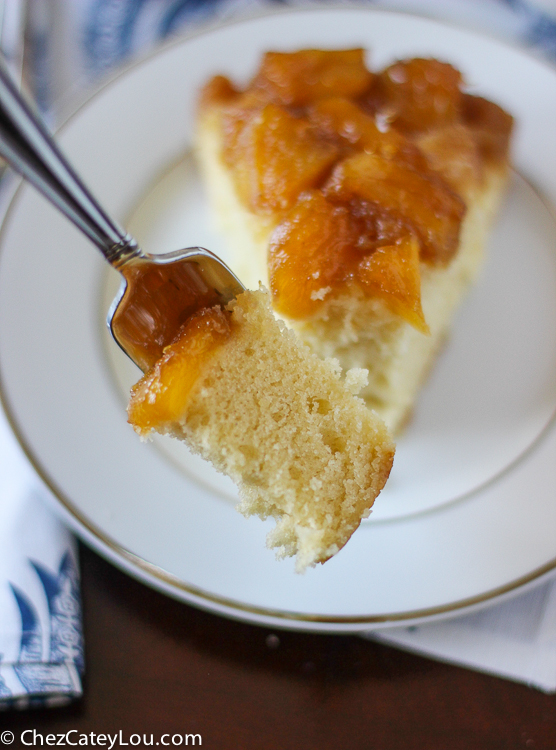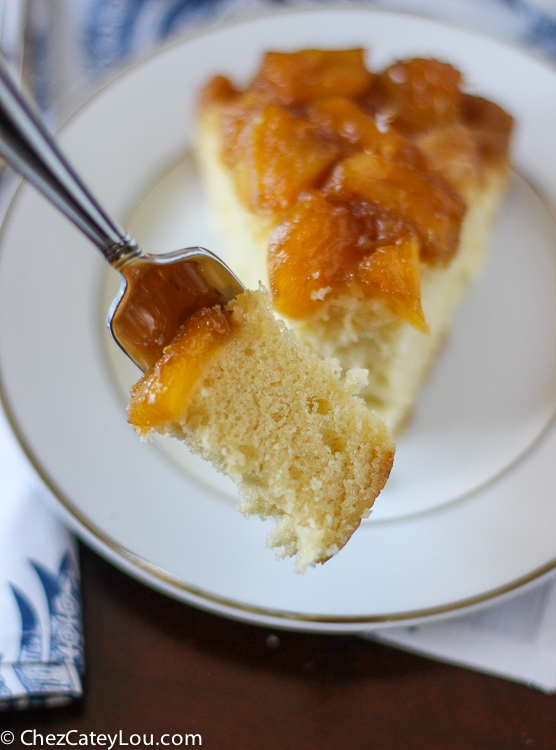 Pineapple Upside-Down Cake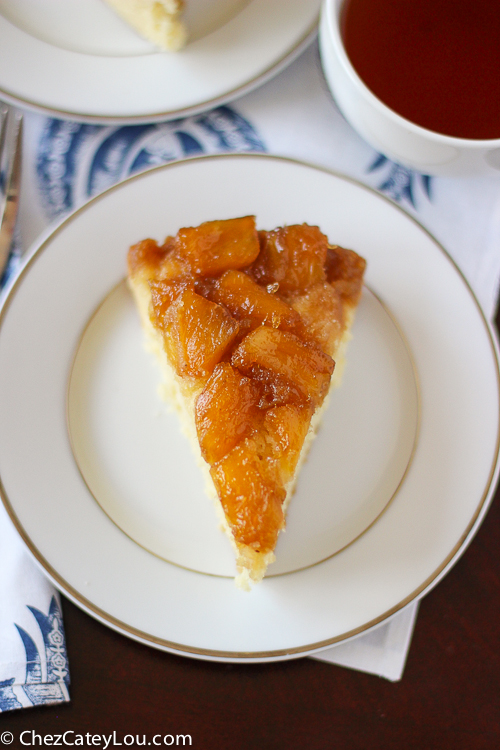 A delicious and classic recipe for Pineapple Upside-Down Cake, made with fresh pineapple. This caramelized fruit is a perfect complement to moist yellow cake.
Ingredients
For the Pineapple Topping

1 medium fresh pineapple (about 4 pounds), diced (about 4 cups prepared fruit)
1 cup firmly packed light brown sugar (7 ounces)
3 tablespoons unsalted butter
1/2 teaspoon vanilla extract

For the Cake

1 1/2 cups unbleached all-purpose flour (7 1/2 ounces)
1 1/2 teaspoons baking powder
1/2 teaspoon table salt
8 tablespoons unsalted butter (1 stick), softened but still cool
3/4 cup granulated sugar (5 1/4 ounces)
1 teaspoon vanilla extract
2 large eggs at room temperature
1 egg white at room temperature
1/3 cup whole milk at room temperature
Instructions
For the pineapple topping

Spray a 9-inch round cake pan with nonstick cooking spray.
In a 10-inch skillet, add the pineapple and brown sugar and cook over medium heat, stirring occasionally during first 5 minutes, until pineapple is translucent and has light brown hue, 15 to 18 minutes.
Set a mesh strainer over a medium bowl and empty the fruit and juices into the strainer. Return juices to skillet, leaving pineapple in strainer (you should have about 2 cups cooked fruit). Simmer juices over medium heat until thickened, beginning to darken, and mixture forms large bubbles, 6 to 8 minutes, adding any more juices released by fruit to skillet after about 4 minutes.
Off heat, whisk in butter and vanilla; pour caramel mixture into prepared cake pan and set aside. The pineapple will continue to release juice as it sits - just discard this.

For the cake

Preheat oven to 350 degrees.
Add flour, baking powder, and salt to a medium bowl and whisk to combine.
In bowl of standing mixer fitted with the paddle attachment, beat butter and sugar at medium-high speed until light and fluffy, 3 to 4 minutes. Reduce speed to medium, add vanilla, and mix to combine; add whole eggs one at a time then egg white, beating well and scraping down bowl after each addition. Reduce speed to low and add one-third of the flour mixture. Mix until just incorporated, then add half of milk and beat until incorporated; repeat with 1/3 of the flour, then the rest of the milk, and finish with the final 1/3 of the flour. Use a rubber spatula to give a final stir, making sure all ingredients are well mixed.
Quickly place cooked pineapple in cake pan in even layer, gently pressing fruit into caramel. Drop mounds of batter over fruit and spread evenly. Tap pan lightly against counter to release any air bubbles. Bake 45 - 50 minutes, until cake is golden brown and toothpick inserted into center of cake comes out with a few moist crumbs. Place the pan on a wire rack to cool for 10 minutes, then place serving platter over cake pan. Invert cake pan and platter together; lift off cake pan. Cool and then cut into pieces and serve.
Notes
https://chezcateylou.com/pineapple-upside-cake/
© Chez CateyLou. All images & content are copyright protected. Please do not use my images without prior permission. If you want to republish this recipe, please re-write the recipe in your own words, or link back to this post for the recipe.
Follow Chez CateyLou around the internet!