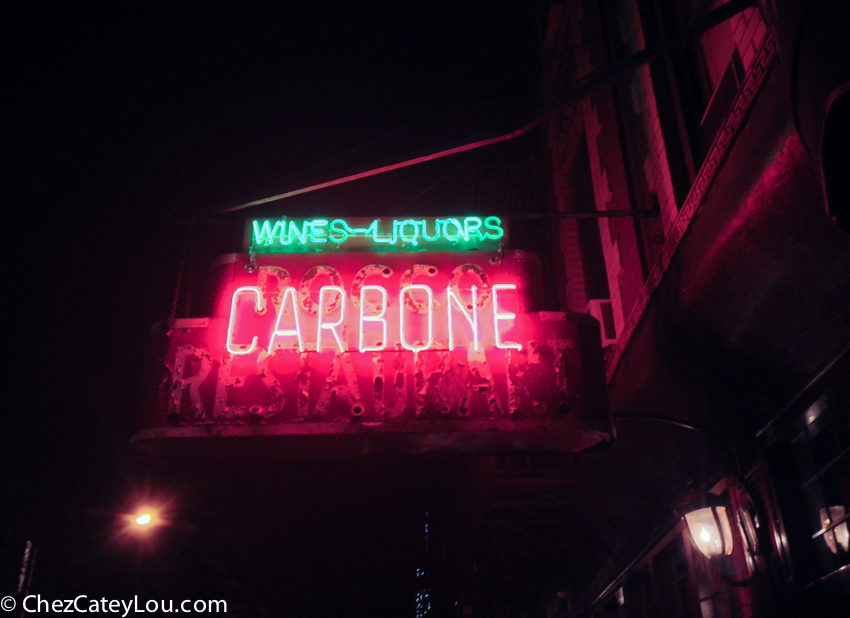 A $55 Veal Parmesan?
There's no way to assess a meal at Carbone without acknowledging that you're paying for an experience. For an ambiance lifted straight out of the Mad Men era: white table cloths, old-school tile floors, and a Rat Pack heavy playlist. For waiters with a surly demeanors outfitted in snappy maroon tuxedos. And especially for a menu that's almost audacious in its simplicity – straightforward dishes that are souped-up versions of Italian-American classics.
So taking this all into account, does it live up to the hype? It sure does.  
Carbone, located near Washington Square Park, is part of the Major Food Group, which also owns Torrisi, Parm, and ZZ Clam Bar. Although the restaurant itself is quite small – only two modest-sized dining rooms and a bar with room for maybe three seats – it truly pulls off looking like an Italian joint from 40 years ago without feeling gimmicky. No small feat. I also appreciated that the tables, especially the two tops, were spaced so that diners had ample elbow room, something that's difficult to find these days and an absolute necessity given the family style service at Carbone.
Let's take a minute to discuss the menu at Carbone. Some of these dishes may seem more at home on the menu of an Olive Garden or a Carrabas – not a hip, New York City spot. I mean, Chicken Tetrazzini? Rigatoni Vodka? Minestrone soup? All that's missing are all-you-can-eat breadsticks. But seriously, there's no tripe pasta, no trendy vegetables (get your ramps elsewhere), and no dishes that require a three-sentence description. The cocktail list is much of the same – Manhattan, Old Fashioned, Mai Tai, Margarita, Whiskey Sour – what you see is what you get. In a way it's refreshing, there are no pretenses. On the other hand, if your restaurant specializes in simple ingredients and timeless dishes, you better bring it. And luckily Carbone does.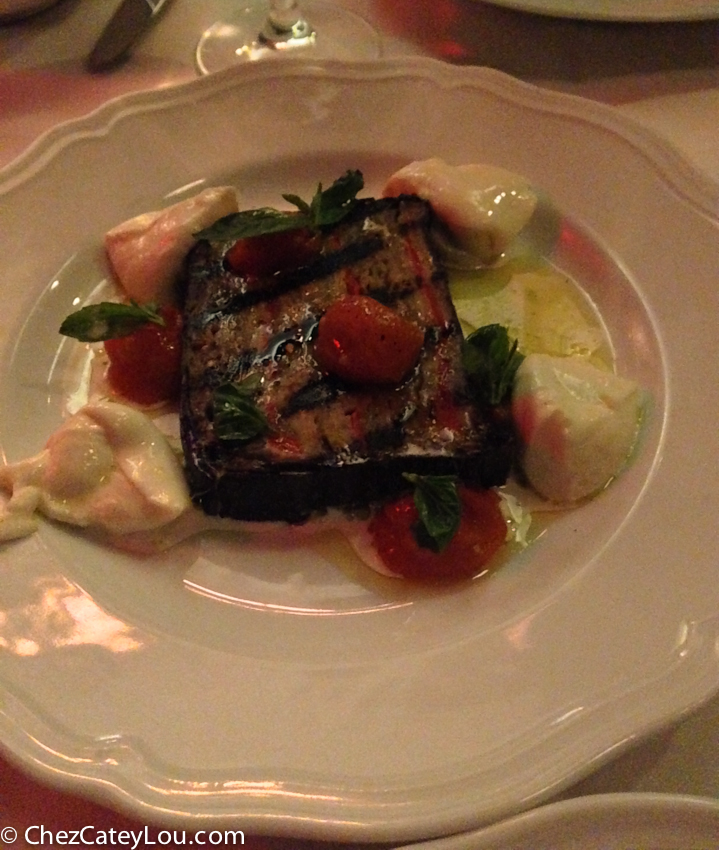 Immediately after being seated, guests are greeted with a basket of freshly baked bread (including a spectacular and decadent garlic bread), some pickled cauliflower, hunks of Parmigiano-Reggiano and a plate of Italian ham. It was a really nice and unexpected touch. I know it's built in to the cost of the meal (um… I'd guess a $55 veal parm covers it, no?), but in an age where many nice restaurants are removing pre-meal snacks like olives and bread (ahem, Barbuto), I appreciated having something to munch on while I reviewed the menu. And who doesn't like complimentary cheese and ham?
Remember that cocktail list I mentioned earlier? The ones with the least descriptive names possible? Cate and I both agreed that the cocktails at Carbone were some of the best we've had in some time. Cate's margarita (not very Italian, I know, but it somehow fit in this specific version of an Italian restaurant) was tangy and refreshing and would put the typical margarita at a Mexican restaurant to shame. I had an old fashioned and a manhattan, both prepared perfectly and not overly sweet. And I'm a sucker for any drink served with a large, clear ice cube.
For our first course we had the Torrisi eggplant. Cate and I have been longtime fans of the eggplant parm at Torrisi Italian Specialties (and now served at the restaurant Parm) and had high expectations for this dish. To say it did not disappoint would be an understatement. Quickly vaulting to the top 5 of our best bites of the year (no lie, something we discuss with alarming frequency), the eggplant was incredibly delicious and magnificently engineered (it's a terrine, and there's a few other steps involved, next time I'll bring a pen and pad to take notes). Honestly though, the best thing on the plate may be the tomatoes. What I wouldn't pay for a plate of those…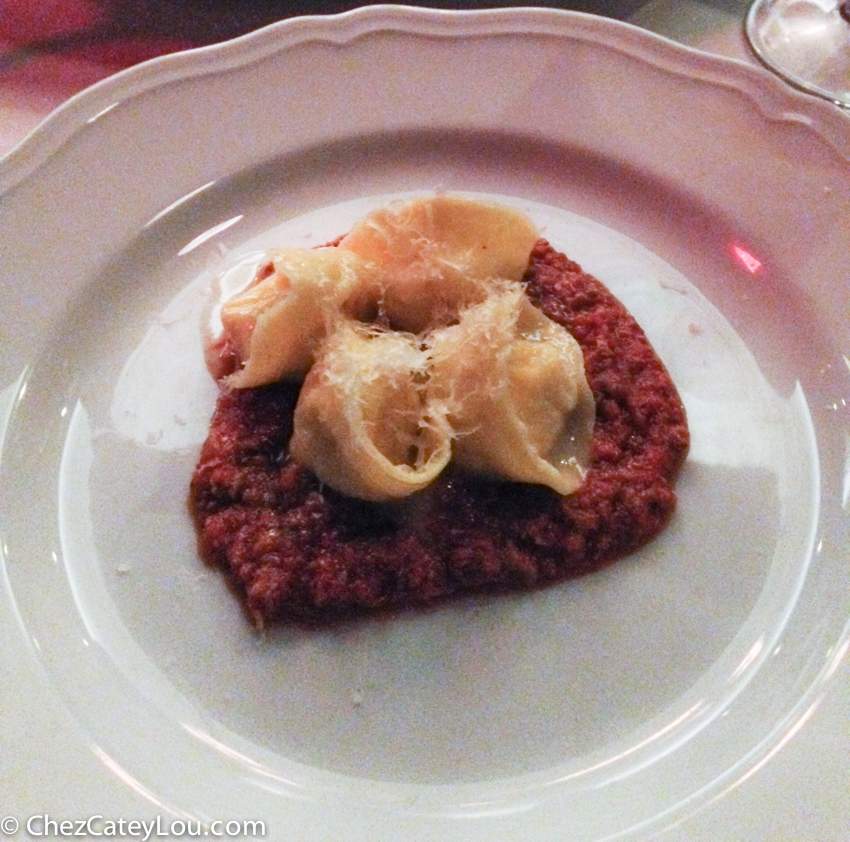 Next we split two pastas, the spicy vodka rigatoni and the tortelini al ragu. The tortelini was superb. The handmade pasta had great texture and the sauce was perfectly balanced. The meat in the sauce was so finely chopped that it's worth trying even if you're not a bolognese fan. Definitely a standout.  Also, for reference sake – the above picture is a "half portion." The kitchen split our pasta before serving us – something Gramercy Tavern does with many dishes and always a nice touch.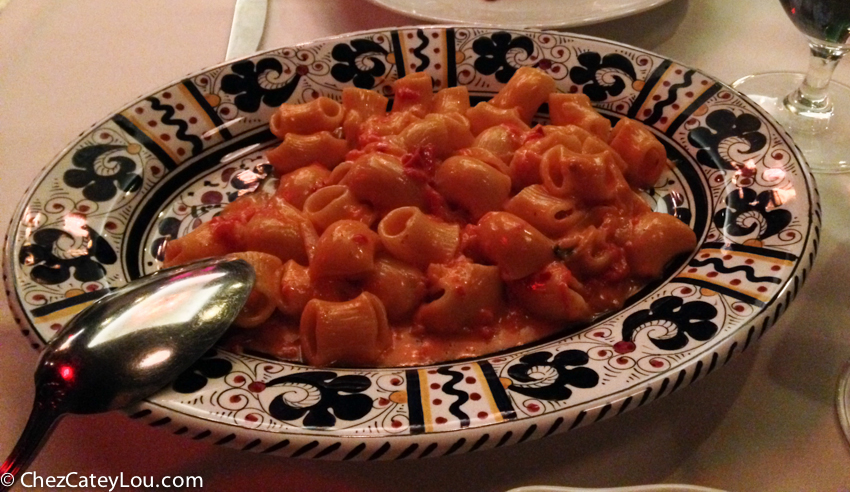 As for the spicy vodka rigatoni, I love dishes with a little heat and vodka sauce has always been one of my favorite traditional Italian preparations. Unfortunately the dish was a little flat and was probably the biggest (and only) disappointment of the night. It didn't help that Cate compared the mixture of cheese, sauce, and spice to Rotel dip. It was an over-the-top comparison but had just enough truth in it to be unsettling. But hey – who doesn't like Rotel dip (I have a feeling this paragraph is not getting quoted on Carbone's website anytime soon).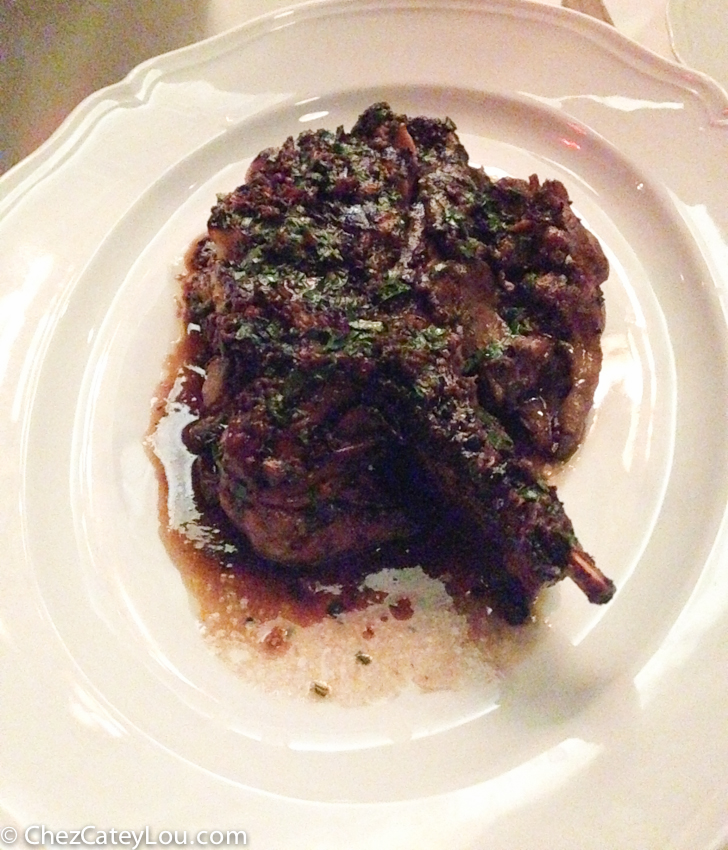 For our main course we decided to eschew the $55 veal parmesan and get the $54 veal marsala (#frugal). There's definitely some sticker shock with the entrée price but the waiter recommended sharing a main course so it's not as exorbitant as it seems. Carbone uses the same veal chop for both the marsala and the parmesan – our waiter compared it to a Flintstone-sized chop, and while big, I easily could have eaten it all on a good night (however, I am also a glutton).  The veal was cooked perfectly and the savory mushroom Marsala wine sauce was delicious. All things considered, it was not quite as good as the veal chop at Minetta Tavern (which is my favorite veal chop in the city), but it was a very good dish.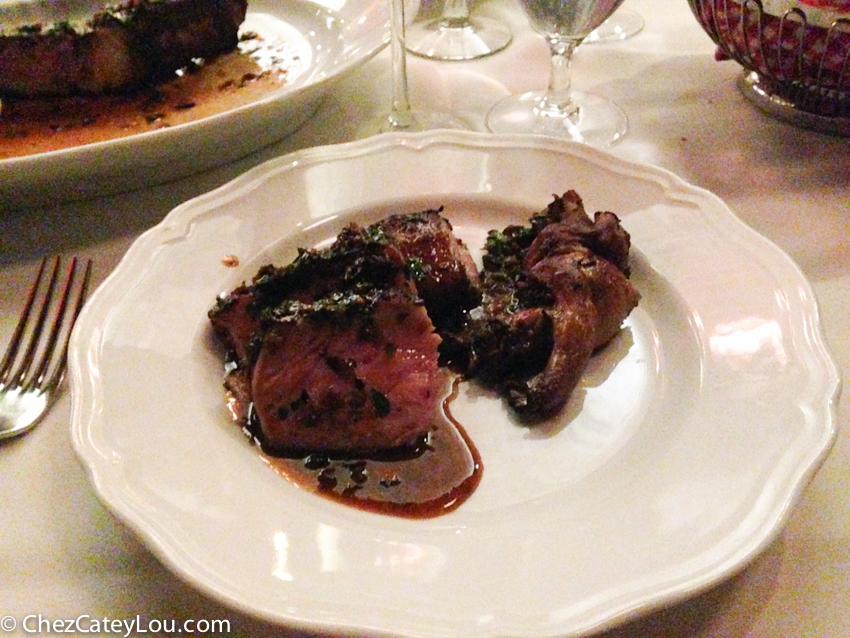 After a pretty decadent meal, we finished with an order of  lemon cheesecake. I've always loved lemon desserts – ever since I used to eat Rosati's lemon water ice by the quart as a kid (no hyperbole – Rosati's is the best). The cheesecake was nice and airy and the crust had an almond cookie crust. We were extremely full, but we somehow found another gear and were able to finish it. It was a great eating performance, if I do say so myself.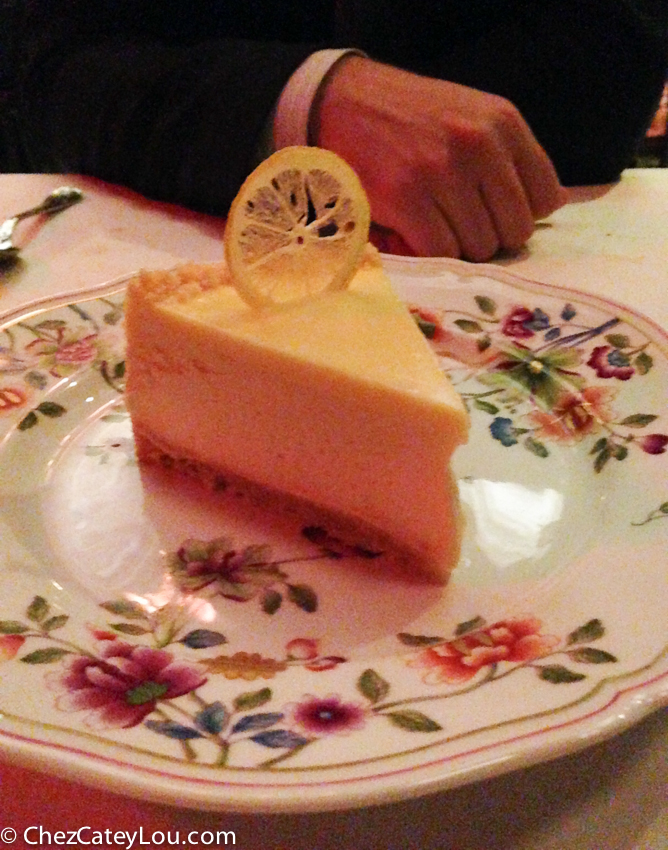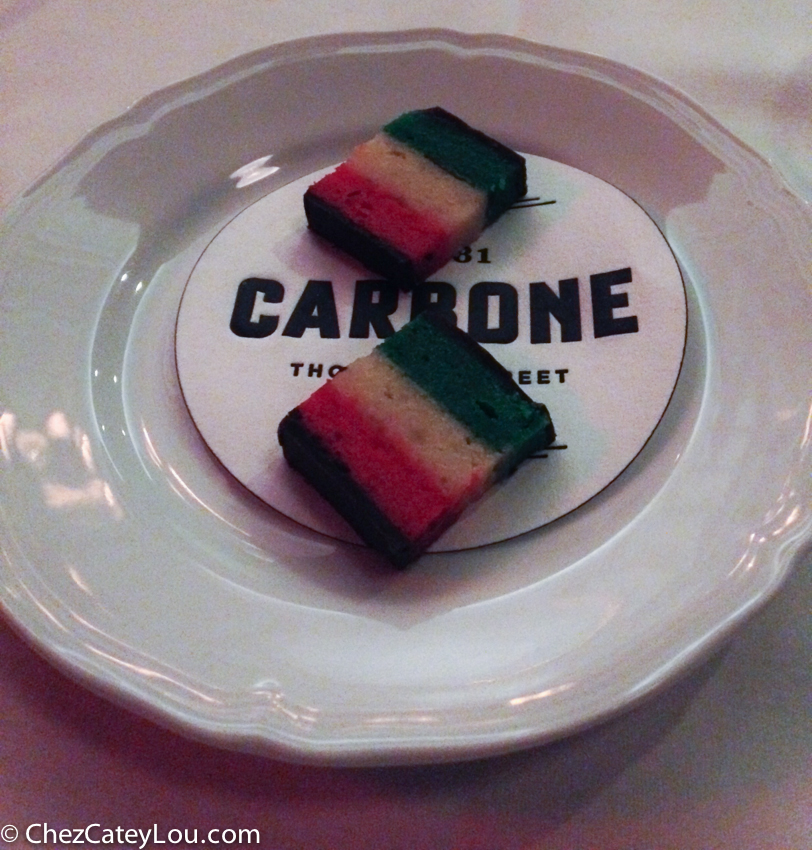 Though Carbone is very much a special occasion spot, it's really fun restaurant that serves incredible food. The eggplant and tortelini are must orders, and I don't think you could go wrong with any of the entrees. Because of the family style portions, it would definitely be a fun place to go with a group, but it's also great date spot. Just remember to bring your appetite.
Carbone
181 Thompson St, New York, NY 10012
(212) 254-3000