Classic Peanut Butter Blossoms, made with butter instead of shortening, get a festive holiday twist with colored sugar. A Hershey's Kiss is the final touch!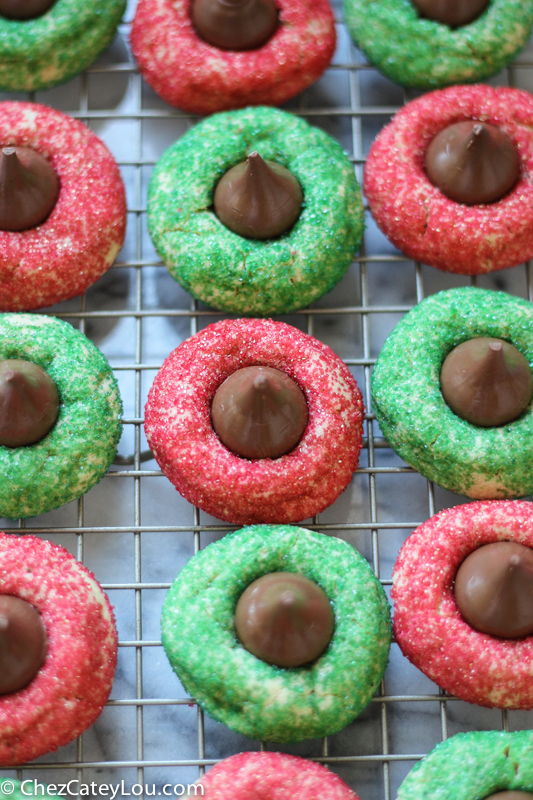 It is official – I have Christmas baking fever. I can't stop making festive baked goods! The same thing happened to me last year – it is just so much fun to bake this time of year. I love baking old favorites like these and trying something new, like these Peanut Butter Blossoms!
I am not alone in my baking obsession – my friend Erin from The Speckled Palate decided to declare this week Christmas Cookie Week! I am thrilled to join her and some other great bloggers in celebrating all things butter and sugar! If you want to join us this week head to this link to learn more!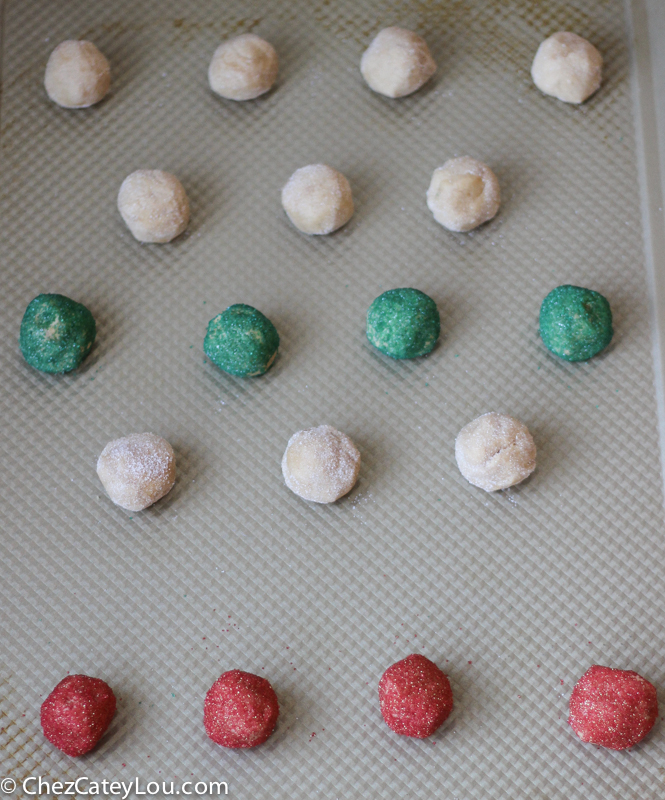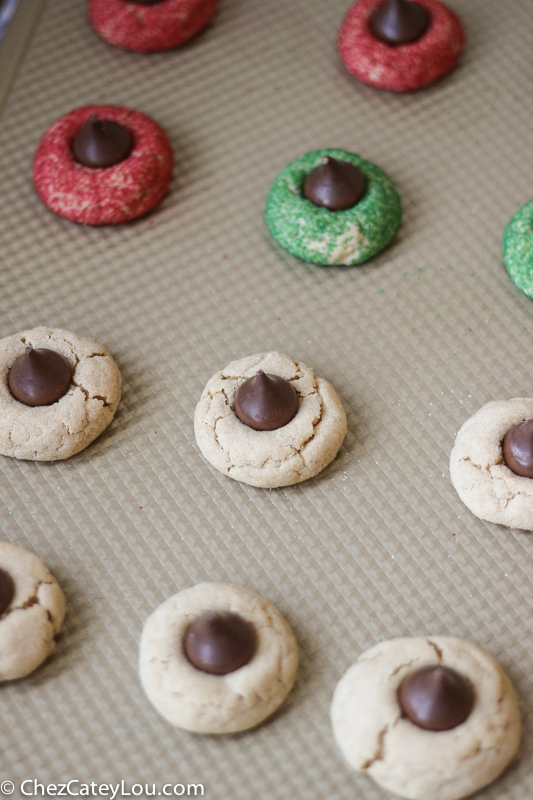 I know Peanut Butter Blossoms are not a "new" cookie – they have been around for ages, and I always tend to see them around Christmas. But, they are new to me because I have never made them until yesterday. And oh wow – these are definitely becoming a new Christmas tradition. These cookies are delicious!! And TheBetterHalf was thrilled that I put penaut butter into a Christmas cookie – he is not a big fan of plain sugar cookies, which is usually my cookie of choice this time of year! And he is the world's biggest chocolate peanut butter fan.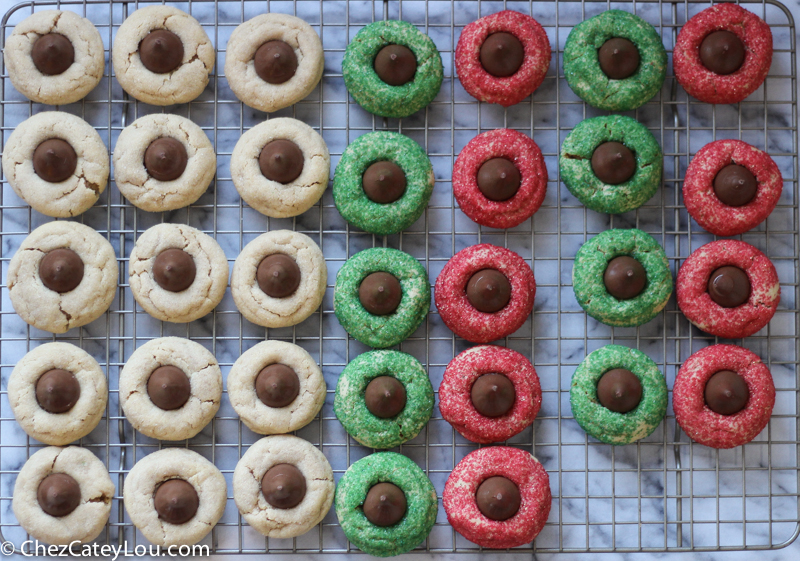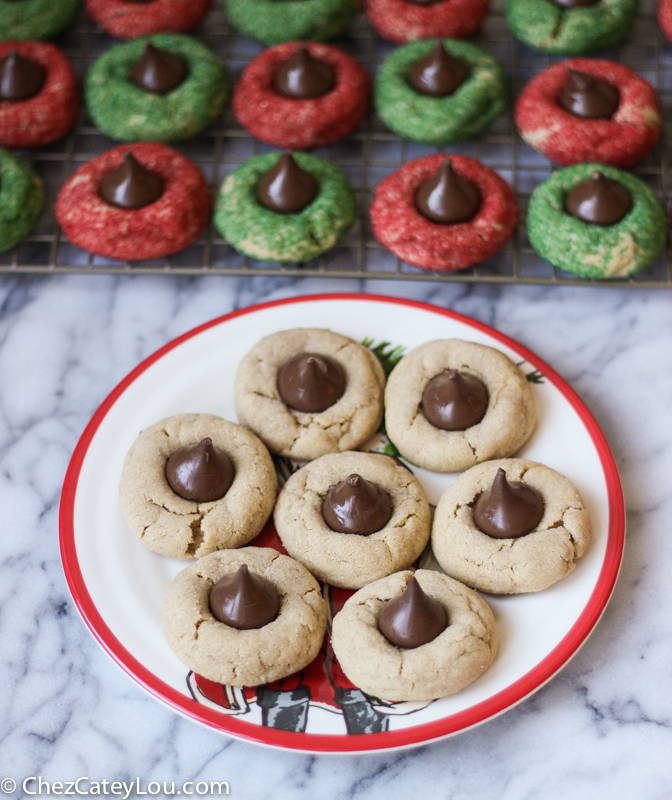 The cookie itself is super soft and is full of peanut Butter flavor. I hate when PB cookies don't really taste like PB. No problem here – 3/4 cup of creamy peanut butter ensures a rich and nutty flavor in every bite! The cute Hershey's Kiss on top of each cookie makes the peanut butter blossoms so pretty, and of course adds to the delicious flavor!
I rolled half of my cookies in colored sugar before I baked the dough – I love the festive look that it gives the cookies! I rolled some in regular granulated sugar to have some plain as well.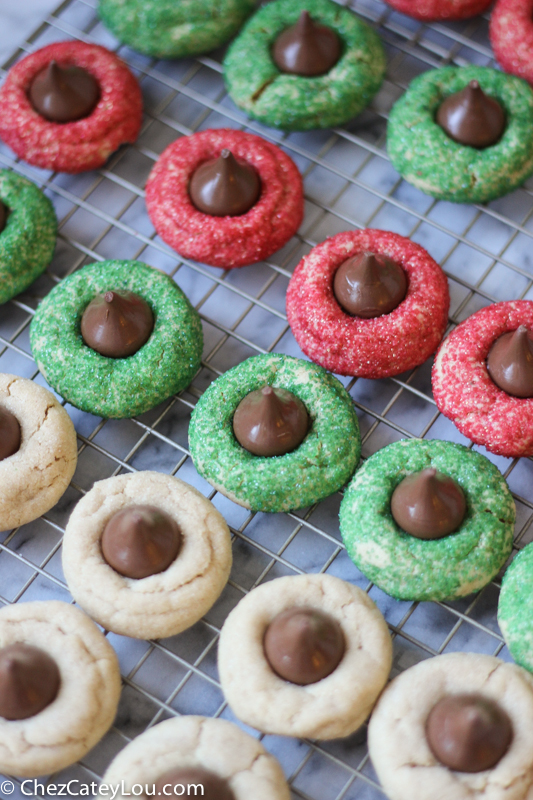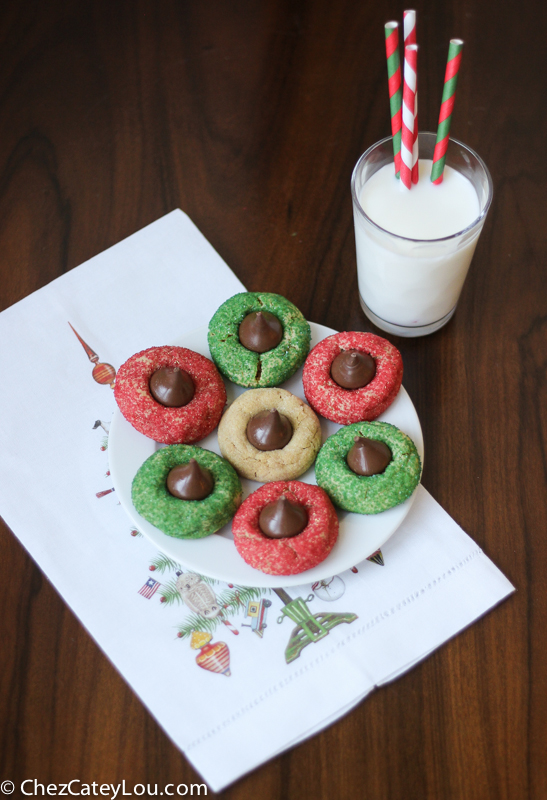 Almost all of the recipes that I came across for this classic cookie use shortening. While I'm sure I have eaten my fair share of shortening from bakeries and such, I just can't bring myself to buy and bake with shortening. It just grosses me out, I have a weird mental block against it. So I decided to make Peanut Butter Blossoms without shortening – I used the classic recipe on the back of the Hershey's Kiss Bag, and subbed in butter for the shortening.  It worked like a charm!! So if you have a shortening phobia like I do, then this is definitely the recipe for you!
I made a few other minor changes to the recipe as well – I  chilled my dough before baking it, and baked at 350 degrees instead of 375.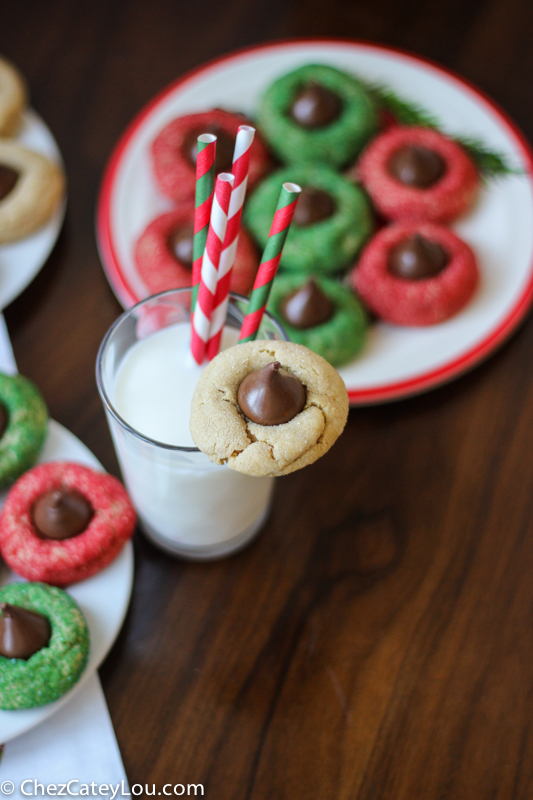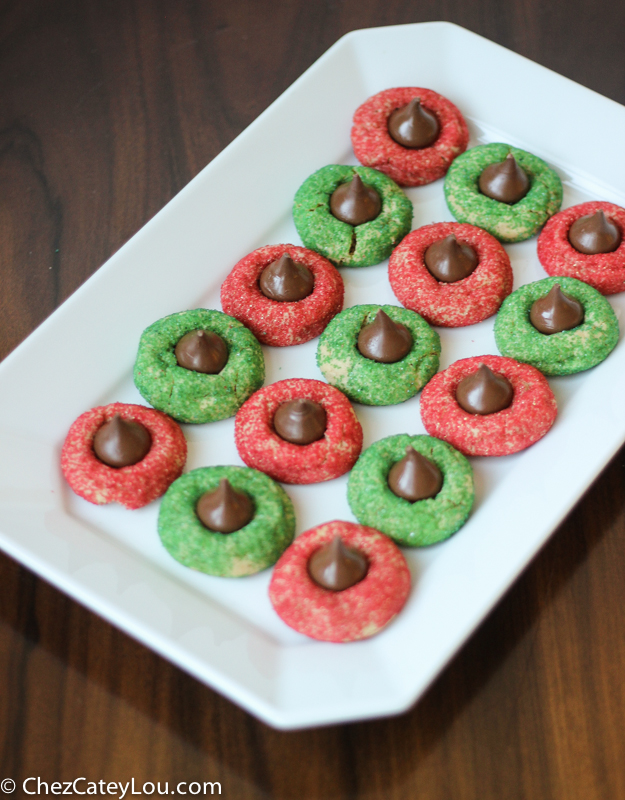 If you want to link up your Christmas cookie recipes this week, be sure to visit The Speckeled Palate. She will be doing a roundup of all the Cookie goodness on Sunday!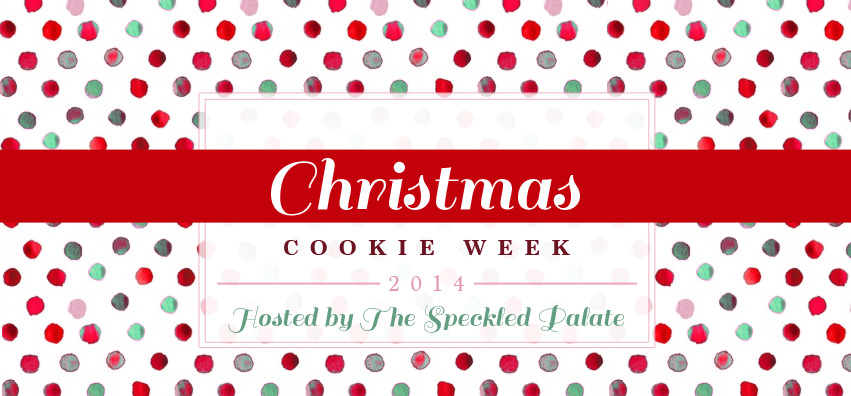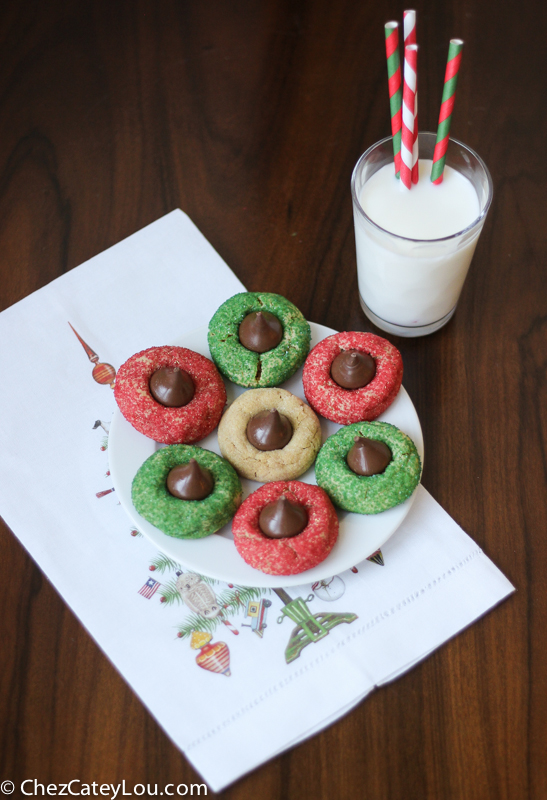 Classic Peanut Butter Blossoms, made with butter instead of shortening, get a festive holiday twist with colored sugar. A Hershey's Kiss is the final touch!
Ingredients
1/2 cup (1 stick) unsalted butter
3/4 cup creamy Peanut Butter
1/3 cup granulated sugar
1/3 cup packed light brown sugar
1 egg
2 tablespoons milk
1 teaspoon vanilla extract
1-1/2 cups all-purpose flour
1 teaspoon baking soda
1/2 teaspoon salt
Additional granulated sugar or colored sugar
40 Hershey's Kisses
Instructions
In the bowl of a stand mixer fitted with the paddle attachment, beat butter and peanut butter until well combined. Add 1/3 cup granulated sugar and brown sugar and beat until light fluffy. Add egg, milk and vanilla and beat well.
In a separate bowl, whisk together flour, baking soda and salt.
Slowly pour the flour mixture into the peanut butter mixture and mix until combined.
Cover the bowl with plastic wrap and chill the dough until firm, about 1 hour (or up to 48 hours).
Preheat oven to 350 degrees F
Shape dough into 1-inch balls. Roll each ball in granulated sugar or colored sugar; place on ungreased cookie sheet, spaced 2 inches apart
While the cookies bake, unwrap the chocolates
Bake cookies for 8 to 10 minutes or until lightly browned. Remove from oven and immediately press a chocolate into center of each cookie; cookie will crack around edges. Transfer cookies to a wire rack to cool completely.
Notes
https://chezcateylou.com/peanut-butter-blossoms/
© Chez CateyLou. All images & content are copyright protected. Please do not use my images without prior permission. If you want to republish this recipe, please re-write the recipe in your own words, or link back to this post for the recipe.
Connect with Chez CateyLou!
More Christmas recipes!
Peanut Butter Reindeer Cookies