Traditional stuffing is elevated by the addition of bacon and cornbread! This Bacon and Cornbread Stuffing will be the best side dish on your Thanksgiving table!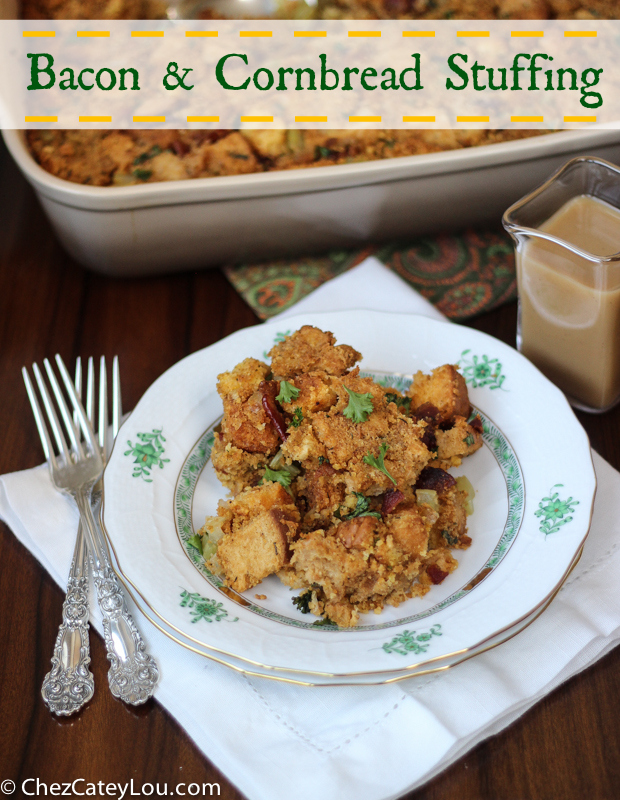 I'm back with more Thanksgiving recipes today! In case you missed Monday's post (a delicious one might I add), 19 other bloggers and I are sharing our favorite recipes with you as part of what we call a Blogsgiving Dinner. Today is dedicated to the main dish and to my favorite part of the meal: the side dishes! At the bottom of this post are tons of delicious Thanksgiving foods from my blog friends.
I made Bacon and Cornbread Stuffing for our virtual dinner! Because what is Thanksgiving without a huge helping of stuffing. Some (aka TheBetterHalf and me) might say it is the best part of the meal.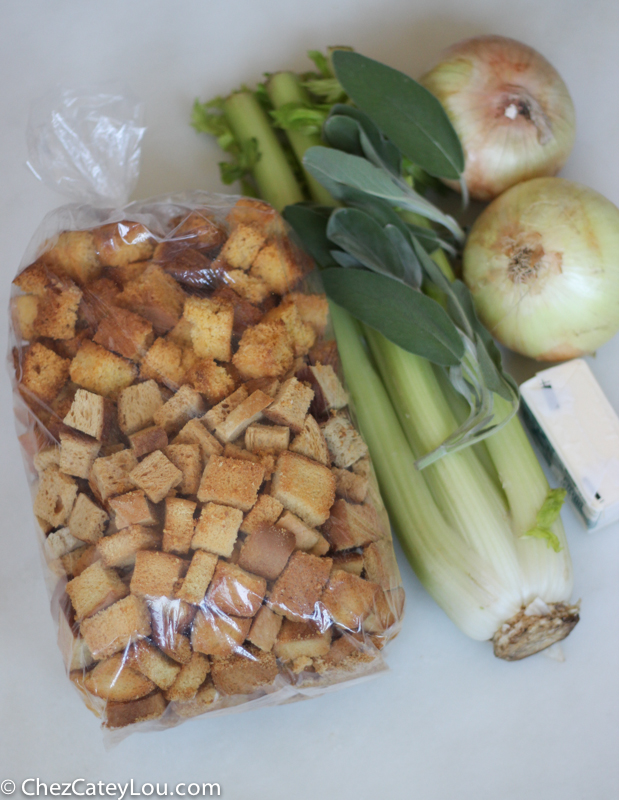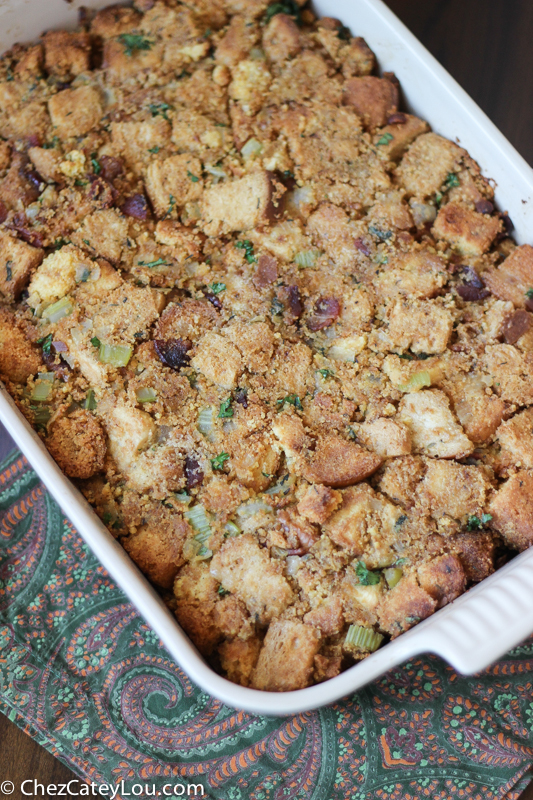 Now I am usually a traditional girl when it comes to stuffing – no sausage, no mushrooms, nothing too fancy. And last year I shared that classic stuffing with you, which by the way is an awesome recipe straight from my mom's recipe box. But since I already have mom's stuffing on the blog, I had to change it up this year.
My twist? Cornbread. and Bacon. Oh yes. Cornbread Stuffing with Bacon – it tastes as delicious as its sounds! I'm thinking we need to start a new tradition around our house – plain stuffing and cornbread stuffing!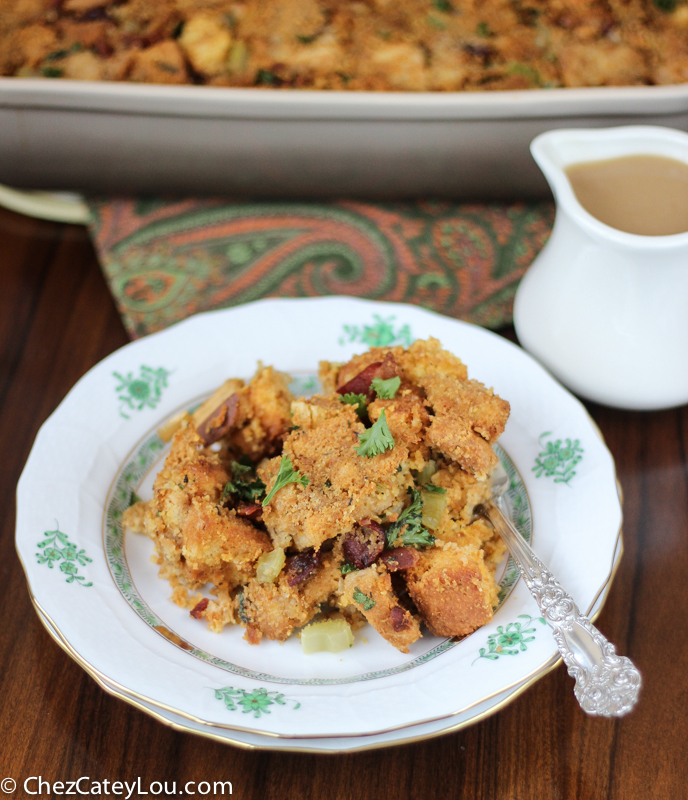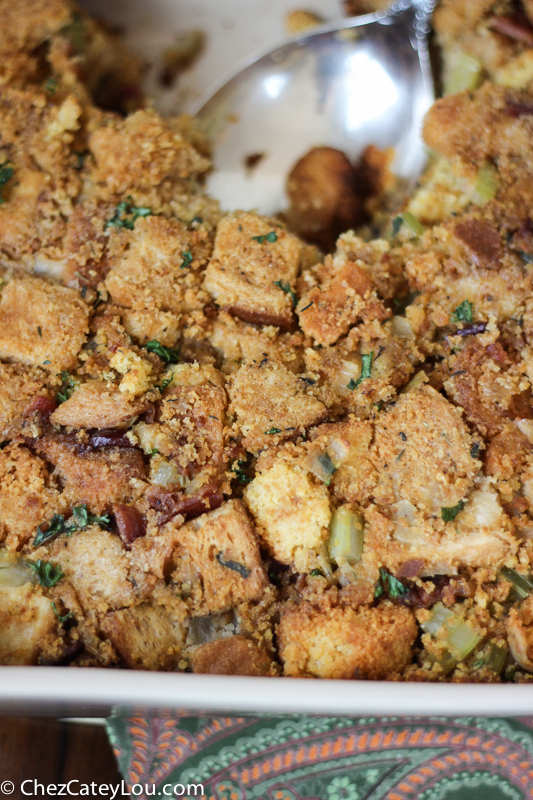 This cornbread stuffing is actually very similar to my mom's traditional stuffing. I just subbed out some of the bread for cornbread, and added some bacon! The veggies are sautéed in the bacon fat (along with some butter. because this is Thanksgiving after all), giving them so much extra flavor!  Then I add tons of both fresh and dried herbs – the smell when they hit the pan is literally the smell of Thanksgiving.  So good!
The cornbread gives the stuffing a hint of sweetness and a great texture, and of course the bacon adds tons of flavor.  This cornbread stuffing will definitely be a hit at your Thanksgiving table!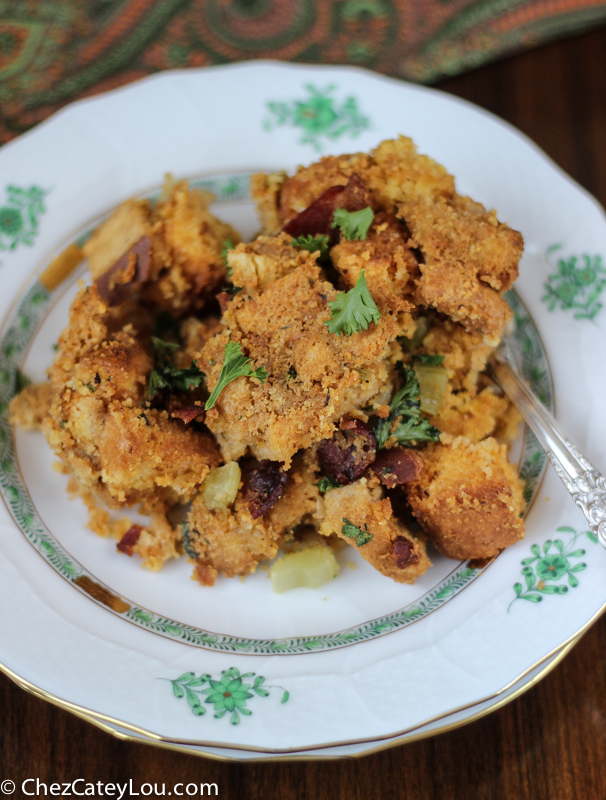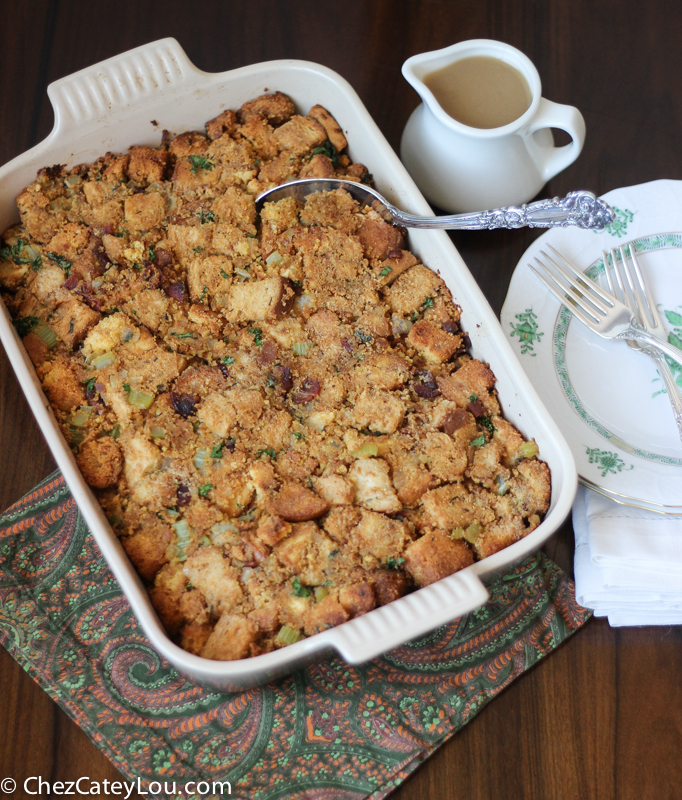 Bacon and Cornbread Stuffing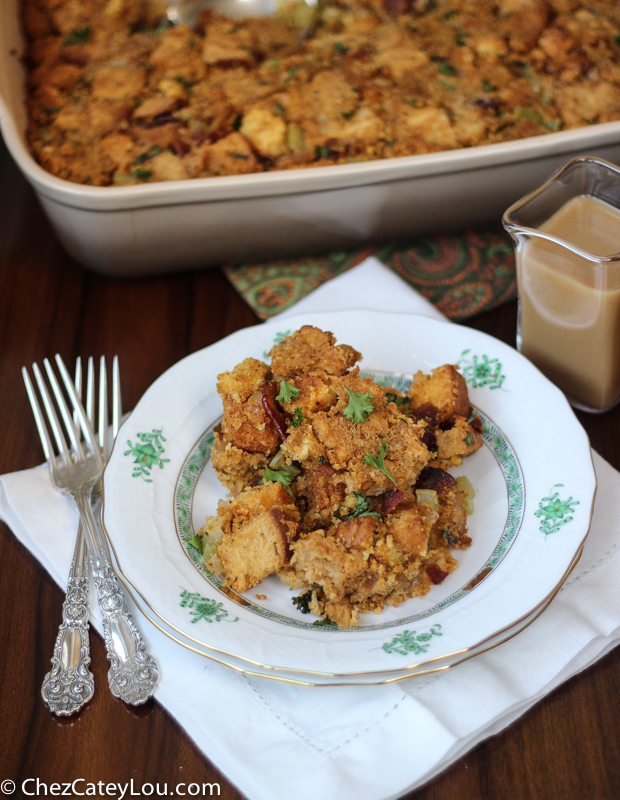 Traditional stuffing is elevated by the addition of bacon and cornbread! This Bacon and Cornbread Stuffing will be the best side dish on your Thanksgiving table!
Ingredients
1 (9in) pan cornbread, cut into cubes
16 slices bread, cut into cubes
6 slices bacon
2 Tablespoons butter
1 large onion, chopped
3-4 stalks celery, chopped
1 tablespoon chopped fresh sage
1 teaspoon dried thyme
½ teaspoon celery seed
1 teaspoon salt
1 teaspoon pepper
2 ½ cups chicken stock
2 eggs, lightly beaten
1/4 cup chopped fresh parsley
extra butter, for dotting on top
Instructions
Preheat oven to 300 degrees F. Spread cornbread cubes onto a sheet pan and bread cubes onto another sheet pan. Toast in the oven until light golden brown and dry, about 30 minutes for the bread and 45 for the cornbread. Set aside to cool. (This can be done the night before)
Preheat oven to 350 degrees F.
In a large skillet, fry bacon until crispy, turning once during cooking. Remove bacon to a paper towel lined plate. Add the butter to the bacon fat and then add the onions and celery. Sauté until veggies are tender, about 10 minutes. Add the herbs, salt, and pepper and sauté for about a minute. Transfer mixture to a large bowl. Add chicken stock to veggie mixture. When mixture is slightly cool, add the eggs (make sure the mixture is cool enough so that you don't cook the eggs). Then add the bread cubes and toss the whole mixture together. If the mixture seems to dry, add a bit more chicken stock. Chop the bacon into pieces and then stir the bacon and parsley into the stuffing.
Transfer the mixture to a 9x13 inch baking pan, pressing the stuffing evenly into the pan. Dot the top of the stuffing with pats of butter. Cover the pan with foil bake for 20 minutes. Remove the foil and bake for 20 - 30 minutes, until golden brown and crunchy on top. The internal temperature should be at least 160 degrees.
https://chezcateylou.com/bacon-cornbread-stuffing/
© Chez CateyLou. All images & content are copyright protected. Please do not use my images without prior permission. If you want to republish this recipe, please re-write the recipe in your own words, or link back to this post for the recipe.


Thanksgiving is all about family, friends and delicious food. Luckily, the food blogging community is all about these things as well. To celebrate the holiday, Meghan from Cake 'n' Knife and Susannah from Feast + West are hosting Blogsgiving Dinner. There are 20 awesome blogs sharing 52 recipes
The idea is based on the old-fashioned progressive dinner party, in which you'd eat each course at a different guest's home. Each blogger is bringing one or more dishes to the party on Monday, Wednesday and Friday of this week, so be sure to stop by each one and get some ideas for your own Thanksgiving meal. Pick one of the following sentences to put here.
Be sure to check out today's recipes for entrees, salads and side dishes.
We'll be posting to social media with the hashtag #blogsgivingdinner. Hope you can join us!
Salads
Pomegranate & Goat Cheese Salad from Feast + West
Persimmon & Pear Salad from Wit Wisdom and Food
Roasted Butternut Squash & Gorgonzola Salad from Hello Little Home
 Entrees
Roasted Turducken from The Speckled Palate
Herb Crusted Pork Tenderloin with Orange-Cranberry Reduction from Home at Six
Beer Brined Turkey with Bacon Gravy from Cake 'n' Knife
Smoked Mushroom Steaks with Herbed Bread Crumbs (Vegan) from Betty Becca
Side Dish
Turkey, Apple & Sweet Potato Pot Pies from Love & Flour
Creamy Pumpkin Apple Pasta from My Cooking Spot
Mushroom Spinach Farro from Think Fruitful
Bacon and Cornbread Stuffing from Chez CateyLou
Sweet Potato Crunch from I Cook. I Eat. It's Life.
Blue Cheese & Bacon Mashed Potatoes from A Savory Feast
Sausage Stuffing from the Wetherills Say I Do
Butternut Squash Grits from Homespun Seasonal Living
 Wine
Thanksgiving Wine Pairings from Twin Stripe
Connect with Chez CateyLou!