Butternut squash crostini with ricotta, cider caramelized onions, and fried sage – an elegant yet easy appetizer for Thanksgiving that will wow your guests!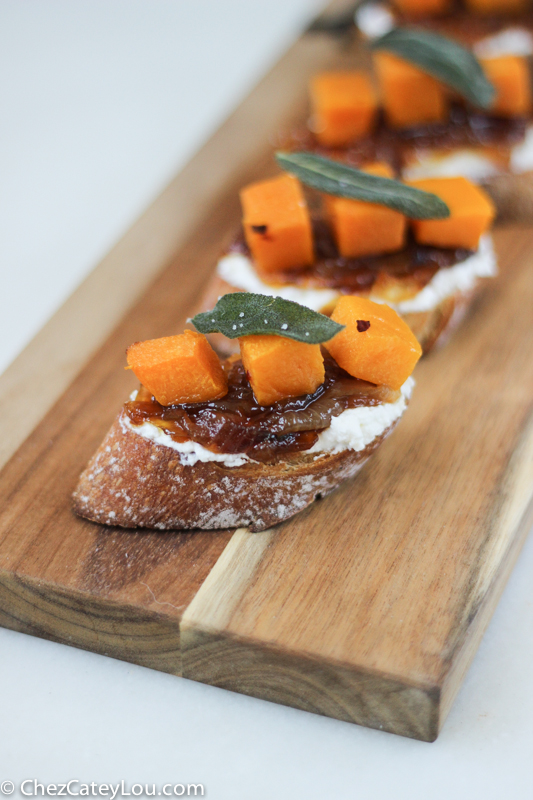 It is a deliciously exciting week here on Chez CateyLou – I am celebrating all things Thanksgiving with an amazing group of bloggers! If you scroll to the bottom of this post, you can read a little more about our collaborative Thanksgiving dinner.
I am starting the week off with an amazing appetizer that is perfect for Thanksgiving. Butternut Squash Crostini with Ricotta, Cider Caramelized Onions, and Fried Sage. That is a mouthful of a title, so I shortened it to Butternut Squash Crostini. But I almost didn't because I didn't want to short-change any of the ingredients in this recipe – they all work so well together and are integral to the delicious and addictive flavor of this crostini. It is a gorgeous appetizer that will be the star of any Thanksgiving appetizer spread!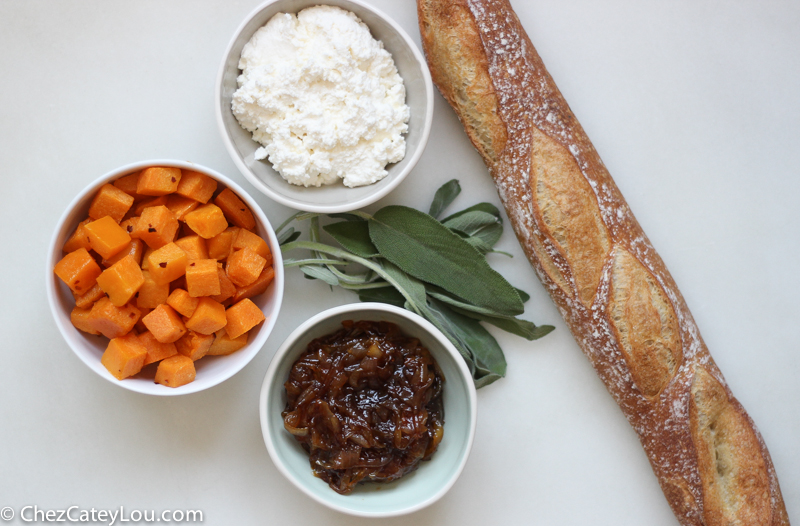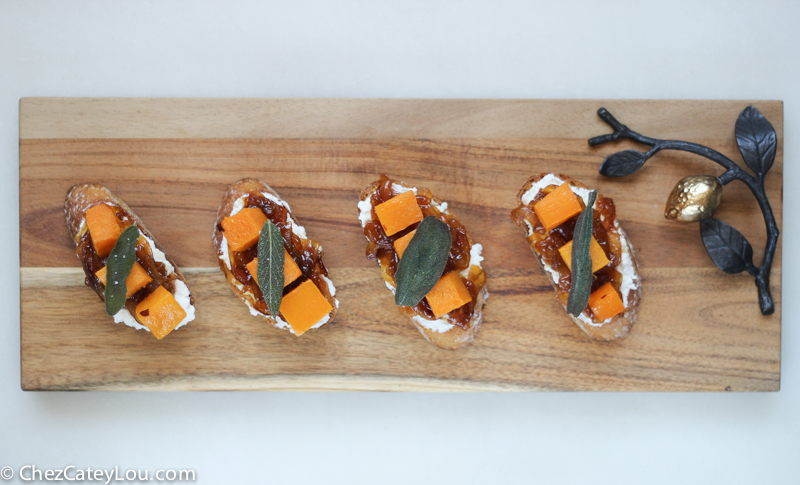 If I had to pick one absolute favorite bite in all of NYC, it would be the Kabocha Squash Toast from ABC Kitchen. I talked about it here and here – there is just something about the flavors in this dish that I can't resist. If you follow me on Instagram, then you know that Friday night I had my beloved Squash Toast at ABC Kitchen. I get these intense cravings for it. I didn't even really want to go out after work, but I just HAD to eat that toast! And so we went. And it was amazing.
This crostini is modeled after Kabocha Squash Toast. It is kind of like a deconstructed version of that toast, with a Thanksgiving twist.
And if you are doing the math yes, I had squash toast on Friday night, and made these crostini on Saturday. And had the leftovers yesterday. I have a problem.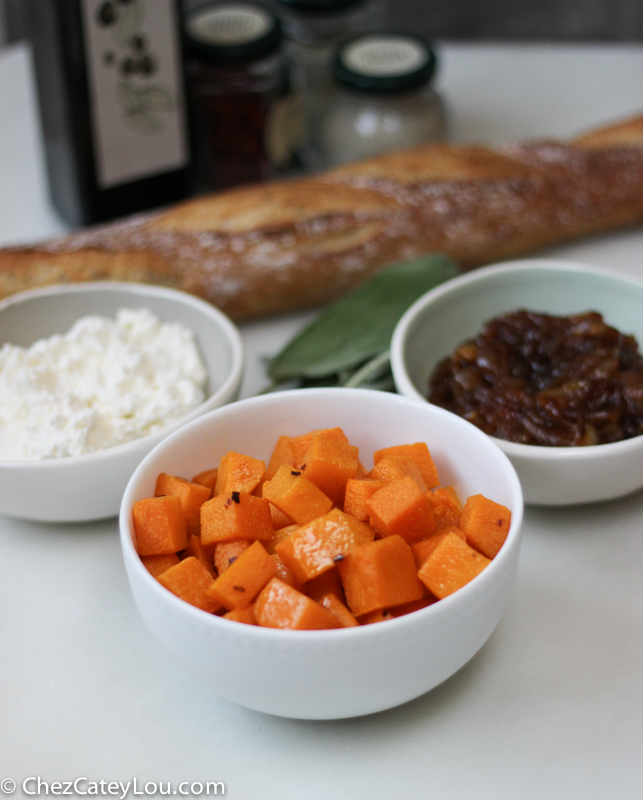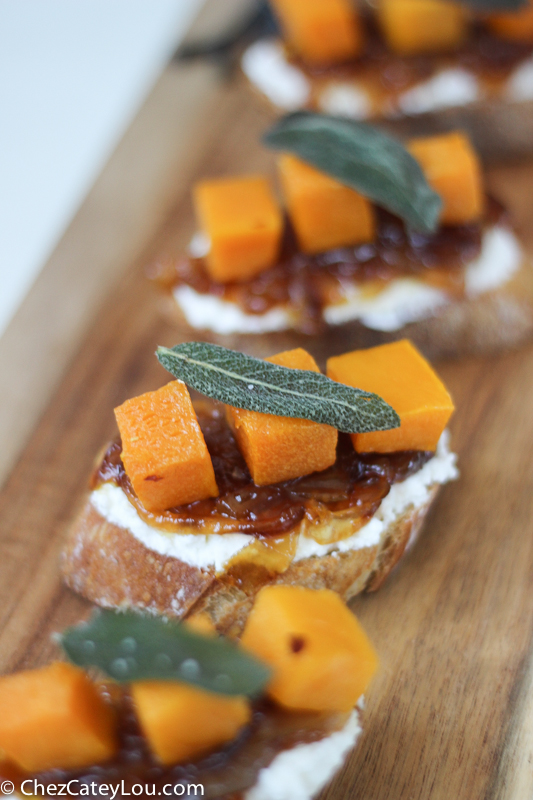 These Butternut Squash Crostini are definitely my newest appetizer obsession. Several reasons:
1) They are absolutely gorgeous.
2) You will impress the heck out of anyone that you serve them to.
3) You can make all the ingredients in advance and assemble at the last minute – easy peasy.
4) Most importantly – they taste INCREDIBLE.
I am really not kidding – the flavor of these crostini, like the squash toast, is amazing. All the ingredients play a part, but the star of the show is the onions. They are caramelized with some agave (or maple syrup or honey) and some apple cider vinegar. The resulting concoction is sweet and savory and tart and rich – it is really one of the most delicious mixtures I have ever tasted. TheBetterHalf and I were joking that we wish we had a giant bowl of these cider caramelized onions on hand at all times. Plain chicken breast? Add some of the onions! Boring salad? Onions would fix that. I could go on and on but I won't – the point is this onion mixture is addicting.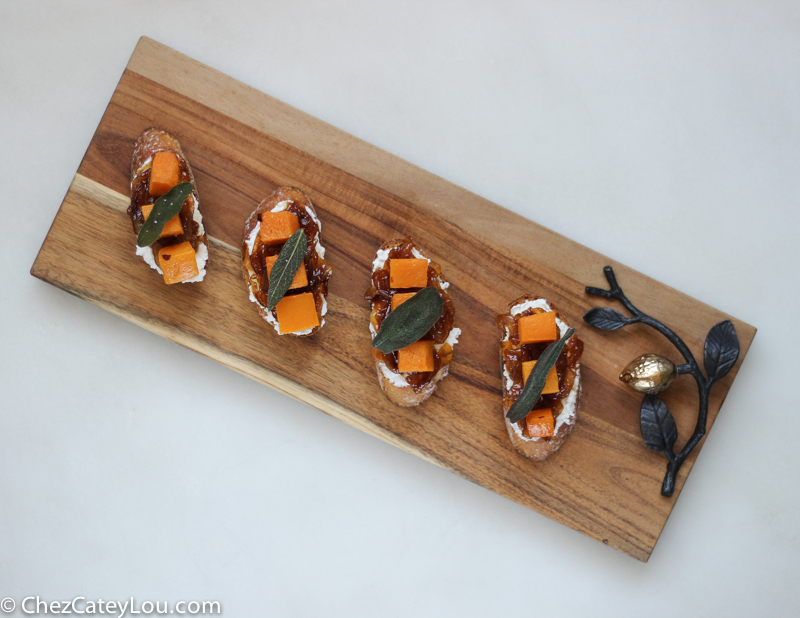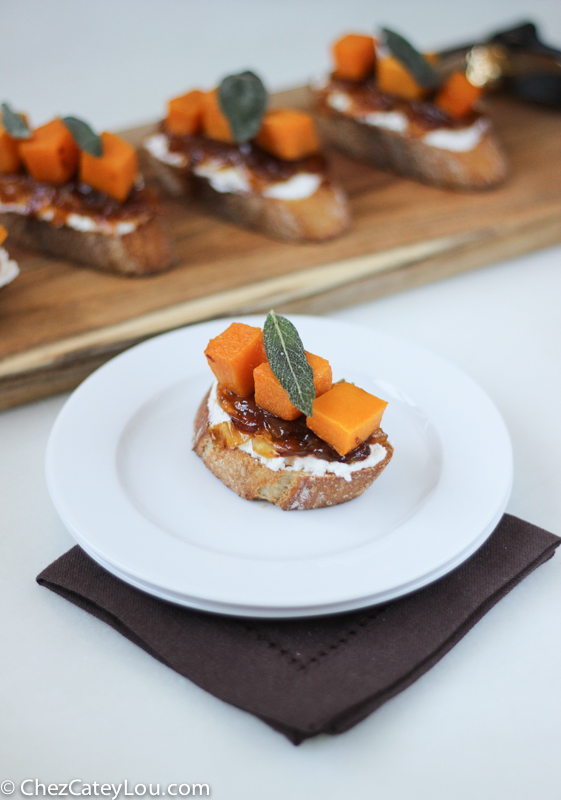 The other building blocks of the crostini contribute to the overall delectableness of this appetizer. A fresh baguette is brushed with olive oil and toasted. Then creamy ricotta is spread in a thin layer, followed by the famous onions. A few cubes of roasted butternut squash come next and the whole thing is finished off with a piece of fried sage. It is full of different textures and flavors and colors – and they all work together so well.
Ok I will stop gushing now and get to the recipe, and to the other exciting Thanksgiving recipes from my blog friends! What are all of you making for your Thanksgiving appetizers?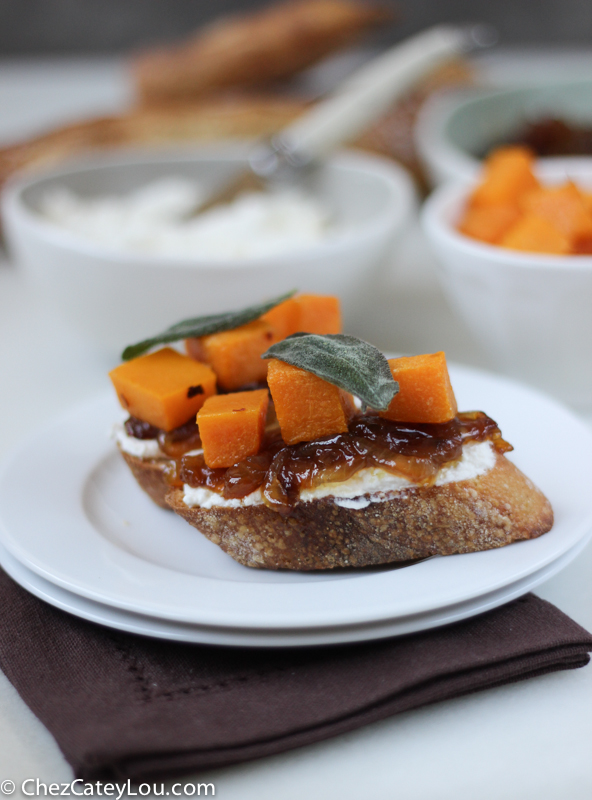 Butternut Squash Crostini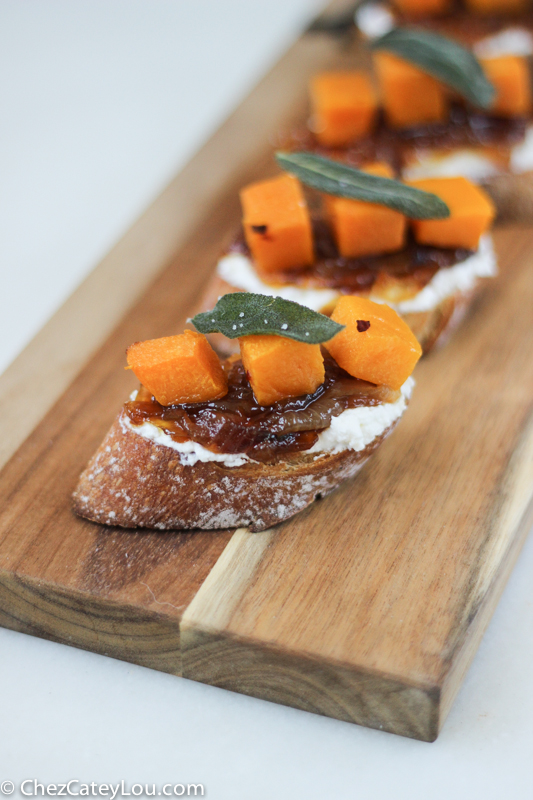 Butternut squash crostini with ricotta, cider caramelized onions, and fried sage - an elegant yet easy appetizer for Thanksgiving that will wow your guests!
Ingredients
For the Squash

3 cups butternut squash, cut into even 1/2 inch cubes (about one small squash)
3 tablespoons olive oil
1 teaspoon salt
1/2 teaspoon chili flakes

For the Onions

1/4 cup olive oil
2 large yellow or vidalia onions, thinly sliced
1 teaspoon salt
1/4 cup apple cider vinegar
1/4 cup maple syrup, agave, or honey (I used half honey half agave)

For the Fried Sage

1/4 cup Olive Oil
about 20 sage leaves
Salt

For the Crostini

1 baguette
Olive oil
1 cup ricotta cheese
Instructions
For the Squash

Preheat oven to 400 degrees F. Line a rimmed baking sheet with parchment paper or a silicone mat. Place the squash on the baking sheet and drizzle with olive oil. Toss to coat. Sprinkle with salt and chili flakes. Spread squash out evenly. Roast for 20 minutes, stirring after 10 minutes, or until tender and slightly golden brown, Remove from the oven and keep oven on.

For the Onions

Meanwhile, heat 1/4 cup olive oil in a skillet over medium-high heat. Add the onions and one teaspoon salt and cook, stirring frequently, until the onions are well softened and starting to brown, about 15 minutes. Add the vinegar and syrup/agave/honey, stir and continue cooking until the liquid is syrupy and the onions are broken down, about 20 minutes. The mixture should be jammy and dark brown.

For the Fried Sage

Heat olive oil in a small saucepan over medium heat. Add sage leaves, a few at a time, and fry for about 10-15 seconds. Remove to a paper towel lined plate, and sprinkle with salt

For the Crostini

Slice baguette on the diagonal into slices. Place on a baking sheet and brush each slice with olive oil. Put into preheated oven and toast until light golden brown, about 10 minutes.

To Assemble Crostini

Spread each baguette slice with a thin layer of ricotta. Spoon a dollop of the onion mixture on top and spread evenly. Place 3 butternut squash cubes on top of each crostini. Garnish with a piece of fried sage.
https://chezcateylou.com/butternut-squash-crostini/
© Chez CateyLou. All images & content are copyright protected. Please do not use my images without prior permission. If you want to republish this recipe, please re-write the recipe in your own words, or link back to this post for the recipe.
Thanksgiving is all about family, friends and delicious food. Luckily, the food blogging community is all about these things as well. To celebrate the holiday, Meghan from Cake 'n' Knife and Susannah from Feast + West are hosting Blogsgiving Dinner. There are 20 awesome blogs sharing 52 recipes.  That is a lot of Thanksgiving food!
The idea is based on the old-fashioned progressive dinner party, in which you'd eat each course at a different guest's home. Each blogger is bringing one or more dishes to the party on Monday, Wednesday and Friday of this week, so be sure to stop by each one and get some ideas for your own Thanksgiving meal. Today's courses include cocktails, hors d'oeuvres and soup.
We'll be posting to social media with the hashtag #blogsgivingdinner. Hope you can join us!

Cocktails
Carolina Apple Sidecar from Think Fruitful
Bourbon Cranberry Lemonade Fizz from bethcakes
Krupnikas Ginger from I Cook. I Eat. It's Life.
 Appetizers
Cured Meat Platter from Wit Wisdom and Food
Baked Camembert with Cranberry Walnut Crust from Cake 'n' Knife
Ginger Cran Apple Chutney from Love & Flour
Brandied Grapes with Cheese from Glamour Girl Gourmet
Shrimp Sweet Potato Mousseline from Home at Six
Cranberry Goat Cheese and Butternut Squash Crostini from The Wetherills Say I Do
Maple Pecan Baked Brie from My Cooking Spot
Sassy Salmon Dip from Betty Becca
Baked Brie with Cranberry Chutney from The Speckled Palate
Butternut Squash Crostini from Chez CateyLou
Gluten Free Holiday Cheese Board from Twin Stripe
Soup
Butternut Squash Soup with Cornbread Croutons from Club Narwhal
Creamy Wild Rice Soup from Hello Little Home
Pumpkin Soup with Bacon Roasted Chickpeas from Feast + West
Connect with Chez CateyLou!