These Chocolate Chip Cookies made with Cream Cheese are so soft and chewy! The cream cheese is the secret ingredient – such a fun twist on a classic cookie!

It is National Cookie Day!!!  I just HAD to celebrate this food holiday on the blog – after all, cookies are the best of all baked goods in my opinion. And what better cookie to celebrate with than a good old fashioned chocolate chip cookie.  Chocolate chip cookies are just the best, aren't they? Simple, delicious, easy, always a crowd pleaser. What's not to love?
I have already made a few varieties of this American favorite on the blog, like these and these, but today I have a little twist for you –  chocolate chip cookies made with cream cheese! I saw the recipe over on Just a Taste and knew that I HAD to try them. I'm always up for a new chocolate chip cookie recipe, especially when a fun twist is involved. 
The cream cheese makes these cookies SO soft. If you are a soft cookie lover, this recipe is for you. They are just slightly crispy at the edges, but the center is so soft and gooey.  Heavenly! I froze some to try to stop myself from eating all of them, but then discovered that I loved these frozen – because somehow they stay soft even straight from the freezer. The cream cheese must be magic!
It may be national cookie day, but December really should be crowned national cookie month.  I have Christmas Cookie fever.  I made two kinds on Sunday (in addition to these doughnuts) and had the butter all ready for a third recipe when I stopped myself – I really don't want to look like Santa by the time December 25th rolls around!  But I will definitely have quite a few cookie recipes coming your way this month. If you have any requests or suggestions, leave me a comment and let me know.  I love hearing from you!
If you are a chocolate chip cookie lover (and I'm assuming that would be 99% of you!), you have to try this version for a nice twist – they are delicious!  Chocolate Chip Cookies made with cream cheese are my new favorite variety!
Some more great cookie recipes for you!
Butterfinger Peanut Butter Oatmeal Cookies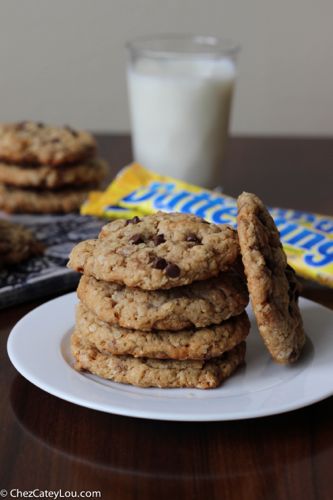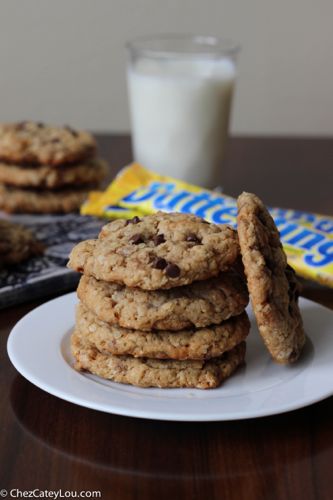 Perfect Chocolate Chip Cookies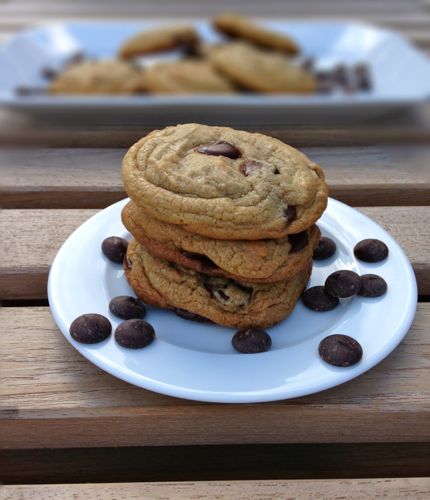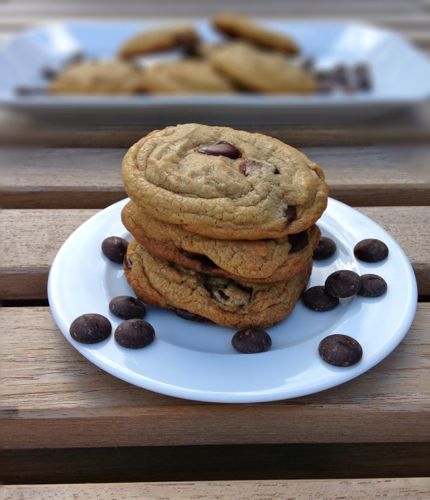 Connect with Chez CateyLou!