Peanut Butter Chocolate Chip Muffins – light and fluffy muffins are full of delicious peanut butter and chocolate flavors. It is like dessert for breakfast!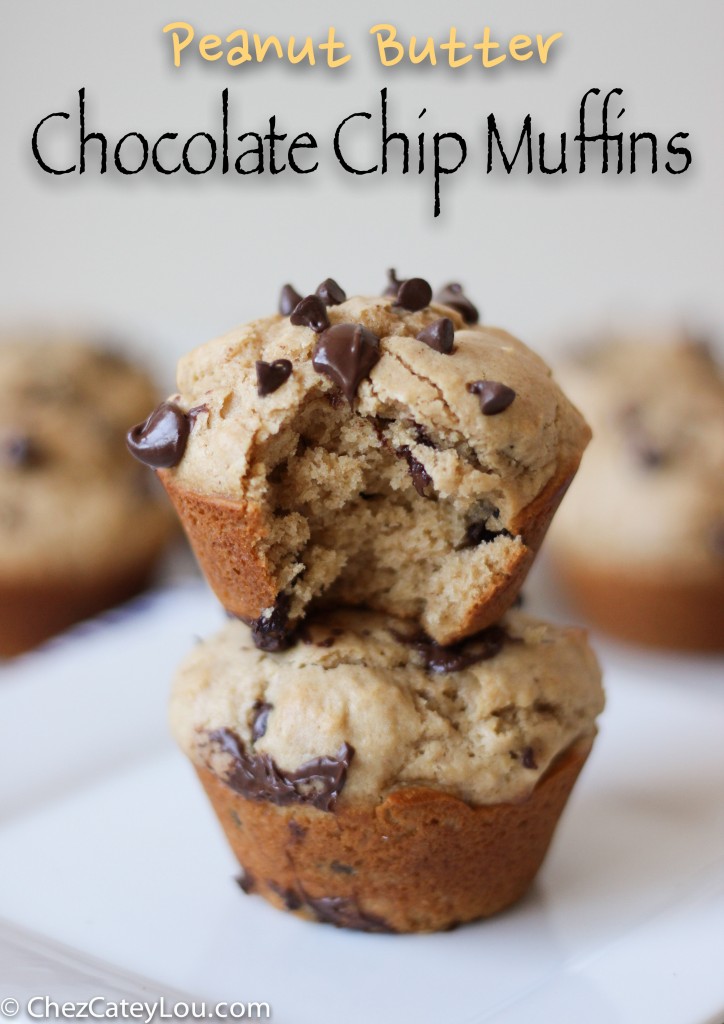 Does anyone notice anything different today? Something new? Something fresh and clean? Yep, that's right, Chez CateyLou got a makeover!! What do you think?
I am loving my new site design! A big thanks to the wonderful Katie at Twin Stripe for designing my logo. Didn't she do an amazing job? Also a big thanks to TheBetterHalf for dealing with all the technical headaches that came along with this lovely new site. I'll tell you what, all this blogging stuff is a lot harder than we thought it would be! But it is totally worth it.
So in honor of the first post on my newly designed site,  I made peanut butter chocolate chip muffins.  I obviously had to include peanut butter, my one true love (sorry TheBetterHalf, but that's payback for when you wouldn't say you loved me more than the Eagles).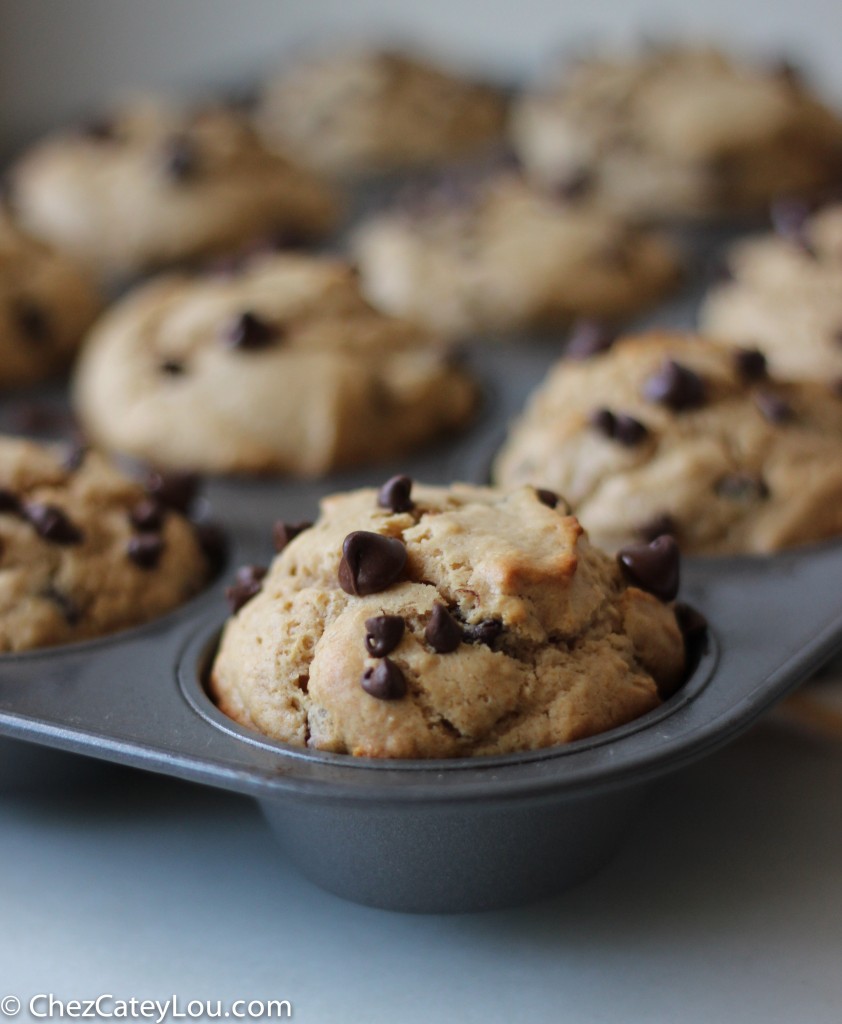 I am obsessed with peanut butter! I eat a light wheat english muffin toasted with peanut butter 4 out of 5 work mornings. The peanut butter gets all melty and it is just my favorite!! I'll try to have weeks where I eat healthier and have oatmeal or something equally as boring, but I honestly get depressed. I miss PB.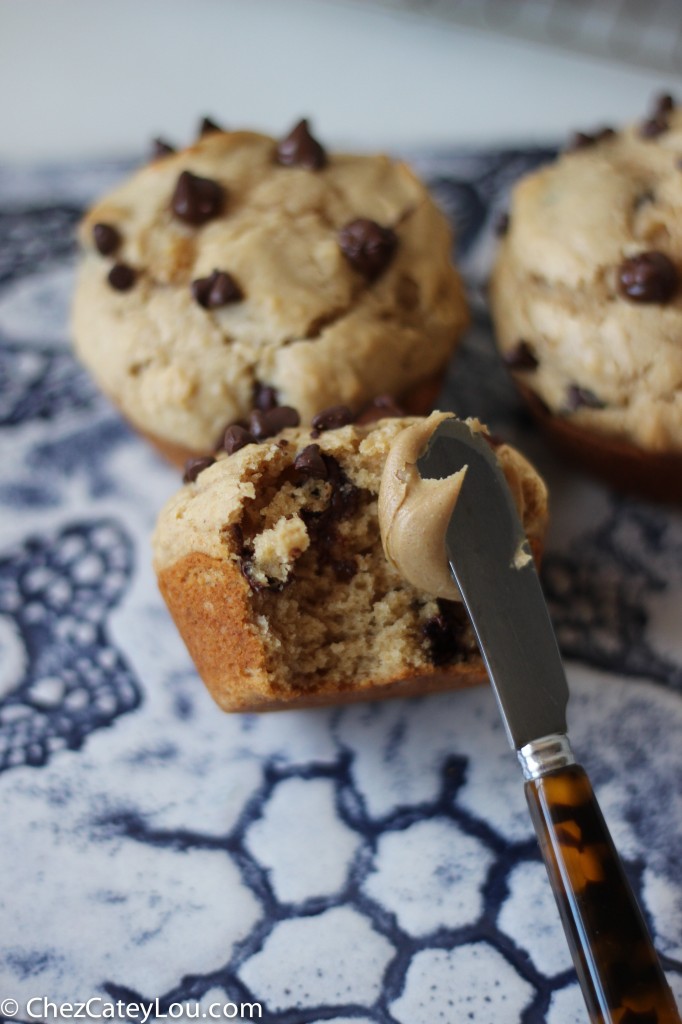 Although I just realized that you wouldn't necessarily know about my peanut butter obsession from my site because I really don't have that many peanut butter recipes on here! Something to change in 2014.
But the reason for that is because I literally lose all self control if peanut butter is involved. The brain cells that deal with portion control just disappear when things like Butterfinger peanut butter oatmeal cookies or peanut butter buttercream are involved. And therefore I don't bake with PB nearly as much as I would like to.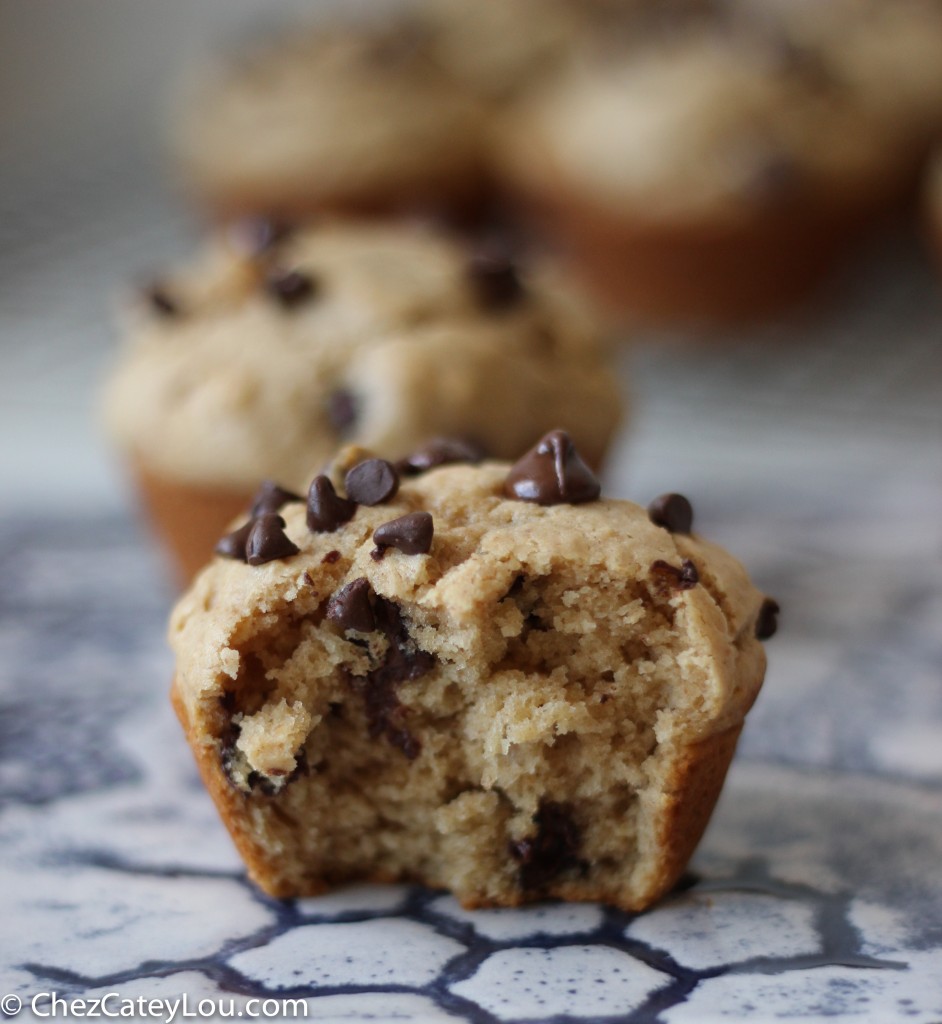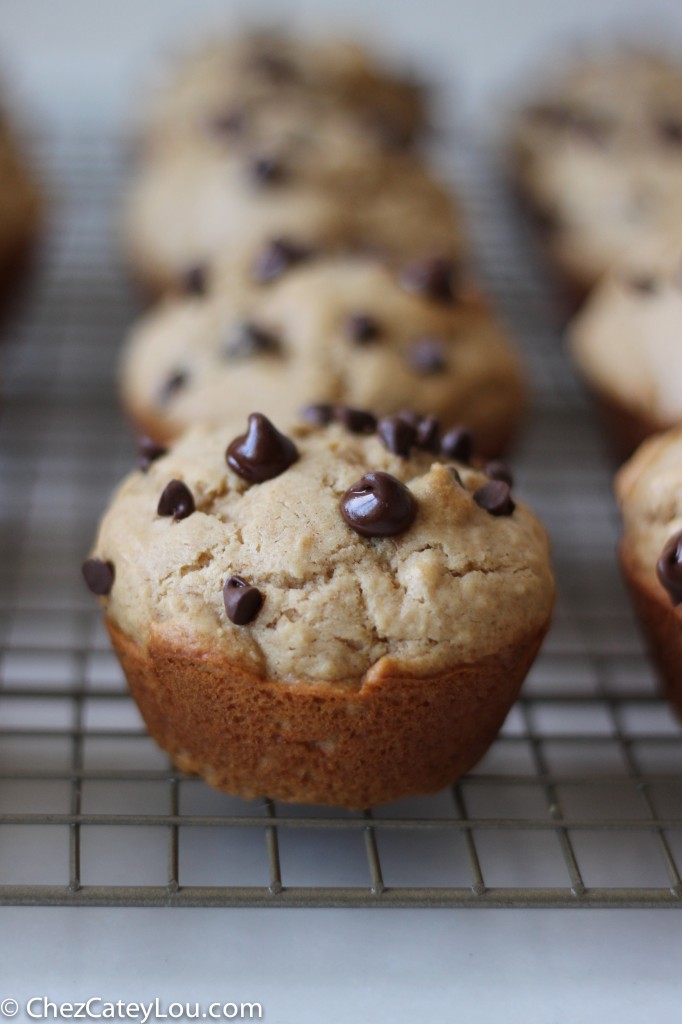 But this weekend I was just dying to make something peanut buttery for breakfast. So I made these muffins, and promised myself I would only have 2….let's just pretend that I stuck to that….
These muffins are so rich and full of peanut butter flavor, yet they still have a light texture. Of course I had to include chocolate chips because peanut butter and chocolate are best friends, everyone knows that. Jelly is getting a litttttle jealous right now but sorry jelly, chocolate > jelly.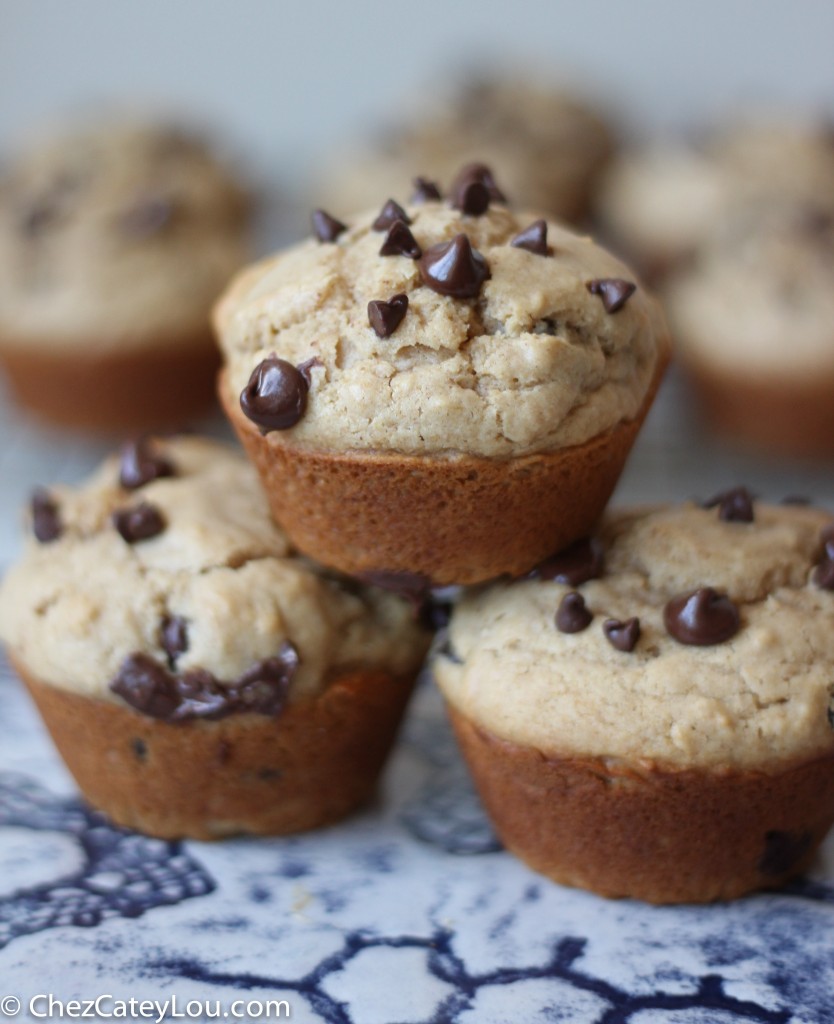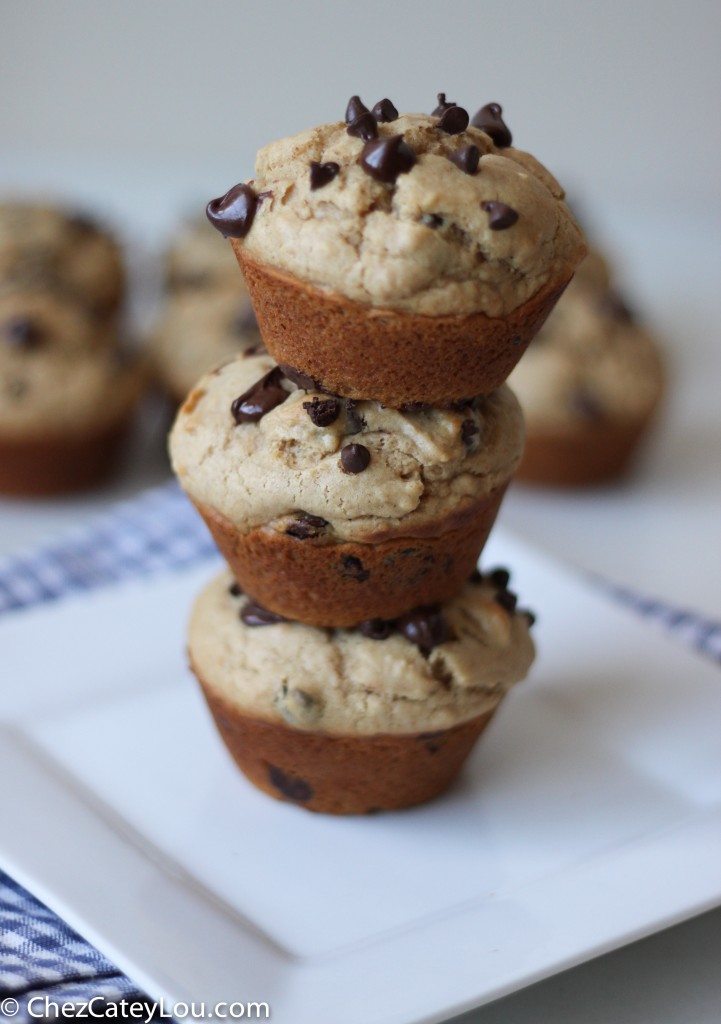 I love muffins because you can eat cake for breakfast and feel ok about it because it is disguised as breakfast food. Whoever came up with muffins is kind of a genius.
I also love muffins because they are so quick and easy – the batter comes together in no time, and then you can eat them within 5 minutes of coming out of the oven. So perfect for breakfast time!
And I highly recommend eating these warm, when the chocolate is still melty and gooey. They are SO good. And if you want to spread these with a little extra peanut butter, I won't tell anyone 😉
Peanut Butter Chocolate Chip Muffins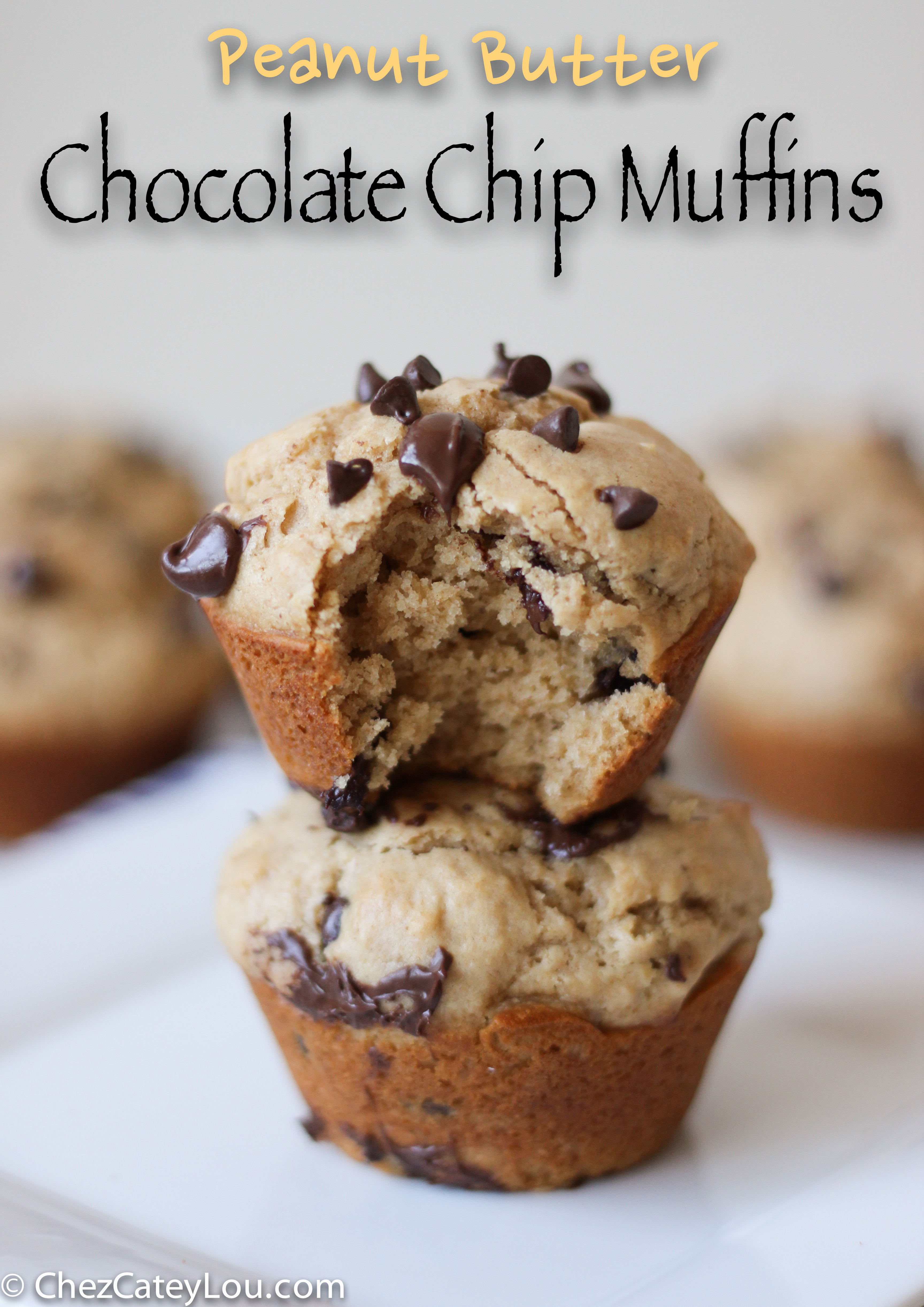 Peanut Butter Chocolate Chip Muffins - light and fluffy muffins are full of delicious peanut butter and chocolate flavors. It is like dessert for breakfast!
Ingredients
1 1/2 cups all purpose flour
1/2 cup whole wheat flour
2 teaspoons baking powder
1/2 teaspoon salt
2 tablespoons unsalted butter, at room temperature
2/3 cup creamy peanut butter (I used Jif)
2/3 cup packed light brown sugar
2 large eggs
1 cup milk (I used 2%)
3/4 cup chocolate chips
Instructions
Preheat oven to 425 degrees F. Spray a 12 count muffin tin with nonstick cooking spray.
In a medium bowl, sift together the flours, baking powder, and salt.
In the bowl of a stand mixer fitted with the paddle attachment, mix together the butter, peanut butter, and brown sugar until smooth and well combined. Add the eggs one at a time, mixing thoroughly after each addition. Add the milk and stir until combined.
Add the dry ingredients to the wet ingredients and stir until just combined - do not over mix. Mix in the chocolate chips.
Spoon the batter into the muffin tins, filling them evenly. If desired, sprinkle the tops with mini chocolate chips.
Bake for 5 minutes at 425, then turn the heat down to 375 and bake for 12 - 15 minutes longer, until a toothpick inserted in the center comes out clean.
Cool in the muffin tin for a few minutes, then turn onto a wire rack to cool completely.
https://chezcateylou.com/peanut-butter-chocolate-chip-muffins/
© Chez CateyLou. All images & content are copyright protected. Please do not use my images without prior permission. If you want to republish this recipe, please re-write the recipe in your own words, or link back to this post for the recipe.
Need more muffins?  I have you covered!
Skinny Double Chocolate Muffins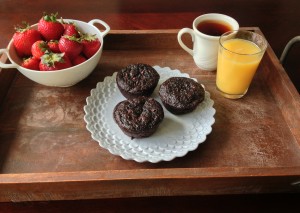 Chocolate Chip Cinnamon Muffins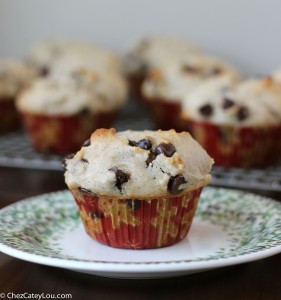 Mini Pumpkin Cinnamon Chip Muffins