Kale is tossed in a light lemon vinaigrette and topped with cheese and toasted breadcrumbs, which are the star of the show! This kale salad is simple and delicious!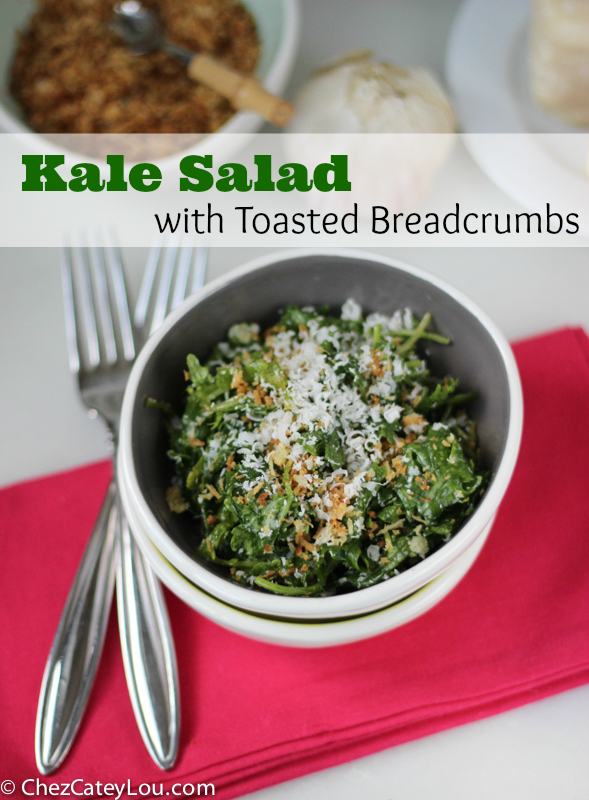 Ok I know, this seems like the most boring post ever. It's a kale salad. There are a million recipes out there for kale salads, and you see them on every menu these days. BUT do you know why this is not just any old kale salad??
The
Toasted
BREADCRUMBS.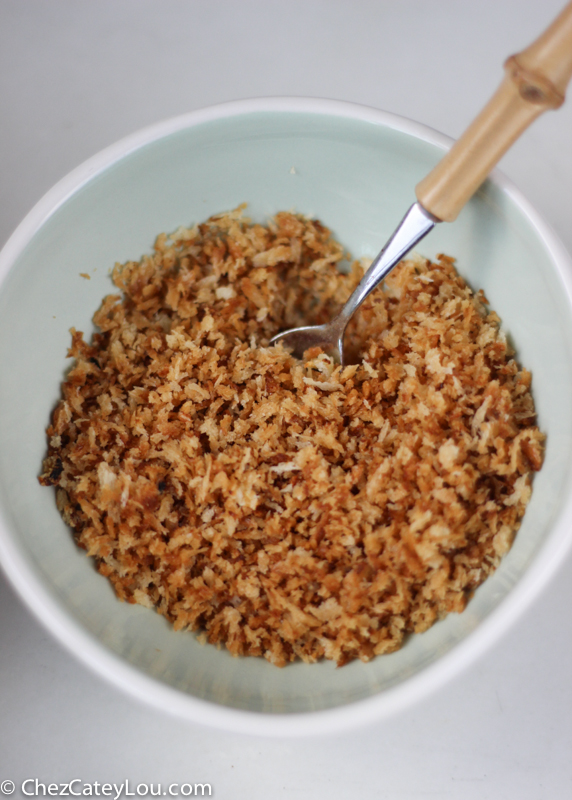 That bowl right there? Pure gold.
I mix Panko breadcrumbs with a little garlic and salt, then cook the mixture in olive oil until it gets all golden brown and toasty. And it takes this little ol' kale salad to a different level. It adds crunch and so much flavor.  And it makes the kale salad look pretty.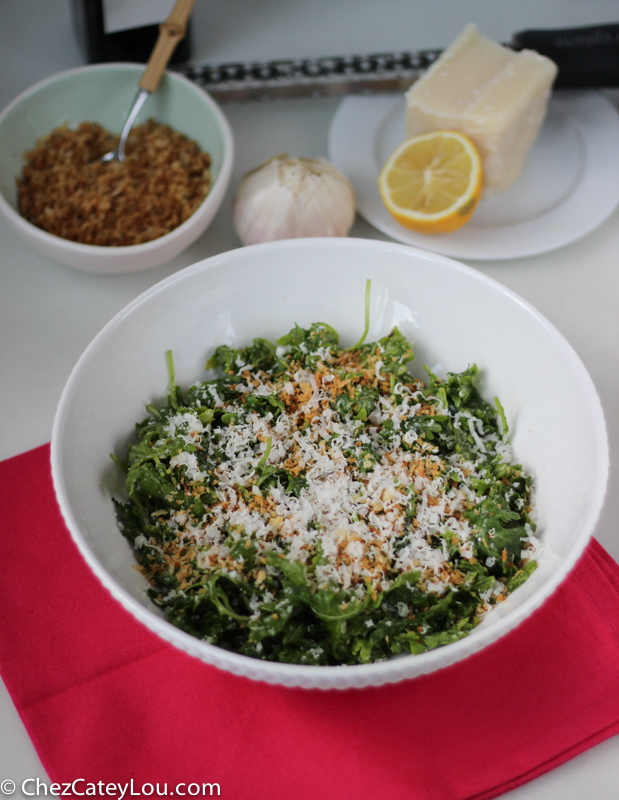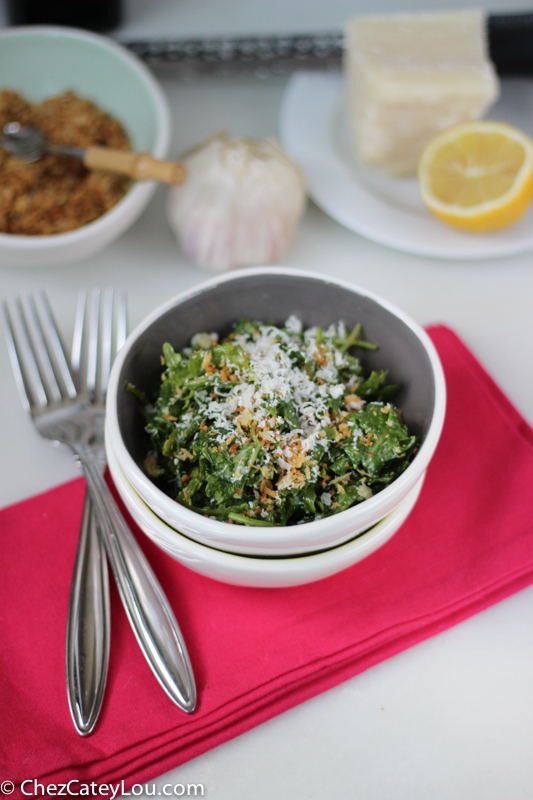 I've been known to eat spoonfuls of those breadcrumbs. They are just so crunchy and flavorful and delicious, and they really elevate this kale salad. In fact I'm pretty sure those breadcrumbs could make any food taste amazing.
The first time I had this salad, TheBetterHalf made it for me! That's right – not only did he cook me dinner, but I got him to make kale! I'm a huge kale lover, he is a little more skeptical – but we both loved this salad. So he is the one who introduced me to these breadcrumbs. Luckily, he made a double batch…I ate half the bowl before we could even assemble the salad.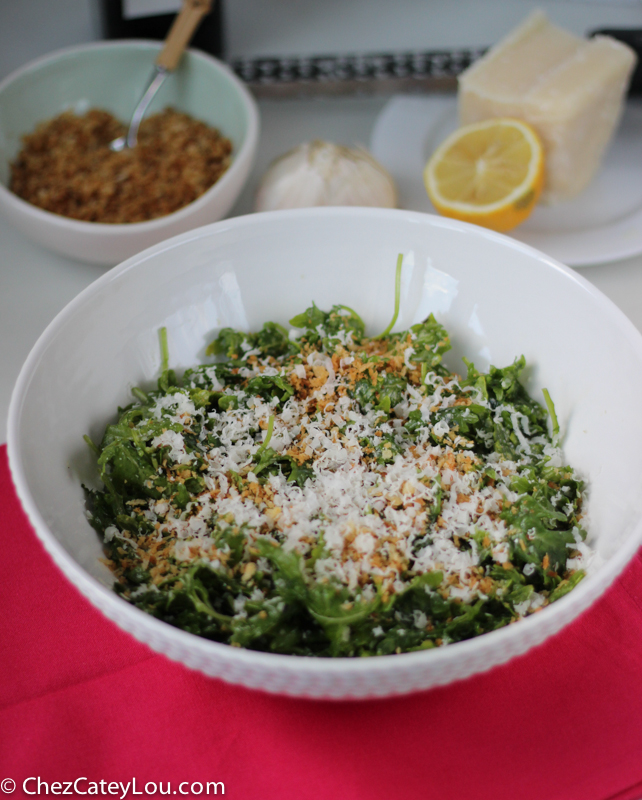 I used baby kale for this salad, which is much more delicate than curly or Tuscan kale. The key to making curly or Tuscan kale work well in salads is to cut it into small ribbons, and then to let it sit in the dressing for about 10 minutes. This softens the kale a bit. You don't need to cut the baby kale into ribbons, but I still like to let it sit in the dressing before serving. It allows all of the flavors to combine.
This salad is very simple – the dressing is olive oil and lemon juice, and then it is topped with some parmesan or pecorino cheese and the BREADCRUMBS (best part 🙂 ). But sometimes, that is all you really need in a salad – just a few simple, good ingredients. This is one of our favorite easy salads to make!
And if this seems post seems way too healthy don't worry – I have something deliciously unhealthy for you on Friday!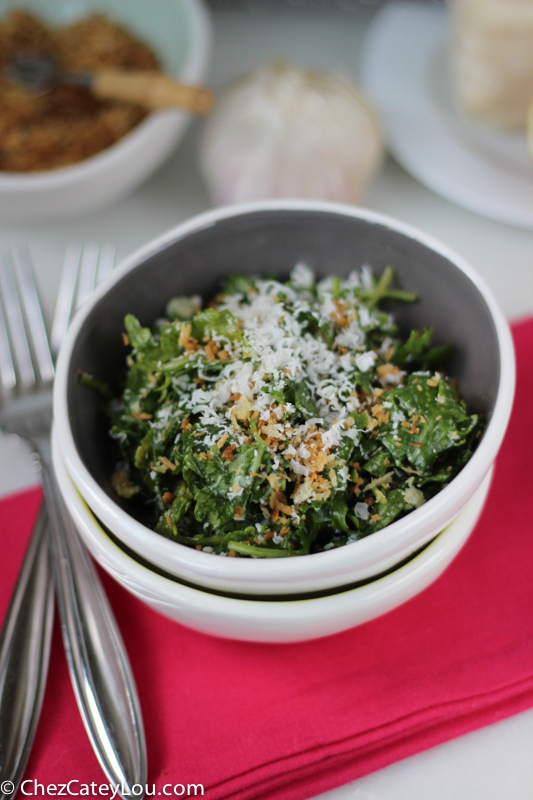 Connect with Chez CateyLou!
Kale Salad with Toasted Breadcrumbs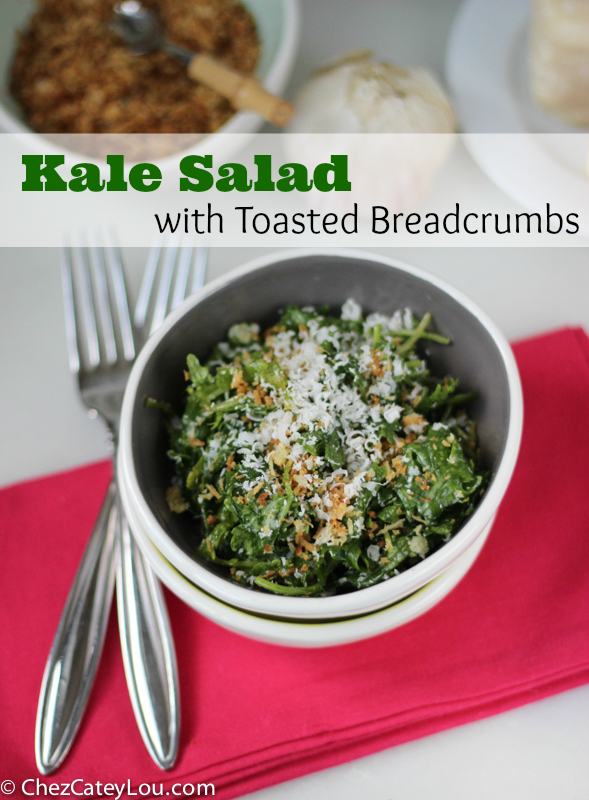 Kale is tossed in a light lemon vinaigrette and topped with cheese and toasted breadcrumbs, which are the star of the show! This kale salad is simple and delicious!
Ingredients
For the Breadcrumbs

1/4 cup panko breadcrumbs
1 tiny clove garlic, minced or pressed
Coarse salt
2 teaspoons olive oil

For the Salad

1 bunch (about 14 ounces) tuscan kale or baby kale, washed and patted dry
2 tablespoons olive oil
Juice of half a lemon
Salt and ground black pepper, to taste
1/2 cup (about 2 ounces) pecorino or parmesan cheese, grated
Instructions
For the Breadcrumbs

Toast bread crumbs, garlic, 2 teaspoons of olive oil, and a pinch of salt in a skillet over medium heat. Stir occasionally, and toast until golden. Set aside. (you might want to double this part of the recipe...)

For the Salad

If you are using Tuscan kale, trim heavy stems off kale and remove ribs. Then cut the kale leaves into very thin ribbons. If using baby kale, just chop it up a bit.
In the bottom of a salad bowl, whisk together 2 tablespoons olive oil, lemon juice, salt and pepper (go light on the salt because of the cheese and breadcrumbs). Add the kale and toss well. Let the salad sit for about 10 minutes. Then top with cheese and breadcrumbs and serve.
Notes
https://chezcateylou.com/kale-salad-toasted-breadcrumbs/
© Chez CateyLou. All images & content are copyright protected. Please do not use my images without prior permission. If you want to republish this recipe, please re-write the recipe in your own words, or link back to this post for the recipe.
Eat your greens! Deliciously…
Kale Salad with Pears and Walnuts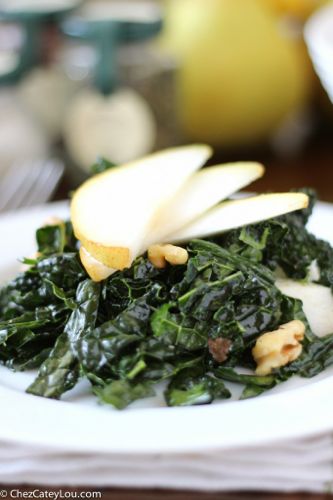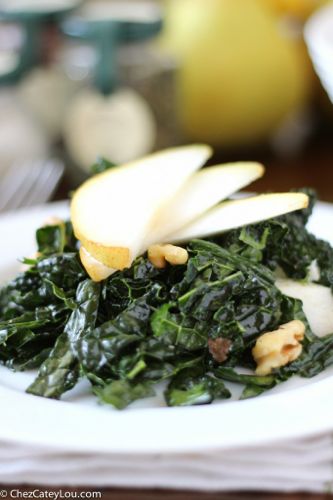 Quinoa Salad with Asparagus and Tomatoes in a Basil Vinaigrette