Summer fruit shines in this rustic fruit tart (also called a Galette). Peaches and strawberries are surrounded by a light and flaky tart dough – so much easier to make than pie!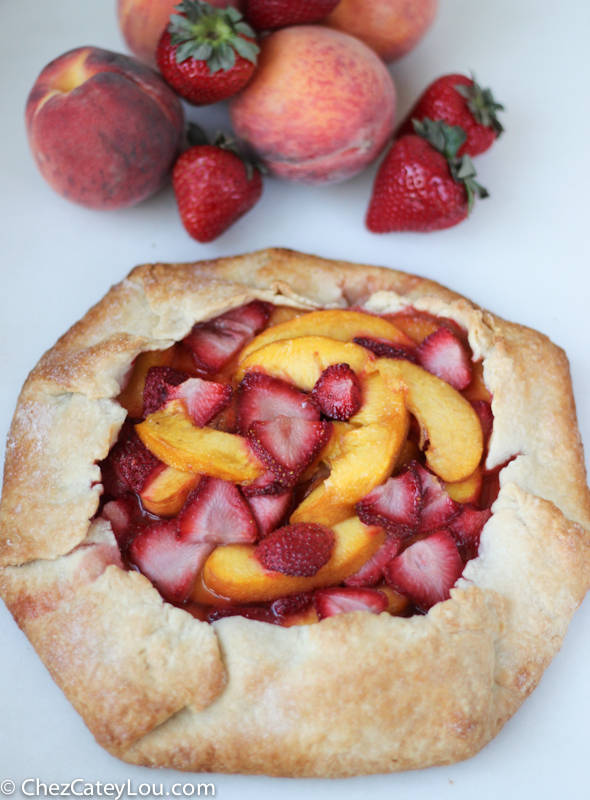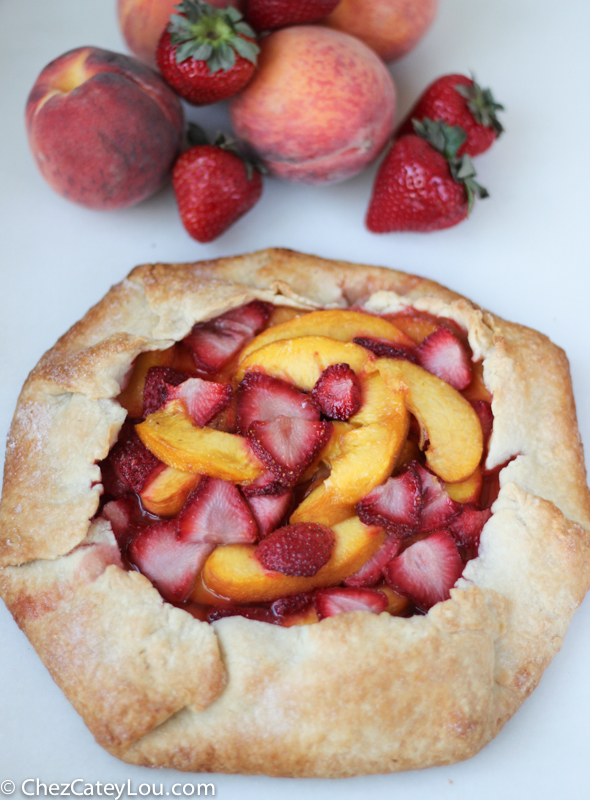 First let me start out by saying don't forget to enter my giveaway for an awesome basket of Nielsen-Massey products! The giveaway closes tonight! Click here and scroll down to the bottom to enter.
And now on to this beauty – my Rustic Strawberry Peach Tart. Also called a freeform tart or a galette. It is one of the best things I have ever made and definitely my favorite thing of the summer. It is similar to pie, but the crust is so simple to make, and it is a little bit sweeter than traditional pie crust. It almost reminds me of a sugar cookie crust, stuffed with delicious fruit. Can't go wrong with that!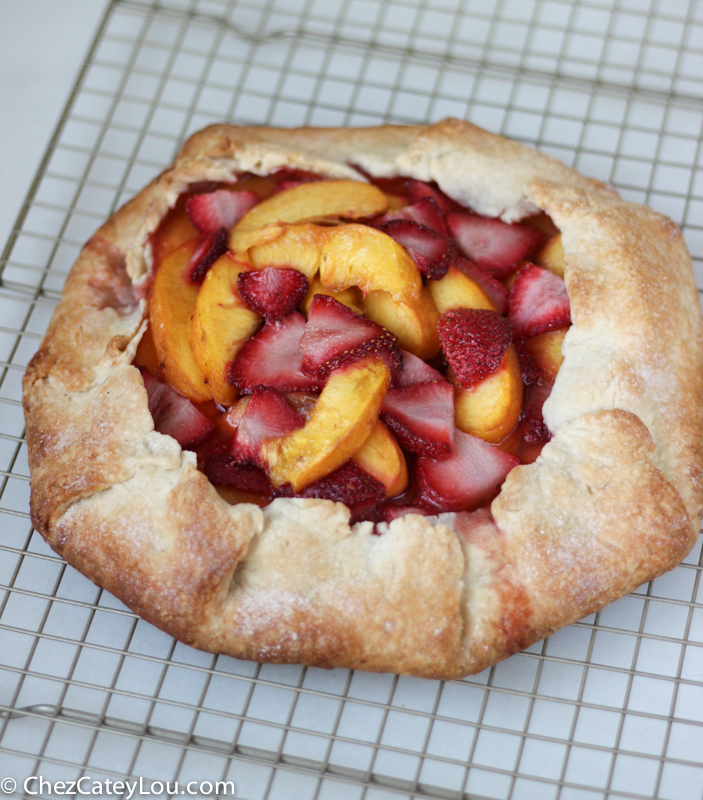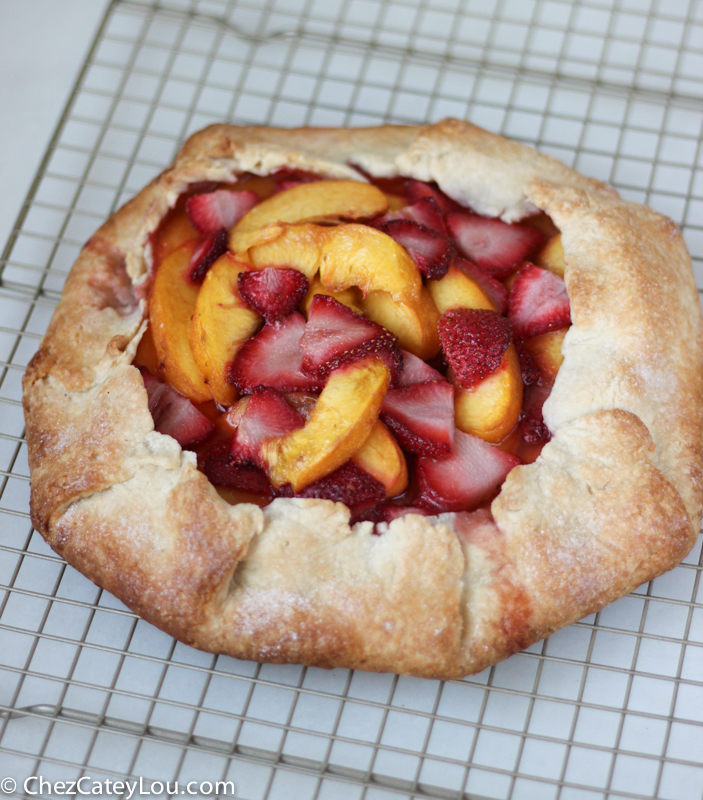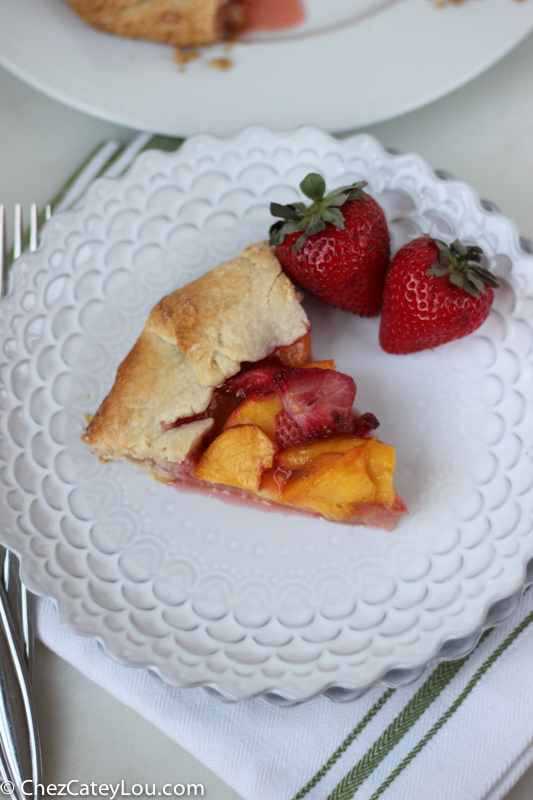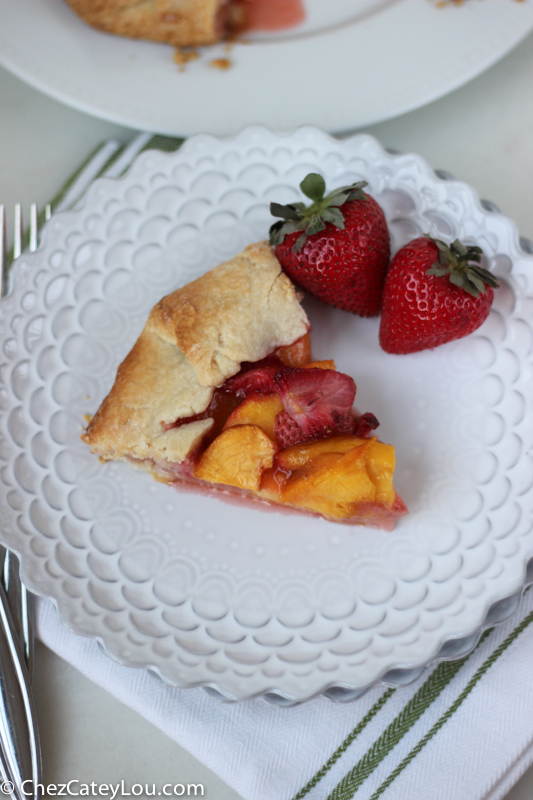 Do you guys ever have recipes that you have been meaning to make, but just never get around to? This tart was one of them for me. So much to bake, so little time!
I've been seeing similar desserts all over blogs and Pinterest lately, but the real reason I've had rustic fruit tart on my mind for years (literally, it took me that long to finally make one) is because of my favorite dessert at one of my favorite restaurants in New York, Sfoglia (we wrote a blog entry about it here). They have a rustic fruit tart year round with seasonal fruit. Apples and pears are good and all, but I count down the days for their summer tarts, with some combo of berries and peaches. They serve it warm with a giant scoop of gelato on top – nothing is better! I'm so excited that I can re-create their dessert in my kitchen any time that I want!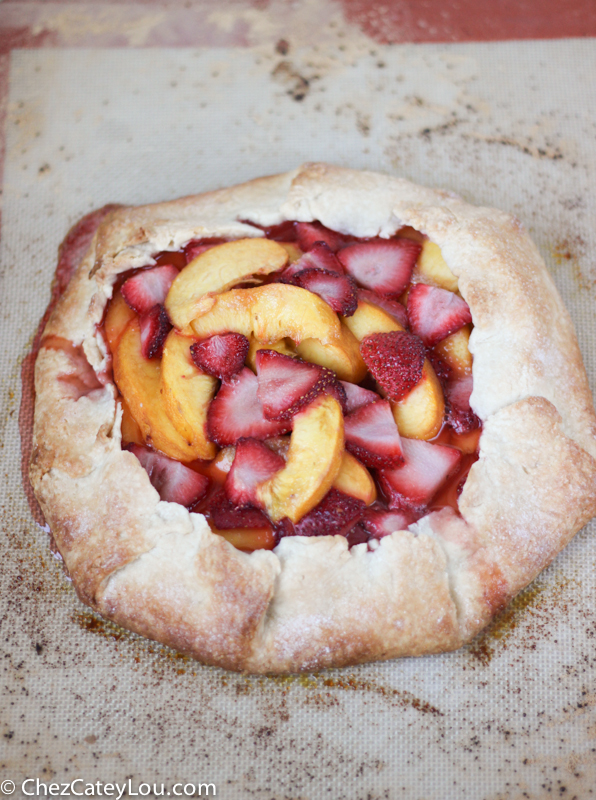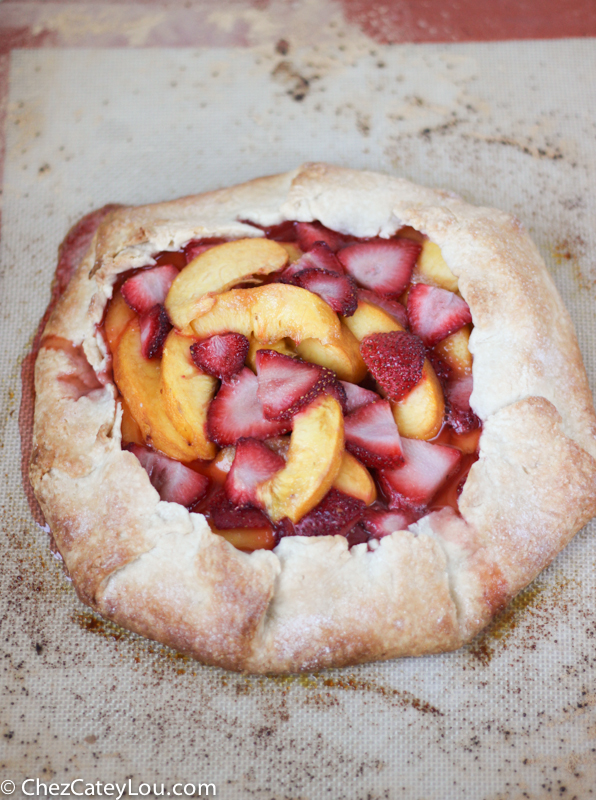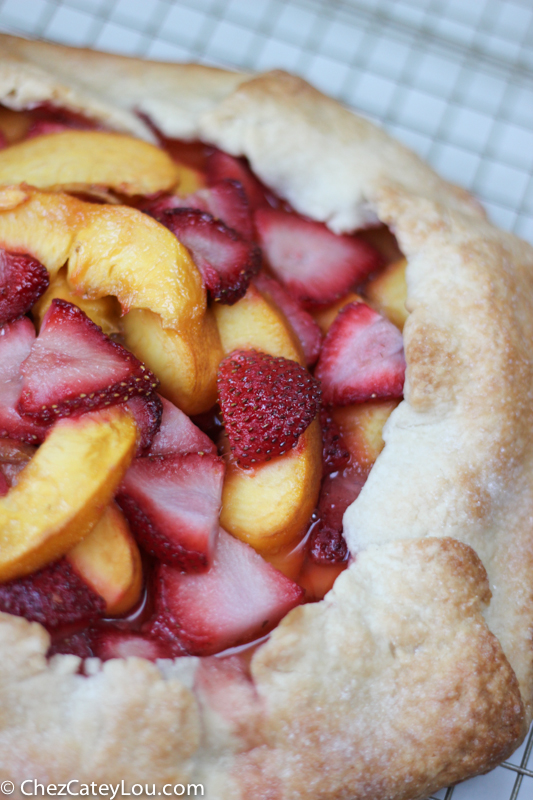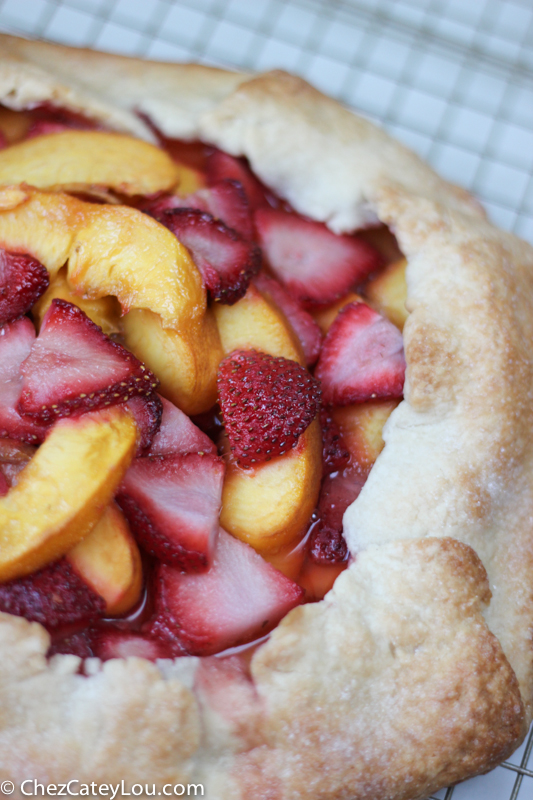 I loved this tart so much when I made it that I had to put it up on Instagram! Check it out – the iPhone really takes a good picture if you have the right lighting!
I love this picture of the pre-baked tart, before I crimped the edges.  Don't the peaches almost look canned / frozen? Fresh peaches are SO perfect right now!  I eat about two a day.  At least.  Sometimes I'll switch it up and have nectarines instead, but I need at least two a day this time of year.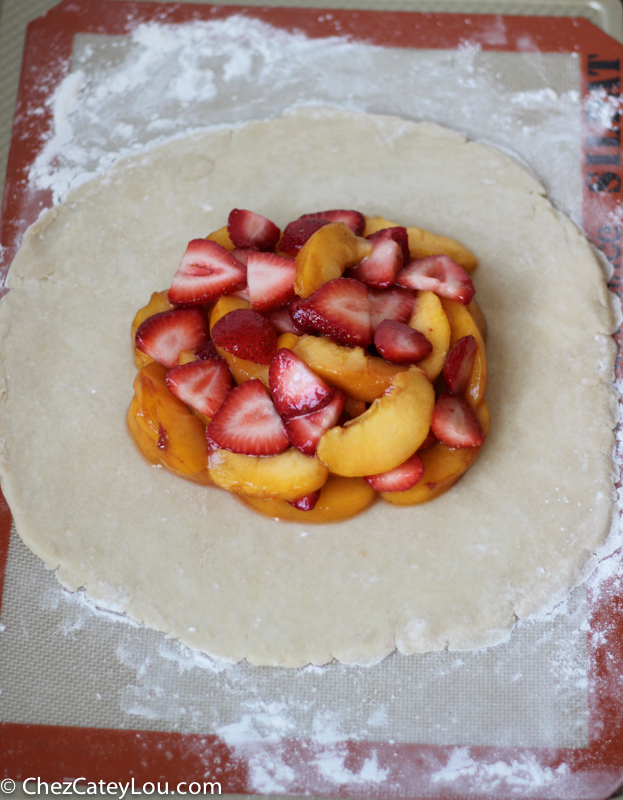 Confession – TheBetterHalf and I finished this whole thing in less than 24 hours. It is so delicious fresh out of the oven (well once the molten fruit has cooled about 30 minutes!) but it was just as good the next day, for breakfast! We didn't even re-heat it, just ate it at room temperature.  The crust didn't even get soggy!
I don't think I will ever bake a pie again – freeform tarts / rustic tarts / galettes are so much easier, and I think they taste even better!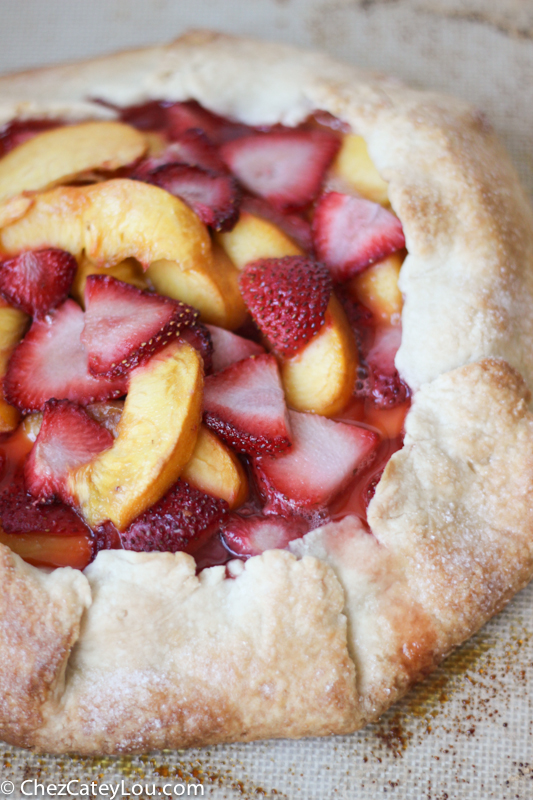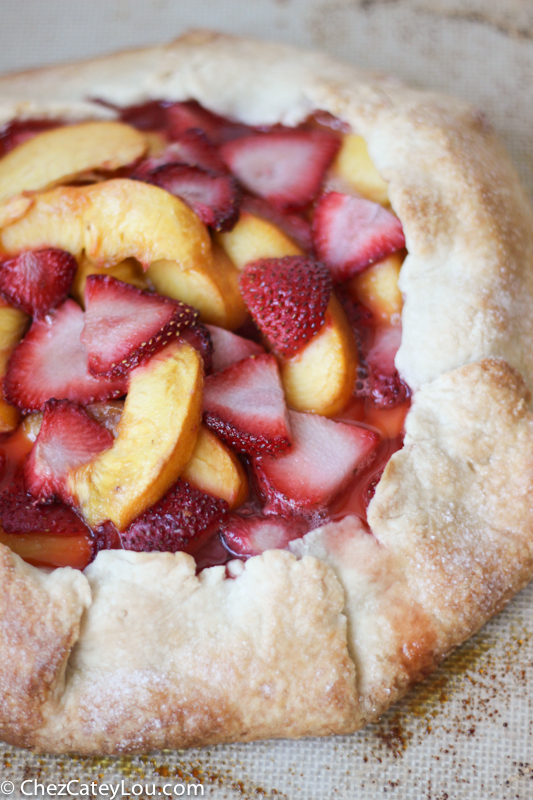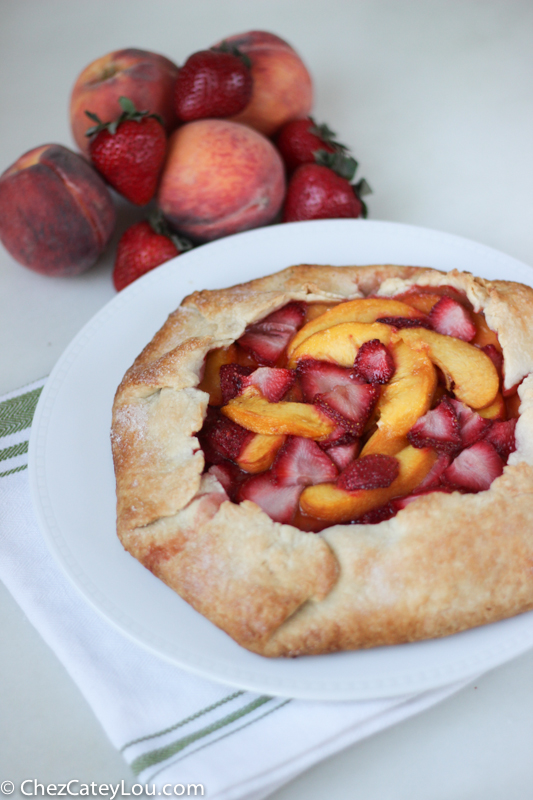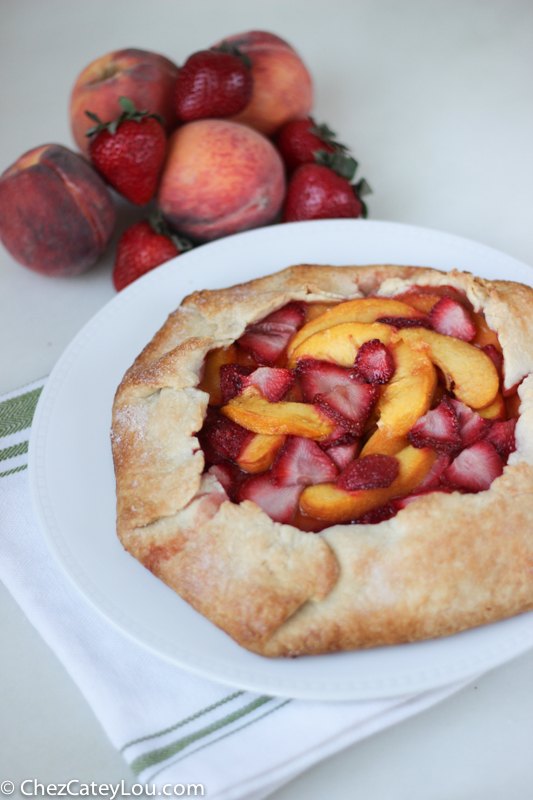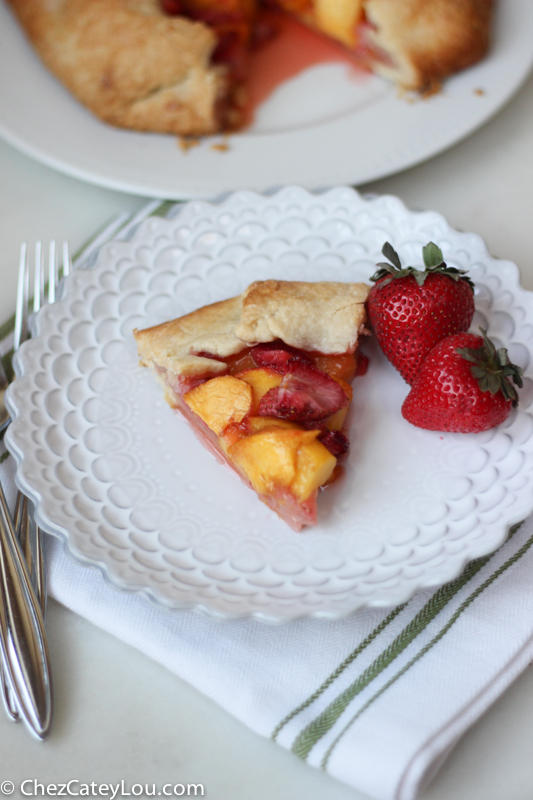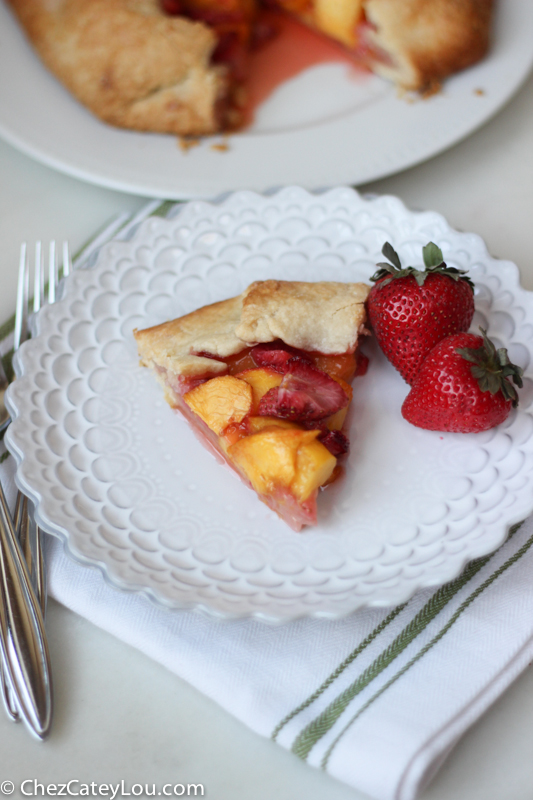 Connect with Chez CateyLou!
Rustic Strawberry Peach Tart
Summer fruit shines in this rustic fruit tart (also called a Galette). Peaches and strawberries are surrounded by a light and flaky tart dough - so much easier to make than pie!
Ingredients
For the Dough

1 1/2 cups all-purpose flour (7 1/2 ounces), plus additional for work surface
1/2 teaspoon salt
2 tablespoons sugar
10 tablespoons unsalted butter, cold, cut into 1/2-inch cubes
3 - 6 tablespoons water, ice cold

For the Filling

1 pound peaches (about 2 large)
1 cup strawberries
3 tablespoons sugar, plus 1 tablespoon for sprinkling
Instructions
For the Dough

Add the flour, salt, and sugar to a food processor and pulse to combine. Add cold butter pieces and pulse until texture is similar to large bread crumbs, about 10 - 12 one second pulses. Add 1 tablespoon ice water over mixture and pulse for once second. Keep adding water, 1 tablespoon at a time, until dough begins to form small curds. If you pinch the dough together with your fingers, it should hold together, but the mixture will be crumbly. My dough used 4 T of water.
Empty dough onto a work surface and gather into a mound. A bench scraper is helpful for doing this. Knead the dough a few times until it is cohesive, using the bench scraper to get any dough that is sticking to the surface. Form the dough into a 4-inch disk, wrap in plastic, and refrigerate until cold and firm, about 1 hour. You can refrigerate overnight if desired.
When ready to assemble tart, remove dough from refrigerator. If it is very hard, let stand at room temperature for 15 - 20 minutes. Lightly dust a large sheet of parchment paper or a silpat with flour. Roll the dough out to a 12-inch round. Check periodically to make sure the dough isn't sticking - if it is, use a bench scraper to loosen the dough and then re-flour the surface. Slide the parchment/silpat with the dough on it onto a baking sheet and refrigerate 15 minutes (you want the dough to be cool and firm, but not too hard and brittle)
Preheat oven to 400 degrees F

For the Filling

Cut the peaches into 1/2 inch thick wedges. You can peel them if you want, but you don't have to. Slice the strawberries into 1/2 inch thick pieces. Add all fruit to a medium bowl, then sprinkle with sugar and toss gently. If your fruit is not sweet, add an extra tablespoon of sugar. Do not add the sugar until you are ready to assemble the tart.
Remove the baking sheet with dough from the refrigerator. Place the fruit in the center of the dough, leaving a 2 1/2-inch border around the edge. Start to fold the dough over the fruit, leaving a 1/2 inch area of dough just inside the fold free of fruit. Continue around the tart, overlapping the dough every 2 to 3 inches. Pinch the folds to secure the dough.
Quickly brush the edges of the dough with water and sprinkle with 1 tablespoon sugar.
Bake for 45 - 50 minutes, until the crust is golden brown and the fruit is bubbling. Cool on a baking sheet for 10 minutes, then carefully place the tart onto a wire rack (I used two spatulas to do this) to cool about 30 minutes before serving.
Notes
https://chezcateylou.com/rustic-strawberry-peach-tart/
© Chez CateyLou. All images & content are copyright protected. Please do not use my images without prior permission. If you want to republish this recipe, please re-write the recipe in your own words, or link back to this post for the recipe.
If you are a peach lover like me, then you are going to love these recipes:
Peach Pecan Cinnamon Roll Cake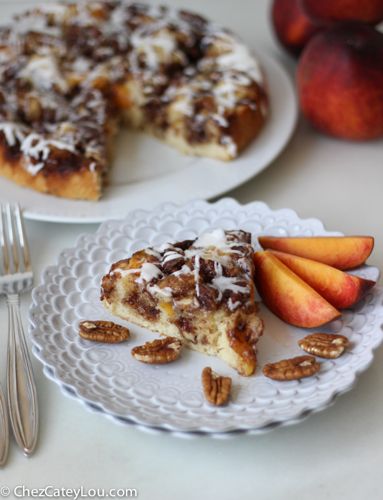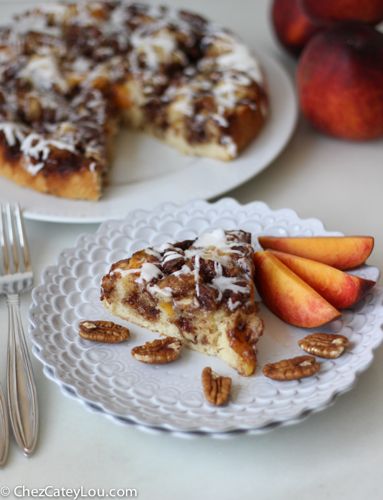 Peach Yogurt Bread with Cinnamon