Thanksgiving Punch is a delicious rum cocktail full of warm spices and fresh lemon juice. It is perfect to serve before, during, or after your Thanksgiving feast!
Last week on ChezCateyLou, Cate gave you all the recipes you need to put together a successful Thanksgiving meal.  That's all well and good, but surely you'll need something to help you survive the other seven hours of the day when you're not stuffing your face.  That's where this delicious Thanksgiving Punch recipe comes in handy.
* This post also appears on The Nobler Experiment.  The Nobler Experiment is an excellent blog that focuses on all things alcohol related.  You should head over there right now to check out their Thanksgiving content, including more cocktail recipes and wine and beer recommendations for the big day.   
Our Thanksgiving Punch is a rum based cocktail that is well balanced and delicious.  The star of the drink is a simple syrup made with fresh ginger, cardamom pods, honey, and a cinnamon stick. The rum and syrup is then mixed with fresh lemon juice and topped with grated nutmeg.   Trust me, your family and friends will be impressed when you start grating nutmeg on a Microplane
 to top off your specialty cocktail.
This cocktail is easy to make and will definitely be a crowd pleaser.  It's so good that even Cate enjoyed it – and she doesn't typically like rum.  Just make a pitcher of it before your guests arrive and you'll be good to go for the rest of the day.  And really, once you realize that the late afternoon NFL game on Thanksgiving is the Raiders and Cowboys, you might want something a little stiffer than beer.
If Rum isn't your thing, here are some other cocktail options:
Clementine Rosemary Champagne Cocktail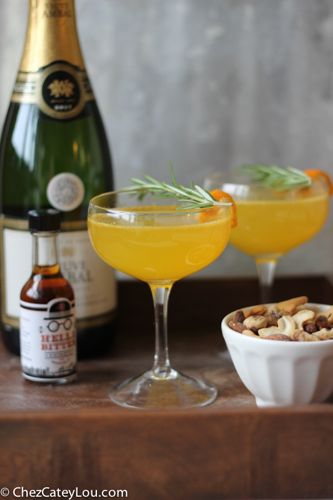 Grapefruit Tequila Cocktail with Chocolate Bitters