Chocolate Chip Raspberry Muffins are light and fluffy, and bursting with sweet raspberries and melty chocolate chips. So easy to make – they are the perfect weekend breakfast!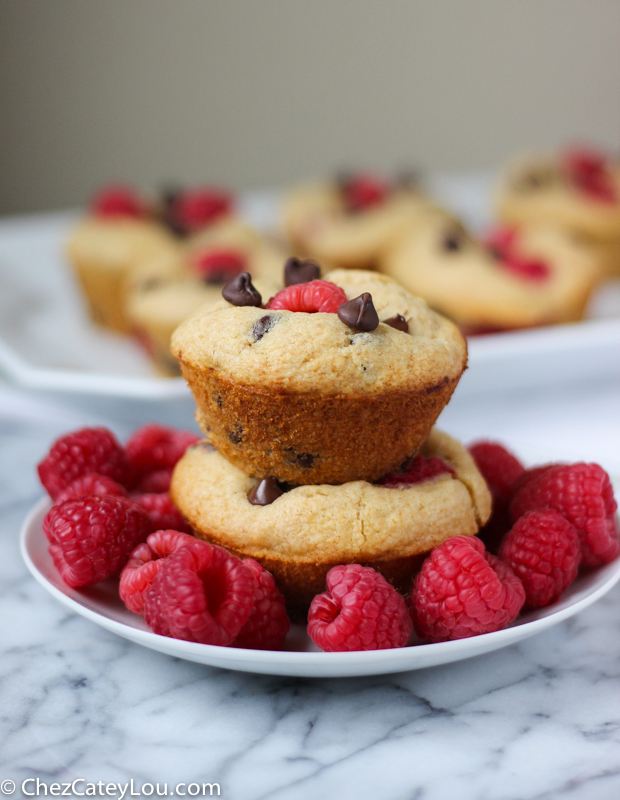 Saturday morning…to me it is absolutely the best time of the week. I just love the feeling of lazily waking up and having the promise of the entire weekend to do whatever I want. And as I'm sure you could guess, what I want to do almost always involves baking. You've probably noticed an abundance of breakfast recipes on Chez CateyLou, and that's because I love making breakfast for us on Saturday mornings. Muffins and donuts and coffee cake and pancakes – I love all of them! Last Saturday I made Chocolate Chip Raspberry Muffins and wow, did we devour these. I love a good raspberry muffin, and of course melty chocolate chips can only make things better.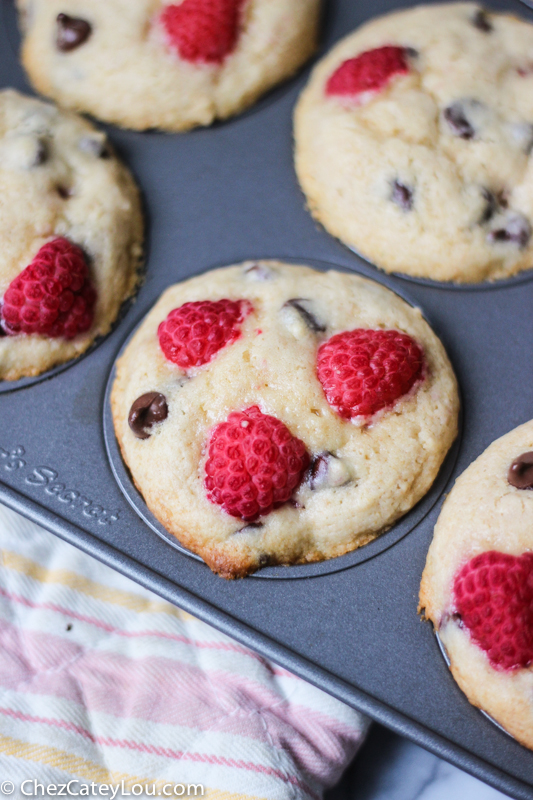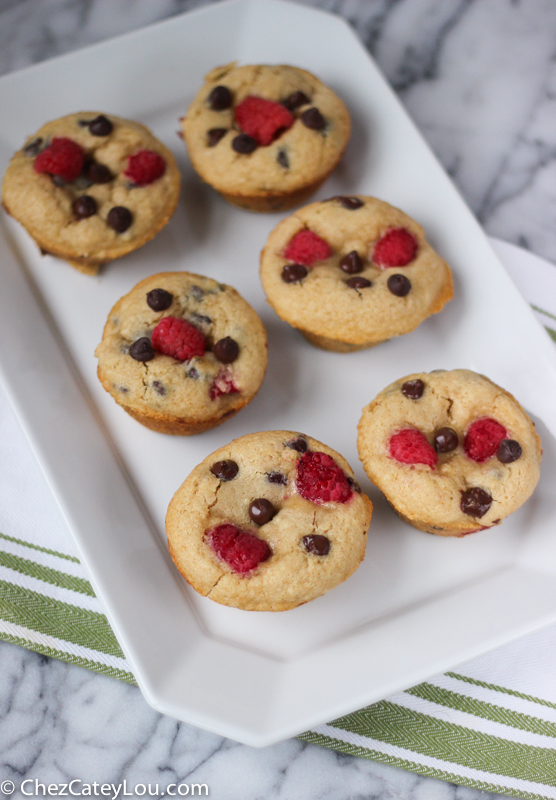 Muffins are one of my favorite breakfast items to bake because they are so easy! From start to finish, a homemade and delicious breakfast can be on the table in 45 minutes. And there are so many varieties.
I know what you might be thinking – raspberry muffins in November? Well even though I love all things pumpkin, I am still a berry fanatic. And you can get great fresh berries year round. Plus, Whole Foods had them on sale for $2 so of course I had to grab a few containers!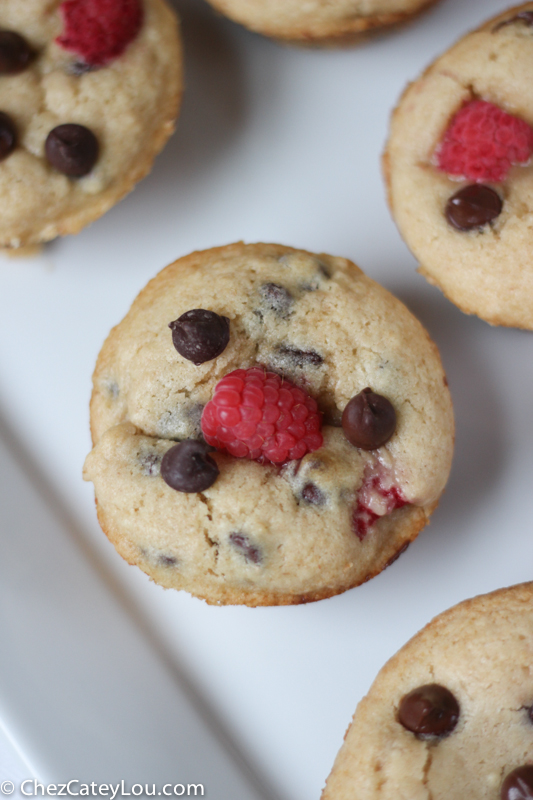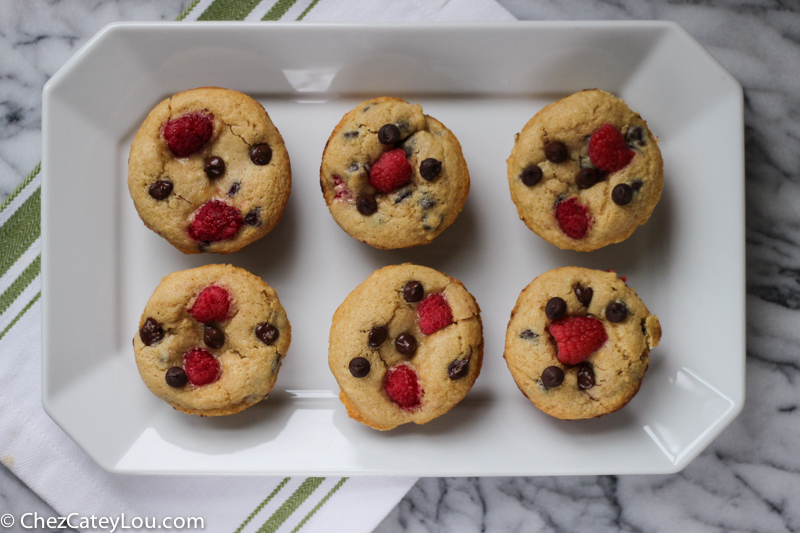 I also had to add some chocolate chips to the raspberry muffins, because, well, why not? And because TheBetterHalf loves him some chocolate at breakfast. Anytime I put chocolate chips in a muffin, regardless of the flavor, he's obsessed. One of the main reasons why I married him 😉
So these muffins. The base is butter beaten with white and brown sugar, kind of like a cake batter. And they really do taste like little cakes – light and fluffy and full of buttery vanilla flavor. Each muffin is full of sweet yet tart raspberries, and of course tons of chocolate chips. They are the perfect thing to whip up on a cozy Saturday morning!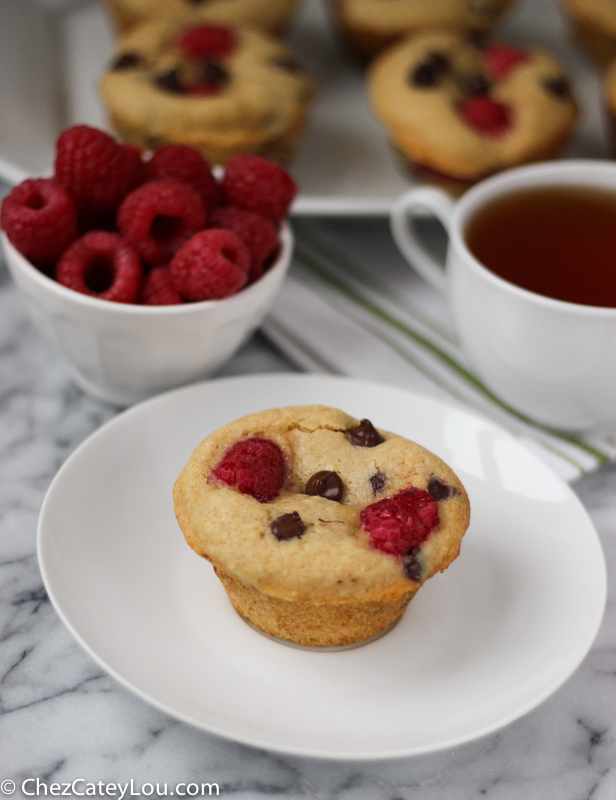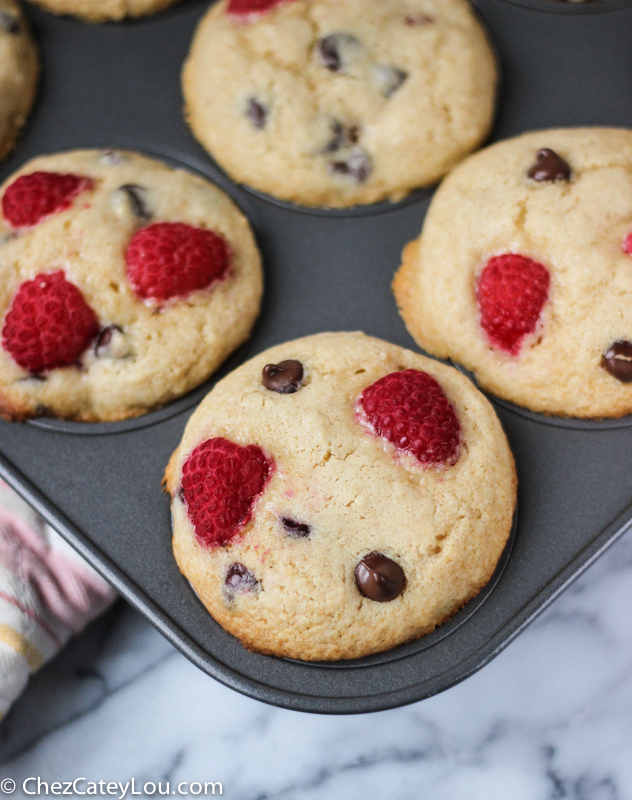 Time for me to go out for some coffee and some groceries – I'm not baking breakfast today because I am making some Thankgsgiving goodies to share with you next week! Hint – there is cornbread and bacon involved. You are definitely going to want to check it out on Monday!! Hope everyone has a great weekend!
Dark Chocolate Chip Raspberry Muffins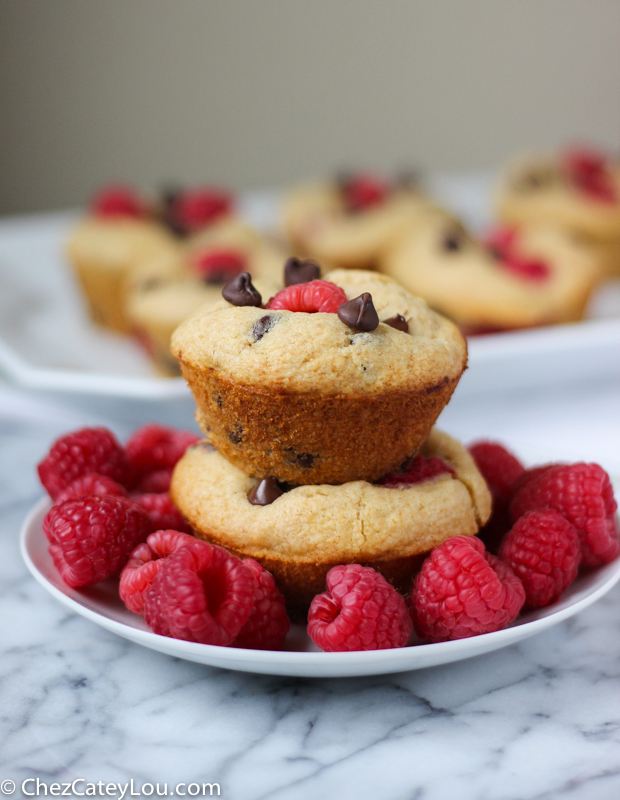 Chocolate Chip Raspberry Muffins are light and fluffy, and bursting with sweet raspberries and melty chocolate chips. So easy to make - they are the perfect weekend breakfast!
Ingredients
1 1/2 cups all purpose flour
1/2 cup whole wheat pastry flour (or can use 1/2 cup all purpose flour)
2 teaspoons baking powder
1/2 teaspoon salt
1/2 cup unsalted butter, at room temperature
3/4 cup sugar
1/4 cup light brown sugar
2 large eggs (at room temp)
1/2 cup milk (at room temp)
1/4 cup Greek yogurt (at room temp)
1 teaspoon vanilla
1.5 cups raspberries
1 cup chocolate chips
Instructions
Preheat oven to 375 degrees F. Spray a 12-count muffin tin with nonstick cooking spray or line with paper liners.
In a medium bowl, whisk together flour, whole wheat pastry flour, baking powder, and salt.
In a large bowl, beat together butter and sugars until light and fluffy. Add eggs and beat until well incorporated. Add milk and yogurt and beat until combined (if the batter appears chunky, that is ok). Mix in the vanilla.
Add the dry ingredients to the wet ingredients and stir until just combined. Fold in the chocolate chips.
Fill each muffin hole about 1/3 full with batter. Press a few raspberries into each muffin and then cover with batter. If desired, cut some raspberries in half and top each muffin with a few cut raspberries and a few extra chocolate cups.
Bake the muffins for 20 - 25 minutes, until a toothpick inserted in the center comes out with a few moist crumbs.
Cool muffins in the tin for a few minutes, then turn out onto a wire rack to cool completely.
https://chezcateylou.com/chocolate-chip-raspberry-muffins/
© Chez CateyLou. All images & content are copyright protected. Please do not use my images without prior permission. If you want to republish this recipe, please re-write the recipe in your own words, or link back to this post for the recipe.
Connect with Chez CateyLou!
More muffins!
Raspberry Cream Cheese Muffins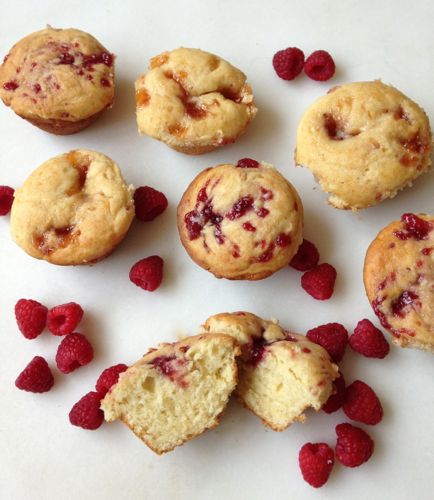 Peanut Butter Chocolate Chip Muffins – the most popular recipe on my site!