This post is sponsored by Bertolli® Sauce

Baguette slices are topped with alfredo sauce, asparagus, and parmesan cheese.  These Asparagus Alfredo Crostini are delicious, beautiful, and so easy to make!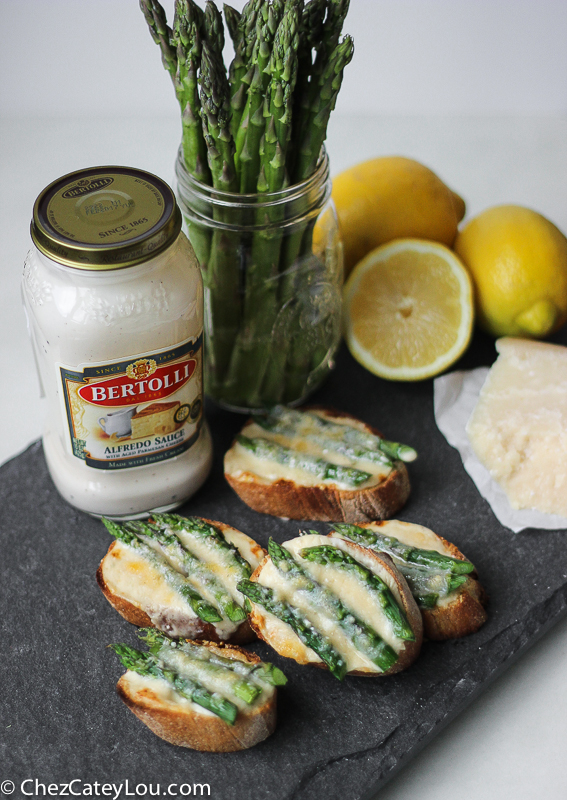 Does anyone else have spring fever? I can't get enough of this gorgeous weather, the beautiful flowering trees, the longer days, and (most importantly) the awesome spring food! I love all of the colorful fruits and veggies that are filling up the farmers market. And nothing says spring to me more than asparagus! These Asparagus Alfredo Crostini are the perfect appetizer to celebrate the season. They are beautiful and delicious, and are so simple to make thanks to a little help from Bertolli® Creamy Alfredo Sauce.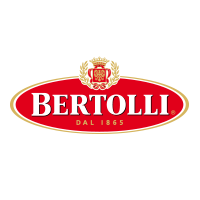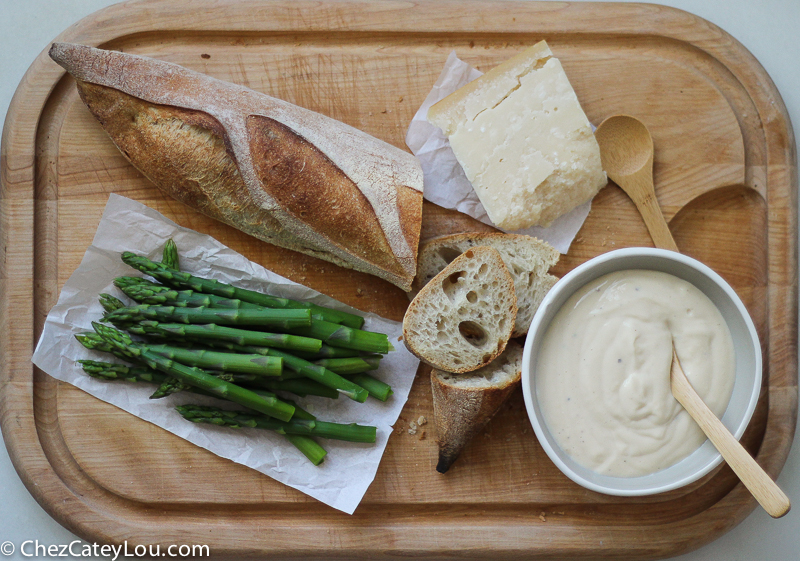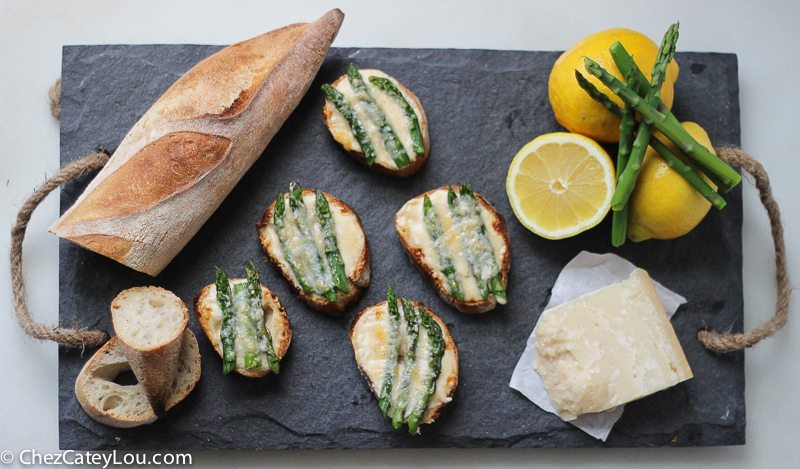 The BetterHalf and I took the most incredible trip to Tuscany two years ago (read more about it here and here!). We loved exploring the beautiful countryside and charming towns – and of course we had some amazing food and wine!  All of the food was so fresh and the flavors were so vibrant, plus Italian food is my absolute favorite.  That trip really inspired me to cook more, and I love trying to recreate some of the awesome Tuscan dishes that we had.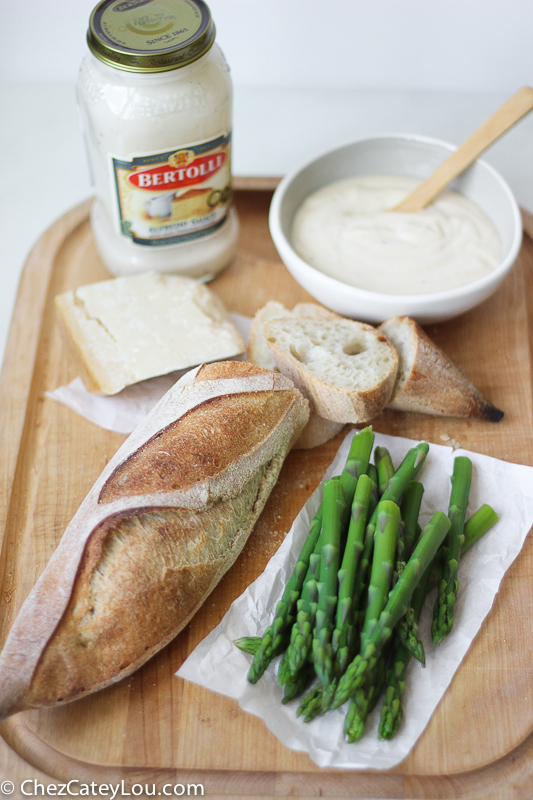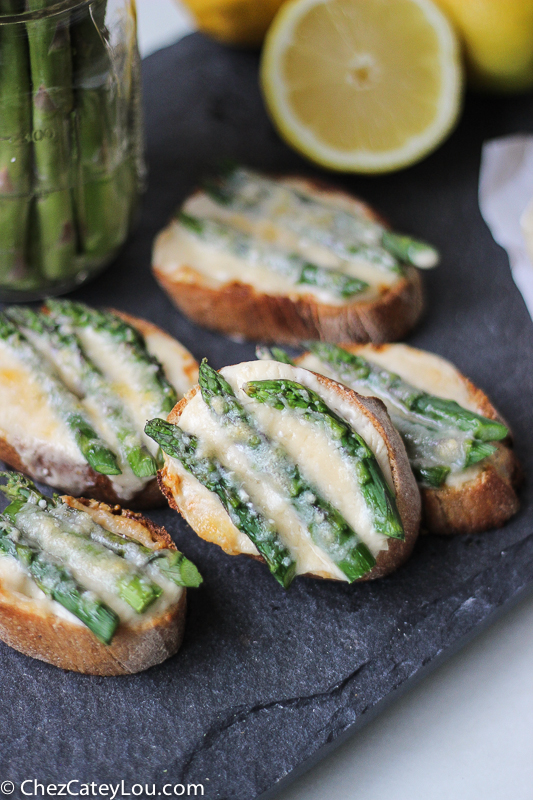 Bertolli pasta sauces are the perfect way to enhance your homemade dishes and bring the taste of Tuscany to your table. They have been around for 150 years, so they clearly know a thing or two about authentic taste and quality ingredients, and you can really taste it in their sauces.
I am officially obsessed with Bertolli's Alfredo sauce. It is so creamy and flavorful, and you can do so much with it! The sauce is great on these crostini, and I also used it as the sauce on this shaved asparagus pizza! So good.
The Asparagus Alfredo Crostini are really easy to prepare – all you need is a baguette, a jar of Bertolli Alfredo sauce, some cheese (I used Fontina and Parmesan) and some asparagus! Spread slices of toasted baguette with the sauce, then top with a few pieces of cooked asparagus and with shredded cheese. After a few minutes under the broiler, you have a golden brown, melty, delicious crostini! I finished these with a squeeze of lemon juice to really reinforce the bright spring flavor.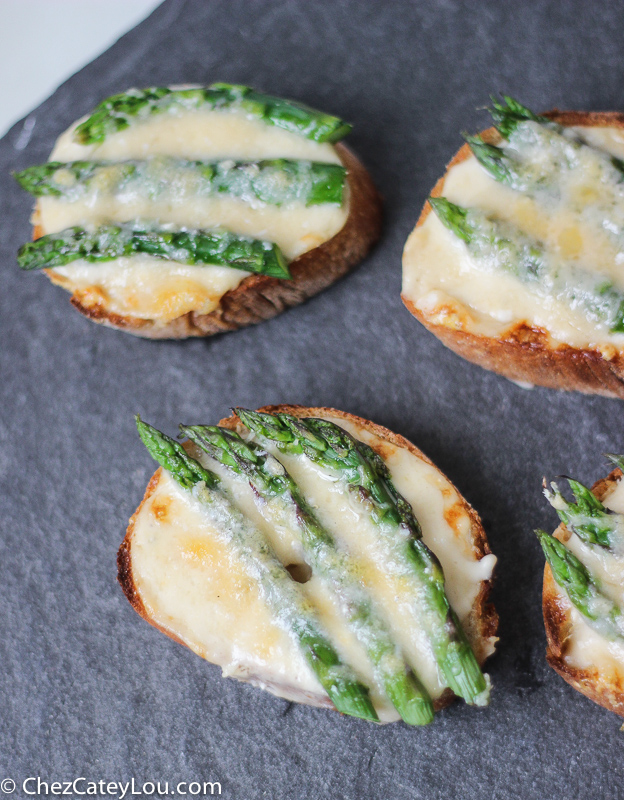 These Asparagus Alfredo Crostini are just the thing to whip up the next time you have family or friends over.  Everyone will love them, and they look so pretty. They are great as an appetizer – and even work as a light meal!
As Bertolli celebrates its 150th anniversary, they also want to help you commemorate your special moments this year, big and small. Check out their Facebook page to see how you can win a dinner celebration and other prizes.
Asparagus Alfredo Crostini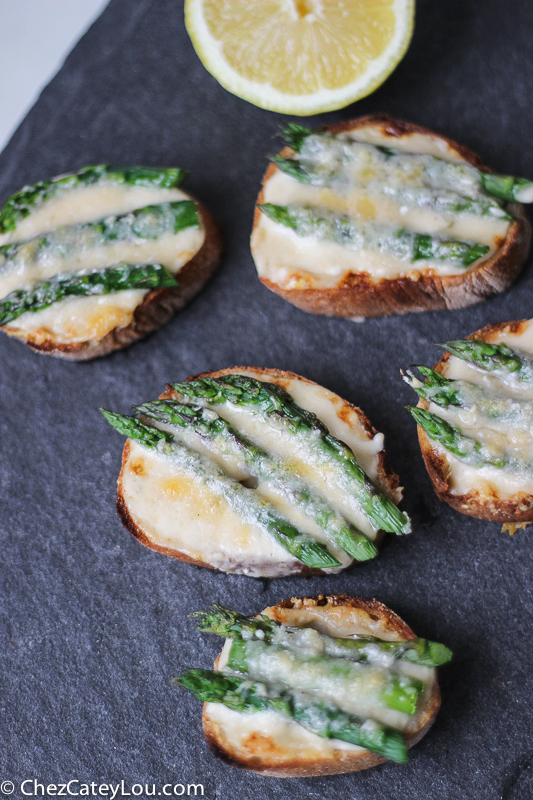 Baguette slices are topped with alfredo sauce, asparagus, and parmesan cheese. These Asparagus Alfredo Crostini are delicious, beautiful, and so easy to make!
Ingredients
1 baguette
1 tablespoon olive oil
1 bunch asparagus
1 jar Bertolli Alfredo Sauce
1/2 cup fontina cheese (or any other cheese that melts well)
2/3 cup parmesan cheese
1 lemon
Salt and pepper, to taste
Instructions
Preheat oven to 375 degrees F
Cut baguette into slices and place on a baking sheet. Lightly drizzle the tops with olive oil, then bake for 6 - 8 minutes, until light golden brown. Remove the crostini from the oven and preheat the broiler.
Meanwhile, bring a pot of water to boil. Add ice to a separate bowl and fill with water. Trim the ends off the asparagus and then add it to the boiling water. Cook for 2 - 3 minutes, then drain and immediately plunge into ice water to stop the cooking.
Add the Bertolli Alfredo Sauce to a small saucepan over low heat, and heat for a few minutes. Add the fontina cheese and about 1/4 cup parmesan to the sauce, and stir to combine. Continue heating and stirring occasionally, until the cheese is melted and the sauce is smooth.
When the baguette slices are finished, spread each with about a tablespoon of the alfredo cheese sauce. Slice the asparagus into pieces, and place about three slices on each crostini. Sprinkle the top of the asparagus with the remaining parmesan cheese.
Place the baking sheet under the broiler and broil for 3 - 4 minutes, until the cheese is melted and golden brown.
Squeeze a few drops of lemon juice on the finished crostini, and serve.
https://chezcateylou.com/asparagus-alfredo-crostini/
© Chez CateyLou. All images & content are copyright protected. Please do not use my images without prior permission. If you want to republish this recipe, please re-write the recipe in your own words, or link back to this post for the recipe.
Viva Bertolli® and join me in celebrating 150 years of delicious Italian food, friends and family. Felice Anniversario and Buono Appetito! Visit Bertolli on Facebook, Pinterest, and Twitter for more inspirations and ideas to bring Tuscany to your table.