Churro Donut Holes are stuffed with creamy Dulce de Leche filling. These cinnamon treats are the perfect breakfast or dessert to make for Cinco de Mayo!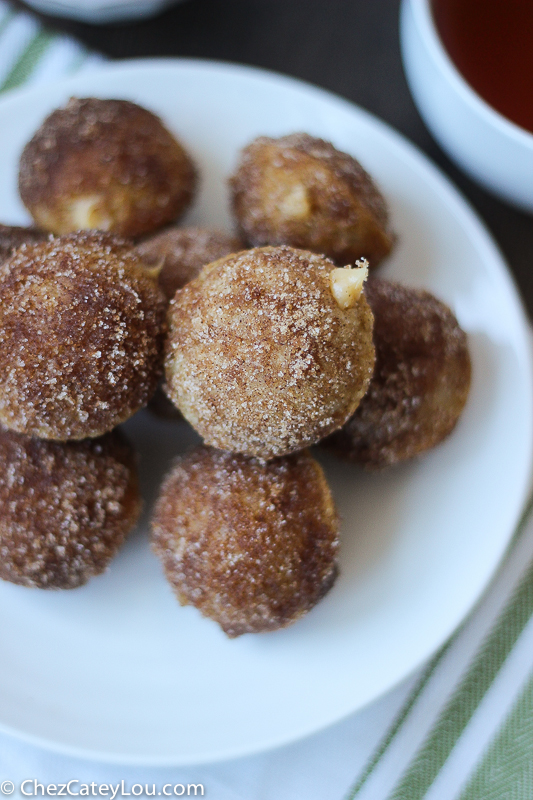 Anytime I see Churros on a menu or pass a churro store, I get overly excited and yell "CHURROS!". It is a totally weird behavior, but I can't help myself. I love churros and I also love the word! My churro obsession is kind of strange though because I actually don't eat churros very often, and had never even tried them until I moved to NYC! I still remember my first real churro – it was from the Doughnut Plant! They don't make churros anymore, which is a shame, because it was memorably good.
In honor of Cinco de Mayo, I wanted to make a breakfast based off of churros – Churro Donut Holes, and just to make them even more outrageous I stuffed them with Dulce de Leche!  All in the name of Cinco de Mayo – what a great holiday.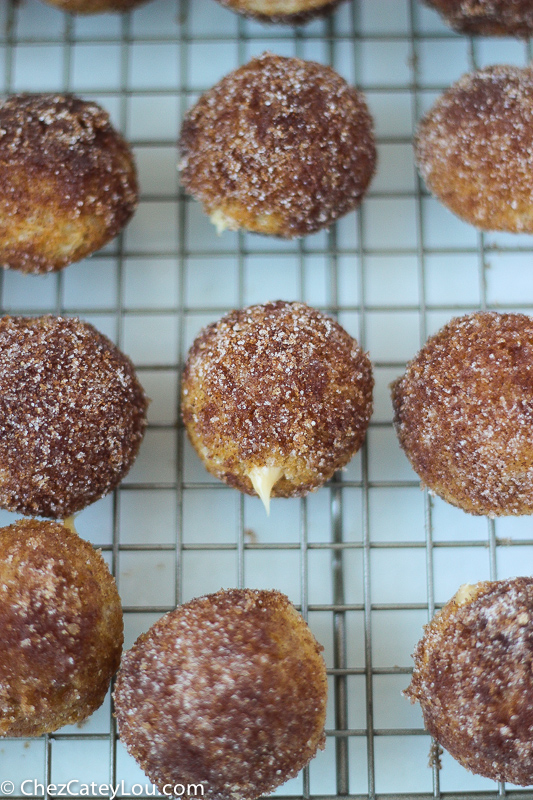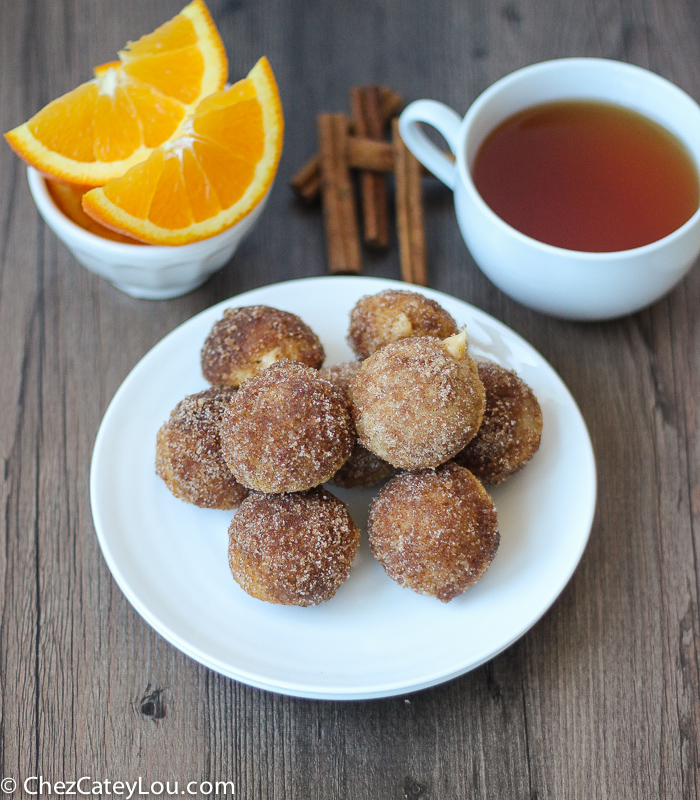 I am devastated that I forgot to photograph the inside of these little donut holes!!! I got so excited to eat them that I just totally forgot to take a picture of the delicious inside full of soft and gooey dulce de leche. You can see it peeking out of these donut holes though – and then just use your imagination to envision biting into a soft, cinnnamony churro donut hole and seeing all of that caramel filling!  That is my kind of breakfast!
Of course these could absolutely be served for dessert too, and some might argue that they are much more appropriate for dessert.  Regardless of when you eat them though, they are awesome!  The flavor is just like a churro, full of the cinnamon, brown sugar, and butter.  And the dulce de leche filling complements them so well.  The creamy caramel sauce is awesome, and makes these really fun and festive for Cinco de Mayo!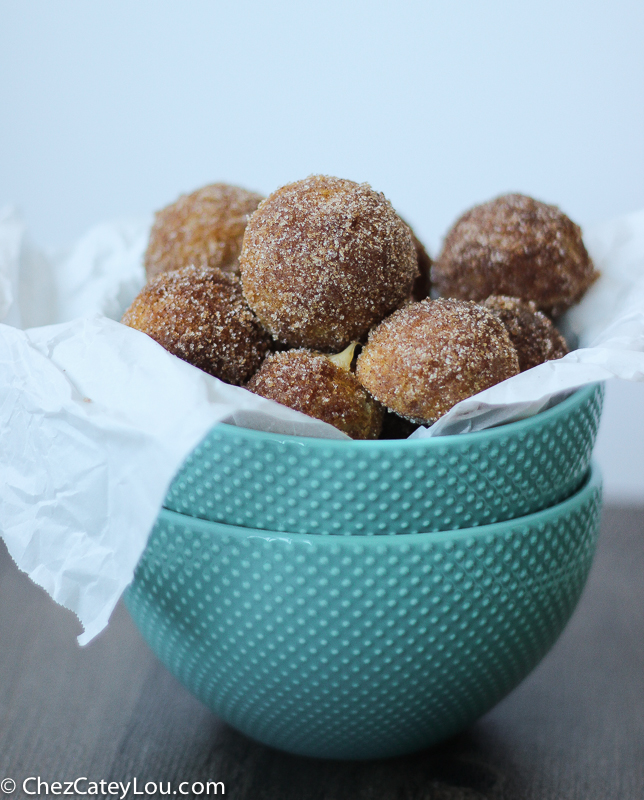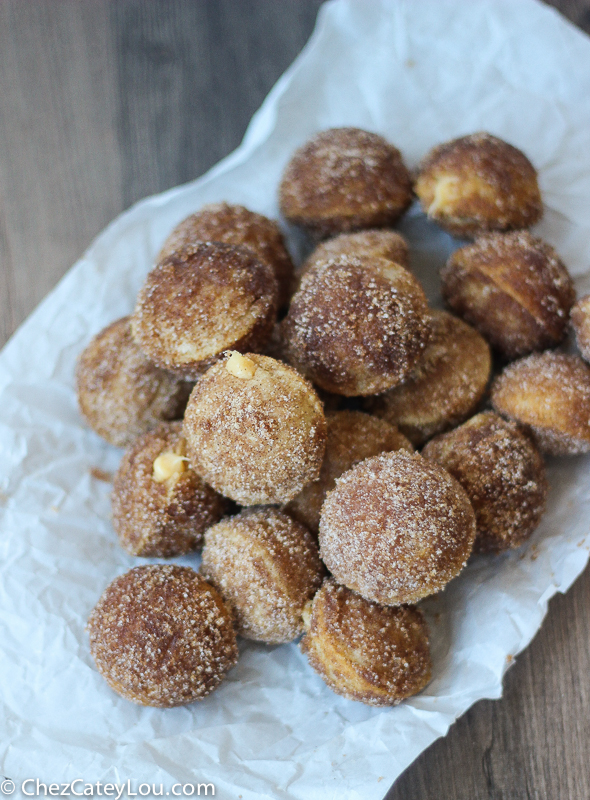 If you don't have one of these nifty donut hole pans
, you can still make these churro donut holes – they work just as well in a mini muffin tin! Once you toss the donut holes in butter and cinnamon sugar (hey, they have to taste like churros!) you can barely even see the line from the muffin tin.
I used a thin icing tip and a pastry bag to fill these with the dulce de leche. However you can use a zippered sandwich bag with the edge cut off for your pastry bag, and if you don't have a thin icing tip, you can just poke a hole in the donut hole with a toothpick, and squeeze the filling in that way. Or if you don't want to mess with the filling, you could just warm the dulce de leche and serve it as a dipping sauce!  That would be equally delicious.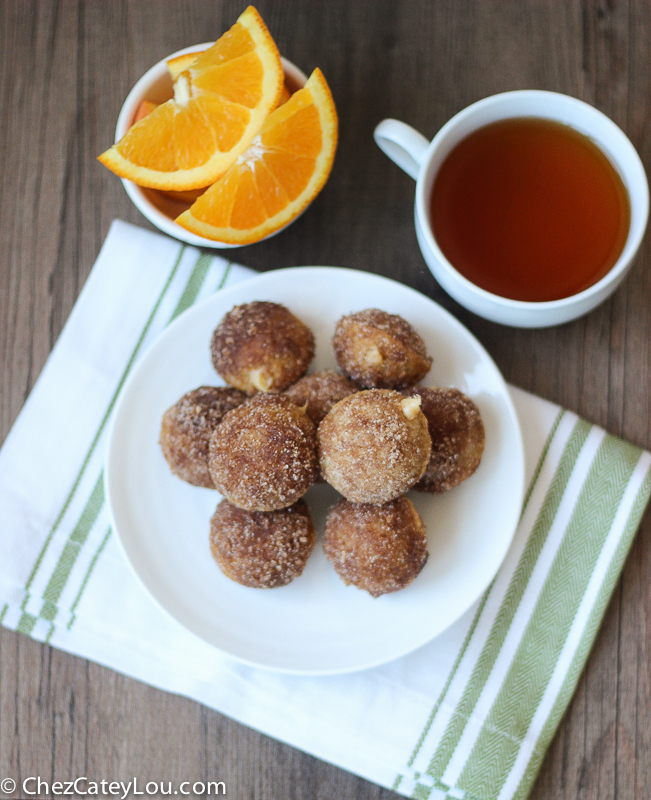 Churro Donut Holes with Dulce de Leche Filling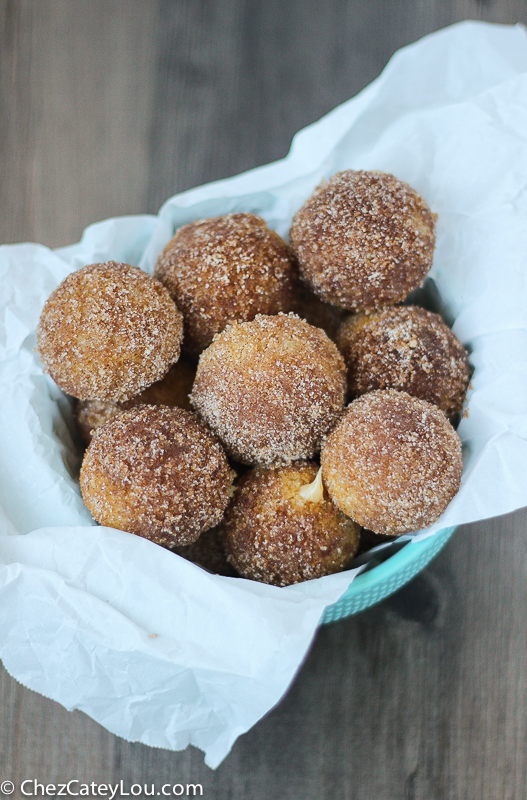 Churro Donut Holes are stuffed with creamy Dulce de Leche filling. These cinnamon treats are the perfect breakfast or dessert to make for Cinco de Mayo!
Ingredients
1 1/4 cups flour
1 teaspoon cinnamon
1/2 teaspoon salt
3/4 teaspoon baking powder
1/4 teaspoon baking soda
3 Tablespoons vegetable oil
1/4 cup sugar
1/4 cup brown sugar
1 large egg
1/2 cup milk
2 Tablespoons Greek yogurt

For the Coating

1/3 cup sugar
1/3 cup brown sugar
1-2 teaspoons cinnamon, to taste
5 tablespoons butter

For the Filling

1 can Dulce de Leche
Instructions
Preheat oven to 325 degrees F. Grease a donut hole pan or a mini muffin tin.
In a small bowl, whisk together flour, cinnamon, salt, baking powder, and baking soda.
In a medium bowl, whisk together oil sugar, brown sugar, and egg until very well combined, at least one minute. Add milk and yogurt and whisk until combined. Add the dry ingredients to the wet ingredients and stir until just combined.
Spoon the batter into the pan, filling each cavity half full.
Bake the donut holes for 8- 10 minutes, until just cooked through.
Remove from oven, and allow to cool in the pan for a minute, then turn out onto a wire rack.

For the Coating

Whisk together sugar, brown sugar and cinnamon in a bowl or a shallow plate. Melt the butter in a separate bowl. Roll each donut hole quickly in the butter, shake off excess, then roll in the cinnamon sugar mixture. Repeat until all donuts are coated.

For the Filling

If the Dulce de Leche is very thick, warm it in the microwave until it is soft. Add Dulce de Leche to a pastry bag fitted with a small tip, or to a zippered sandwich bag with the corner cut off. If using an icing tip, poke a hole in the side of each donut hole with the tip and squeeze dulce de leche into the center of the donut hole. If using a sandwich bag, poke a hole in the donut with a toothpick and then squeeze the dulce de leche into the hole.
https://chezcateylou.com/churro-donut-holes-dulce-de-leche-filling/
© Chez CateyLou. All images & content are copyright protected. Please do not use my images without prior permission. If you want to republish this recipe, please re-write the recipe in your own words, or link back to this post for the recipe.
More cinnamon breakfast goodies!
Mini Pumpkin Cinnamon Chip Muffins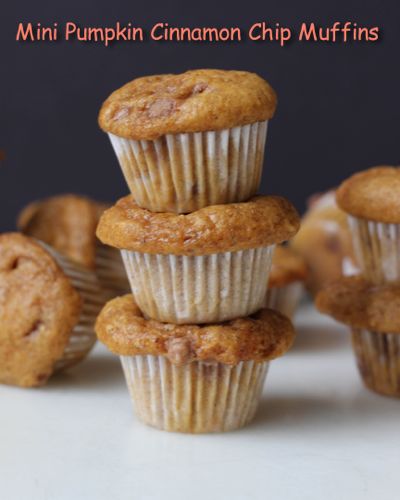 Follow Chez CateyLou around the internet!