Fresh zucchini makes these double chocolate zucchini muffins so moist, and you won't believe that they are 100% whole wheat! A healthy and delicious breakfast!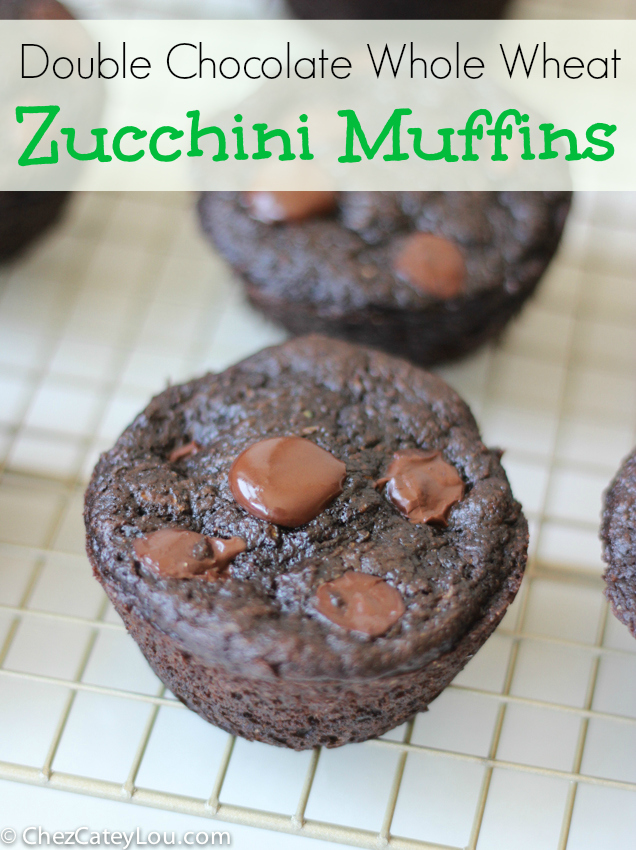 Hello from 35,000 feet in the air! TheBetterHalf and I are on our way to Seattle for memorial day weekend. (Ok now that I have internet to post this, we are already in Seattle. But I wrote this on the plane 🙂 ) We are so excited for our little getaway – I desperately need a vacation. I've heard great things about this city, and I know it has a great food scene! Our list of places to eat is long but there is always room for more– if you have any suggestions, let me know!  And make sure to follow me on Instagram for picture updates from our trip.
With memorial day weekend comes summer and with summer comes zucchini! I love baking with zucchini in the summertime. You don't taste it at all, but it makes baked goods really moist. Plus, who couldn't use a little extra nutrition in their muffins? And to top it all off, these chocolate zucchini muffins are 100% whole wheat, are made with Greek yogurt, and use coconut oil!  Such a healthy and delicious way to start your day.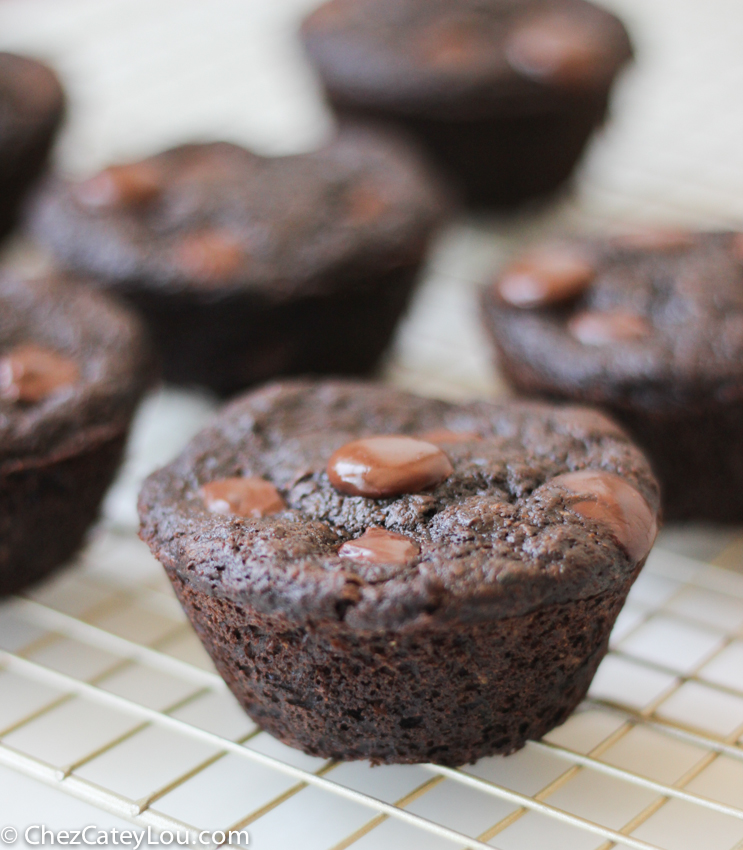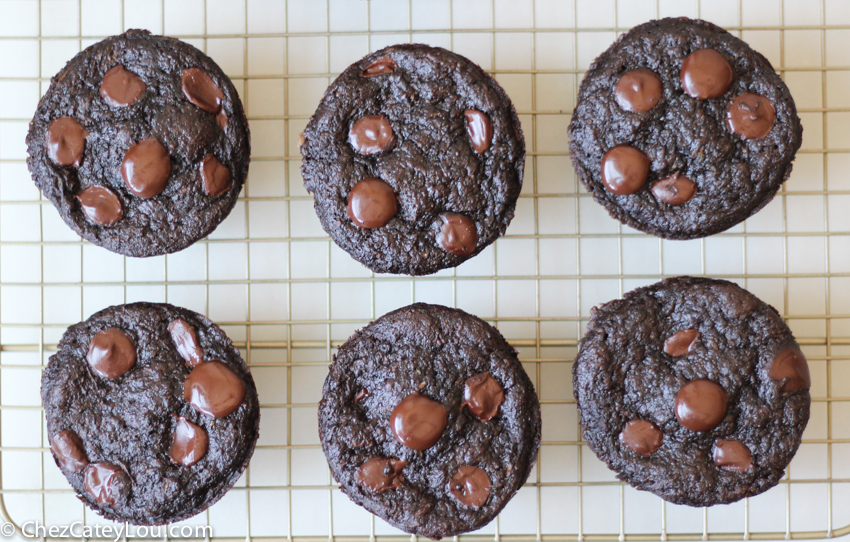 I talked about whole wheat pastry flour when I made these muffins. I love baking with the stuff! Regular whole wheat flour can make baked goods kind of dense, and the flavor is pretty strong. Whole wheat pastry flour keeps the texture light and airy, and the wheat-y flavor isn't noticeable. TheBetterHalf generally scoffs when I use whole wheat flour, and he had no idea that these were 100% whole wheat!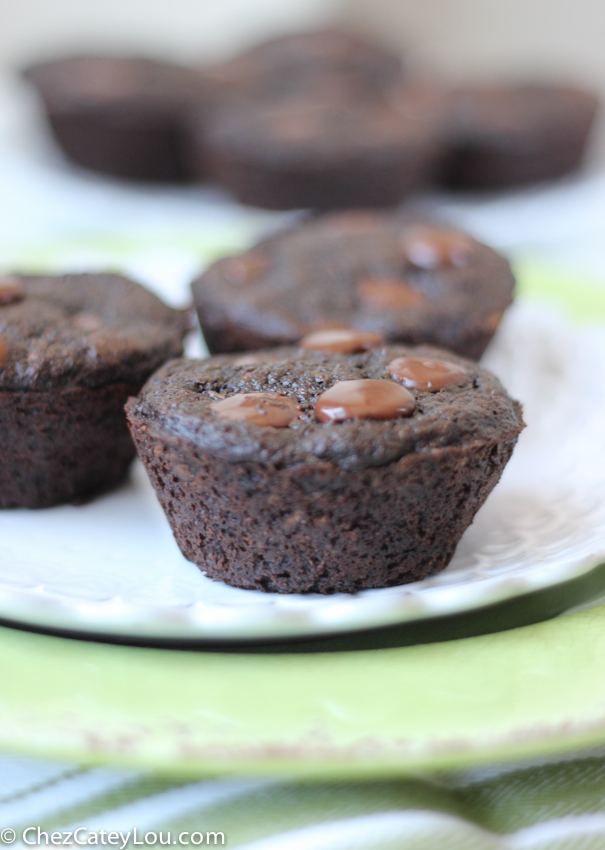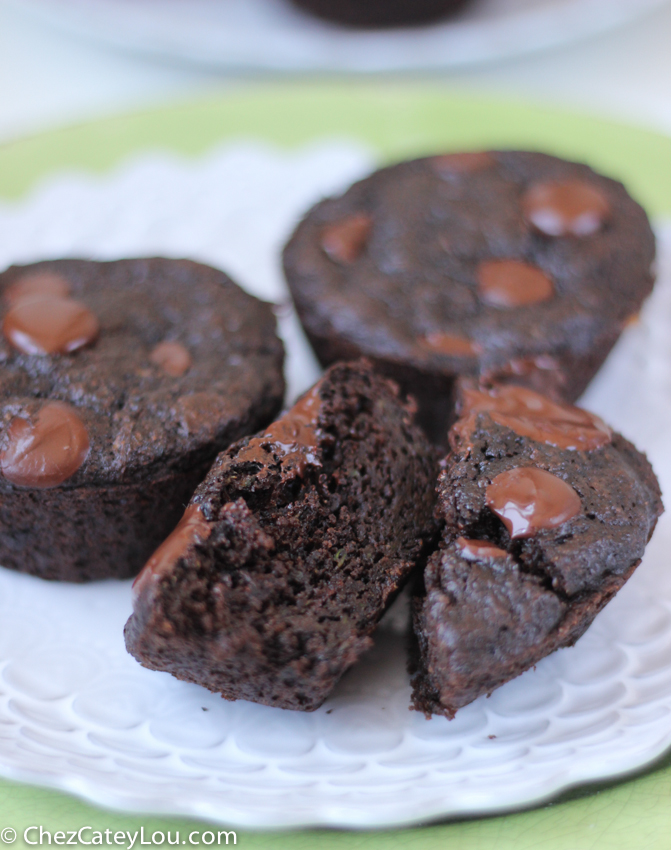 One important thing about baking with zucchini (or at least in this recipe!) is to get all the moisture out of the zucchini. Zucchini has a ton of water in it. This recipe uses 1.5 cups of shredded zucchini, about 2 medium. Grate it on a box grater, peel and all, or in a food processor and measure out 1.5 cups. Then place the zucchini in a clean kitchen towel and wring it out. You will be shocked how much liquid comes out! You don't need that extra liquid in the muffins.
The chocolate chips are definitely mandatory in here. I think nothing is better than tons of chocolate chips in muffins. When they are fresh out of the oven, they are so melty and gooey – so good!
I hope everyone has a great long weekend!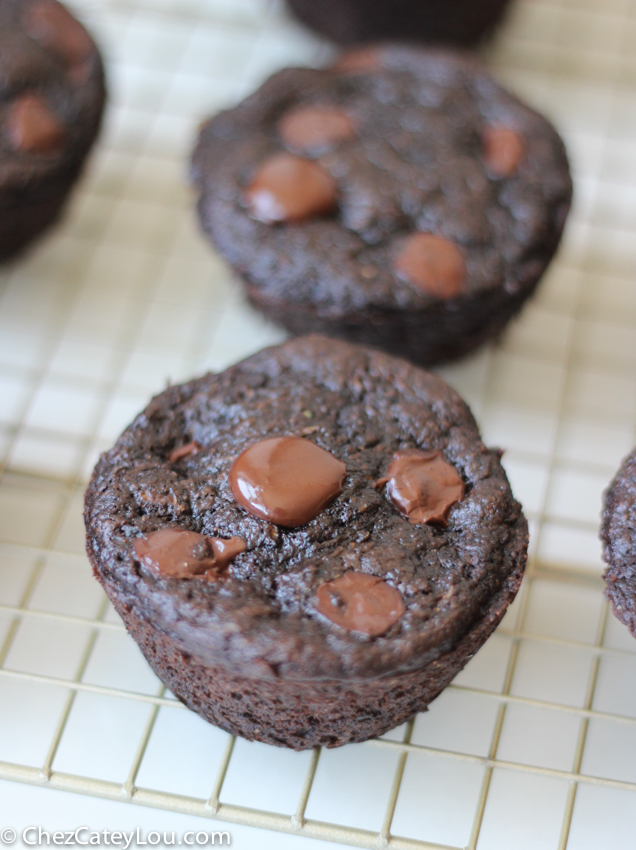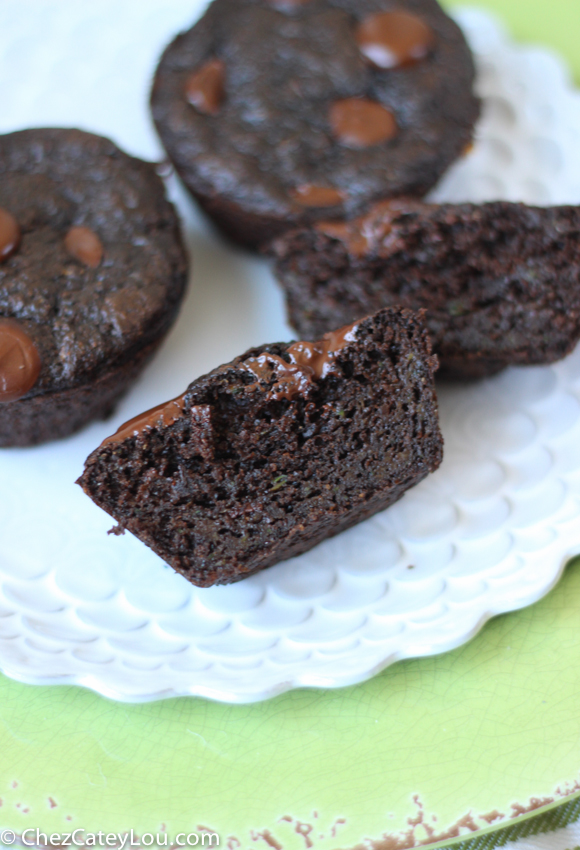 Whole Wheat Double Chocolate Zucchini Muffins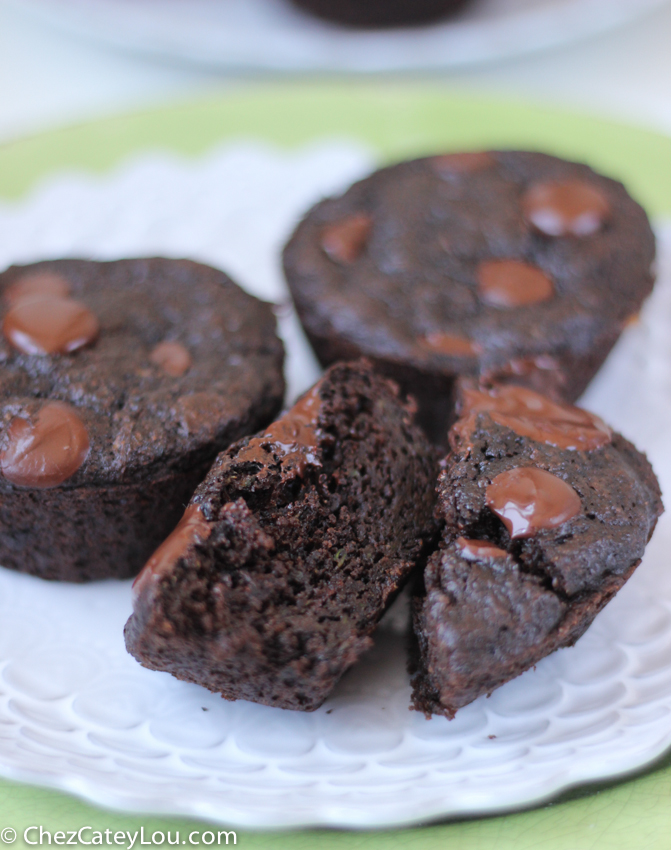 Fresh zucchini makes these double chocolate zucchini muffins so moist, and you won't believe that they are 100% whole wheat! A healthy and delicious breakfast!
Ingredients
1 cup whole wheat pastry flour
1/3 cup cocoa powder
2 teaspoons baking powder
1/2 teaspoon baking soda
1/4 teaspoon salt
1 teaspoon cinnamon
4 tablespoons melted coconut oil
1/2 cup light brown sugar
1/4 cup sugar
1 large egg
1/2 cup Greek yogurt
1/4 cup milk
1 teaspoon vanilla
1.5 cups shredded zucchini (about 2 medium)
1/2 cup chocolate chips
Instructions
Preheat oven to 375 degrees F and grease a 12 count muffin pan.
Place shredded zucchini in a clean kitchen towel and wring it well to remove all the excess liquid.
In a medium bowl, whisk together whole wheat pastry flour, cocoa powder, baking powder, baking soda, salt, and cinnamon.
In a separate bowl, whisk together oil, sugars, and egg until well combined. Add milk and yogurt and whisk well. Stir in the vanilla.
Add the wet ingredients to the dry ingredients and mix until barely combined. Add the zucchini and mix until just combined. Fold in the chocolate chips.
Spoon the mixture evenly into the prepared baking pan.
Bake for 13 - 16 minutes, until just cooked through. Allow to cool in pan for a few minutes, then turn out onto a wire rack.
https://chezcateylou.com/chocolate-zucchini-muffins/
© Chez CateyLou. All images & content are copyright protected. Please do not use my images without prior permission. If you want to republish this recipe, please re-write the recipe in your own words, or link back to this post for the recipe.
If you are looking for skinny chocolate recipes, I have some great ones for you!
Skinny Double Chocolate Muffins