The best broccoli you will ever eat, and it is simple to make! Crispy, flavorful, and absolutely addictive – healthy has never tasted so delicious!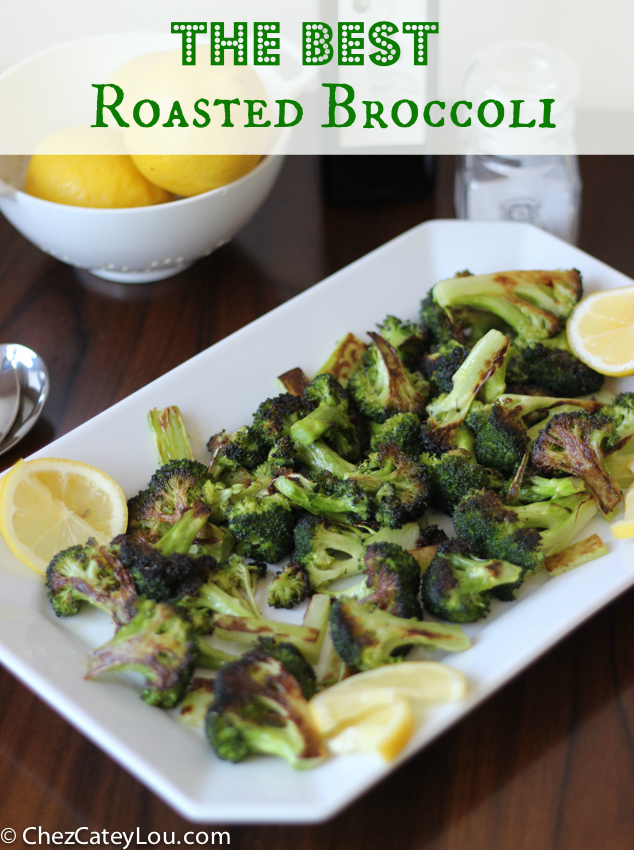 Ok I know what you're thinking right now – Broccoli? But what about the donuts and cookies and chocolate peanut butter anything? Don't worry, they are coming soon (I may or may not have made these last night…). But I just HAD to tell you about this broccoli. Why?
Because it is the absolute best broccoli I have ever had. In fact, it is the best veggie I have ever had – at a restaurant or in my own kitchen. I'm not exaggerating. This stuff is amazing. It even converted TheBetterHalf into a broccoli lover, and he had previously not been a fan of the healthy green vegetable. Plus it is so simple to make – there are only 5 ingredients, and that is counting salt and pepper!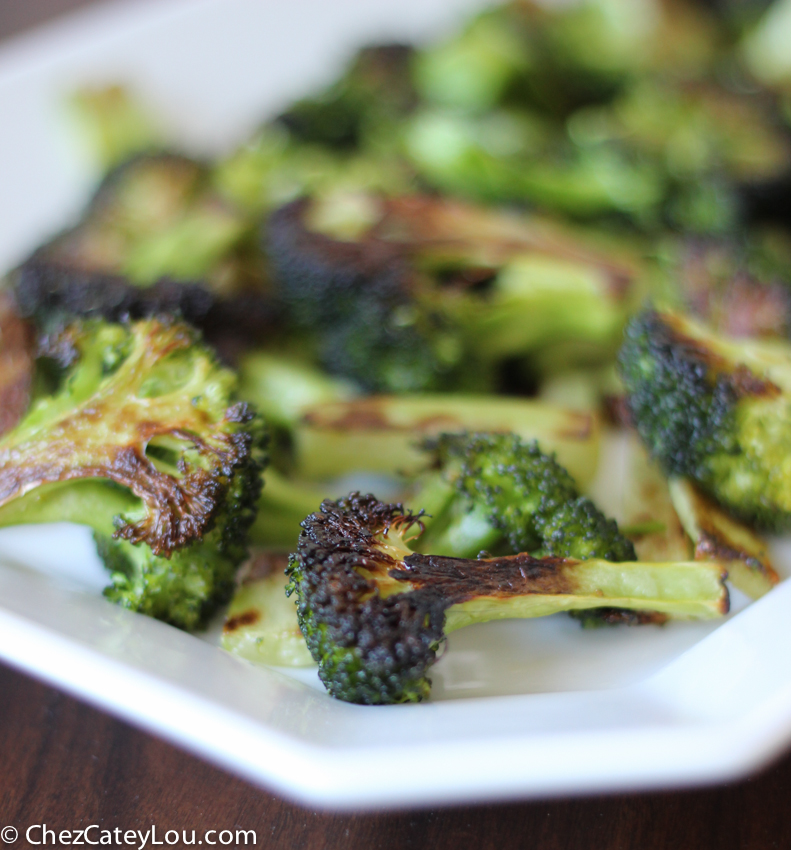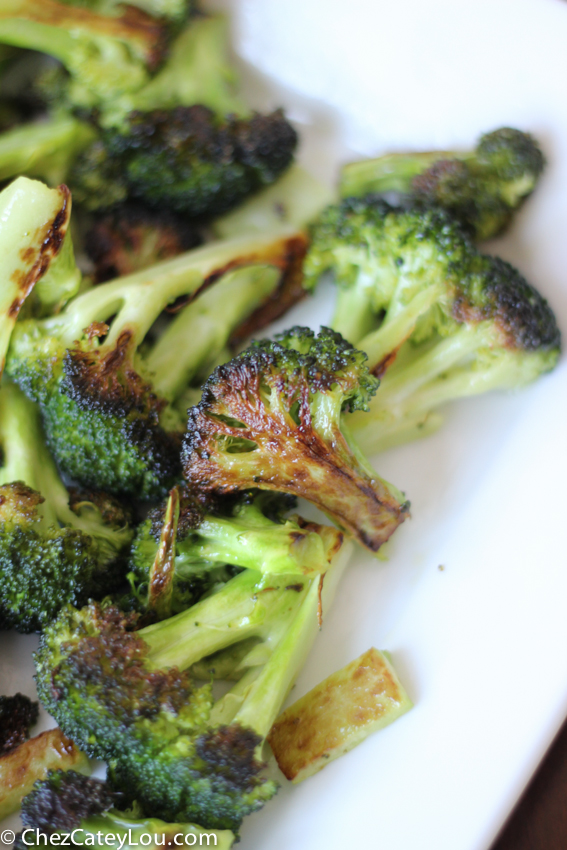 I had to include those close-up shots because they pretty much speak for themselves. Those browned bits on the broccoli? FlavorTown. And so crispy. If you couldn't tell, I'm obsessed. I never thought that this super healthy veggie would get me more excited than a cookie!!
When I make this, I literally can't stop eating the broccoli. I just stand over the pan, picking out the small crispy bits (and burning my fingers in the process) – TheBetterHalf doesn't even realize that those are the best part because I eat them all before he even sees them. Whoops. Sorry….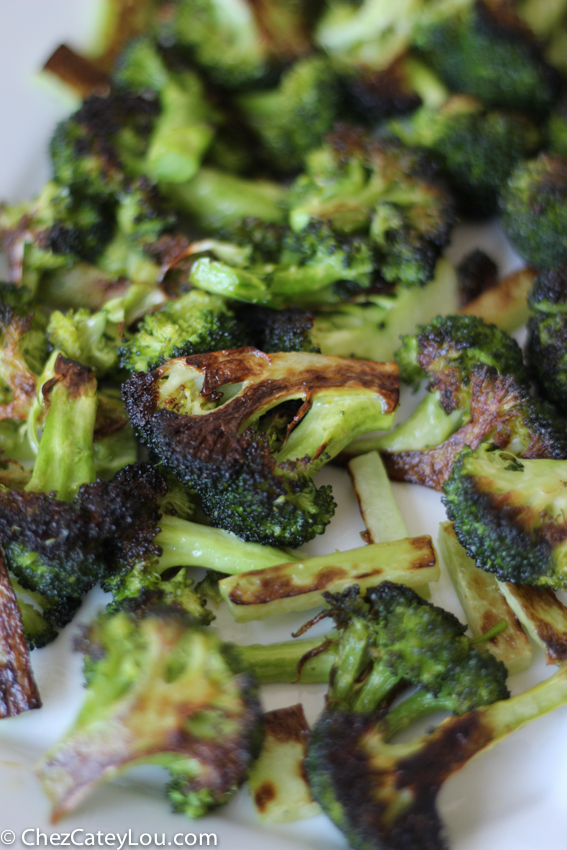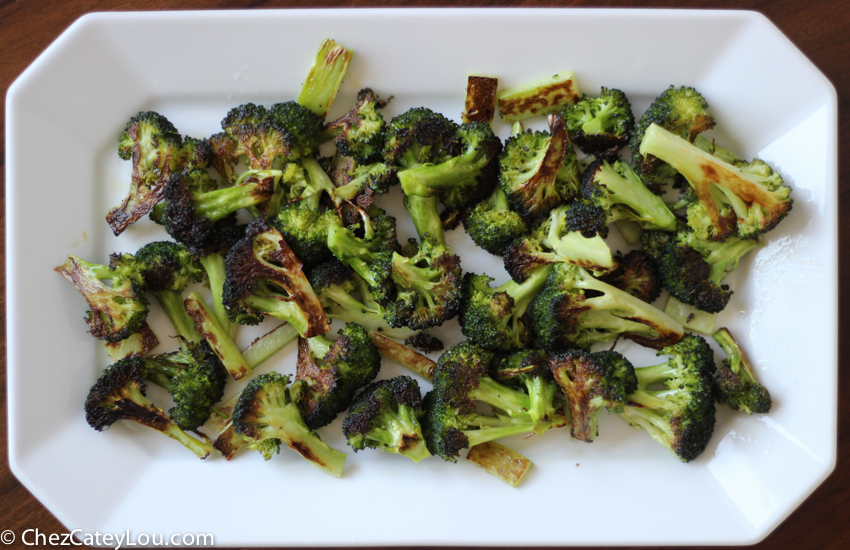 So what is the secret of this amazing broccoli? Sugar and a hot pan. Pretty simple, right?? You roast the broccoli at a very high temperature, and preheat the pan with the oven. Cut the broccoli into even pieces and toss it with olive oil, salt, pepper, and a little sugar. The sugar is the key to getting the broccoli browned and caramelized and so flavorful.
Once the pan is nice and hot, quickly and carefully take it out of the oven and pour the broccoli on the pan. But be warned, it is going to sizzle like crazy!! The first time I made this I was not expecting that! Then back into the hot oven to cook for about 10 minutes. That's it! Such a simple method, but with such amazing results. I will never cook broccoli another way – it is just too good like this!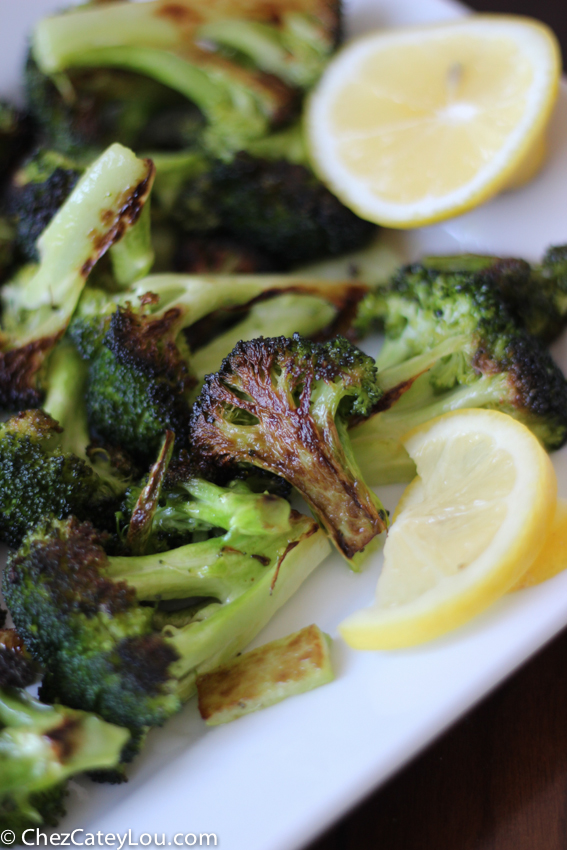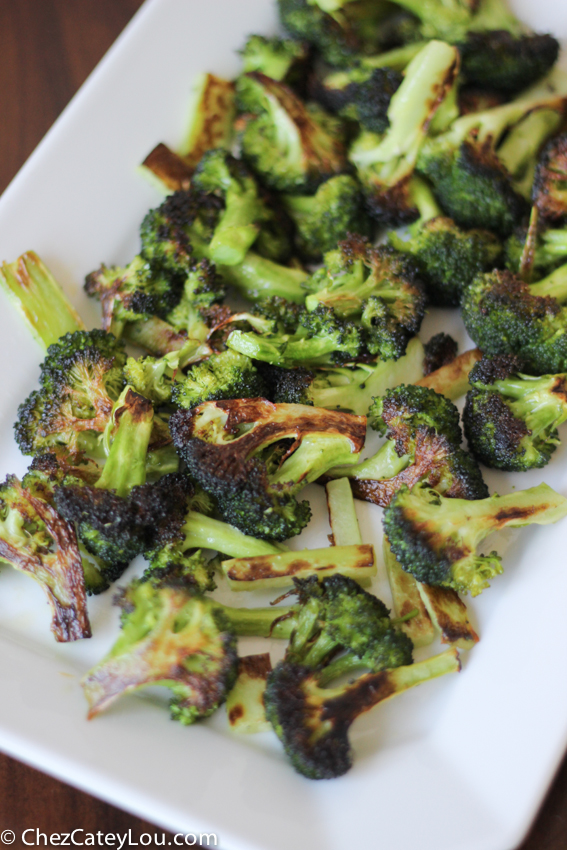 The Best Roasted Broccoli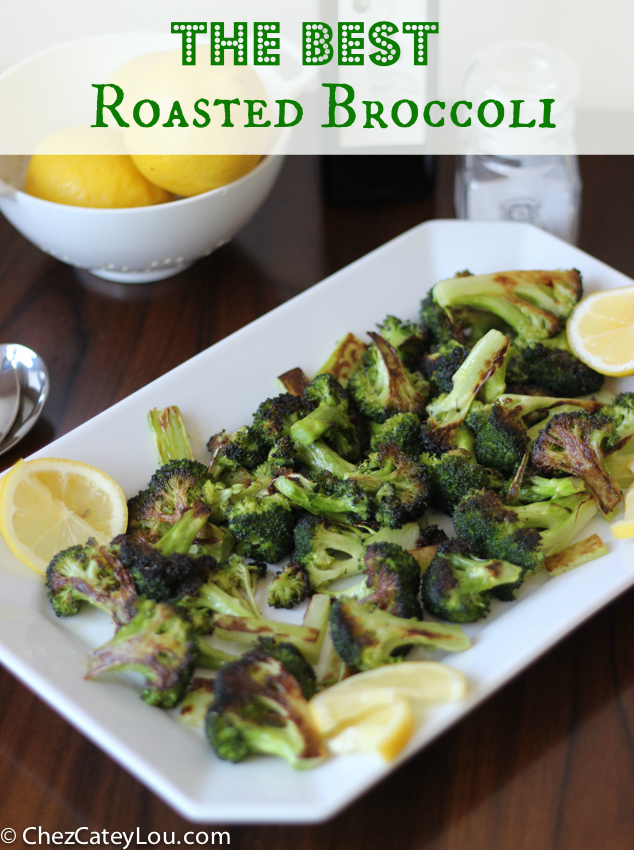 The best broccoli you will ever eat, and it is simple to make! Crispy, flavorful, and absolutely addictive - healthy has never tasted so delicious!
Ingredients
1 large head broccoli (about 1 3/4 pounds)
3 tablespoons extra virgin olive oil
1/2 teaspoon table salt
1/2 teaspoon sugar
black pepper
lemon wedges for serving (optional)
Instructions
Adjust oven rack to lowest position and place a large rimmed baking sheet on the rack. Preheat oven to 500 degrees F.
Cut the florets off the stalk, and cut florets into even wedges. Cut the edges off the stalk (or peel the stalk), and then cut the stalks into even pieces (about 1/2 inch thick). Place broccoli in a bowl and toss with oil to coat. Add sugar, salt, and pepper and stir to coat evenly.
Carefully and quickly remove the hot baking sheet from the oven. Pour the broccoli onto the baking sheet (it will sizzle loudly) and spread into an even layer, with flat sides down. Return to the oven and cook for 9 - 11 minutes, until the broccoli is browned. Transfer to a dish and serve immediately, with lemon wedges if desired.
Notes
https://chezcateylou.com/best-roasted-broccoli/
© Chez CateyLou. All images & content are copyright protected. Please do not use my images without prior permission. If you want to republish this recipe, please re-write the recipe in your own words, or link back to this post for the recipe.
I do love my baked goods, but I still have some great veggie options for you!
Haricots Verts with Toasted Almonds and Caramelized Shallots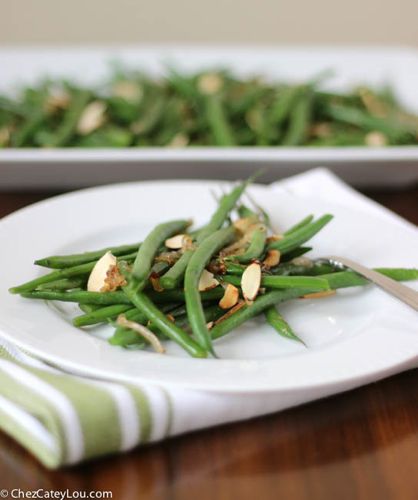 Kale Salad with Pears and Walnuts