Le Dalí restaurant, overseen by Alain Ducasse, is the perfect spot for a delicious lunch in Paris. It is in Le Meurice, a gorgeous hotel located in the 1st arrondissement.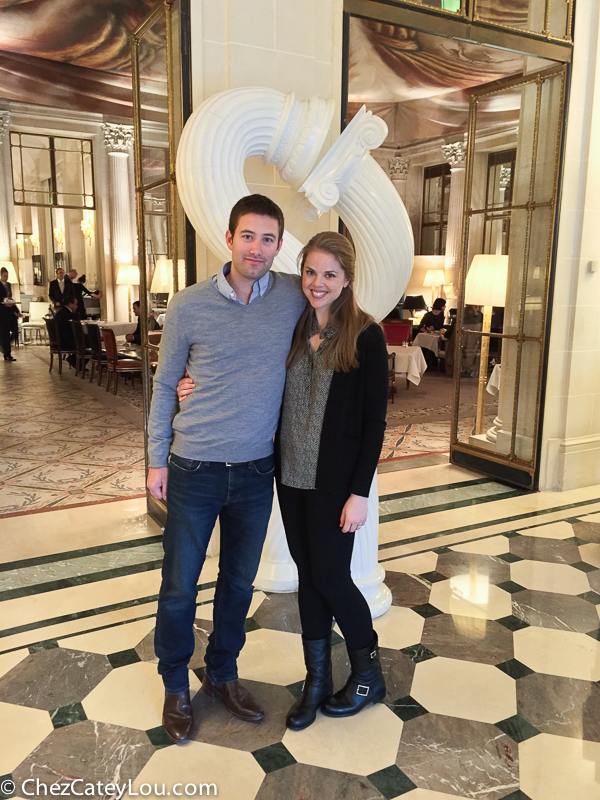 Paris is full of amazing 5 star hotels. It seems that everywhere you turn, there is a gorgeous hotel full of history. And one of the best is Le Meurice.
You can't beat the location of Le Meurice. It is in the heart of Paris in the first arrondissement right across the street from the Tuileries Garden – which means it is just a stone's throw from the Place Vendome and the Louvre.  Le Meurice dates back to 1771, but was redesigned by Philippe Starck in 2007.  The famed designer added a great modern chic aesthetic while still keeping some of the 18th century opulence.  It is one of the most elegant hotels in the world, and is frequented by celebrities.  In fact, it was featured in a Jay-Z and Kayne West song, the title of which may be too hot for little ol' ChezCateyLou (…Le Meurice for like 6 days, gold bottles, scold models, spilling Ace of my sick J's…).
The hotel is absolutely gorgeous. The rooms look amazing and I hope I get to stay there someday, but it is a bit out of our price range right now! However even if it isn't in the cards for you either, you can still experience the glam and luxury of Le Meurice with a fine dining experience at Alain Ducasse, a delicious meal at Le Dalí , or a sophisticated yet cozy drink at Bar 228.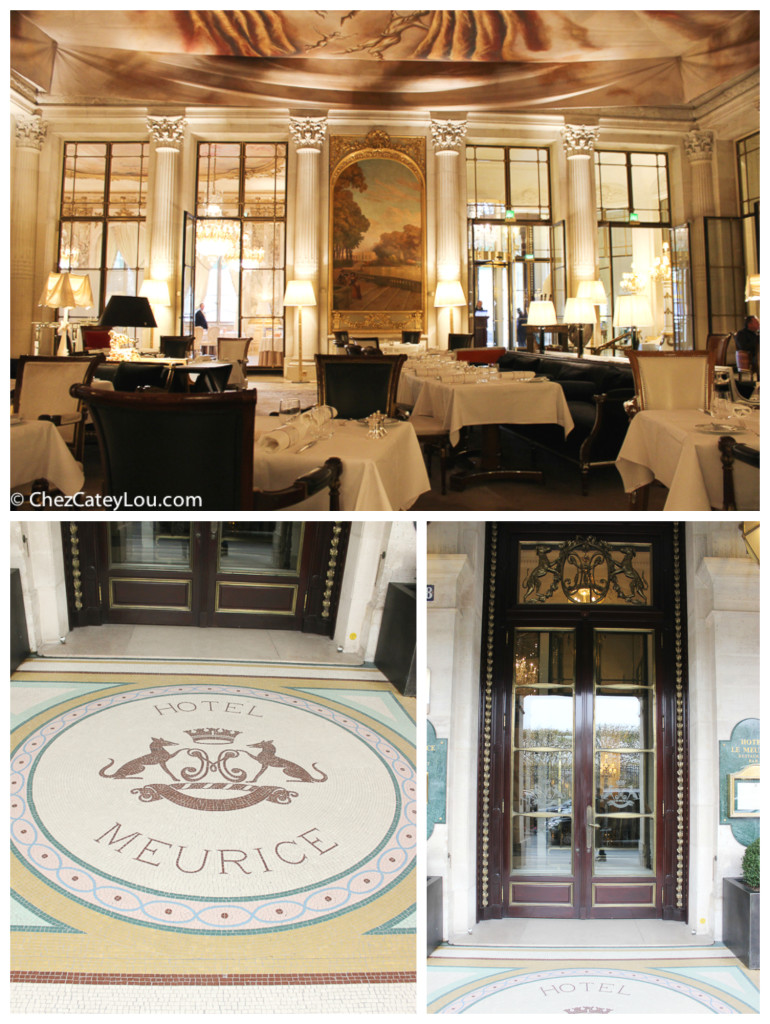 When we were in Paris this November we were fortunate enough to be treated to lunch at Le Dalí restaurant at Le Meurice. The experience was one of the highlights of our trip. I think hotel dining tends to get a bad rap, but in Paris some of the best restaurants are in hotels – and Le Meurice is no exception.
All of the restaurants in the hotel are overseen by Alain Ducasse, one of the most famous chefs in the world. We took a peak in Alain Ducasse (the restaurant, not the chef himself), and the decor is exquisite. It is inspired by the Salon de la Paix at the Château de Versailles – and the restaurant certainly looks fit for a king! It is the perfect elegant setting for a 3-Michelin Starred dining experience.
Ducasse also oversees the food at Le Dalí. Le Dalí is a bit more casual, but it is still a great way to experience the atmosphere and cuisine of Le Meurice at a more reasonable price than dinner at Alain Ducasse (which is 380 Euros for the tasting menu)!  The restaurant was named for Salvador Dalí, who was a regular at the hotel.  That is one of the amazing things about Le Meurice – history around every corner.
And now for the good part – the food!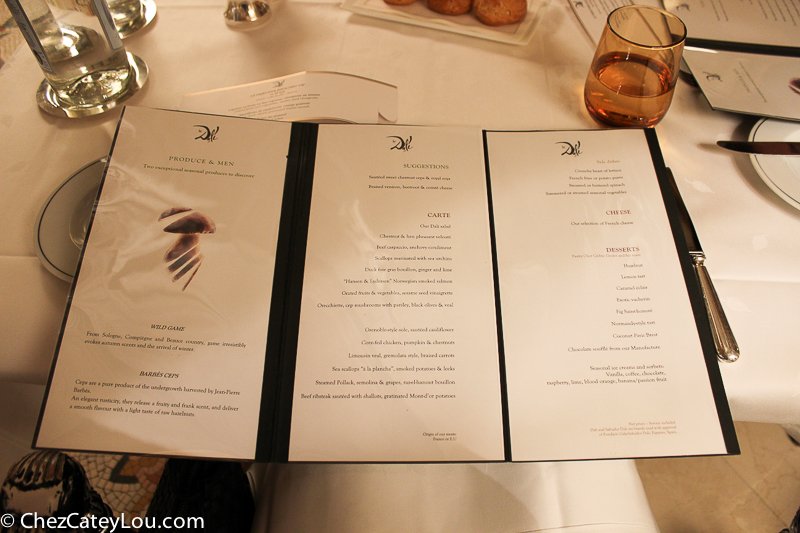 The meal starts off in a very French fashion with gougères, a French cheese puff . I can not resist a good gougère! They are light and airy and yet still so buttery and rich. I could have eaten a whole plate full, but I'm glad I saved room for the rest of the meal, which included: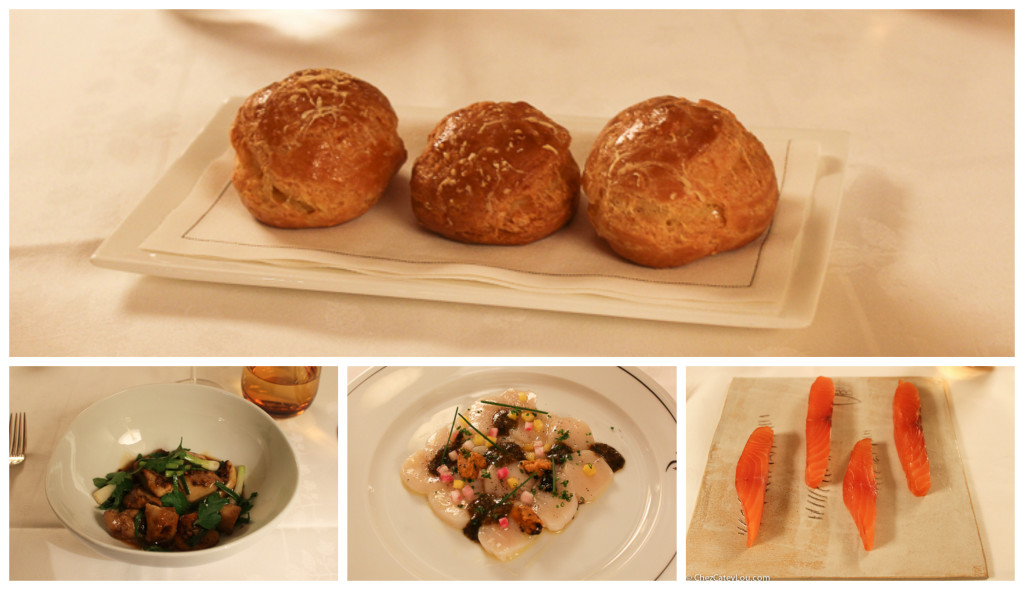 Forest Mushrooms – a special for the day
Scallops marinated in Sea Urchin
Smoked Salmon – 4 different types presented in a minimalist and beautiful fashion
They were all absolutely delicious!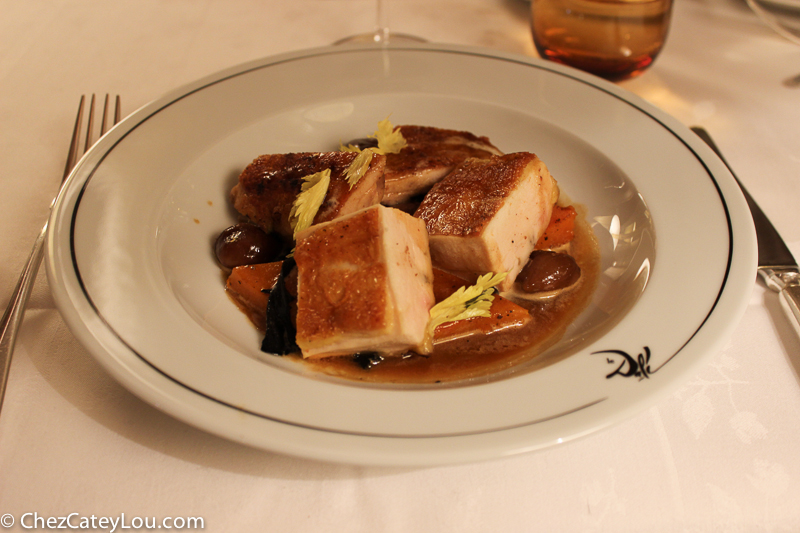 For my main course, I ordered Chicken with Pumpkin and Chestnuts.  The chicken was so flavorful, and just look at that crispy skin!  I loved the fall accompaniments – it was a really well executed dish.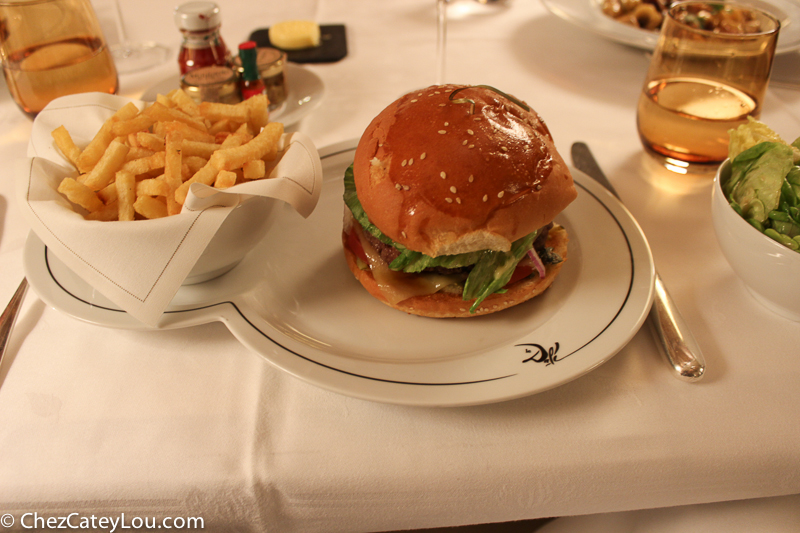 TheBetterHalf decided to order the off-menu burger for his main course, after reading an article online that said Le Dalí serves one of the best burgers in the world. Unfortunately, the burger did not live up to our expectations. While the meat was good, the bun was not sturdy enough for the large patty and this burger quickly became and fork-and-knifer. If you are absolutely craving a burger, then go for it but I have to say it was our least favorite course of the day. However I do love the fact that you can order off-menu and they will accommodate you with no problem. But, I would stick to the menu here because they know what they are doing…everything else was phenomenal.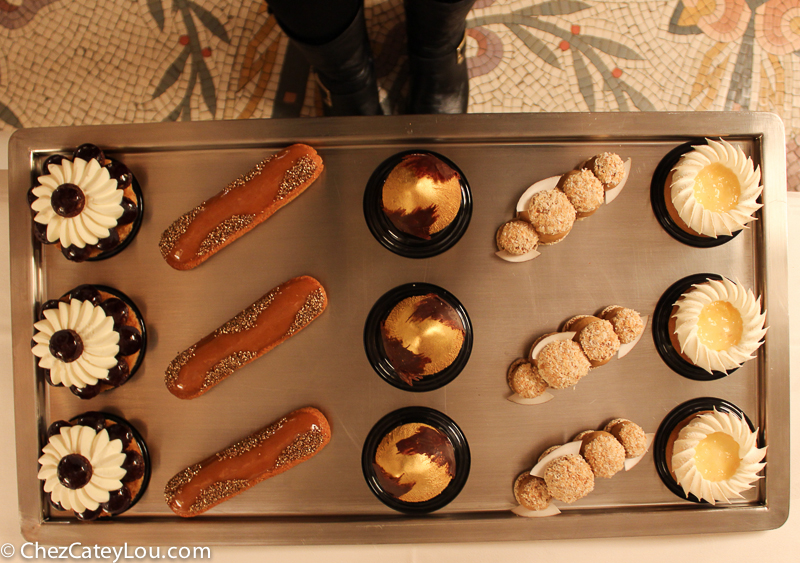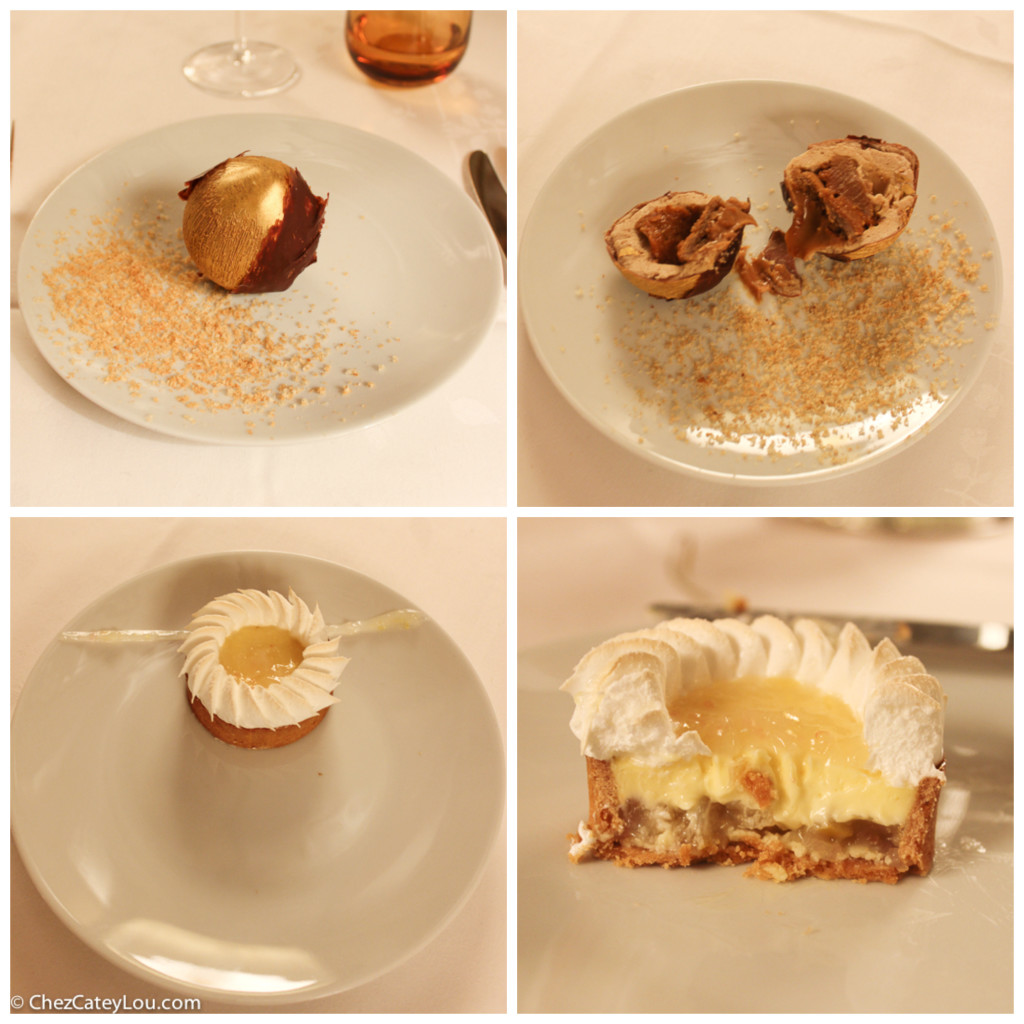 Make sure you save room because you do not want to miss dessert at Le Dalí. The pastries here are exquisite – so gorgeous and so delicious. It was agonizing to choose but I finally selected a chocolate hazlenut bon bon, decorated with edible gold, and TheBetterHalf chose a lemon tart.  It was the perfect ending to an incredible lunch.
Also, we absolutely loved Bar 228 at Le Meurice. The atmosphere is so cozy yet sophisticated. It is the perfect way to escape from the hustle and bustle of the city for a few moments.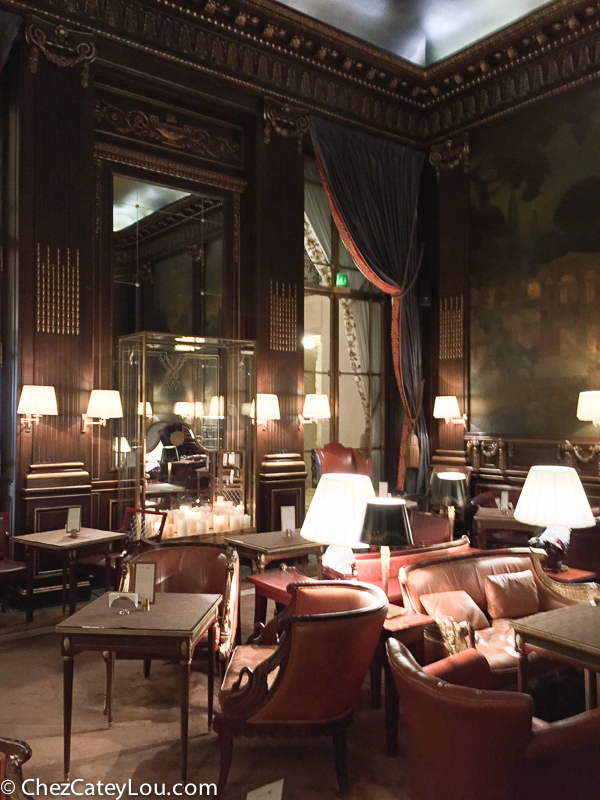 The service at the hotel is clearly top notch. Every person we came into contact with could not have been more accommodating.
So the next time you find yourself in Paris, make sure Le Meurice is on your list – if not for an overnight stay, than for a delicious meal at Le Dalí or a fun cocktail at Bar 228.
Le Meurice
228 Rue de Rivoli / Paris, France 75001
t: +33 1 44 58 10 10
Follow Chez CateyLou around the internet!
Pinterest | Instagram | Stumble Upon
Read more tips about what to do and what to eat in Paris here and here.