After spending a few incredible days in Paris, Cate and I finished our most recent European excursion in Brussels, Belgium.  Remarkably, Brussels is only an 80 minute train ride from Paris.  It is the capital of the European Union and, more importantly for our purposes, home to all four major food groups – french fries, waffles, chocolate and beer (I was never good at that food pyramid thing).
Hotel Amigo:  Cate and I stayed at the Hotel Amigo which is located a stone's throw  (I have a good arm) from La Grand-Place.  The Hotel Amigo is part of the Rocco Forte hotel chain. The location is really unbeatable and our room was rather large for a European hotel.   We booked the hotel through WhataHotel.com – one of our favorite sites for booking hotel rooms. Their rates are competitive with the traditional travel search engines (Expedia, Orbitz, etc.) and often include great perks that are usually reserved for neighborhood travel agents.  For example, our rate included a room upgrade (subject to availability), daily breakfast, and a food and beverage credit.
La Grand-Place: La Grand-Place serves as the town center and main tourist attraction in Brussels.  It is visually stunning – the square is enclosed by ornate buildings on all four sides.  Throughout the year the city of Brussels puts on different events in La Grand-Place; including a "flower carpet" in the summer and a Christmas display every winter.  Luckily for us, we were in town for the opening of their Christmas setup, which included a giant Christmas tree, a life-size nativity scene complete with live goats, sheep, and other miscellaneous livestock (really), and a laser light techno show at night (click here for a short video).  Because what says the birth of Jesus like flashing lights and Daft Punk?  Joking aside, it was truly a sight to see.
Place du Grand Sablon and Christmas Market:  Another must see attraction in Brussels at Christmastime is the Place du Grand Sablon.  The Place du Grand Sablon is home to many of Belgium's most famous chocolatiers (Godiva, Neuhaus, Leonidas, and Pierre Marcolini)  Can you think of any food obsessed blogger who this might appeal to? 
During the Christmas season the center of the Place du Grand Sablon turns into a Christmas Market.  Although there are some Christmas Markets in America, they are more popular in Europe and are basically pop-up street markets where vendors sell various Christmas related goods.  They're very cool to see; even though I'm pretty sure every stand is operated by Gepetto from Pinocchio.
If that's not enough, on the opening weekend – when we were lucky enough to be in town – there is live music, additional food and drink vendors, and best of all, the surrounding stores stay open late and put on their own holiday parties.  And yes, that includes all the chocolatiers.  Nothing puts you in the Christmas mood like walking through store after store of wall-to-wall chocolate and munching on free samples.
Our favorite chocolate shop was Pierre Marcolini.  Not only was the chocolate incredible; but Pierre himself was stationed by the door greeting guests as they came into his store.  He seemed like a great guy (I guess working with chocolate for a living will do that to you) and was more than happy to take a picture with us.
Though Pierre Marcolini was our favorite chocolate shop, honorable mention goes to Patrick Roger.  Patrick – a French chocolatier operating on enemy turf – was also working in his shop during the Christmas festival.  His chocolate was definitely as much art as it was food – I absolutely would have stolen these giant chocolate penguins if they would have fit in my checked bag.
Now onto some food:
Maison Antoine: If fries (or frites) are the cheesesteaks of Brussels (something no one has said until now), then Maison Antoine is totally Pat's Steaks (or Geno's, if you prefer). It's a tourist magnet, it's located inconveniently far away from the city center, and if you ask locals you'll get a million opinions ranging from "best ever" to "awful tourist trap."  Considering Cate and I are French fry connoisseurs, we had to give it a try.
After a brisk walk through the rain, we arrived at Maison Antoine, which is less of a "maison" and more of a kiosk…exactly like Pat's Steaks.  Fries can be ordered in two sizes and then topped with one (or more) of about a dozen toppings. Based on the recommendation of the fry guy working the window we ordered a tarter and a remoulade sauce.  The fries themselves were pretty good – nice crisp on the outside but soft on the inside. They were a little shorter and thicker than my favorite frites in America but this was true with all the fries we tried in Paris and Brussels.  I guess I just have a preference for long, thin-McDonald's style fries (I blame Grimace).  The sauces were both good and I was surprised by how much I liked the tarter sauce on fries.
One other thing worth noting is that because Maison Antoine is a food stand, there's nowhere to eat your giant serving of fries.  Luckily, there are several bars nearby that allow you to bring in your fries so long as you order a beer or two (which trust me, you'll want to do anyway).   So even though we weren't blown away by their fries, you could do a lot worse for a mid-afternoon snack than a heaping helping of fries and some delicious Belgian beers.
Mer du Nord (Noordzee): If I had to recommend one "restaurant" to visit while in Brussels it would have to be Mer du Nord.  I put restaurant in quotes because Mer du Nord is really just a counter where people huddle together to eat delicious seafood in the rain (I quickly learned that it's never not raining in Brussels).  We stopped here for lunch on our second day in town and it was one of the best surprises of the entire trip.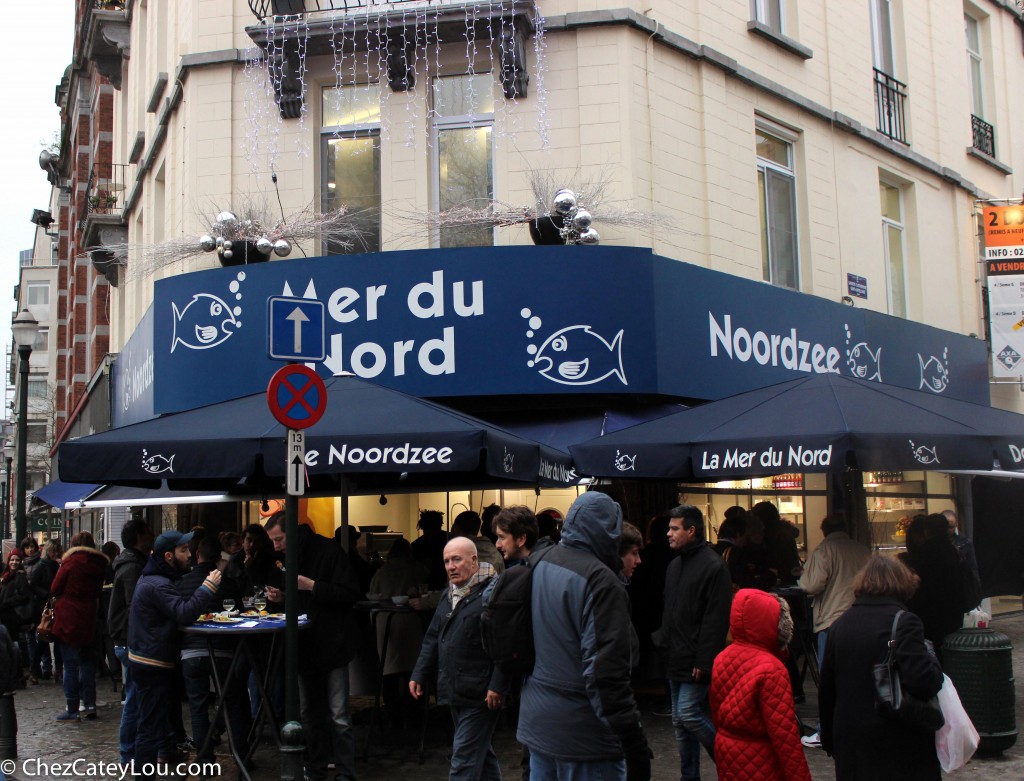 The ordering process is a bit intimidating but luckily we made a little room for ourselves at the counter and ordered some fried shrimp, fried cod fish, and two seafood cakes. Everything was delicious. I don't always love fried fish but the batter was flakey and had a great seasoning on it.  And not everything was fried – I also saw delicious mussels and oysters going out to other diners, along with many "fish burgers."  If we had another day in town I definitely would have made a return trip to try out the rest of the menu.  Also, most items on the menu ranged from 4-10 Euros, so it's definitely the type of place to grab a few dishes and share.
Les Brassins – Les Brassins is a great Belgian style bistro located about 20 minutes (walking) from La Grand Place. It was heavily recommended on various Belgian travel and food blogs and it did not disappoint.
The cuisine at Les Brassins is heavy and hearty – I ordered the rabbit in cherry beer sauce and Cate had a Belgium beef stew, served with enough stomp to feed a football team.  The rabbit, which is their signature dish, was really great. The meat itself was flavorful and surprisingly tender and the cherry beer sauce was delicious.  I was worried it would be overly sweet but it was very well balanced. 
The prices were relatively reasonable (especially considering the portion size) and they had an excellent beer menu.  It's definitely a great option for anyone looking for a casual and authentic Belgian bistro experience.
Maison Dandoy – While we were mildly disappointed with Belgium's frites, they more than made up for it with their delicious waffles.  The Hotel Amigo is located across the street from the only Maison Dondoy location that makes fresh waffles.  It actually might be the best reason to stay at the Amigo.
Maison Dandoy is known for their baked goods – especially their cookies – but their waffles are the reason this is a must visit on any trip to Brussels.  Maison Dandoy makes two different types of waffles – a Brussels waffle, which is light, crispy, and rectangular, and the Liège waffle, which is richer, denser, sweeter than a Brussels waffle and does not have defined edges. While the Brussels waffle is reminiscent of a Belgian waffle you could get in America, the Liège waffle is operating on an entirely different plane. It is so rich in flavor and is perfect topped with some powered sugar (or rich Belgian chocolate…). After knowing these waffles exist, I don't know how I can go back to regular Belgian waffles, or even worse, Eggos! So America, get on making Liège waffles a thing.
Delirium Café and Taproom: A few blocks off the Grand Place is the Delirium fortress. It's much more than just a café (even if is a café boasting the biggest beer selection in the world). There are three separate floors of beer – each with their own theme. The top floor focuses on micro brews, the middle floor is a taproom that has over 20 beers on draft, and the bottom floor is the world-renowned café.
I mention this now because upon arriving  Cate and I headed straight to the taproom (which is on ground level). The taproom didn't have a ton of character and even worse, the beer selection wasn't noticeably larger than anywhere else in town.  I'm not one to complain about beer – but I wanted to review the list of 3,000 beers (before predictably settling on something I've had before).  So after enjoying a beer at the bar I asked the bartender to see the bottle list. It was at this point that we realized that we weren't even at the famous café.  We closed our tab and moved downstairs to find the much more charming Delirium Café.
The beer list at the café is certainly impressive.  It's about the size of a phone book and features a short write up on most of the beers in stock.  I've heard that the café gets crowded at night but we went around happy hour and were able to snag a table.  The bartenders are friendly and the atmosphere is about as jovial as you'd expect from a place filled with tourists looking to make their way through three thousand different types of beers.  You could grab a delicious beer anywhere in Brussels, but if you're in the area the Delirium Café is worth a visit.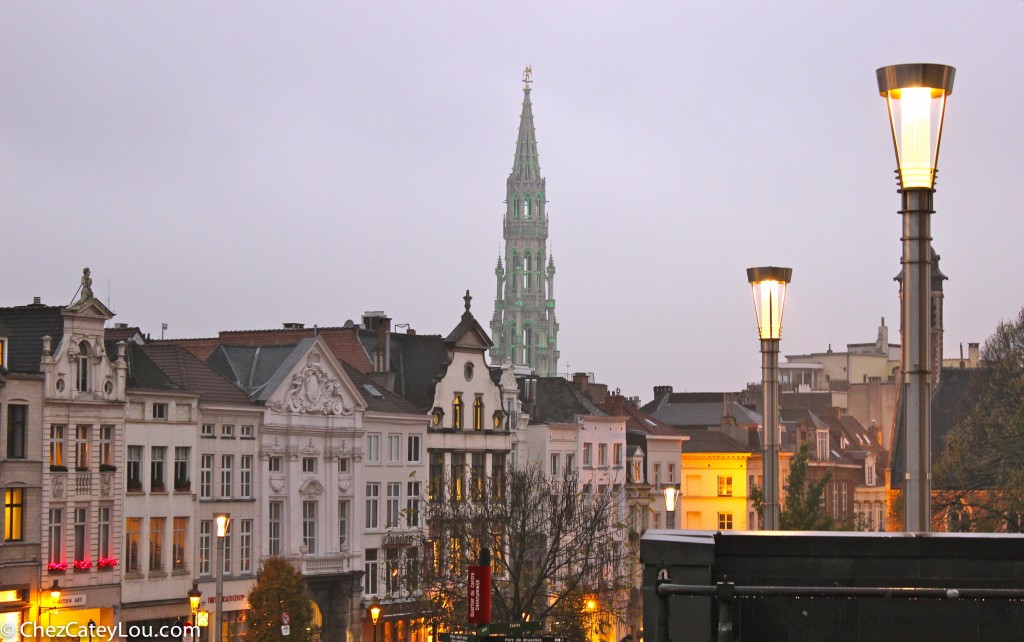 Even though we were only in town for a few days, Cate and I really enjoyed our time in Brussels.  It's a relatively manageable city for tourists – there's many attractions within walking distance from La Grand-Place – with great food (those waffles…) and abundant beer.  It's also a great city to visit around Christmas.  Seeing the crazy Christmas-themed light show in La Grand-Place and the visiting the numerous Christmas Markets were truly memorable experiences.  And did I mention the waffles?