Le Dalí restaurant, overseen by Alain Ducasse, is the perfect spot for a delicious lunch in Paris. It is in Le Meurice, a gorgeous hotel located in the 1st arrondissement.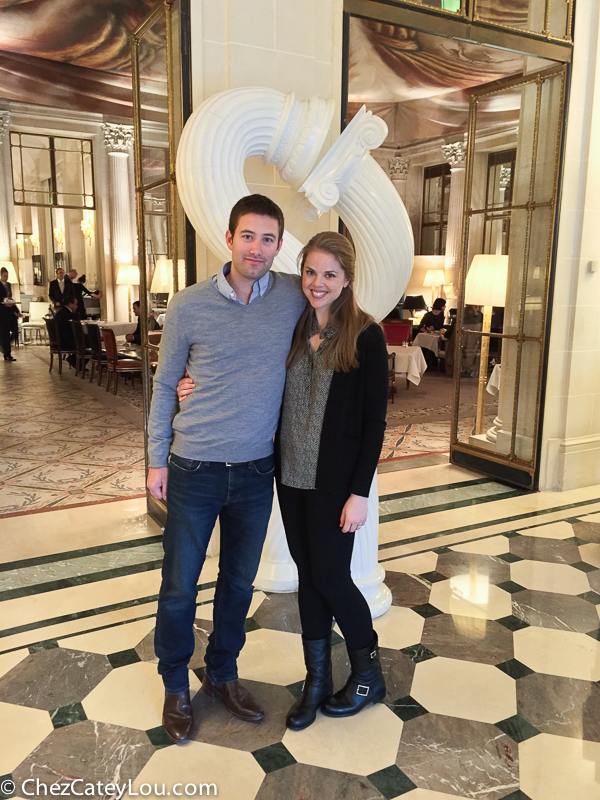 Paris is full of amazing 5 star hotels. It seems that everywhere you turn, there is a gorgeous hotel full of history. And one of the best is Le Meurice.
You can't beat the location of Le Meurice. It is in the heart of Paris in the first arrondissement right across the street from the Tuileries Garden – which means it is just a stone's throw from the Place Vendome and the Louvre.  Le Meurice dates back to 1771, but was redesigned by Philippe Starck in 2007.  The famed designer added a great modern chic aesthetic while still keeping some of the 18th century opulence.  It is one of the most elegant hotels in the world, and is frequented by celebrities.  In fact, it was featured in a Jay-Z and Kayne West song, the title of which may be too hot for little ol' ChezCateyLou (…Le Meurice for like 6 days, gold bottles, scold models, spilling Ace of my sick J's…).
The hotel is absolutely gorgeous. The rooms look amazing and I hope I get to stay there someday, but it is a bit out of our price range right now! However even if it isn't in the cards for you either, you can still experience the glam and luxury of Le Meurice with a fine dining experience at Alain Ducasse, a delicious meal at Le Dalí , or a sophisticated yet cozy drink at Bar 228.
…