Orange Chocolate Chip Yogurt Muffins are so moist thanks to a cup of Greek yogurt in the batter! The citrus flavor tastes amazing with the chocolate!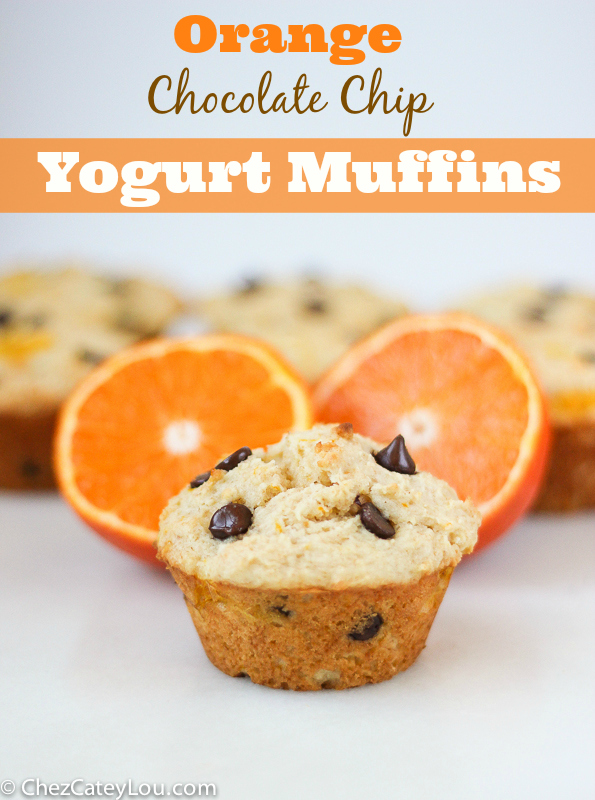 I think I might have spoiled TheBetterHalf with all of the baking I do. Let me explain…we almost always have something for him to bring to work for breakfast. I package up muffins and breads and donuts in packs of two and pop them in the freezer so that he can grab one each morning on his way out the door. However I haven't been baking as much recently and was out of town last weekend, so our frozen baked good reserves are totally depleted! He was actually complaining (jokingly, of course) that he had nothing to bring for breakfast!! Spoiled. So spoiled. I kindly reminded him that there are markets / bodegas / coffee shops on nearly every corner in NYC and that they all have a lovely selection of breakfast items. But it did lead me to make some muffins this past weekend to keep him happy – Orange Chocolate Chip Yogurt Muffins! And I'm really not complaining – I love having someone enjoy my baked goods!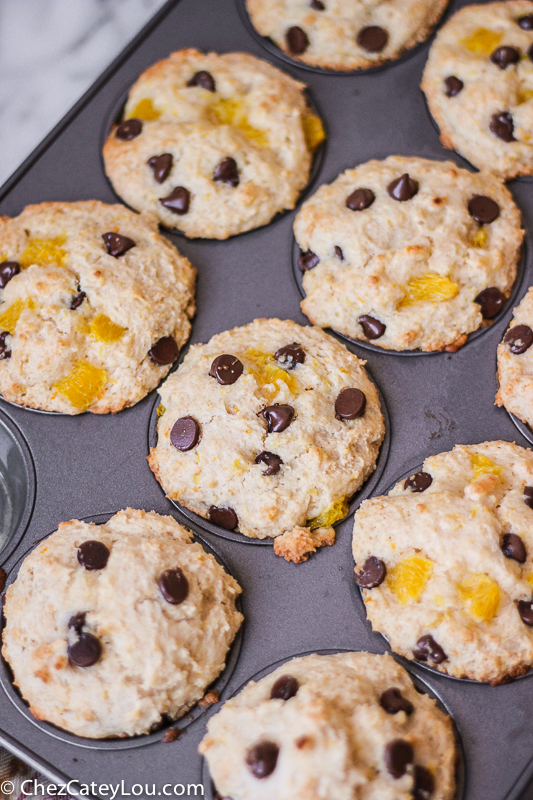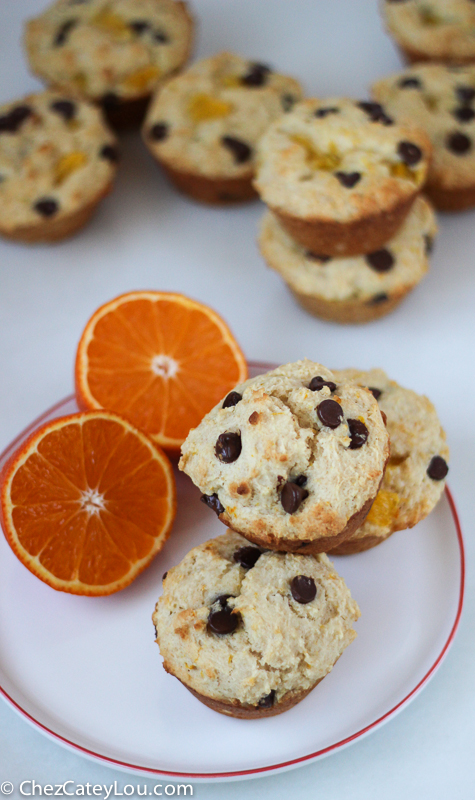 When I woke up on Saturday, I really wanted to make muffins – both for us to eat that morning and to stock the freezer for the prince (I might change TheBetterHalf's name to ThePrince). However I had not gone to the market all week so had no milk or buttermilk! Luckily, I almost always have yogurt in the fridge, so I decided to make yogurt muffins, using only Greek yogurt and a bit of orange juice for the liquid. The results were wonderful! These muffins are so moist, and I love the combo of the orange with the chocolate.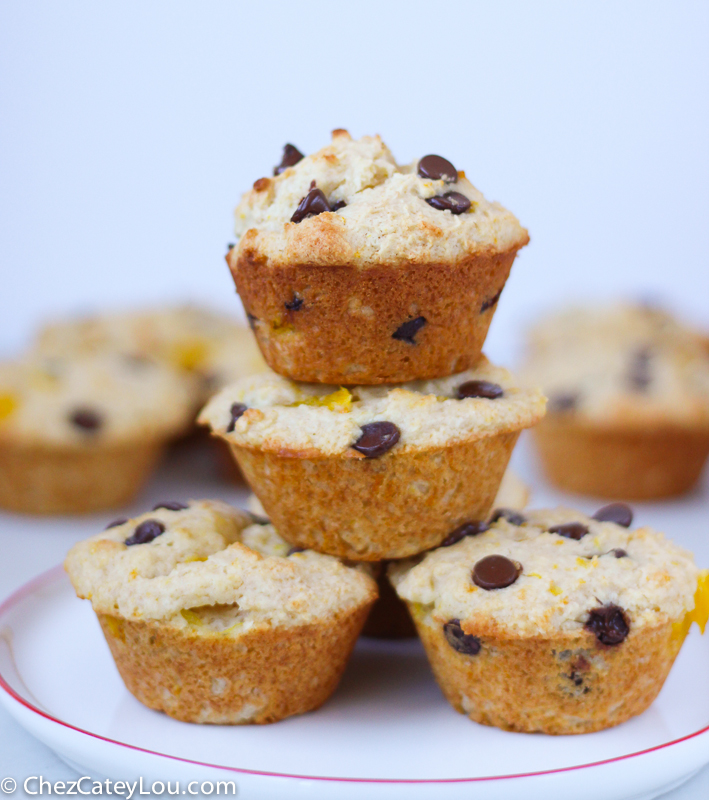 I made orange muffins last year, but I have never put actual orange segments in a muffin. I got the idea from my friend Allie from Baking a Moment. She made the most gorgeous blood orange mini muffins with pieces of orange in the batter – such a genius idea!
The key to putting pieces of orange in a muffin is to supreme the orange – this means removing all the membrane from the orange. You do this by cutting all the peel, including the white pith, off the fruit with a sharp paring knife. Then carefully cut out each section of the fruit by cutting each segment on either side of the membrane. Each wedge should fall out, and then I sliced the wedges into smaller pieces for the muffins. It is a little bit of work, but it is totally worth it. Make sure to supreme the orange over a bowl to catch all the extra juice!
Each little orange piece is a burst of flavor in the muffin!  I also used orange juice and zest in the yogurt muffins to maximize the citrus flavor.  And then I had to add some chocolate chips – I love chocolate and orange together!  And TheBetterHalfPrince loves chocolate in his muffins 🙂 He has been a happy guy this week, having delicious yogurt muffins to bring for breakfast.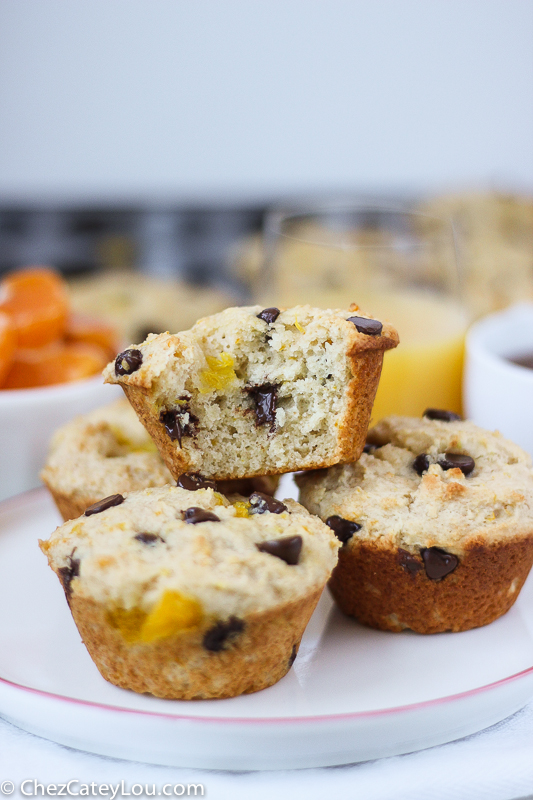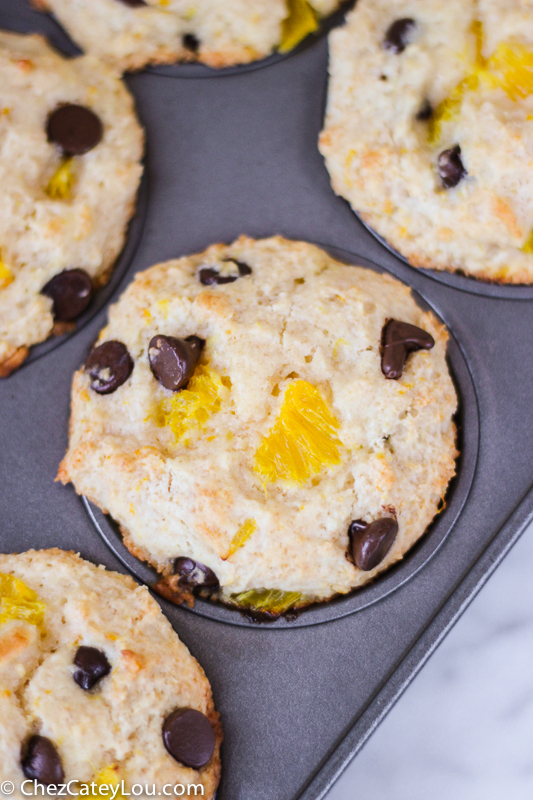 Orange Chocolate Chip Yogurt Muffins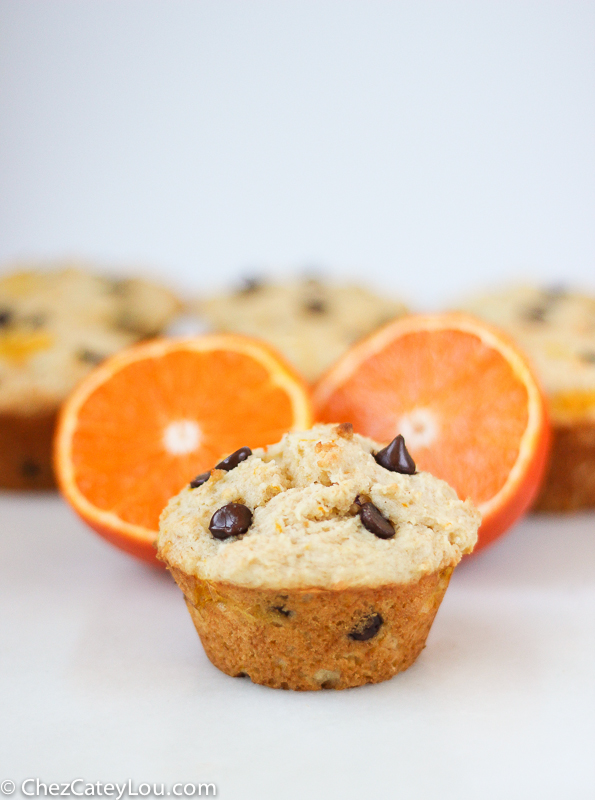 Orange Chocolate Chip Yogurt Muffins are so moist thanks to a cup of Greek yogurt in the batter! The citrus flavor tastes amazing with the chocolate!
Ingredients
1 1/2 cups flour
1/2 cup whole wheat pastry flour (or use all-purpose flour instead)
1 Tablespoon baking powder
1/2 teaspoon salt
1 egg
3/4 cup sugar
6 Tablespoons butter, melted and cooled
1 cup Greek yogurt
1/2 teaspoon vanilla
2 Tablespoons freshly squeezed orange juice
Zest from one orange, about 1 teaspoon
1 cup orange segments, cut into small pieces
1/2 cup chocolate chips
Instructions
Preheat oven to 375 degrees F. Spray a 12-count muffin tin with nonstick cooking spray.
In a medium bowl, whisk together flours, baking powder, and salt.
In a large bowl, whisk together egg, sugar, and melted butter until well combined and light in color. Add the yogurt, vanilla, and orange juice and whisk until well combined. Stir in the orange zest.
Add the dry ingredients to the wet ingredients and stir until just combined. Fold in the orange pieces and the chocolate chips.
Spoon the batter evenly into the muffin tins. Bake for 15 - 18 minutes, until light golden brown on top and a toothpick inserted into the muffin comes out with a few moist crumbs.
https://chezcateylou.com/orange-chocolate-chip-yogurt-muffins/
© Chez CateyLou. All images & content are copyright protected. Please do not use my images without prior permission. If you want to republish this recipe, please re-write the recipe in your own words, or link back to this post for the recipe.
Follow Chez CateyLou around the internet!
Pinterest | Instagram | Stumble Upon
More orange recipes!
Cara Cara Orange Strawberry Coconut Smoothie