Cara cara orange zest is stirred into mini muffins, and then the juice is mixed with brown sugar and poured over the warm muffins. These are so flavorful and so good!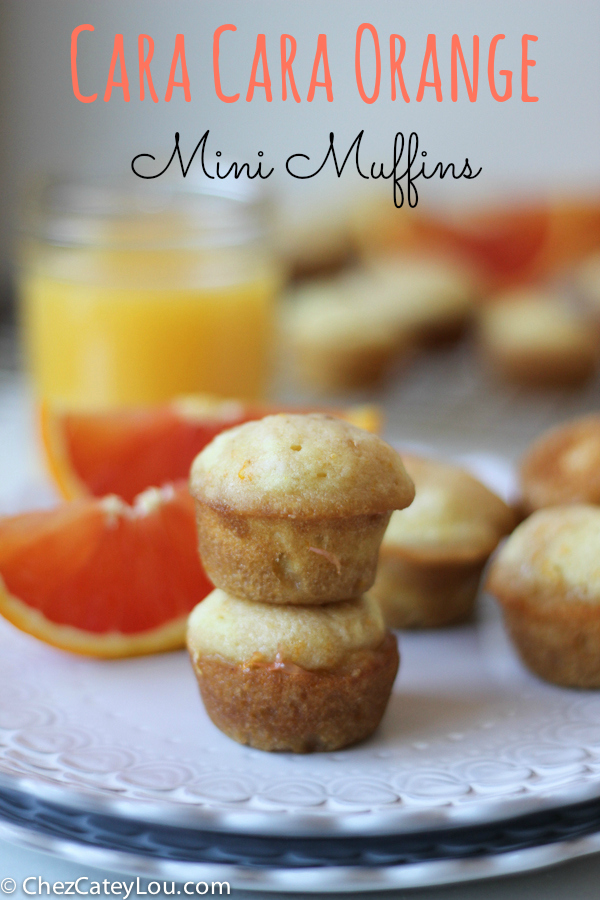 Have you ever made something, and then asked yourself, "Why have I not tried this before?!" That is exactly how I felt with these cara cara orange mini muffins. I have never baked with orange juice (or orange anything!) before, and I really have no idea why. I like oranges. They are pretty.  TheBetterHalf drinks orange juice almost every morning.  So why have I discriminated against this citrus fruit in my baked goods in the past? No clue.  These beautiful cara cara oranges are what prompted me to bake using oranges, and I am so thankful that they did – these muffins were SO good.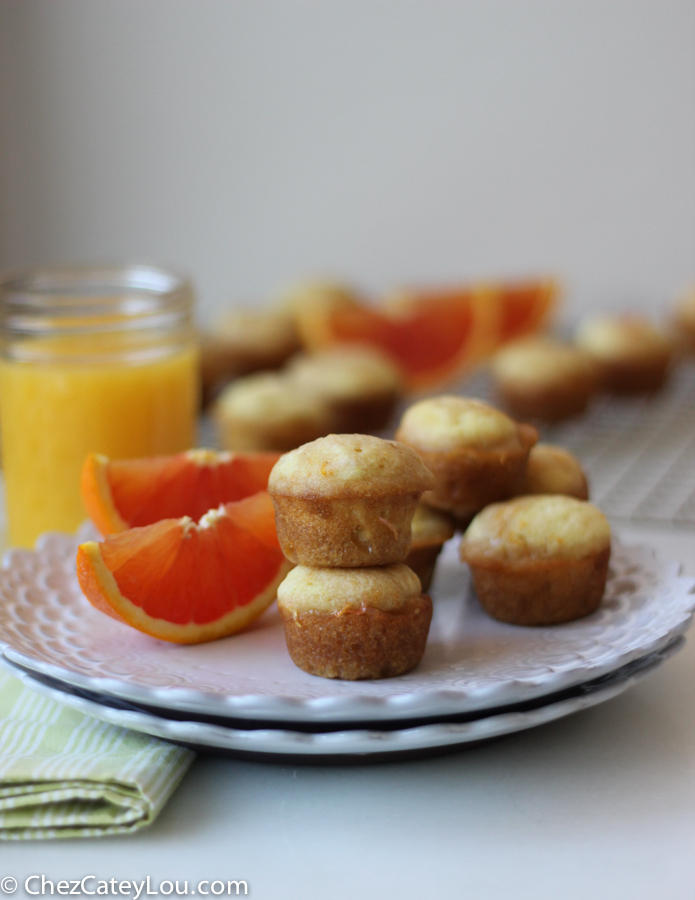 Really. They were soooo good. Maybe even better than these. Wow, I can't believe I just said that I prefer something fruity to something chocolate peanut buttery! But it is true. The cara cara orange mini muffins stole my heart.
And you know why? Because fresh cara cara orange juice is mixed with brown sugar and then poured over the warm muffins. Oh yes, it is every bit as amazing as it sounds!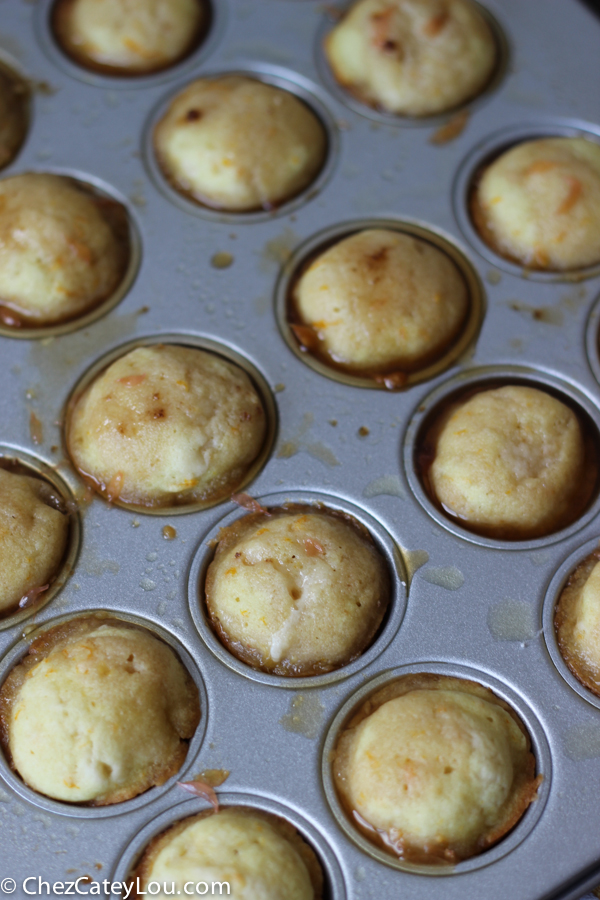 But first, a word about cara cara oranges. A cara cara orange looks just like a regular old naval orange from the outside, but when you cut into it, the flesh is pink! If blood oranges are the prettiest fruit, then cara cara oranges might be number two. Let's just look at how pretty they are: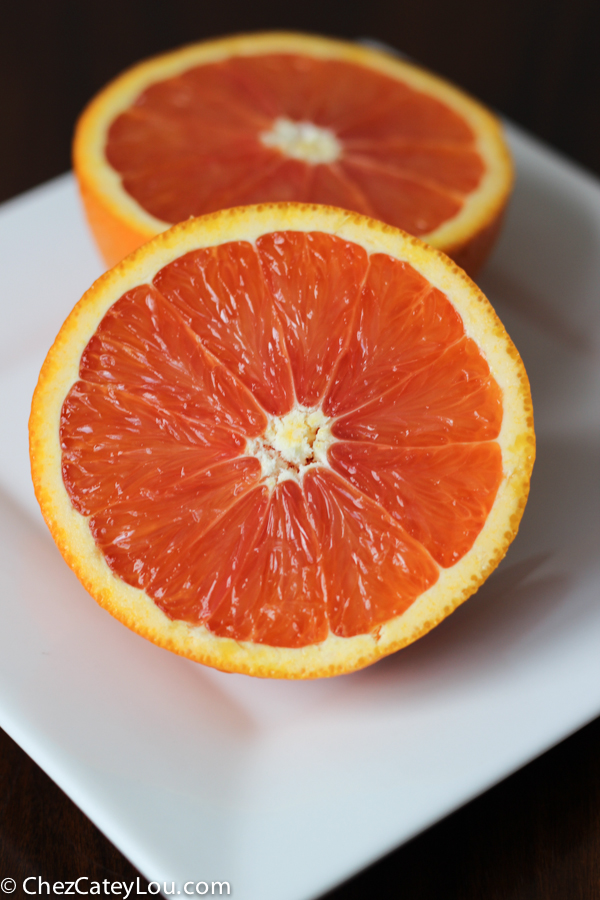 Stunning! And the flavor is actually slightly sweeter than a regular orange, making them perfect for baking. Plus, they are seedless! So awesome.  Although I am still unclear about how to pronounce cara cara orange.  Is it car-uh or care-uh?  I found both pronunciations on google!  Does anyone know the answer?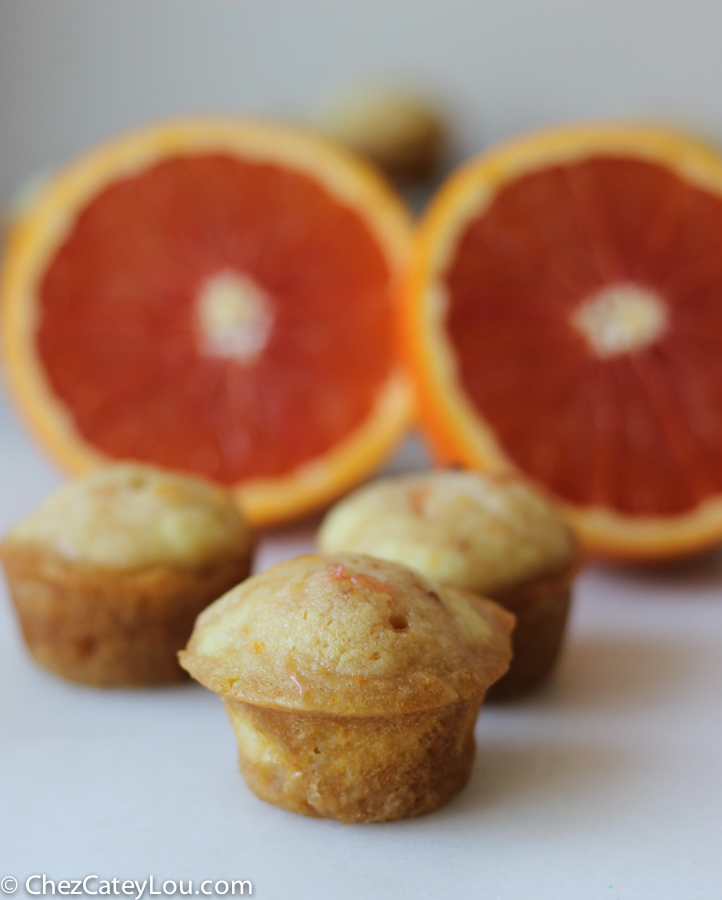 So back to the cara cara orange mini muffins – the muffins by themselves are pretty great. They are made with buttermilk, which is a secret ingredient that makes muffins so light and fluffy. There is lots of cara cara orange zest in the actual muffin, giving it an amazing flavor.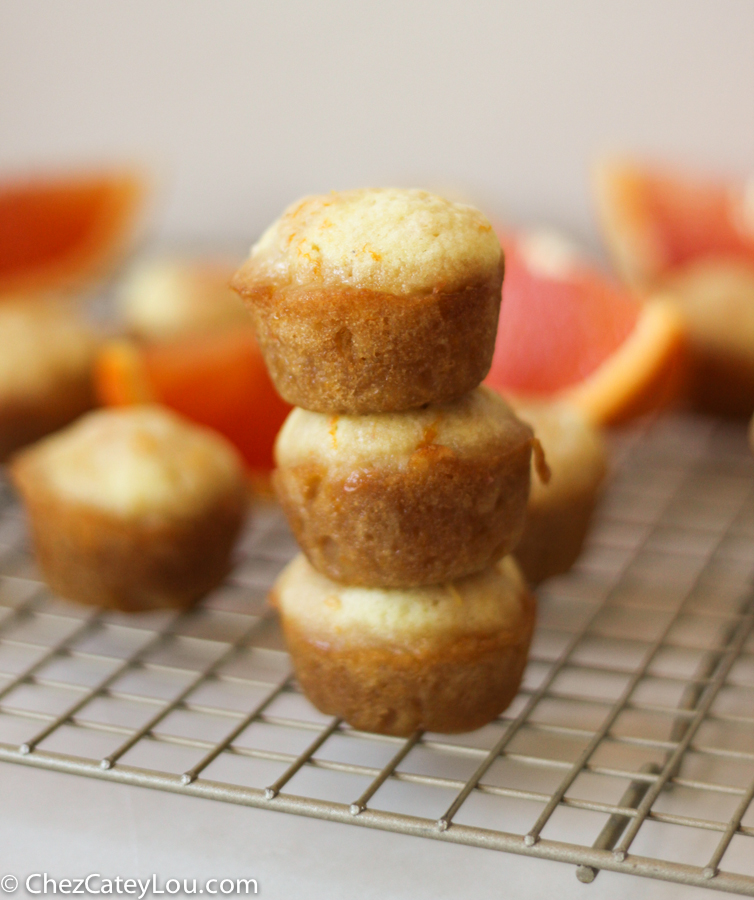 But what really sets these muffins apart is the brown sugar glaze!! You pour the orange juice brown sugar mixture over the mini muffins as soon as they comes out of the oven. The hot muffins are like sponges, and they soak up all that amazing flavor. Then when you pop a warm glazed muffin into your mouth – heaven! Seriously. SO good. You will have a hard time stopping yourself from just popping another muffin in your mouth! And these muffins are even great the next day. The glaze keeps them so incredibly moist.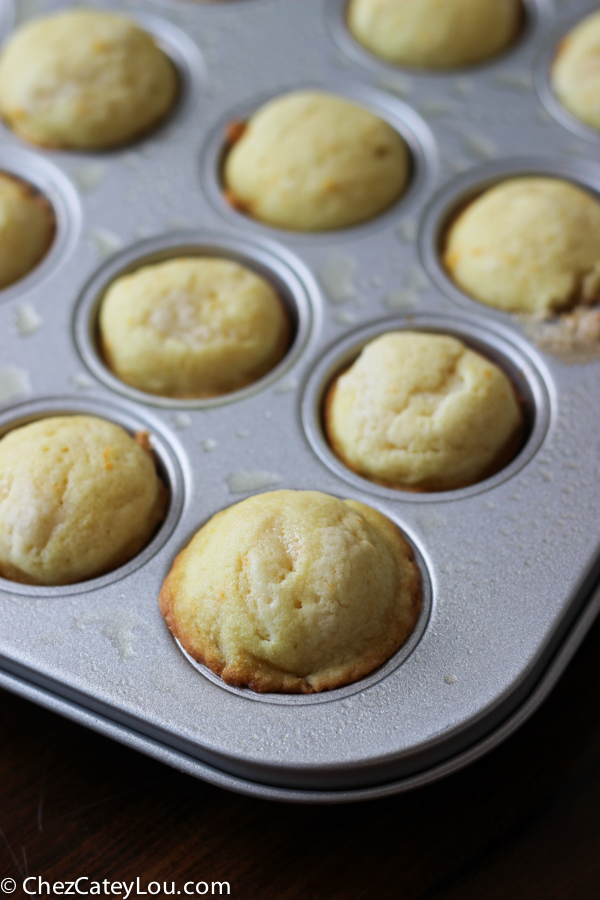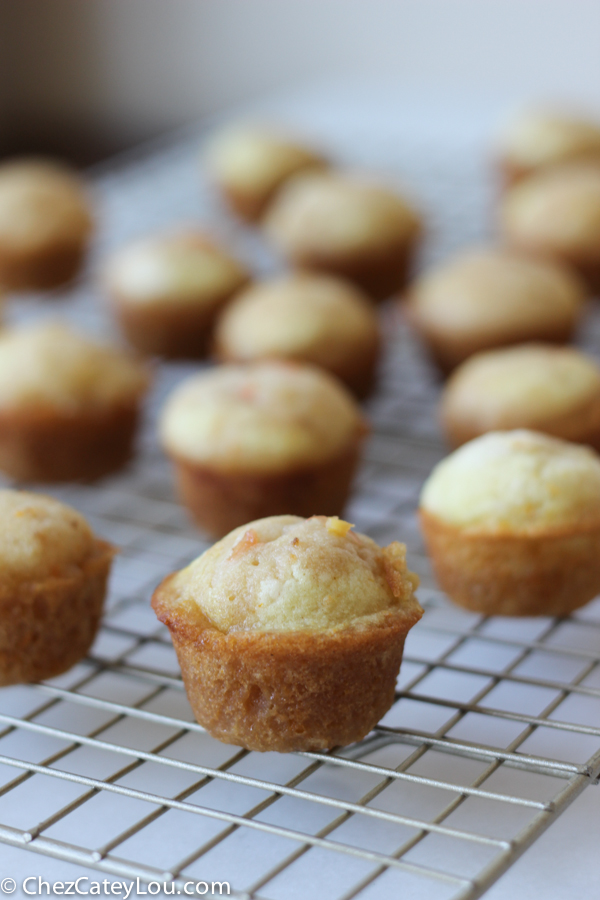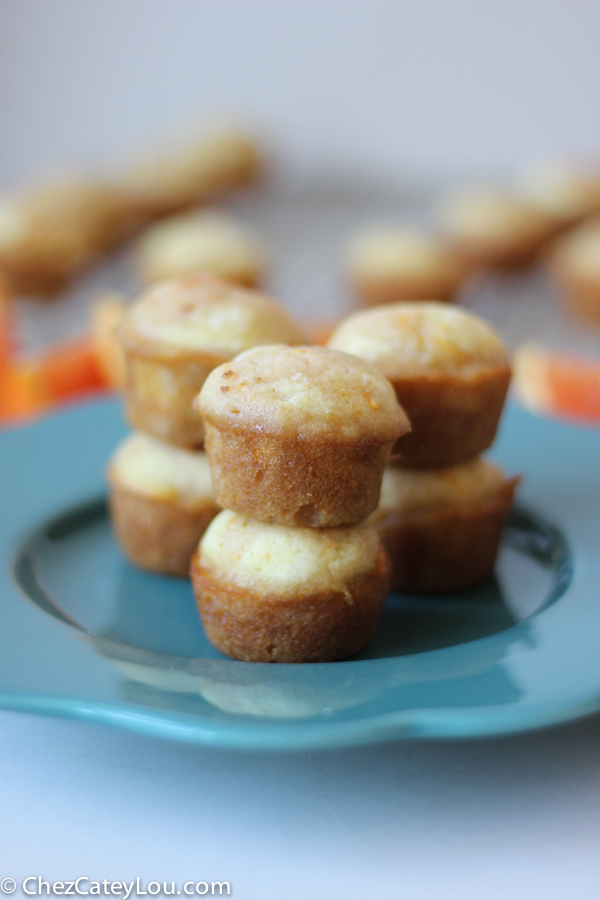 Cara Cara Orange Mini Muffins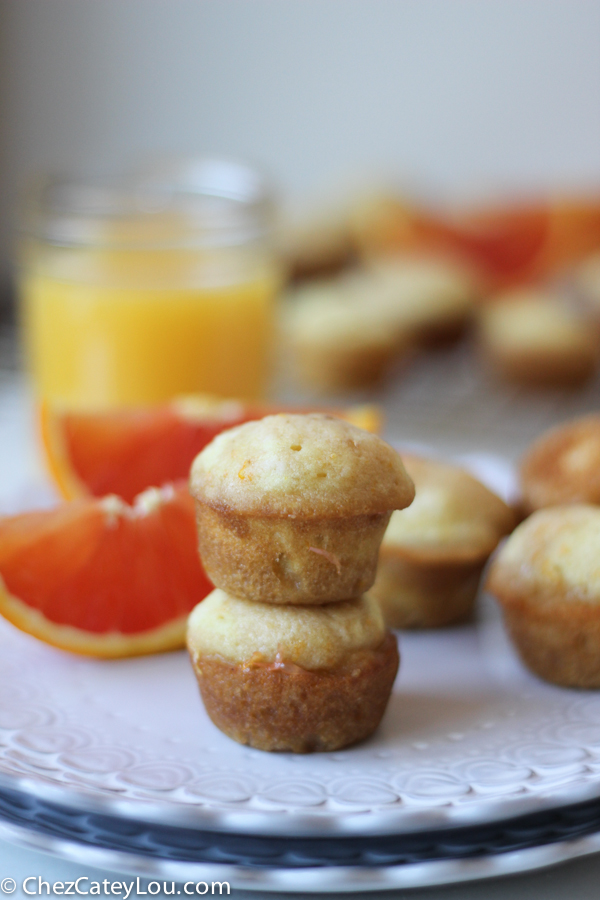 Cara cara orange zest is stirred into mini muffins, and then the juice is mixed with brown sugar and poured over the warm muffins. These are so flavorful and so good!
Ingredients
1 sticks salted butter, softened
1/2 cup white sugar
1 large egg
1 cup flour
1/2 cup buttermilk
1/2 teaspoon baking soda
1 cara cara orange, zested then juiced (yield about 1/4 cup)
1/3 cup brown sugar (lightly packed)
Instructions
Preheat oven to 375 degrees F. Lightly spray a mini muffin pan (or two, depending on the size) with nonstick cooking spray.
In a large bowl, cream together the butter and white sugar until the mixture is light and fluffy, about a minute. Add the egg, and mix until well combined, about a minute. Stir in the flour. Dissolve the baking soda into the buttermilk, then add to the batter along with the orange zest. Stir everything to combine, but do not over mix.
Spoon the muffin batter into the tin, filling the cups about 2/3 full.
Bake for 10 - 15 minutes, until the muffins are light golden brown.
Meanwhile, mix together the brown sugar and the cara cara orange juice, until the brown sugar is dissolved.
Remove the muffins from the oven, and drizzle the glaze over the warm muffins. Remove the muffins from the pan while they are still warm, and enjoy!
Notes
https://chezcateylou.com/cara-cara-orange-mini-muffins/
© Chez CateyLou. All images & content are copyright protected. Please do not use my images without prior permission. If you want to republish this recipe, please re-write the recipe in your own words, or link back to this post for the recipe.
Aren't mini muffins just the cutest? Try these recipes too!
Cinnamon Cookie Butter Mini Muffins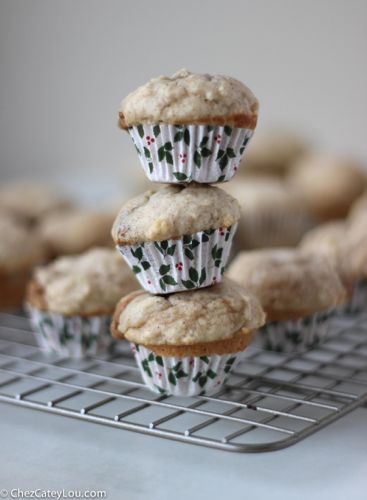 Mini Pumpkin Cinnamon Chip Muffins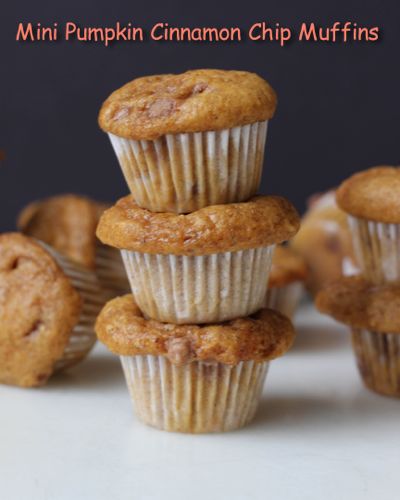 You could make these Peanut Butter Chocolate Chip Muffins mini!