Rich and creamy tomato vodka sauce is delicious and is so easy to prepare. Pasta with Vodka Sauce is a simple yet impressive dinner that is sure to be a crowd pleaser!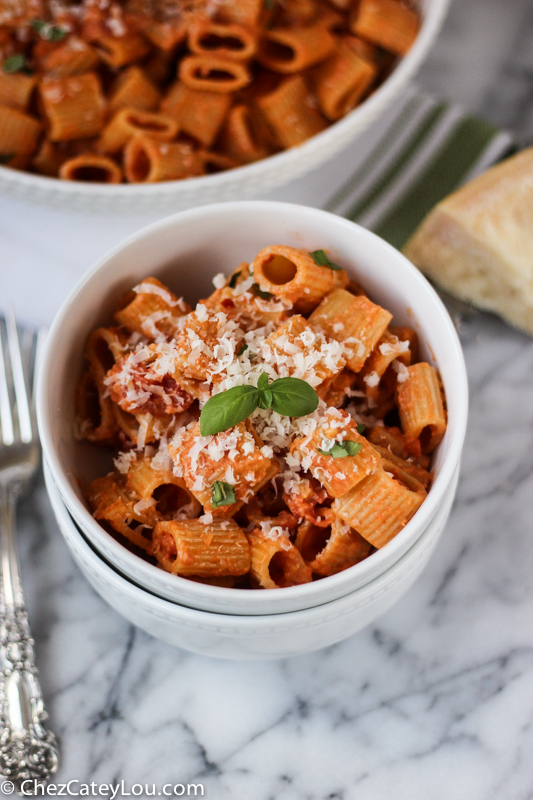 Mmmm pasta. Is there a better, more comforting meal than a giant bowl of pasta? I really don't think so. And one of my favorite toppings for pasta is a delicious vodka sauce. It is so rich and creamy and flavorful, and is surprisingly easy to prepare. In just about 20 minutes, you can have pasta with homemade vodka sauce on the table. What a great option for an impressive weeknight meal.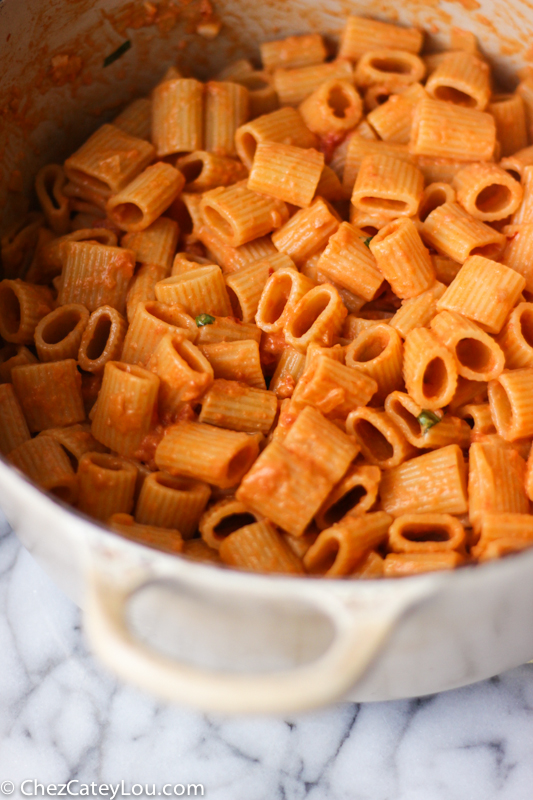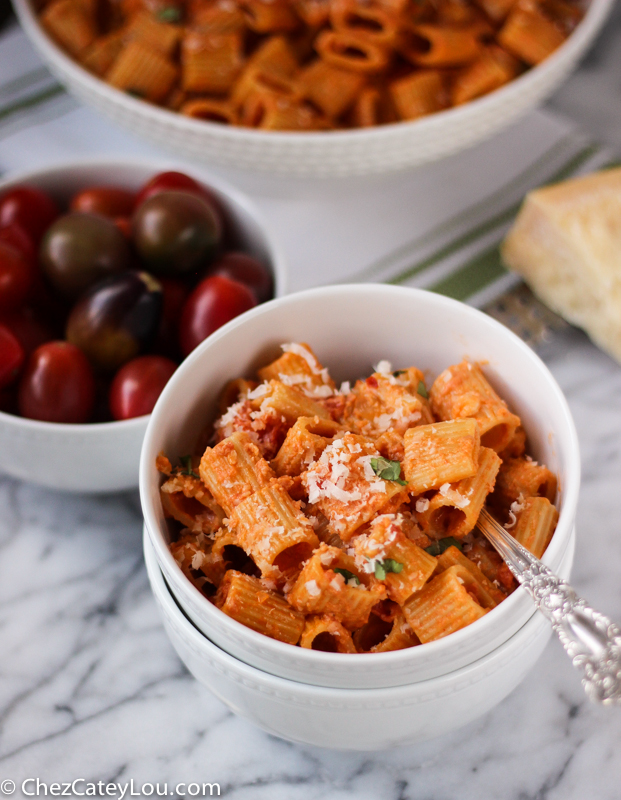 I am currently writing this post from an Amtrak train. TheBetterHalf and I are on our way to DC for our friend's wedding. I love taking the train in the fall – the colors of the leaves are just stunning and it is very peaceful watching them go by. What was not peaceful this morning was my experience of getting on the train. I of course needed to have Starbucks before the train ride, so TheBetterHalf  got on the train to save us seats while I got my caffeine fix. I somehow ended up entering the train platform from the wrong staircase and had to run down an up escalator. With two bags, and a cappuccino. It was not a pretty sight, but I made it in one piece!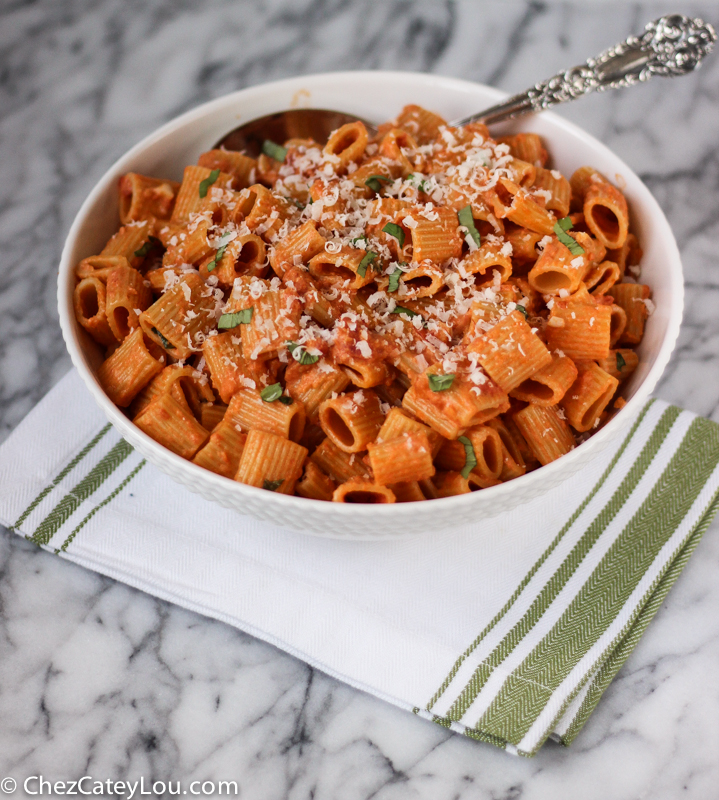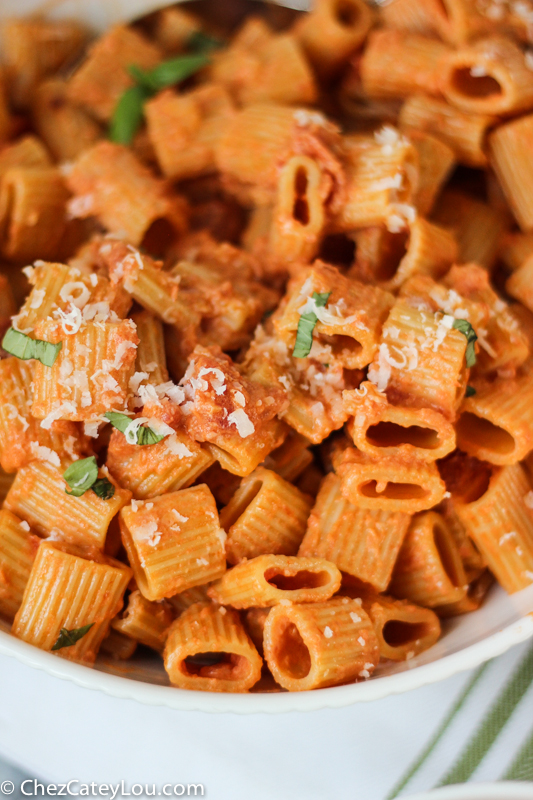 Anyway, back to pasta! I love tomato sauces for pasta – I can't resist a good marinara. Every once in awhile I love to splurge and add a little vodka and cream to my tomato sauce. A good vodka sauce is just so delicious! This sauce recipe is from Cook's Illustrated, my favorite source for amazing recipes.
Make sure to take your pan off the heat when you add the vodka – you don't want a fire show with your dinner. You can use any noodle you want for this pasta – I chose mezze rigatoni, but penne would be a great choice as well. This pasta with vodka sauce is the perfect comforting fall dinner, and is so simple to prepare!
Hope everyone has a  great weekend!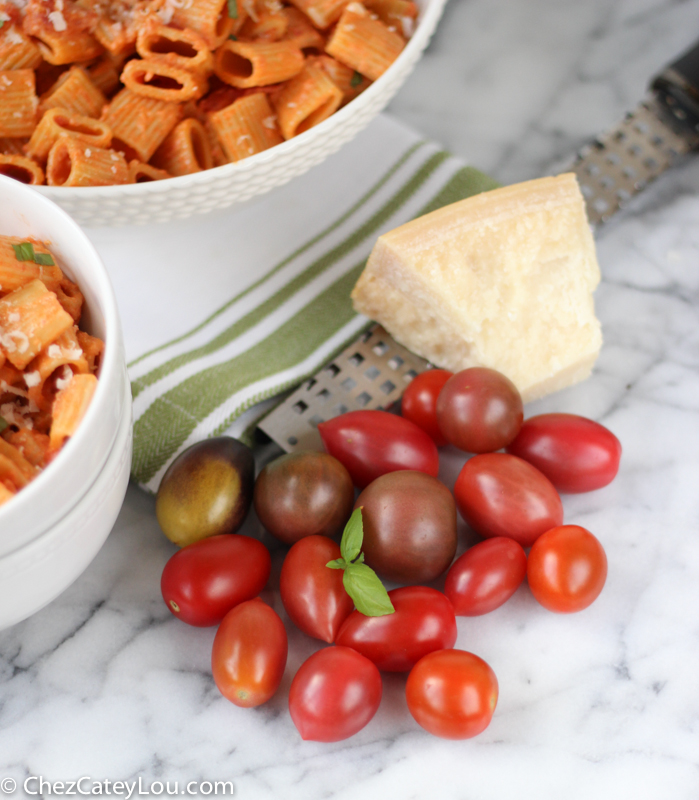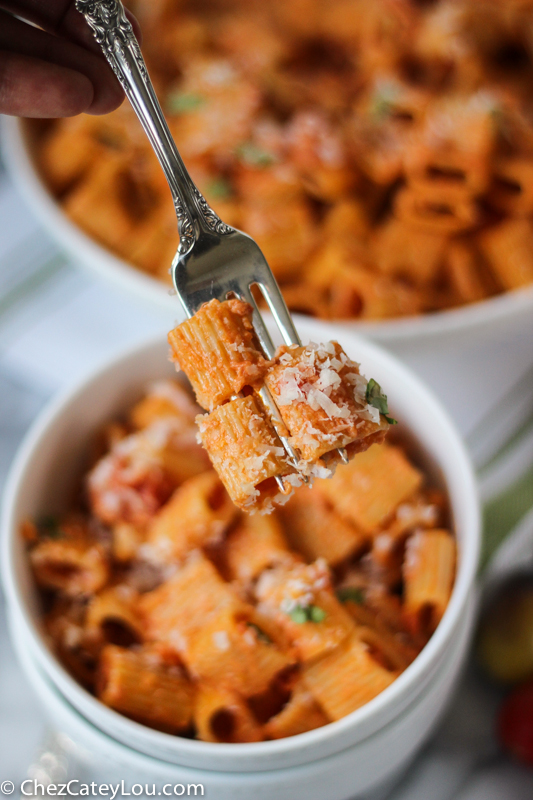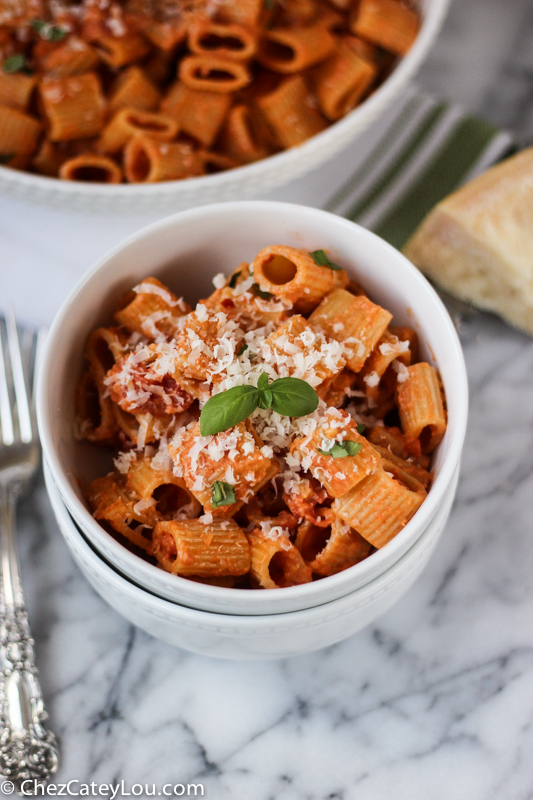 Rich and creamy tomato vodka sauce is delicious and is so easy to prepare. Pasta with Vodka Sauce is a simple yet impressive dinner that is sure to be a crowd pleaser!
Ingredients
1 (28 oz) can whole tomatoes, drained, liquid reserved
2 tablespoons olive oil
½ small onion, minced (about ¼ cup)
1 tablespoon tomato paste
2 medium cloves garlic, minced (about 2 tsp)
¼ teaspoon hot red pepper flakes
table salt
1/3 cup vodka
½ cup heavy cream
1 pound pasta. I used mezze rigatoni
2 tablespoons minced fresh basil
grated parmesan cheese, for serving
Instructions
Bring 4 quarts water to boil in a large pot over high heat.
Puree half of the tomatoes in a food processor until smooth. Dice the rest of the tomatoes into ½ inch pieces. Combine pureed and diced tomatoes in a liquid measuring cup and add reserved tomato liquid to reach 2 cups.
Heat oil in a large saucepan over medium heat. Add onion and tomato paste and cook, stirring occasionally, until onions are light golden around edges, about 3 minutes. Add garlic and red pepper flakes and cook, stirring constantly, for 30 seconds.
Add tomatoes and ½ teaspoon salt and stir to combine. Remove pan from heat and add vodka. Return pan to medium-high heat and simmer until alcohol flavor is cooked off, 8 – 10 minutes.
Meanwhile, right after you add the vodka, salt the boiling water and then add the pasta to the boiling water. Cook according to package directions, until just al dente. Reserve a cup of pasta cooking water before draining pasta.
Back to the sauce - after the alcohol flavor has cooked off the sauce, stir the cream into the sauce and cook for 1 minute.
Add drained pasta to the sauce and stir over medium heat for 1 – 2 minutes. If sauce is too thick, add some of the reserved cooking water. Stir in basil and serve, topped with parmesan cheese.
Notes
https://chezcateylou.com/pasta-vodka-sauce/
© Chez CateyLou. All images & content are copyright protected. Please do not use my images without prior permission. If you want to republish this recipe, please re-write the recipe in your own words, or link back to this post for the recipe.
Quinoa Salad with Asparagus and Tomato in a Basil Vinaigrette