Salty, crispy bacon is the perfect complement to a soft and chewy peanut butter cookie. It might sound strange, but it tastes amazing – a sweet & salty lovers' dream!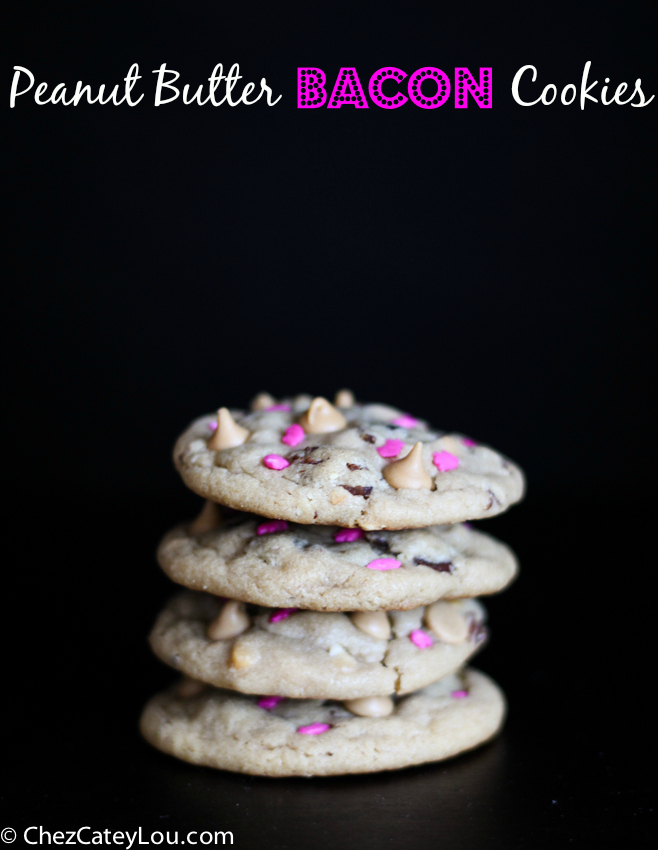 Oh yes, you read that title right. I put BACON. In cookies. And I loved it.
It might sound kind of strange to put everyone's favorite breakfast food in a cookie, but it really works – especially when the cookie is a peanut butter cookie! The sweet cookie with the slightly salty peanut butter and the super salty bacon is a sweet & salty lovers' dream combo!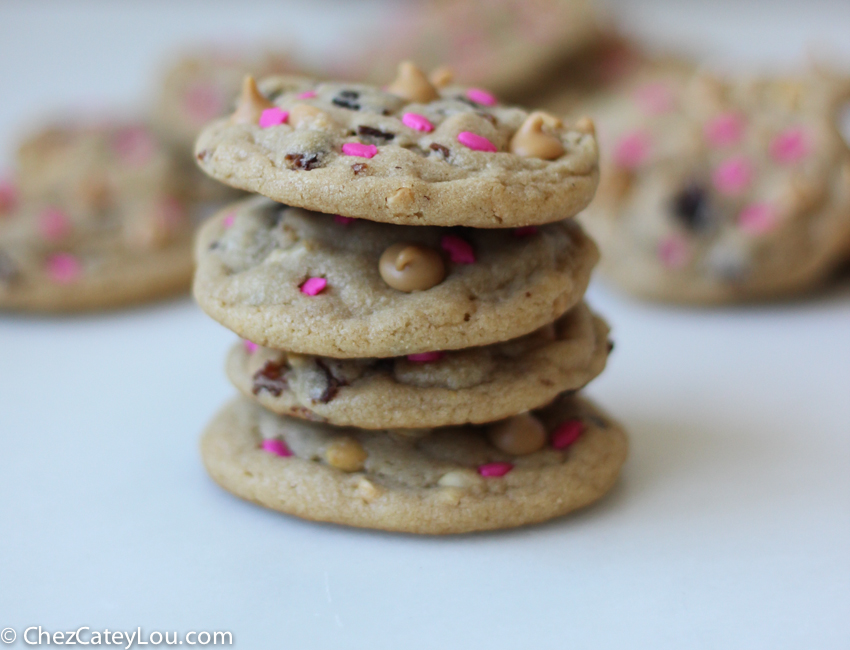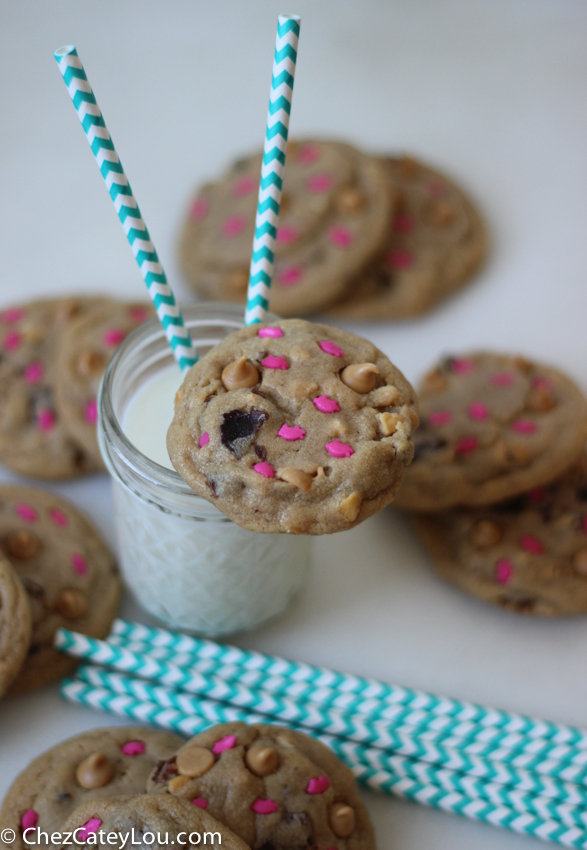 I am definitely a little late to the bacon-in-sweet-foods trend. A few years ago, I saw bacon in chocolates or desserts all over the place. Now, not so much. The trend may be slowly dying, but really, could bacon ever become unpopular? I really don't think so!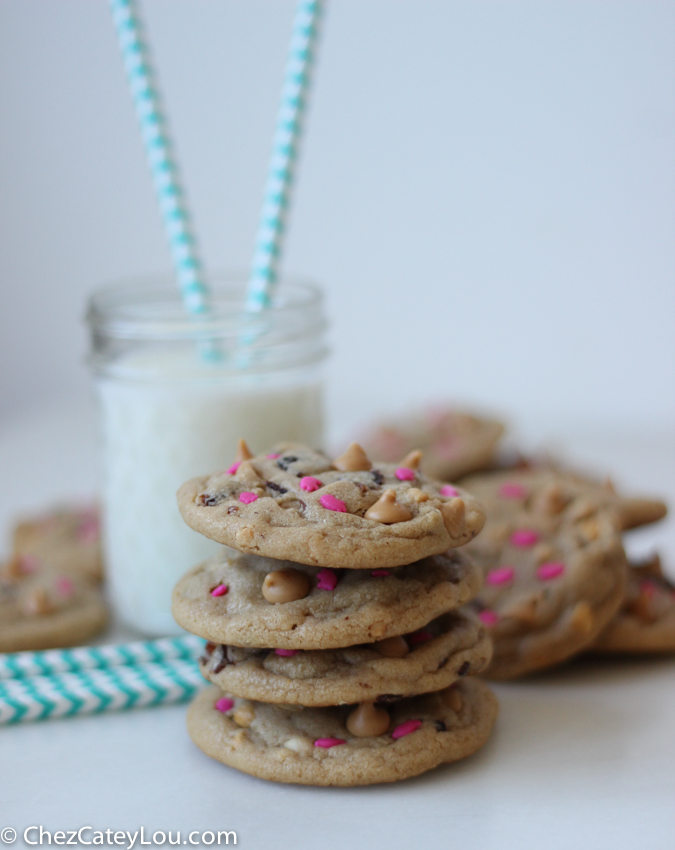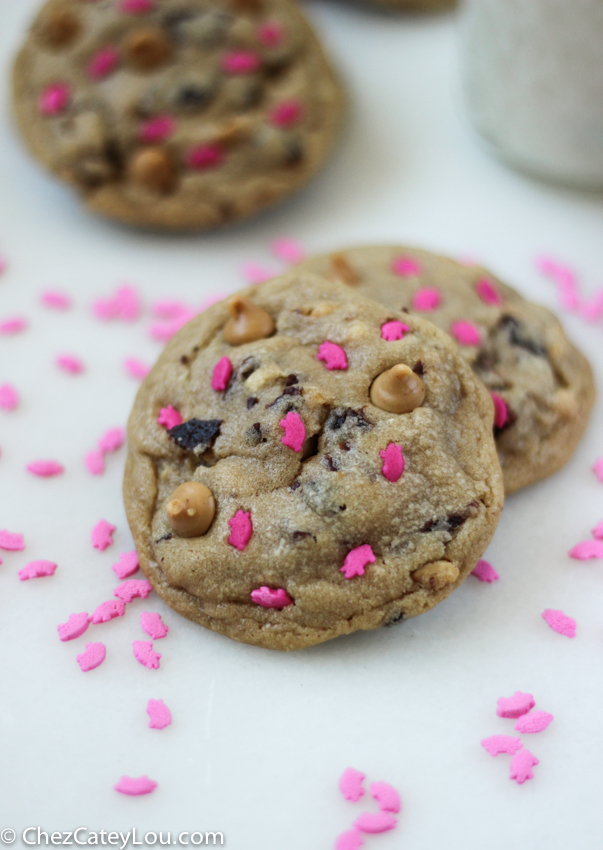 Ok but let's talk about the real reason that I made these cookies. Those pig sprinkles. Have you ever seen anything so cute??
TheBetterHalf and I got lunch in the Gotham West Market a few weeks ago (home to Ivan Ramen Slurp Shop, one of our new favorite Ramen spots in NYC).  We (ie me) were browsing the cute little store in the back called The Brooklyn Kitchen, when I saw the pig sprinkles!!!  I nearly squealed with delight.  I had to have them.  And I had to make something with bacon immediately to use these adorable little guys.
And for any of you that need to have these sprinkles, you can buy them on Amazon
!  Although this is one of the first times when the price at the cute little local shop was actually cheaper than on Amazon!  Way to go, Brooklyn Kitchen!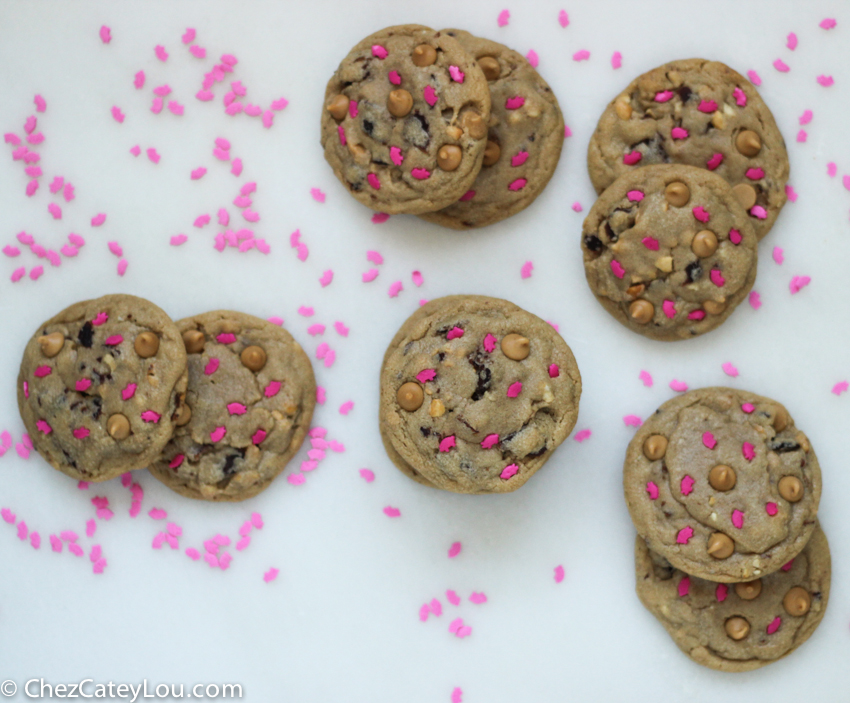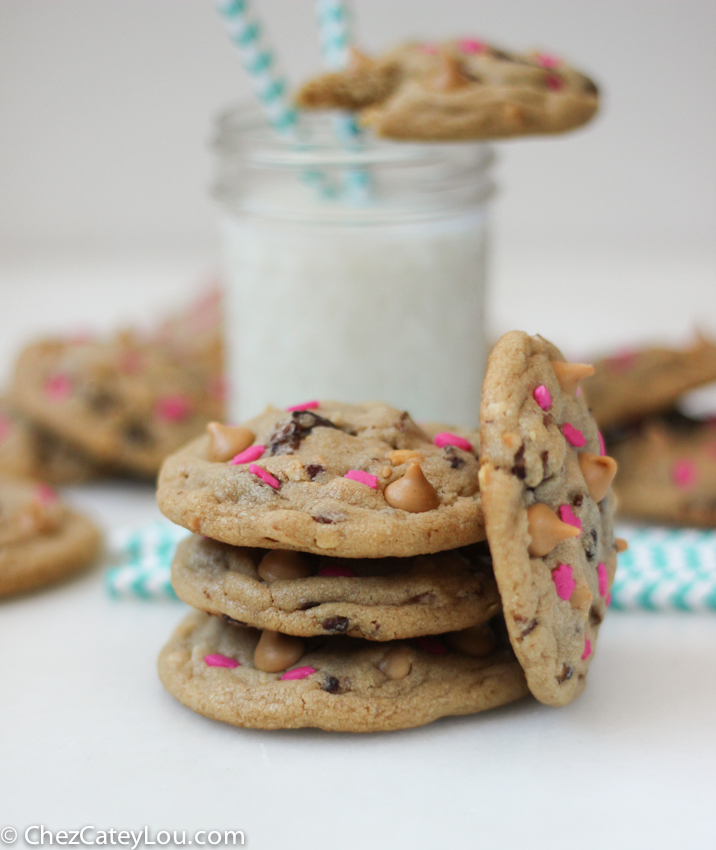 The peanut butter cookie itself is super soft and chewy, and full of peanut butter flavor. If you aren't convinced about the bacon in these cookies, then just leave it out – this is a great PB cookie recipe to keep in your files!! You could add chopped peanuts, chocolate chips, peanut butter chips – they would all taste delicious.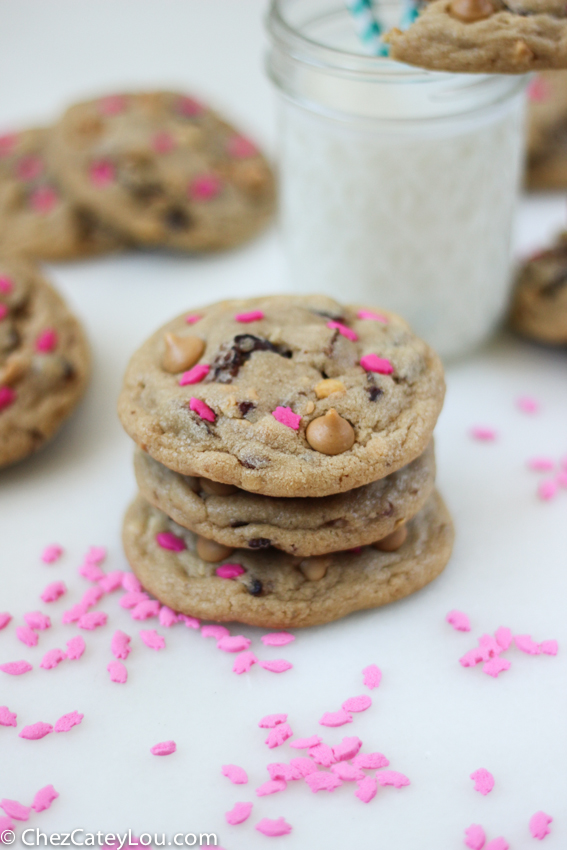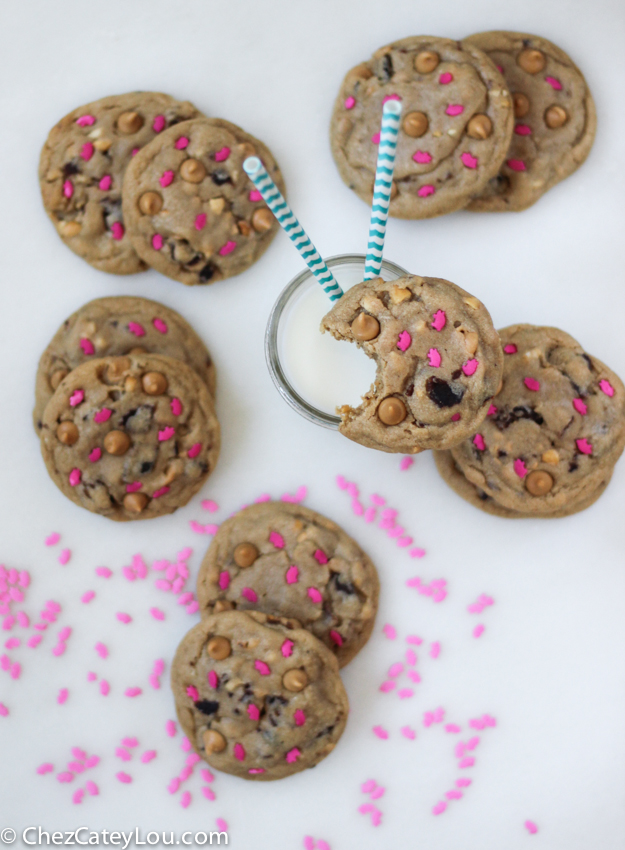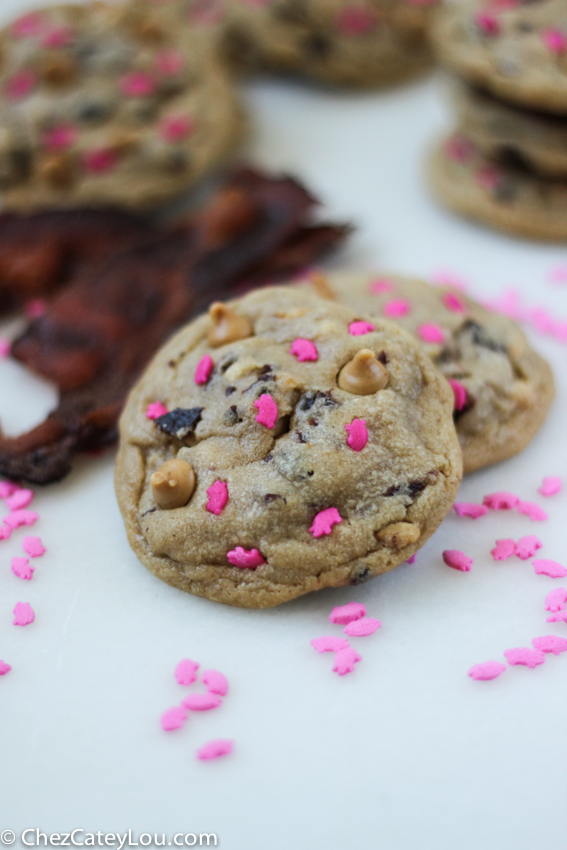 Peanut Butter Bacon Cookies
Salty, crispy bacon is the perfect complement to a soft and chewy peanut butter cookie. It might sound strange, but it tastes amazing - a sweet & salty lovers' dream!
Ingredients
1 ¼ cups flour
¼ teaspoon baking soda
¼ teaspoon baking powder
¼ teaspoon salt
1 stick unsalted butter, at room temperature
½ cup dark brown sugar
½ cup sugar
½ cup crunchy PB (I use JIF)
1 large egg
1 teaspoon vanilla
6 slices bacon, cooked, cooled, crumbled
Pig sprinkles for garnish, if desired
Peanut butter chips for garnish, if desired
Instructions
In a medium bowl, whisk together flour, baking soda, baking powder, and salt.
In the bowl of a stand mixer fitted with the paddle attachment, beat the butter until light and creamy. Add the sugars and continue to beat until smooth and fluffy. Add peanut butter and mix until thoroughly combined. Beat in egg and then mix in the vanilla.
Add the dry ingredients, and mix until just combined. Stir in the bacon.
Chill the dough for at least 2 hours and up to 48 hours.
When ready to bake, preheat oven to 350 degrees F and let dough sit at room temperature for about 10 minutes to soften slightly.
Roll dough into balls, about 2 tablespoons of dough for each cookie, and place about 2 inches apart on a cookie sheet. Slightly flatten the dough balls so that they are thick discs. If using pig sprinkles, place them on the top and sides of the cookie.
Bake for about 10 minutes - they will look undercooked in the centers. Remove from oven and let cool on the cookie sheets for about 5 minutes. If using peanut butter chips, immediately place them on top of the hot cookies.
Transfer cookies to a wire rack to cool completely.
Notes
https://chezcateylou.com/peanut-butter-bacon-cookies/
© Chez CateyLou. All images & content are copyright protected. Please do not use my images without prior permission. If you want to republish this recipe, please re-write the recipe in your own words, or link back to this post for the recipe.
 As a self-proclaimed cookie monster, you know I have some great cookie recipes for you!
Levain Bakery Chocolate Chip Cookies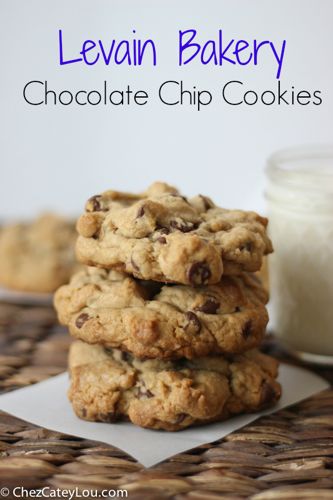 Chocolate Chip Cookies made with Cream Cheese