Fluffy yellow cake is iced with a peanut butter chocolate buttercream frosting. This birthday cake is the perfect treat to make for a chocolate peanut butter lover!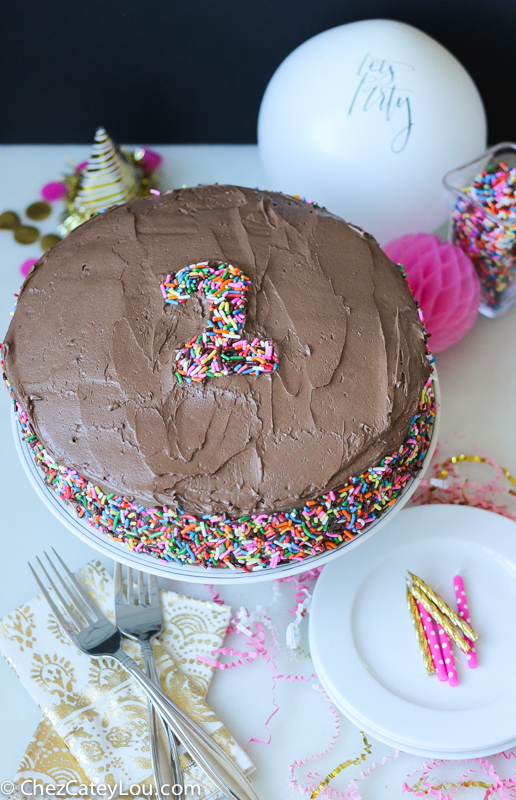 Happy 2nd Birthday to Chez CateyLou! My little blog is two years old today! And to celebrate, I made a birthday cake!  Because birthdays need cake.  And sprinkles.  Lots of sprinkles!
Our absolute favorite dessert flavor is chocolate peanut butter. TheBetterHalf and I are crazy for anything with that combo. Muffins. Brownies. Cookies. Cake. I even made peanut butter chocolate chips pancakes for breakfast this weekend (must share that recipe with you ASAP!) So when I was deciding what kind of cake to bake for the big 2nd birthday, I knew that chocolate and peanut butter had to be involved – Yellow Birthday Cake with Peanut Butter Chocolate Frosting, and a little extra peanut butter filling in the center.  This is one amazing cake!!
And to celebrate Chez CateyLou's 2nd birthday, I'm hosting a giveaway of $50 to Amazon!!  Scroll to the bottom of the post to join the party (aka enter the giveaway)!!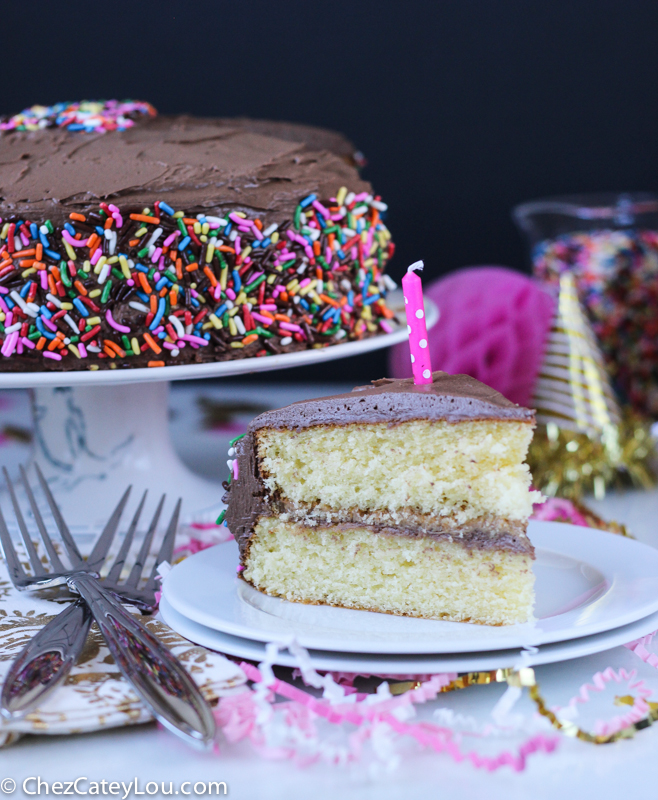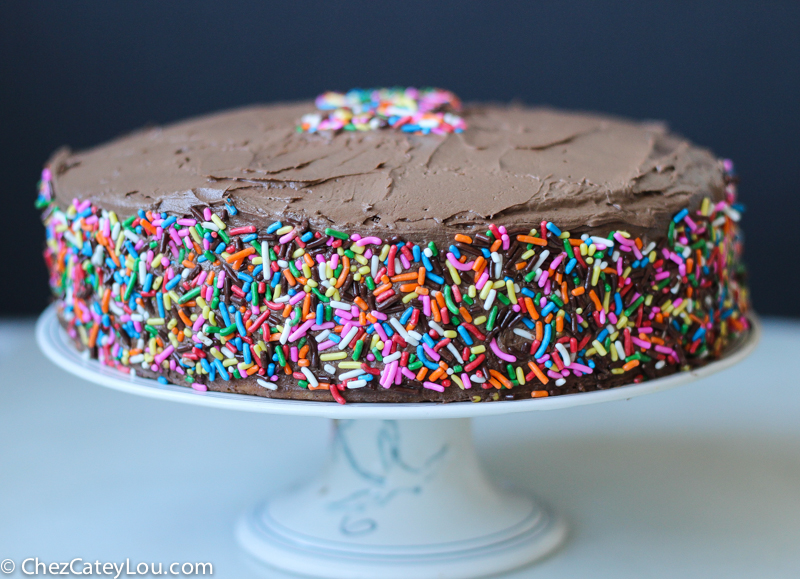 If you are a regular reader of this blog (and if you are, thank you!!) then you know that I do not bake many cakes. In fact, there is only one other layer cake on the blog – and it was to celebrate Chez CateyLou's first birthday!  I love eating cake and I think that they are so pretty, but I just never make them. They take a long time to make and I am horrible at decorating them, so they just never make it on my "to-bake" list.  But since I celebrated the first blog birthday with cake, I knew that I wanted to celebrate the second one with cake too!  I like this little tradition.
Last year's cake was a chocolate cake with peanut butter buttercream.  So this year, I decided to do a classic yellow birthday cake and make a chocolate peanut butter buttercream frosting.  SO GOOD!  And just to gild the lilly, I added some extra peanut butter to the middle of the cake.   This is one rich, decadent, delicious cake…we couldn't stop eating it!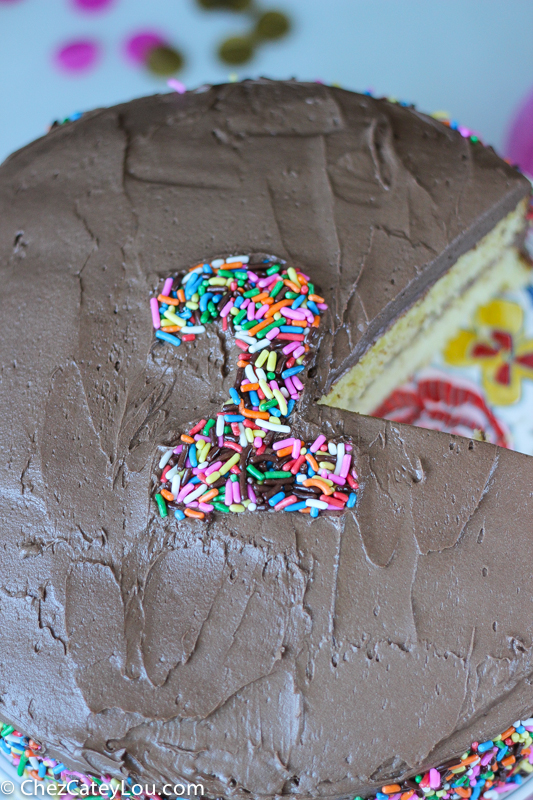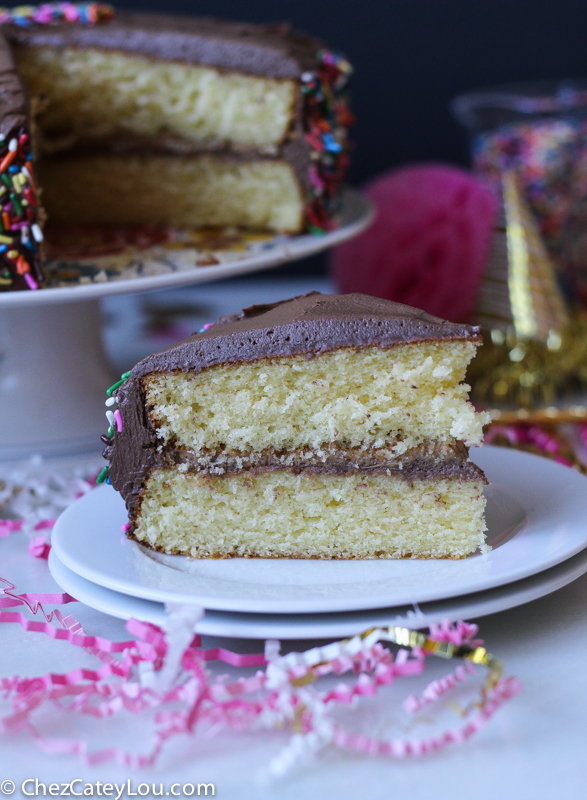 A really fun and easy trick for decorating a cake is to use a cookie cutter to make a shape with sprinkles on the icing! Just make sure you do it right after you ice the cake, so the sprinkles stick to the icing.  It is such a fun way to celebrate birthdays or holidays.
I did not plan ahead and therefore did not have a 2 cookie cutter on hand. So I had a little arts and crafts session. I cut a 2-shape out of some sturdy cardboard using a razor blade (which I happen to have for scoring bread dough) and then used that as a sprinkle stencil. It did the trick, but a cookie cutter would be MUCH easier.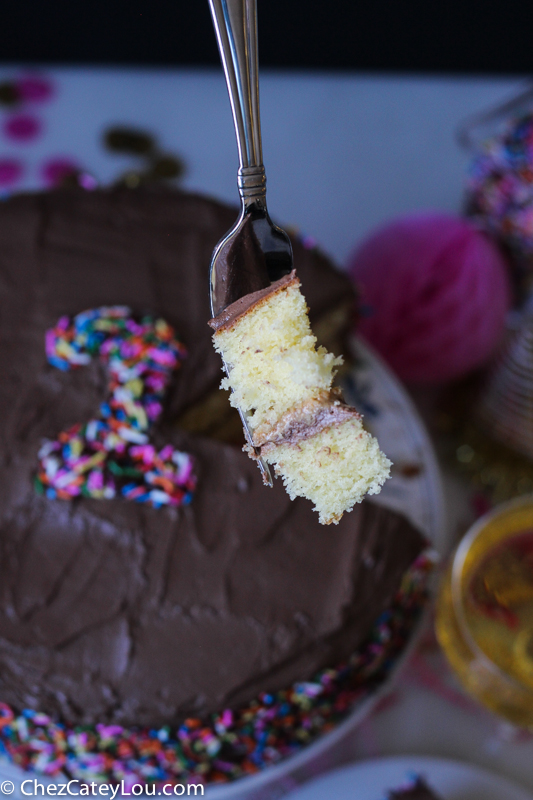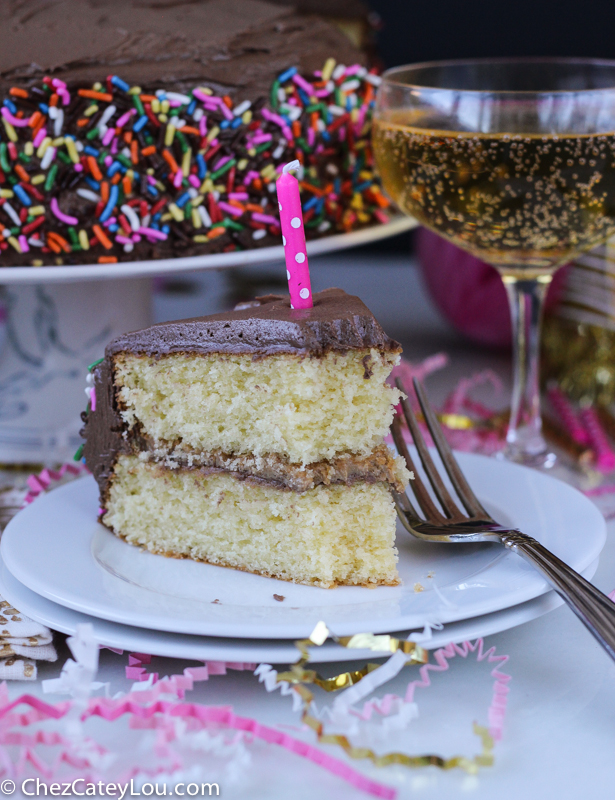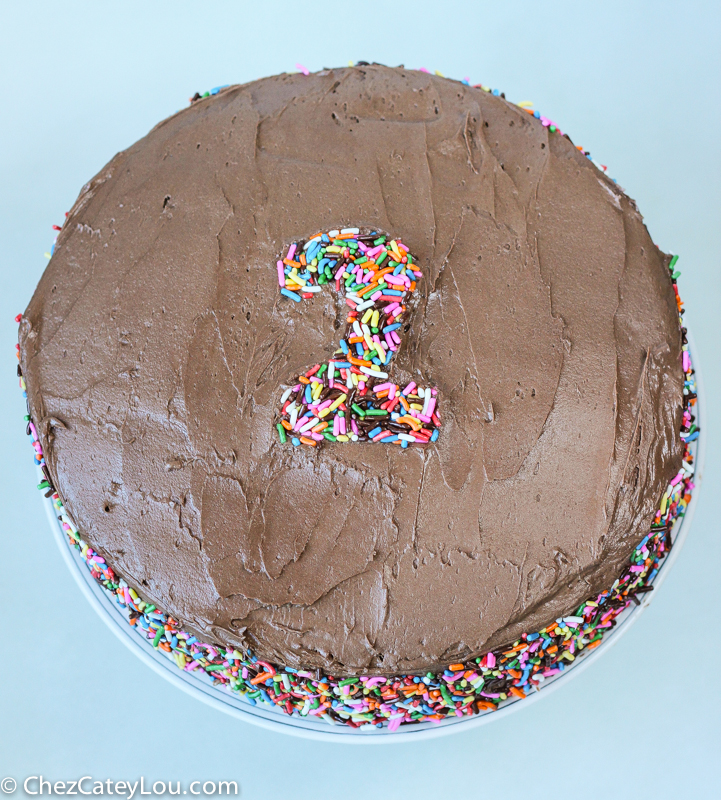 Yellow Birthday Cake with Peanut Butter Chocolate Frosting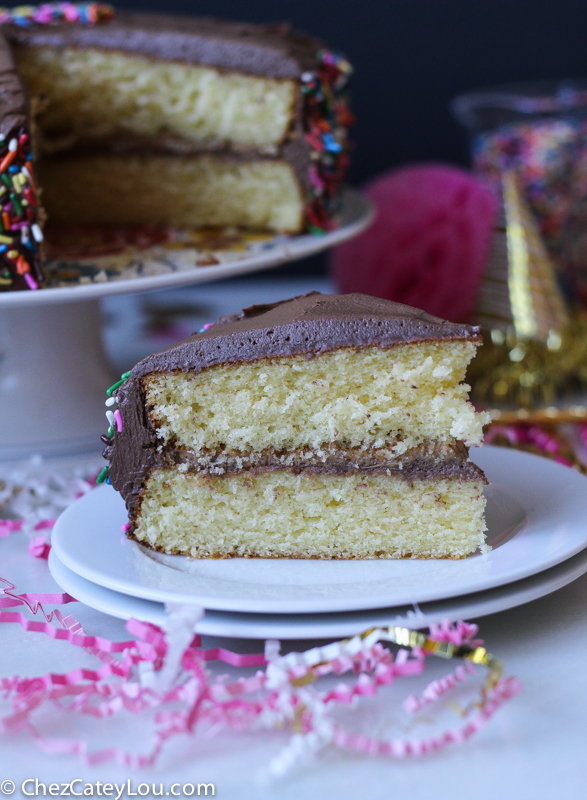 Ingredients
For the Cake

4 large eggs, room temperature
1/2 cup milk, room temperature
2 teaspoons vanilla extract
1 3/4 cups (7 ounces) cake flour
1 1/2 cups (10 1/2 ounces) sugar
2 teaspoons baking powder
3/4 teaspoon salt
16 tablespoons unsalted butter, cut into 16 pieces and softened

For the Frosting

1 cup butter, at room temperature
1 cup peanut butter (+ 1/4 cup for center)
8 oz chocolate, melted and cooled
1 1/2 cups powdered sugar
2 Tablespoons cocoa powder
1 teaspoon vanilla
1/4 teaspoon salt
Instructions
For the Cake

Adjust oven rack to lower-middle position and heat oven to 350 degrees. Grease two 9-inch round cake pans, line with parchment paper, grease parchment, and flour pans.
In a large bowl, whisk together eggs, milk, and vanilla.
In the bowl of a stand mixer fitted with the paddle attachment, mix together flour, sugar, baking powder, and salt on low speed until combined. Add butter, 1 piece at a time, and mix until only pea-size pieces remain, about 1 minute.
Add half of egg mixture to the flour mixture, increase speed to medium-high, and beat until light and fluffy, about 1 minute. Reduce speed to medium-low, add remaining egg mixture, and beat until incorporated, about 30 seconds (batter may look slightly curdled - this is ok). Give the batter a final stir by hand to make sure everything is evenly distributed.
Spread batter evenly in the two prepared pans and smooth tops with rubber spatula. Bake until tops are light golden and toothpick inserted in center comes out with a few moist crumbs, 20 to 23 minutes. Let cakes cool in pans on wire rack for 10 minutes, then remove cakes from pans, discard parchment, and let cool completely on a wire rack, about 2 hours. Make sure cake has cooled completely before icing.

For the Frosting

Beat the butter and peanut butter together until smooth. Add the chocolate and mix until well combined. Add the powdered sugar, cocoa powder, vanilla, and salt and beat on high speed until icing is light and fluffy.
Place one of the cake layers on a cake plate. Add some frosting on top and spread evenly. Heat the 1/4 cup peanut butter in the microwave for about 20 seconds, until slightly soft but not hot. Spread the peanut butter evenly over the frosting. Add the second cake layer on top of the filling. Frost the rest of the cake. Decorate with sprinkles as desired.
Notes
https://chezcateylou.com/yellow-birthday-cake-peanut-butter-chocolate-frosting-giveaway/
© Chez CateyLou. All images & content are copyright protected. Please do not use my images without prior permission. If you want to republish this recipe, please re-write the recipe in your own words, or link back to this post for the recipe.
And now for the party favor…a GIVEAWAY of $50 to Amazon.com! Happy Birthday CCL!  Good luck and thanks for reading and entering!
This is how we celebrate birthdays around here!
Birthday Brownie Pudding (Cate's 29th)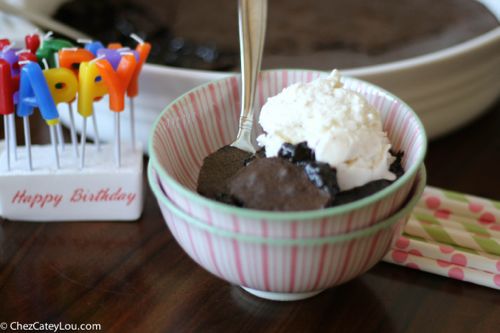 Chocolate Cake with Peanut Butter Buttercream Frosting (Chez CateyLou's 1st)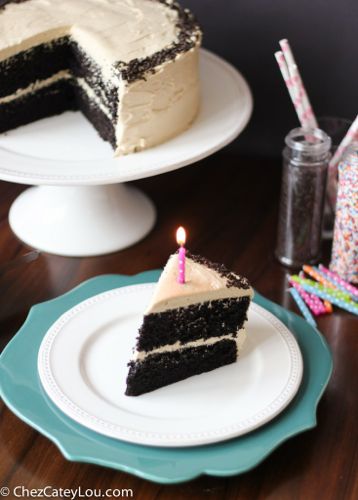 Peanut Butter Stuffed Brownies (TheBetterHalf's 29th)