These M&M Easter cookies are the softest cookies you will ever make! They are full of chocolaty pastel M&Ms, which makes them delicious and perfect for Easter!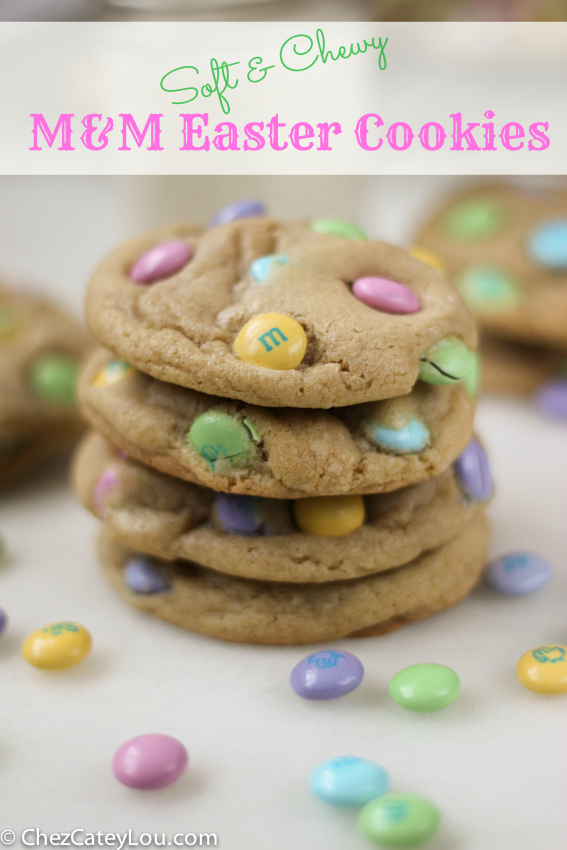 I was so excited to share these Easter cookies with you this morning. It is officially spring, March is almost over, Easter is less than three weeks away – so I figured it was definitely time for Easter recipes. Then I woke up this morning and it was SNOWING. Somehow it just seems wrong to be eating pastel M&M Easter cookies when it is snowing. But you know what – these cookies are too good to not share with you. So snow or no snow, let's eat Easter cookies!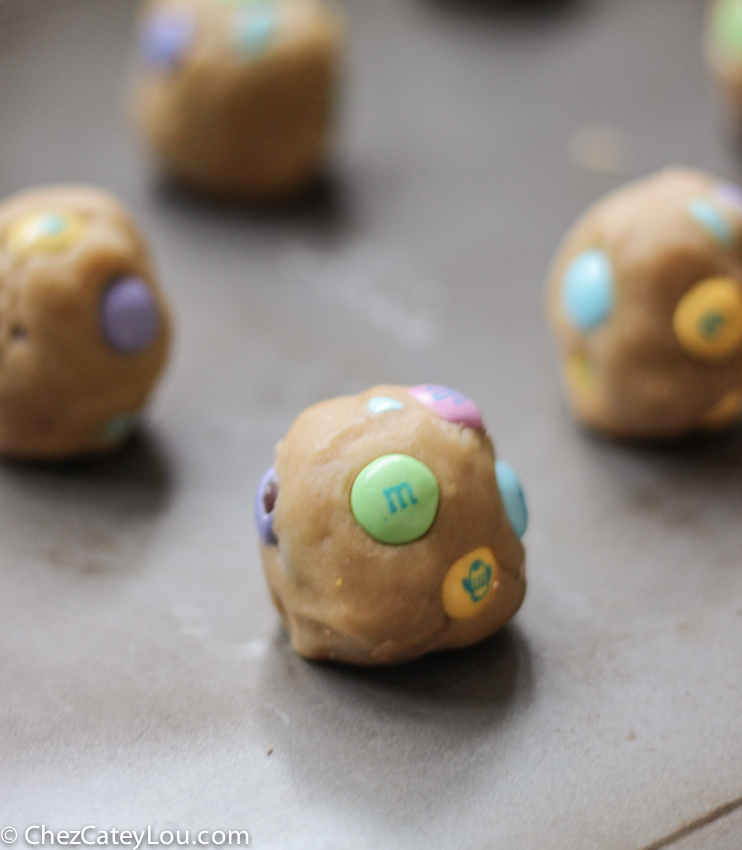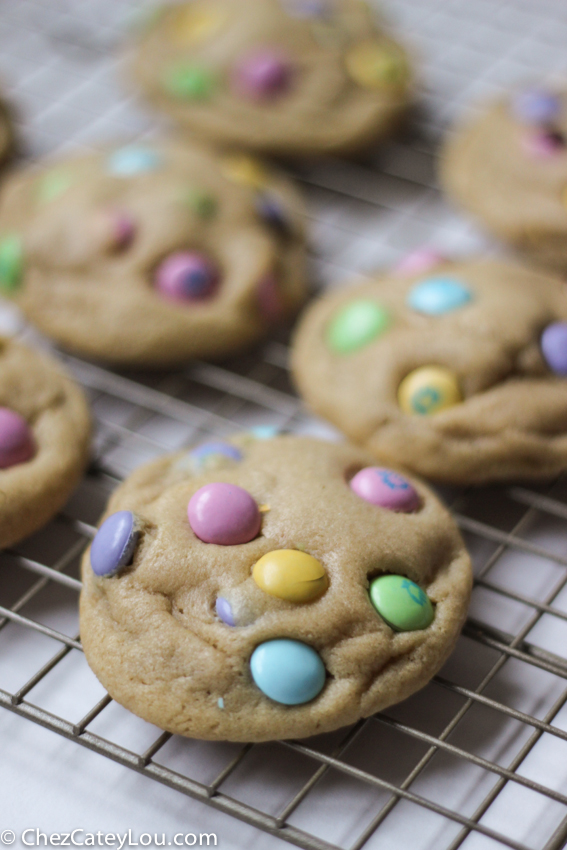 If you like soft and chewy cookies, then this is the recipe for you! It is from a recipe in Sally's Baking Addiction
 cookbook (which I absolutely love and highly recommend buying by the way!!) and I know it is one of her go-to cookie recipes. It is so adaptable – you can mix in pretty much anything you want! Today I picked Easter M&Ms. Aren't they so cute?!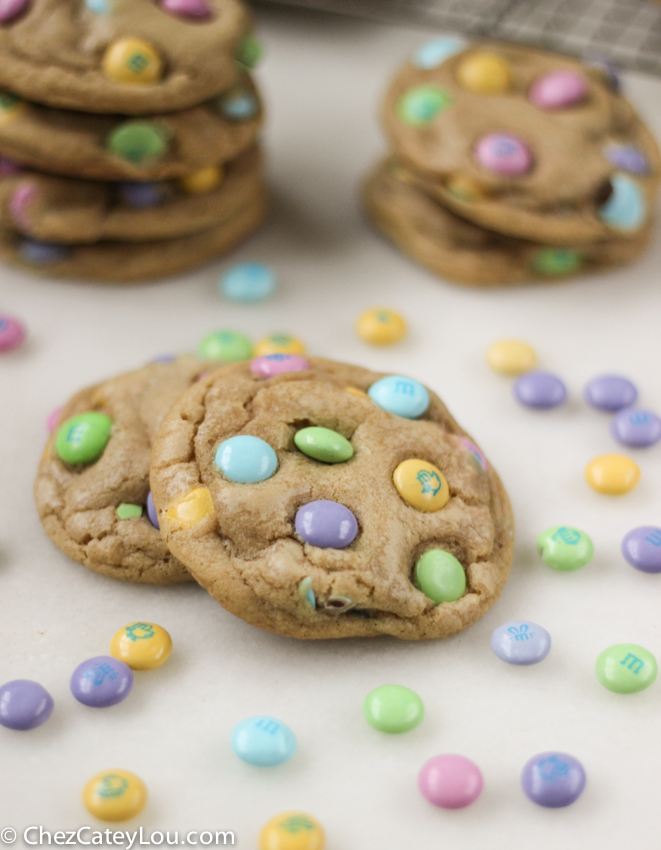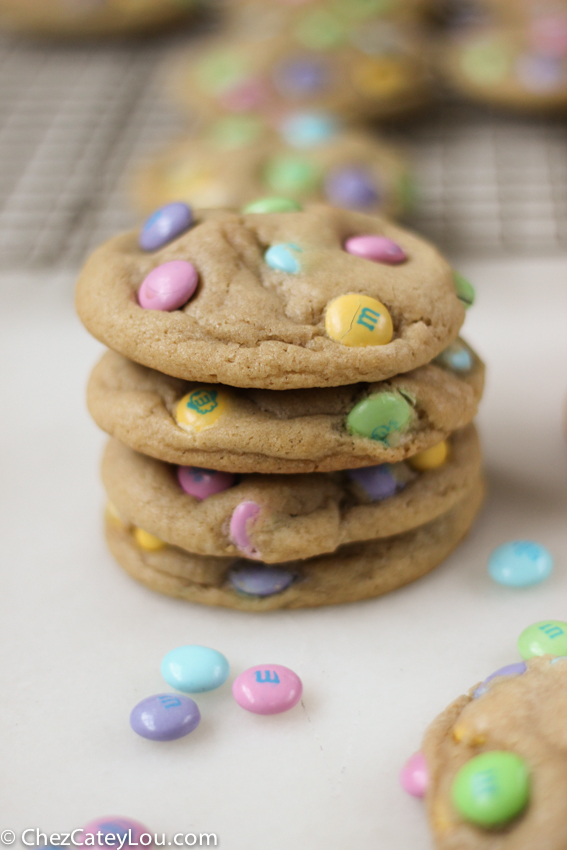 I have been wanting to make a holiday M&M cookie pretty much since I started the blog. It is such and easy way to make a cookie fun and festive But I just kept waiting until the next holiday. And then St. Patrick's Day rolled around and I decided that was the perfect holiday for M&M cookies for. But guess what….they don't make St. Patrick's Day M&ms! So sad. They do have a green M&M's mix, but they are mint, which is NOT what I was looking for. I did think about going to Dylan's Candy Bar or the M&M store to get all green M&Ms, but I decided to just wait for Easter candy instead. Although if someone from M&Ms is reading this, I think you should make St. Patrick's Day M&Ms!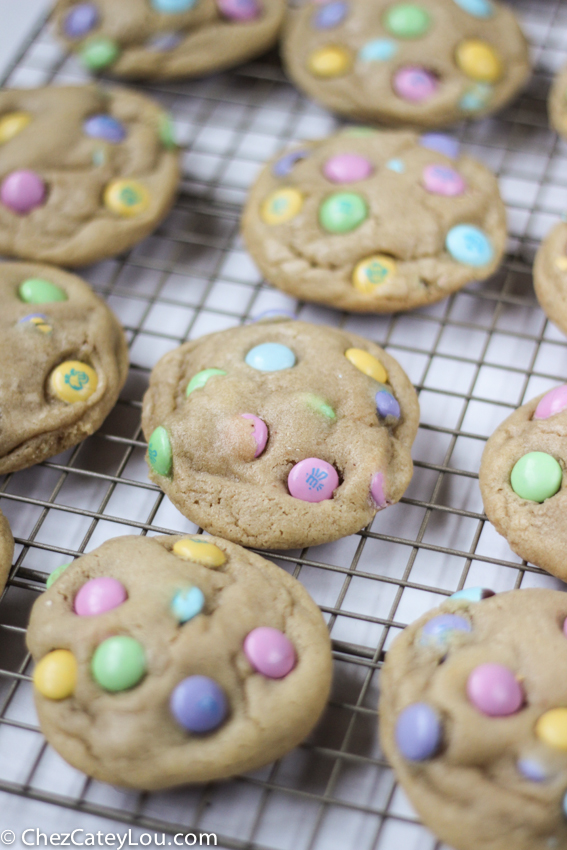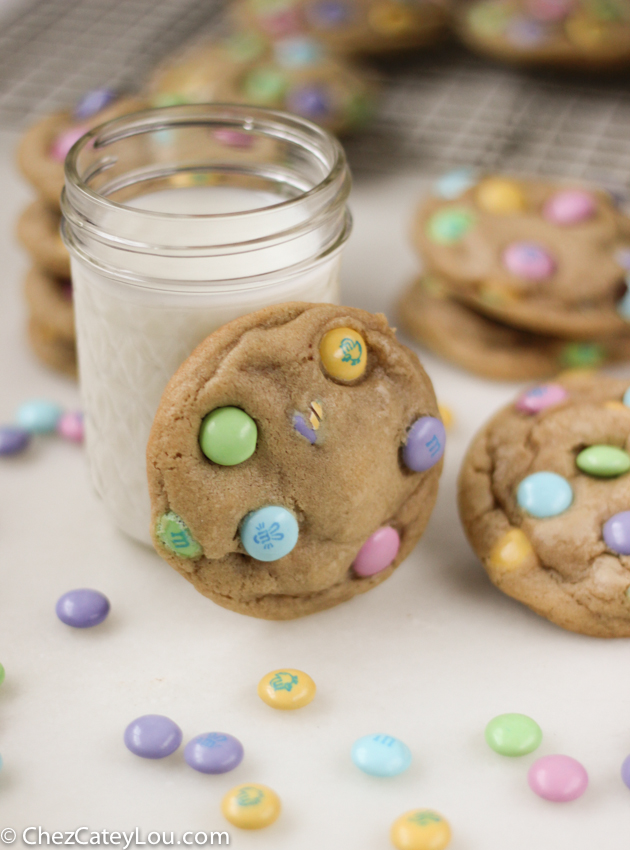 But back to these M&M easter cookies…I'm actually kind of glad I waited for Easter because I particularly like the colors of these M&Ms! They are so spring-y! And some of the M&Ms have cute little Easter designs on them.
The cookie itself is seriously soft. There are a few reasons why. There is cornstarch in the dough, which is one secret to soft cookies. Also there is one whole egg plus one egg yolk. The extra yolk  contributes to the softness. Light brown sugar always makes cookies soft and chewy (in addition to adding delicious flavor!). The dough is chilled before you bake it, which is a key to keeping the cookie soft. And finally, these are slightly underbaked. All of these things contribute to the softest cookie you have ever tasted! Even days later, these are still so soft and chewy.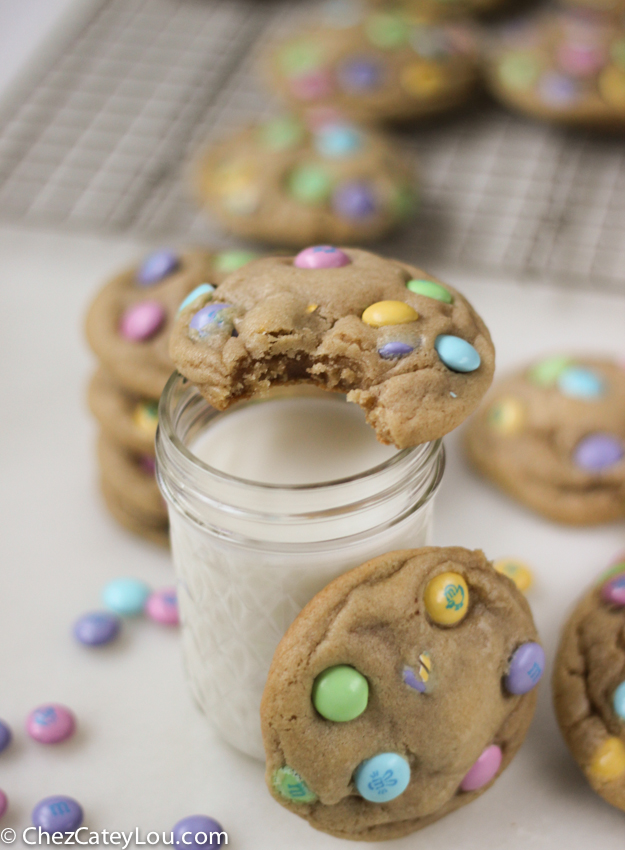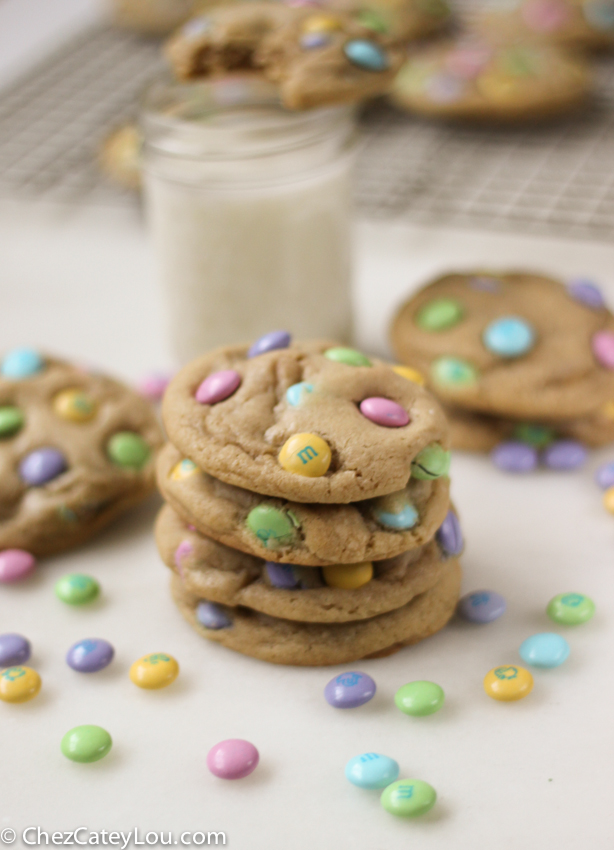 Soft and Chewy M&M Easter Cookies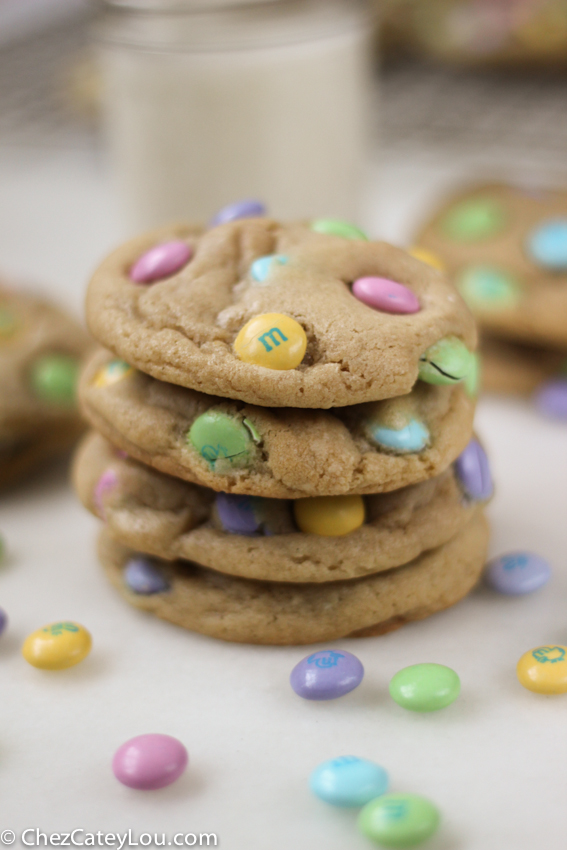 These M&M Easter cookies are the softest cookies you will ever make! They are full of chocolaty pastel M&Ms, which makes them delicious and perfect for Easter!
Ingredients
2 1/4 cups (280g) all-purpose flour
1 tsp baking soda
1 1/2 tsp cornstarch
1/2 tsp salt
3/4 cup (1.5 sticks or 170g) unsalted butter, melted
3/4 cup (150g) light brown sugar
1/2 cup (100g) granulated sugar
1 large egg
1 egg yolk
2 tsp vanilla extract
1 cup (170g) plain M&Ms, Easter colored, plus extra for tops
Instructions
In a large bowl, whisk together the flour, baking soda, cornstarch, and salt.
In a medium bowl, whisk together the melted butter and sugars until well combined and no lumps remain. Add the egg and whisk well, then add the egg yolk and whisk for another minute. Stir in the vanilla.
Pour the wet ingredients into the dry ingredients and stir until combined. Add the M&Ms and mix until evenly distributed. Cover the dough with plastic wrap and refrigerate for a minimum of 2 hours and up to 3 days.
Preheat oven to 325 degrees F. Take the dough out of the refrigerator and let it sit for about 10 minutes so that you can work with it.
Form the dough into balls, using about 3 tablespoons of dough each. Place them a few inches apart on a nonstick cookie sheet (or a cookie sheet lined with parchment paper). Place a few M&Ms on the tops and sides of the dough balls.
Bake the cookies for 11 - 12 minutes. They will look very soft and under baked in the centers. Remove from the oven, and immediately place a few M&Ms on the tops, if desired. Let the cookies cool on the sheets for 10 minutes, then remove to a wire rack to cool completely.
Notes
Recipe adapted from [Sally's Baking Addiction: Irresistible Cookies, Cupcakes, and Desserts for Your Sweet-Tooth Fix
], p.110
https://chezcateylou.com/soft-chewy-mm-easter-cookies/
© Chez CateyLou. All images & content are copyright protected. Please do not use my images without prior permission. If you want to republish this recipe, please re-write the recipe in your own words, or link back to this post for the recipe.
Want more cookie recipes? You know I have you covered!
Carrot Cake Cookies – perfect for Easter!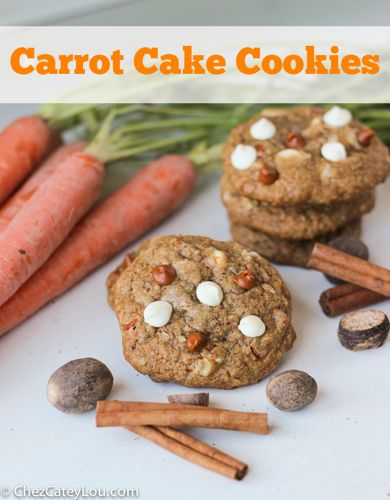 Red Velvet Chocolate Chip Cookies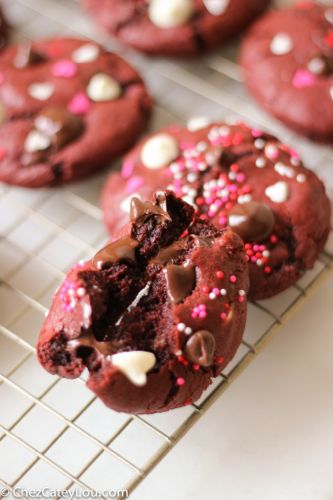 Funfetti Chocolate Chip Cookies – add Easter sprinkles!