Guinness Stout beer in the batter and the icing really makes the chocolate flavor shine in these baked donuts. Perfect for St. Patrick's Day breakfast!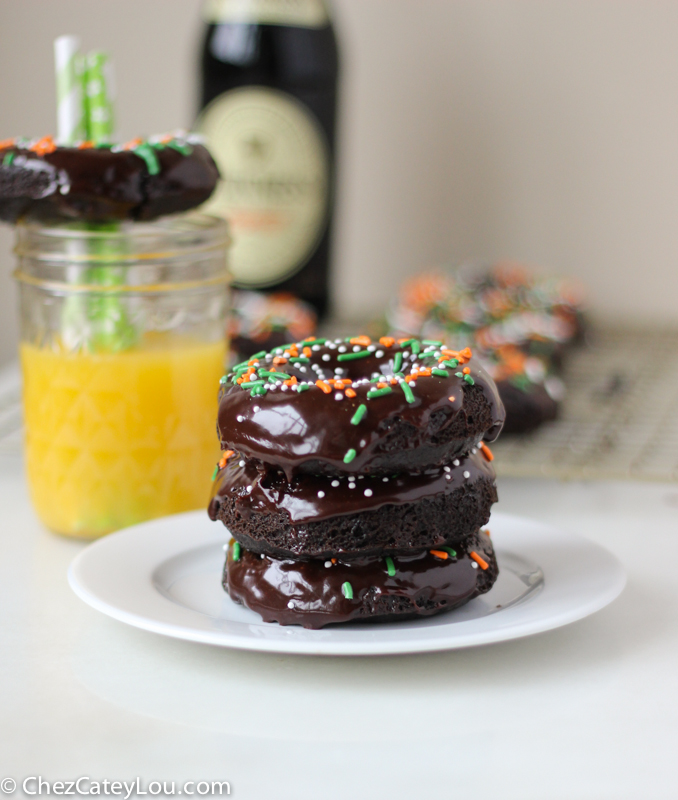 Who wants Guinness for breakfast?! Ok I know, it sounds kind of weird. And I felt strange cracking open a beer at 8am. But let me tell you – it tastes amazing in these donuts! You can't really taste beer, it just brings out the chocolate flavor. And, I can't think of a better way to celebrate St. Patrick's day than with Guinness and sprinkles.
When my friend Connie over at URBAN BAKES invited me to her #KissMeImIrish St. Patrick's Day blog party, I was so in! 12 of us made fun St. Patrick's Day treats for you – and they all include alcohol! That was actually a total coincidence – great minds think alike.  Links to all the delicious recipes are at the bottom of the post, so make sure to check them out.
…