Light and fluffy pancakes are fun and festive thanks to sprinkles in the batter. Greek yogurt is used in both the pancakes and the vanilla sauce, giving these funfetti pancakes tons of filling protein. Such a delicious and celebratory breakfast!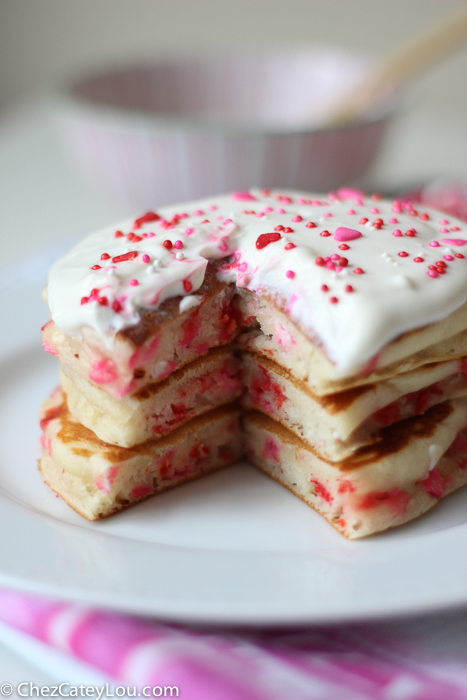 What a difference a day makes! Yesterday in NYC it was in the 50s and sunny and today it is 30 and snowing! We seriously got so lucky with the Superbowl weather.
Is everyone tired today from all the festivities last night? I know I am, and this snow is not helping things! So I need something to cheer me up today, and these pancakes are just the thing. If these don't bring a smile to your face, I don't know what will! Aren't they just the cutest?  And so perfect for Valentine's Day!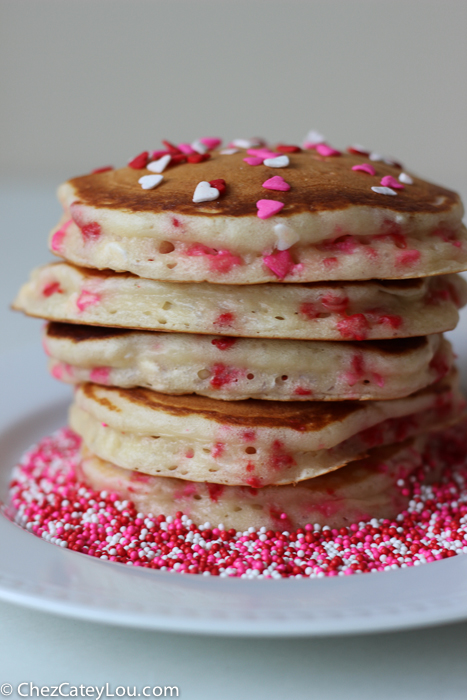 As you can see in this post and this post, I am really obsessed with my Valentine's Day sprinkles. I seriously want to put them on EVERYTHING! So yesterday when I was craving pancakes, I thought why not add sprinkles?  Turned out to be the best idea ever. With the help of a little extra vanilla extract and the sprinkles, these funfetti pancakes really taste like funfetti cake!
But don't worry – there is no cake mix in these pancakes. I know that cake mix is really not something that most of us want to be eating for breakfast. And in fact, I like to think that these are slightly healthy because I made them with Greek yogurt! I love putting Greek yogurt in my pancakes. It adds in protein, and helps to make them really light and fluffy. I love fluffy pancakes!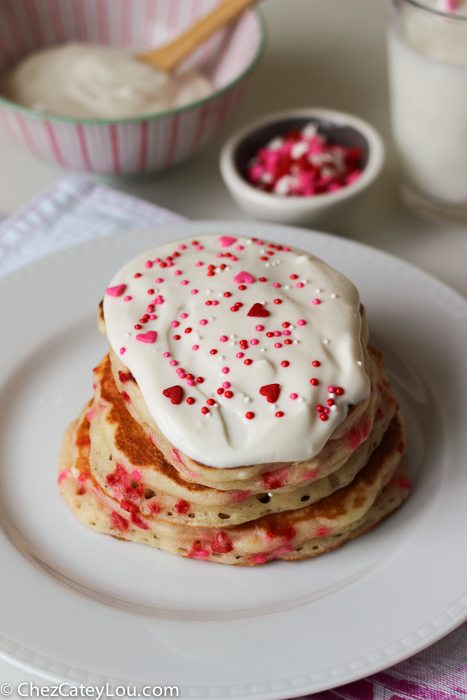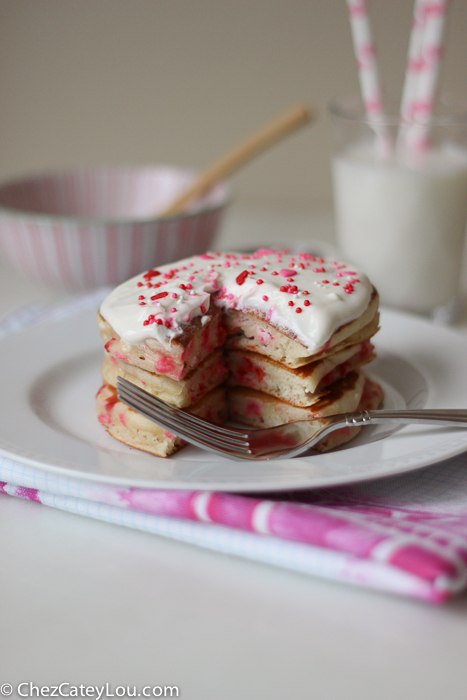 I am not a fan of maple syrup – there is just something about the smell and flavor that I don't like. Plus it is just so…sticky. I really don't like anything about it. When TheBetterHalf puts syrup on his pancakes or waffles, I have to sit far away from him so that I don't smell it! I know, I'm weird.  But anyway, I'm always looking for an alternate pancake topping.  Usually I go with jelly, or even just a little butter. But I decided to get fancy with these pancakes. Since they are funfetti, I thought they deserved some icing! But to keep things a little lighter and healthier (it is breakfast after all) I made a Greek yogurt sauce.
It is so simple – just mix together some vanilla yogurt with a little vanilla extract, a splash of milk, and some honey to add a little more sweetness. This sauce tastes delicious with the funfetti pancakes!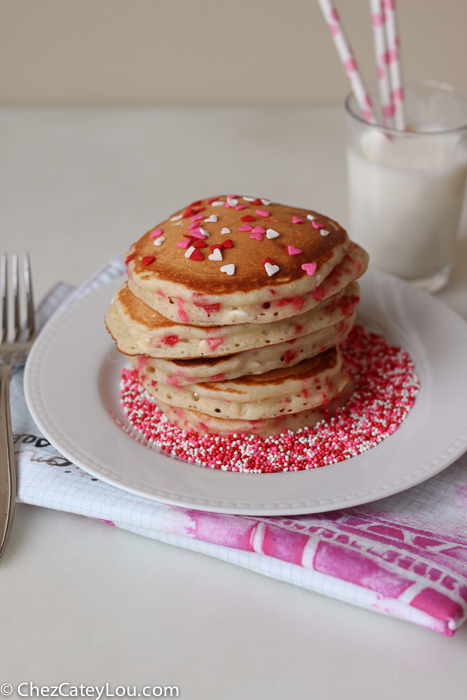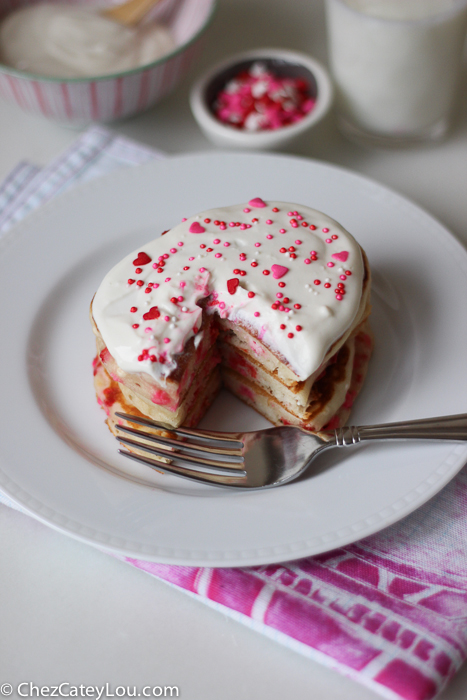 Now a word of advice about the sprinkles in the pancakes – use oblong sprinkles, not the little tiny dot sprinkles.
Sidenote: Are there technical terms for sprinkle types? Jimmies and nonpareils? I'll just go with oblong and tiny dot.
Anyway, if you use the tiny dot sprinkles, the color will immediately bleed into the batter. I tried this, and ended up with a pink tie dye pancake! Which really isn't the worst thing ever. But it looks more funfetti-ish if you use oblong sprinkles. Another tip – mix the sprinkles in just before you cook the pancakes. The longer they sit in the batter, the more time the color has to spread into the batter.
The tiny dot sprinkles however look GREAT as a decoration on top 🙂
Valentine's Funfetti Pancakes with Vanilla Greek Yogurt Sauce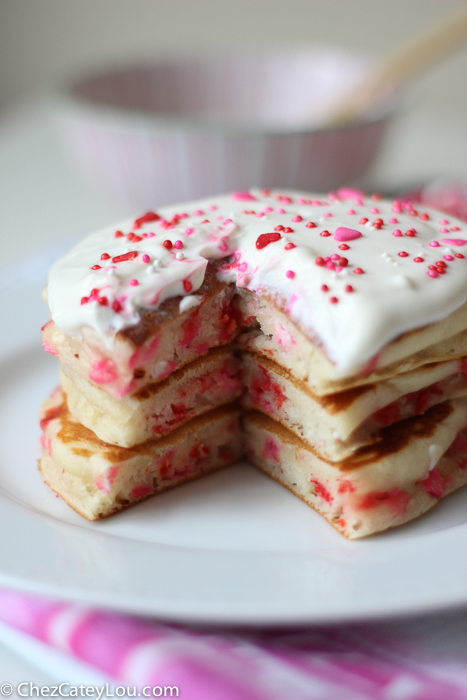 Light and fluffy pancakes are fun and festive thanks to sprinkles in the batter. Greek yogurt is used in both the pancakes and the vanilla sauce, giving these funfetti pancakes tons of filling protein. Such a delicious and celebratory breakfast!
Ingredients
For the Pancakes

1 cup all-purpose flour
2 tablespoons sugar
1/2 teaspoon salt
1/2 teaspoon baking powder
1/4 teaspoon baking soda
1/2 cup Greek yogurt (I used 0% Chobani)
1/2 cup milk (I used 1%)
1 large egg
1 tablespoon vegetable oil
1 teaspoon vanilla
1/2 cup sprinkles (the oblong kind, not the tiny dot kind)

For the Sauce

1 5.3 oz container vanilla yogurt (I used 0% Chobani)
1/4 teaspoon vanilla
2 teaspoons honey (more or less to taste)
2 teaspoons milk
Instructions
For the Pancakes

Preheat a griddle pan or large frying pan over medium low heat.
In a medium bowl, whisk together the flour, sugar, salt, baking powder, and baking soda.
In a separate medium bowl, whisk together the yogurt, milk, egg, oil, and vanilla until well combined.
Add the wet ingredients to the dry ingredients and mix until just combined. Do not over mix. Let the batter sit for 10 minutes.
Divide the batter into two bowls, and gently mix half the sprinkles into the first bowl.
Lightly and carefully grease your pan.
Spoon the batter into four places on the griddle pan. Cook for 2 - 3 minutes, until golden brown. Flip and cook for 1 - 2 minutes on the other side. Remove pancakes to a wire rack.
Stir the rest of the sprinkles into the remaining batter, and repeat cooking process.

For the Sauce

In a small bowl, stir together the yogurt, vanilla, honey, and milk. Add more milk until desired consistency is reached.
Serve pancakes topped with yogurt sauce and extra sprinkles.
https://chezcateylou.com/valentines-funfetti-pancakes-with-vanilla-greek-yogurt-sauce/
© Chez CateyLou. All images & content are copyright protected. Please do not use my images without prior permission. If you want to republish this recipe, please re-write the recipe in your own words, or link back to this post for the recipe.
  Looking for more pancakes?  Try these Healthy Chocolate Chip Pancakes!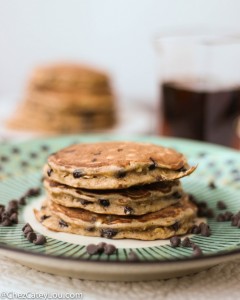 Or these Whole Wheat Pancakes made with Greek Yogurt…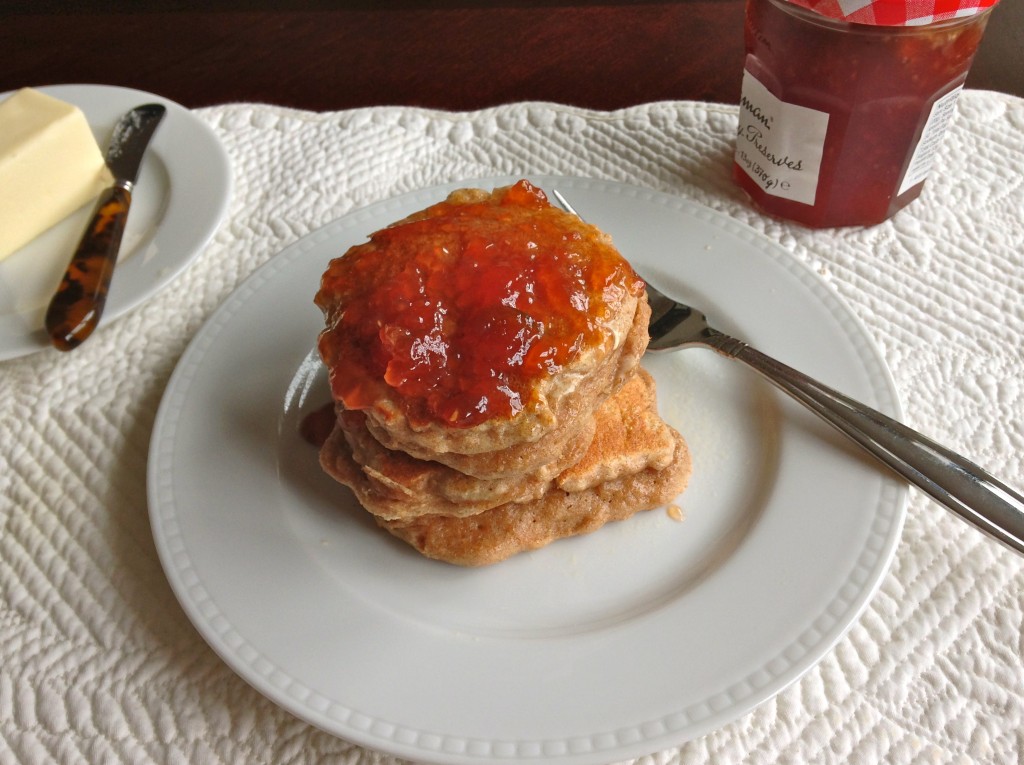 Just want more funfetti?  That's fine too!  These sugar cookies are great!