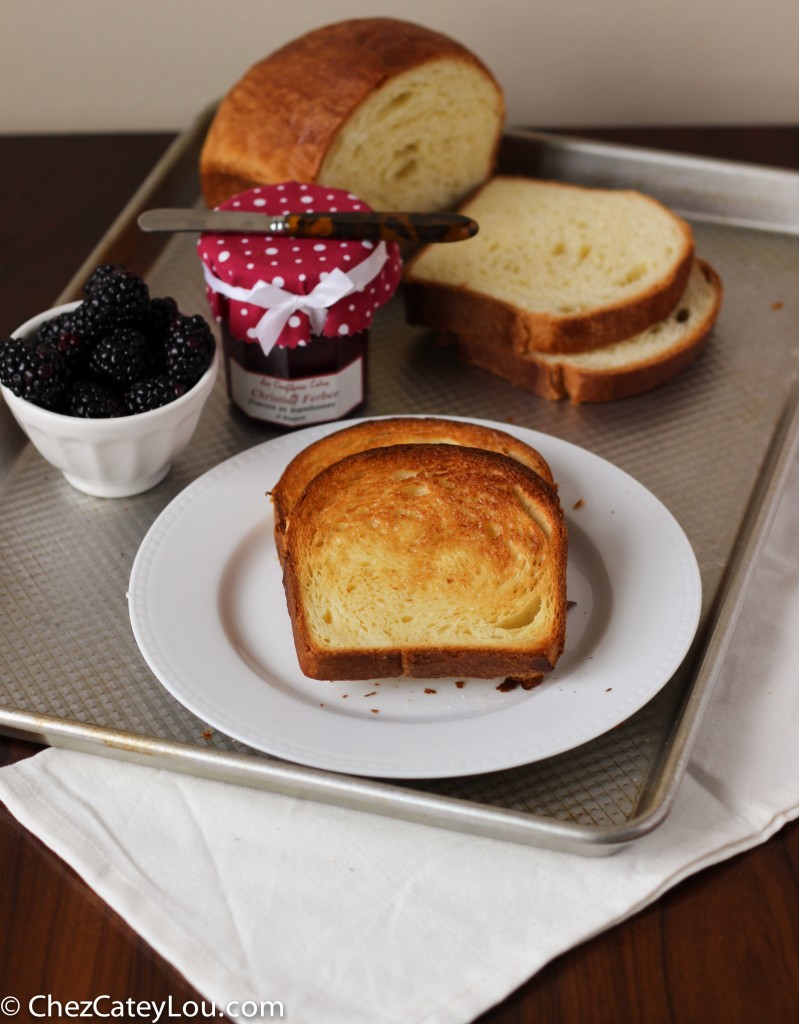 Ok everyone – what is going on with the weather this winter?! I know it is all people can talk about lately, but seriously – will it ever stop snowing? Definitely the worst winter we've had in my 6 years in NYC! I walk to work every morning (takes about 25 minutes in case you are curious) and I think I've said about 10 times this winter, "Ok that was by far my worst walk yet." It just keeps getting worse though!  But this morning took the cake (and not the good kind of cake) – freezing rain the entire walk – which was falling on top of snow piles. The result: icy sidewalks and HUGE puddles at each intersection. Fun. But I made it without falling, phew!
And now I can talk about brioche bread, which is definitely cheering me up immediately. There is a stick of butter in each loaf, what's not to love?!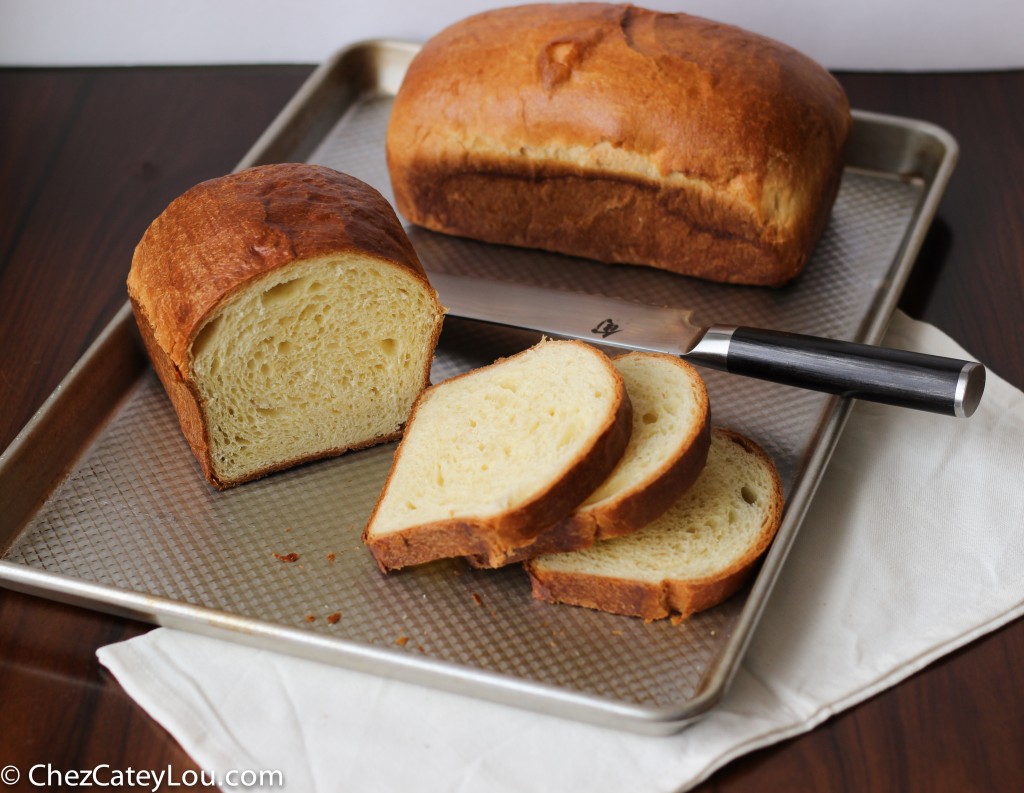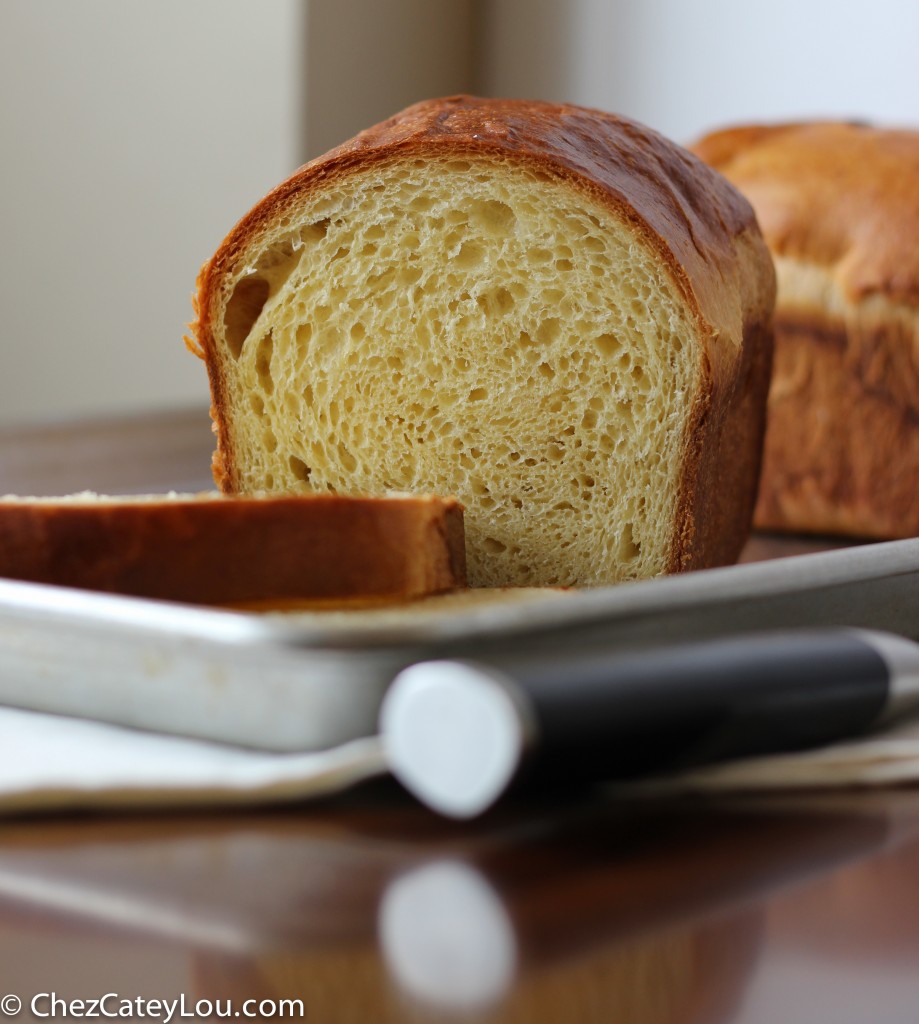 This recipe calls for a full stick of butter and two eggs in each loaf. That may seem like a lot but it's totally worth it – the bread tastes just like a croissant!  It is soooo good.  The crust is flaky, the inside is fluffy yet substantial and the whole thing has the most amazing buttery flavor.  And unlike a croissant, this bread is relatively easy to make. Making croissants kind of scares me – all the rolling and the chilling and the pounding of the dough. Maybe someday I'll attempt them (I mean, look how good they look!) but for now I am going to stick with this croissant-like brioche bread.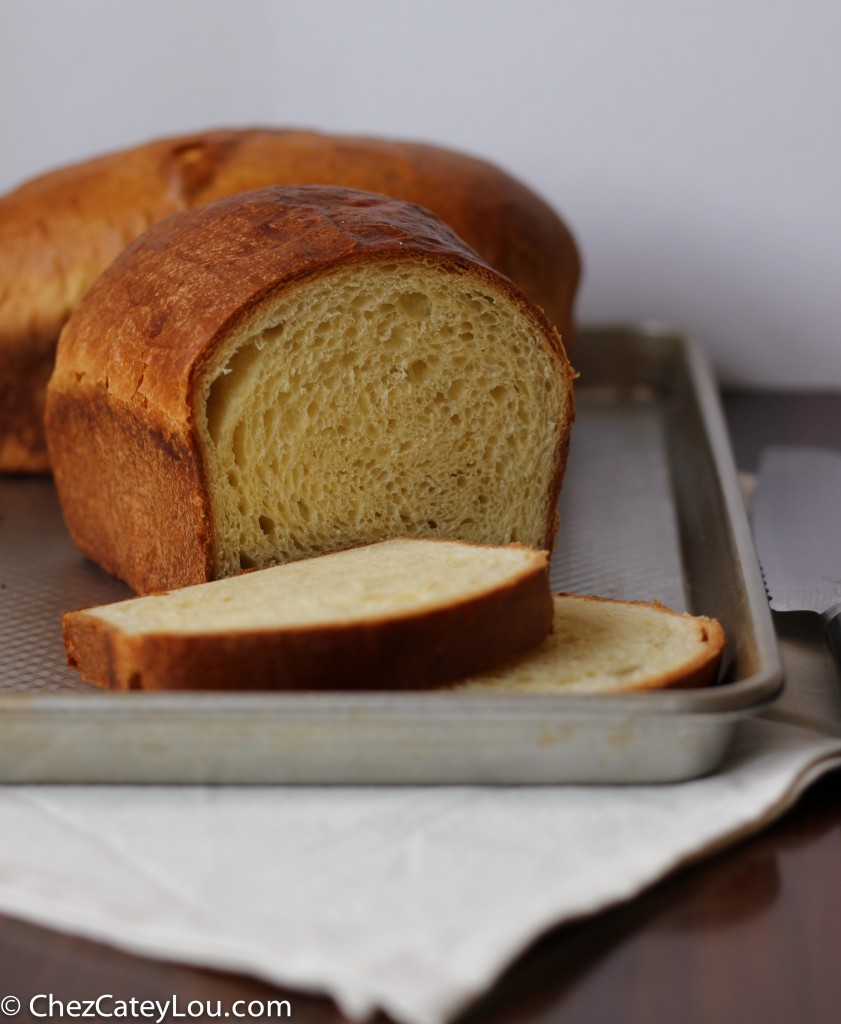 This recipe makes two loaves of bread, which is a good thing because it disappears quickly. It makes seriously the most delicious toast I have ever had! And a grilled cheese on this brioche bread?! Unreal.
Sidenote – I brought that Christine Ferber jelly back from Paris and it is amazing!  TheBetterHalf thought I was kind of nuts to transport jelly in my suitcase, carefully wrapped in clothing, but this article proves that I am not the only crazy one!  Some things are just worth it 🙂  (TheBetterHalf: Just because someone else did it doesn't make you not crazy.  It means she's crazy too.  You're both international jelly smugglers.)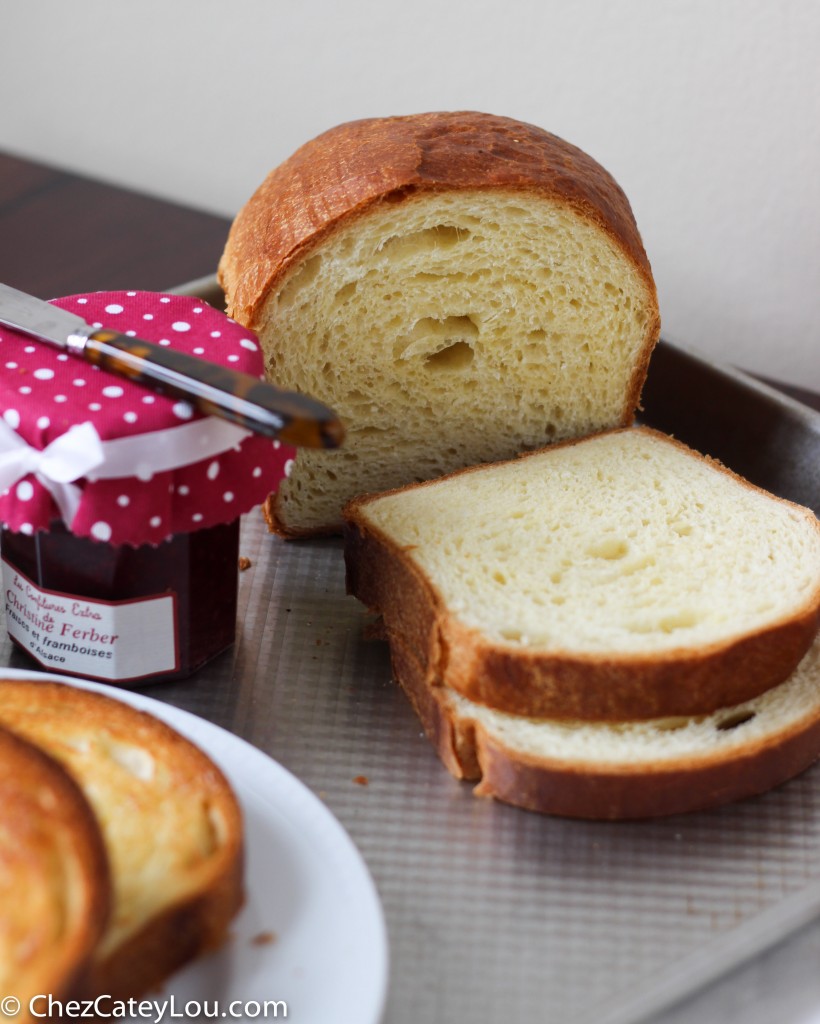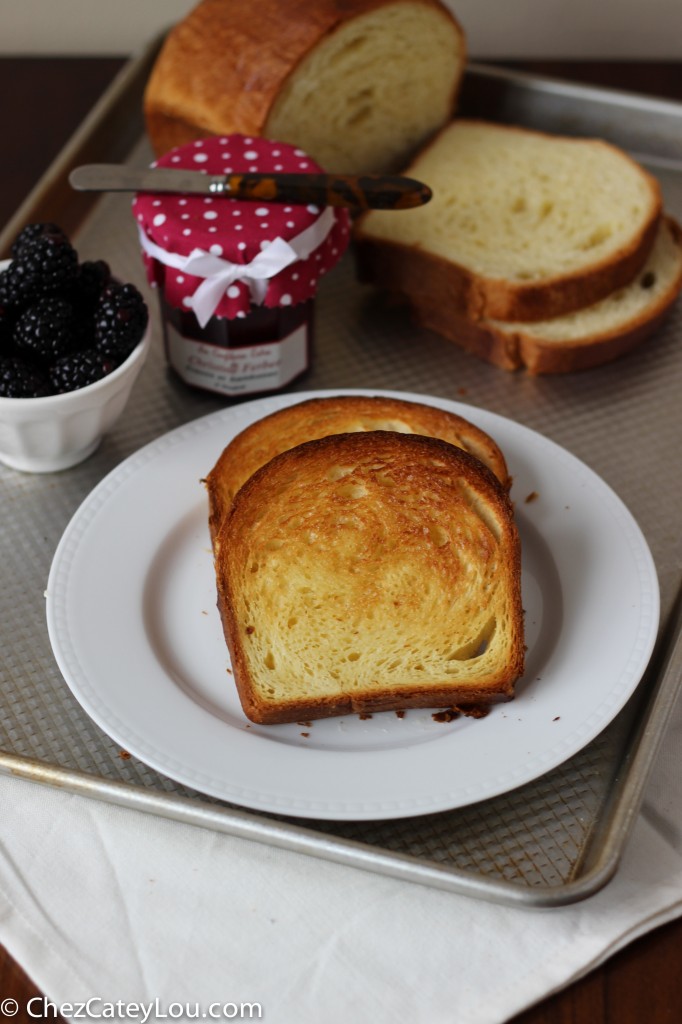 If you are lucky enough to have a snow day today, try making this brioche bread!  You will not regret it.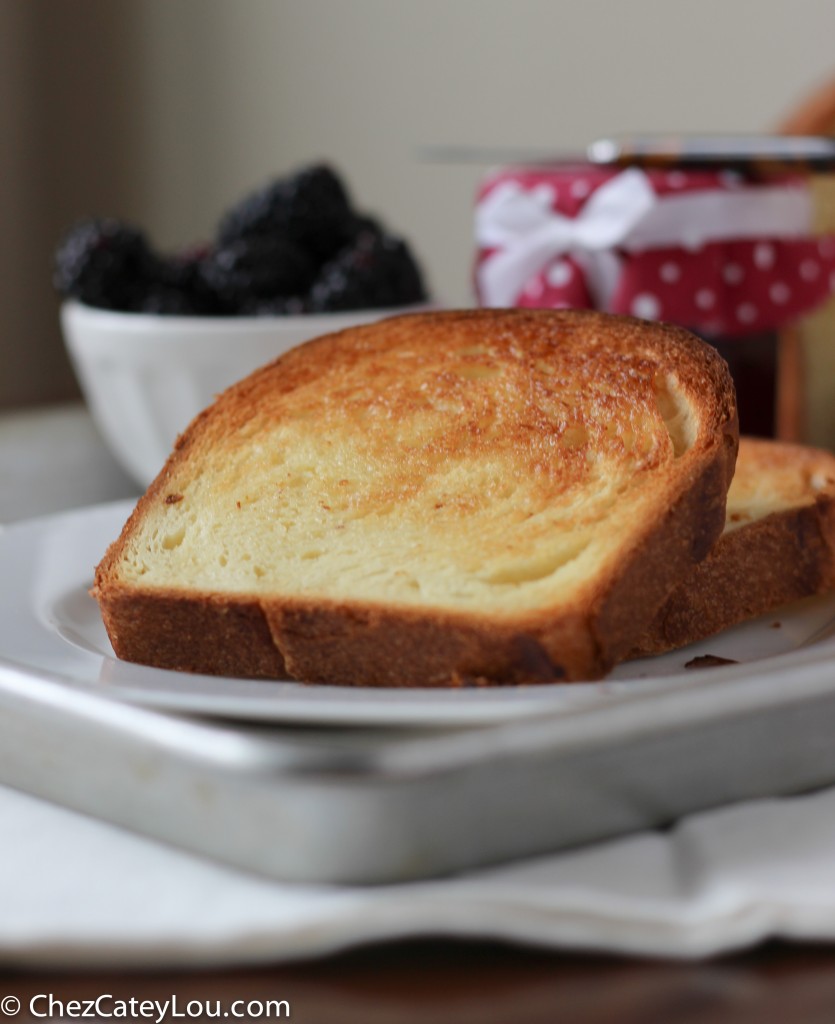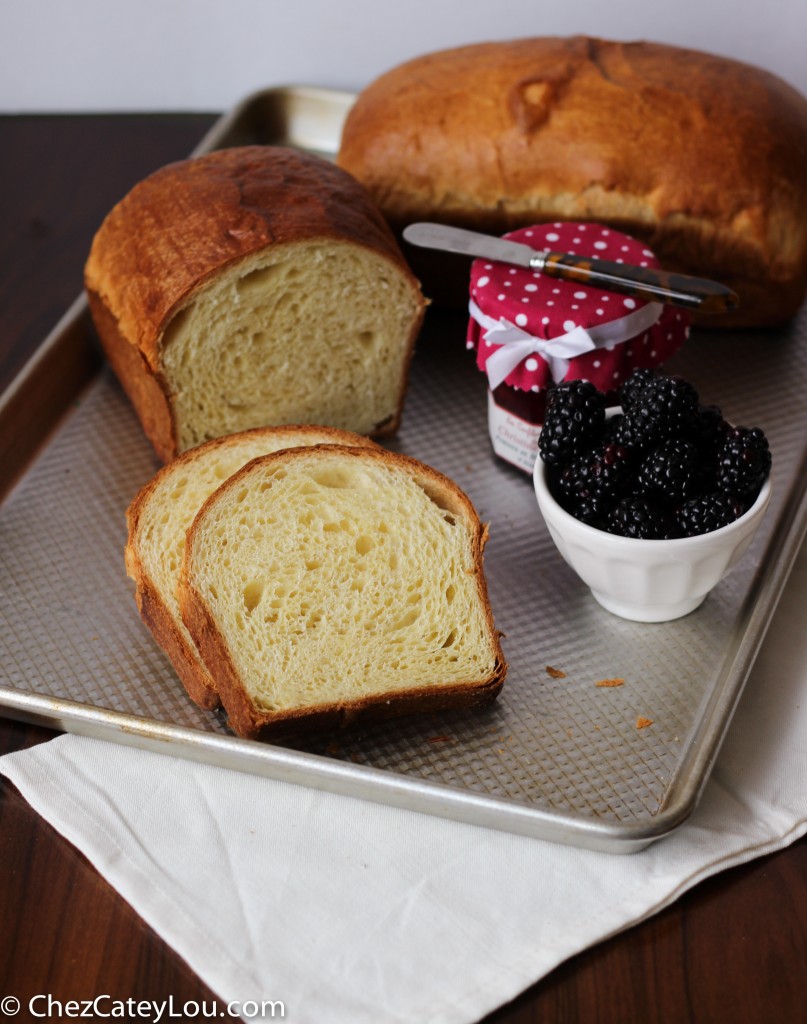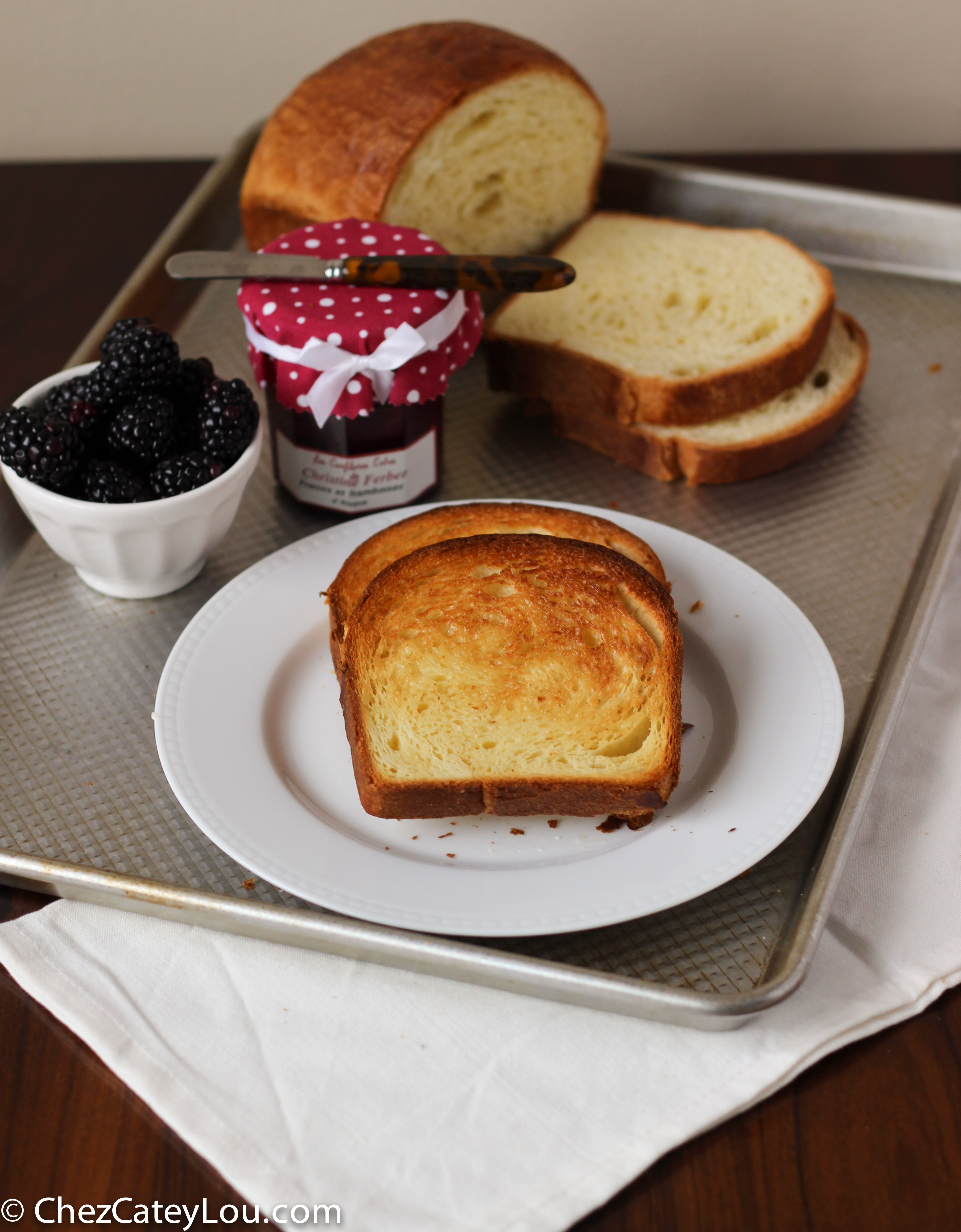 Brioche bread has the most amazing buttery flavor with a flaky crust and a fluffy inside. It is like a croissant, with a lot less work!
Ingredients
1 ½ packages active dry yeast
2 tablespoons granulated sugar
½ cup warm water (100 - 115 dgrees)
1 cup melted butter, cooled slightly
1 ½ teaspoons salt
4 cups all-purpose flour
4 eggs, at room temperature
1 egg yolk mixed with ¼ cup light cream
Instructions
Combine the yeast, sugar, and warm water in the bowl of a stand mixer (or in a large mixing bowl) and allow to proof (aka let it sit for about five minutes, until it is foamy).
Add the butter, salt, flour, and 4 eggs to the yeast mixture and knead with the dough hook for about 5 minutes, until all the ingredients are well combined and the dough is smooth. (You can also do this by hand - mix the ingredients together in the bowl and then knead on a lightly greased surface until smooth)
Place the dough in a buttered bowl, turning the ball of dough to grease the surface. Cover the bowl with plastic wrap and set in a warm place to rise until light and doubled in bulk, about 1 - 1.5 hours.
Generously grease two 8x4 inch loaf pans.
Gently punch the dough down, divide in half, and shape into two loaves. Place the loaves into the prepared pans, cover with greased plastic wrap, and let rise until doubled in bulk, about 1 hour.
About 45 minutes into the second rise, preheat oven to 400 degrees F
Gently brush the risen loaves with the egg yolk mixed with cream. Bake for 30 minutes, until the loaves are a deep golden brown and sound hollow when tapped on the bottom with the knuckles.
Cool on a rack.
Notes
https://chezcateylou.com/brioche-bread/
© Chez CateyLou. All images & content are copyright protected. Please do not use my images without prior permission. If you want to republish this recipe, please re-write the recipe in your own words, or link back to this post for the recipe.
Can't get enough bread?  Try some of these recipes too!