Yellow cake gets dressed up with a vanilla bean ricotta cheesecake filling. This cake is so simple to make and tastes delicious – the vanilla flavor really shines!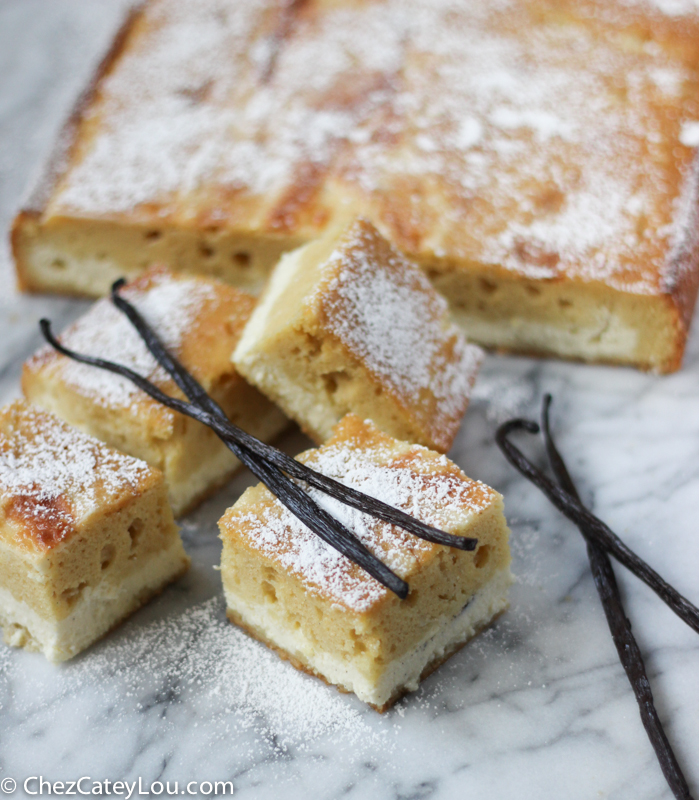 What are your thoughts on baking with cake mix? I don't use boxed cake mixes all that often, but sometimes I like to take a little help from the grocery store! Plus, there is something about the flavor of boxed cake mix that is just so delicious.
Ever since Cheesecake Day the other day, I've had cheesecake on the brain. And I also had a container of ricotta to use up, so I decided to try something very different from anything I've ever made – Vanilla Bean Ricotta Cheesecake Cake.
I love baking with vanilla beans! The little seeds add the most incredible flavor to baked goods. Plus the bean specks are so pretty. And today, I have a fabulous giveaway for you – a basket full of Nielsen-Massey products, including vanilla beans! It is valued over $200! Scroll down to the end of the post and enter to win!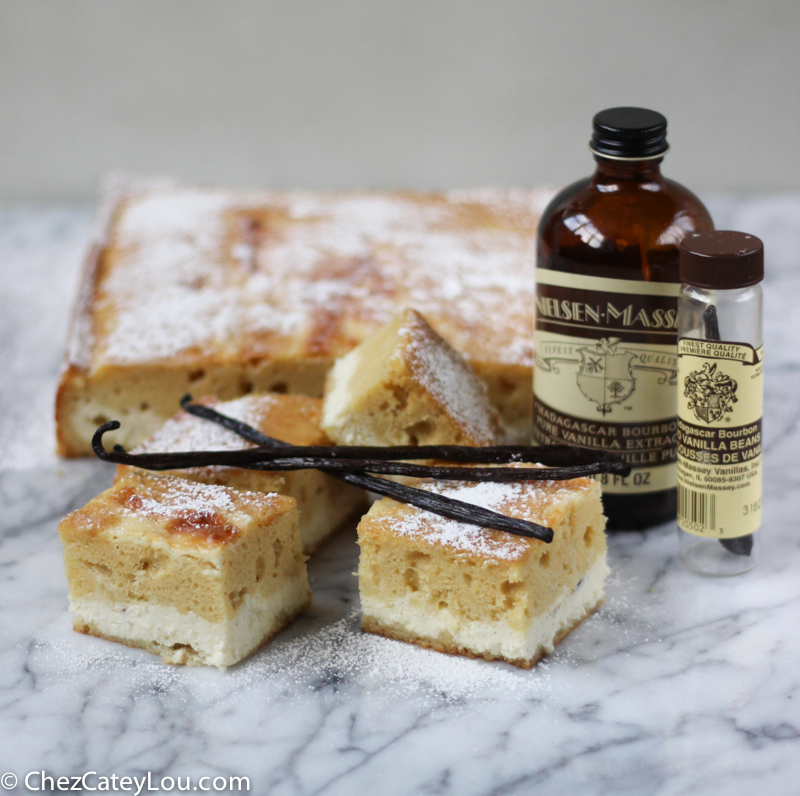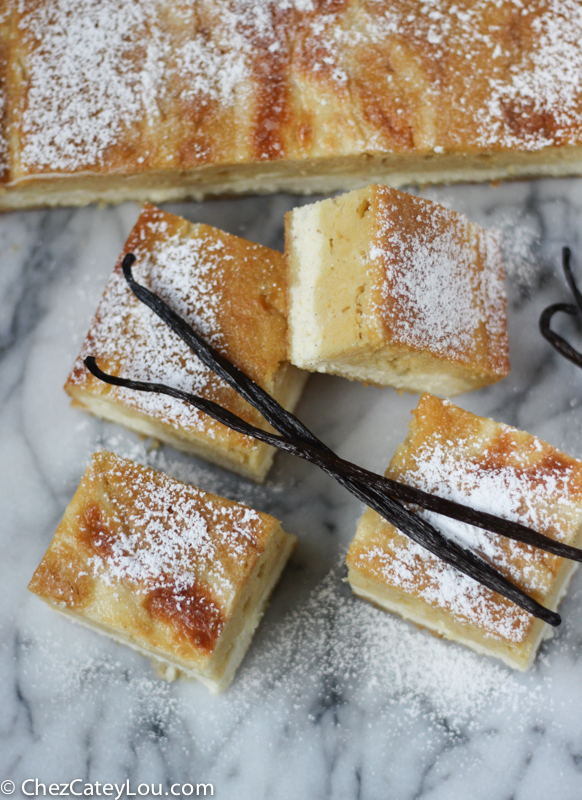 Is Cheesecake Cake a thing? We have ricotta cheesecake, but it is definitely inside a cake. So yep, I say that cheesecake cake is a thing! A very delicious thing. And a very easy thing! Seriously this is so simple to make. You just mix cake mix with eggs, oil, and water and pour it into a pan. Then mix together ricotta, eggs, sugar, vanilla, and vanilla bean (for a double dose of vanilla flavor!) and spoon it on top. The ricotta cheesecake mixture kind of sinks to the middle of the cake during baking – it gives the cake the most amazing texture! It is so moist. I know we all hate that word but really there is no other way to describe this cake – it is super moist!!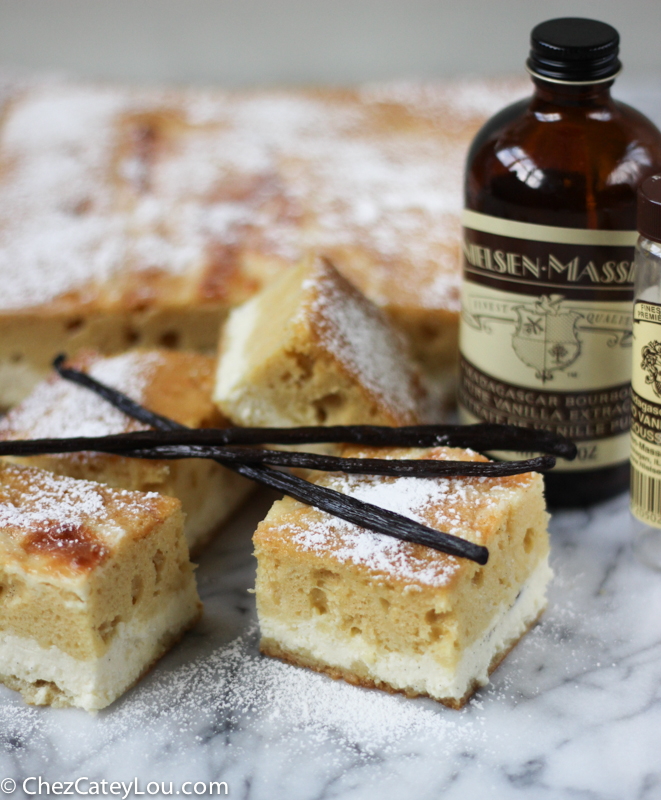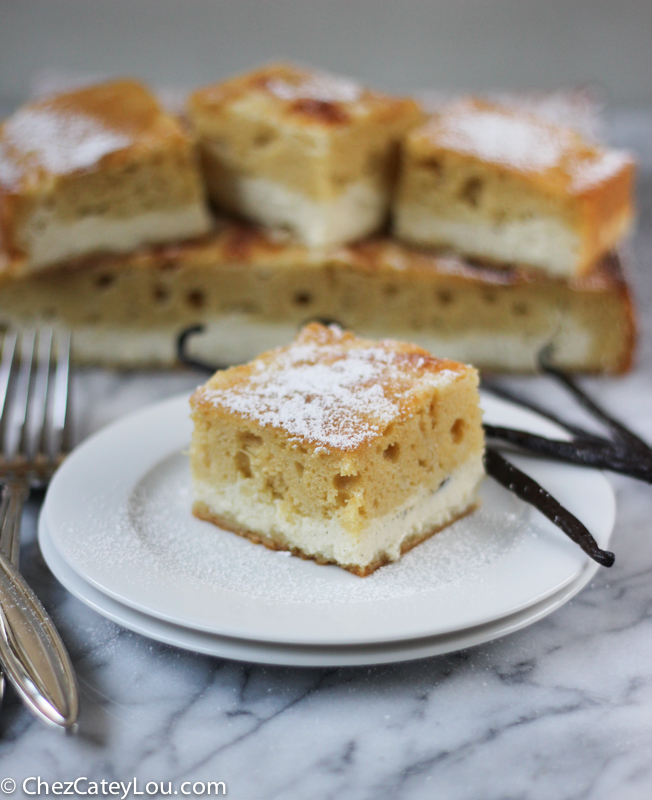 So let's talk a little more about vanilla beans. There is no getting around it – they are expensive. But they are so worth it. If I ever see them on sale, I love to stock up! They give the most incredible rich vanilla flavor to anything you put them in. Plus they look so pretty. Check out the little specks: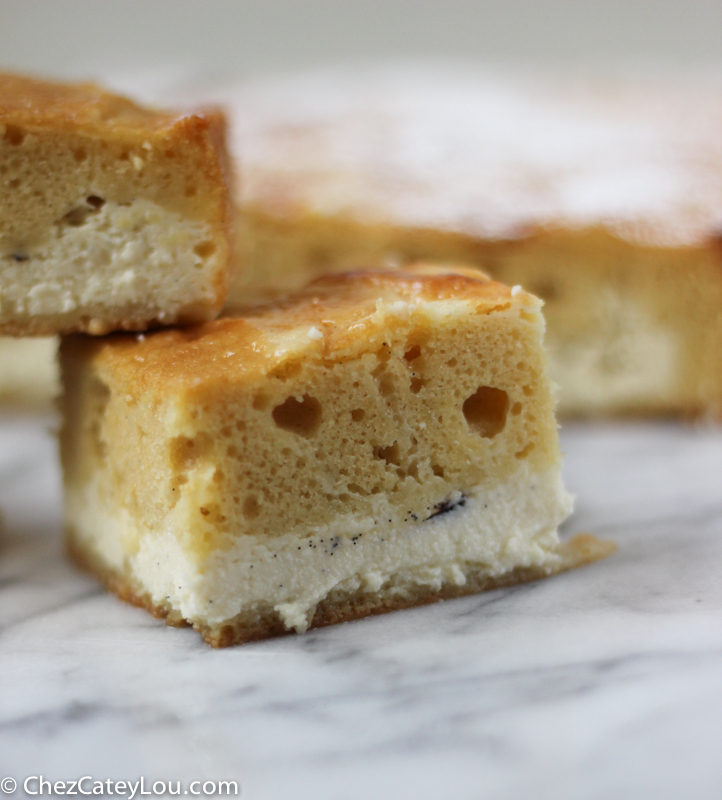 Pretty fun, right?
To use a vanilla bean, place it on a cutting board and split the bean in half with a sharp knife. The smell at this point is unreal. Such a great smell! Then use the back of the knife to scrape the seeds out of the inside of the bean. Make sure to scrape both halves of the bean to get all the seeds!
When you are done with the seeds, don't throw the pods away! Put them in a container of sugar and seal it. After a week or two, remove the pods and you have vanilla sugar! It is great to bake with or put in coffee or tea.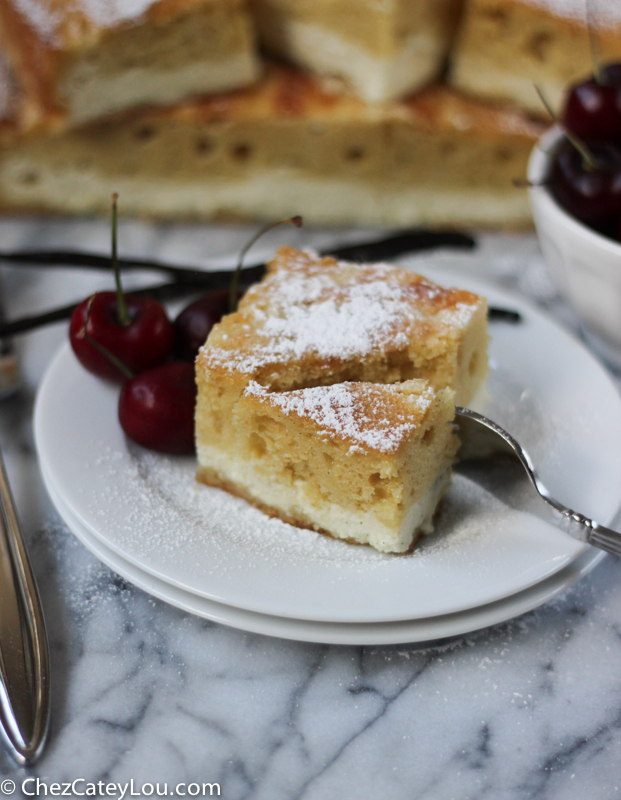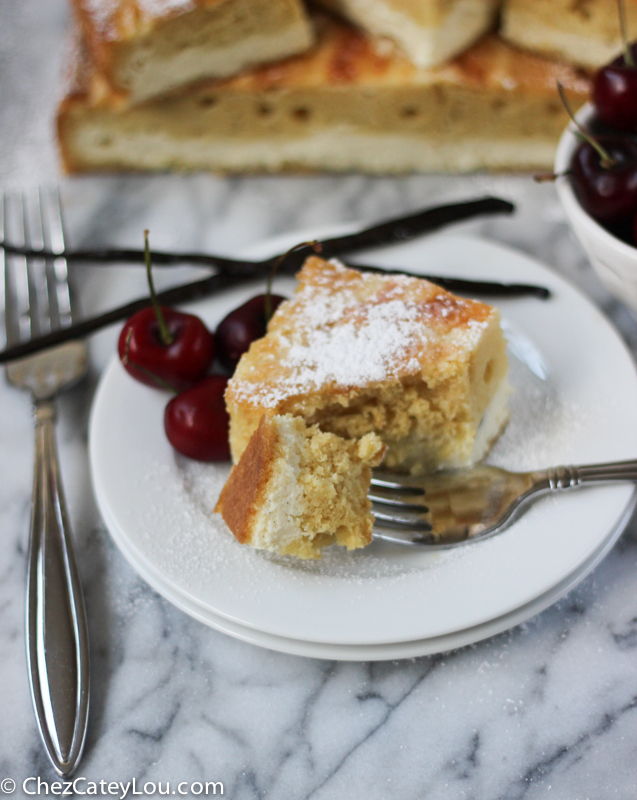 Vanilla Bean Ricotta Cheesecake Cake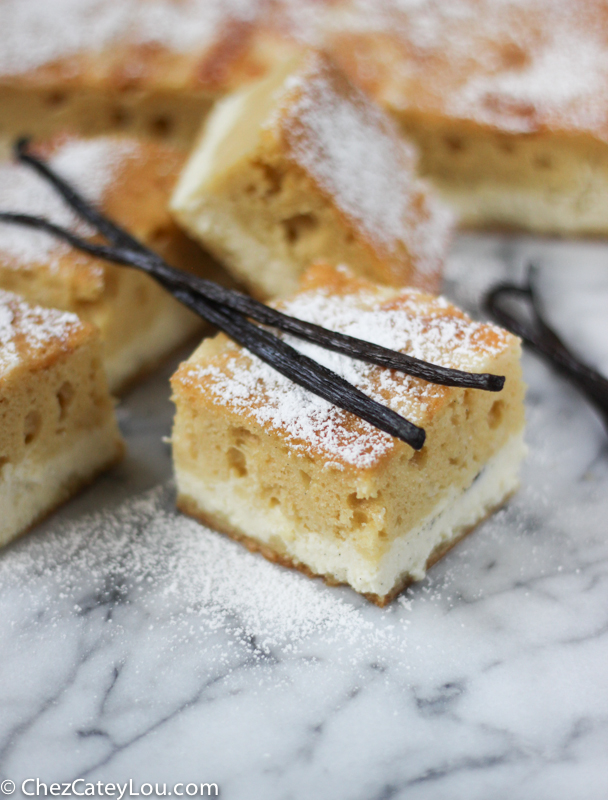 Yellow cake gets dressed up with a vanilla bean ricotta cheesecake filling. This cake is so simple to make and tastes delicious - the vanilla flavor really shines!
Ingredients
For the Cheesecake

3 large ggs, lightly beaten
1 32 oz container part skim ricotta cheese
3/4 cup sugar
1 teaspoon vanilla extract
seeds from 1 vanilla bean

For the Cake:

1 package yellow cake mix (regular size)
1 cup water
1/3 cup vegetable oil
3 large eggs

For Topping

1 tablespoon confectioners' sugar
Instructions
Preheat oven to 350°F. Grease a 13"x9" baking pan and line with a long strip of foil, leaving the ends of the foil hanging over the sides of the pan. Spray the foil with nonstick cooking spray.
In a large bowl, beat together the eggs and ricotta cheese until smooth and well combined. Add the sugar and beat very well, at least one minute. Stir in the vanilla and the vanilla bean seeds.
In a separate large bowl, combine the cake mix, water, oil, and eggs; beat until well combined. Pour the cake mix into the pan and spread evenly. Carefully spoon ricotta mixture on top of cake batter. Bake at 350° for 50-60 minutes or until lightly browned. Cool on a wire rack for 1 hour. Refrigerate overnight. Dust with confectioners' sugar; cut into squares and serve. Refrigerate leftovers.
Notes
https://chezcateylou.com/vanilla-bean-ricotta-cheesecake-cake/
© Chez CateyLou. All images & content are copyright protected. Please do not use my images without prior permission. If you want to republish this recipe, please re-write the recipe in your own words, or link back to this post for the recipe.
And now for the good part – the giveaway! Enter your email address below to get started, and then follow the prompts for ways to enter to win this awesome Nielsen-Massey giveaway!
My friends are joining in on the giveaway fun too. Check out their posts:
Simply Perfect Vanilla Ice Cream from Baking a Moment
Funfetti Hi-Hat Cupcakes from bethcakes
Coconut Raspberry Rhubarb Ice Cream from Blahnik Baker
Snickerdoodle Caramel Tart from Club Narwhal
Culinary Couture
Chelsea's Messy Apron
Vanilla Bean Ice Cream from URBAN BAKES