These carrot cake cookies have all of the warm and delicious flavors of carrot cake baked into a soft and chewy cookie!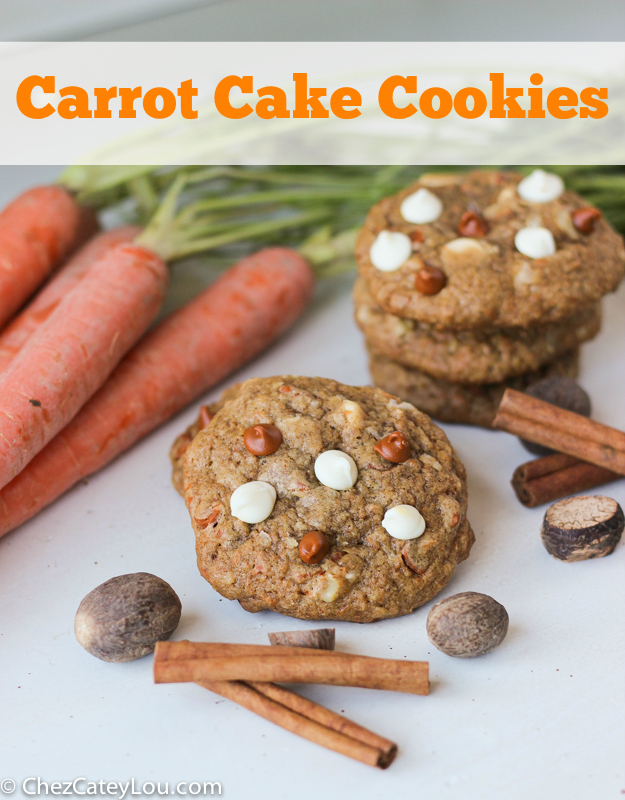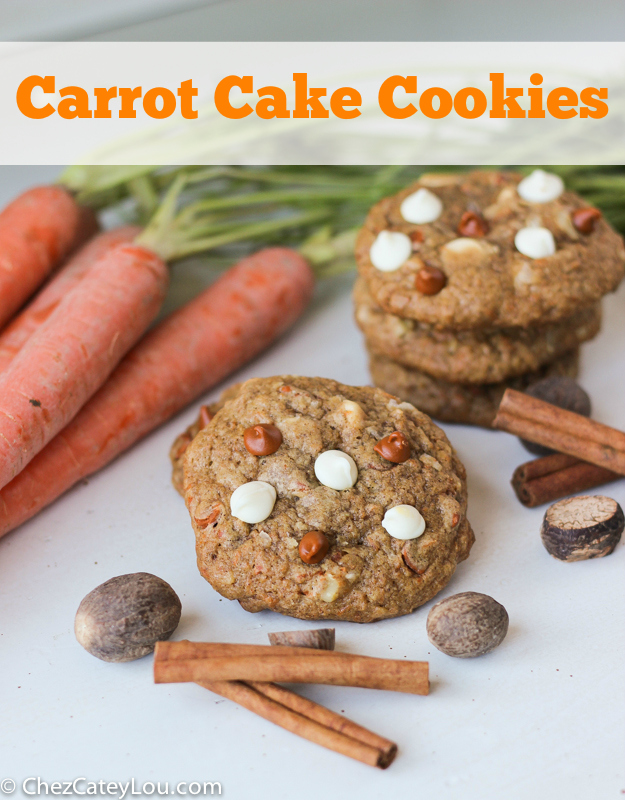 Happy Friday everybody! Is anything better than Friday? I really don't think so! Sure you still have to wake up and go to work or school – but the promise of the weekend is ahead. It is such a great feeling! And what better way to celebrate Friday than with cookies – carrot cake cookies to be exact. How's that for some alliteration?!
These aren't just any carrot cake cookies – these are for the Mystery Dish challenge! That's right, it is already time for another Mystery Dish challenge. In case you missed some of my other posts, Mystery Dish is a fun group that I'm part of with some of my blogging friends. Every month, the host sends out a list of ingredients, and we have to come up with something using the "mystery" ingredients. It is kind of like the show Chopped, with a lot less pressure!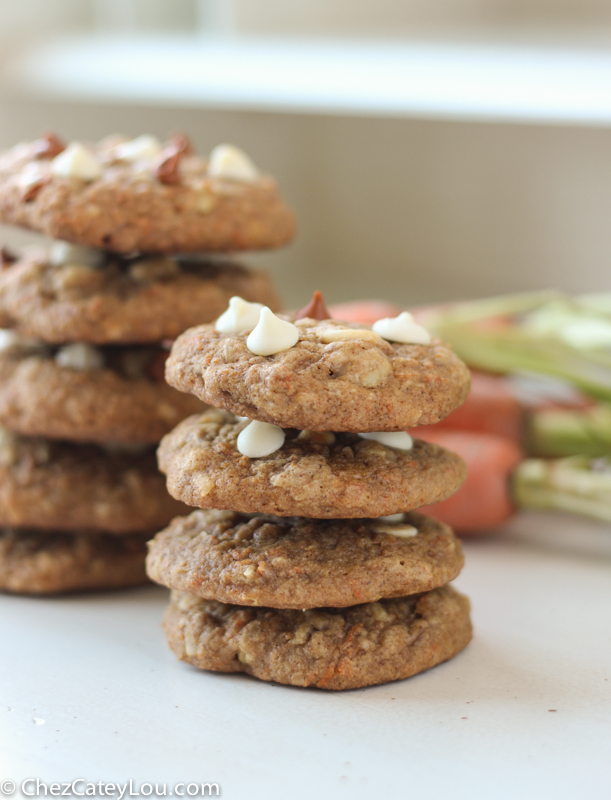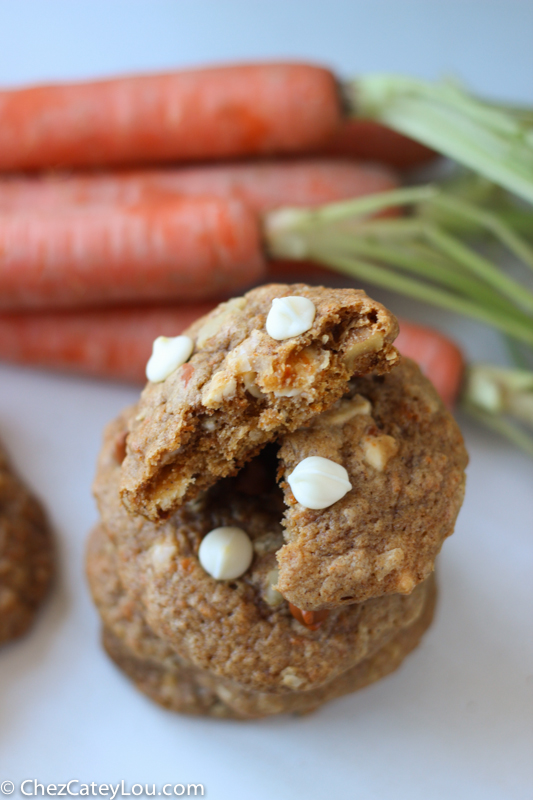 Our lovely host this month was Kat at I Want Crazy.  She picked Boxed Cake Mix, Peeps, Oats, Ginger, Honey, Wine, Shallots, Coconut, Shrimp, Cherry Tomatoes, Kiwi, Dried Fruit, and Cinnamon, and challenged us to use three ingredients.
Coconut, cinnamon, and ginger jumped out at me, and I decided that carrot cake cookies would be the perfect thing to make!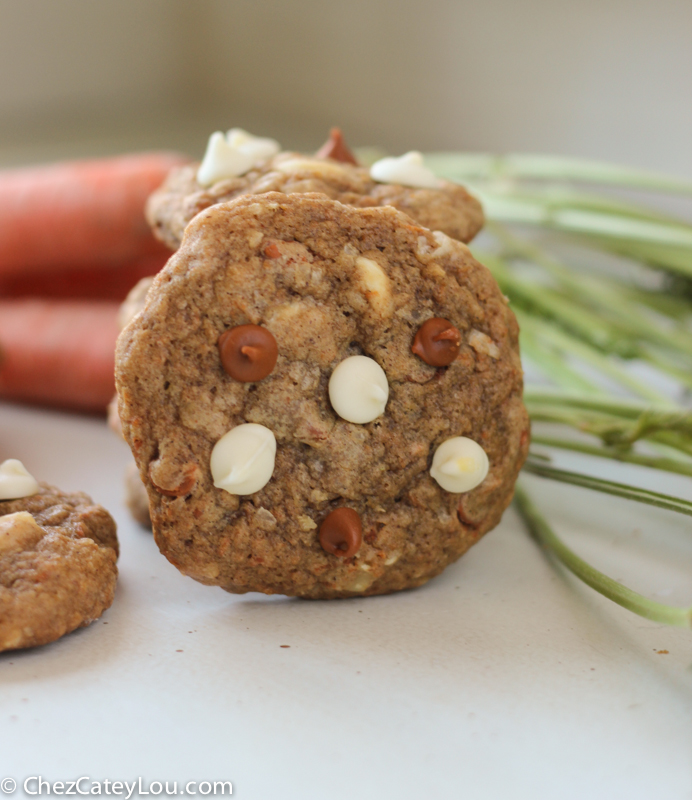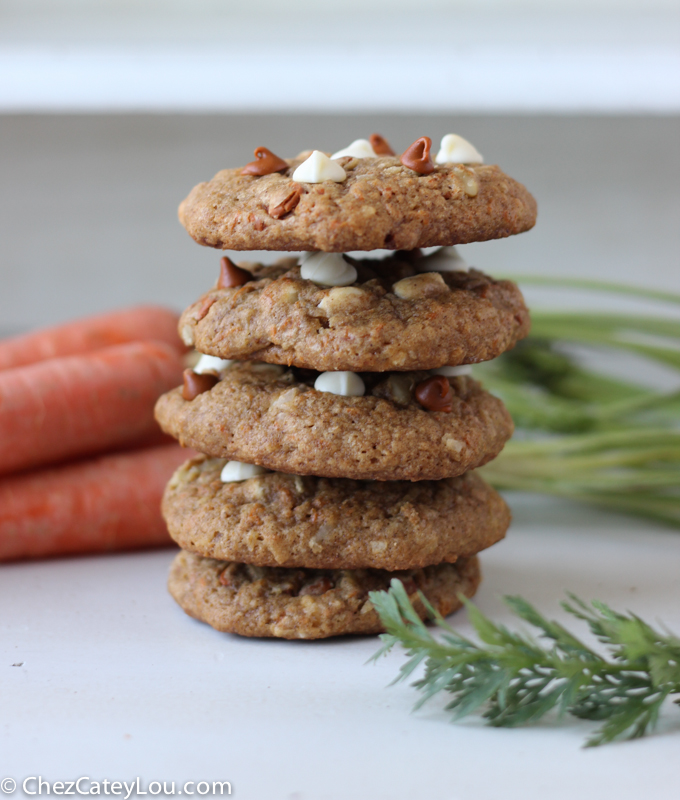 Does carrot cake remind you of fall or of Easter? I was so excited that my Mystery Dish Recipe could also be Easter themed!
And then I realized that so many people associate carrot cake and the warm spices in it (cinnamon, ginger, and nutmeg) with fall. But what about the coconut, white chocolate, and carrots?? Those are definitely spring / Easter! So I guess the answer is that you should make these cookies year round :).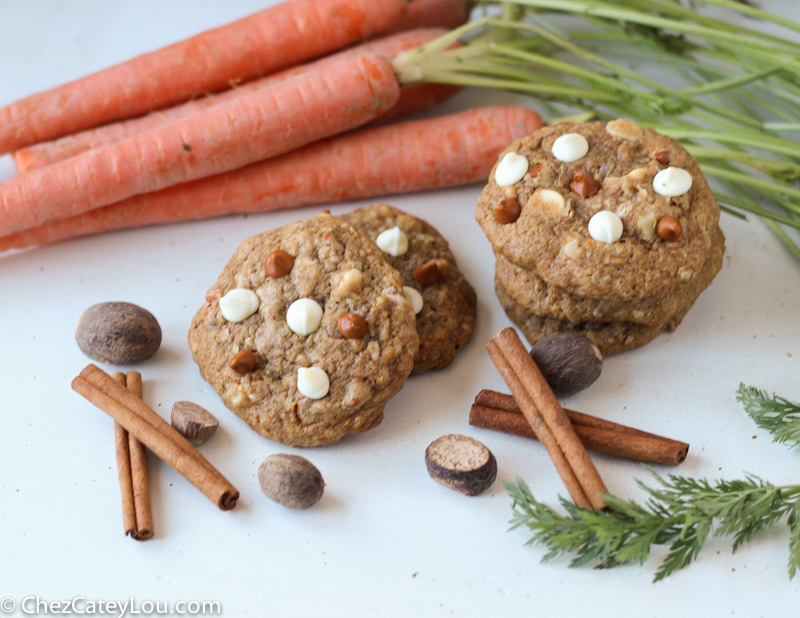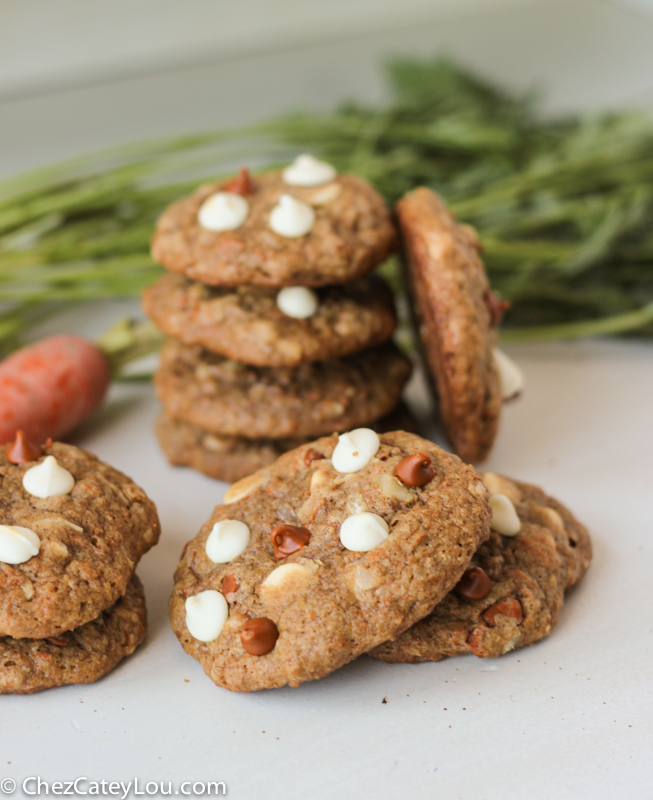 And really, these carrot cake cookies would be a crowd pleaser year round – they are great! I mean first of all, the dough starts out with browned butter – I don't think there has ever been anything that starts with browned butter that hasn't been amazing.
And then listen to all the delicious things that are in here: brown sugar, cinnamon, ginger, nutmeg, coconut, white chocolate chips, cinnamon chips, and walnuts. And of course, carrots! Ok, perhaps the carrots aren't quite as exciting as some of the other ingredients, but they really do bring something special to these cookies. And you really can't have a carrot cake cookie without carrots.
Even though the cookies taste like carrot cake, the texture is nothing like cake at all. These are so soft and chewy – the perfect cookie texture! It is such a fun twist on classic carrot cake. And if you want to really make these more like carrot cake and spread some cream cheese frosting on top, I fully support that!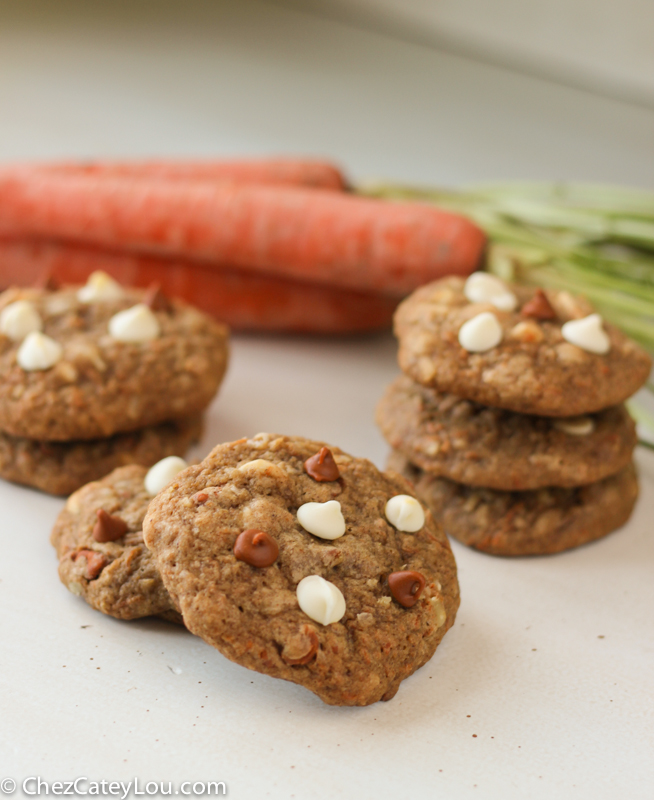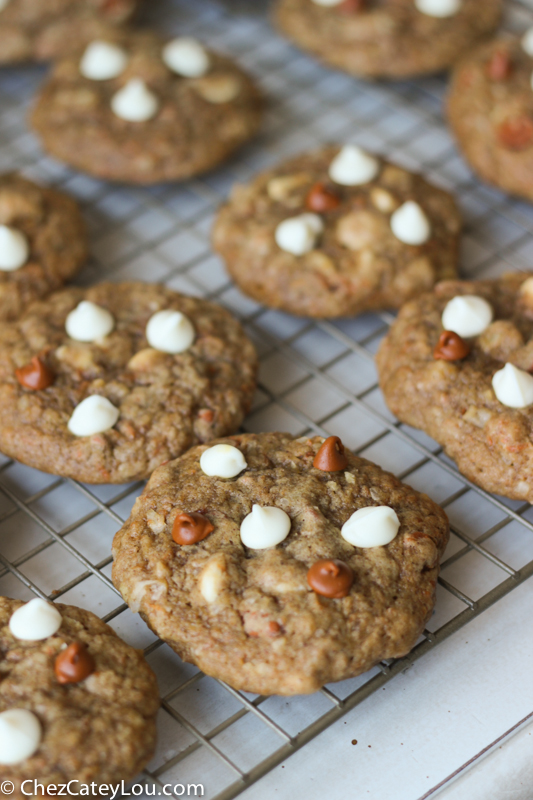 Look at all the other amazing dishes that my friends made!  The links are below the picture collage, so be sure to check out their awesome recipes.
1. Coconut Shrimp with Thai Chili Ginger Sauce by Joyful Healthy Eats

2. Sangria Poached Pears by Baking a Moment
3. Baked Mini Carrot Cake Donuts by Culinary Couture Blog
4. Funfetti Cookies with Peeps Marshmallow Frosting by I Dig Pinterest
5. Carrot Oatmeal Cookies by Yummy Healthy Easy
6. Gooey Oatmeal Cranberry Bars by I Want Crazy
7. Honey Lime Coconut Oatmeal Cookies by Blahnik Baker
8. Chocolate Almond Date Balls by The Well Floured Kitchen
9. Tropical Kiwi Fruit Muffins by The Pajama Chef
10. Nesting Peeps Cupcakes by The Dessert Chronicles
11. Carrot Cake Cookies by Chez CateyLou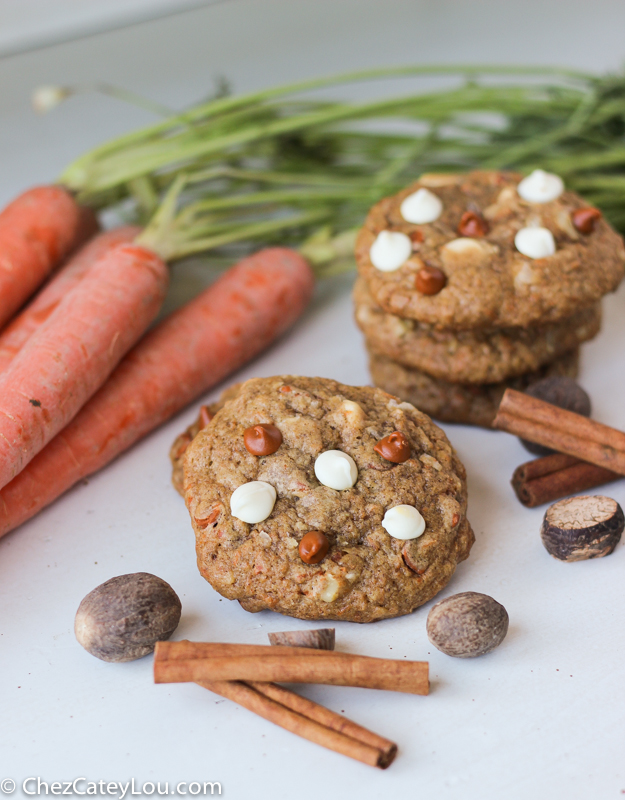 These carrot cake cookies have all of the warm and delicious flavors of carrot cake baked into a soft and chewy, not cakey, cookie!
Ingredients
2 cups all-purpose flour
1/2 tsp baking soda
1/2 tsp salt
2 tsp ground cinnamon
1/2 tsp ground ginger
1/2 tsp ground nutmeg
3/4 cup unsalted butter
1 cup packed dark brown sugar
1/4 cup sugar
1 large egg
1 large egg yolk
1 Tbsp vanilla extract
1 1/2 cups finely grated carrots (about 2 medium-large carrots)
1 1/2 cups white chocolate chips and / or cinnamon chips
1/2 cup shredded sweetened coconut
1/2 cup chopped walnuts or pecans (optional)
1/4 cup white chocolate chips (optional, for garnish)
Instructions
Whisk together the flour, baking soda, salt, cinnamon, ginger, and nutmeg in a medium bowl.
Add the butter to a small frying pan, and melt it over medium heat, swirling occasionally. Once the butter is melted, swirl the pan constantly, until the butter is slightly golden brown and smells nutty. It burns quickly, so be careful!
Place the browned butter in the bowl of a stand mixer fitted with the paddle attachment. Add the sugars and mix until well incorporated. Add the egg and mix very well, then add the yolk and mix again, scraping the sides of the bowl as needed. Mix in the vanilla.
Stir in the carrots.
Slowly add the dry ingredients, and mix until the flour is just incorporated. This is a very wet cookie dough.
Stir in the coconut, white chocolate chips, and nuts (if using). Cover the dough with plastic wrap and refrigerate for at least two hours or overnight.
Preheat oven to 325 degrees F.
Spoon the cookie dough onto the sheet, about 2T of dough per cookie. Bake for 12 - 15 minutes, until the edges are slightly golden brown. If desired, place a few chocolate chips on each cookie right when they come out of the oven. Let the cookies cool on the sheet for a few minutes, then move to a wire rack to cool completely.
Notes
https://chezcateylou.com/carrot-cake-cookies/
© Chez CateyLou. All images & content are copyright protected. Please do not use my images without prior permission. If you want to republish this recipe, please re-write the recipe in your own words, or link back to this post for the recipe.
If you are a cinnamon lover, I have some great recipes for you!