Chocolate Bundt Cake is so rich and moist thanks to sour cream in the batter. A gorgeous and delicious chocolate cake!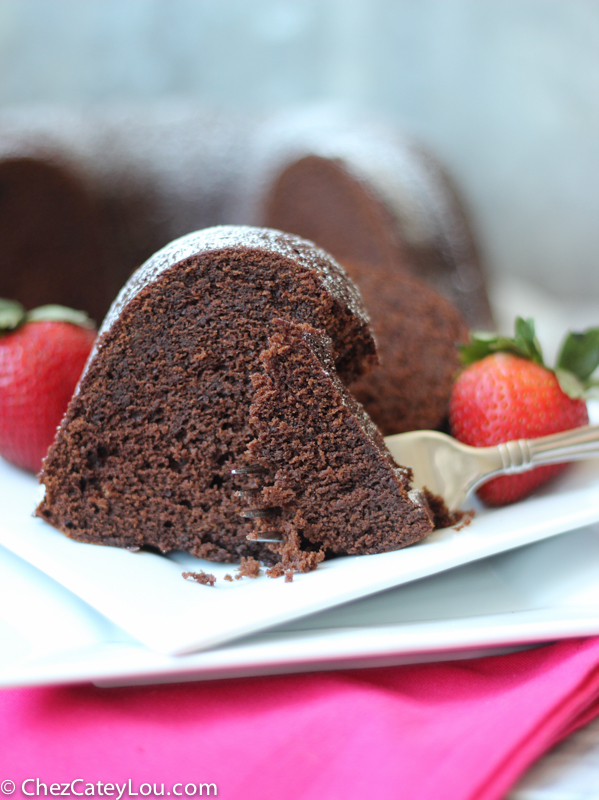 Did everyone have a good holiday weekend? It was nice to have a day off work but I must say, my weekend was not so great. TheBetterHalf and I were supposed to go visit my family in St. Louis. After an hour delay and 2 hours sitting on the plane at LaGuardia, AA canceled our flight! They were unable to re-book us, so we had to cancel our whole trip. Needless to say, I was not a happy camper.
So I made a cake to cheer myself up! Who wouldn't smile at a nice, rich chocolate bundt cake!  Just smelling this in the oven made my weekend start to look up immediately.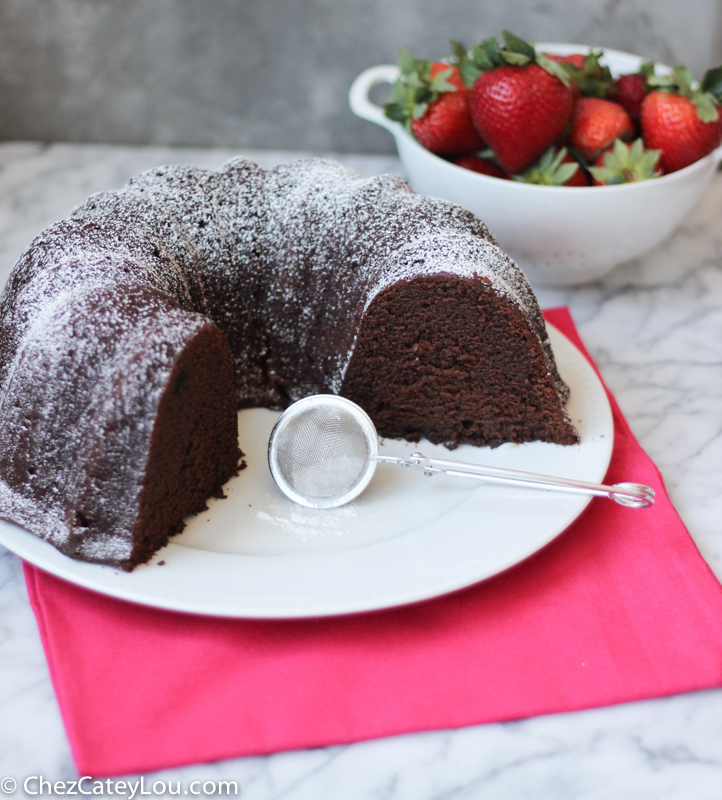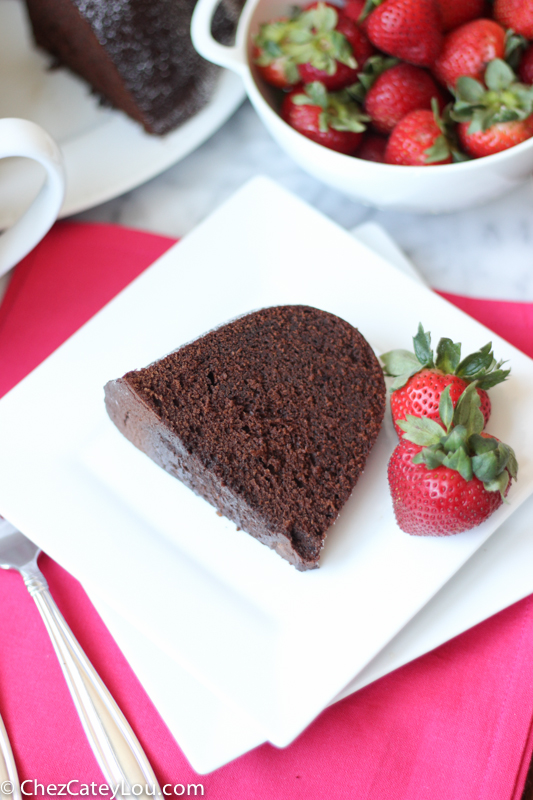 Bundt cakes are a new addition to my baking repertoire. When you live in a small apartment, there is just no room for superfluous kitchen accessories. And so I survived for years as a bundt pan-less woman. And then I decided that now that I have a blog, a bundt pan is no longer superfluous! So I got myself a present, and then made this beauty.
And I knew that a chocolate bundt cake was next on the list!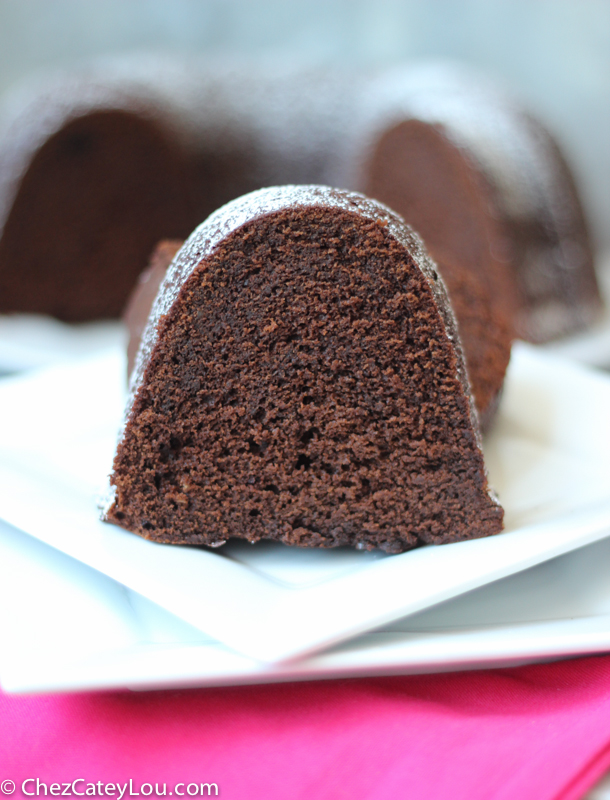 This recipe comes from America's Test Kitchen (my absolute favorite source for recipes) and they call it Chocolate Sour Cream Bundt Cake. I decided to change the name….bakers know that things like sour cream and mayo make cakes super rich and moist, but to normal people it just sounds kind of….gross. I'm actually not a sour cream fan – I would NEVER eat it plain, and I almost always sub in yogurt when a recipe calls for it.
However. I just knew that yogurt would not do the trick in this chocolate bundt cake. I was trying to cheer myself up after all, so only the richest, moistest, most decadent cake would do!  And the sour cream really came through in this cake.  It is so rich and moist!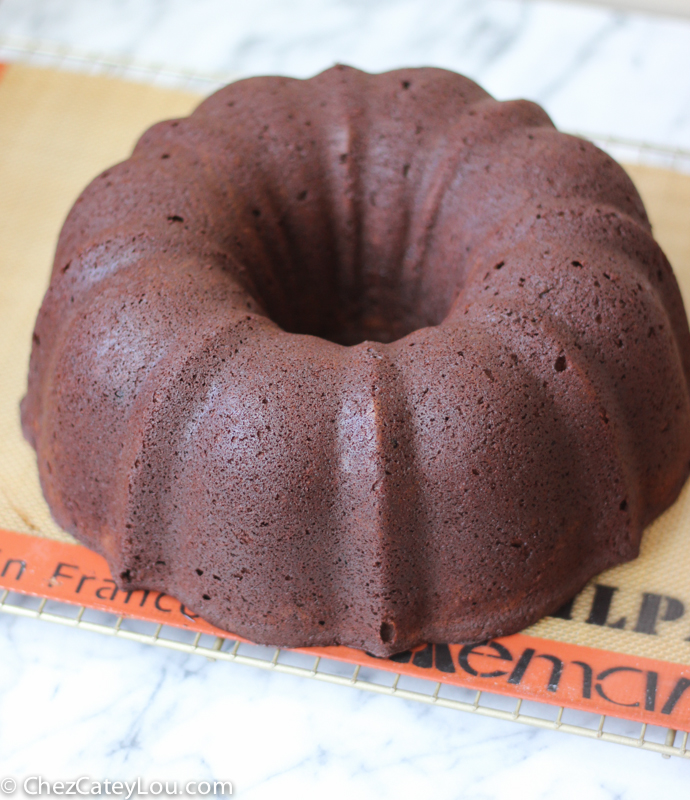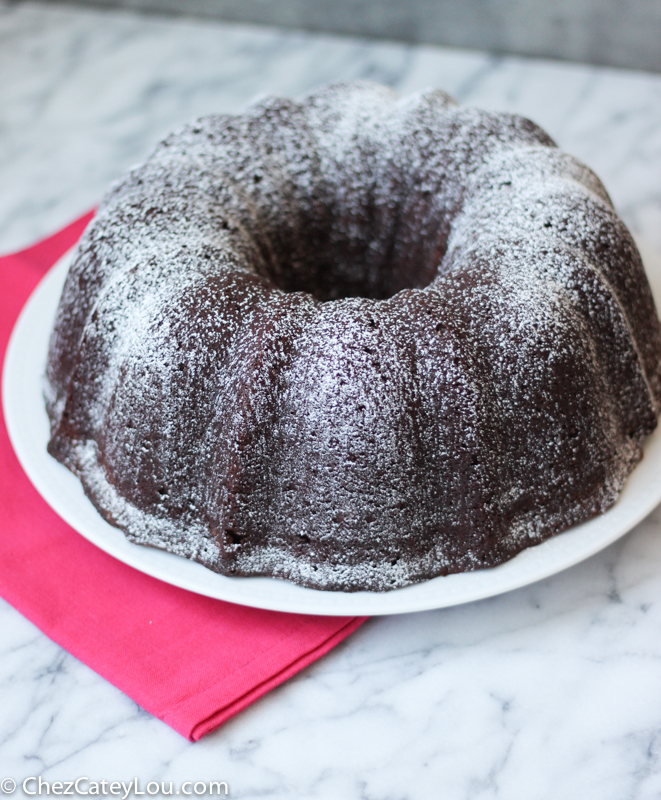 When this cake came out of the pan in one (beautiful) piece, I honestly did a little happy dance. Nothing is worse than a cake sticking in the pan!!! This recipe calls for greasing the pan with a paste made of melted butter and cocoa powder, and it worked wonders.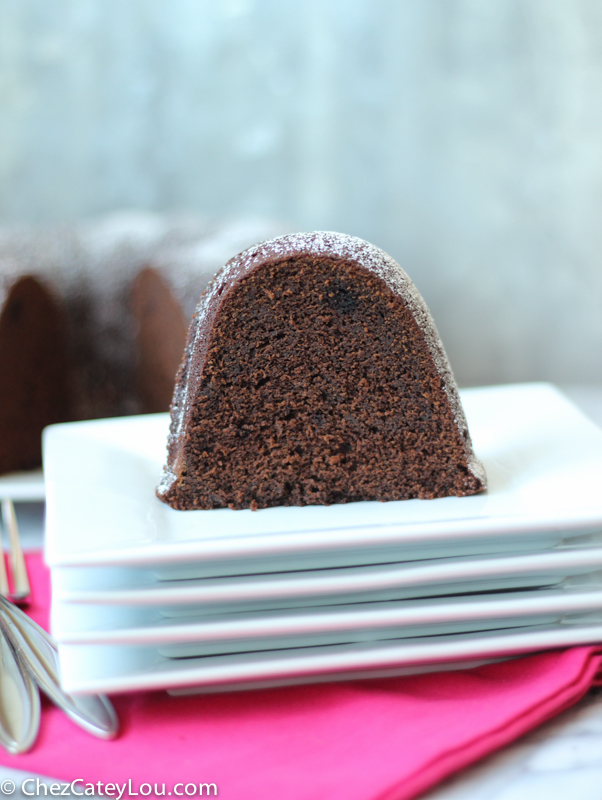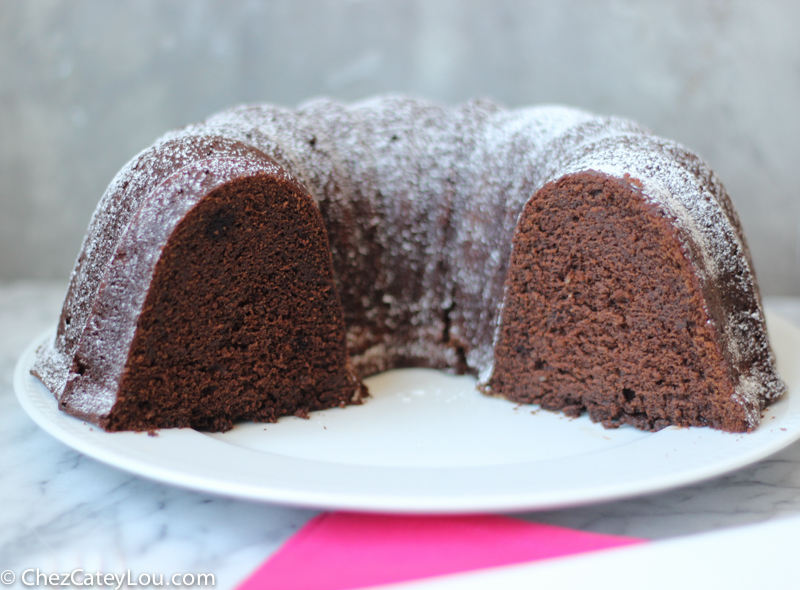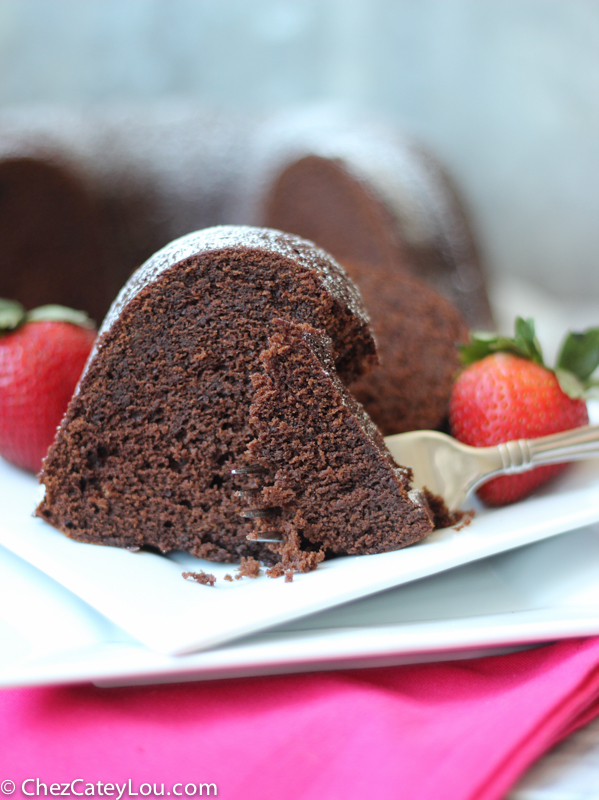 Chocolate Bundt Cake is so rich and moist thanks to sour cream in the batter. A gorgeous and delicious chocolate cake!
Ingredients
For Greasing the pan

1 tablespoon butter, melted
1 tablespoon cocoa powder

For the Cake

3/4 cup natural cocoa powder (2 1/4 oz)
6 ounces bittersweet chocolate, chopped
1 teaspoon instant espresso powder
3/4 cup boiling water
1 cup sour cream, at room temp
1 3/4 cup all-purpose flour (8 3/4 oz)
1 teaspoon table salt
1 teaspoon baking soda
1 1/2 sticks unsalted butter, at room temp (12 tablespoons)
2 cups packed light brown sugar (14 oz)
1 tablespoon vanilla extract
5 large eggs, at room temp
confectioners' sugar for dusting
Instructions
For the Cake

To a medium heatproof bowl, add the cocoa powder, chocolate, and espresso powder. Pour boiling water over and whisk the mixture until smooth. Set aside to cool to room temperature.

For Greasing the Pan

Meanwhile, prepare the pan. In a small bowl, stir together melted butter and cocoa powder. Use a pastry brush to coat the inside of a 12-cup Bundt pan with the butter/cocoa paste. If the mixture is too thick, place in the microwave for 10 seconds to re-soften
Preheat oven to 350 degrees F

Back to the Cake

Once the chocolate mixture has cooled, whisk in the sour cream
In a medium bowl, whisk together flour, salt, and baking soda.
In the bowl of a stand mixer fitted with the paddle attachment, beat butter, sugar, and vanilla on medium-high speed for about 3 minutes, until pale and fluffy.
Reduce speed to medium and add eggs one at a time, beating for 30 seconds after each addition. Stop the mixer occasionally to scrape down the bowl with a rubber spatula.
At this point, your batter may look separated - this is ok.
Reduce speed to medium-low and add 1/3 of the flour mixture and 1/2 of the chocolate mixture. Mix for 20 seconds, until just incorporated. Repeat with second third of flour and the rest of the chocolate. Add the rest of the flour and mix until just incorporated. Turn off mixer and mix batter by hand to ensure everything is fully incorporated.
Carefully pour batter into prepared bundt pan - try not to pour onto the sides of the pan.
Bake for 40 - 50 minutes, until a wooden skewer comes out with a few moist crumbs attached. Cool in the pan for 10 minutes, then invert cake onto a parchment-lined wire rack. Cool to room temperature, about 3 hours. Lightly dust with confectioners' sugar, transfer to a platter, and serve.
Notes
https://chezcateylou.com/chocolate-bundt-cake/
© Chez CateyLou. All images & content are copyright protected. Please do not use my images without prior permission. If you want to republish this recipe, please re-write the recipe in your own words, or link back to this post for the recipe.
Chocolate lover? Me too!! Try some of these!
Brownie Pudding – one of the best things I have ever made!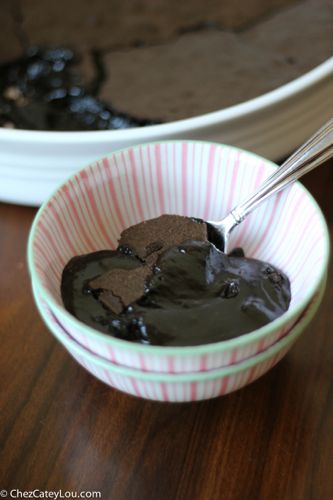 Oreo Inspired Chewy Chocolate White Chocolate Chip Cookies – so rich and chocolatey