Chocolate Saltine Toffee is so simple to make and tastes absolutely amazing – there is a reason it is called Christmas Crack! Perfect for an easy and festive treat!
Are you sick of cookies yet? Wait, is that even possible? I really don't think so. I know that I could NEVER get sick of cookies. But in case you are, I have a non-cookie Christmas dessert recipe for you. It is called Christmas Crack, aka Chocolate Saltine Toffee. Why is it called Christmas crack? Because you can't stop eating the stuff! It is sooo good. I don't know why I did this to myself. I love toffee, so naturally I haven't been able to stop eating this since I made it. I finally had to hide it in the back corner of my freezer. Let's hope I forget it is there today!
This recipe is so easy. I've been making this stuff for years.  I used to make it with my junior year college roommates, and we did not bake much (or at all) back then, so you know this must be easy!  Yes, there are saltines in there. I know it might sound weird, but it gives it the most delicious, salty crunch. Can you believe that you can make toffee without a candy thermometer? You can, and it is great!
You just melt some butter and brown sugar together, then boil it for a few minutes. Pour it over some saltines, and bake it for 5 minutes.  Then put chocolate chips on top until they get all melty.  Spread them into an even layer, and then the topping fun begins! You can top this with anything you like – I chose Christmas m&m's and white sprinkles to make it look festive. But you could sprinkle it with chopped nuts, peppermint pieces, any type of chopped candy bar, sprinkles – the possibilities are endless! Or you could just leave it plain. Whatever topping you choose, this toffee is delicious and will disappear if you have it around your house!
More Christmas treats!
Another version of Christmas Crack – this one is made with Graham Crackers!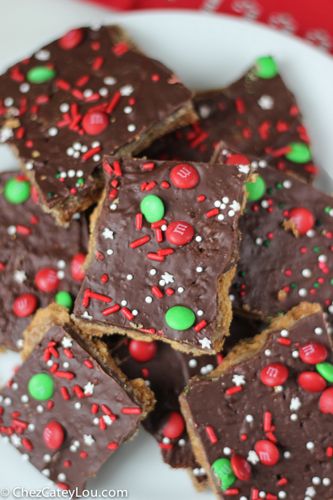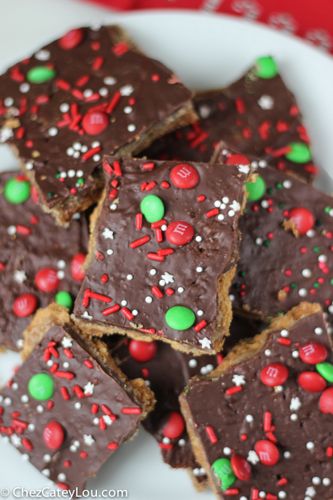 Peanut Butter Reindeer Cookies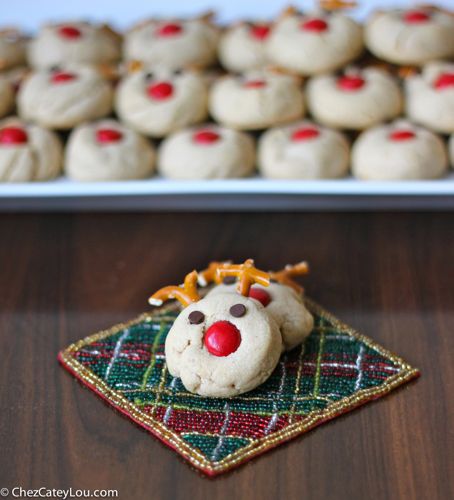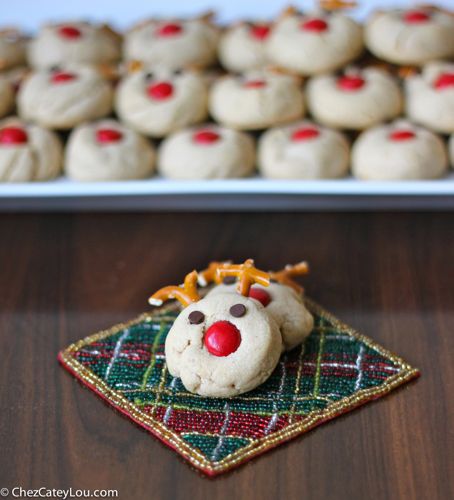 French Butter Cookies (Sables)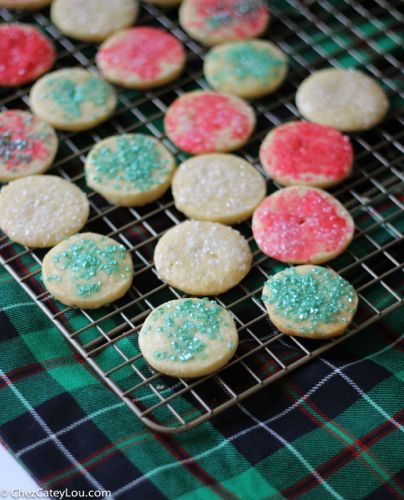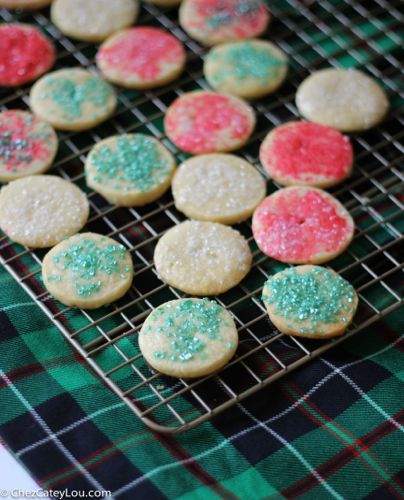 Connect with Chez CateyLou!