Graham Cracker Toffee is one of the easiest desserts ever and is so delicious! There is a reason it is also called Christmas Crack – it is addicting!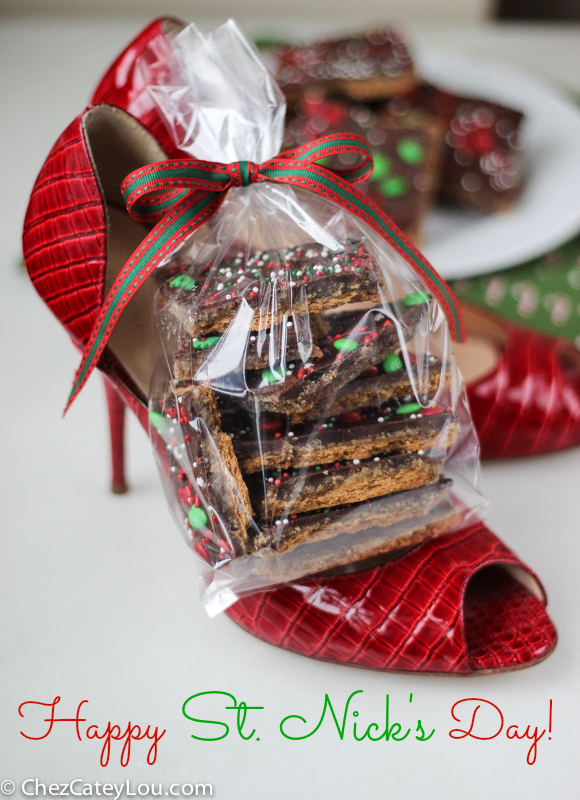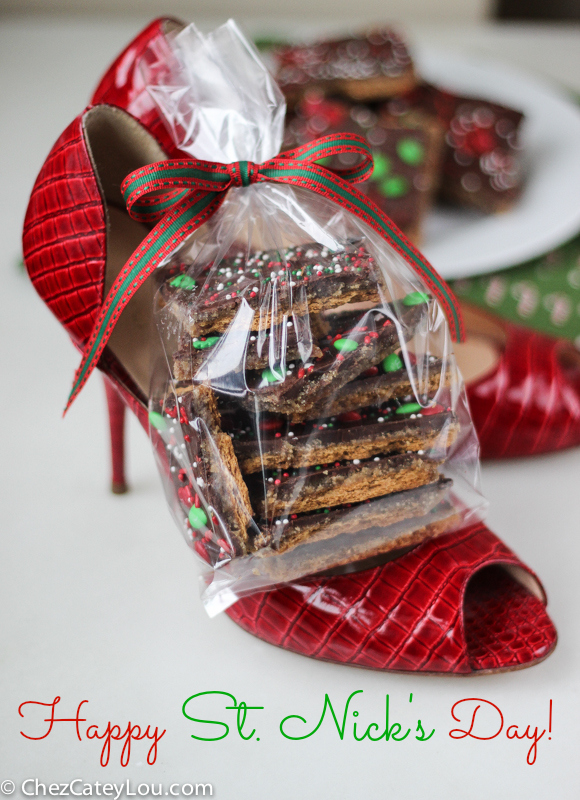 Happy St. Nick's Day! I made you some Graham Cracker Toffee to celebrate! I'm sure a lot of you have never heard of this holiday, and are probably wondering why I have graham cracker toffee in a shoe…
St. Nick's Day is the feast day of St. Nicholas, and is celebrated by leaving a shoe outside your bedroom door the night of Dec. 5. St. Nick comes in the night and fills your shoe with sweet treats! This holiday is celebrated in many European countries, and in the US it is celebrated in cities with a strong German influence – like St. Louis! Growing up we always celebrated St. Nick's Day at school and at home.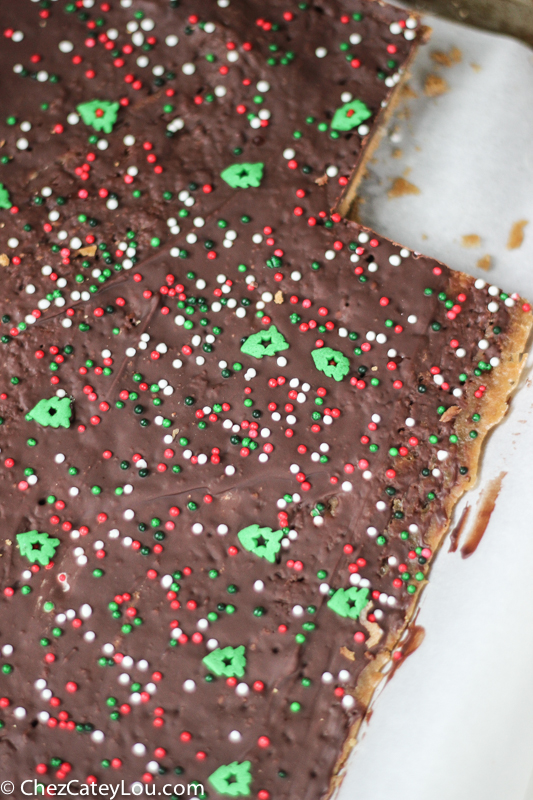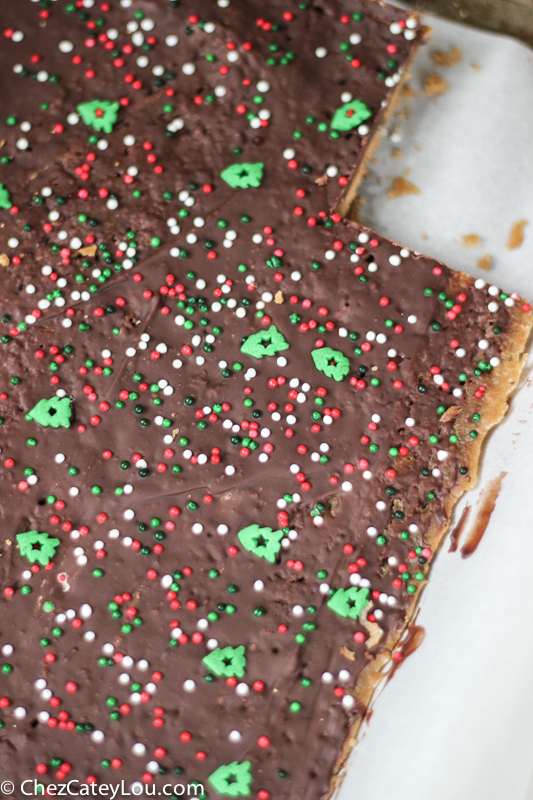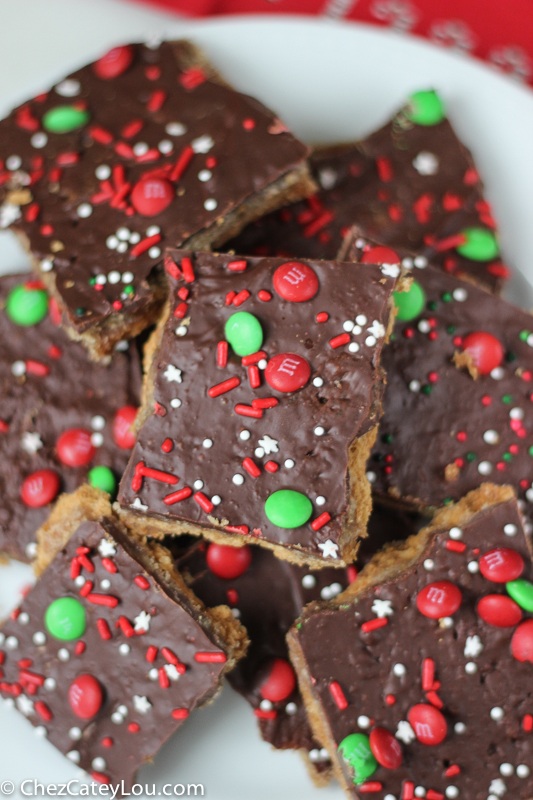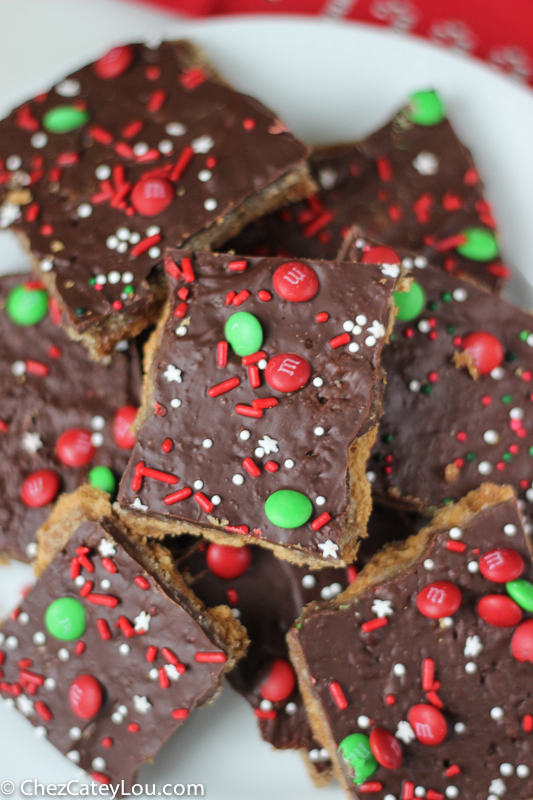 This Graham Cracker Toffee might look slightly familiar…that's because the recipe is nearly identical to the Chocolate Saltine Toffee that I made last year. I just replaced the saltines with graham crackers! This type of toffee is so easy to make, and is really fun to decorate for Christmas – that's why I wanted to make a new variety this year! So many Christmas desserts can be rather time consuming (hello chocolate shortbread cookies), so it is nice to have an easy recipe to turn to when you want something festive and pretty but quick!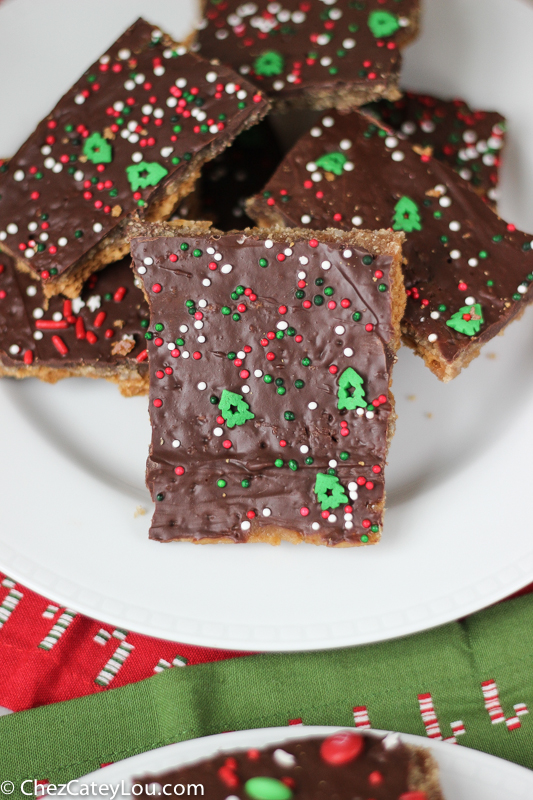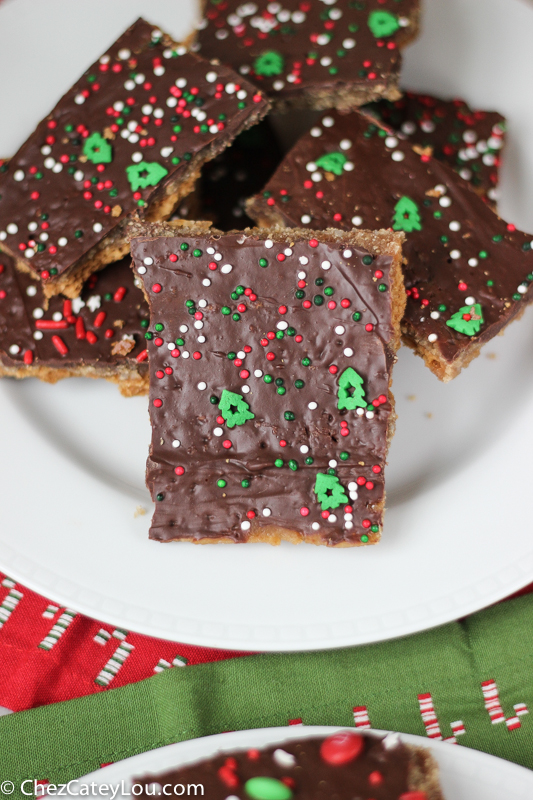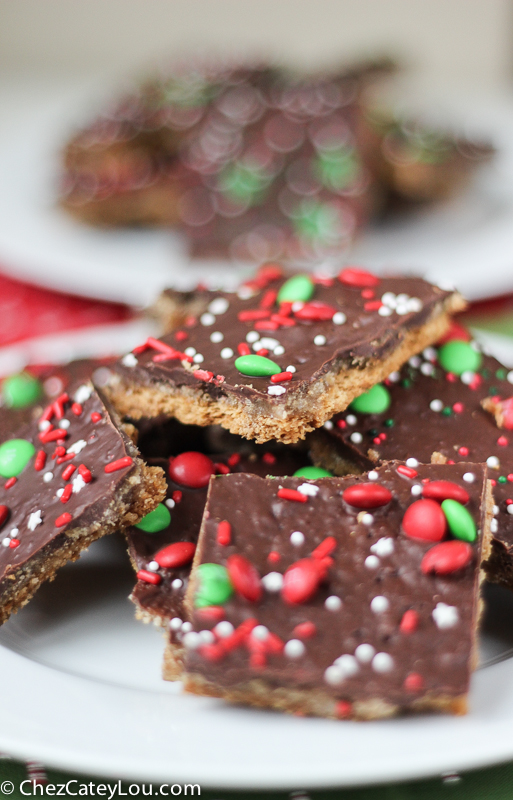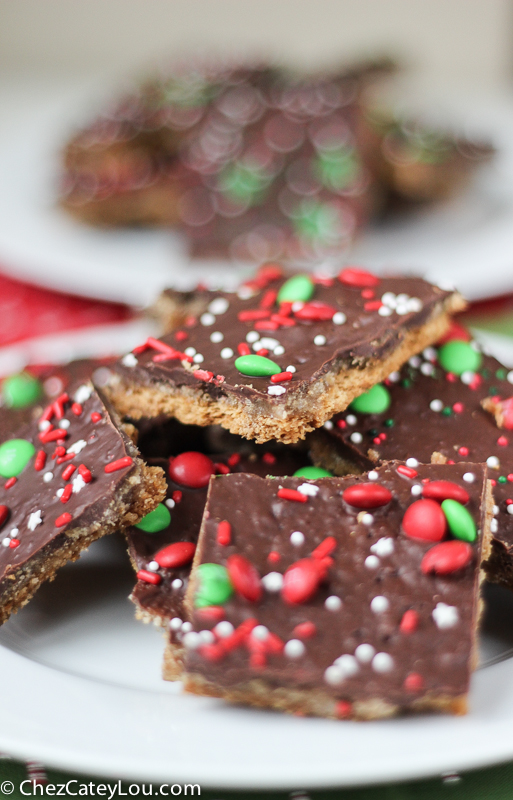 You often hear this called Christmas Crack – and that is because this graham cracker toffee is addicting. Seriously, you can't stop eating it. It is sweet and salty and crunchy and chocolatey – I am going to have to give this away ASAP or I might eat the entire batch!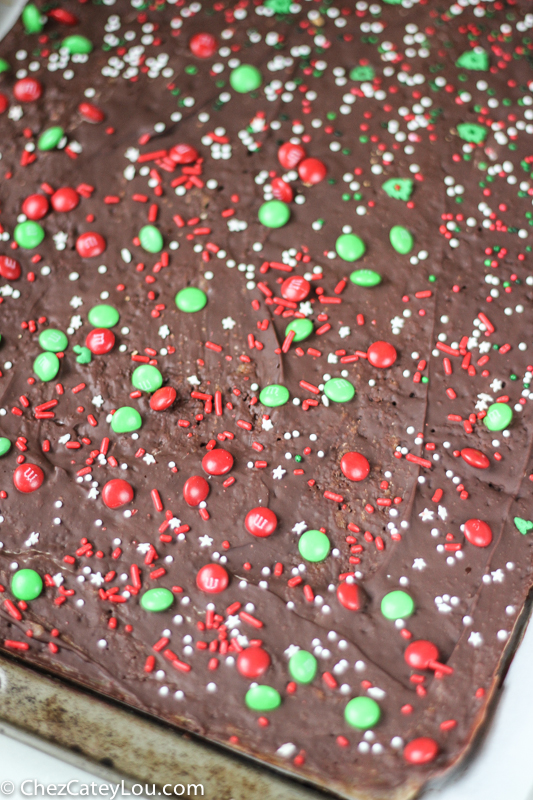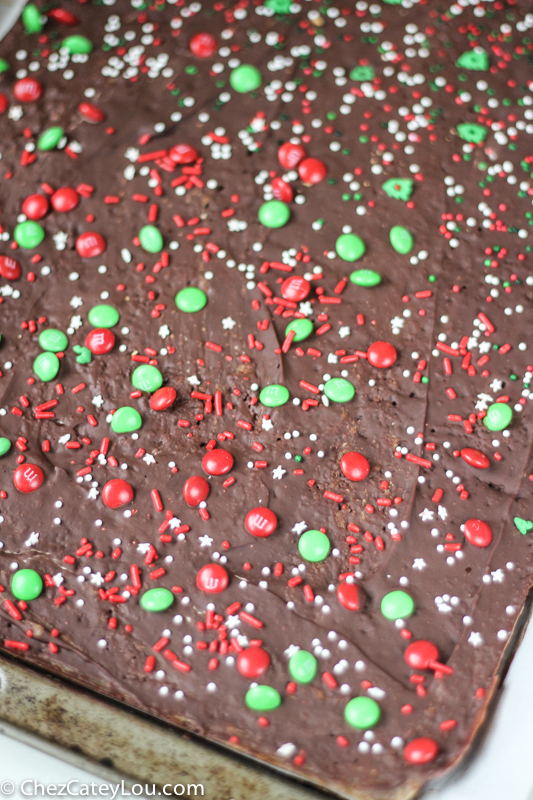 Hope St. Nick filled everyone's shoes with sweet treats last night!!  TheBetterHalf is very confused by this holiday and thinks it is made up – I say any holiday that involves someone bringing me treats sounds like a good holiday to me!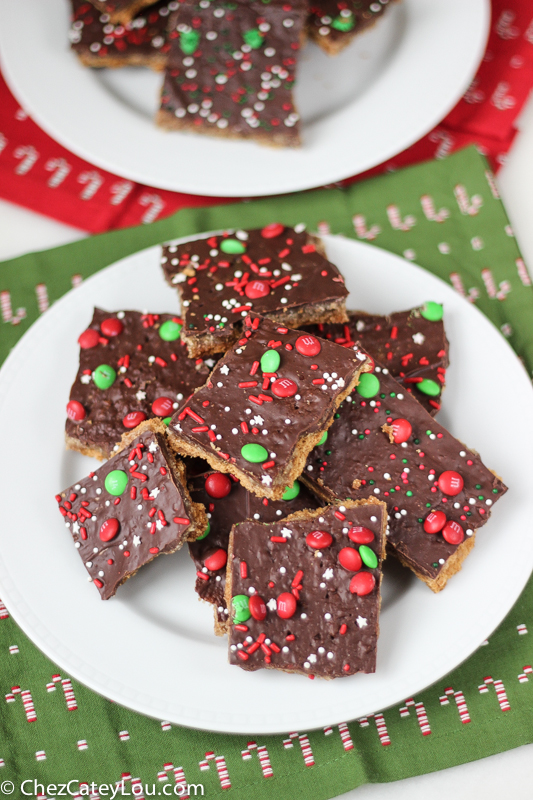 Graham Cracker Toffee is one of the easiest desserts ever and is so delicious! There is a reason it is also called Christmas Crack - it is addicting!
Ingredients
10 - 12 graham cracker sheets
1 cup salted butter
1 cup packed brown sugar
1 teaspoon vanilla
2 1/2 cups chocolate chips
sprinkles or mini m&ms for decorating
Instructions
Preheat oven to 375 degrees F. Line a rimmed baking sheet with parchment paper. Lay out graham crackers evenly on the sheet, fitting as many as you can without overlapping them.
In a medium saucepan over medium heat, melt the butter and brown sugar, stirring often. When the mixture begins to boil, stop stirring and allow to boil for three minutes. Turn off heat and carefully add vanilla (mixture might bubble up so be careful!) Pour the toffee mixture over the crackers and spread out evenly.
Place in the oven and bake for about 5 minutes, until mixture is bubbly. Remove from oven and sprinkle chocolate chips evenly over toffee. Place back in the oven for one minute to melt chocolate. Remove from oven and spread chocolate chips evenly over toffee. Sprinkle any toppings over melted chocolate. Cool mixture for 10 minutes at room temperature, then put in freezer for 20 minutes or fridge for 2 hours, until completely hardened. Break into pieces and serve.
https://chezcateylou.com/graham-cracker-toffee/
© Chez CateyLou. All images & content are copyright protected. Please do not use my images without prior permission. If you want to republish this recipe, please re-write the recipe in your own words, or link back to this post for the recipe.
Connect with Chez CateyLou!
More Christmas recipes!
French Butter Cookies (Sables)