Fudgy chocolate cookie dough is stuffed with a Rolo and topped with caramel pieces and sea salt. These Salted Caramel Stuffed Chocolate Cookies are divine!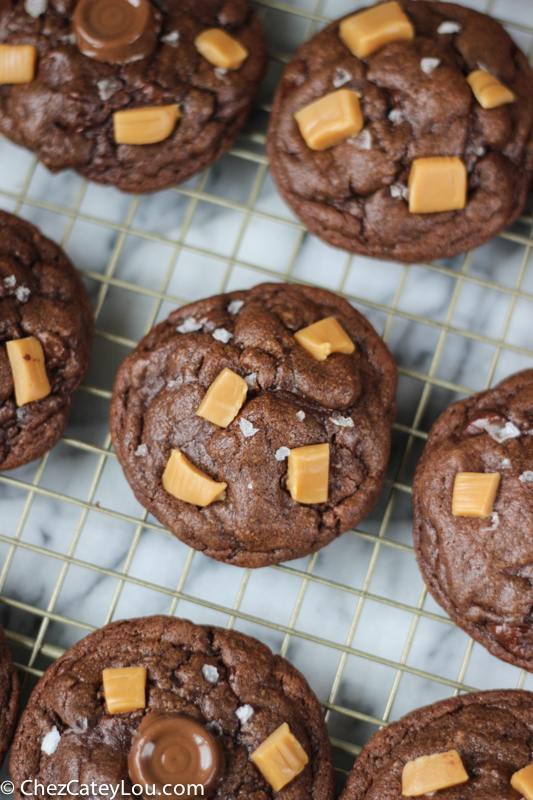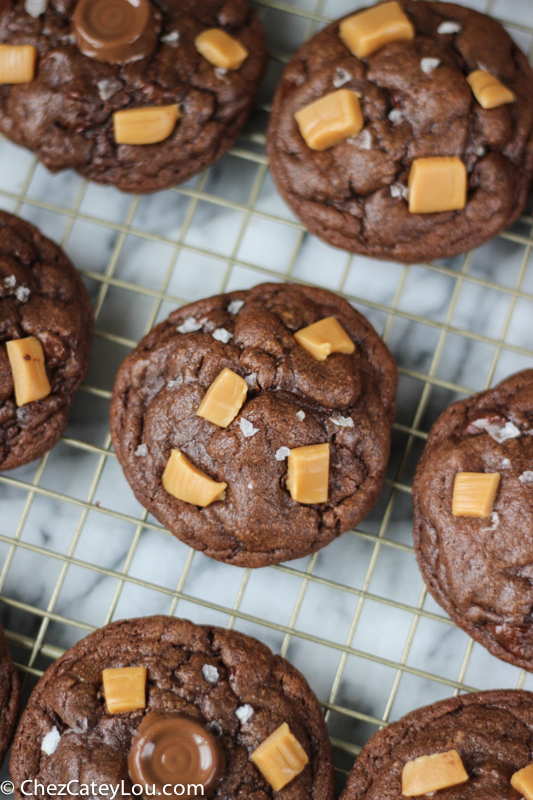 Did everyone have a good Halloween? Did you dress up? I am not a big Halloween person. Costumes are sooo cute on kids but I'm not really into dressing up myself. And Halloween brings out all of the crazies in NYC, so TheBetterHalf and I just stayed in! But I am a fan of Halloween candy 🙂
Now that Halloween is over, I'm sure you have candy coming out of your ears! Well if you have a bunch of leftover Rolos
and caramels then I have the perfect recipe for you! Salted Caramel Stuffed Chocolate Cookies! A rich and fudgy chocolate cookie is stuffed with a rolo and topped with chopped caramel pieces. The whole cookie is finished off with a little flaky sea salt, making these a sweet and salty lovers dream cookie!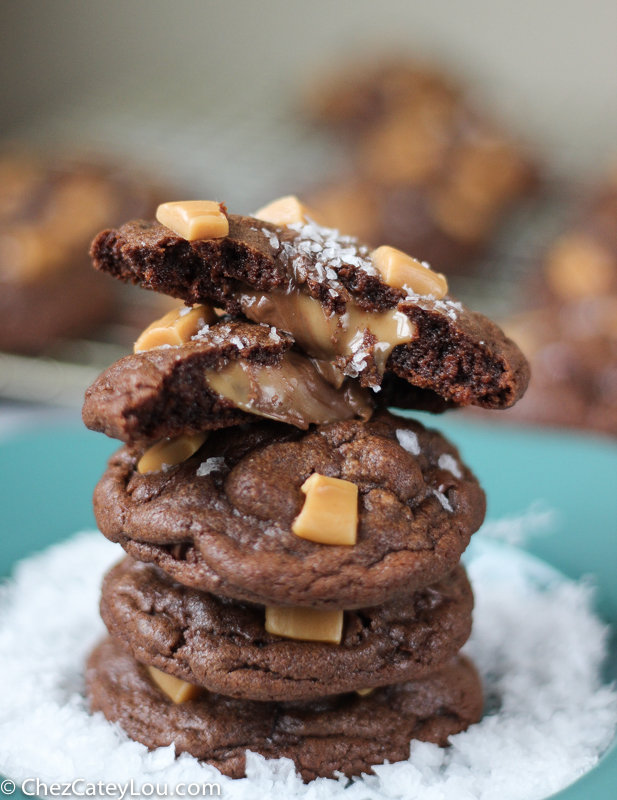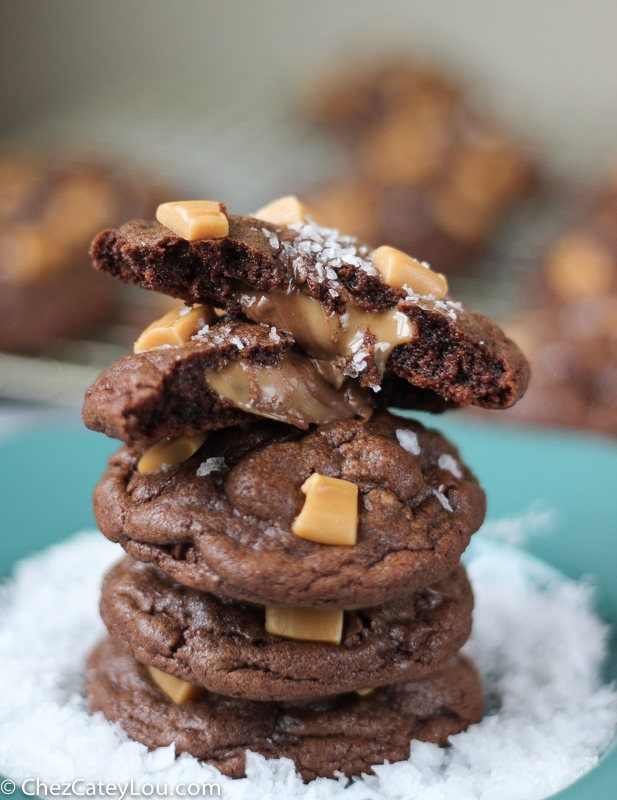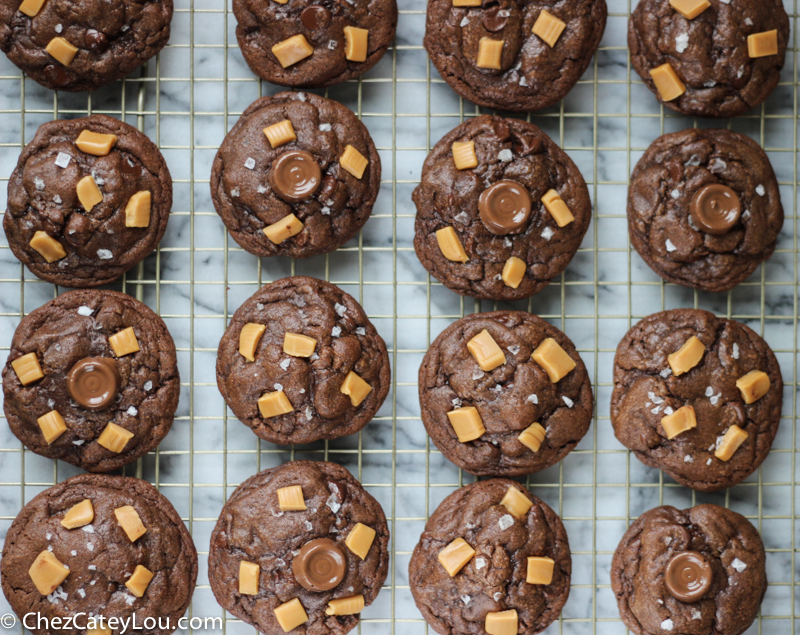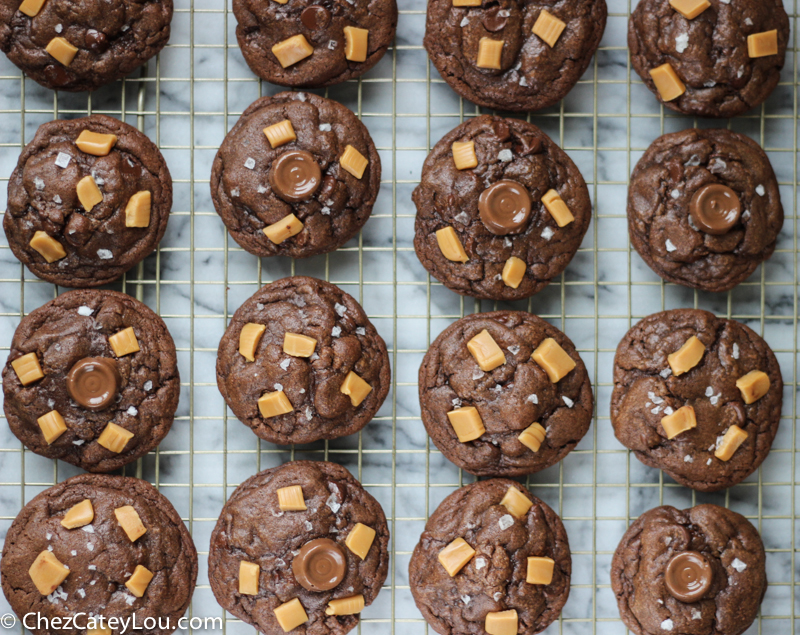 Prepare for a picture overload. I just can't help myself with this recipe. The salt. The gooey caramel. The melty chocolate. The melty rolos. How can I cut any of them? So I didn't. I hope you are in the mood for some salted caramel gooey melty chocolatey food porn on this lovely lazy Sunday!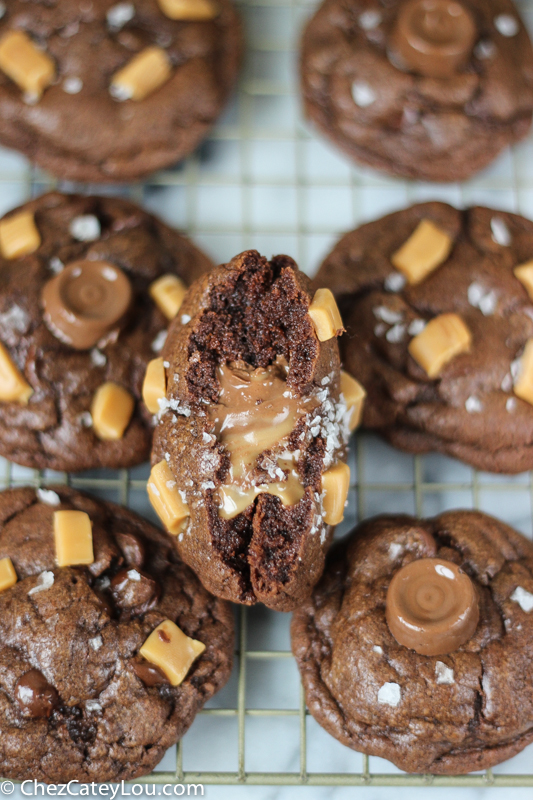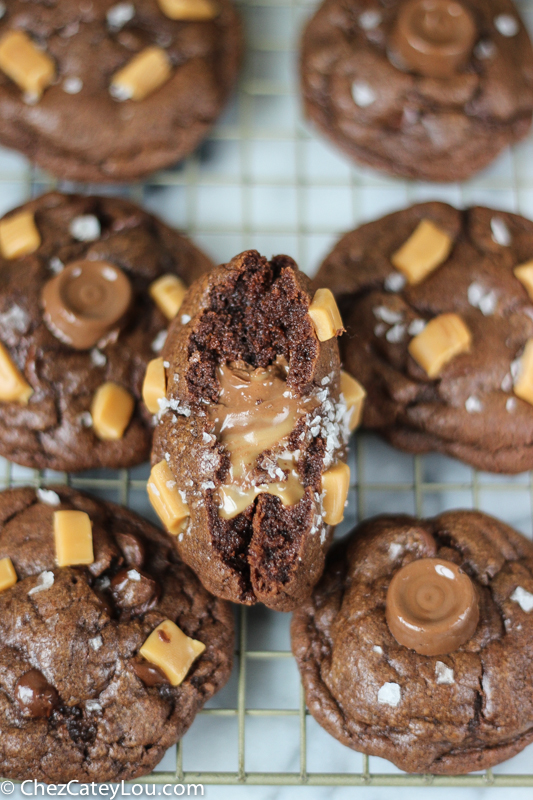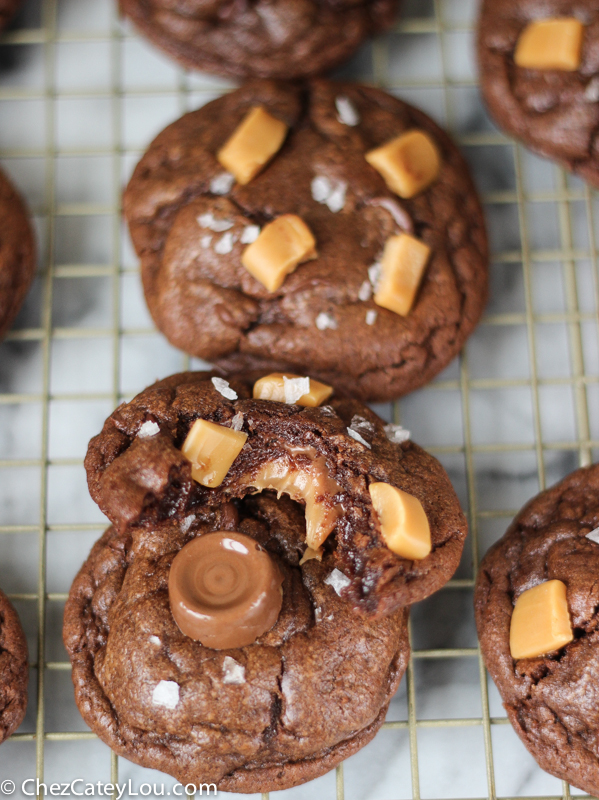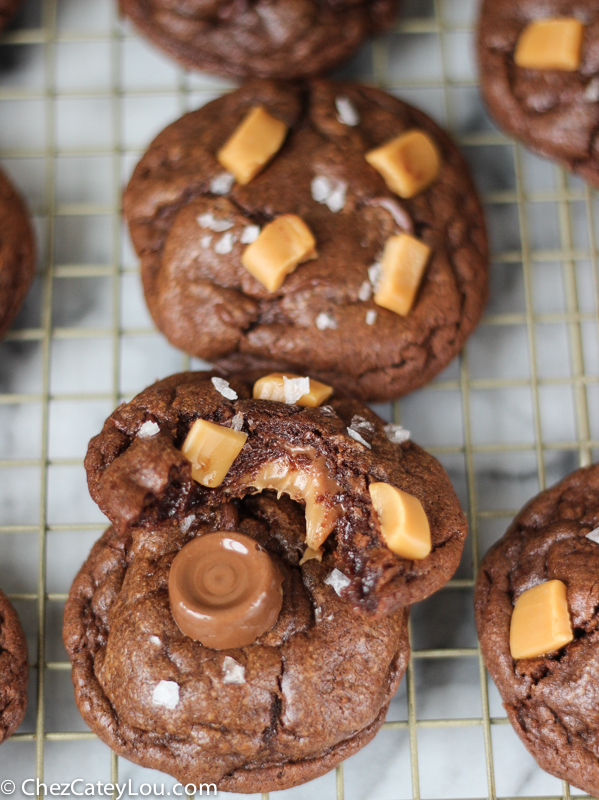 This recipe is is based on my absolute favorite cookie recipe, these Chocolate Peanut Butter Chip Cookies. The cookie is made with melted bittersweet chocolate, so it is super fudgy and rich. It has one egg and one yolk, and uses only light brown sugar, so the texture is super soft and chewy.  The dough has to chill for a few hours, or ideally overnight.  This helps all the flavors blend together, and makes the dough easier to work with.  Which is essential for the "Stuffed" part of the Salted Caramel Stuffed Chocolate Cookies!!
Each cookie is stuffed with a Rolo candy!  In order to do this, just take about 2 tablespoons of the chilled dough.  Work it into a little cup and then place the Rolo in the middle.  Cover the Rolo entirely with the dough and then voila!  You have the makings for a gooey caramel stuffed center!  Before going in the oven, all the cookie dough balls are sprinkled with flaky sea salt.  If the salt isn't sticking, just press a few big pieces onto each ball of dough.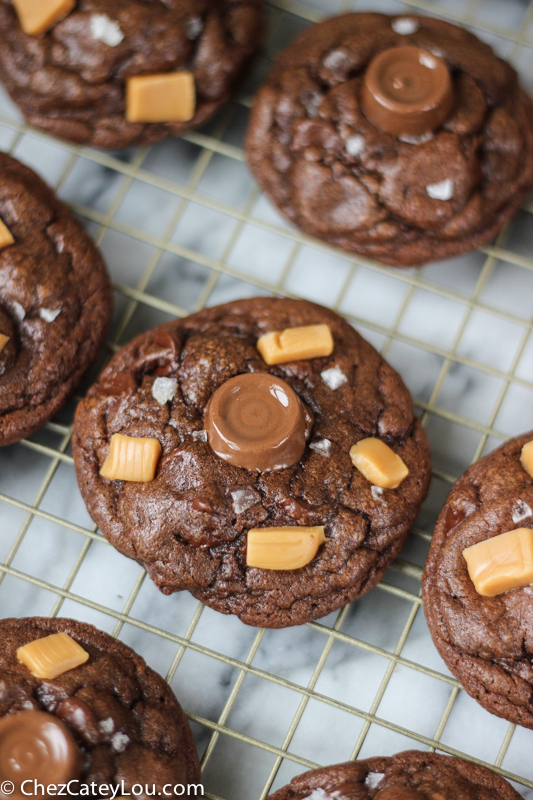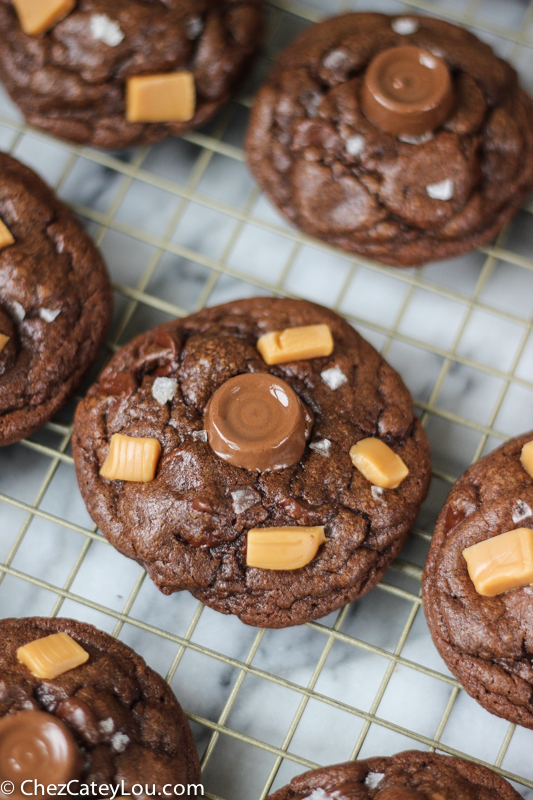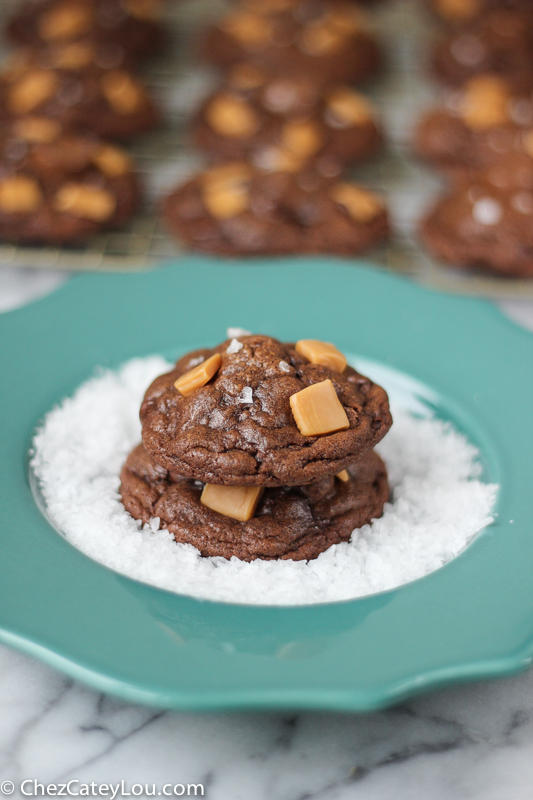 Now for the beautifying of the cookie.  While the cookies are baking, cut some caramel pieces into thin slices.  And if desired, cut a few Rolo pieces in half as well.  Right when the cookies come out of the oven, press a few pieces of caramel onto the tops of each cookie. If you want, press a cut Rolo, caramel side down, on the top of some cookies.  Have fun decorating!!  If there isn't enough salt for your liking, you can sprinkle with a little more salt.
If you don't feel like doing this beautifying step, you can absolutely skip it!  The caramel in the center is the real star of the show.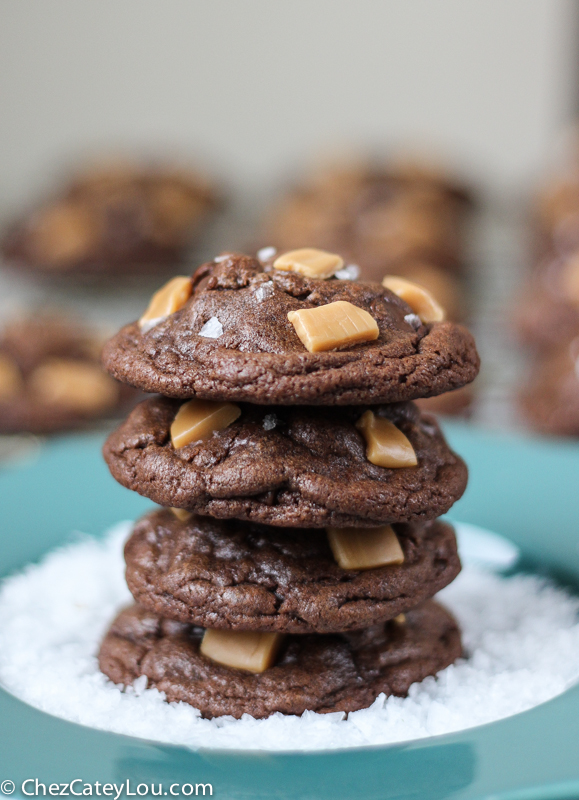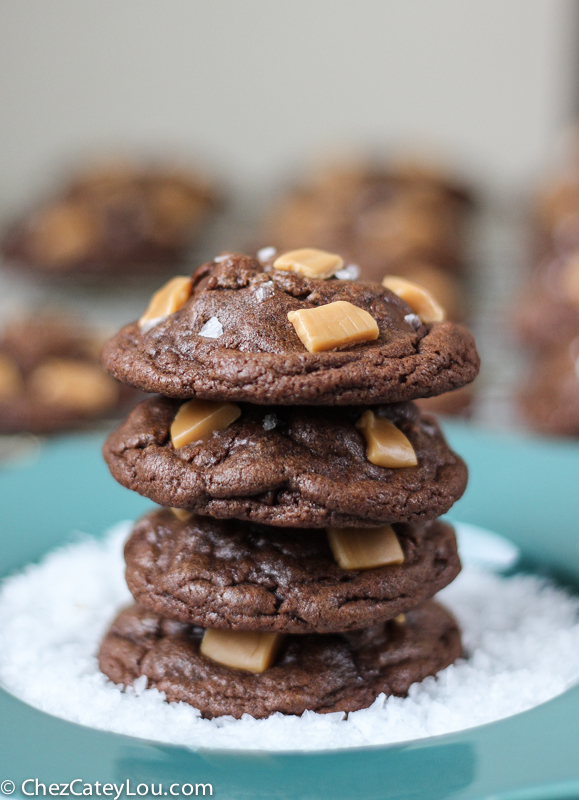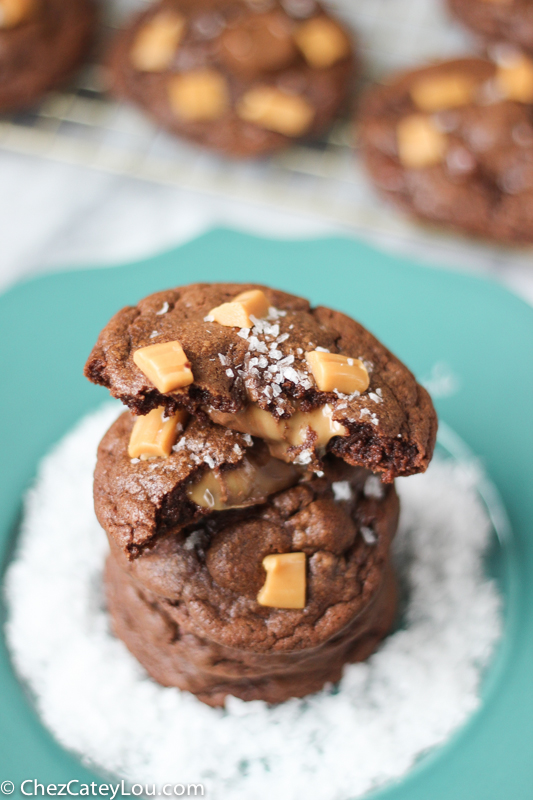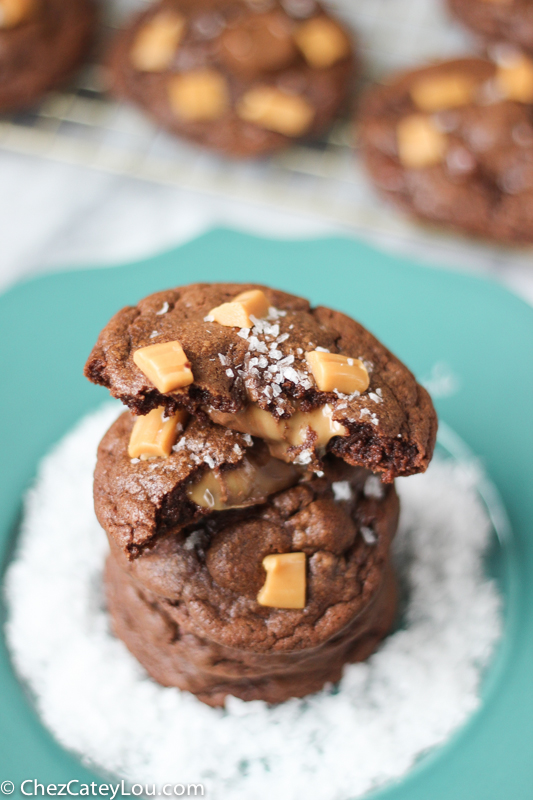 Ugh, the entire time I was typing this post, Rolos kept auto correcting to rolls. Computer, are you trying to tell me that I need to lay off the cookies and workout more?! *Sigh*. I guess I need to get my butt to the gym so that I can eat more of these salted caramel stuffed chocolate cookies! Hope you all have a great Sunday!
Salted Caramel Stuffed Chocolate Cookies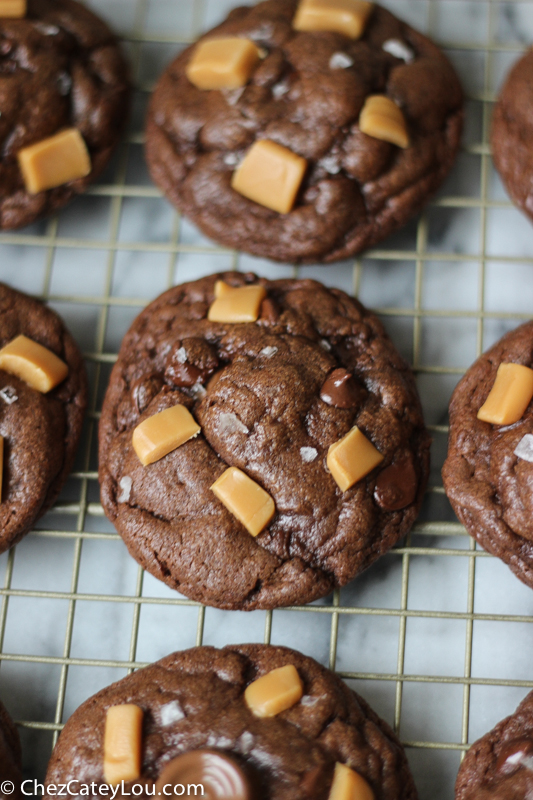 Fudgy chocolate cookie dough is stuffed with a Rolo and topped with caramel pieces and sea salt. These Salted Caramel Stuffed Chocolate Cookies are divine!
Ingredients
1 ¼ cups all-purpose flour
1 teaspoon baking powder
½ teaspoon salt
¼ teaspoon baking soda
8 tablespoons (1 stick) unsalted butter
6 ounces bittersweet chocolate, finely chopped
1 large egg
1 large yolk
1 cup firmly packed light brown sugar
2 teaspoons pure vanilla extract
1/2 cup chocolate chips
about 20 Rolo candies
flaky sea salt, for topping
about 7 caramel candies, cut into thin pieces, for topping (optional)
Instructions
Whisk the flour, baking powder, salt, and baking soda together in a medium bowl.
Melt the butter in a saucepan over medium heat. Remove pan from the heat, add the chocolate, and stir until melted. Set aside to cool slightly. You can also do this in the microwave, stirring every 15 seconds until fully melted.
Whisk the egg, egg yolk, brown sugar, and vanilla together in a large bowl until very well combined, at least one minute. Then slowly whisk in the chocolate mixture. Stir in the flour mixture to make a loose dough. Don't overwork the dough. Fold in the chocolate chips. Cover the bowl with plastic wrap and refrigerate until firm, about 2 hours or overnight.
Preheat oven to 350 degrees and line two baking sheets with parchment paper or a silicone mat. Take dough out of refrigerator to soften a bit. Take about 2 tablespoons of dough and form into a little cup. Place a Rolo inside the dough and then cover the candy completely with dough. Repeat with all dough. Space cookies a few inches apart on prepared baking sheet. Sprinkle dough balls with sea salt, pressing lightly so that the salt sticks to the dough. Bake cookies until the outside is crackly but the center is still moist, about 11 to 14 minutes. Start checking the cookies at 10 minutes, you don't want to overbake them!
Right when the cookies come out of the oven, gently press a few caramel pieces on the top of each cookie. If desired, you can cut a Rolo in half and press that in the middle of the cookie. Remove cookies to a wire rack to cool completely.
https://chezcateylou.com/salted-caramel-stuffed-chocolate-cookies/
© Chez CateyLou. All images & content are copyright protected. Please do not use my images without prior permission. If you want to republish this recipe, please re-write the recipe in your own words, or link back to this post for the recipe.
More salted caramel!