The secret to keeping these baked donuts light is Greek Yogurt in both the donut and the chocolate icing. These Skinny Donuts are a great way to indulge without breaking your diet!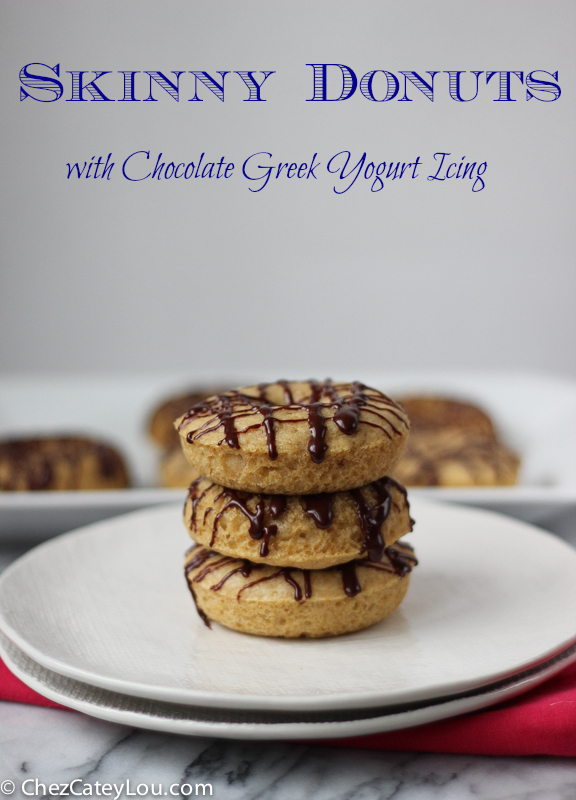 It is my first recipe of the new year, so I thought it was only appropriate to share a donut with you!! If you are new around here, then you might not know about my donut obsession.  I absolutely love making (and eating) baked donuts, and so of course when I was thinking about my first recipe for 2015 I naturally wanted to make donuts.
But don't worry, I'm not going to ruin the new year's resolution diets (at least not yet…) – these are SKINNY DONUTS!! Yep, that's right – skinny donuts with chocolate greek yogurt icing.  There are only 135 calories in each donut, can you believe it?!  And, they don't taste skinny in the slightest.  They are moist and rich and absolutely delicious.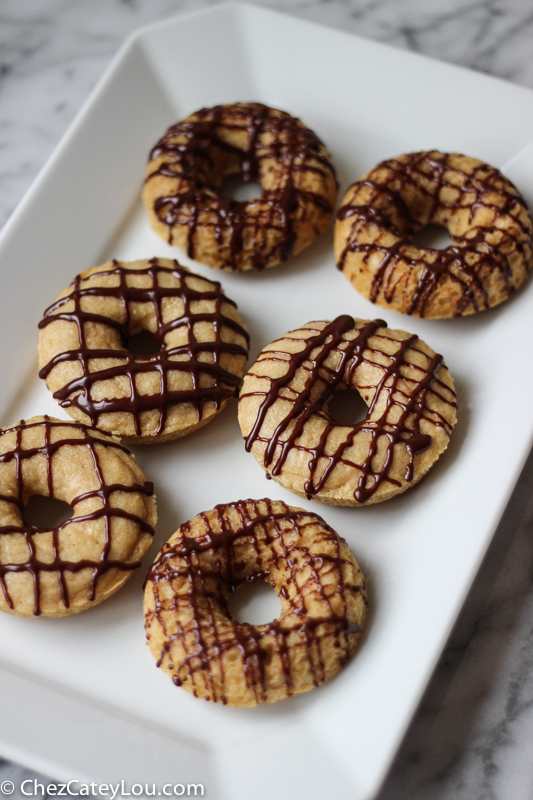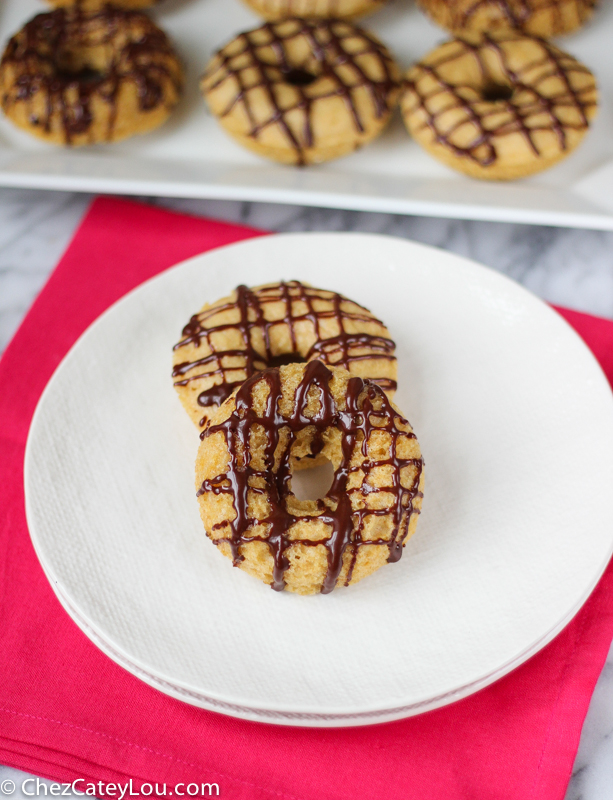 So, here's a little secret about baked donuts – or at least the baked donuts on my blog- almost all of them are skinny! The donut itself that is. The icing is where the nutritional stats can get a bit higher. That's where this Chocolate Greek Yogurt Icing comes in. There is no added fat and only a small amount of added sugar – I did want the icing to taste good after all! But instead of slathering the donuts in icing like I usually do, I drizzled it on top. The result is first of all, a really pretty donut. But second, you get the chocolate flavor without needing to eat as much icing. A little of this chocolate icing can go a long way with flavor! Plus the donut itself is so delicious that it doesn't even need a ton of icing.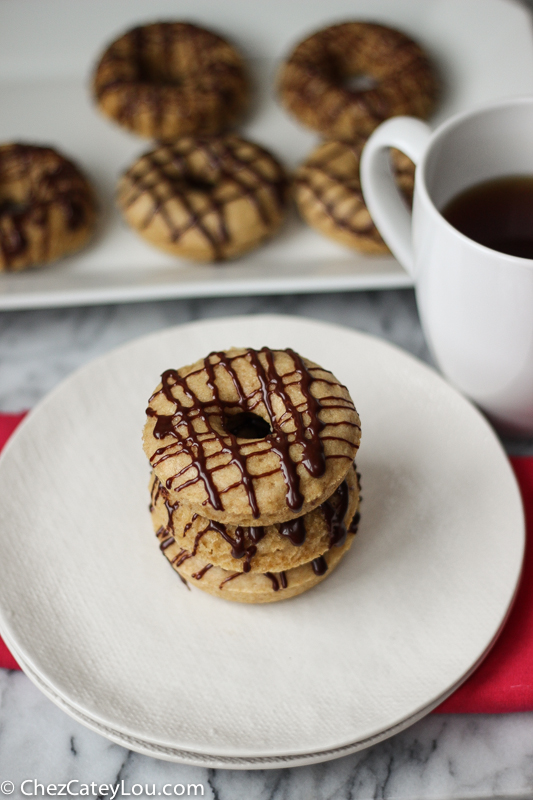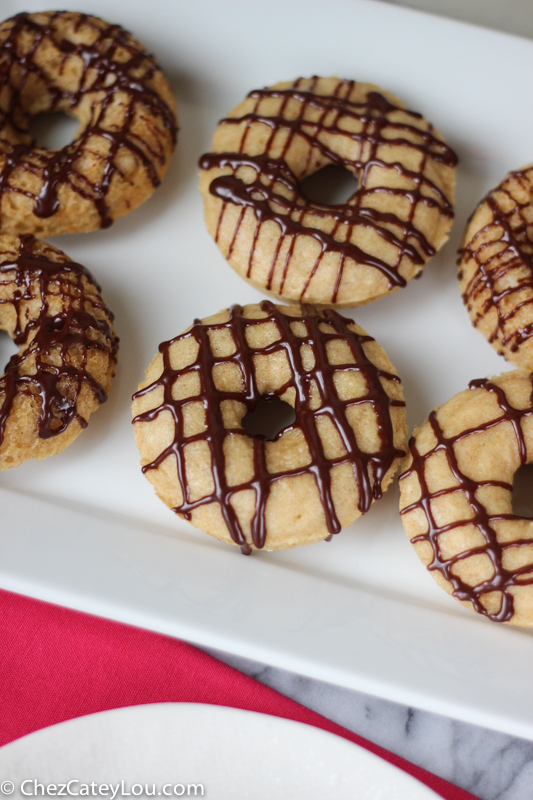 So why/how are my baked donuts almost always skinny? Well for starters, baked donuts aren't that big! In order to have a nice hole in the middle, you don't use that much batter. I fill each donut cavity about 2/3 full. My donut recipes usually makes 9 donuts – and the recipe only uses 2 tablespoons of butter. So spread out over 9 donuts, that's not bad!! Another secret is using some greek yogurt in the batter. 1/4 cup of 0% fat Greek yogurt keeps donuts super moist and gives them a great texture with no added fat, and with a boost of protein!
You could make these donuts even skinnier by using almond milk instead of skim and by using egg beaters instead of the egg! Bring on the skinny donuts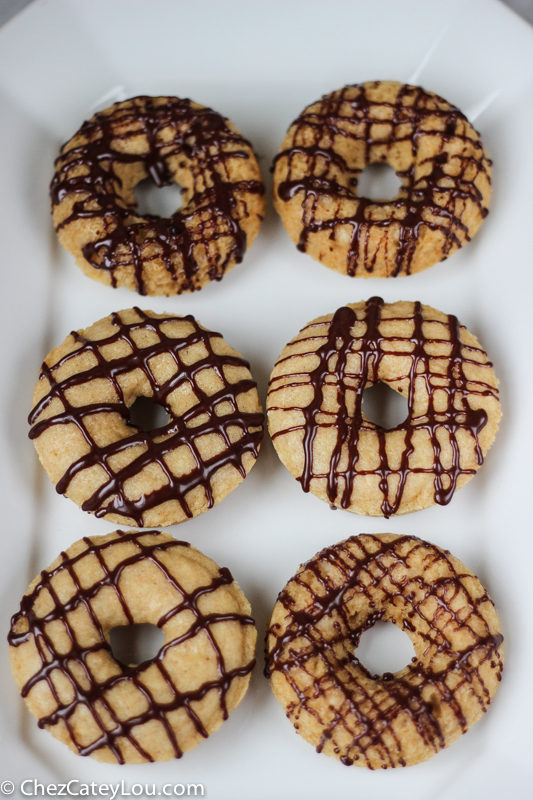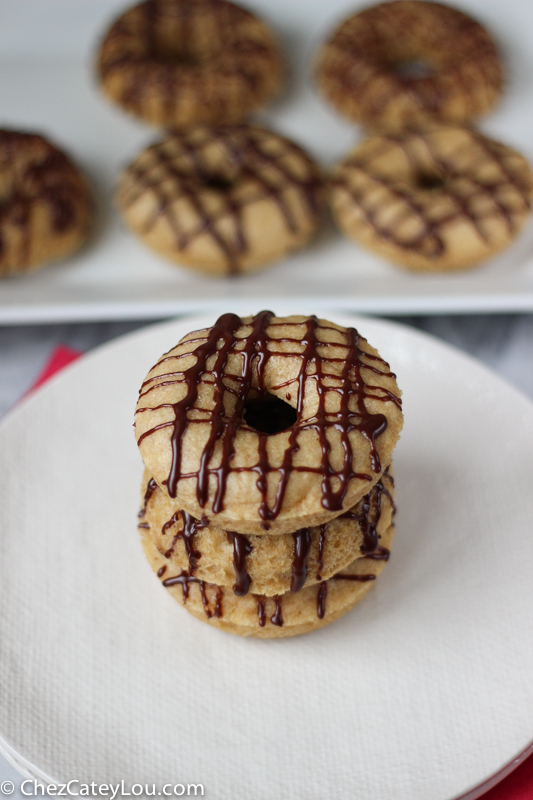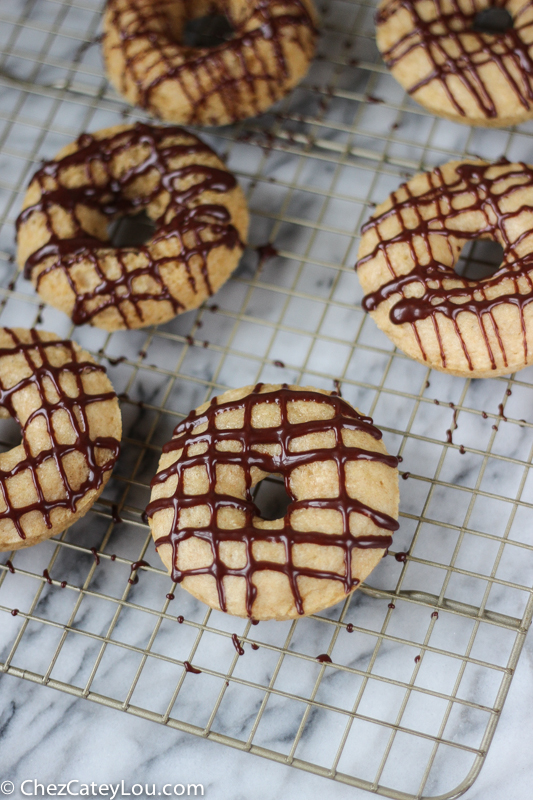 Skinny Donuts with Chocolate Greek Yogurt Icing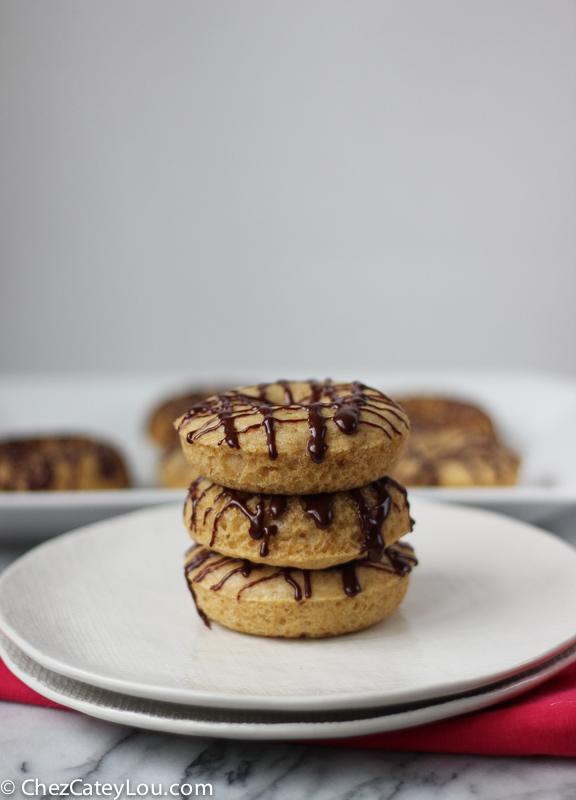 The secret to keeping these baked donuts light is Greek Yogurt in both the donut and the chocolate icing. These Skinny Donuts are a great way to indulge without breaking your diet!
Ingredients
For the Donut

3/4 cup flour
1/4 cup whole wheat pastry flour
3/4 teaspoon baking powder
1/4 teaspoon baking soda
1/4 teaspoon salt
1/8 teaspoon nutmeg (optional)
1/3 cup sugar
2 Tablespoons butter, melted and cooled slightly
1 egg
1/4 cup milk (I used skim)
1/4 cup Greek yogurt (fat-free)
1 teaspoon vanilla

For the Icing

1/4 cup chocolate chips
2 tablespoons Greek yogurt (fat-free)
1/2 teaspoon vanilla
pinch salt
1/4 cup powdered sugar
Instructions
Preheat oven to 325 degrees F. Grease two 6-cavity donut pans with nonstick cooking spray.
In a medium bowl, whisk together flours, baking powder, baking soda, salt, and nutmeg.
In a separate medium bowl, whisk together sugar, butter, and egg until very well combined, at least 1 minute. Add the milk, yogurt and vanilla and whisk well.
Add the wet ingredients to the dry ingredients and stir until just combined.
Spoon the batter into the donut pans, filling each cavity 2/3 full. Fill any empty donut cavities with a little water.
Bake for 7 - 9 minutes, until donuts are just cooked through. Cool in the pans for 2 minutes, then turn out onto a wire rack to cool completely.

For the Icing

In a small microwave safe bowl, melt the chocolate chips by heating at 50% power in 20 second increments, stirring after each increment. When chocolate is melted, whisk in the yogurt, vanilla, salt, and powdered sugar. Microwave again if the mixture seems too thick. Drizzle the chocolate icing over the donuts, using either a spoon, a fork, or a ziplock bag (to use this method, let the icing cool a bit then place the icing in a ziplock bag. seal the bag and cut off a very small portion of the corner. use the hole in the corner to decorate the donut)
https://chezcateylou.com/skinny-donuts-chocolate-greek-yogurt-icing/
© Chez CateyLou. All images & content are copyright protected. Please do not use my images without prior permission. If you want to republish this recipe, please re-write the recipe in your own words, or link back to this post for the recipe.
Connect with Chez CateyLou!
More donut love!
Chocolate Donuts with Peanut Butter Frosting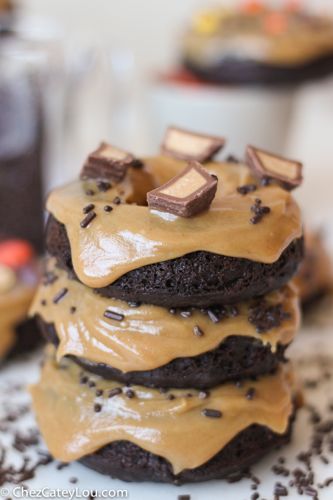 Double Chocolate Pistachio Donuts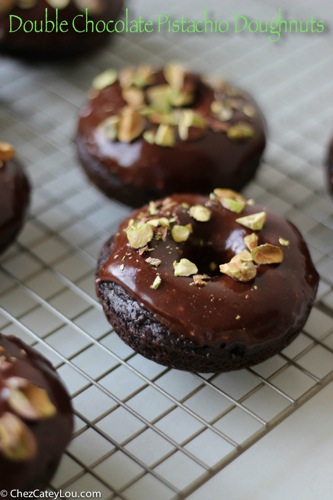 Guinness Stout Chocolate Donuts