This grapefruit yogurt cake is so moist and flavorful. It is light, healthy, and delicious – perfect for breakfast or with a cup of tea!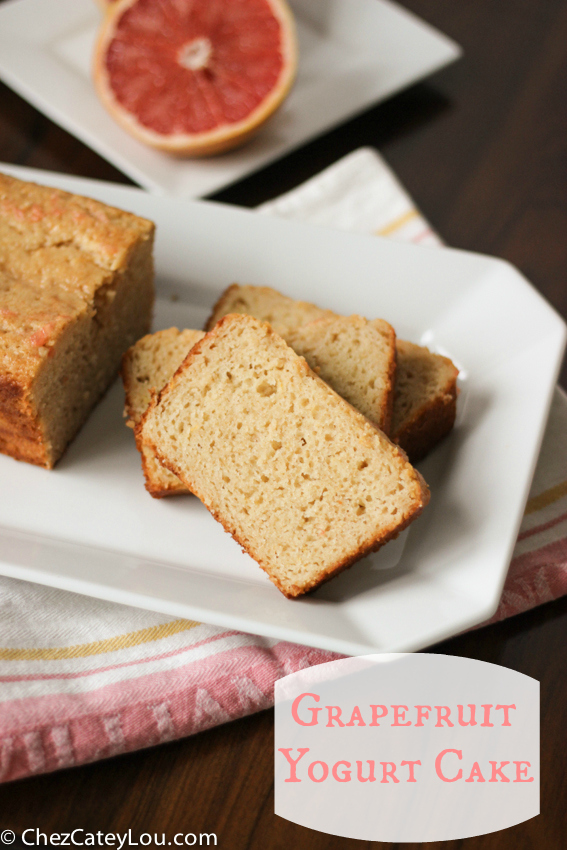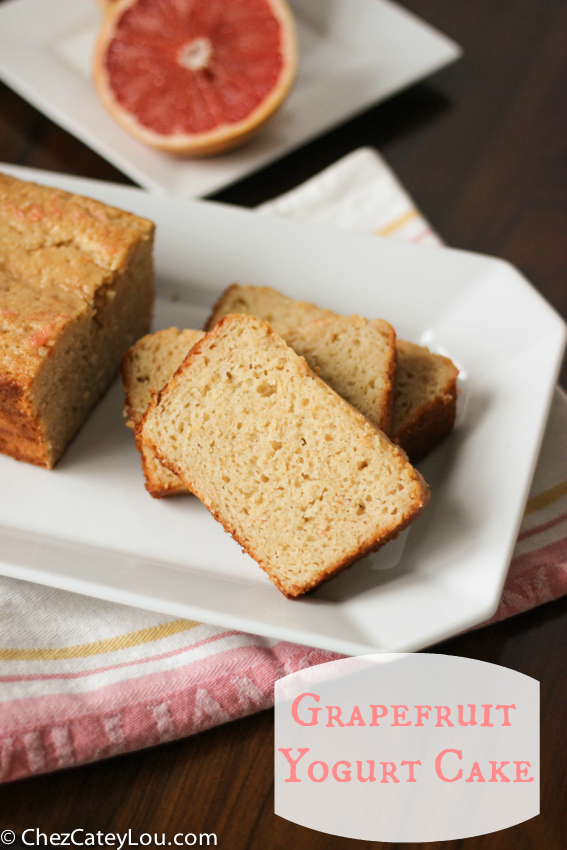 Grapefruit – I always assumed this was a pretty inoffensive fruit. Slightly tart but usually pretty sweet. Pretty to look at. Super healthy. Delicious juice. What's not to love? And then I met TheBetterHalf. Apparently grapefruit can be a pretty polarizing fruit. He HATES them. Which I find so strange because he eats pretty much anything – he's a big fan of food. I think that's why I like him so much. But something about the tartness of grapefruit is just too much for him. It is actually hilarious to watch his face if he tries a bite of my grapefruit or a sip of the juice.
So I figured that this grapefruit yogurt cake would have to be eaten solely by me. Which I was totally ok with. Well it turns out that when you mix grapefruit zest into a yogurt cake and top it with a sugary grapefruit juice, he likes the stuff! Phew – I really didn't need to eat a whole cake by myself.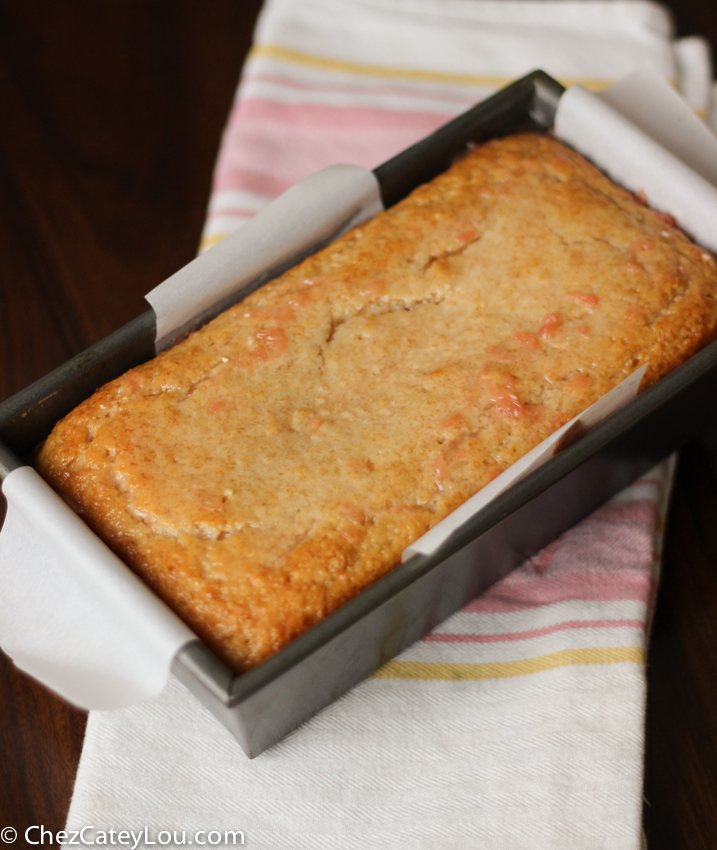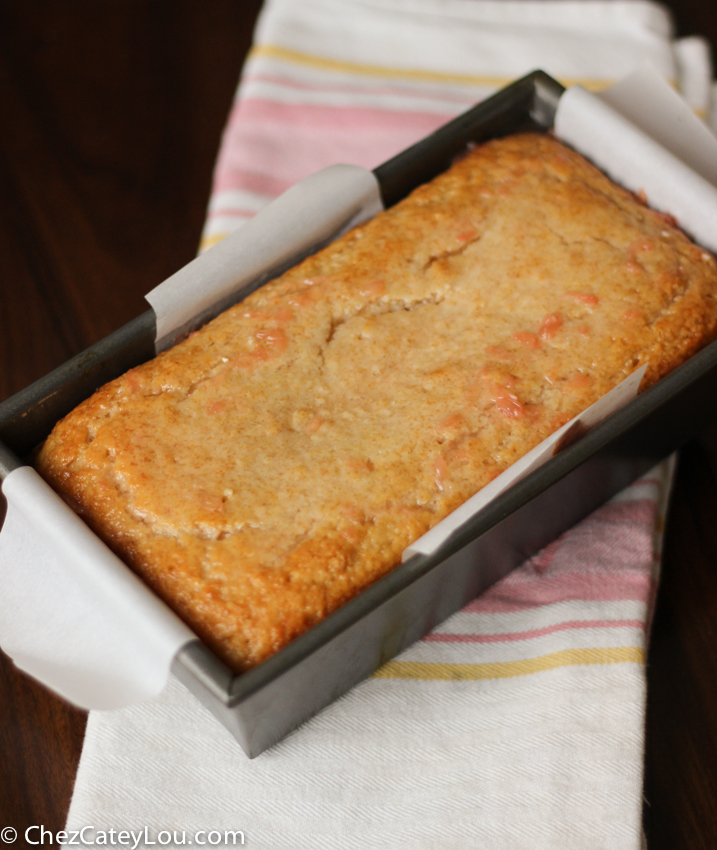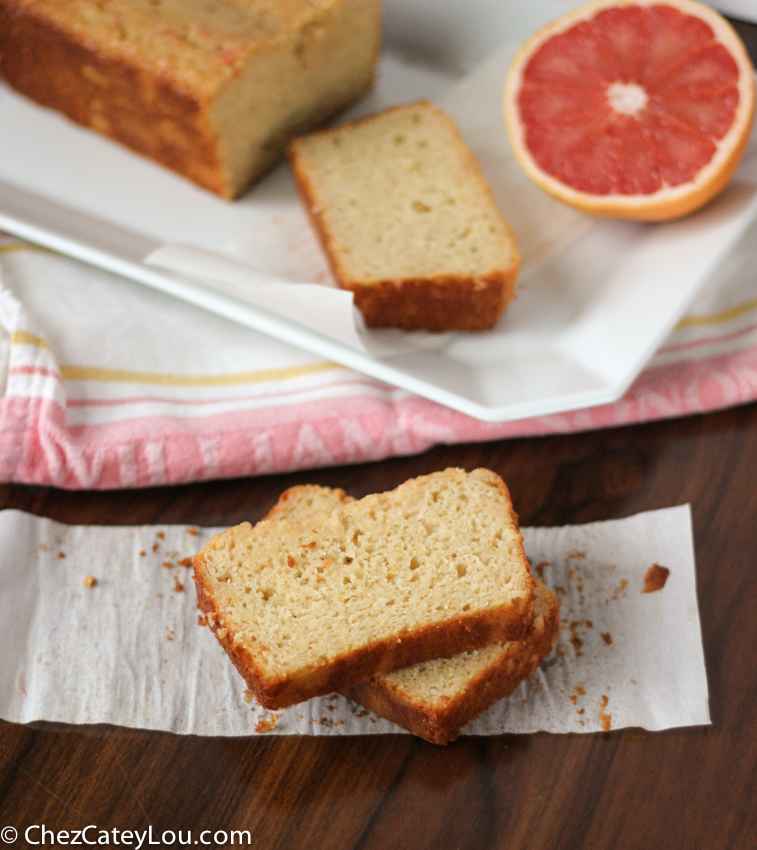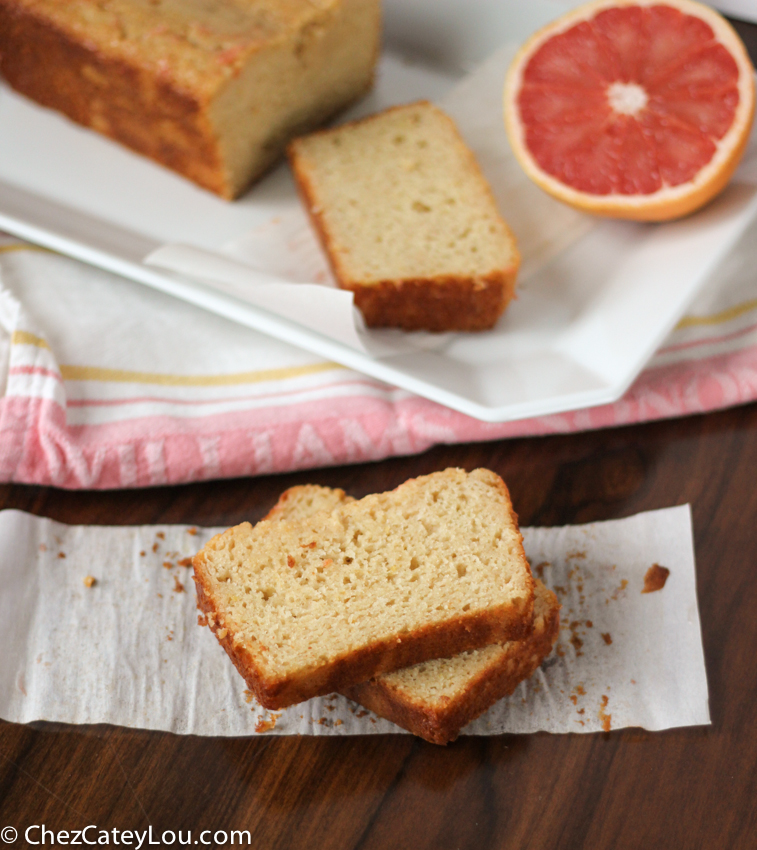 So let's talk about this cake. I never know if I should call these things cake / loaf / bread / quickbread. Whatever you call this, it is delicious!! And, actually pretty healthy. There is only ⅓ cup of oil in the whole loaf. A cup of yogurt and a little bit of applesauce keep it nice and moist without adding any fat! Grapefruit zest is added to the batter to give this a nice light citrusy flavor.
But the star of the show is what you do after it bakes. You mix fresh squeezed grapefruit juice with sugar and pour it over the warm cake. The cake soaks in all that delicious liquid and it makes it so moist, so sweet, so grapefruit-y. It is great! And it stays moist for days.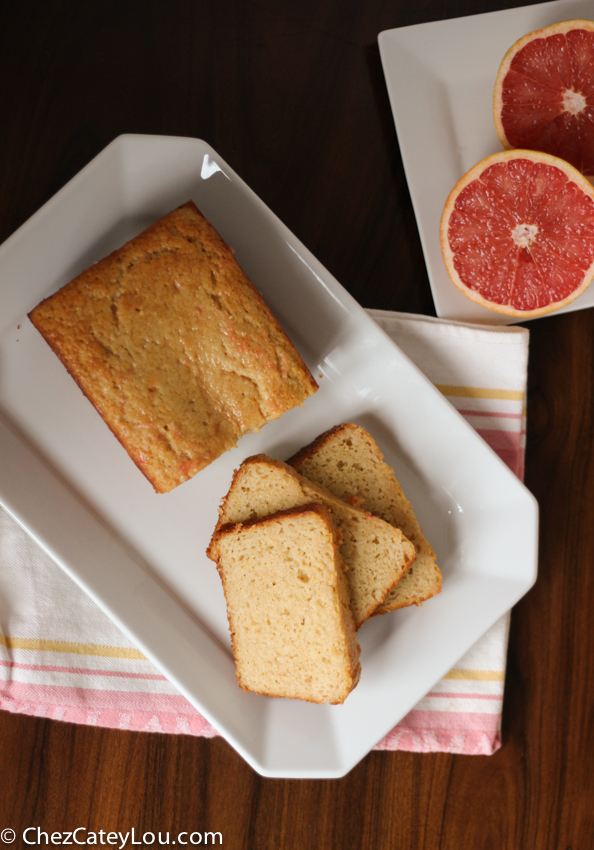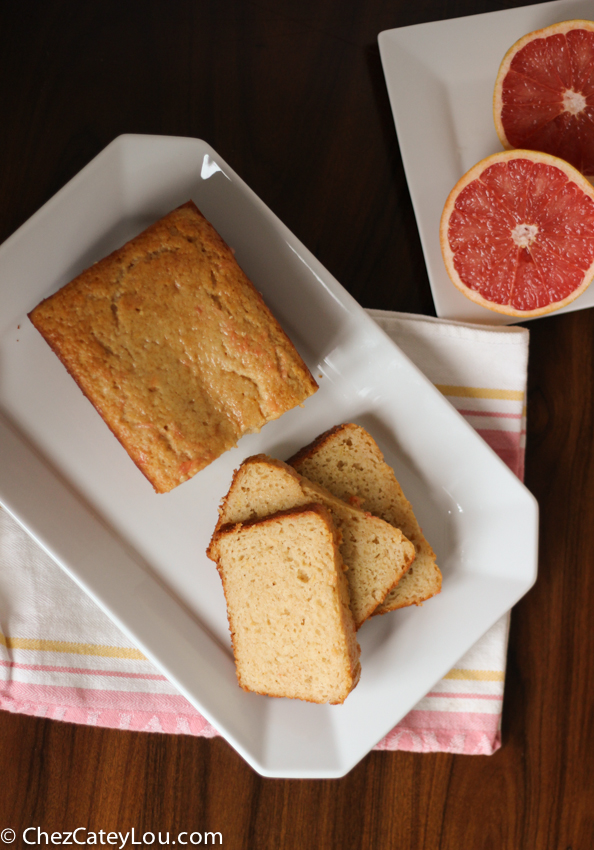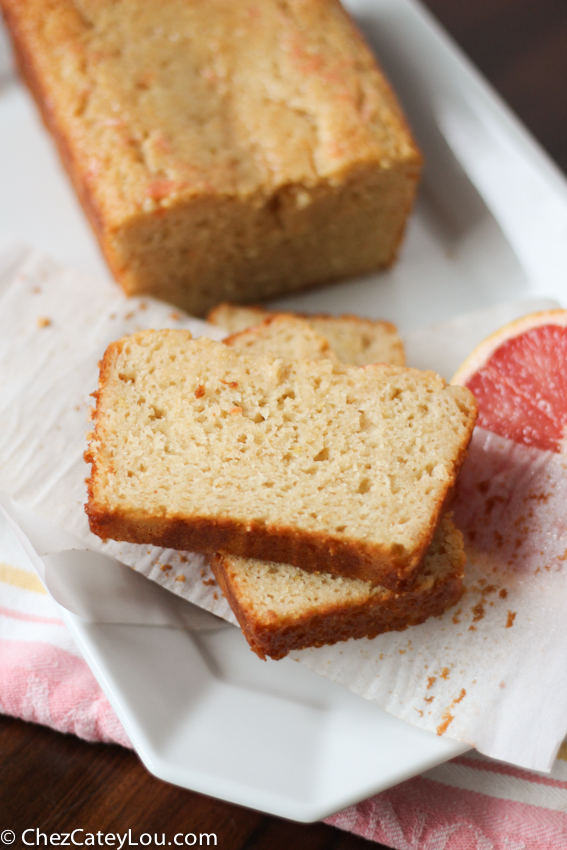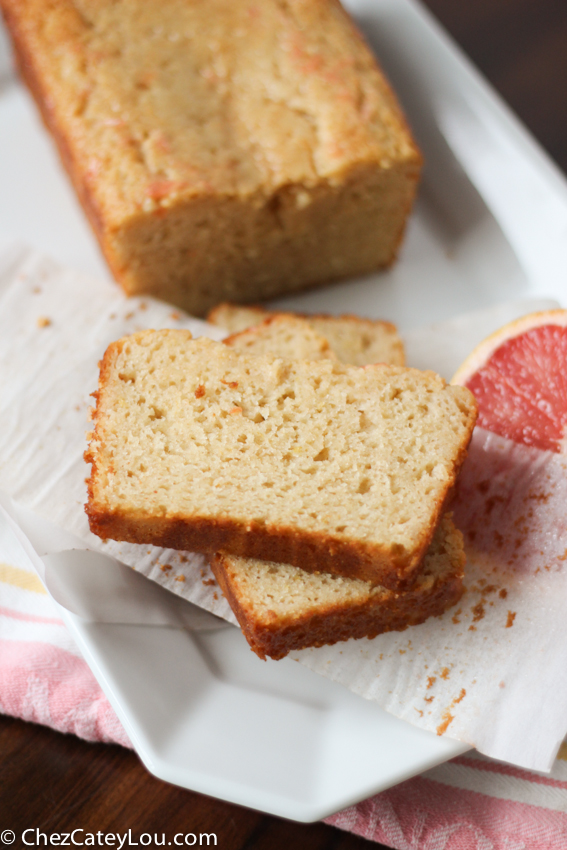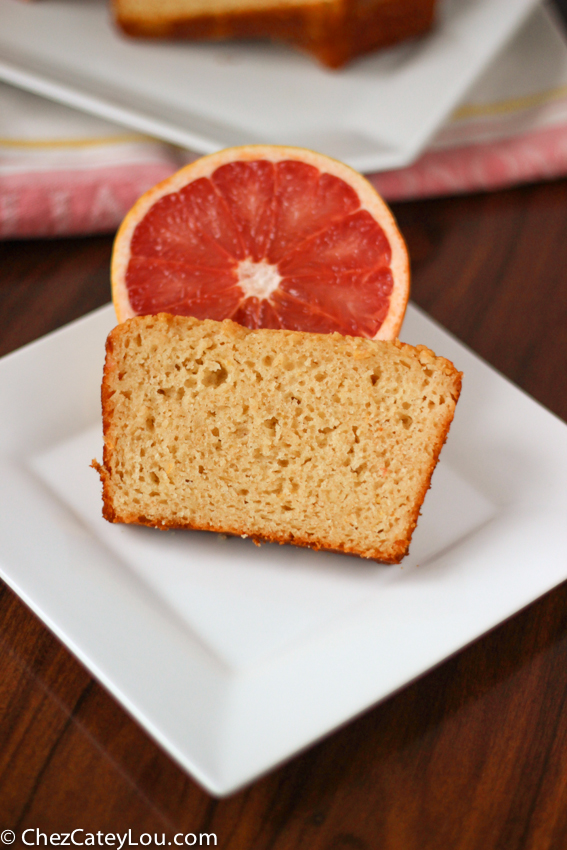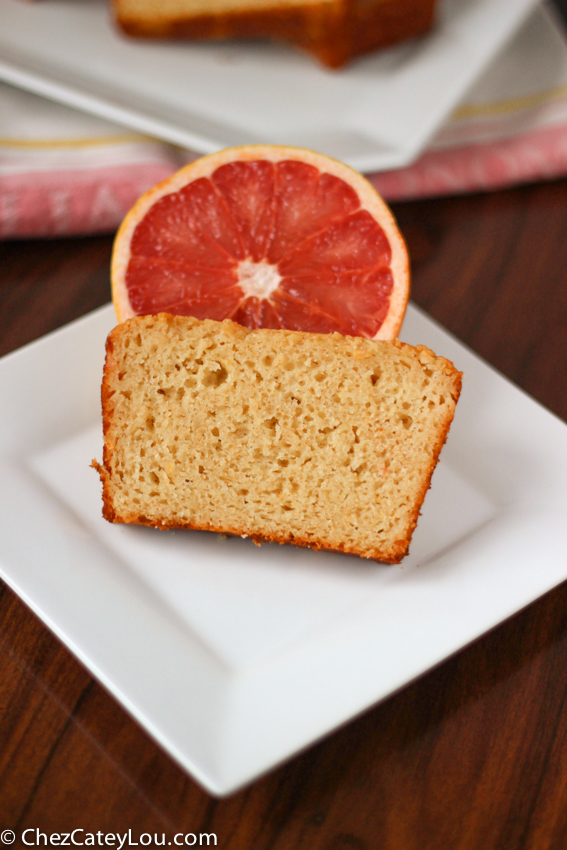 Dr. Oz says, "Grapefruit acts as a digestive assistant that breaks down proteins so that they are ready to be used more quickly. Grapefruit can also accelerate your body's ability to break down fat."  Um, awesome!
I wonder if it still has that affect when it is baked into a yogurt cake? I'm going with yes! So if the flavor and amazing texture alone aren't enough to convince you to make this, then the fact that it will help your body break down fat should definitely motivate you to make this!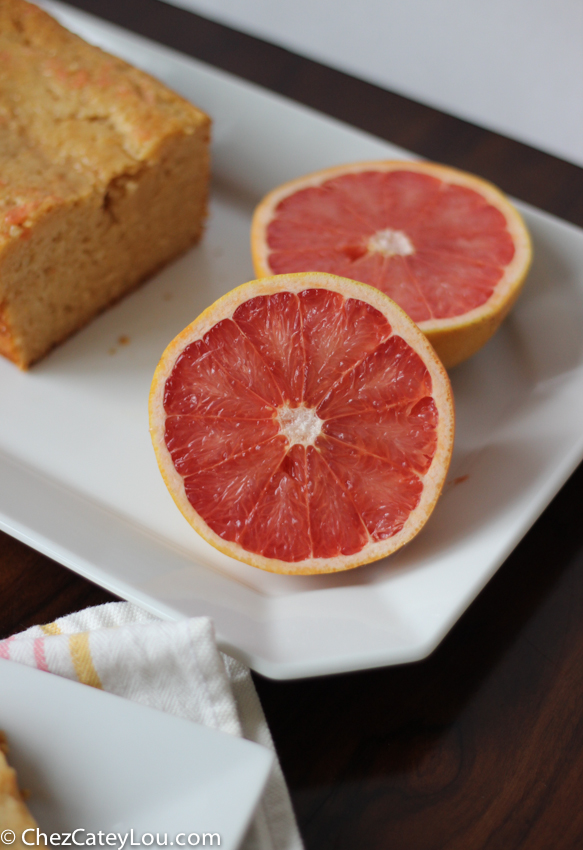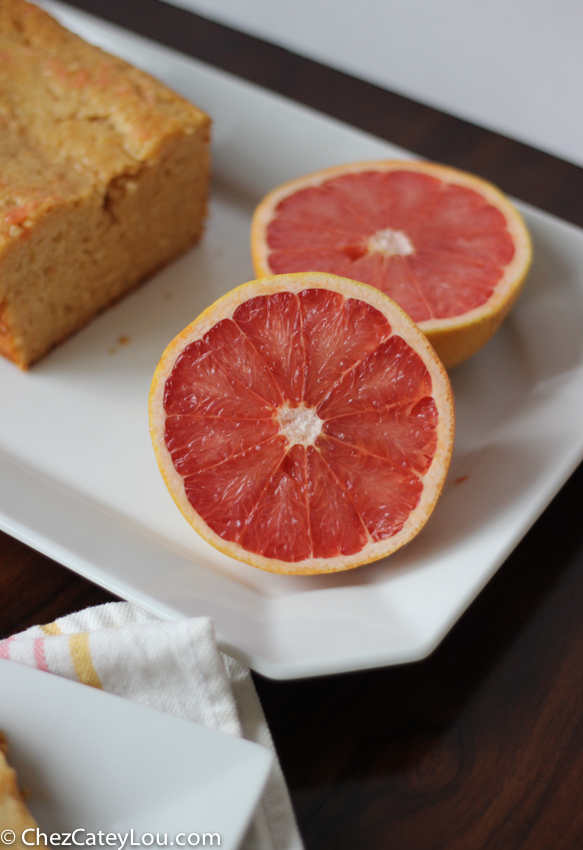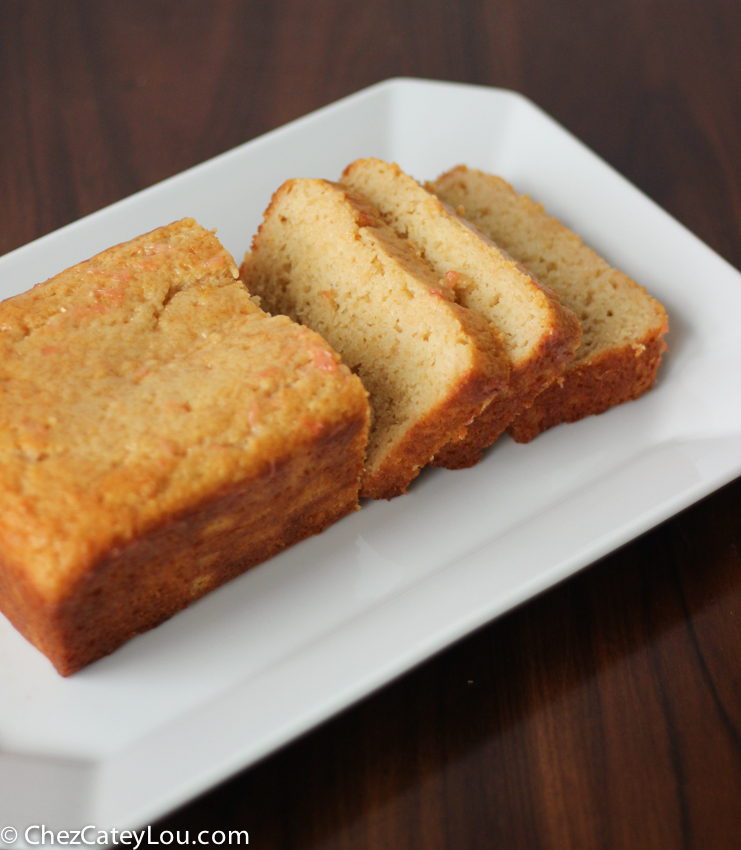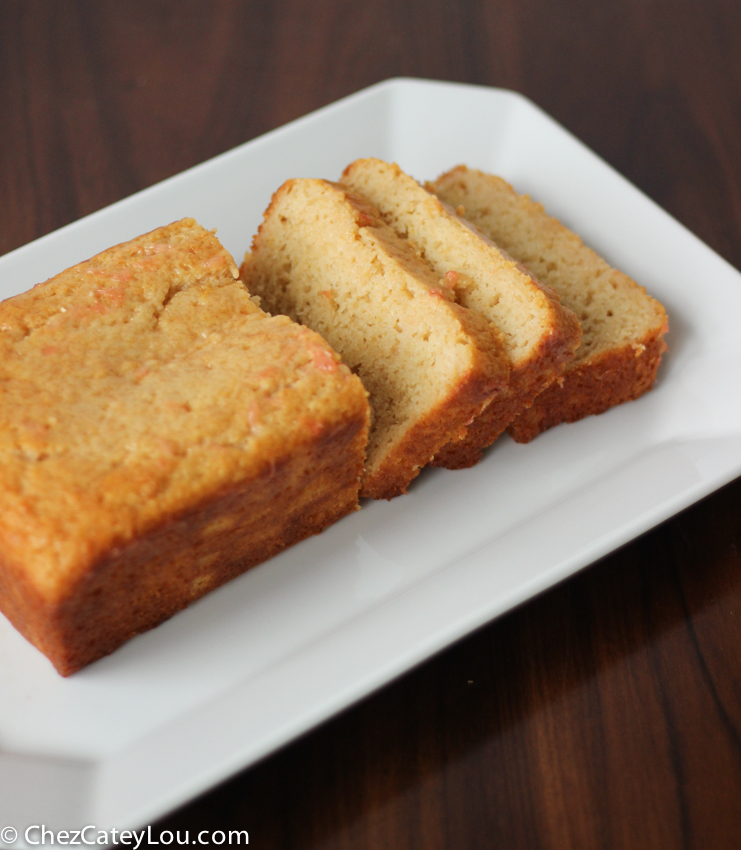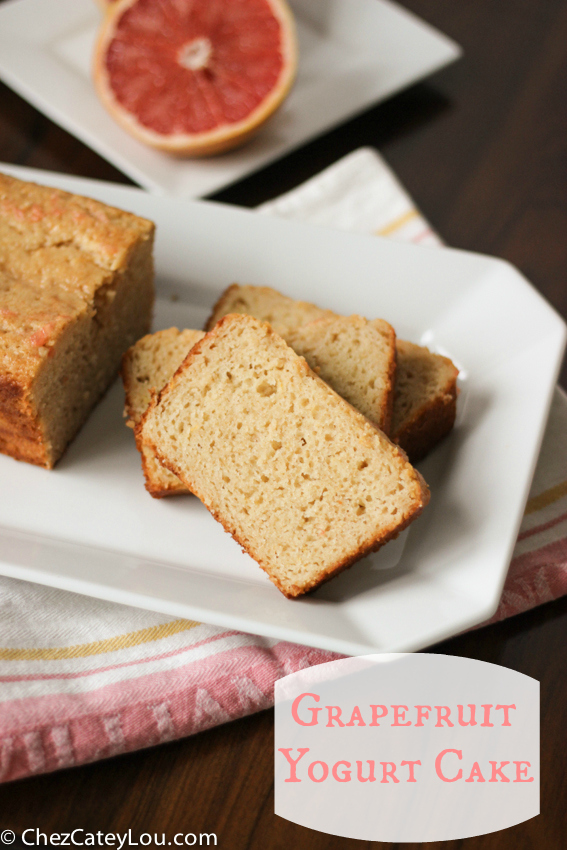 This grapefruit yogurt cake is so moist and flavorful. It is light, healthy, and delicious - perfect for breakfast or with a cup of tea!
Ingredients
1 cup all purpose flour (4 ¼ oz)
½ cup whole wheat flour (2 oz)
2 teaspoons baking powder
½ teaspoon salt
1/3 cup vegetable oil
2 Tablespoons applesauce
1 cup sugar (7 oz)
2 extra-large eggs
1 cup Greek yogurt (8 oz)
1 teaspoon vanilla
2 teaspoons grapefruit zest
1/3 cup fresh-squeezed grapefruit juice mixed with 3 tablespoons sugar
Instructions
Preheat oven to 350 degrees F. Spray an 8 ½ x 4 ½ inch pan with nonstick cooking spray. Line with two strips of parchment paper, and spray again. This helps with easy removal of the cake.
In a medium bowl, whisk together flours, baking powder, and salt.
In a separate bowl, whisk together oil, applesauce, and sugar until well combined. Add eggs one at a a time, beating well after each addition. Whisk in the yogurt until smooth. Stir in the vanilla.
Add the wet ingredients to the dry ingredients and and stir until just combined - do not over mix. Fold in the zest.
Pour the batter into the prepared pan. Bake for 35 - 45 minutes, until the bread is light golden brown and a toothpick inserted in the center comes out with a few moist crumbs. If the bread appears to be browning too quickly, tent with foil. The center might be slightly under baked - that is ok. It will set up as it cools (and those will be the best bites!)
Remove from oven and let cool for a few minutes. While still warm, pour the grapefruit juice/sugar mixture over the bread and allow it to soak in. If it does not appear to be soaking in, poke some holes in the bread with toothpicks. Let the bread sit for 10 minutes, then remove it to a wire rack to cool completely.
https://chezcateylou.com/grapefruit-yogurt-cake/
© Chez CateyLou. All images & content are copyright protected. Please do not use my images without prior permission. If you want to republish this recipe, please re-write the recipe in your own words, or link back to this post for the recipe.
I absolutely love baking yogurt cakes / loafs / breads!  Here are some of my favorites:
Healthy Blackberry Coconut Yogurt Bread