These soft and pillowy lemon and mascarpone gnocchi are tossed in a rosemary brown butter sauce. The flavor and texture are out of this world!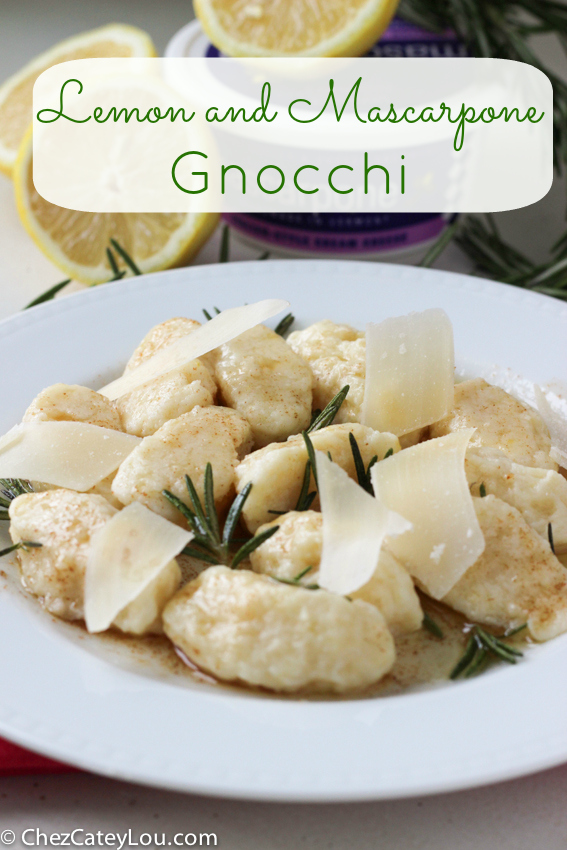 I am slightly obsessed with the Food Network and have been for years. Specifically with Ina Garten and Giada de Laurentiis. I think I have seen every single episode of both of their shows. I just love the food they make, and they also both have pretty awesome lives. I have spent many a Saturday morning living vicariously through their shows. So when Ina had Giada as a guest on her show, I pretty much freaked! I was so excited. I still have it saved on my TiVo – TheBetterHalf keeps trying to delete it but I won't let him! And ever since the show aired (ages ago!) I have been thinking about these Lemon Mascarpone Gnocchi that they made together. I finally got around to making them, and they definitely lived up to expectations!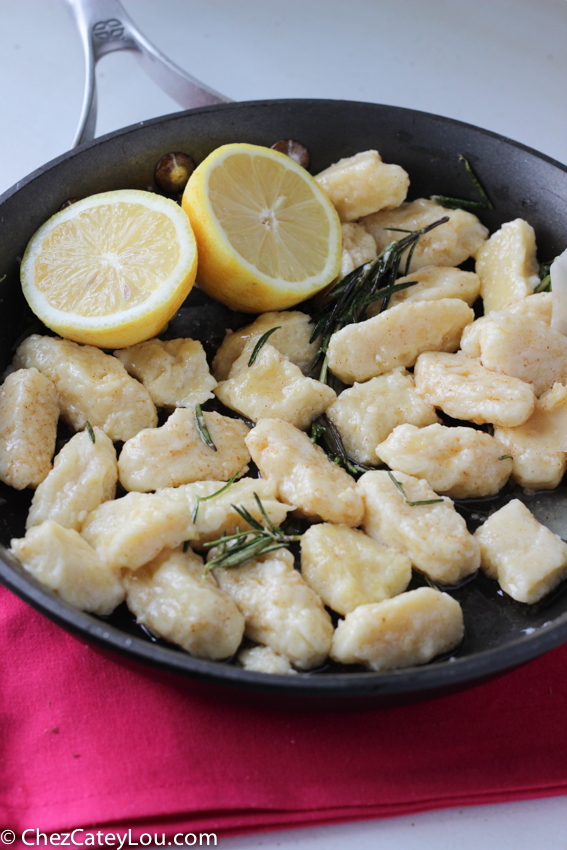 These mascarpone gnocchi are like little pillows of perfection. The texture is so soft! Nutty Parmesan in the dough pairs so well with the lemon and the mascarpone – the flavor is amazing!
There is no potato in these gnocchi – just egg, cheese, and flour. They actually remind me more of Gnudi than Gnocchi.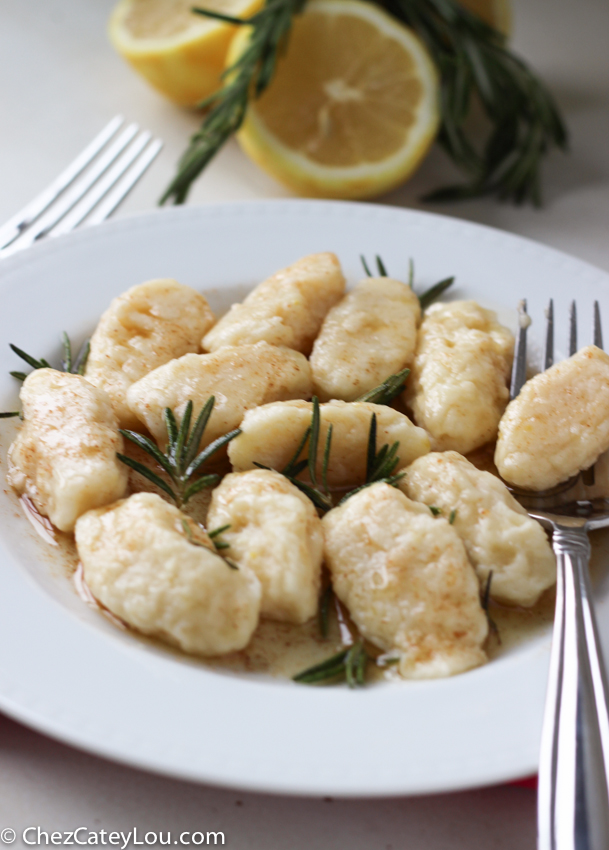 And let's talk about the sauce – it is just browned butter, rosemary, and salt. So simple but so decadent and delicious. The nutty flavor of brown butter is one of my favorite things ever. These little lemon mascarpone gnocchi / gnudi / dumplings swimming in a pool of brown butter is a beautiful sight!
Giada used thyme in her brown butter sauce, but I used rosemary instead because that's what I had on hand. Plus, I love rosemary, and when it is fried in brown butter  it gets super crispy – so good!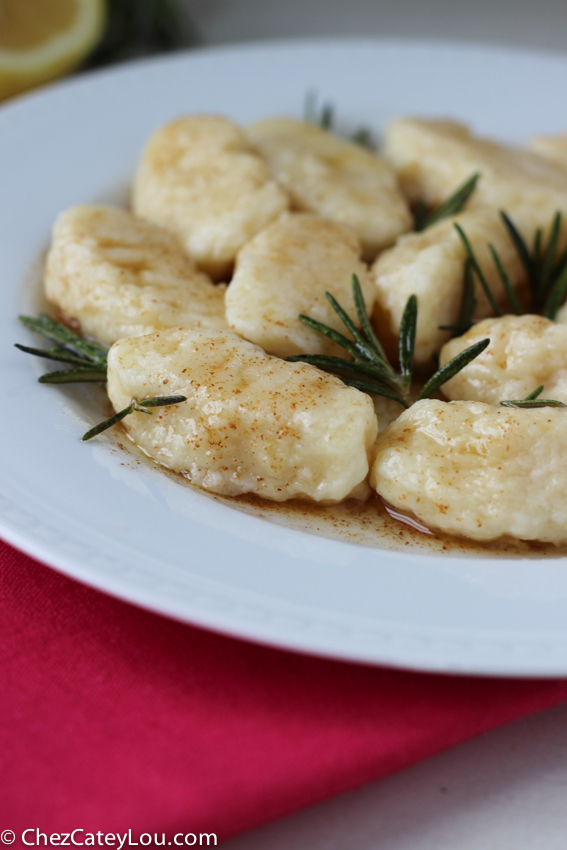 These are slightly labor intensive, because you have to form each little gnocchi by hand and then boil them in batches. I think it is impossible to make these look perfect. I tried so many techniques and they all look kind of lumpy – but then I looked at the picture online, and hers look like that too so it made me feel a lot better! Let's call it rustic rather than lumpy…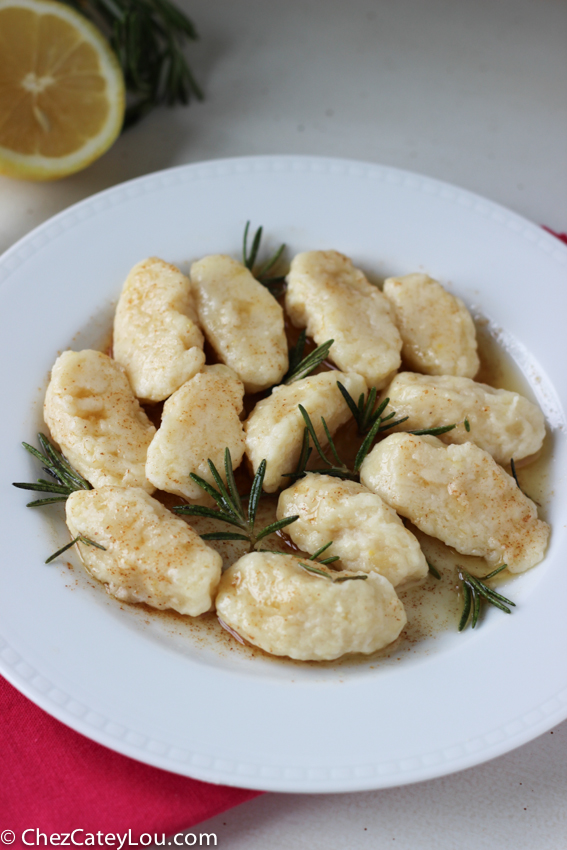 The easiest technique I found was to use two teaspoons. Grab a little piece of dough and then use the spoons to start to shape it into an oval. Then push the dough off the spoon onto a lightly floured board and roll it around a bit to finish shaping it into an oval gnocchi. Just know that once you cook them, they won't stay in that perfect little shape. And that's ok! Also, the gnocchi get bigger when you cook them, so keep that in mind when forming the dough.
One last thing – these little guys are super rich! They are amazing, but a little goes a long way.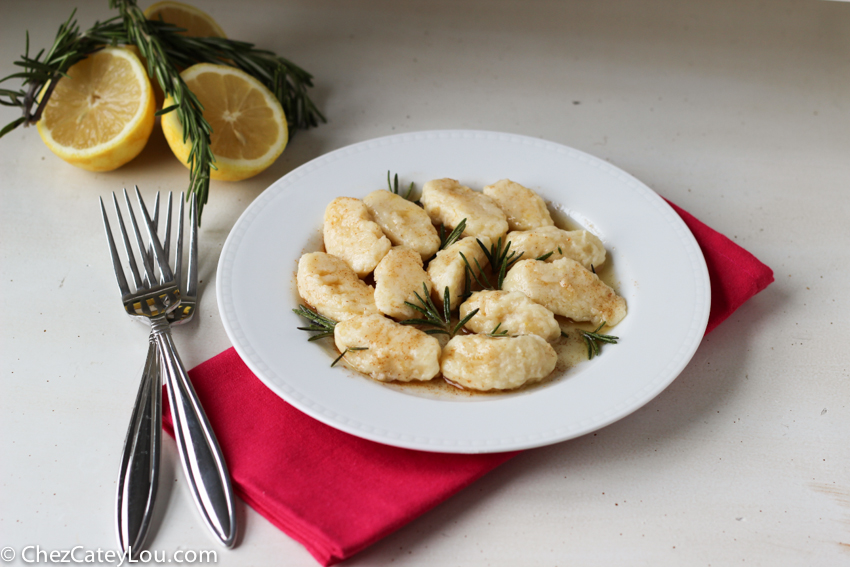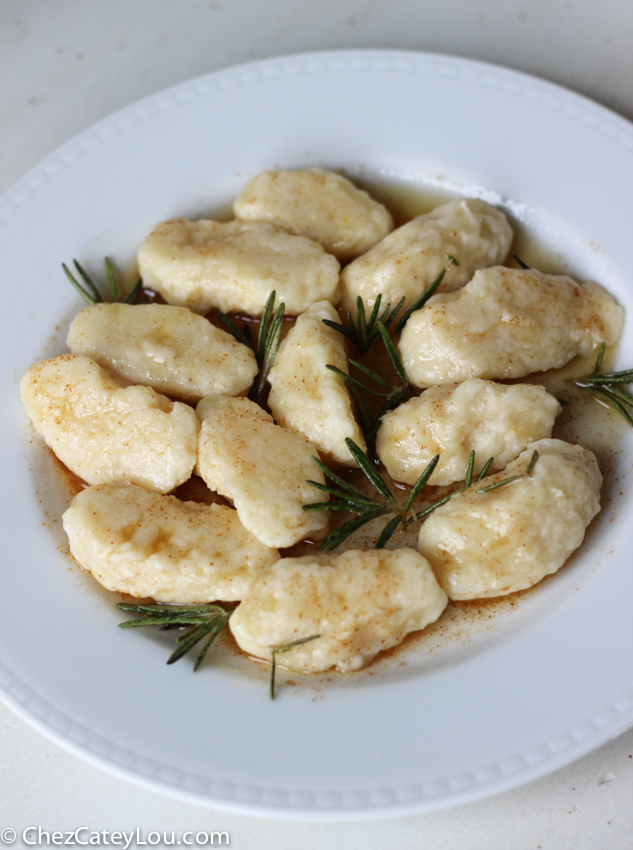 Lemon and Mascarpone Gnocchi with Rosemary Brown Butter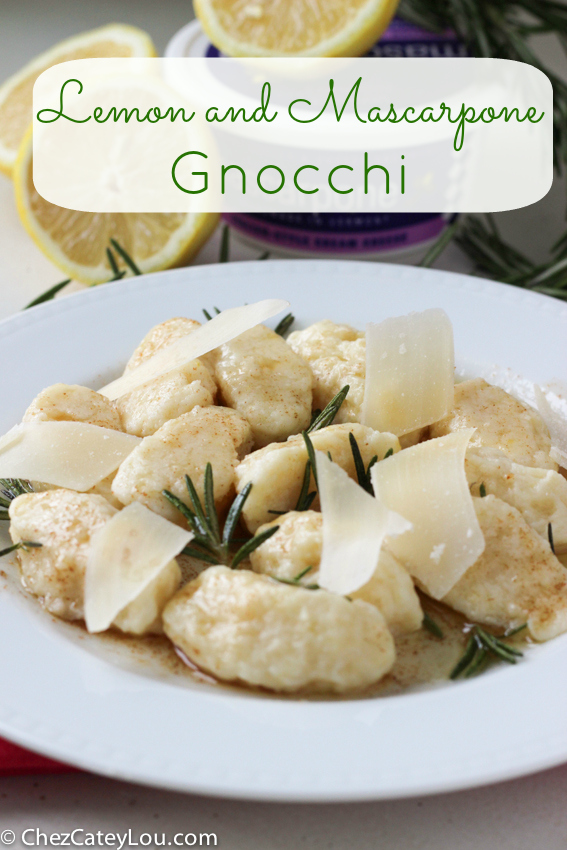 These soft and pillowy lemon and mascarpone gnocchi are tossed in a rosemary brown butter sauce. The flavor and texture are out of this world!
Ingredients
For the Gnocchi:

1 cup (8 ounces) mascarpone cheese, at room temperature
1 cup (4 ounces) grated Parmesan
1 teaspoon kosher salt
Zest of 2 large lemons
1 large egg, at room temperature
1 large egg yolk, at room temperature
3/4 cup all-purpose flour, plus extra for forming the gnocchi

For the Sauce

1/2 cup unsalted butter
1 teaspoon kosher salt
2 tablespoons fresh rosemary leaves
1/4 cup shaved Parmesan cheese
Instructions
For the Gnocchi:

In a medium bowl using a hand mixer on medium speed, beat together the mascarpone cheese, Parmesan, salt, lemon zest, egg and egg yolk until light and fluffy, about one minute. Slowly beat in the flour until the mixture forms a soft dough. Do not overmix.
Sprinkle a silicone mat or a rimmed baking sheet with flour. Using 2 small spoons, grab 1-teaspoon sized pieces of dough, and use the spoons to start to form the dough into an oval. Drop it onto the floured surface and gently roll the dough into an oval.
Bring a large saucepan of water to a simmer (not a boil) and add salt.
Carefully add the gnocchi in batches to the simmering water - an easy way to do this is to put a few on a slotted spoon and then submerge the spoon in the water. The gnocchi should sink and then float to the top. As soon as the gnocchi begin to float, cook for 5 to 6 minutes. Do not let the water come to a full boil during the cooking process.

For the Sauce:

While the gnocchi are cooking, add the butter and salt to a medium skillet until it begins to brown, swirling the pan occasionally. Watch it closely so it does not burn. Remove from heat and immediately add the rosemary.
Transfer the cooked gnocchi to the hot rosemary butter, and toss to coat. Top with Parmesan and serve.
Notes
https://chezcateylou.com/lemon-and-mascarpone-gnocchi/
© Chez CateyLou. All images & content are copyright protected. Please do not use my images without prior permission. If you want to republish this recipe, please re-write the recipe in your own words, or link back to this post for the recipe.
I have some great sides to serve with the mascarpone gnocchi:
Kale Salad with Walnuts and Pears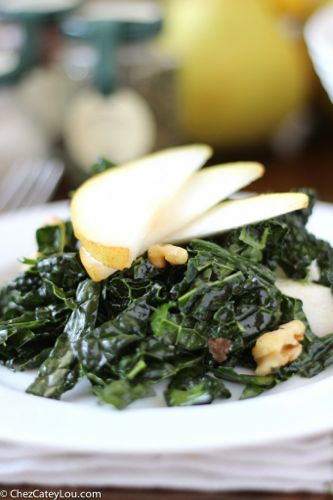 Haricots Verts with Caramelized Shallots