This no knead Irish Brown Bread has the most amazing flavor thanks to Guinness and buttermilk. A delicious brown bread that is perfect for St. Patrick's Day!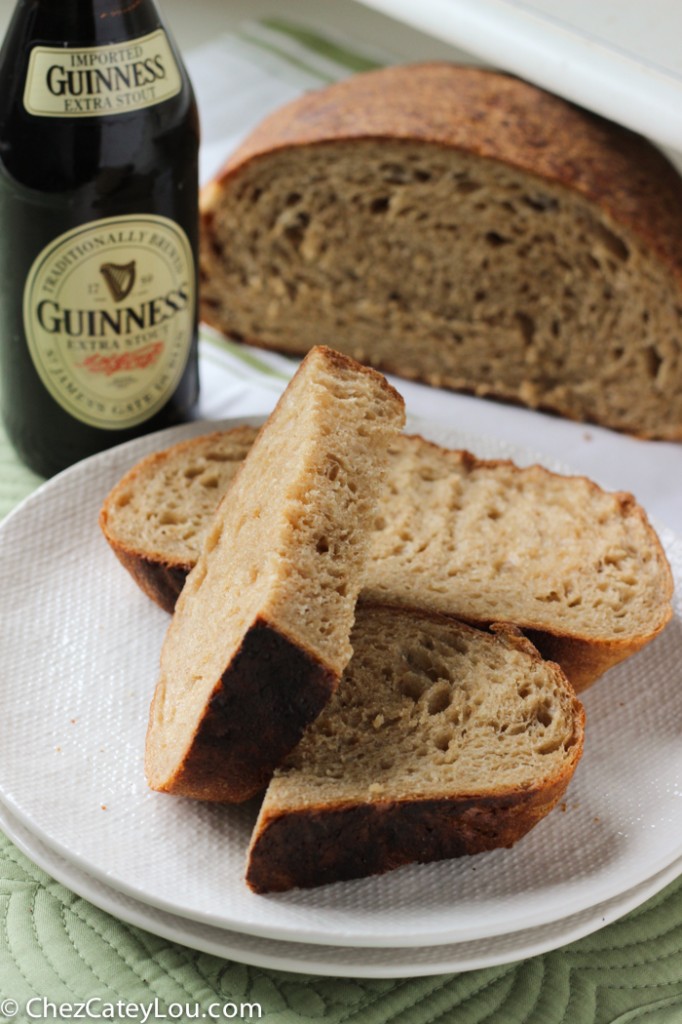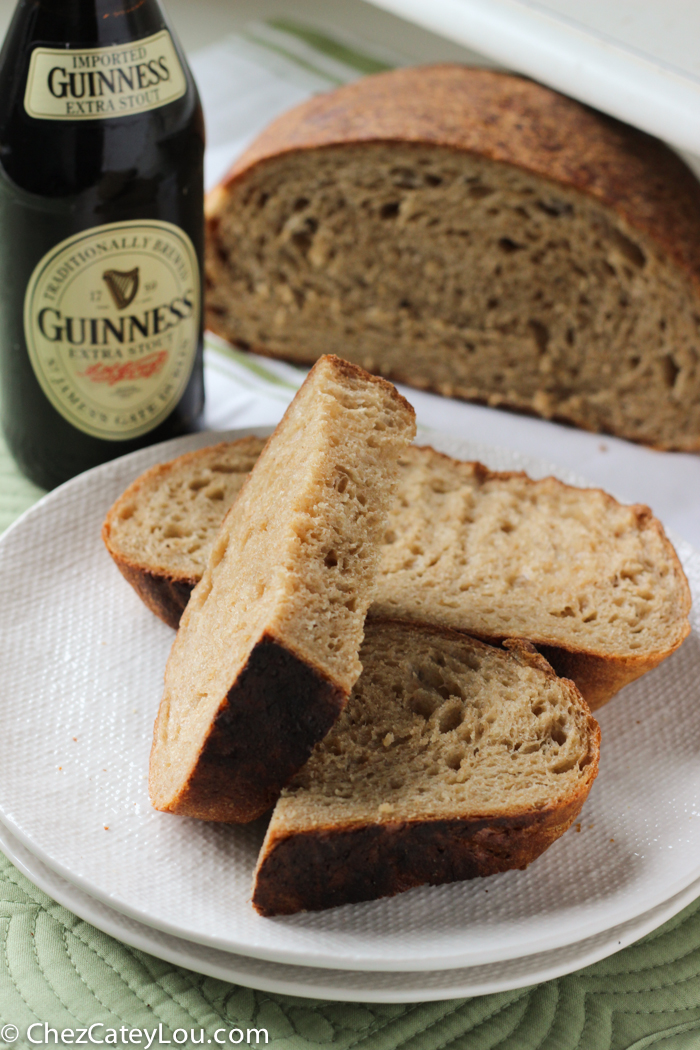 The Better Half and I are Irish through and through. We both have Irish mothers (his Duffy, mine Murphy) and we both went to Notre Dame.  So we get a little excited when St. Patrick's day rolls around!
I wanted to bake something festive, but I draw the line at putting green food coloring in my beautiful bread. It just seems too artificial. So I thought this recipe for Irish Brown Bread from my no-knead cookbook

would be the perfect festive recipe to try out. It is a play on Irish Soda bread, but it uses yeast for the rising, rather than using baking soda. And, it has Guinness in it.  Can't get much more Irish than that!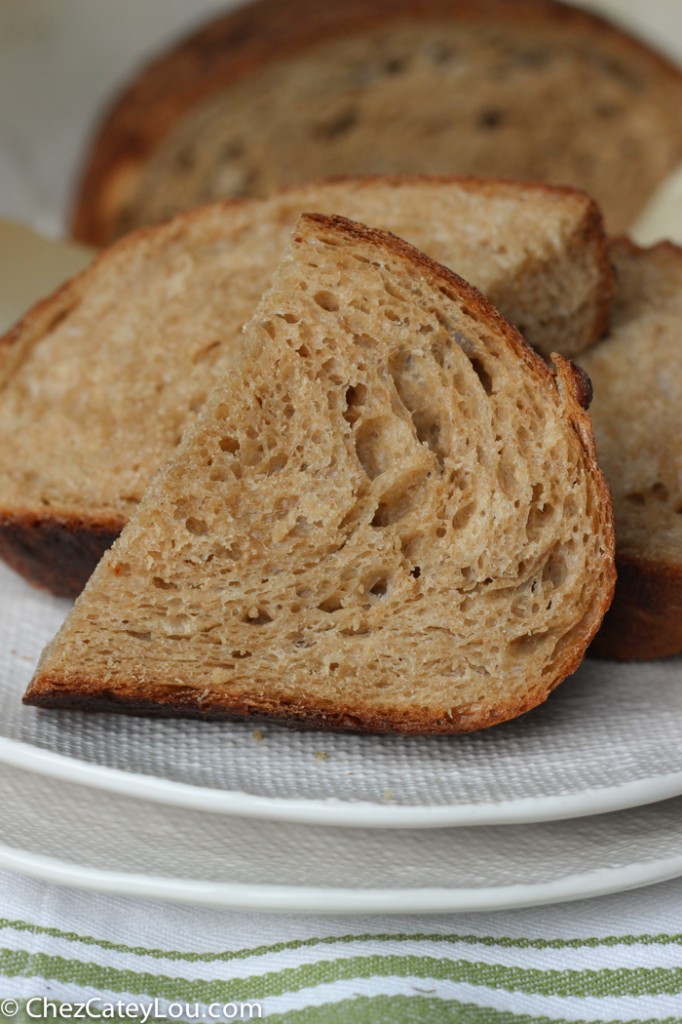 Let me tell you, this brown bread recipe is a keeper.  It has so much flavor, and the texture is amazing.  It is a tiny bit denser than the original no knead bread. The Better Half and I devoured almost half a loaf last night, hot out of the oven. We liked it so much that I have another batch of dough rising right now!
This is a variation on the original no-knead recipe. Be sure to check out that post for more details about baking no-knead bread.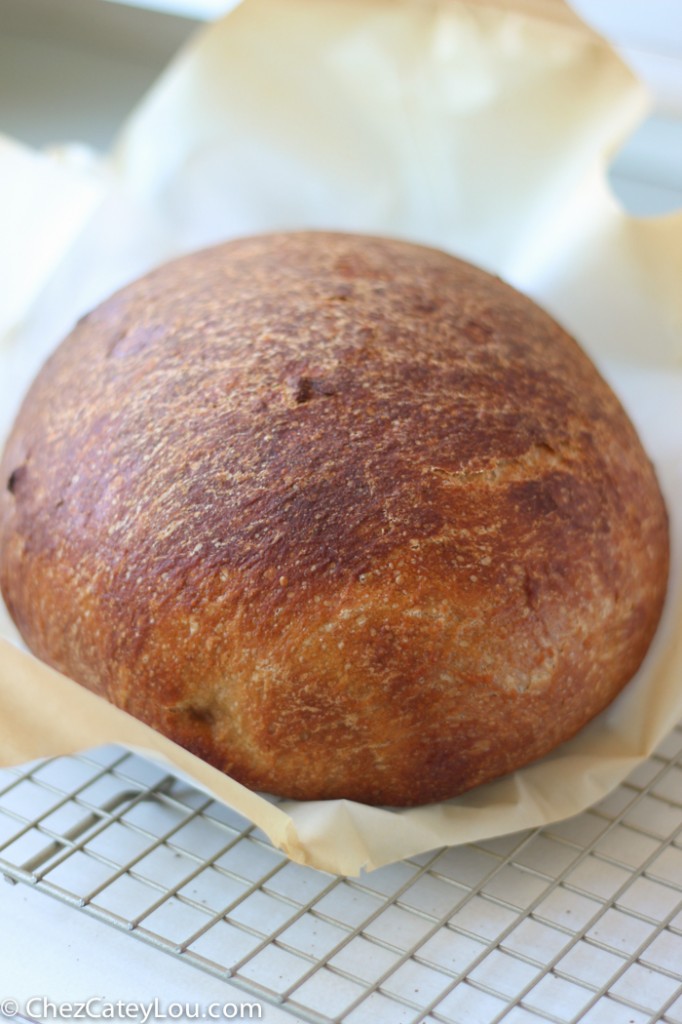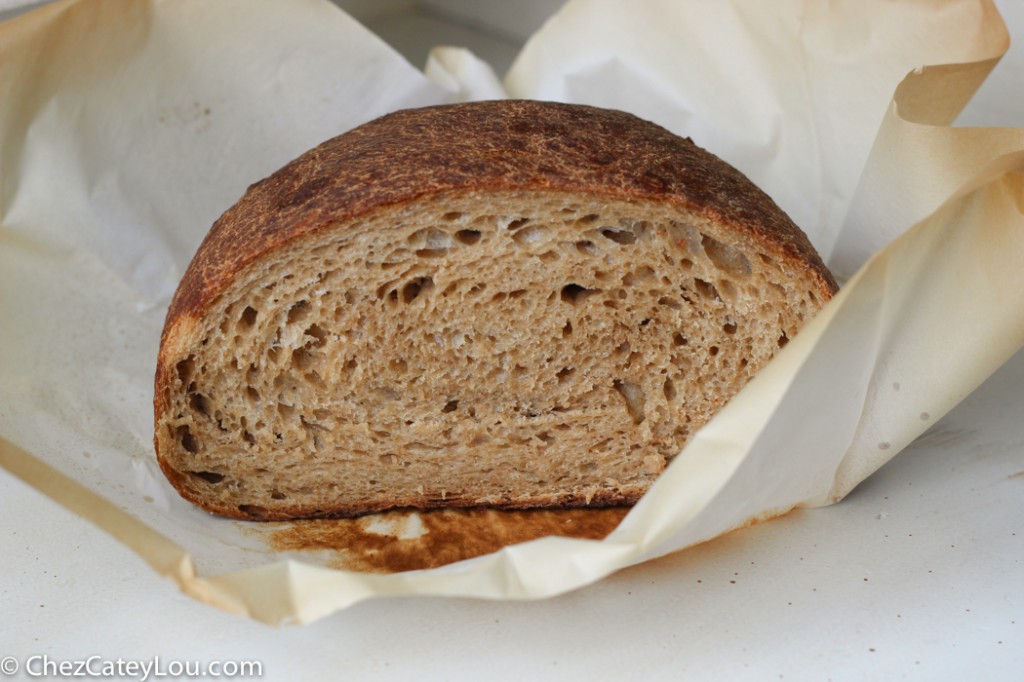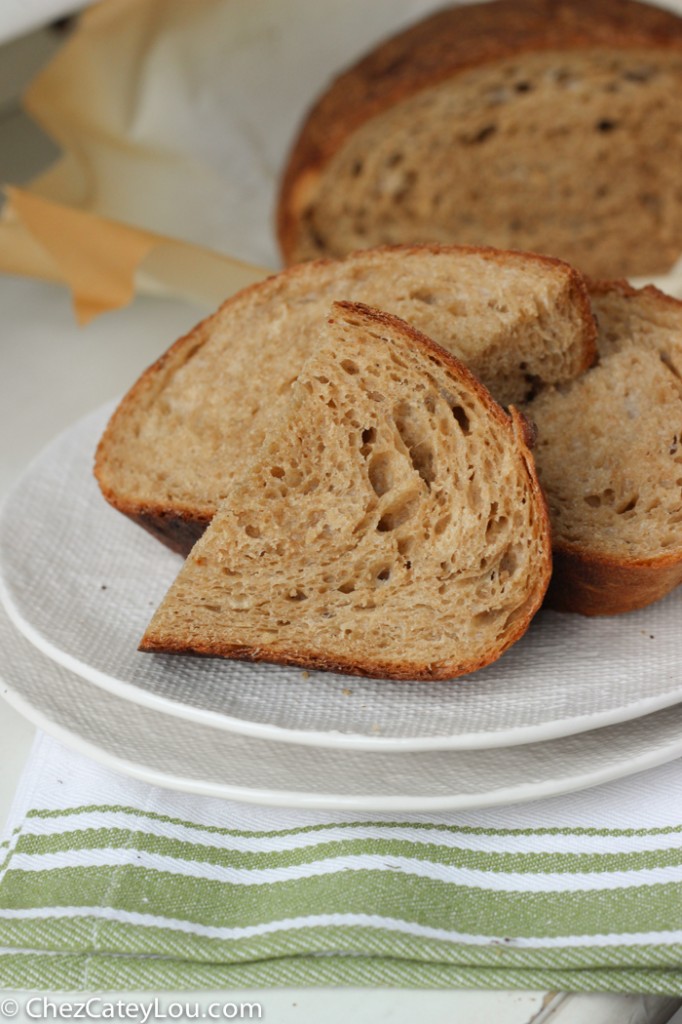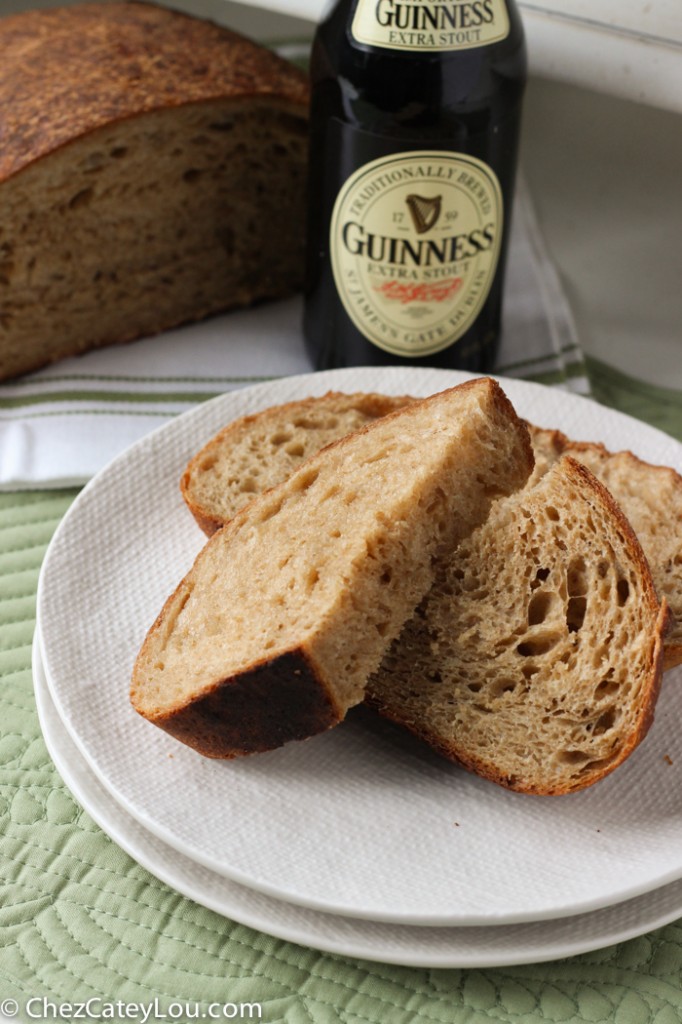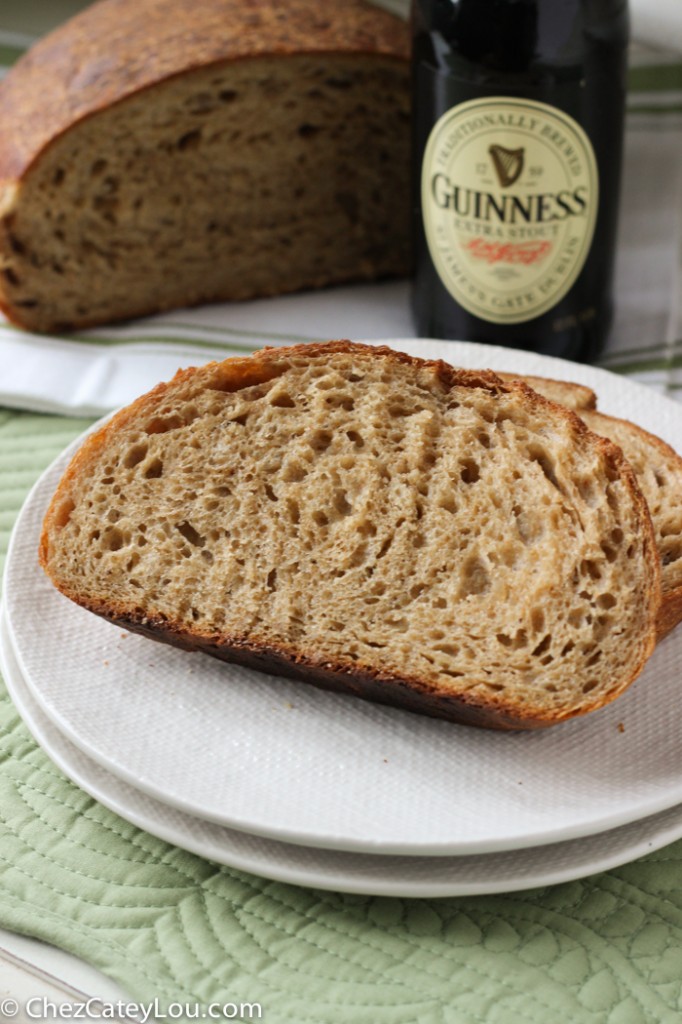 Irish Brown Bread (with Guinness!)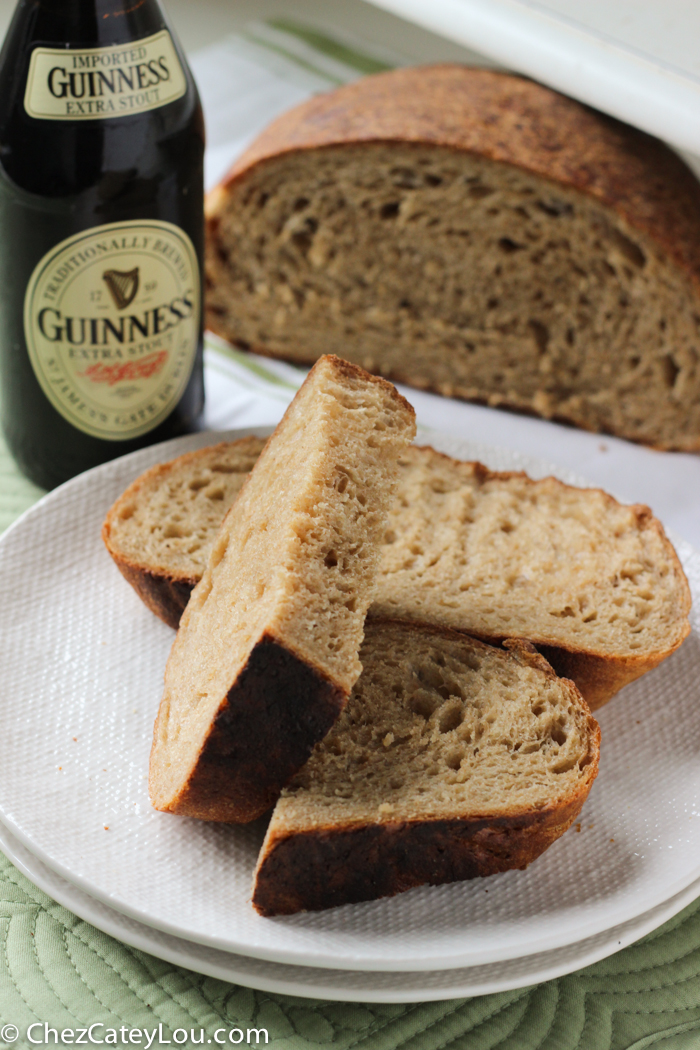 This no knead Irish Brown Bread has the most amazing flavor thanks to Guinness and buttermilk. A delicious brown bread that is perfect for St. Patrick's Day!
Ingredients
2 1/4 cups / 300 grams bread flour
3/4 cup / 100 grams whole wheat flour
1 tsp / 6 grams table salt
1 Tbsp / 5 grams wheat bran
1/4 tsp / 1 gram instant or other active dry yeast (note: I would measure this one rather than weighing)
3/4 cup /175 grams Guinness stout at room temperature, about 72 degrees
3/4 cup / 175 grams well-shaken buttermilk, at room temperature
Instructions
In a medium bowl, stir together flours, salt, wheat bran, and yeast. Add beer and buttermilk and mix until you have a wet, sticky dough (you might need to add a bit more liquid). Cover and let sit at room temperature until the surface is dotted with bubbles and the dough is more than doubled in size, 12 to 18 hours.
When the slow rise is complete, lay a 12 x 18 inch sheet of parchment paper inside a 10-inch skillet and spray it with nonstick cooking spray. Generously dust your counter, a large cutting board, or a silicone mat with flour. Use a rubber spatula to scrape the dough out in one piece. Using lightly floured hands, lift the edges of the dough and fold them in toward the center. Nudge and tuck in the edges of the dough to make it round. Transfer the dough, seam-side down, to the parchment-lined skillet. A bench scraper is helpful for doing this. Spray a piece of plastic wrap with nonstick cooking spray and cover the dough loosely with the wrap. Place the dough in a warm, draft-free spot to rise for 1 to 2 hours. The dough is ready when it is almost doubled, and if it holds an indentation when gently poked with your finger.
Half an hour before the end of the second rise, preheat the oven to 475 degrees F, with a rack in the lower third position, and place a 4 1/2 - 5 1/2 quart heavy covered pot in the center of the rack (I use a Le Cruset Dutch Oven - make sure your pot can withstand the high temperature). Take the pre-heated pot out of the oven, and carefully transfer the dough into the pot by lifting the parchment paper and lowering it into the pot. Quickly cover the pot and put it in the oven. Bake for 30 minutes. Remove the lid and continue baking until the bread is a deep chestnut color, 10 – 20 mins more. Make sure to check the bread so it doesn't burn, because every oven is different. An instant-read thermometer will register 210 degrees, or you can tap the bottom and listen for a hollow sound. Carefully remove the bread from the pot and transfer to a wire rack to cool.
Variation: You can add 1 1/4 cups / 150 grams of currants to the flour mixture in step 1. Increase the amounts of Guinness and buttermilk to 1 cup / 230 grams each.
Notes
Recipe from My Bread by Jim Lahey
Read this post for more information on no-knead bread.
https://chezcateylou.com/irish-brown-bread-with-guinness/
© Chez CateyLou. All images & content are copyright protected. Please do not use my images without prior permission. If you want to republish this recipe, please re-write the recipe in your own words, or link back to this post for the recipe.