These cookies really live up to their name – they are perfection! Perfect Chocolate Chip cookies, made with browned butter, are one of the best I have ever made!

Today is TheBetterHalf's birthday! His golden birthday to be exact, turning 28 on May 28! I had good intentions to bake him a cake yesterday, but the weather in NYC was absolutely perfect so we spent the day at Central Park with friends. When it is 70 and sunny, being outside trumps baking! (one of the very few things that trump baking) TheBetterHalf loves chocolate peanut butter anything, but I think his second favorite dessert is classic chocolate chip cookies. So instead of a cake, I have "Perfect Chocolate Chip Cookies" in honor of his birthday.  
I was a little skeptical of the name when I saw it on the Cook's Illustrated app – there are so many amazing chocolate chip cookie recipes out there (like this one), how are they so sure that theirs is the "perfect" one? Well after I tried this recipe, I am convinced – these are perfect chocolate chip cookies!!  They are soft and chewy in the middle, crisp on the edges, and have the most amazing caramel toffee flavor!  The main differences between this recipe and your standard chocolate chip cookie recipe is that it uses browned butter, more brown sugar than granulated sugar, and one less egg white.  These changes help achieve a cookie with the perfect texture and flavor.  And another bonus with using browned butter is that you don't have to wait for the butter to come to room temperature, making this the perfect recipe for impromptu cookie baking!  It's definitely a winner!
Perfect Chocolate Chip Cookies
These cookies really live up to their name - they are perfection! Perfect Chocolate Chip cookies, made with browned butter, are one of the best I have ever made!
Ingredients
1 ¾ cup (8 ¾ ounces) unbleached all-purpose flour
½ teaspoon baking soda
14 tablespoons unsalted butter (1 ¾ sticks)
½ cup granulated sugar (3 ½ ounces)
¾ cups packed brown sugar (5 ¼ ounces) - dark works best
1 teaspoon table salt
2 teaspoons vanilla extract
1 large egg, at room temperature
1 large egg yolk, at room temperature
1 ¼ cup semisweet chocolate chips
Instructions
Preheat oven to 375 degrees F. Line 2 large baking sheets with parchment paper or a silicone mat.
Whisk flour and baking soda in a medium bowl.
In a 10-inch skillet (don't use a nonstick skillet if possible, because it makes it hard to tell with the butter is browned), melt 10 tablespoons of unsalted butter over medium-high heat. Once melted, swirl the pan constantly until the butter is golden brown. This entire process will take about 3 - 5 minutes, and the butter will have a nutty smell. Watch the pan closely to avoid burning the butter.
Transfer the browned butter to a large heatproof bowl, and add the remaining 4 tablespoons butter. Stir until it is melted.
Add the sugars, salt and vanilla to the butter and whisk together. Add the egg and the egg yolk and whisk until smooth, about 30 seconds. Let the mixture rest for 3 minutes. Whisk again for 30 seconds, and then let it rest 3 more minutes. Do this one more time, until the mixture is thick, smooth, and shiny.
Stir in the flour mixture, then stir in the chocolate chips.
Scoop the cookies into 3 tablespoon portions, and place onto cookie sheets, spacing the dough 2 inches apart. Bake 10 - 14 minutes, until the cookies are golden brown on the edges but still soft in the center.
Notes
https://chezcateylou.com/perfect-chocolate-chip-cookies/
© Chez CateyLou. All images & content are copyright protected. Please do not use my images without prior permission. If you want to republish this recipe, please re-write the recipe in your own words, or link back to this post for the recipe.
 Can never have enough cookie recipes!
Butterfinger Peanut Butter Oatmal Cookies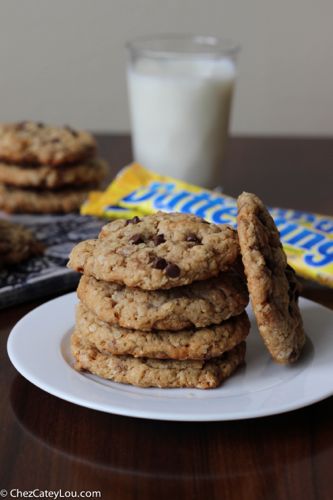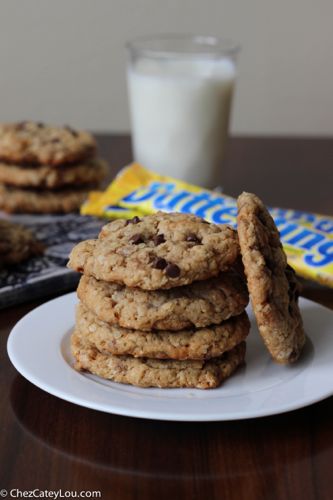 Dark Chocolate Chip Oatmeal Cookies