Light and fluffy baked donuts are full of fresh blueberries and topped with a homemade blueberry glaze. These Baked Blueberry Donuts are bursting with berry flavor!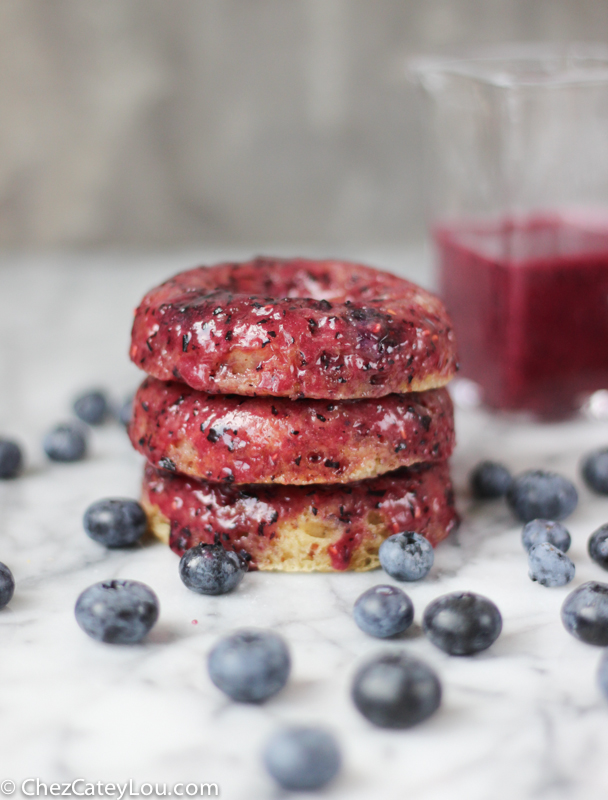 Happy Friday! Labor Day Weekend is so bittersweet. I love having a day off work, the promise of my favorite season ahead, and Notre Dame football starting tomorrow (!). But on the other hand, it means the end of summer which is always kind of sad. So to send summer off in style I drank a bottle of Rosé with my friends last night and made baked blueberry donuts for you – because nothing says summer to me more than fresh berries! And Rosé.
Also, today marks the year anniversary of the Mystery Dish group!! I joined the group late, but I still get to celebrate with them, right?! We are giving away a copy of two fabulous cookbooks – Luca Manfe's My Italian Kitchen
and Christina Ha's Recipes from My Home Kitchen
– scroll to the bottom and enter to win!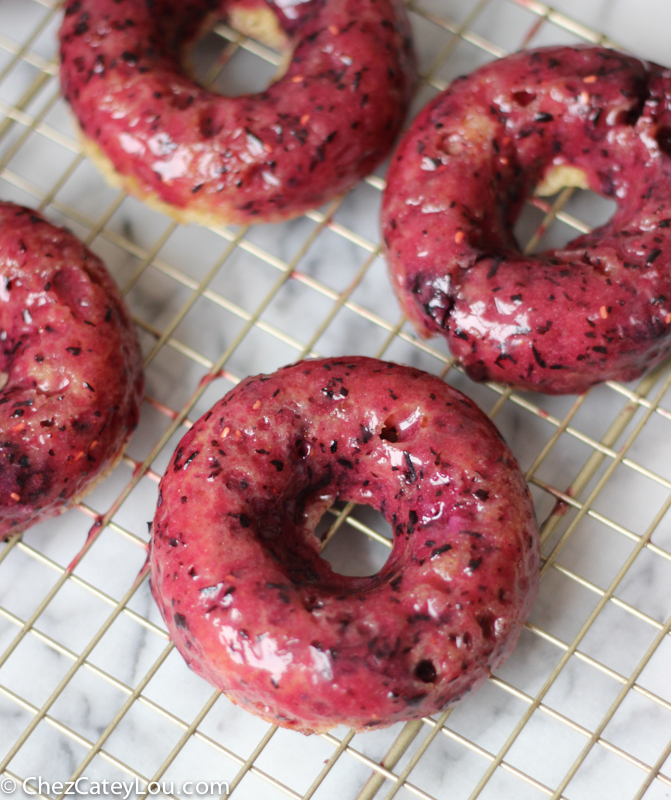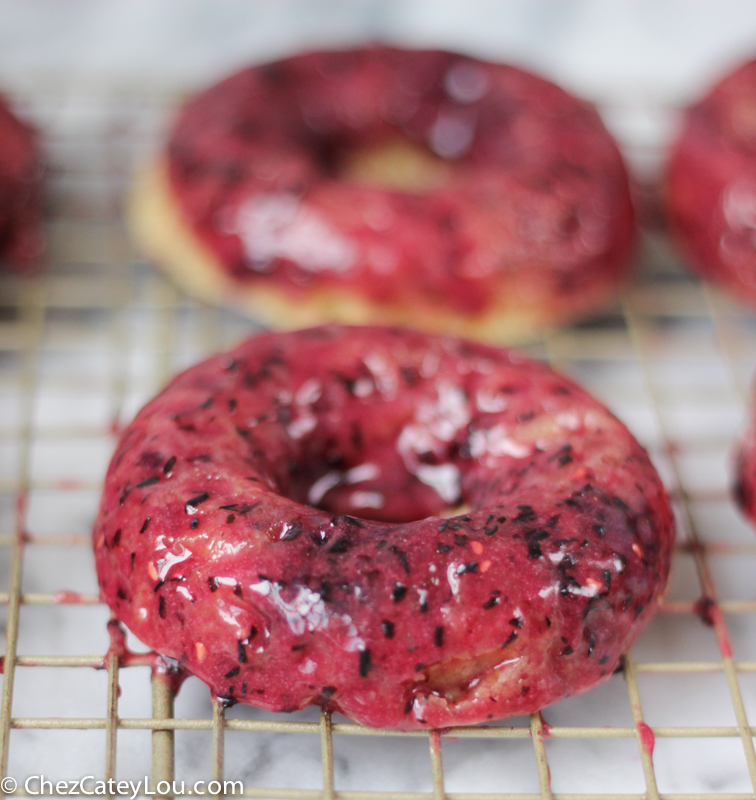 So how did we pick these two fabulous cookbooks for our giveaway? The show MasterChef was the inspiration for Mystery Dish, so it only seemed appropriate that we give away cookbooks written by two winners of the show!
Our host for this month was Andi from The Weary Chef. Her blog is full of amazing recipes that are all really easy to make! She challenged us to use three ingredients from this list:
pistachios
wine
mint
gluten-free flour (coconut, rice, almond, etc.)
red pepper flakes
fish
agave nectar
applesauce
blueberries
parmesan cheese
milk
corn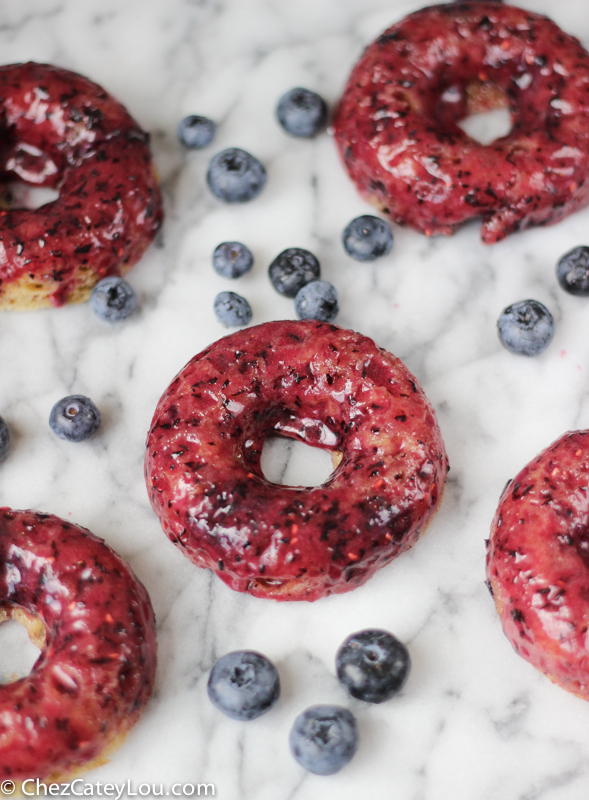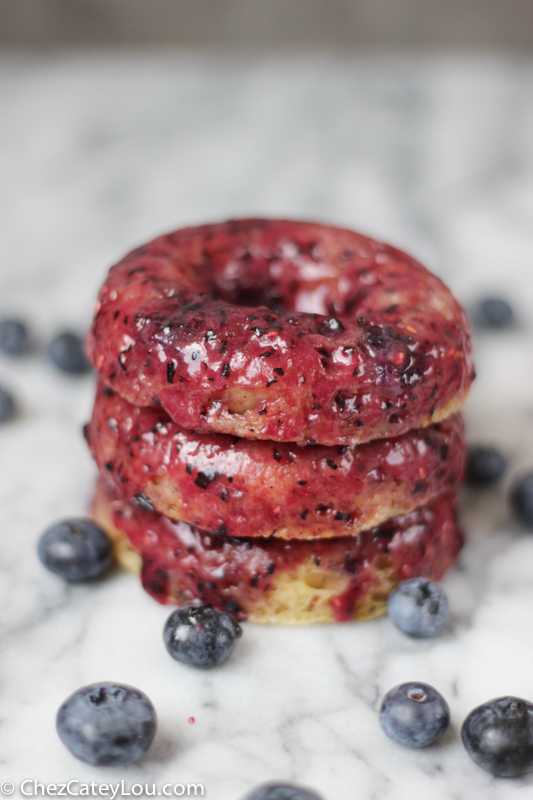 I chose almond flour, blueberries, and milk to make my Baked Blueberry Donuts! I am such a sucker for baked donuts – if you couldn't tell from all of these posts, they are one of my favorite things to make!  They are quick, easy, delicious, cute, impressive, and so much lighter than the real deal.  If you don't have a donut pan, I highly suggest buying one.  I have this Wilton one and absolutely love it.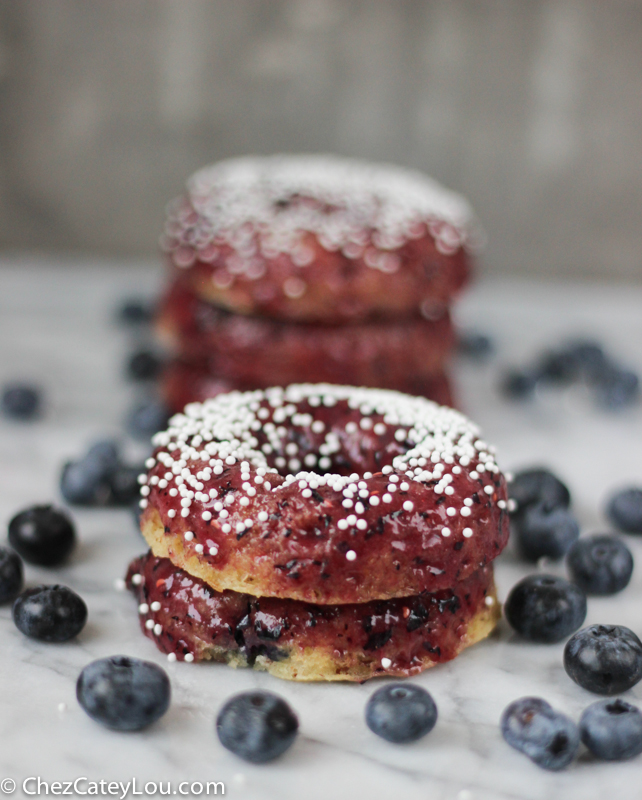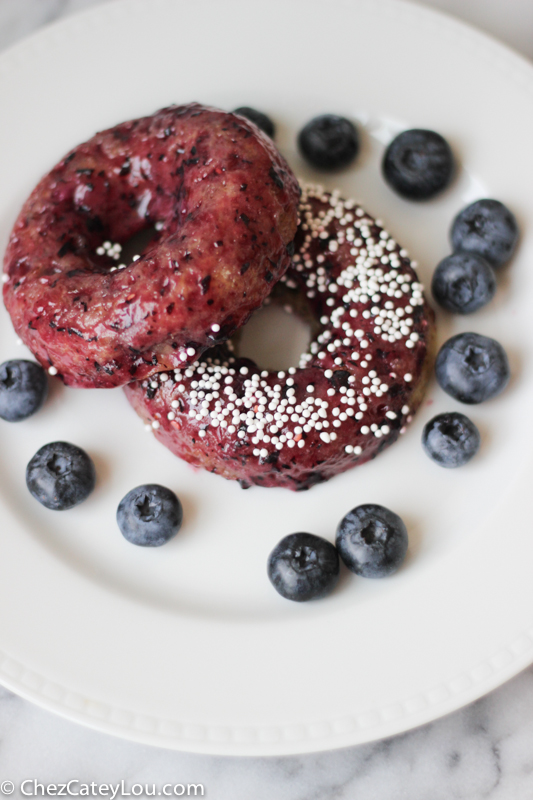 These donuts are super light in texture thanks to almond flour and yogurt, and are full of blueberries. But the real star is the blueberry glaze! It is made from blended blueberries and powdered sugar – just pure sweet, fruity goodness! Since there is no cream, the glaze is a little thinner than the typical glazes I use for my donuts, so these are best enjoyed the same day. If you let them sit for a day, the donut starts to soak in the glaze. They still taste amazing, but the texture isn't quite right the second day!
There is so much going on today – make sure to check out all of my friend's amazing recipes, and enter at the bottom of the page to win the awesome cookbooks!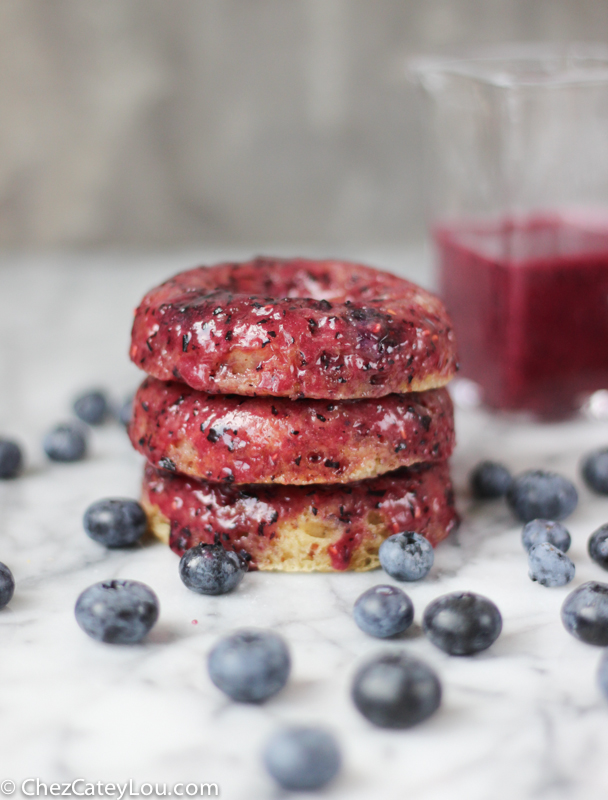 Light and fluffy baked donuts are full of fresh blueberries and topped with a homemade blueberry glaze. These Baked Blueberry Donuts are bursting with berry flavor!
Ingredients
3/4 cup all-purpose flour
1/4 cup almond flour
3/4 teaspoon baking powder
1/4 teaspoon baking soda
1/4 teaspoon salt
1/3 cup sugar
2 Tablespoons butter, melted
1 large egg
1/4 cup milk
1/4 cup yogurt
1 teaspoon vanilla
1/2 cup blueberries

For the Glaze

1 cup blueberries
1/2 - 1 cup powdered sugar
pinch salt
Instructions
Preheat oven to 325 degrees F. Spray two 6-count donut pans with nonstick cooking spray.
In a medium bowl, whisk together flour, almond flour, baking powder, baking soda, and salt.
In a separate medium bowl, whisk together butter, sugar and egg until very well combined. Add milk, yogurt, and vanilla and whisk well.
Add the wet ingredients to the dry ingredients and mix until just combined. Fold in the blueberries.
Spoon the batter into the donut pan, filling each cavity about 2/3 full.
Bake for 6 - 8 minutes, until donuts are just cooked through.
Cool for a minute in the pan, then turn out onto a wire rack to cool completely.

For the Glaze

Blend the blueberries until liquid. Whisk in 1/2 cup powdered sugar and a pinch of salt. Keep adding powdered sugar until desired consistency is reached.
Dip cooled donuts in glaze and serve. Donuts are best when eaten immediately.
https://chezcateylou.com/baked-blueberry-donuts/
© Chez CateyLou. All images & content are copyright protected. Please do not use my images without prior permission. If you want to republish this recipe, please re-write the recipe in your own words, or link back to this post for the recipe.